Is driving to Yosemite dangerous?
Yosemite is located in eastern California in the Sierra Nevada mountains and is easily reached on all sides by excellent road links. San Francisco lies 140 miles to the west, Sacramento is a similar distance away to the north, and Las Vegas is around 450 miles southeast of Yosemite, making it a popular weekend and vacation destination.
The 80-mile route through Yosemite takes you on an incredible journey along magnificent mountain roads through the heart of Yosemite. Even though scenic, some of the twists and elevations of some of the roads make it feel challenging or unsafe.
With stunning mountain scenery, glorious waterfalls, and an abundance of wildlife, Yosemite is the perfect place to enjoy the great outdoors. Continue reading to discover the safest route through the park and our top tips and safety advice to make the drive as safe as can be for drivers of all abilities.
Which route should I take to Yosemite?
Comparison of route options to and around Yosemite

| Route | Distance | Drive time |
| --- | --- | --- |
| Big Oak Flat Entrance Route | 50 miles | 1 hour 30 minutes |
| Tioga Pass Route | 60 miles | 1 hour 30 minutes |
| Southern Entrance Route | 80 miles | 2 hours 15 minutes |
Driving around Yosemite is an excellent way to explore the natural beauty of the park with magnificent scenery and stunning features available at every turn.
There are five entrances to the park, three on the western side, along with one to the south and an eastern entrance. With this in mind, our routes cater to visitors traveling from any direction to Yosemite.
Whichever entrance you arrive from, the jaw-dropping views will greet you as soon as you enter the park.
Even though arriving at the national park on main roads is pretty straightforward and safe, you might be intimidated by the twists and turns on the roads that cut across Yosemite National Park, such as Tioga Pass, which isn't open during winter.
If you'd like to travel through the park on the safest route that is suitable for driving year-round, head to the southern entrance to Yosemite Village and along Wawona Road.
Click here for our detailed guide about driving through Yosemite National Park.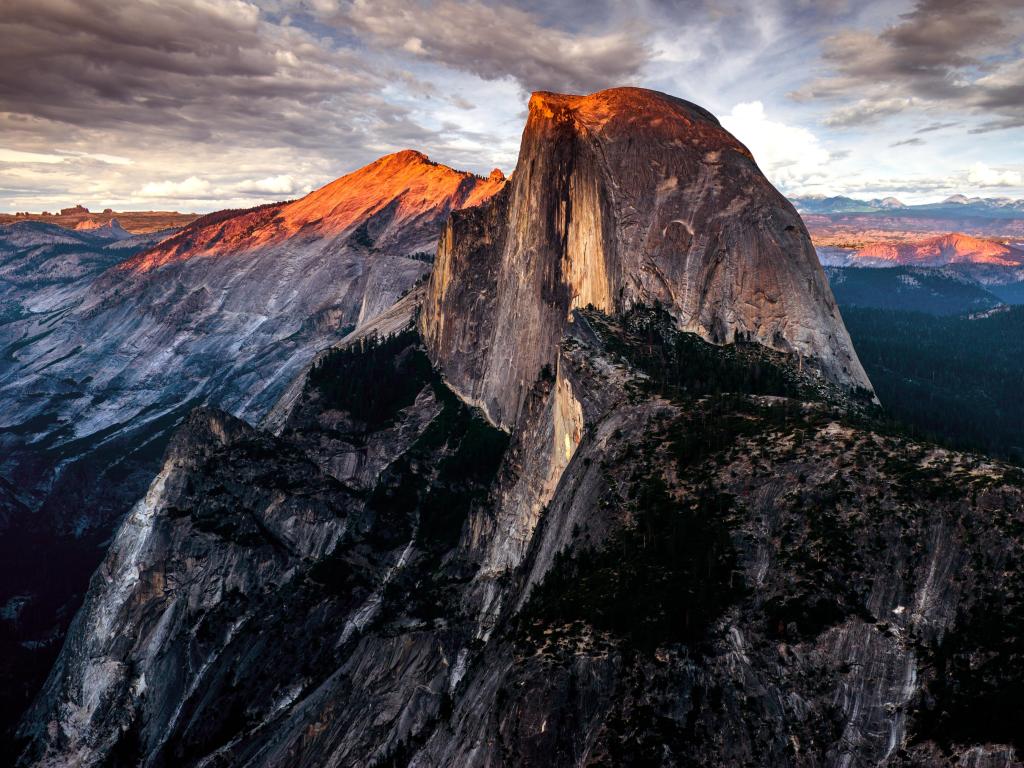 Driving on the safest route to Yosemite
The route from the southern entrance to Yosemite Village and onto Mariposa Grove takes you along Wawona Road and is suitable for visitors year-round. In winter the route is popular with winter sports enthusiasts as it leads you to Badger Pass, a popular skiing and outdoor resort.
Traveling from Fish Camp, the route takes you past the giant Sequoia grove, and the infamous Grizzly Giant, before continuing onwards to Tunnel View, Sentinel Dome, and Yosemite Village. From here, you'll head west towards the Yosemite Valley Vista point before heading onwards to El Portal and Mariposa.
The routes from the south entrance and Big Oak Flat entrance are considered safer than the Tioga Pass route, with its twists, turns, and much greater altitude. The southern route allows you the opportunity to see much more of the park and for that reason, we believe it is the best route option.
Driving to Yosemite via Tioga Pass entrance
The Tioga Pass entrance on the eastern side of the park is the start of one of the most stunning scenic drives in the US. The journey from Lee Vining to the Tioga Pass rises over 2,500 feet over several miles and is one of the steepest parts of the route.
At its highest point, the route reaches almost 10,000 feet, which might be a concern if you are looking to avoid high altitudes. The route twists and winds its way through the park passing Tioga Pass Valley View and Olmsted Point before continuing to Crane Flat.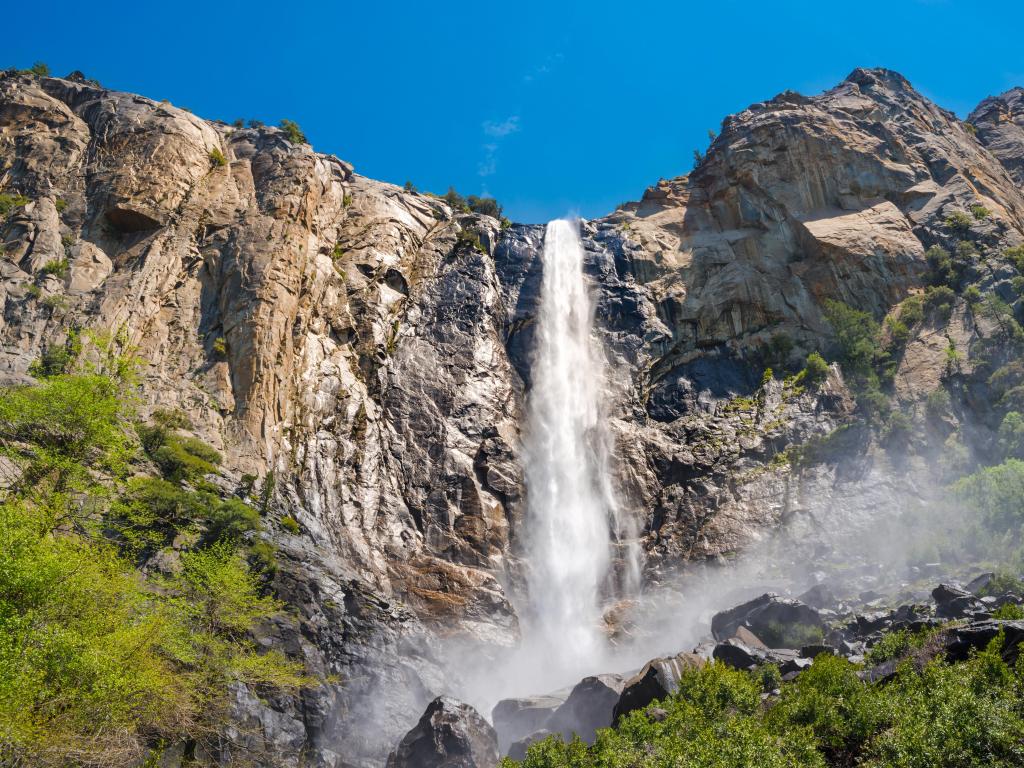 Driving to Yosemite via Big Oak Flat entrance
The final route option takes you from the Big Oak Flat Entrance on the western side of the park, popular with visitors from San Francisco, and leads you past Crane Flat along Big Oak Flat Road, passing the Devils Dance Floor and Big Oak Flat Road Vista Point as you head eastwards to Yosemite Village.
From here you can access the visitor center and many wonderful trails and waterfalls. The return journey will see you retrace your steps back to the Big Oak Flat entrance to exit the park.
Things to know that can impact the drive on the safest route to Yosemite
The road conditions along this route are favorable all year round with paved smooth roads and relatively few sharp turns. Within Yosemite, the speed limit varies between 25 mph - 35 mph.
With so much to admire as you journey through the park, you won't want to go any faster, but some drivers might. There are many passing places, both to stop and admire the stunning views, and also to allow faster drivers to pass and avoid hold-ups.
Wawona Road offers spectacular views of Yosemite, and it is an inspiring drive. The route off to Badger Pass and Glacier Point Road does have some tight bends and the viewpoint at Glacier Point stands at 7,214 feet. Understandably this part of the route will be closed in winter.
There are several places to stop along the route for services, including Wawona, Wawona Campground, Yosemite Village, El Portal, and Briceburg.
There are 2 gas stations within Yosemite itself (Chevron on Wawona Road and Crane Flat) and prices will increase as you get closer to Yosemite so it is advisable to fill the tank before entering the park.
Cell phone coverage is available in Yosemite and the best signal can be found at Yosemite village and is reliable in Crane Flat and El Portal.
During peak season, due to the high number of visitors, service can be slow or unavailable. There is Wi-Fi available at the Wawona Hotel and the Mariposa County library branch in Wawona.
The Wawona Road Route is open all year round and is not subject to frequent closures. For up-to-date road information, you can check the National Parks Service website.
If you are heading off Wawona Road to Glacier Point Road to witness the amazing vista at the viewpoint, do be aware that Glacier Point Road is closed during the winter months.
Tips to drive to Yosemite in the safest way
A drive through Yosemite will always be an amazing experience that will create everlasting memories, and our helpful tips will allow you to plan for all eventualities in advance and enable you to relax and enjoy the drive as safely as possible.
Making the trip early in the morning is advisable as the roads will be less busy. Driving east to west at this time will mean the sun is behind you, making for much better driving conditions, views, and photo opportunities.
Avoid traveling on Saturdays and holiday weekends if possible as the traffic is much busier at these times. During the summer months of July and August, traffic can be significantly heavier in the park, with up to six times more visitors than at other times of the year.
If you are visiting in winter, then ensure you have snow chains available to fit if necessary. If conditions require them, you will not be allowed to drive through the park without them.
There are snow chain checkpoints located in various locations around the park offering a snow chain installation and removal service for around $30 (at the time of writing). Do be aware that they do not supply the chains.
If you are hiring a car for your trip to Yosemite, make sure you get a vehicle with winter tires and chains supplied. Some hire companies may not allow you to fit your own chains onto their vehicles.
Do not drive in adverse winter weather conditions. It can be extremely dangerous getting stuck in the park in such conditions and a stay at the welcoming Tenaya Lodge makes an excellent alternative if the weather is too dangerous to continue the journey.
Do keep abreast of the weather, road, and traffic conditions within the park. National Weather Service and National Parks Service websites offer useful information specific to the Yosemite area.
Make sure you have adequate fuel for your journey and fuel up before entering Yosemite if possible. There are two gas stations within the park itself, at Crane Flat and Wawona.
If possible, have two designated drivers to share the load so you can stay fresh. The route is also much more enjoyable for a passenger as the driver needs to stay focused on the road and conditions ahead so sharing the driving will make it much more pleasurable for all.
Some of the routes might be particularly steep in places, as mentioned above, and choosing to drive up the scary parts rather than descending them will be much easier for anyone feeling nervous at the wheel.
In case you are towing a trailer then some of the steep gradients may make it difficult to keep up with other vehicles, so do be courteous and use the many pullouts to allow other cars to pass when possible.
If you are unlucky enough to suffer a breakdown on your visit to Yosemite, do be prepared for a lengthy wait for assistance to arrive. Given the location of the park, it can take several hours for help to turn up so always be prepared and travel with supplies and a charged cell phone.
Due to the popularity of the park, any road repairs needed will be likely to take place during the summer months due to the weather so do check ahead for any planned delays before you visit. Glacier Point Road was closed in 2022 and delays are expected in 2023 due to major road works taking place.
If you are nervous about various aspects of the route, or just keen to see the exciting drive that lies ahead, do a "virtual drive" using Google Street view so that you can prepare yourself and "see" the route for yourself beforehand.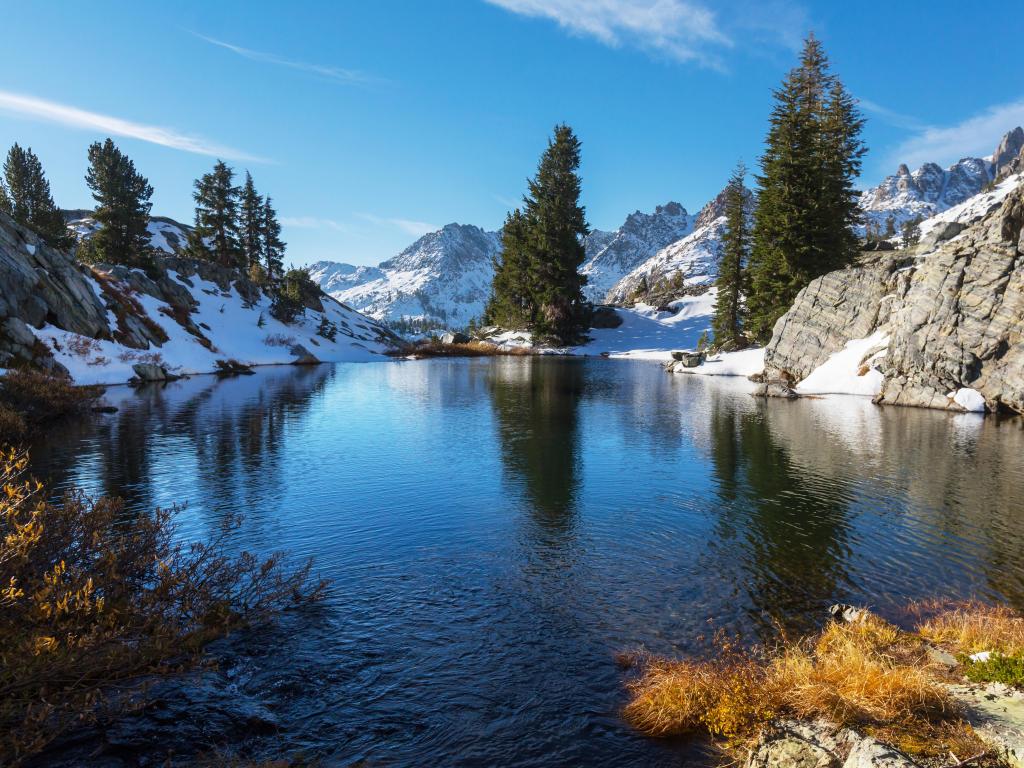 Alternatives to driving yourself to Yosemite
There are various shuttle services available to take you around the park by bus, some of which are free. YARTS provides a shuttle service to and from many popular areas of the park and kids can travel for free.
Some of the shuttle routes will be seasonal and unavailable during the winter months. However, many do run all year round and give an excellent alternative for traveling around the park if you are reluctant to drive in winter conditions.
Best time to drive to Yosemite
During the summer months, Yosemite is extremely popular and the busy traffic makes for slower speeds and safer driving, although some people may not adhere to the limits and drive dangerously for the road conditions. Driving conditions will be good at this time of year and the views will be breathtaking.
With this in mind, visiting in May and September is the best time to travel to Yosemite. It will allow you the chance to enjoy the best of the park and all it has to offer in favorable weather conditions, without the overcrowding of peak season.
Yosemite in winter is a spectacular sight, with snow-covered mountains, frozen waterfalls, and fantastic winter sports opportunities.
Unfortunately, some of the roads within the park and surrounding areas will be closed due to snow, including the incredibly popular Tioga Road and Glacier Point Road. Route planning is therefore essential when visiting the park at this time as road closures can be in place from November through to May.