15 Best Spring Break Road Trips in the USA
It's that time of year again; the snow is melting, birds and other critters are peeking out of their burrows, and in some places, it's already t-shirt weather. Spring Break is a hallowed American tradition, to celebrate the time of flowers and have some well-deserved diversions.
On our list of the 15 best Spring Break road trips in the USA, you'll find cities filled with family getaways, zesty celebrations, national parks bursting with life, breezy coastal hamlets, and party-perfect beach towns for that classic Spring Break vibe.
Whether you're rearing to get out of town or just want to spend a few days under the sun with new scenery, we've scoped out exciting trips perfect for a break from college with friends or even a child-friendly getaway. Read on below to spark your spring imagination.
Best Spring Break road trips in the USA
Day trips (about 3 hours each way)
Have a surprisingly packed Spring Break and only one free day to fill? These trips can easily be driven and enjoyed without having to worry about overnight plans.
1. Miami to Key West, FL
3 hours 15 minutes (160 miles)
Why you should visit: The warm beaches and rumba beats make Miami a popular Spring Break destination. But if you already live here or just want to venture all the way south, Florida has even more seaside goodness in store, so why not set off on a road trip from Miami to Key West?
The pristine shores of Key West are strewn with conch shells and other tropical insignia. It's a great place for relaxing during the day and you can live it up at night on Duval Street downtown.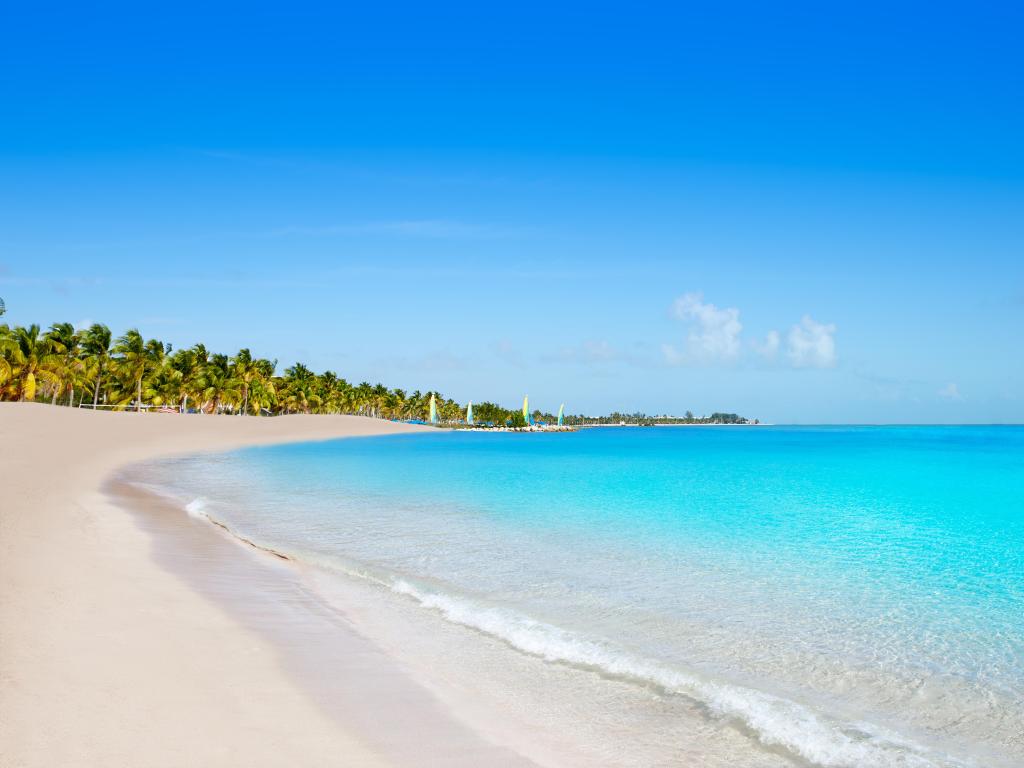 How to get there: Take the Ronald Regan Turnpike to US Route 1 and head south. Once you get to Key Largo, continue along the Overseas Highway and 42 bridges all the way to Key West.
Our highlights: We were really stuck by just how tropical the Key West environment is, like a Hawaii on the East Coast. To see some of the beautiful critters living beneath the aquamarine, head out on a glass-bottomed boat or rent some snorkeling gear and explore a reef.
Surrounded by beaches, you don't have to look far for a place to bask in the sun. At Zachary Taylor Historic State Park, you'll not only find one of Key West's best swimming beaches, but also a chance to learn about the colorful history of the Florida Keys.
Few daily celebrations can top sunset in Mallory Square. As the sun tinges the sky orange, framed by the darkening blue of sea and sky, the streets come alive with performers, music, merriment, and great food. Be sure to come here at least once on your trip.
Duval Street is like the spine of Key West and is mostly filled with people who don't mind risking a back injury to throw down and have a wild time. This is not the most family friendly place in Key West, so if you're coming with kids avoid this area at night.
Bonus: Everyone needs some beach time, including the most brilliant writers in America. Many have chosen Key West as their sun spot of choice, including Tennessee Williams, Shel Silverstein, Robert Frost, and most famously, Ernest Hemingway.
You can still visit the house where the latter stayed, which is now the Hemingway Home & Museum.
Our travel tips: Be prepared for tolls on the Ronald Regan Turnpike as you leave Miami.
READ MORE - Road trip from Miami to Key West
2. Dallas to Austin, TX
2 hour 50 minutes (200 miles)
Why you should visit: Dallas is a proudly Texan city; home of the Cowboys, a go-big-or—go-home attitude, and some inevitably delicious BBQ, one thing it has in common with off-beat Austin.
If your Spring Break is early enough in March, you might even catch the massive SXSW festival that draws droves of music lovers to Austin each year. Even if you miss it, there are over 200 live music venues in Austin, so you'll hear something fresh and groovy whenever you come.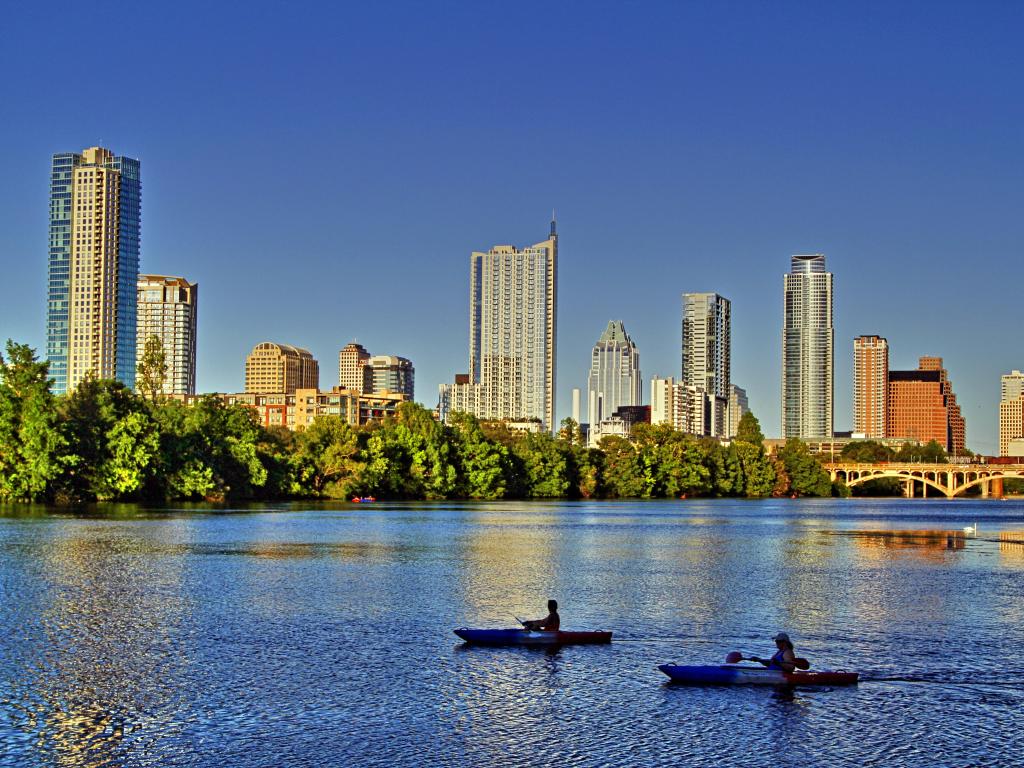 How to get there:The route from Dallas to Austin is fairly direct. Take Interstate 35 E and S for the entire 195-mile stretch of the trip, passing Hillsboro and Temple on the way.
Our highlights: Everything's bigger in Texas, including the State Capitol Building, located in a beautiful green area right next to downtown Austin. There are free guided tours of the interior of this massive Renaissance Revival building and even if you don't have time to go inside, it's worth a stop as you explore Austin.
One of the best places to enjoy the Colorado River, which snakes through the city, is Lady Bird Lake. There's a ten-mile Hike-and-Bike Trail and boardwalk around the lake and along the river, both with great views of the water and the city.
On a warm day nothing is more fun than renting a kayak or paddle boat and splashing about on the gentle waves.
If you want that high-energy, classic Spring Break scene head to Sixth Street on any given evening. Full of bars and college kids, it's where antics are bound to happen. For a mellower, but still upbeat option, head to Rainey Street.
For a more casual drink and some architectural immersion, head to the Driskill, a hotel built in the late 19th century. Their impressive marble lobby and bar is open to the public and a must see for vintage hotel enthusiasts.
You can smell the goodness at Franklin Barbecue from blocks away. Arguably some of the best barbecue in the country, it's worth the wait, but you might want to bring a snack for the four-hour line on weekends. Be mindful that Franklin Barbecue is closed on Mondays.
Bonus: There are more bats in Austin than in any other city in the US. Beginning in March, you can catch some of the half a million bats take flight every evening from the Congress Avenue Bridge.
Our travel tips: If you want to catch SXSW on your Spring Break Trip to Austin, be sure to book tickets way in advance.
READ MORE - Road trip from Dallas to Austin
Click here to skip back to the top.
Weekend trips (4-6 hours each way)
Sometimes a night or two away is all a break needs to be special. These slightly longer trips are best split over at least two days so you'll have time to relax and have fun at your chosen destination.
3. Boston to Portland, ME and Bar Harbor
4 hours 45 minutes (290 miles)
Why you should visit: After a harsh Northeastern winter, you can feel the pulse of excitement as life returns to the curmudgeonly city of Boston. Shake off the cobwebs by setting on a road trip to Portland and Bar Harbor!
A little way north, Maine's vast forests and rugged granite coast make for a scenic Spring Break trip. There's nothing quite like breathing in the crisp, coastal air as lobster boats return to shimmering Bar Harbor with the day's catch.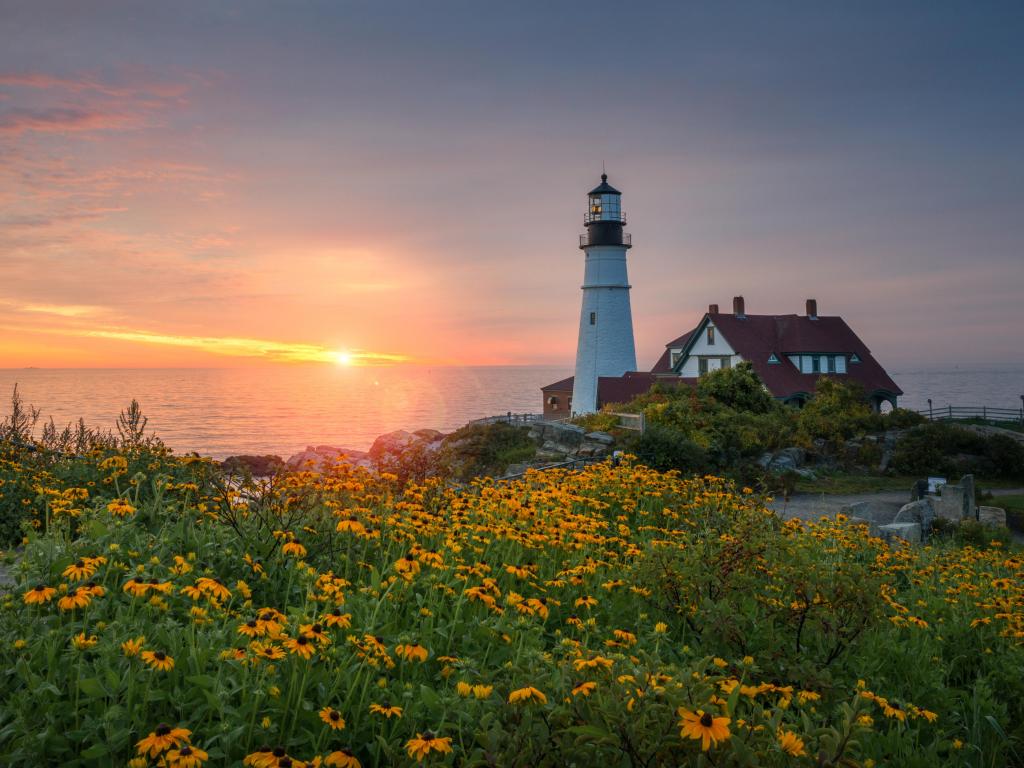 How to get there: From Boston, take Interstate 95 North for 112 miles to Portland, ME. Here, hop on Interstate 295 North and continue driving as it becomes I-95 N until Bangor.
Then navigate to US Route 1A south and east towards Trenton. There you'll find Bar Harbor Road, which crosses a bridge onto Mount Desert Island. Take Maine Route 3 to Bar Harbor on the other side of the island.
Our highlights: Some parts of the Old Port neighborhood, might resemble similar old fishing communities in the historic areas of Boston. Full of red bricks and narrow alleys, this is a quaint part of Portland to walk around and grab a bite to eat.
The iconic Portland Head Light, with its red roof and whitewashed walls is postcard-perfect. Maine's oldest lighthouse, it was built in 1791 and overlooks Casco Bay. Even if you're not totally enamored with the Northeastern lighthouse theme, it is impressive by any standards.
To whet your whistle, look no further than the famous Allagash Brewery. You can also have a tasty lobster roll at their on-site food truck to pair with a mellow white ale.
For an incredibly rustic and peaceful stroll by the ocean, head to the Shore Path. Not far from downtown Bar Harbor, this path covers rocky beaches and forests once part of a private estate that offers gorgeous views of the harbor.
Acadia National Park is a major attraction on Mount Desert Island and surrounds the town of Bar Harbor. Inch for inch, it is one of the prettiest national parks, full of every kind of greenery, still ponds, and wild coastal treks. You can plan on camping here during your trip or venture into the park for day hikes from Bar Harbor.
Take in at least one sunset from Frenchman Bay. Here the sky takes on every vibrant hue imaginable and reflects on the water filled with the silhouettes of yachts and fishing boats. You can also see some minor islands from here.
Bonus: There's a gap along the rocky coastal cliff near Sand Beach on Desert Island called "Thunder Hole". Under the right conditions, when a powerful Atlantic swell crashes into this inlet, you'd swear there was a storm overhead.
Our travel tips: For a scenic drive, take Schooner Head Road south of Bar Harbor and cruise along Ocean Drive until Otter Cliff Road. Also, if you are visiting Acadia National Park and plan to drive on the Cadillac Summit Road, keep in mind that vehicle reservations might be required. Please check the national park's website to avoid any disappointment.
Spring is still a bit chilly in Bar Harbor, but it is a great time to visit to avoid the summer and fall peak seasons.
READ MORE - Road trip from Boston to Portland, Maine
4. Blue Ridge Parkway
5 hours 10 minutes (270 miles)
Why you should visit: Nestled in the Appalachians of West Virginia, Roanoke has a proud industrial past that blends seamlessly with its emerging arts scene. It offers an interesting contrast to the similarly artsy, but much more rustic, Asheville, NC.
In between these them you'll follow the picturesque Blue Ridge Parkway that is simply bursting with life during the spring. Since the speed limit on the parkway is 45 MPH, this is a trip that invites you to slow down and savor the honeyed atmosphere of spring.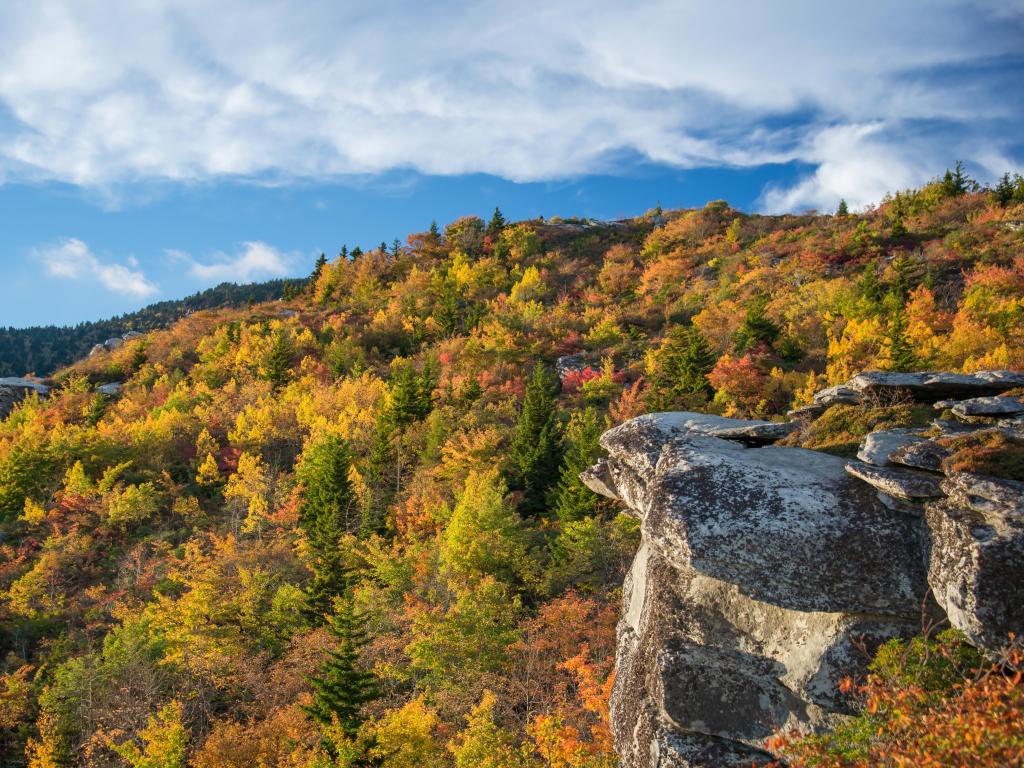 How to get there: Start out on Interstate 81 S from Roanoke until Atkins, VA where you'll hop on Nicks Creek Road, which turn into Sugar Grove Highway/Virginia Route 16 South. Head towards the Mouth of Wilson near the border, where you'll change onto North Carolina Route 16 in Grassy Creek.
Navigate via US Highway 221 to the Blue Ridge Parkway. Take this via Blowing Rock all the way to Interstate 40 W to Asheville.
Our highlights: As the name implies, Blowing Rock is a small town named after a solitary rock in a gusty area with sweeping views of the surrounding hills and Johns River Gorge.
Consider Blowing Rock for an overnight stop as there are some gorgeous trails around here and an arguably even more stunning overlook nearby at Thunder Hill.
If you wanted to get out and be active in these gorgeous mountains on this trip, you'll have plenty of chances. Along this route you'll pass Grandfather Mountain State Park and Lake James State Park, both with extensive trails through forests bursting with new buds and wildflowers.
As you approach Asheville, consider a stop at the Mountain Gateway Museum if you'd like to see a recreation of country living from the turn of the century. It's also situated on a pleasant property with a stream.
Ashville is a refreshing, bohemian mountain town with a lot to offer. Its charming downtown is easily walkable with exceptionally fresh culinary offerings and creative bars. A quirky spot that was even more fun than we expected was the Pinball Museum.
On the outskirts of Ashville lies the Biltmore, a sprawling estate with an opulent American take on a Châteauesque estate. Built just before the turn of the century, it is still the largest privately-owned home in the US, though it is open for tours and is one of Asheville's major attractions.
Bonus: If you feel a bit of déjà vu as you explore Asheville, it might be because it has served as the filming location of some major U.S. films, including "Last of the Mohicans", "Forest Gump," and "Patch Adams."
5. Houston, TX to New Orleans, LA
5 hours 10 minutes (350 miles)
Why you should visit: Houston is a city that sets its sights high, being home to NASA's Johnson Space Center. While a Spring Break trip to the moon is decades away, Houston is still a great launching pad for earth-bound Spring Break shenanigans.
The home of Bourbon Street and Mardi Gras is a popular and affordable Spring Break choice. NOLA, as New Orleans is sometimes called, is full of great music, food, historic quarters, and of course, there's no shortage of revelers, making this an exciting place to spend a week after a weary winter.
How to get there: Take Interstate 10 East all the way on this road trip from Houston, through rustic Baton Rouge, and down into sultry New Orleans.
Our highlights: Both the old and new Louisiana state capitol buildings in Baton Rouge are interesting buildings that you can stop and see on a lunch break. The new capitol building is the tallest in the county with beautiful art deco motifs.
Being one of America's oldest cities, New Orleans is particularly known for its distinctive neighborhoods and Creole culture. In addition to the French Quarter and the ever-lively Jackson Square, we suggest walking the Garden District and marveling at its colorful mansions and expertly cultivated yards.
Who doesn't love a vintage trolley? The RTA system in downtown New Orleans has a few dozen vintage cable cars from the 1920's and 30's that traverse the town from the Lower Nine to Lakeview. For a few bucks you can make your own tour of the city's most famous attractions.
Music speaks to everyone, so no matter who you're making this trip with, some time on Frenchmen Street is a must. Jam packed with music venues there are also brass bands doing their thing on the street corners, giving the whole scene an extra touch of magic.
Even though it's Spring Break, there's no rule against learning. The National WWII Museum in New Orleans is one of the best museums in the country, with immersive exhibits and original boats and aircrafts. The breadth of exhibits around this brief, yet intense, period in world history is staggering.
Bonus: Spring is the beginning of crawfish season in Louisiana! Whether you can locate a backyard boil or not, there are plenty of restaurants serving up the state crustacean by the pound.
Our travel tips: Especially places like Bourbon Street are known for being hectic and more geared towards adult activities, so keep this in mind if you're on a family trip.
Mardi Gras is just the beginning of spring festivities in New Orleans. In April you can catch the French Quarter Festival and the Jazz & Heritage Festival.
READ MORE - Road trip from Houston to New Orleans
Click here to skip back to the top.
Long weekend trips (6-8 hours each way)
These multi-state trips are for people who have high ambitions for a road adventure and a few days to explore somewhere new.
6. Salt Lake City to Yellowstone
6 hours 30 mins (360 miles)
Why you should visit: Salt Lake City is pleasant and dry in more ways than one, being situated in the Great Salk Lake Desert and surrounded by mountains perfect for winter sports.
As the snow melts, a more volatile environment awaits exploration to the north. Filled with hot spots atop one of the largest super-volcanoes in the world, Yellowstone National Park is exquisitely attuned to that joyful transition into spring, when life emerges from the thawing surroundings with a revitalizing force.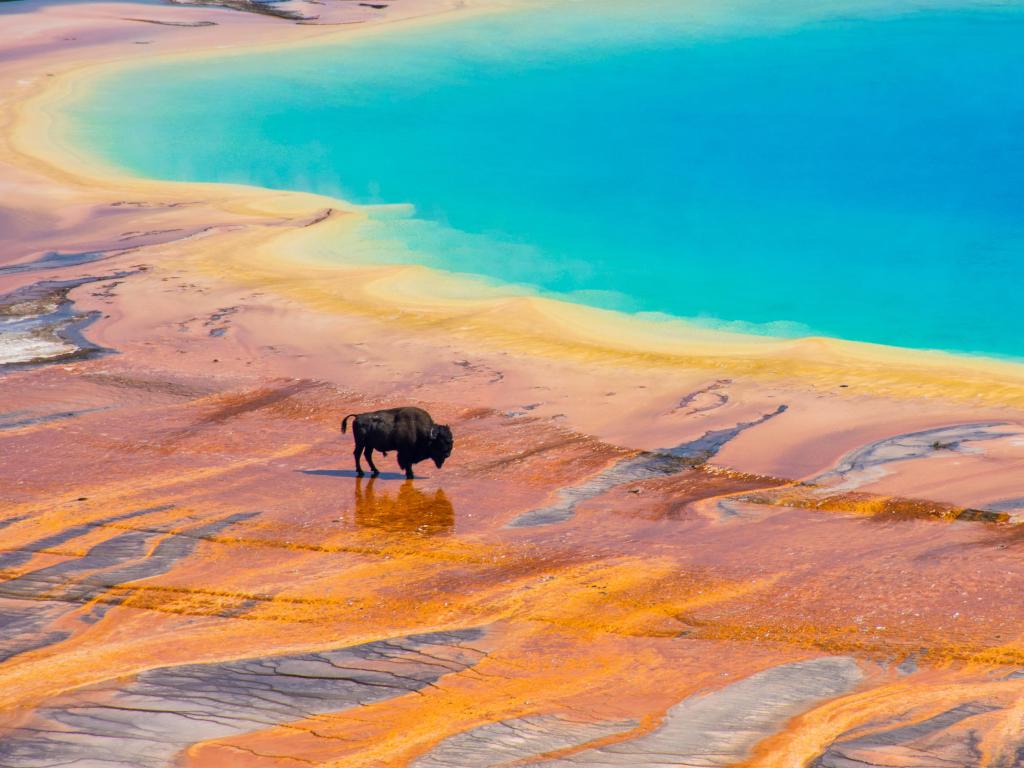 How to get there: From Salt Lake City, start driving north on Interstate 15 until you reach McCammon, ID. From there take US Highway 30 to Soda Springs then Idaho route 34 to Freedom WY. Head towards US Highway 89 North, which will take you to Highway 191 North all the way into Yellowstone National Park.
Our highlights: An obvious highlight during a spring visit to Yellowstone is baby animals! This is your chance to see brand spankin' new bison, elk, and from a very safe distance, bear cubs. Lamar Valley always has a lot of animal activity in the early mornings.
No matter when you visit, a trip to Old Faithful will leave you speechless. This punctual geyser is one of the most popular spots in Yellowstone, so a spring visit also means more parking will be available in the nearby lot.
Especially as chilly weather prevails through April, the hot, moist, air around Grand Prismatic Springs will be especially inviting. These multicolored geothermal pools are among the park's most dazzling features. Mammoth Hot springs is another great place to see steaming pools as the snow melts.
This is also the season when the parks many waterfalls begin to thaw. Of course the bigger falls, like the Lower Falls on the Yellowstone River, are too massive to freeze over. A gorgeous viewpoint over the Lower Falls is the appropriately named Artists Point.
Bonus: There are 500 geysers in Yellowstone, over half of all the geysers in the world. Aside from Old Faithful, the Beehive Geyser usually erupts twice a day and each eruption can last up to 5 minutes.
Our travel tips: There's a brief window of time in the early spring where the roads open for non-motorized traffic. This is known as the "spring bicycling" period and any cycling enthusiast should keep it on their radar.
In the spring it's good to be "bear aware" in Yellowstone as the large mammals emerge from winter hibernation, often with cubs in tow. Make noise while you hike remote areas and try to stay in a group of three or more.
Due to the elevation, Yellowstone can still experience freezing temperatures in the early spring and expect highs around 60 degrees Fahrenheit. Bring plenty of layers.
Also be sure to check the website for road closures due to snow and snow plowing.
READ MORE - Road trip from Salt Lake City to Yellowstone National Park
7. Los Angeles, CA to Grand Canyon, AZ
8 hours (500 miles)
Why you should visit: Home to a lively art and music scene together with warm beaches, Los Angeles has a lot going on. Sometimes a break from the city helps you appreciate it all the more.
Spring is the perfect time of year to traverse the desert to the east of Los Angeles. On this trip to the Grand Canyon, you'll be able to stop the car and explore without the risk of melting into the asphalt.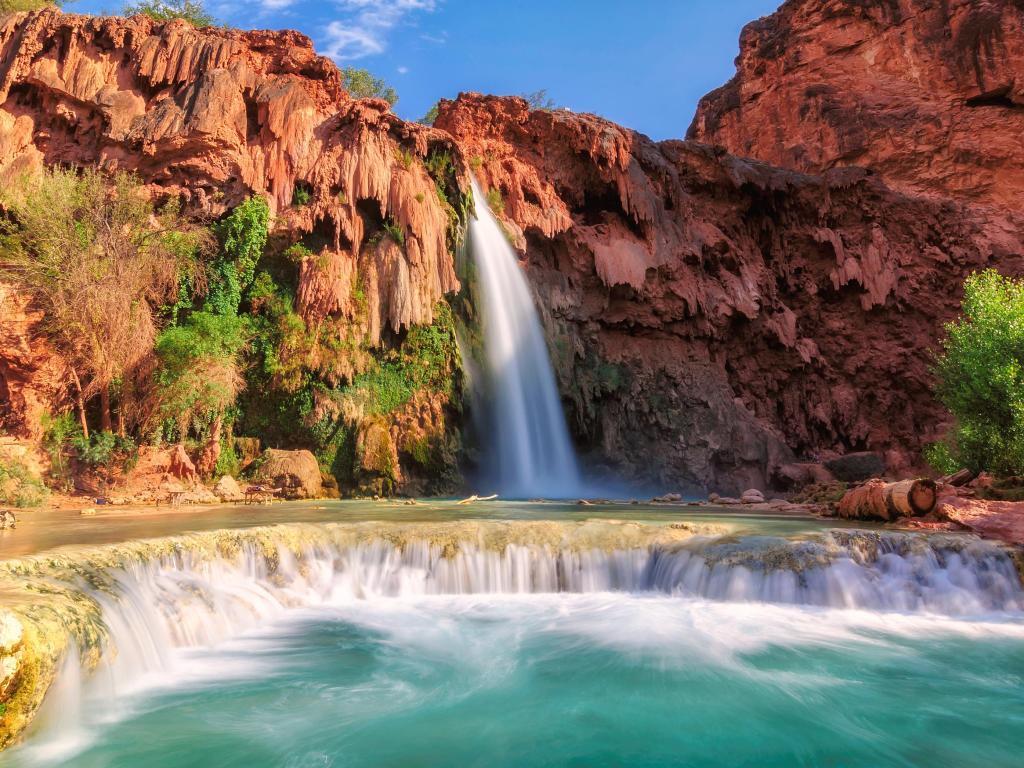 How to get there: From Los Angeles, get on Interstate 10 East, which will take you past Palm Springs and Joshua Tree National Park. Around Eagle Mountain, start driving north towards Vidal Junction and US Route 95 North. Drive to Lake Havasu then look for Interstate 40 East. Take this all the way to Williams, AZ, then change on to Arizona Route 64 North. This goes all the way to the Grand Canyon.
Our highlights: Formerly a resort and hideaway for Hollywood stars, Palm Springs has long been established as a place for leisure and rejuvenation. In addition to the spas, there's also a fun community which is on full display every Thursday night at the Palm Springs Village Fest.
Just past Palm Springs you'll have a chance to explore Joshua Tree National Park, which has exploded in popularity recently. In addition to the signature Joshua Trees, there are cacti canyons and other hauntingly beautiful desert scenes to explore.
If you'd like to make a TikTok or Reel imitating your favorite desert film or moment than the Dead Mountains Wilderness Area is the place to do it. A slight detour north of Lake Havasu on Interstate 40, you'll be blown away by the steep, rust colored ridges that form the perfect backdrop to an Old Western remake.
In addition to being a refreshing sight in an arid landscape, the waters of the Havasu National Wildlife Refuge are the occasional home of over 300 different bird species. Even if you're not an avid birder, this is a gorgeous area to spend a night and explore the next day as the sun rises to a chorus of birdsong.
The Grand Canyon is a natural wonder that no description can fully prepare you for. This route leads to Grand Canyon Village on the South Rim which is open year-round. Here you can see some of the most iconic overlooks like Hopi Point and Mather Point, as well as hike sections of the South Rim and Bright Angel trails.
Bonus: It took 6 million years for the Colorado River to carve the walls of the Grand Canyon. A wonderful resource at the park is the Yavapai Museum of Geology which details the significance of the area's natural history. The museum is open from 8 a.m. to 6 p.m. every day.
Our travel tips: The desert temperatures can really drop at night, so bring plenty of layers.
Despite the milder spring weather, be prepared with a sturdy vehicle and extra water at some isolated places like Joshua Tree and Dead Mountains Wilderness.
READ MORE - Road trip from Los Angeles to Grand Canyon
Click here to skip back to the top.
Longer trips (Over 8 hours each way)
A week-long Spring Break is the perfect opportunity to really go all out and venture further than the standard weekend trip allows. Get your favorite playlist and comfy driving shoes ready.
8. San Francisco to Los Angeles on Pacific Coast Highway, CA
9 hours (470 miles)
Why you should visit: San Francisco is a quirky tech hub with multicultural neighborhoods nestles between and atop its signature hills. There's no shortage of things to do or fun to be had in this city, but it's also a great launching pad for a Californian road trip.
Spring is a beautiful time to see the Pacific Coast on your way to LA with mild weather. There are tons of beaches to enjoy and the chance to catch the end of the whale migration if you go in March.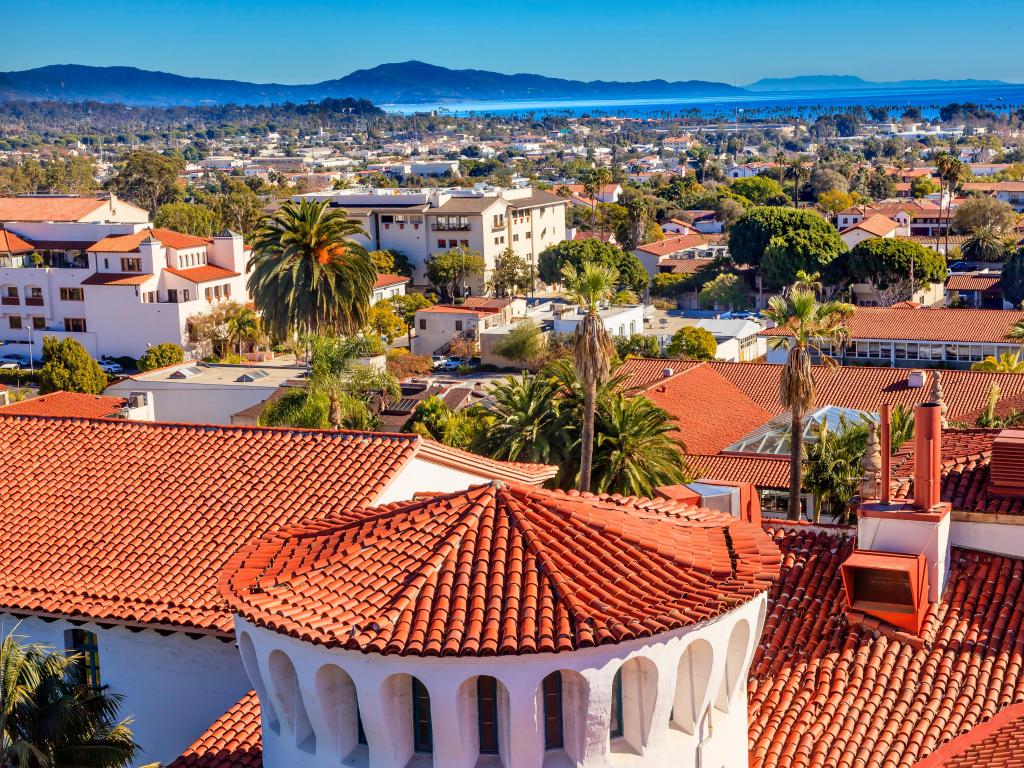 How to get there: From San Francisco, navigate to Highway 1 South, also known as the Pacific Coast Highway. This spectacular coastal route takes you past Monterrey, Big Sur, Pismo Beach, and Santa Barbara all the way to Santa Monica and Los Angeles.
Our highlights: Big Sur has a mythical presence in the Californian imagination and once you see it, you'll know why. Towering mountains plunge into the ocean as this heroic road navigates their seemingly endless curves. McWay Cove and Pfeiffer Big Sur State Park are just two of the must-see places on this stretch of the trip.
About two hours north of Los Angeles, you'll pass through picturesque Santa Barbara. Sometimes called "the American Riviera", this coastal college town is full of Spanish colonial architecture, including an 18th-century mission, and a happening downtown stretch that leads directly to the beach.
Los Angeles has been the city of hopes, dreams, glamour, and imagination for nearly a century. Here you can walk along Hollywood Blvd to see the imprints of some of your favorite stars or window shop at luxury stores on Rodeo Drive where you might spot a starlet as well.
For sheer amusement and to peek behind the scenes of real-life moving-making, Universal Studios should be on your must-do list while you're down here.
The arts are also alive in Los Angeles and there are two exceptional museums offering vastly different collections: The Getty and the Broad. The former is part of a sprawling hilltop estate full of classical sculptures and the latter is bursting with the freshest contemporary art and located right downtown.
Bonus: Did you know that the world-famous "Hollywood" sign used to say "Hollywoodland"? You can hike to the sign via the 3.5 mile long Hollyridge Trail through the Santa Monica Mountains and be rewarded with a stunning view of Los Angeles below.
Our travel tips: Both San Francisco and Los Angeles have horrific traffic throughout the day, so try to avoid driving during the morning commute and in the evening between 3 and 7 p.m. if you can.
While there's usually sunny weather in the spring, the coastal area south of San Francisco to Pismo Beach can experience some heavy morning fog.
READ MORE - Road trip from San Francisco to Los Angeles
9. Las Vegas, NV to Yosemite, CA
9 hours (540 miles)
Why you should visit: This neon adult playground in the desert offers up every kind of experience, from live shows to world-class dining. It is also a great starting point for a spring trip through the desert.
In addition to milder temperatures, if you time this trip from Las Vegas to Yosemite right you'll pass through kaleidoscopic expanses of seasonal wildflowers on your way to California's most famous national park, Yosemite.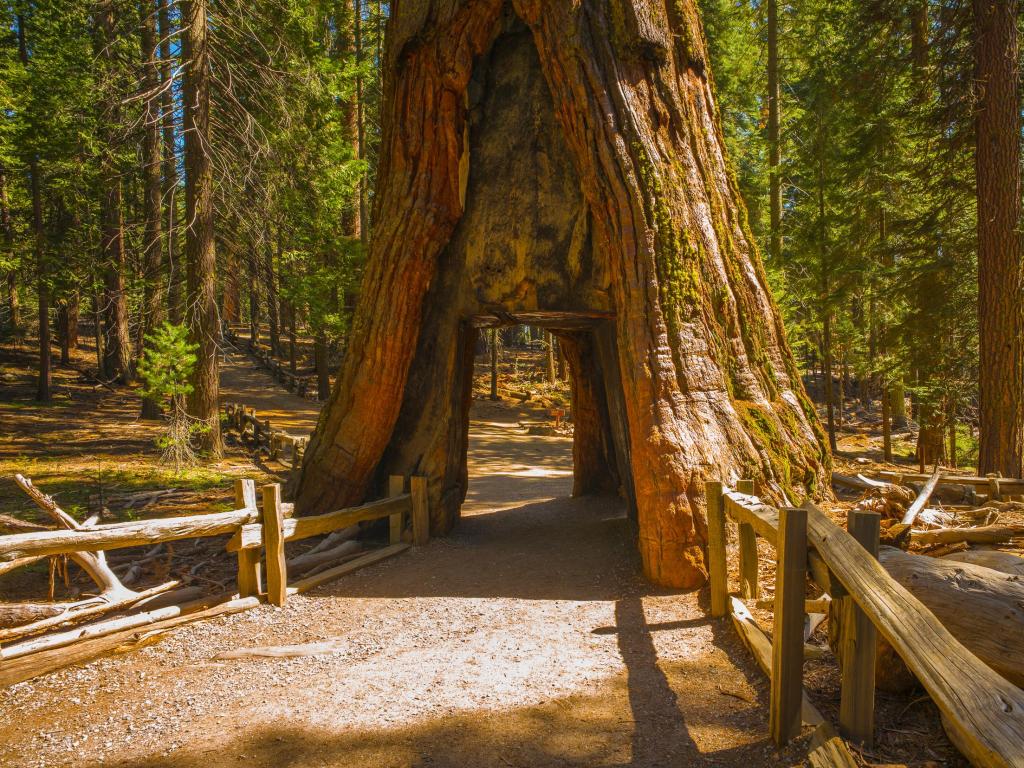 How to get there: Take US Route 95 North from Las Vegas and head west across the California border at Amargosa Valley, NV. In Death Valley Junction, Take CA Route 190 W through Death Valley National Park.
Once you've explored the desert, head south through Searles Valley taking CA Route 14 to CA Route 58 West to Bakersfield. From there, take CA Routes 99 and 41 north towards Yosemite National Park.
Our highlights: Though the fabled "super bloom" only happens every ten years or so, if there's enough winter rain wildflowers will grace the usually arid Death Valley in the early spring. Some of the best places for viewing are near Furnace Creek along CA Route 190 and Jubilee Pass. Keep your eyes out for white desert stars, golden poppies, yellow encelias, and purple verbena blossoms.
Consider a slight detour on your way to Yosemite via Sierra National Forest and Bass Lake. Here you'll find gorgeous, and far less crowded, campgrounds as well as trails to the wide and gentle Angel Falls.
As you approach Yosemite from the south, keep an eye out for Mariposa Grove. This small patch of towering sequoias is a wonderful introduction to the sheer diversity of Yosemite National Park.
Yosemite is world famous for its breathtaking trails and unique rock formations. Regardless of the weather conditions, the loop around Yosemite Valley floor is accessible year round and offers stunning views of El Capitan, sentinel Rock, Bridalveil Fall, and Yosemite Falls.
For a more challenging hike, trails to Mirror Lake and vernal Falls, including the mist trail, are open by March.
In case you are finding it cooler than you anticipated, there are also scenic drives you can do within Yosemite. Take a sunrise or sunset drive to Tunnel View for a stunning vista over the Valley.
Bonus: Yosemite contains nearly 20% of all plant species found in California. If you come later in the spring, there is a dizzying array of blossoms to behold.
Our travel tips: The spring is one of the best times to visit Death Valley due to the milder temperatures and chance of seeing wildflowers. This also makes it one of the busiest times of the year, so make any reservations far in advance if you want to spend a night here.
While Yosemite is accessible by March, some higher altitude roads within the park like Tioga Road are closed until mid-April due to snow.
READ MORE - Road trip from Las Vegas to Yosemite National Park
10. Miami, FL to Atlanta, GA
10 hours 45 minutes (720 miles)
Why you should visit: While many people flock to Miami to enjoy great beaches and a bit of Cuban flair over Spring Break. If you're already here or would like to simply experience even more of what the South has to offer, then this road trip along the Florida Coast to Georgia is just right for you.
A city that is undeniably hip, Atlanta is the South's biggest and most influential city. Here after a night of great food, drinks, and of course music downtown, you can sip on some sweet tea and recuperate in one of Atlanta's famously relaxing parks.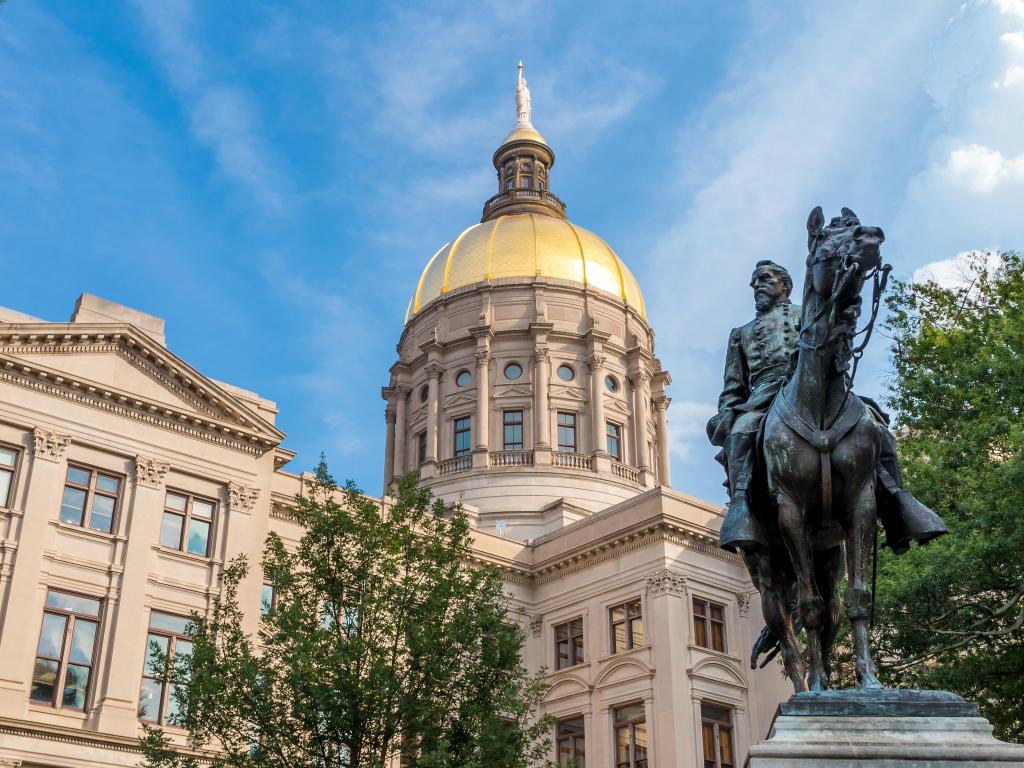 How to get there: From Florida, start driving north on Interstate 95, driving all the way past Jacksonville, across the Georgia border, to Savannah, GA. There, change on to Interstate 16 West, which merges into Interstate 75 North around Bolingbroke, and continues all the way to Atlanta.
Our highlights: On your way to Atlanta, try to stop for a day in Savannah. This historic city is full of Gothic-Revival architecture and moss hanging gracefully from trees.
If you only have an hour to stop here on a lunch break, then head to Forsyth Park for a pleasant walk after your meal.
Atlanta has some truly enchanting green spaces. Grant Park is located in one of Atlanta's oldest neighborhoods, filled with Victorian mansions, the historic Oakland Cemetery, and some great neighborhood cafes and restaurants.
Downtown, Piedmont Park is massive and also houses the Atlanta Botanical Gardens.
A vacation can be the perfect time to find new inspiration and appreciation for universal human struggles. In Atlanta, two outstanding places to visit, learn, and reflect upon are the National Center for Civil and Human Rights and the Martin Luther King Jr. National Historic Site.
If you like long walks, jogs, or a bike ride as a way to unwind, then head to the BeltLine, a 22-mile long system of interconnected parks and trails throughout Atlanta. This is a great way to see more of the city while getting your steps in or crafting your own culinary tour.
Bonus: Atlanta is also home to the state's Capitol. The impressive dome atop the stately building in the south downtown neighborhood sparkles with 43 ounces of gold.
Our travel tips: This Route goes via Jacksonville, FL and Savannah, GA along the coast, adding a few miles but also the potential for some beach therapy along the way.
In mid to late March, you can catch the Suwanee American Craft Beer Fest in Atlanta and taste more than 350 craft brews from all around the country.
READ MORE - Road trip from Miami to Atlanta
11. Chicago, IL to New York, NY
12 hours 20 minutes (800 miles)
Why you should visit: Chicago has long been a center of power and influence; why else would Oprah have hosted her show here for 25 years? The Magnificent Mile with its towering skyscrapers and beautiful Lake Michigan shoreline are just two reasons people stay impressed with the Windy City.
Spring Break isn't just about beach parties, it is simply a time to step away from the grind and enrich yourself. No place is more nurturing for the curious and creative soul than New York City.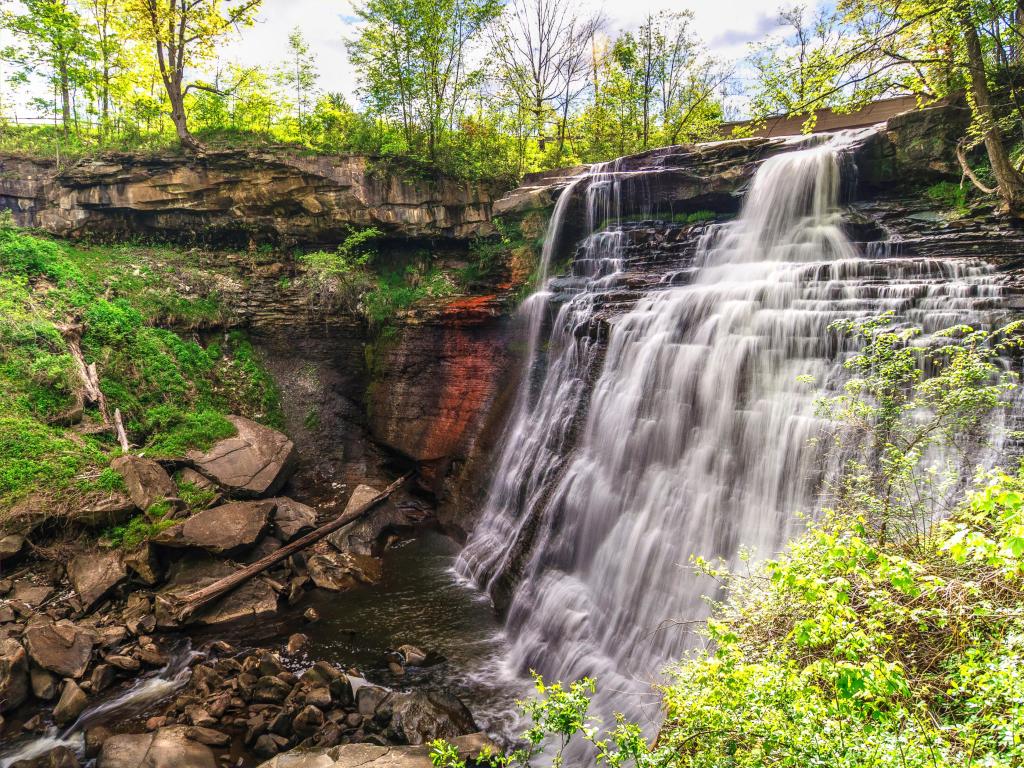 How to get there:On this road trip, start driving east from Chicago on Interstate 90 towards South Bend, IL. Continue past Toledo, OH to Cleveland, OH where you'll change onto Interstate 80 East.
This will take you all the way across Pennsylvania to Interstate 280 in New Jersey, which connects with Interstate 78 and the Holland Tunnel into New York.
Our highlights: One often overlooked sight on the way to New York is the Cuyahoga Valley National Park between Akron and Cleveland in Ohio. Even though it is small for a national park, it is filled with stunning trails by streams and through canyons as well as several wide and graceful waterfalls.
With so many sights to see in the Big Apple, a trip here can easily become overwhelming. With the frozen winter fading into distant memory, Spring is a great time to explore the city on foot.
In addition to walking around Times Square and across the Brooklyn Bridge, make sure to go for a walk along Manhattan's High Line, a park and trail made from a repurposed railway platform.
There are several landmarks in the city where you can get a fabulous view of this bustling city. If you don't feel like climbing the 162 stairs to the crown of the Statue of Liberty, you can reserve an elevator ride to the Empire State Building's observation deck on its 102nd floor.
Catch some Shakespeare in Central Park. In addition to the burgeoning bloom of spring, New York's most famous green space hosts a performance schedule of one the Bard of Avon's masterpieces. Head to the Delacorte Theater early in the morning to snag a free ticket for an evening performance.
Nearby Central Park, the Metropolitan Museum of Art is another must see place in New York City. Filled with art and artefacts spanning 2,000 years of human creativity, you will spend more time here than you initially anticipate. Lovers of the avant-garde and people traveling with kids might want to check out the Museum of Modern Art as well for their contemporary collection and interactive exhibits.
Bonus: Cancel your diet while here. This is the city that birthed the modern American hot dog, eggs benedict, and the game-changing chicken and waffles. With over 20,000 restaurants there's no shortage of places to satiate your most elaborate cravings.
Our travel tips: If you're visiting in April the Sakura Matsuri Cherry Blossom Festival needs to be on your itinerary. Held over two days at the Brooklyn Botanical Gardens and wrapped in pale pink blossoms, this Japanese cultural celebration is utterly whimsical.
You need to buy a ticket to attend, but kids under 12 are free.
READ MORE - Road trip from Chicago to New York
12. San Francisco to Lake Tahoe, CA and Zion National Park, UT
13 hours 15 minutes (820 miles)
Why you should visit: San Francisco is the cultural hot spot of northern California and full of surprises, from pop-up events to hole-in-the-wall restaurants, and stunning architecture. Despite amazing green spaces like Golden Gate Park, it's still a city and sometimes wider pastures call.
On this spring trip through the Sierras to Zion National Park, UT, you'll pass through some of the country's most breathtaking wilderness to this ever-inspirational canyon in southern Utah.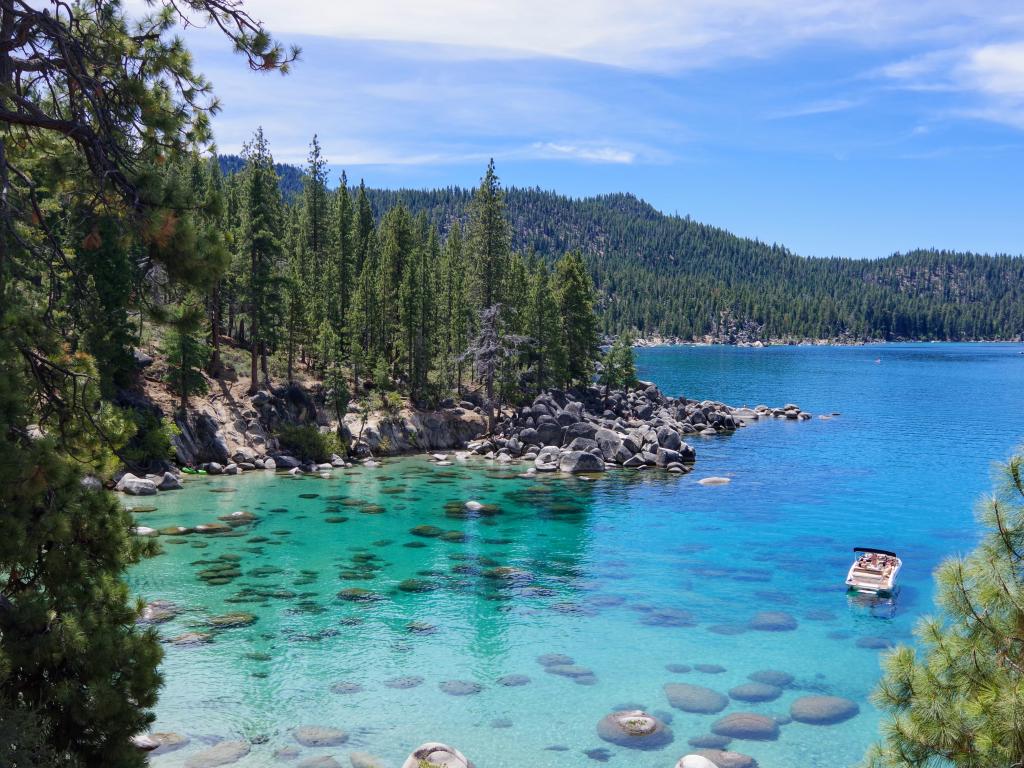 How to get there: From San Francisco, navigate to the Bay Bridge and Interstate 80 (I-80) East. Take this past Sacramento, all the way to Truckee, where you can take CA Highway 89 South to Lake Tahoe.
After some time by the lake, navigate back to I-80 East which will take you across the Nevada border to Reno. Once you get to Wadsworth, NV take US Route 50 East for roughly 300 miles to US Route 93 South. In Panaca, NV, hop across the Utah border towards Hamilton's Fort via Modena, then follow Interstate 15 South to Touquerville and the entrance to Zion National Park.
Our highlights: Spend at least a night or two at beautiful, blue Tahoe. There will still be snow in the early spring in case you feel like skiing the world class slopes at Northstar and Diamond Peak. Countless beaches and trails over granite mountains surround this pristine alpine lake, in addition to some great microbreweries.
Near Zion National Park this trip also takes you close to the Red Cliffs National Conservation Area. Situated at the end of the Mojave desert, this has a surprisingly different feel from Zion with it signature rust-colored cliffs and more arid environment.
Since you're already on an epic road trip, be sure to take the Zion Canyon Scenic Drive once you get here. Running along the canyon floor, this road has breathtaking scenery on all sides and will give you a great overview of the park.
No trip to Zion is complete without setting foot on one of its most iconic trails: Angels Landing. This climbing hike culminates on a narrow and hair-raising ridge that offers unparalleled views of the canyon below.
For a mellower, and particularly beautiful, spring hike head to the Emerald Pools, less than a mile from Zion Lodge. This paved trail navigates around the serene ponds and under an imposing red cliff, through a landscape dotted with budding trees.
Bonus: Another scenic drive within the park, Zion-Mt. Carmel Highway and Tunnel, is also an engineering marvel. Built in 1930, this 25-mile long road connects the south of Zion to the equally stunning Bryce Canyon.
Our travel tips: Unfortunately, Zion Canyon's other most popular trail, the Narrows, is closed from March to May due to lots of snow melt creating hazardous conditions.
Weather-wise, spring is the best time to visit the park. Still the skies can be unpredictable and temperatures can dip into the 30's degrees Fahrenheit, so bring some heavier jackets just in case.
READ MORE - Road trip from San Francisco to Zion National Park
13. Denver, CO to Phoenix, AZ
13 hour 20 mins (820 miles)
Why you should visit: The Mile High City has a wonderful mix of cowboy and contemporary. Surrounded by mountains, you can go hiking, skiing, or horseback riding then head back to the RiNo district for an evening art walk between microbreweries.
Still, the early spring can be chilly in Colorado, so many people head south for a sunnier Spring Break. This trip follows the incline of the Colorado Plateau down into the arid expanse of the Sonoran Desert in Arizona where the Valley of the Sun awaits your exploration.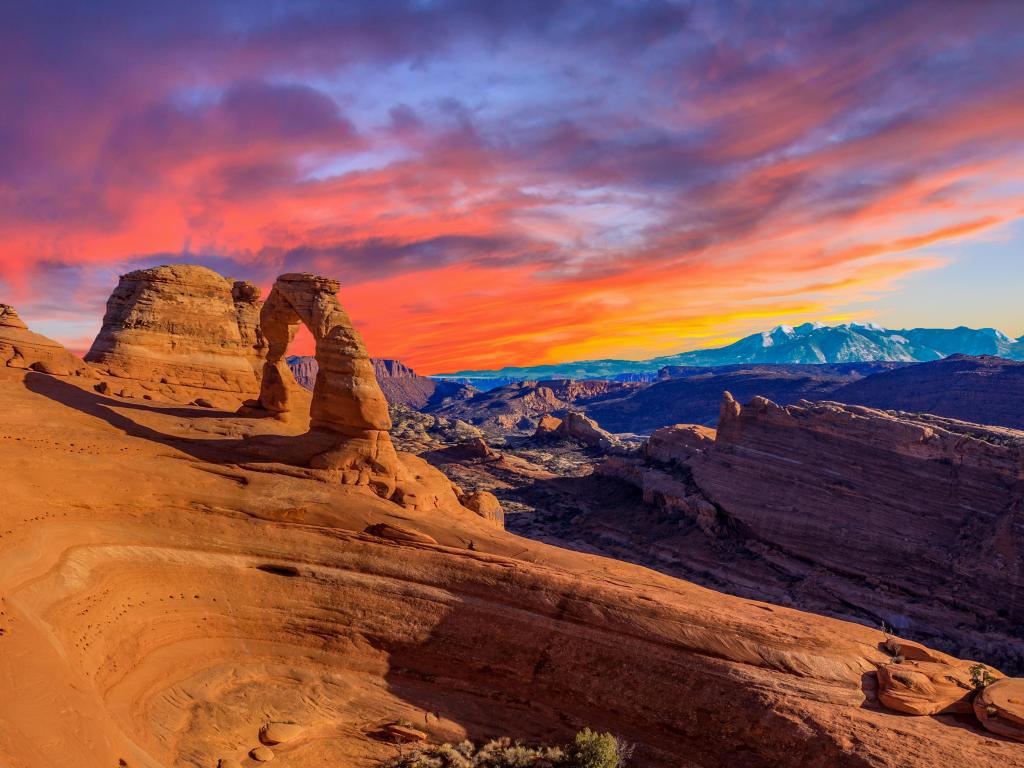 How to get there: From Denver, drive west on Interstate 70 to Thompson Springs, UT where you'll hop on US Route 191 South through Moab and Arches National Park. Take US-191 all the way to Bluff, UT where you'll change onto US Route 163 South across the Arizona border.
Take US Route 160 and Route 89 to Flagstaff, where you will meet with Interstate 17. Take that the rest of the way south to Phoenix.
Our highlights: Arches National Park, a truly unforgettable natural monument, is just south of Moab, UT along this route. Wander around over 2,000 natural sandstone arches and have fun with endless frame-in-frame photo opportunities.
As you pass Flagstaff, look out for Coconino National Forest. Over 1 million acres, this park contains a staggering amount of diverse species and landscapes. You'll find Iron Springs Trail and West Fork Oak Creek Trail within a few miles of Interstate 17.
Even if you're not typically a museum person, check out Phoenix's Musical Instrument Museum. This highly interactive space has instruments from around the world and a superb auditorium in case you're lucky enough to catch a performance here.
Being a prominent college town, Phoenix is a popular Spring Break destination for students. With a huge variety of bars and lounges like boulders on Broadway and Lost Leaf, there's no shortage of places to have a wild night on the town in a classical Spring Break way.
Take advantage of the mild spring weather and go for an excursion through South Mountain Park or up to the glorious views from Camelback Mountain. Both are filled with red rocks and cacti, giving them that typical desert feel you would expect from a trip to Arizona.
If you'd like to learn more about the hardy plants that make this unforgiving environment their home, or if you just appreciate imaginative landscaping, head to the Desert Botanical Garden while in Phoenix. A spring visit also means an increased chance of viewing some unique succulents and cacti in bloom.
Bonus: Phoenix is one of the sunniest cities on the whole planet, so there is little chance of rain spoiling this spring trip.
Our travel tips: When traveling and attending any events, keep in mind that Arizona doesn't keep up with daylight savings time. Finger's crossed the rest of the country will follow their sensible lead soon.
READ MORE - Road trip from Denver to Phoenix
14. Seattle, WA to San Francisco, CA
14 hours 20 minutes (850 miles)
Why you should visit: With its endless opportunities for coffee and fresh seafood, set amidst every kind of green and the glistening waters of Puget Sound, Seattle reaps the rewards of all its rain.
Down the Pacific coast, San Francisco has long been a beacon for free spirits and square pegs, though now they tend to earn a lot more thanks to the tech boom. Full of vibrant neighborhoods and world-famous monuments like the Golden Gate Bridge, a Spring Break trip to this foggy city won't disappoint.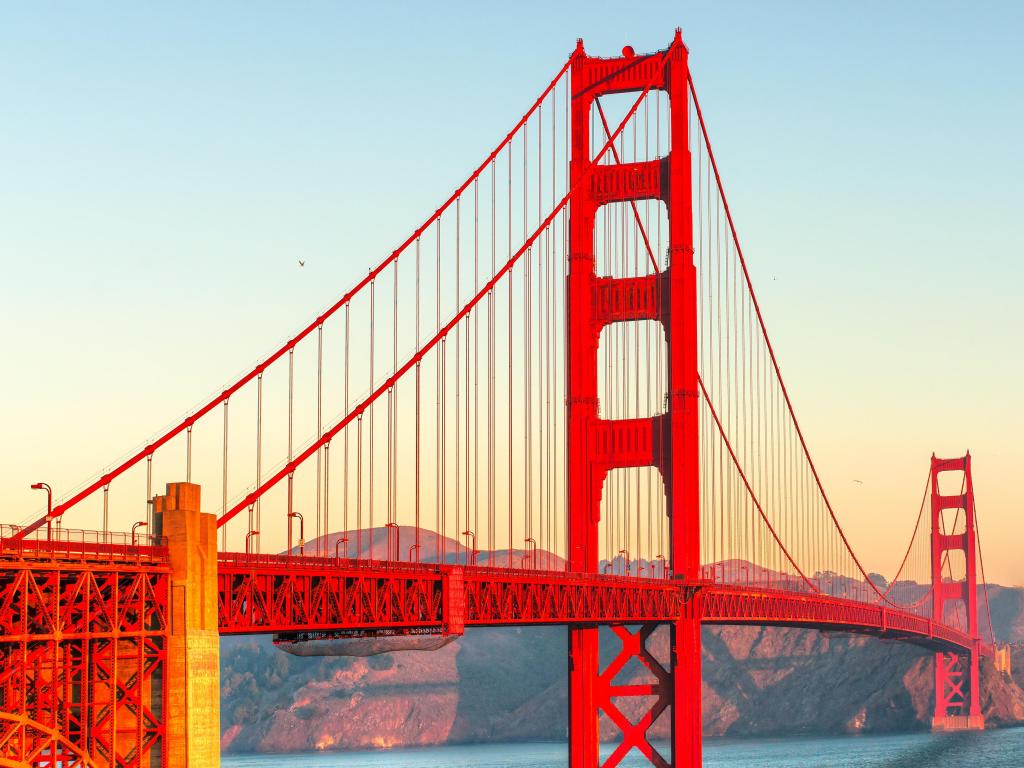 How to get there: Take Interstate 5 South for most of the journey through Oregon and northern California until you get to Williams. From here, head to Clear Lake, then south along CA Route 29 to Calistoga in the Napa Valley.
From there, drive west to Santa Rosa where you'll take US Highway 101 South across the Golden Gate Bridge into San Francisco.
Our highlights: On your way, consider a stop in Portland or one of our favorite West Coast towns, Eugene, OR. In addition to an adorable downtown area, Eugene has one of the liveliest Saturday farmer's markets we've ever seen.
Just north of San Francisco, you'll pass through one of California's most prestigious wine regions, Napa. The early spring is one of the few times of the year the surrounding hills are a vibrant green and there are plenty of seasonal foods to pair with a fresh spring flight.
If you want to stretch your legs once you get to San Francisco, head to Golden Gate Park. Visit the award-winning DeYoung Museum, California Academy of Sciences, and Japanese Tea Gardens then continue along the beautifully landscaped paths that lead all the way to Ocean Beach.
On the other end of the path, you can admire the colorful Victorian homes of the Haight-Ashbury neighborhood.
One of San Francisco's most famous, or infamous, locations is Alcatraz. You can see the island from the busting Embarcadero area, touristy Pier 39, or the spacious and laid-back Marina on the north side of the city. There are daily ferries from the piers to the former home of Al Capone.
San Francisco's wonderful diversity of residents has given birth to a plethora of excellent ethnic cuisine. Pizza in North beach, tacos and empanadas in the Mission, Korean barbeque in the Outer Richmond, and of course dim sum in China Town are just a few of the delectable dishes to try while you're here.
Bonus: Pier 39 is famous for the large pack of Sea Lions who like to sunbathe here, but apparently they have only done so since after the 1989 earthquake. One of San Francisco's many unexplained mysteries.
Our travel tips: We've given a scenic route above that blends highway driving on Interstate 5 (I-5) with a detour through the wine country and Santa Rosa north of the city.
This adds just over an hour of driving time versus staying on I-5 until you reach Interstate 505 which connects to Interstate 80 into San Francisco.
READ MORE - Road trip from Seattle to San Francisco
15. Orlando, FL to New York, NY
15 hours 45 minutes (1,070 miles)
Why you should visit: With its warm climate and dozens of lakes, Orlando feels like a tropical metropolis along its vibrant International Drive.
While many people head to nearby Daytona Beach to get their Spring Break boogie on, the more ambitious tripper puts their sight further afield. On this massive trip all the way up to the city that never sleeps, you'll pass through seven states and some of America's most influential cities.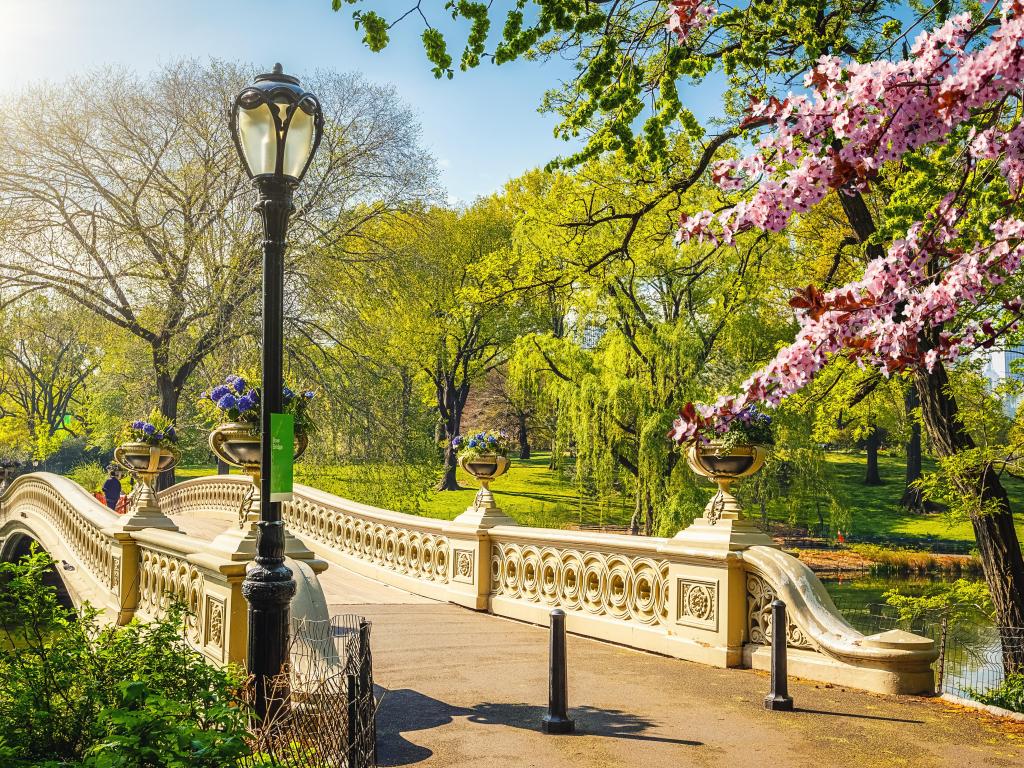 How to get there: Amazingly for a thousand-mile drive, this mostly follows one road. Hop on Interstate 95 North all the way through Richmond, VA, Washington DC, Baltimore, MD, and Philadelphia, PA to Newark, NJ where you'll meet Interstate 78 which takes you across the Holland Bridge and into NYC.
Our highlights: Even though history and civics might be the last things on your mind as you enjoy your Spring Break, this trip is a great chance to at least see the major monuments along the National Mall in Washington DC.
If you have a bit more time and interest, the network of buildings and museums that make up the Smithsonian Institution.
This route also passes through Philadelphia, another historic and lively East Coast city. Tour some of the 67 National Historic Landmarks here, like the Liberty Bell, or make it a very different kind of trip and check out the notable bar scene in Philly.
Once you get to the Big Apple, you won't want to waste a minute. Head up to Midtown Manhattan to see world-famous attractions like Times Square, the Rockefeller Center, and the Empire State Building.
One of NYC's greatest assets is Central Park. In addition to winding trails and fresh foliage in the spring, the New York Zoo and the fantastic Metropolitan Museum of Art are also located along the park.
For those who want to see what's going to be trending back home soon, head to Williamsburg in Brooklyn. From fashion to food this is a neighborhood ahead of the curve and has some simply adorable streets lined with brownstones.
Bonus: Being a global financial capital, New York is understandably home to some staggering wealth. A vault deep underneath the Federal Reserve Bank of NYC houses the largest store of gold on the globe, valued at $90 billion dollars. Better to work on your screenplay about a heist than actually attempt one here.
Our travel tips: Especially if you're acclimated to Orlando, you're going to want to bring some extra layers with you. The New York highs in March rarely creep above 50 degrees Fahrenheit.