Road Trip from Yosemite to Yellowstone National Park
If you're up for an epic road trip from the stunning Sierra Nevada Mountains to the majestic Rocky Mountains, passing several exciting cities and some of Utah's and Idaho's most stunning landscapes, the road trip from Yosemite to Yellowstone National Park is the perfect adventure for you.
The 1,350-mile road trip from Yosemite to Yellowstone National Park takes 23 hours to drive. You may travel via Lake Tahoe, Reno and Ketchum or past Mammoth Lakes, Las Vegas, Death Valley, Zion National Park, Dixie National Forest and Salt Lake City.
Continue reading to discover our recommendations for the best routes to take, the awe-inspiring things to see along the way, the most beautiful places to stay overnight, and ideal times to do this road trip.
How far is Yellowstone National Park from Yosemite, and how long will the road trip take?
Comparison of road trip routes between Yosemite and Yellowstone National Park

| Route | Distance | Driving Time |
| --- | --- | --- |
| The Salt Lake City Route | 1,340 miles | 22 hours |
| The Lake Tahoe Route | 1,350 miles | 23 hours |
The road trip from Yosemite to Yellowstone National Park is 1,350 miles long and takes 23 hours to drive without stopping, when traveling from Yosemite West via Lake Tahoe Route towards Yellowstone.
Alternatively, the Salt Lake City route is 1,340 miles long and takes 22 hours to drive. It starts at Lee Vining, east of Yosemite, and is a more southern route taking you via Utah towards Yellowstone.
If you really want to take in all that this road trip has to offer, from the breathtaking mountain scenery, canyons, and forests to the many attractions of the cities along the way, we'd recommend you take at least 5-6 days to do this road trip.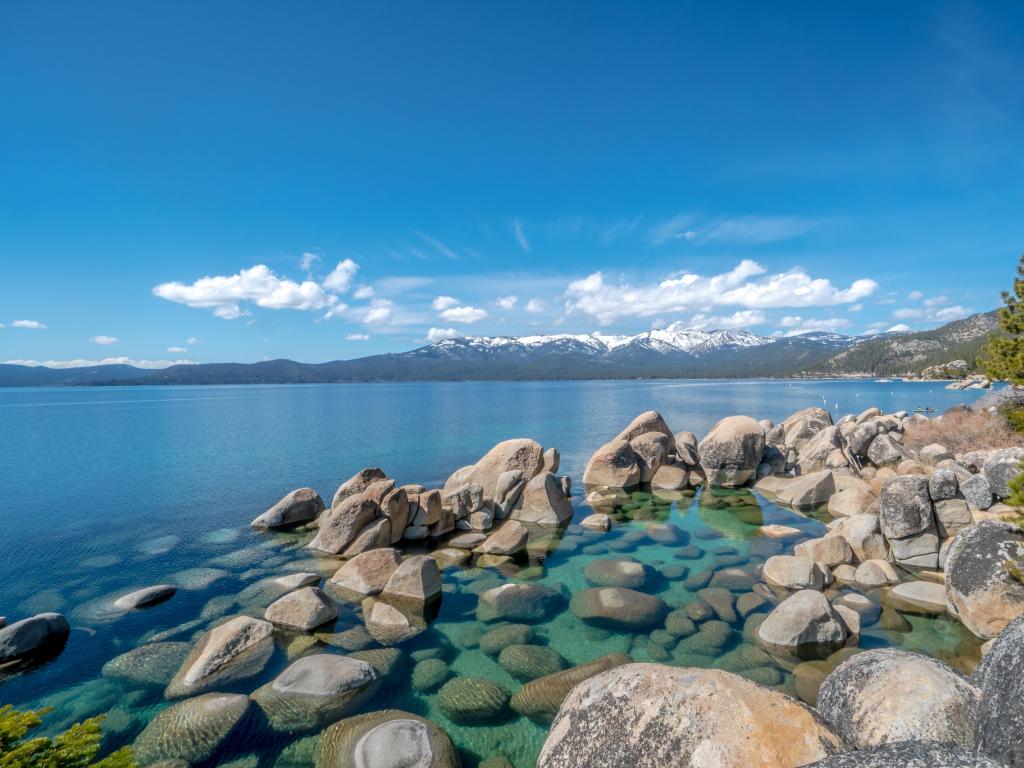 Best road trip route from Yosemite to Yellowstone National Park
Our recommended routes allow you to enjoy mountain landscapes, visits to beautiful nature areas, and the possibility to explore some interesting towns and cities along the way. Which route to choose depends on which particular attractions and sites you wish to visit.
The Lake Tahoe Route takes you from the stunning vistas of the Sierra Nevada Mountains via South Lake Tahoe, the city sitting on the shores of the sky-blue Lake Tahoe, which is also a popular ski resort, to the city of neon lights, Reno, Nevada.
From there, the route will take you into Idaho, where you will explore the eerie landscape of the Craters of the Moon National Monument, visit Sawtooth National Forest, or stop at picturesque cities in the Southern Rocky Mountains, including Ketchum and Salmon.
The alternative Salt Lake City Route leaves from Lee Vining due south-east. You'll first pass by Mammoth Lakes, a city surrounded by mountains and stunning forests, and then you have a chance to go visit Death Valley National Park before leaving California.
You can stop at several incredible national parks and nature areas in Utah, Montana, and Wyoming, including Zion and Grand Teton National Parks and Dixie National Forest. You will also be able to spend time visiting attractions or enjoying entertainment in cities such as Las Vegas, Salt Lake City, and Jackson.
The Lake Tahoe Route
To take the Lake Tahoe Route, you'll be leaving Yosemite from its West Exit, close to Yosemite West. From here, head to Scottsville and drive along SR-88 past Eldorado National Forest and to South Lake Tahoe.
After visiting this city by the stunning Lake Tahoe, surrounded by rugged, yet beautiful mountains, follow the highway to Carson City and follow Interstate 580 (I-580) into Reno, known for its many casinos and museums.
From Reno, I-80 will guide you eastward on your road trip. At Wells, take a left onto US Route 93, in the direction of the Craters of the Moon National Monument. Afterwards, you will soon reach Ketchum and Sawtooth National Forest.
Crossing from Idaho to Montana, head to Lost Trail Pass. Following the signs for Gardiner, you will soon reach your destination in Yellowstone National Park.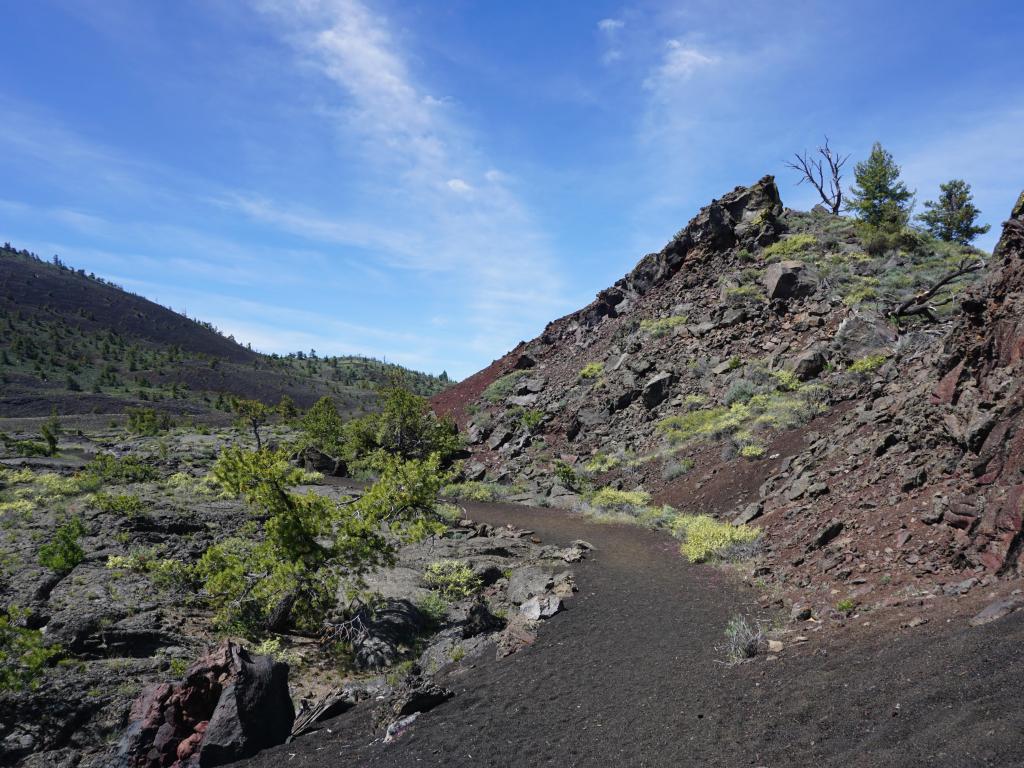 The Salt Lake City Route
This route option starts at Lee Vining, the East Entrance to Yosemite National Park. You'll first follow US Route 395 south past Mammoth Lakes. At Big Pine, turn east onto California State Route 168. When you reach US Route 95, follow it south into Las Vegas, known as "The Entertainment Capital of the World".
From Las Vegas your route takes you north along I-15, past Utah's amazing Zion National Park and Dixie National Forest, as well as the state's capital Salt Lake City.
At McCammon in Idaho, you'll take a right onto US Route 30 and follow it east until at Soda Springs, turn left onto Idaho State Highway 34, then follow Wyoming Highway 89 to reach Jackson. This is a wonderful base to explore Grand Teton National Park.
From Jackson, follow Wyoming State Highway 22, then Idaho State Highways 33 and 32 into Ashton. Here, follow Highway 20 until West Yellowstone.
Finally, to reach the northern entrance of the park, drive along US Route 191, until at Bozeman, turn east onto I-90 into Livingston, and then turn south onto US Route 89 until you reach Gardiner and Yellowstone National Park.
Best places to stop between Yosemite and Yellowstone National Parks
During your road trip from Yosemite to Yellowstone National Park, there are plenty of stunning national parks and exciting cities and towns to visit.
Of all the wonderful places to stay overnight, these locations and hotels are some of our recommendations for you to consider.
Explore mining history and the country life at Ketchum
About two-thirds of the way on your road trip from Yosemite to Yellowstone National Park, following the Lake Tahoe Route, is the city of Ketchum. This picturesque city is set along the Big Wood River in Idaho and is a good place to rest overnight after exploring cities and national parks along your road trip.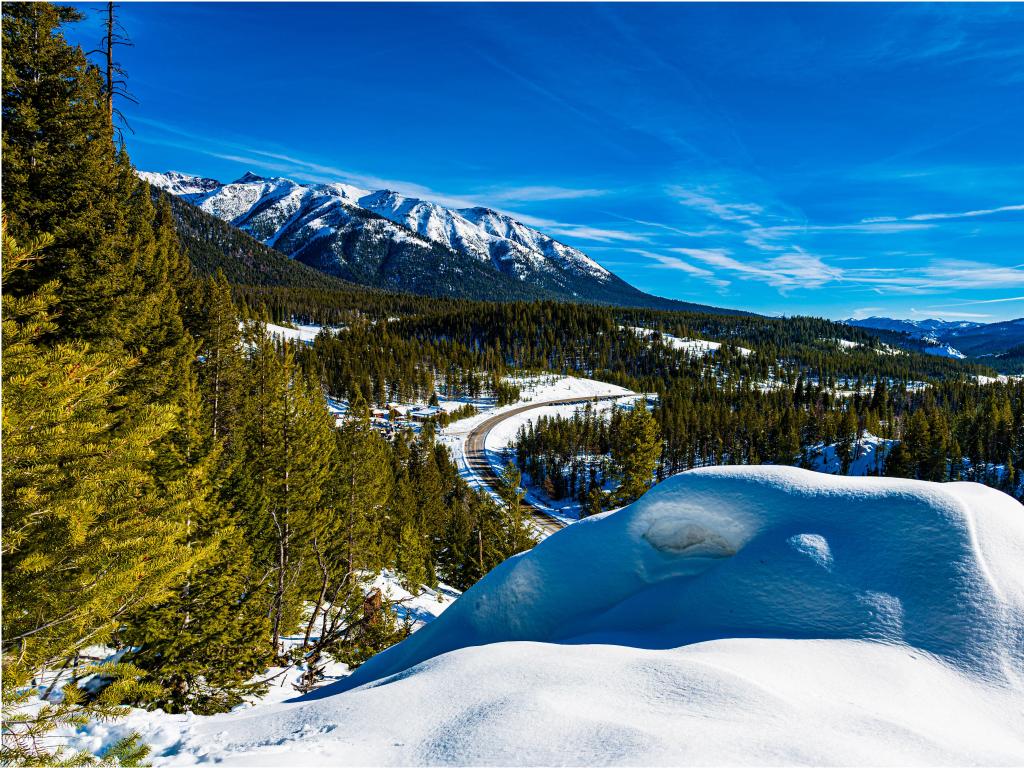 Ketchum is set among beautiful mountains and has wonderful opportunities for dining, shopping and outdoor activities. It is known for its art galleries, fishing and hiking locations, and a rich pioneer and mining history.
Should you stay in Ketchum, you might wish to visit some of the city's cultural attractions, such as the Ketchum Sun Valley Historical Society Heritage & Ski Museum which contains items related to skiing, mining, sheep, and the author Hemingway.
For a comfortable, cozy stay in Ketchum, do consider booking into the Best Western Tyrolean Lodge. You'll find spacious, lovely rooms in this hotel with modern, cabin-style interior design. There are outdoor fireplaces, a fitness center, and free parking at the hotel.
This hotel is also located right off the road bringing you into Ketchum and is within easy walking distance to the town center and nearby nature areas. From here you may easily visit the town square, Knob Hill natural area, Sun Valley Museum of Art, and River Run Ski Lift. You'll also find lovely restaurants and cafés nearby.
Alternatively, if you're looking for the ultimate luxurious stay, Knob Hill Inn in Ketchum, although a little bit more on the pricey side, is a fantastic option looking for some extra pampering.
Enjoy the rich culture and the stunning outdoors at Salt Lake City
Salt Lake City is a vibrant city, about halfway along your road trip when taking the Salt Lake City Route option. As the capital of Utah and being located right on the route of your road trip, this city is well worth exploring.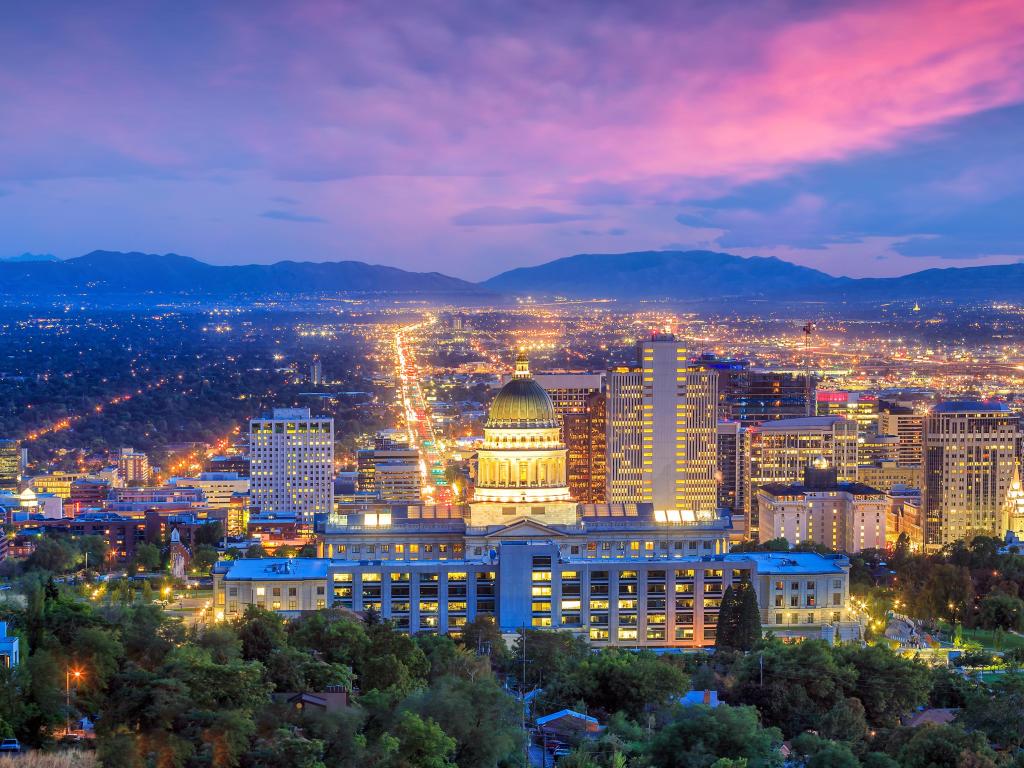 Of the many things to do in Salt Lake City, you may at least wish to visit the beautiful Temple Square historical landmark. Here you may view the stunning, white Salt Lake Temple, albeit from the outside only, or visit the various visitor centers. The Utah State Capitol is also a notable building to visit.
Should you travel to the Great Salt Lake nearby, you'll be in for a treat: this lake is an ecologically highly important location, and it is home to an amazing diversity of birdlife as well as other fauna and flora.
If you're looking for a modern, comfortable place to stay overnight in Salt Lake City, the Hyatt Place Salt Lake City Downtown / The Gateway is a wonderful option.
The hotel has an outdoor pool and spa, with a delicious breakfast on offer. There is also parking available, meaning you can leisurely explore the city on foot.
Within walking distance from the hotel, you'll find several major attractions such as the Clark Planetarium, Utah State Capitol, and Temple Square. There are also many restaurants, bars and cafés in downtown Salt Lake City nearby.
Where to stay when you reach Yellowstone National Park
At Yellowstone National Park, you may easily spend several days exploring the many natural wonders and outdoor recreation opportunities the park has to offer. Explorer Cabins at Yellowstone offers a wonderful place for you to stay while visiting this oldest national park in the US.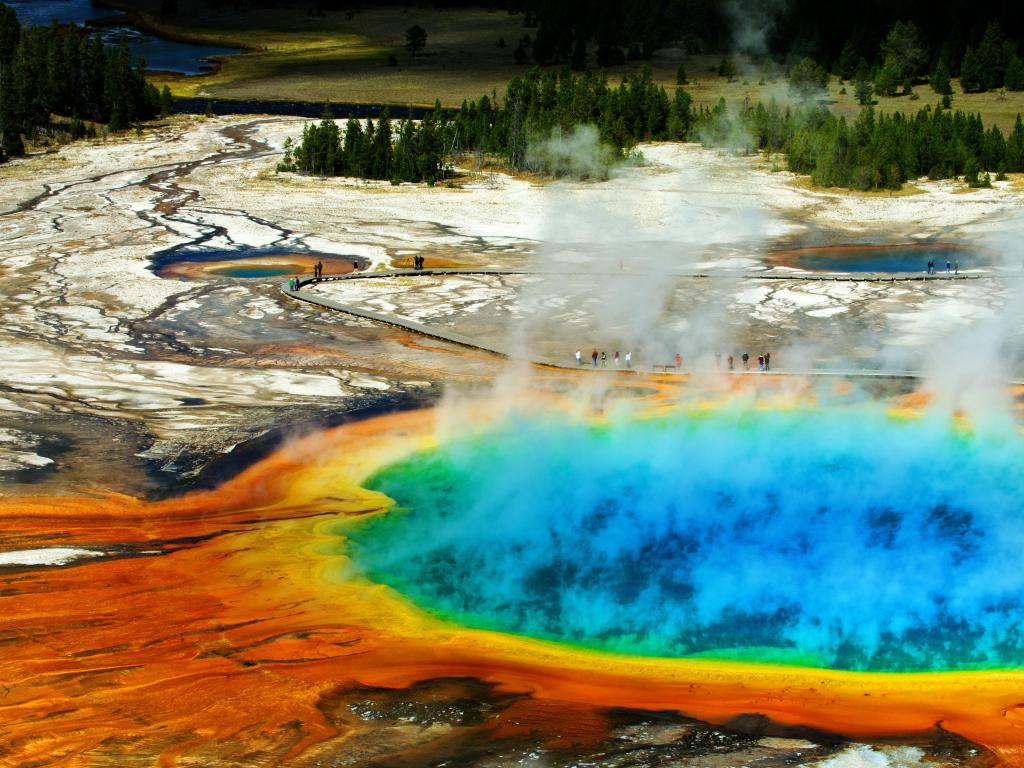 The hotel is close to the West Entrance of Yellowstone National Park, making it easy to go to Yellowstone from here to visit the Old Faithful geyser, and the amazing waterfalls, or to try to spot the wolf, bison and other wildlife.
The wooden cottages are modern yet cozy and include a fireplace and a front porch for a romantic experience. There are also sun loungers and free parking at the hotel.
Just two blocks away you'll find the nearby town with restaurants and shops.
Things to see on a road trip from Yosemite to Yellowstone National Park
The road trip from Yosemite to Yellowstone National Park is filled with mountain landscapes and other natural wonders, as well as enchanting towns and cities to visit.
Here we list some of the best recommendations for things to see and do during this road trip.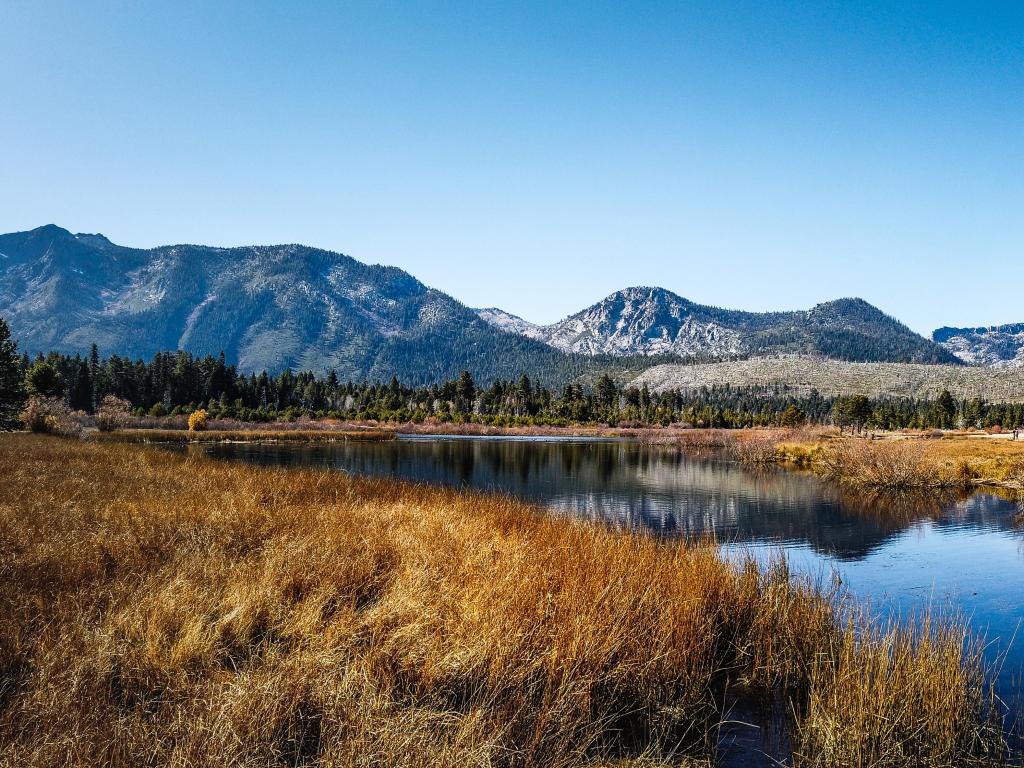 The Lake Tahoe Route
Eldorado National Forest, California - A superb place for hiking, Eldorado National Forest displays the Sierra Nevada mountains at their best, from the foothills of the mountains covered in oak forests to the steep slopes and ridges of the tall mountain peaks.
South Lake Tahoe, California - South Lake Tahoe is known for the Heavenly Mountain Resort and other popular skiing locations. Lake Tahoe is a place of stunning, blue waters, and white, sandy beaches.
Reno, Nevada - You'll find plenty of opportunities for gambling in Reno, and it is a popular tourist destination. The town also has many interesting attractions, such as the Nevada Museum of Art.
Craters of the Moon National Monument, Idaho - This beautiful though somewhat strange-looking area encompasses lava fields and steppe grasslands.
Ketchum, Idaho - Set along the Big Wood River, Ketchum has a rich history and art scene, and a lovely downtown area for you to stroll through.
Sawtooth National Forest, Idaho - This forest is part of the Sawtooth Mountains, which belong to the Rocky Mountains. Fir forests, alpine tundra, and plentiful rivers and streams are found in this breathtakingly beautiful natural landscape.
Salmon-Challis National Forest, Idaho - Salmon-Challis National Forest is home to large areas of pristine nature as well as abundant plant and animal life.
Salmon, Idaho - Due to the Salmon River, the area surrounding the mountain town of Salmon attracts whitewater rafters as well as other nature enthusiasts throughout the year.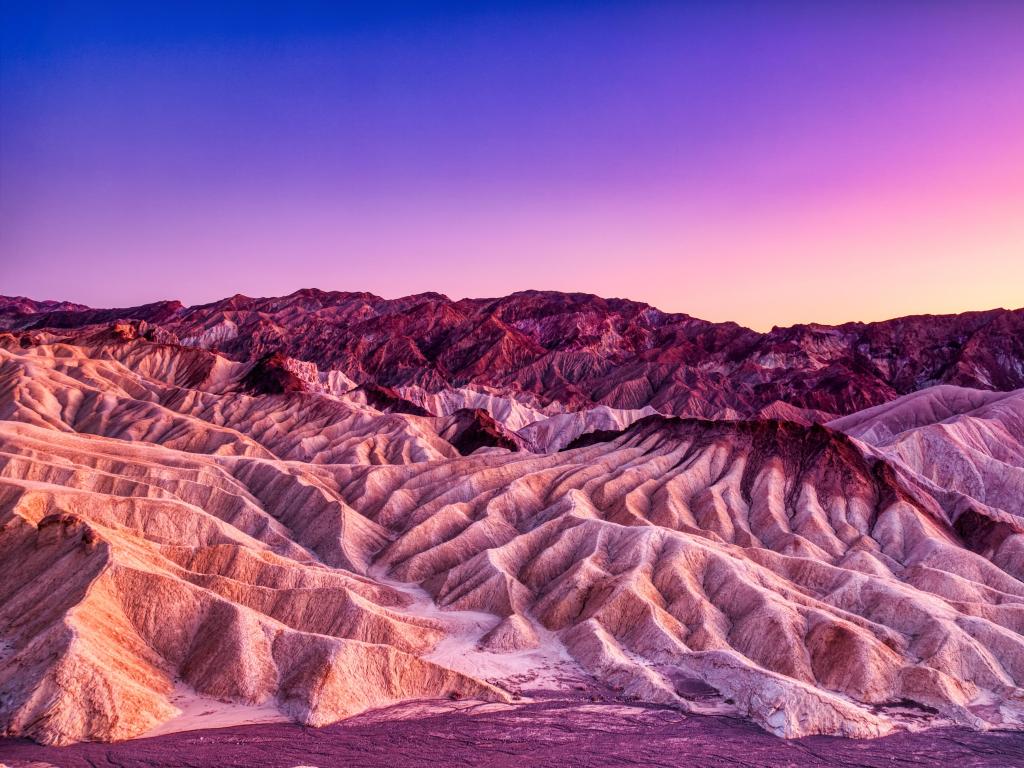 The Salt Lake City Route
Mammoth Lakes, California - Mammoth Lakes is an enchanting mountain town, where you may enjoy wonderful skiing or hiking opportunities. From here, you may also explore redwood forests in the Sierra National Forest area.
Death Valley National Park, California - It is well worth the slight detour to visit the lowest, hottest, and driest national park in the US! Death Valley's rugged peaks and deserts are otherworldly, but you'll also find wildlife and pine forests here.
Las Vegas, Nevada - Do make a stop at this colorful, vibrant city. You may enjoy gambling and fun here, and there are many attractions such as the Downtown Arts District or the Neon Museum.
Zion National Park, Utah - Sandstone canyons, high plateaus, and stunning waterfalls can be found in this national park. The area used to be inhabited by the Anasazi people, and signs of this are still evident in the region. If you'd like to hike up to Angels Landing, you will need a permit and will need to make a reservation. Check the Zion National Park's website for more details.
Dixie National Forest, Utah - High plateaus, pine forests, and the red sandstone formations in Red Canyon make Dixie National Forest a must-visit stop on your road trip.
Salt Lake City, Utah - The capital of Utah, Salt Lake City hosts an amazing array of interesting sights to see, including the Utah State Capitol, several stunning cathedrals, major shopping centers, and outdoor recreation opportunities, such as visiting the nearby Great Salt Lake.
Jackson, Wyoming - You'll find amazing ski resorts in Jackson, as well as the special National Museum of Wildlife Art. Jackson is also a wonderful place where you can use as a base to explore the Grand Teton and Yellowstone National Parks.
Grand Teton National Park, Wyoming - Grand Teton is famous for its mountain views and amazing wildlife. The dozens of mammal species present in the area include the grizzly bear, otter, cougar, wolverine, coyote, bison, and pronghorn.
Caribou-Targhee National Forest, Idaho - Beautiful spruce and pine forests, grasslands, caves and mountain views draw visitors to Caribou-Targhee National Forest. The area is perfect for hiking or picnicking.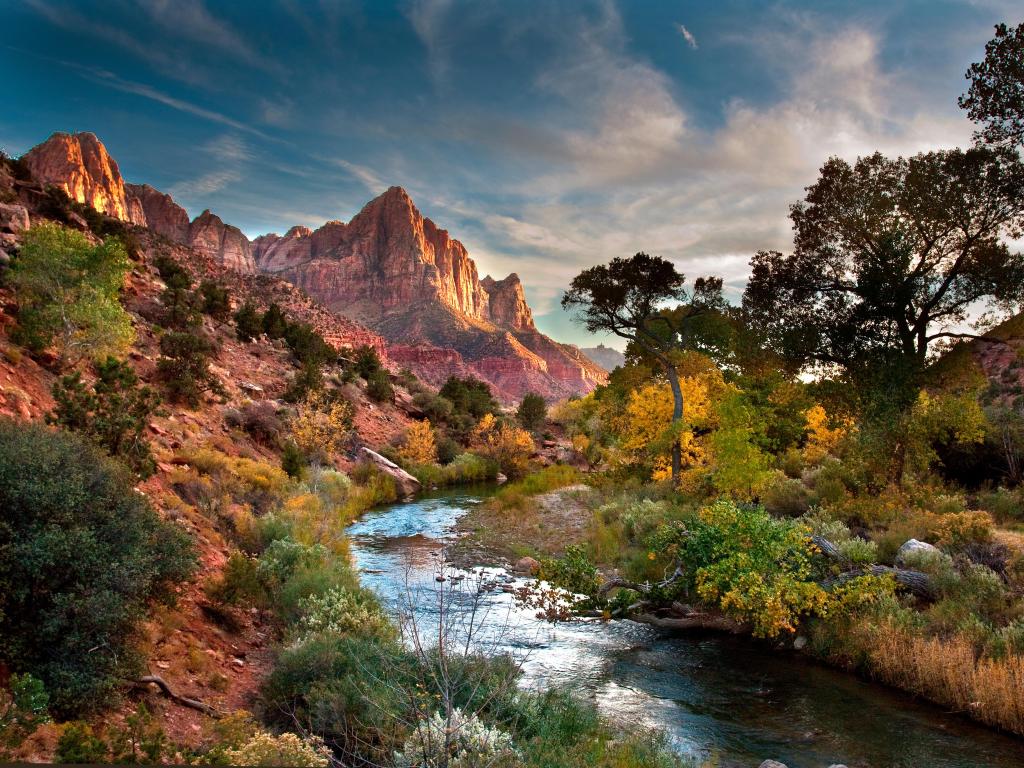 Best time to go on a road trip from Yosemite to Yellowstone National Park
It is possible to visit Yellowstone at any time of the year, but due to cold temperatures and very possible snow during the winter months, planning a road trip then may require some special planning. For example, road access to certain places may be impacted by snow and ice.
Temperatures in summer range between 40 and 80 degrees Fahrenheit, making it fairly pleasant to visit Yellowstone in summer. This is also the time the park gets most crowded, though.
Being above 6000 feet above sea level, Yellowstone has long, cold winters with snowfall and ice. Winter temperatures usually range between 0 and 20 degrees Fahrenheit, so pack warm. The landscapes in the park are stunning in the winter months as well, and there are plenty of outdoor recreational opportunities in the wintertime.
April, September and October are the best times to visit Yellowstone. Crowds are thinner then, and also, in the spring you may catch the birds migrating into the area, as well as the waking of the bears and many baby animals being born.
Fall is the time of the deer rut and the stunning fall colors of the forest. Temperatures range between 30 and 55 degrees Fahrenheit during these months.
There are many festivals and events in and around Yellowstone, especially so during the summer months. You may wish to consider these when planning your road trip.
For example, in July, you may attend the largest outdoor rodeo in the world, the Cheyenne Frontier Days, which is organized in West Yellowstone. Also in July, you can enjoy the Idaho International Summerfest, a celebration of (traditional) dance and music from around the world.