Can you Drive through Yosemite?
Yosemite National Park is situated in the Sierra Nevada mountains in California and is famous for its stunning natural beauty. With its giant Sequoia trees, freshwater lakes, and incredible sheer granite cliffs, including the renowned El Capitan and Half Dome, it is the ultimate outdoor getaway and the perfect place to embrace the wonder of nature with over 2.2 million acres to explore.
Driving through Yosemite National Park is memorable at any time of year. A summer visit along Tioga Road is full of breathtaking views, and in winter, road closures make the southern route the best way to view the park in its full winter glory.
With its spectacular waterfalls, impressive range of hiking trails and being home to all manner of wildlife, including American black bears, mule deer, and Sierra Nevada bighorn sheep, Yosemite is an incredible destination. Continue reading to discover the best routes through Yosemite and the attractions you simply have to visit.
Can you drive through Yosemite?
The main ways to drive through Yosemite

| Route | Starting Point | Ending Point | Seasonal Availability | Time / Distance |
| --- | --- | --- | --- | --- |
| Summer Route | Tioga Pass | Crane Flat | Closed from November to May | 1 hour 30 minutes / 60 miles |
| Winter Route | Oakhurst | Mariposa | Open all year round | 2 hours 30 minutes / 90 miles |
Yosemite is surrounded by the Sierra National Forest and the Stanislaus National Forest, and It lies around 140 miles east of San Francisco and a similar distance south of Sacramento, on the eastern side of California.
The Park is open all year round, but some areas are inaccessible during the winter months and some popular attractions may be closed, or certainly won't be as easily accessible, so planning your route in advance is essential.
There are five entrances to Yosemite National Park you can drive through, and each comes with its own unique views and sights to see.
The Hetch Hetchy entrance is situated on the northwest side of the park and is one of the quieter areas attracting fewer visitors than other routes. It is accessible all year round although it is only open during the daytime in winter.
Big Oak Flat Entrance on the western side of the park is the most popular entrance for visitors traveling to the park from San Francisco and the California coast. The Big Oak Flat Information Station is an excellent information source for things to see and do in Yosemite but is closed during the winter months.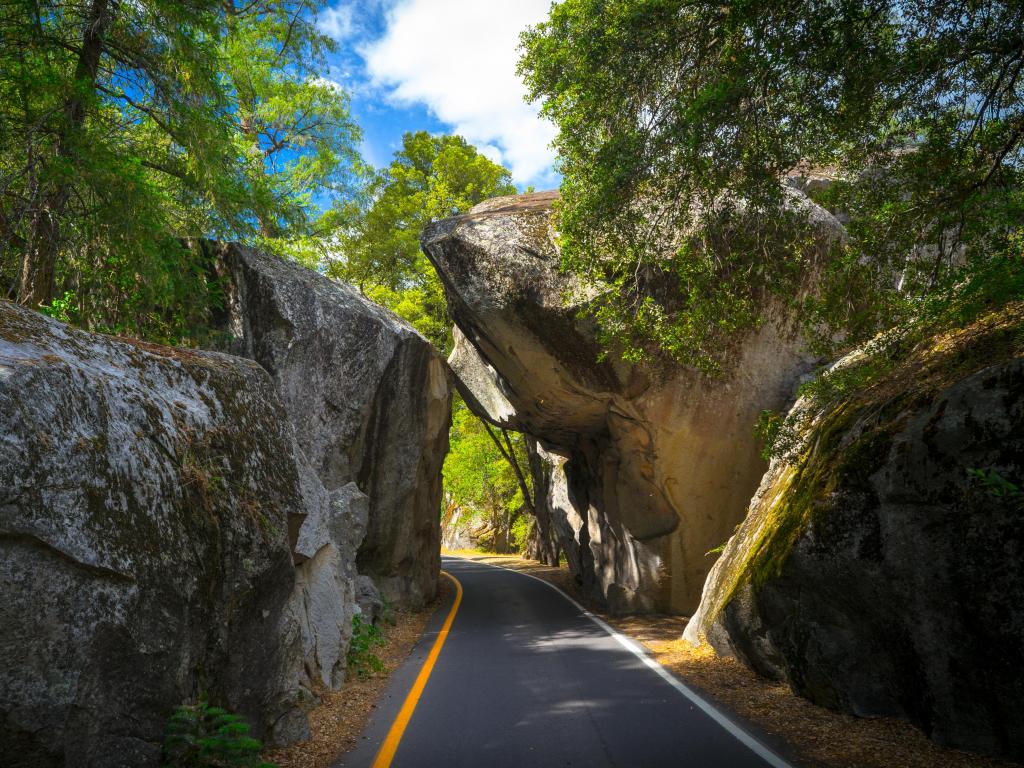 Arch Rock Entrance on the western side of the park is also popular with those traveling from San Francisco and taking this entrance leads you onto El Portal Road taking you to the heart of Yosemite Valley.
The South Entrance is accessible via Highway 41 and is the ideal entry point to the park for those traveling from San Diego, Los Angeles, and the southern states.
The Tioga Pass Entrance is situated on the eastern side of the park and is the best entrance for those traveling from Lake Tahoe, Reno, or Las Vegas. This entrance is open from May-October and usually closes in winter and the early spring months due to snow conditions making the road impossible.
How to drive through Yosemite on the Summer Route
While any drive through Yosemite is scenic, the recommended summer route is driving along Tioga Road. This is a 60-mile journey between Tioga Pass and Crane Flat through the most wonderful scenery on very well-maintained roads. It is the highest road in Yosemite and at its highest point reaches 10,000 feet above sea level.
There are plenty of viewpoints to stop and admire the stunning views, with useful information points provided at many of the stops, giving a helpful description of the surrounding features. The road itself is an exhilarating drive, twisting and winding with incredible views around every corner.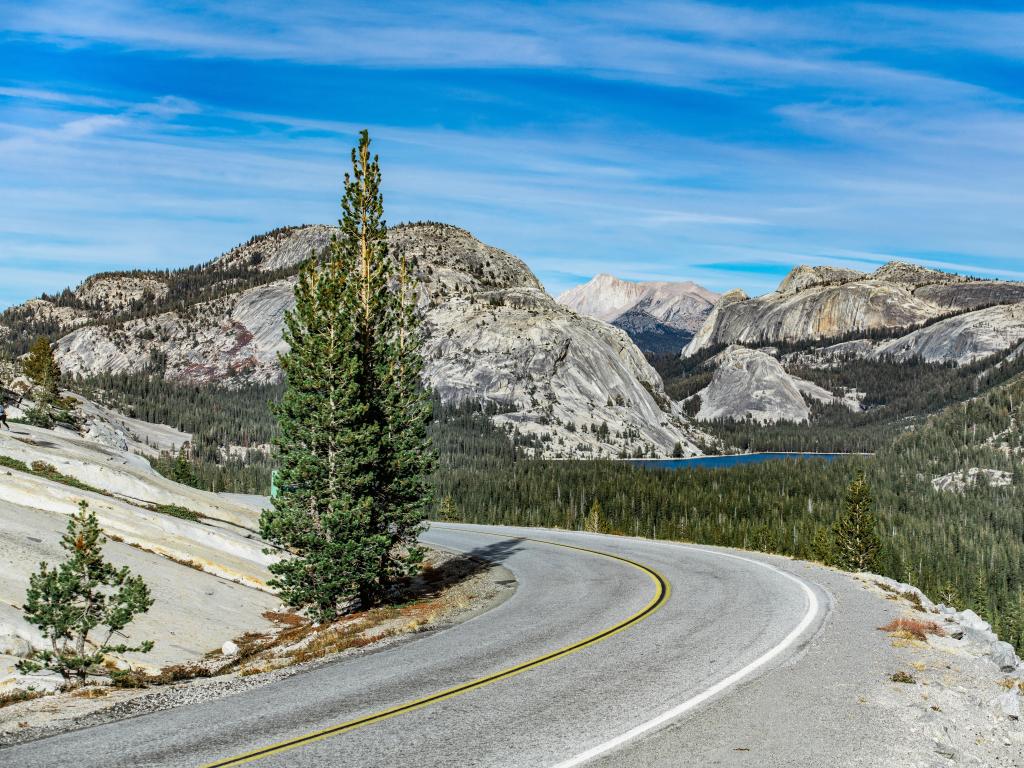 It does have some steep descents and drop offs so. is not for the faint-hearted. This route is only available from late May - November due to the adverse winter weather conditions and heavy snowfall causing road closures in the park.
The route takes you from Lee Vining along Highway 120 where you'll pass Mono Dome and Tioga Peak before arriving at the Yosemite entrance gate at Tioga Pass.
As the route twists its way through the park, you'll head past Lembert Dome before arriving at Tuolumne Meadows, where you can stop and take in the magnificent surroundings before continuing past Fairview Dome towards Tenaya Lake.
You'll then arrive at Olmsted Point, a viewing area offering views of the northern side of Half Dome, Tenaya Lake and to the south views of Tenaya Canyon and a variety of trails give the chance to head off into the wilderness and explore on foot. The route continues past Porcupine Creek Trailhead towards Yosemite Creek and then onwards past Ten Trails Lakehead and White Wolf Campground as you make your way to Crane Flat.
How to drive through Yosemite on the Winter Route
With the roads through Yosemite only partially open during winter due to snow, our route takes you from Oakhurst to Mariposa through an amazing winter wonderland from the Parks southern entrance. This spectacular drive goes via Yosemite Village and El Portal giving wonderful views of the park in its winter glory.
The route enters the park passing Fish Camp and heading for Mariposa Grove, passing Wawona and continuing towards Badger Pass. Here there are excellent trails for cross-country skiers, ski runs, a snowboarding park, a snow-tubing area, and snowshoe rentals for those that want a more leisurely winter activity.
Continuing along Wawona Road takes you past Grouse Creek Falls and it's well worth the hike to see the falls as they thunder almost 500 feet into Merced Gorge below.
The route then heads past Tunnel View and Sentinel Dome to Yosemite Village before heading west towards Yosemite Valley View and Yosemite Valley Vista Point, both excellent places to pull over and be in awe of what's around you.
The route then leads you along El Portal Road to El Portal, and nearby Hite Cove with its excellent hiking trails where you can follow the Merced River as it weaves its merry way through Merced River Canyon. The drive then takes you towards Briceburg and onwards to Mariposa.
Although the route is open all year round, for those uncomfortable with winter driving conditions, it may be better to visit in the warmer months of the year.
If you fancy traveling over snow, while snowmobiling is prohibited in Yosemite National Park, it is possible to go on a guided tour to explore much more of the snowy wilderness, and it is also possible to take a winter tour bus around the park at a more relaxed pace.
How long does it take to drive through Yosemite?
Both of our routes through Yosemite can be undertaken in a day, but with so much to enjoy in Yosemite, it would be easy to spend a week exploring. Combining both routes is another option allowing the chance to see as much of the park as possible.
The Summer Route from Tioga Pass to Crane Flat is a 60-mile drive which takes 1 hour and 30 minutes. This doesn't allow for traffic along the route or for stops along the way so the depending on your preferences, the time taken can be much longer.
The Winter Route from Oakhurst to Mariposa is a 90-mile drive which takes 2 hours and 30 minutes.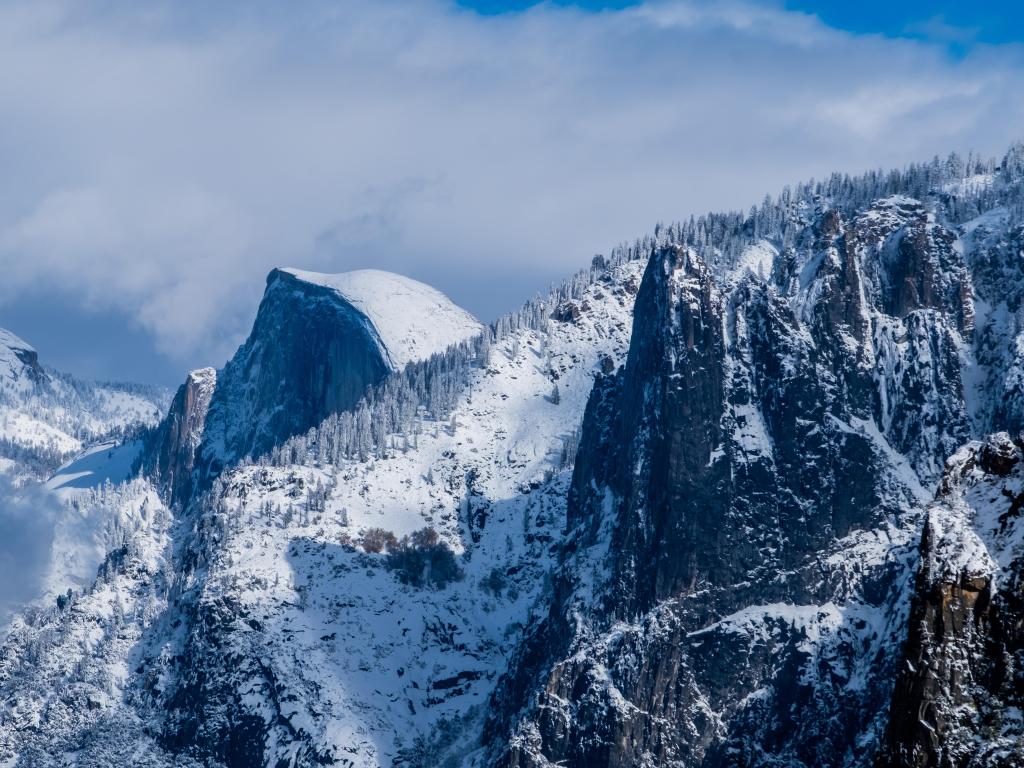 Which entrance should you arrive at in Yosemite?
Wherever you are travelling from, all the routes leading to Yosemite ensure the Park is easily accessible from all directions. All the Park entrances are open during the summer months and so the one most amenable to the route you're arriving on will be the best option.
During the winter months, the South Entrance and Big Oak Flat entrance are the most preferable of the 5 available ways to enter the Park. On the eastern side, the Tioga Road is likely to be closed and entering the Park from that side is not a viable option.
Comparison of travel times from major US cities to Yosemite

| Origin city | Recommended entrance | Distance | Time |
| --- | --- | --- | --- |
| San Francisco | Big Oak Flat Entrance | 170 miles | 3 hours 50 minutes |
| Los Angeles | South Entrance | 280 miles | 4 hours 50 minutes |
| San Diego | South Entrance | 400 miles | 7 hours 15 minutes |
| Las Vegas | South Entrance | 460 miles | 7 hours 10 minutes |
| Phoenix | South Entrance | 650 miles | 10 hours 50 minutes |
| Seattle | Big Oak Flat Entrance | 900 miles | 15 hours 10 minutes |
| Chicago | Big Oak Flat Entrance | 2,180 miles | 32 hours |
* Please use the links above to access our ultimate guides on the respective road trips.
Best places to stop on a drive through Yosemite
There are plenty of accommodation options available, both inside and on the outskirts of Yosemite and staying over for a few nights will allow the chance to see much more of the park and its attractions.
You can choose to stay in luxury at one of the fine resorts or hotels, or you may prefer to be closer to nature and sleep under the stars at one of the many campsites within the park. We have highlighted some of our favorite accommodation options below which offer alternative options depending on when you are planning to visit.
Have a monumental stay in Mammoth
If you're following the Summer Route, or plan to visit in winter to enjoy some fun in the snow, then a stay in Mammoth Lakes is an excellent choice for an overnight stay. It's situated around 30 miles south of the eastern entrance to Yosemite near the town of Lee Vining.
With enthralling mountain bike routes, an abundance of walking trails, an incredible climber's playground, and a number of idyllic kayaking, paddleboarding, and swimming locations, Mammoth Lakes is the perfect place for a summer road trip.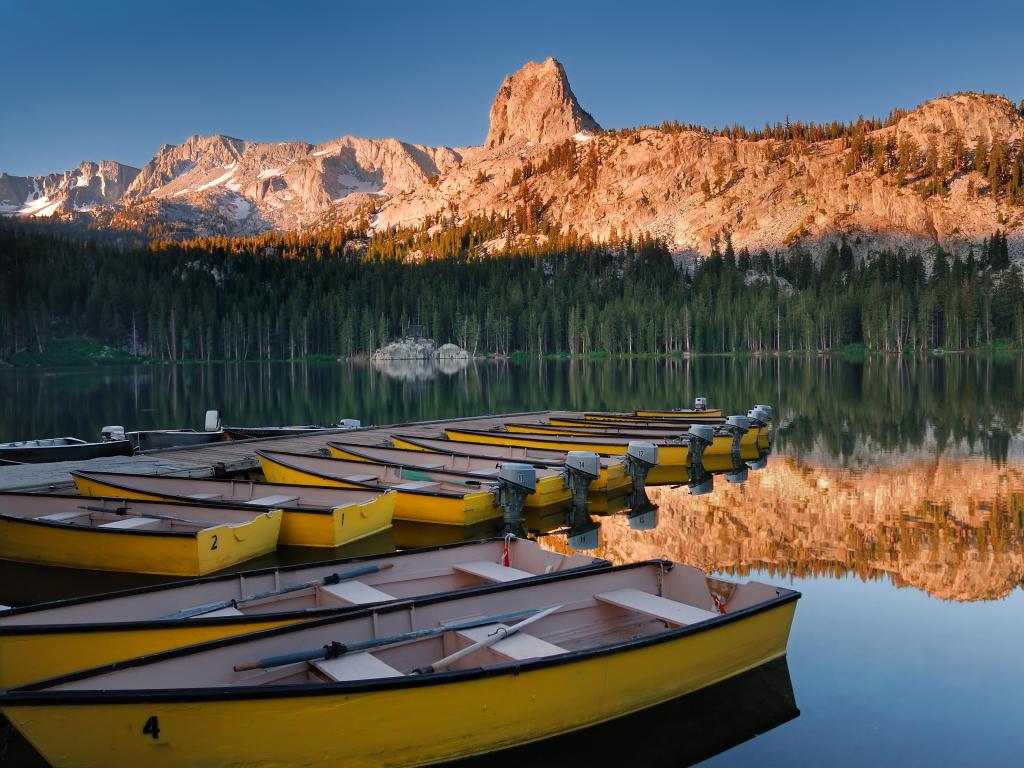 The town is also an excellent choice for winter visitors being a mere gondola ride away from the skiing facilities at Mammoth Mountain, and there are 6 ski lifts within easy walking distance of the hotel.
A visit to Bristlecone Pine Forest will allow you to witness some of the oldest trees in the world, with some of the oldest dated over 4,500 years old. The trees are strangely spectacular with their incredible twisted, colored wood. A visit to the forest also gives you the most incredible views of the Sierra Nevada.
When visiting Mammoth, a must-see is the Devils Postpile National Monument. This amazing natural phenomenon consisting of columns of basalt is best reached via the free shuttle bus service and the trip is best combined with a hike to the mightily impressive Rainbow Falls, before taking the shuttle back to Mammoth.
The Westin Monache Resort, Mammoth is the ideal place to rest and relax. With a heated pool, hot tubs, and 24-hour fitness center, it is a perfect place to unwind after a day of driving to Yosemite.
All guest rooms have a fireplace making the rooms extra cozy in winter and the Whitebark Restaurant offers a gourmet dinner menu with stunning views out over Mammoth.
The hotel is situated in the beautiful town of Mammoth Lakes with easy access to Mammoth Mountain, Duck Lake Pass Trailhead and many other mountains and trails that give excellent trail walking and activity options.
Explore the forest at Fish Camp
Our next accommodation recommendation is situated in the town of Fish Camp, which lies 2 miles outside of Yosemite's southern entrance. This stop is suitable for travelers making the journey all year round and the hotel is perfectly situated off Highway 41, en route to the park.
Fish Camp is a beautiful hamlet and the southern gateway to Yosemite, surrounded by the Sierra National Forest. The local Miwuk Nation used to hunt, fish, and trade in this area long before logging and tourism came on the scene.
It is only a short drive from Fish Camp to Mariposa Grove, situated at the heart of Yosemite and home to over 500 giant sequoia trees, and the natural birthplace of the park. Some of the trees are almost 3,000 years old and are living, breathing works of natural art that have to be seen to be believed.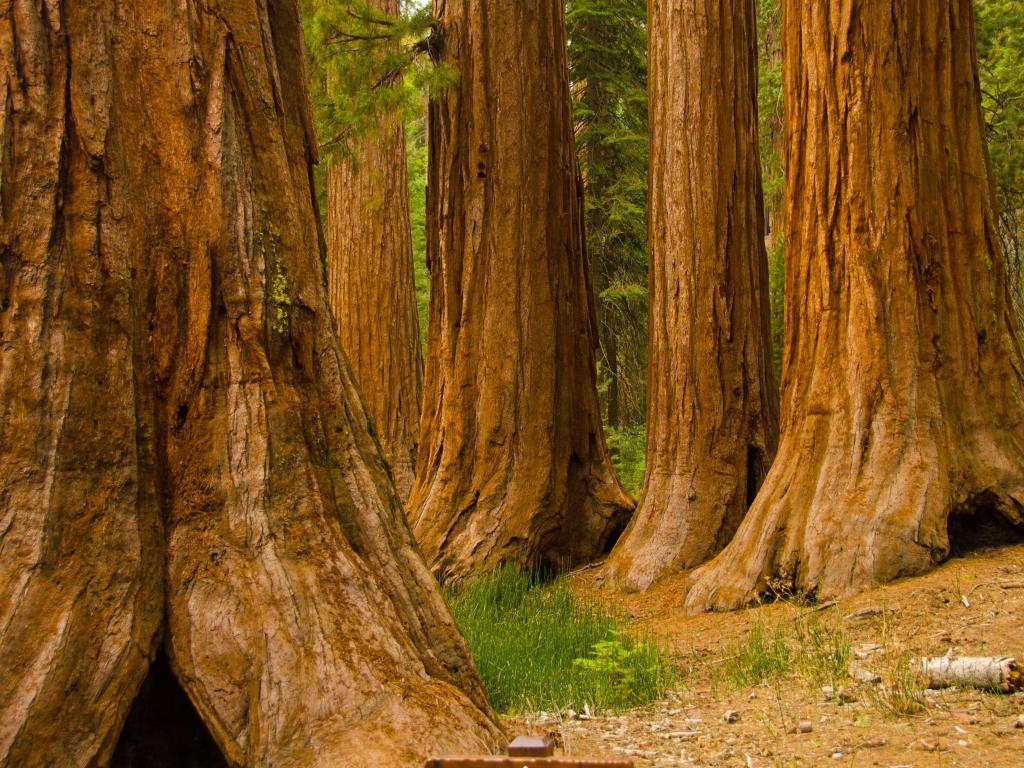 A trip on the Yosemite Mountain Sugar Pine Railroad is an enjoyable historic steam engine locomotive experience where you can discover all about the history of the area and its logging past at the on-site museum.
You can also book the moonlight special and enjoy an al fresco dinner at the station, and live music, before sitting back to enjoy a narrated tour aboard the train.
Step back in time and learn all about how life used to be in Yosemite at the Yosemite History Center at Wawona. Here you can experience the old horse-drawn wagons, historic buildings, and covered bridges and discover the important part they played in the development of national parks all around the world.
After a day driving to Yosemite, Tenaya Lodge is the ideal stopover destination where you can relax in the Ascent Spa and treat yourself to the many treatments on offer, as well as a state-of-the-art fitness center, sauna, an indoor pool, and 3 outdoor pools and hot tubs (seasonal).
The hotel also boasts a games room, a selection of lawn games for the summer months, and bike hire to explore the park on two wheels. Dining at Tenaya caters to all tastes, with an excellent choice of cuisine available with an emphasis on locally sourced produce.
The hotel sits close to the southern entrance of Yosemite and has easy access to many of the popular attractions of Yosemite all year round.
Where to camp in Yosemite
If you prefer to sleep under canvas, then there are many excellent places to camp in Yosemite, and you will not be alone in some of the most popular campgrounds, including Lower Pines, Yosemite Creek, White Wolf, Upper Pines, and Hodgdon Meadow.
Our favoured spot however is North Pines Campground, situated 20 miles and 50 minutes from Crane Flat in the heart of Yosemite Valley. Prices here are $26 per night, available from April to October (at the time of writing).
Camping in Yosemite is one of the best ways to experience the park in all its natural glory. Sleeping under the stars at North Pines in Yosemite Valley will ensure you have bathroom facilities, drinking water, and a fire pit and ensures a stay close to its spectacular granite cliffs and thundering waterfalls.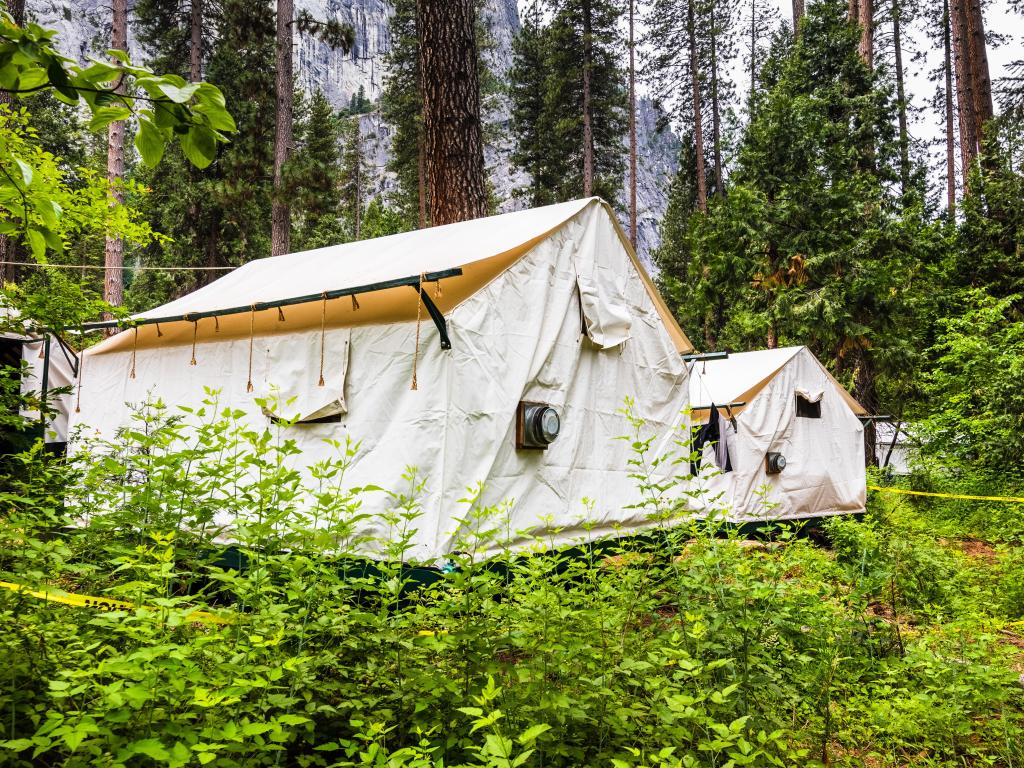 Situated close to the Merced River, North Pines is more secluded than the nearby Upper and Lower Pines sites, a beautiful site with views of the mountains, with a friendly atmosphere, within walking distance of Curry Village and the Mist Trailhead.
Staying at North Pines will leave you within walking distance of Curry Village where you'll welcome the excellent shower and bathroom facilities available, as well as a swimming pool, free Wi-Fi and also Bar 1899, Meadow Grill, Pizza Deck, and Coffee Corner, allowing you to camp in style without having to worry too much about supplies.
The Nevada Falls Loop and Mist Trail begin a short distance from the campsite and this enjoyable and slightly strenuous trek takes you all along the mist trail to the top of Nevada Falls offering unparalleled views over the park.
Taft Point is another relatively easy trail, starting off through woodland, before reaching the point, offering some of the most dramatic views of Yosemite Valley looking out over North Valley and El Capitan. If you dare, you can walk to the cliff's edge and look straight down, and you'll soon find out if you are scared of heights or not!
You can learn more about Yosemite at the nearby Yosemite Conservation Heritage Center. This was the original Yosemite Visitor Center in 1903 and is now an excellent information and educational center where you can learn all about Yosemite and its history.
Yosemite in winter is magical and one of the best places for a winter camp is Wawona, situated 50 minutes south of Yosemite Valley. Situated in a secluded forest site of White Fir, Cedar, and Pine. Bathrooms, toilets, and drinking water are all within walking distance.
Wood/Charcoal fires are allowed year-round and there is a general store for groceries near Big Trees Lodge so you will never be short of essential supplies.
It is worth remembering that camping in winter is available on a first-come-first-served basis and reservations are not required in the same way as they are during the extremely popular summer months.
Things you need to know about driving through Yosemite
Yosemite is accessible by major roads from all directions and it is a relatively straightforward drive to reach the park wherever you are traveling from.
If you are driving from San Francisco, then Highway 120 leads you to the Big Oak Flat Entrance. The south entrance is the easiest way to access the park traveling from LA, Texas, and the southern states and is open all year round via Highway 41.
If you are accessing the Park from the east, from Las Vegas and beyond, the Tioga Pass entrance is reached via SR120.
Hetch Hetchy Entrance via Highway 120 is the entrance to take if you want to avoid the crowds and is the place to go to visit Mark Twain's cabin, the Railtown 1897 State Historical Park, and Hetch Hetchy reservoir.
Arch Rock Entrance is accessible from Highway 140, and this route takes you to El Portal, the closest town to Yosemite.
A wilderness permit is required for backpacking, overnight stays, and overnight climbing in Yosemite. These can be obtained online, or via the Valley Visitor Center in Yosemite Village.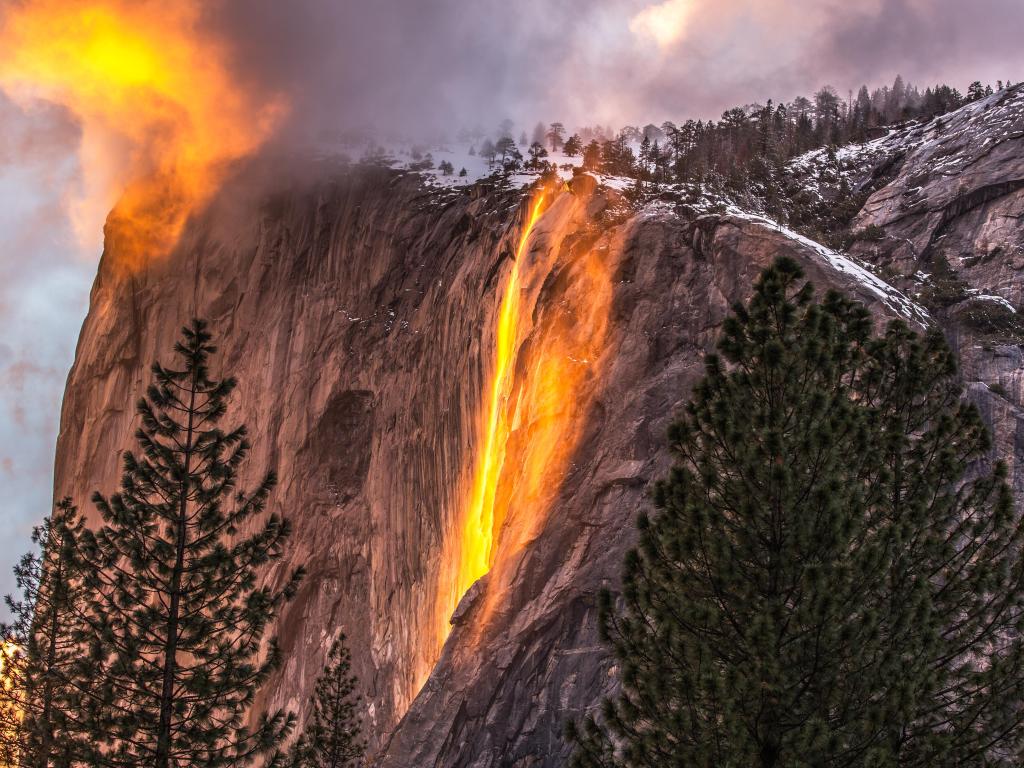 If you are planning a hike to Half Dome, then a permit is also required, and this applies seven days a week. The permit was introduced in an effort to protect the wilderness and also to reduce overcrowding and improve safety in the area.
Due to the popularity of Yosemite and the demand for reservations to stay in park accommodation, park officials may check travelers IDs on check-in in an attempt to stop reservation scalping. If your name doesn't match the reservation, you won't be allowed to stay at Yosemite.
During the winter months when the road conditions become more dangerous, it can be a legal requirement to use snow chains in the park, so do ensure these are safely packed in the boot in case they are required. These requirements are strictly enforced and without chains, entrance to the park will be refused.
Be mindful of wildlife and especially careful with food and storage with bears being present in the park, especially if you are camping, and familiarise yourself with what to do on encountering a bear face to face.
If you are camping at Yosemite, then a reservation is required, especially for the summer months. These have to be booked in advance. It is not possible to reserve a same-day camping reservation. Reservations become available 6 months in advance and competition is fierce for summer places.
Do regularly check the Yosemite website for any recent alerts and/or road closures. Rockfalls are common and you'll find plenty of helpful information and necessary diversionary routes available online.
A reservation is required to drive into Yosemite on certain days in February in order to see Horsetail Fall lit up at sunset with a beautiful orange glow. This mesmerizing spectacle only occurs in mid-late February in certain weather conditions.
The waterfalls do not flow all year round. They are at their most impressive in May when the melting snow adds to their ferocity. After a hot summer, the falls can be a shadow of their former selves.
NPS entry fees to Yosemite National Park

| Ticket type | Car fare |
| --- | --- |
| Weekly pass | $20 |
| Annual pass | $70 |
*Prices calculated at the time of writing, please check the NPS website for up-to-date information.
Here are our top tips when it comes to preparing for a drive through Yosemite:
Yosemite is very popular in summer and attracts over 3.5 million visitors annually.
In the summer months, the temperature in certain areas of the park can reach 100 degrees Fahrenheit, so pack water and supplies.
In recent years, it has been a requirement of the park to reserve a place in order to visit but this is no longer be a requirement in 2023 although a pass is still required to enter the park.
Driving in Yosemite in winter is possible but many of the roads and attractions are closed from late October through to May because of the snow although this also attracts many visitors who enjoy outdoor winter activities with skiing and snowboarding extremely popular.
Traffic in winter is much lighter than in the summer months.
Things to see on a drive through Yosemite
With its incredible landscapes, thunderous waterfalls and mighty peaks, there is so much to enjoy and explore on a trip to Yosemite. Its natural wonders are a joy to behold, and our list below is full of must-see attractions when visiting the Park.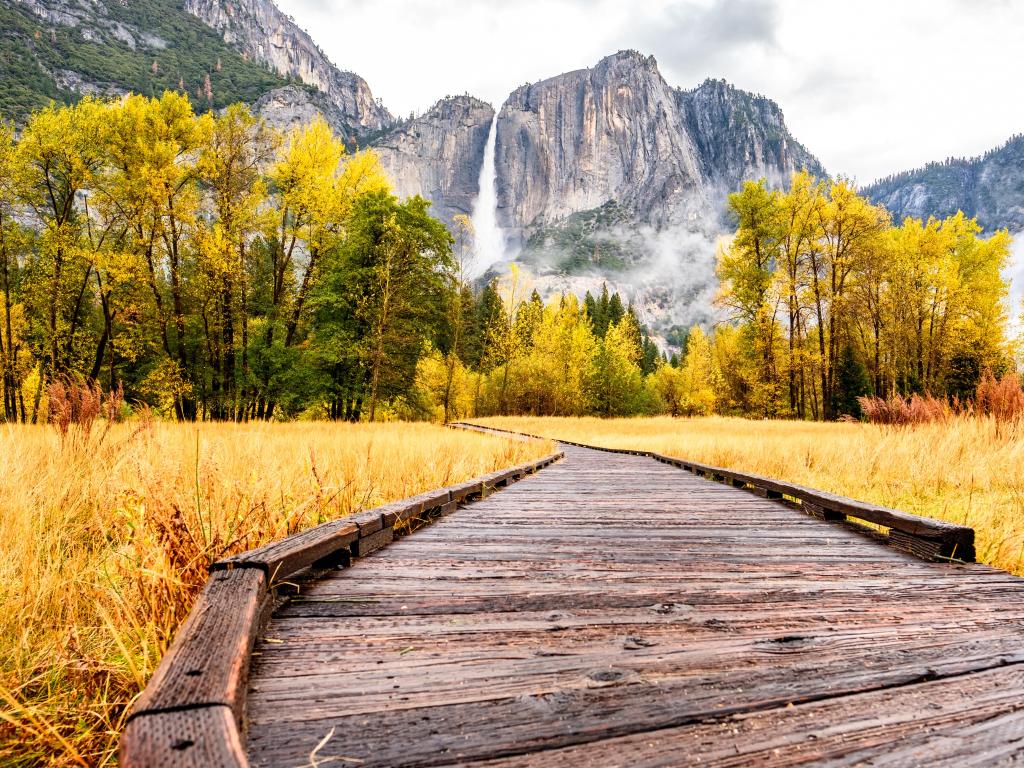 Mono Lake - Situated in the Mono Basin National Forest Scenic Area, this beautiful inland sea is over 750,000 years old surrounded by the remains of volcanoes. The incredibly salty water is home to millions of brine shrimp and other species and foliage that don't exist anywhere else on the planet.
May Lake and Mt Hoffman - A hike to the summit of Mount Hoffmann offers an incredible panoramic view from 10,845 feet where you can look down on Half Dome and the surrounding landscape. A swim in the crystal clear waters of May Lake with the backdrop of Mt Hoffmann is an amazing experience although the water may be quite cold even in summer.
Tunnel View - near Wawona Tunnel, the viewpoint gives an incredible view of how dramatic Yosemite really is, looking out over beautiful meadows, with the dramatic El Capitan, Half Dome, and Bridalveil Falls, it is truly remarkable.
Tuolumne Meadows viewpoint / visitor center - one of the highest and most scenic meadows in the Sierra Nevada, accessible from the road that passes by the southern side, and the start of one of the largest roadless wilderness areas in the US. The Tuolumne River flows serenely against the stunning mountain backdrop.
Vernal Falls - Take a hike through the mist trails and get a perfect view from the footbridge of this spectacular waterfall.
Half Dome - One of the iconic features of Yosemite, a geological wonder that can be seen from many of the park's viewpoints, and one of the best is Glacier Point, where you can see it tower above the other mountains, the guardian of the valley below. It is possible to hike up Half Dome and it is a popular playground for climbers, along with El Capitan.
Yosemite is the ultimate outdoor playground with some of the most amazing scenery on earth and after one visit you'll be longing to return.
The lakes and trails make for a perfect summer adventure and the snow-covered peaks transform the Park into a magical winter wonderland and a drive through Yosemite is an experience that will never be forgotten.