Road Trip from Los Angeles to Sacramento
Take the ultimate West Coast road trip from America's sunshine and movie capital Los Angeles to the capital of California, Sacramento. On your way, you'll see stunning forests, California beach towns, and epic inland attractions like Death Valley and Lake Tahoe.
The 540-mile road trip from Los Angeles to Sacramento will take 11 hours to drive. Highlights include Death Valley, Mammoth Lakes, South Lake Tahoe, Santa Monica, Santa Barbara, Solvang, Big Sur, Monterey, San Jose, San Francisco and Yosemite.
This truly is a road trip for those wanting to experience the best of California. Read on below to learn more about our recommended routes, places to stay, and exciting things to do and see on the way from Los Angeles to Sacramento.
How far is Sacramento from Los Angeles, and how long will the road trip take?
Comparison of road trip routes between Los Angeles and Sacramento

| Route | Distance | Driving Time |
| --- | --- | --- |
| The Pacific Coast Highway Route | 540 miles | 11 hours |
| The Lake Tahoe Route | 610 miles | 11 hours 10 minutes |
The Lake Tahoe Route covers 610 miles of California, with 11 hours and 10 minutes of driving time. You'll see the best inland destinations in the state and a diverse range of natural landmarks and wildlife habitats.
The Pacific Coast Highway Route brings you up the coast, through some of the most famous cities in California like Santa Barbara and Big Sur. This route takes 11 hours of driving time to complete and will take you 540 miles.
Either route you choose, we recommend spending four to five days on this journey. Continue on to learn more about our recommended routes, where to stay to break the trip up, and what to see and do on the way.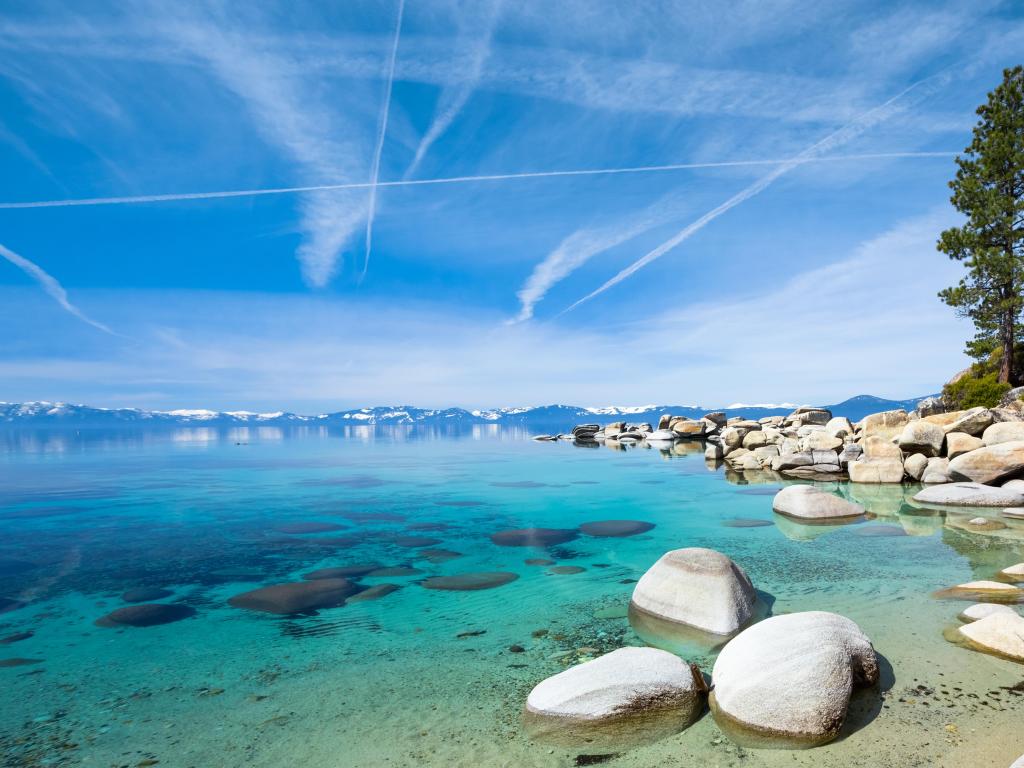 Best road trip route from Los Angeles to Sacramento
Both routes are full of adventure and fun around every corner. Depending on what you want to see, each route is full of iconic Californian sights and landmarks along the way.
Choose the Lake Tahoe Route for the ultimate in-land adventure. This scenic route takes you from LA to Sacramento via an in-land route through some of the most breathtaking regions of California.
You'll get to stop in Death Valley National Park, a desert iconic of the California and Nevada regions and a favorite amongst tourists. You'll also stop in Mammoth Lakes, which offers year-round outdoor recreation opportunities like hiking and skiing.
Finally, you'll visit the beautiful Lake Tahoe, the largest alpine lake in North America and the largest freshwater lake in the Sierra Nevada. Lake Tahoe is famous for its hiking, winter sports, and aquatic activities.
Alternatively, the Pacific Coast Highway Route takes you along the coast. It favors the small cities and towns along the Pacific Coast between Los Angeles and Sacramento. You'll stay along the ocean for much of the drive and pass stunning natural landscapes.
Visit landmark California destinations like LA, the Santa Monica Pier, and Big Sur. Then, you'll stop in San Francisco, a stunning Californian staple with tons of arts and culture as well as gorgeous architecture and a world-famous music and culinary scene.
The Lake Tahoe Route
From Los Angeles, make your way into Lancaster and continue into the base of the Central Valley. From here, drive through the town of Mojave and into the base of the Sierra Nevada Mountains.
Continue on north and make a detour into Death Valley National Park. After seeing one of the most striking sceneries in America head north to the town of Mammoth Lakes.
From here, take the short drive north to Lee Vining on the shores of Mono Lake. Then, hit the road to Lake Tahoe, one of the most beautiful lakes in the lower 48.
Then, continue on through the Eldorado National Forest. Make your way out of the Sierras and into your destination of Sacramento, the capital city of California.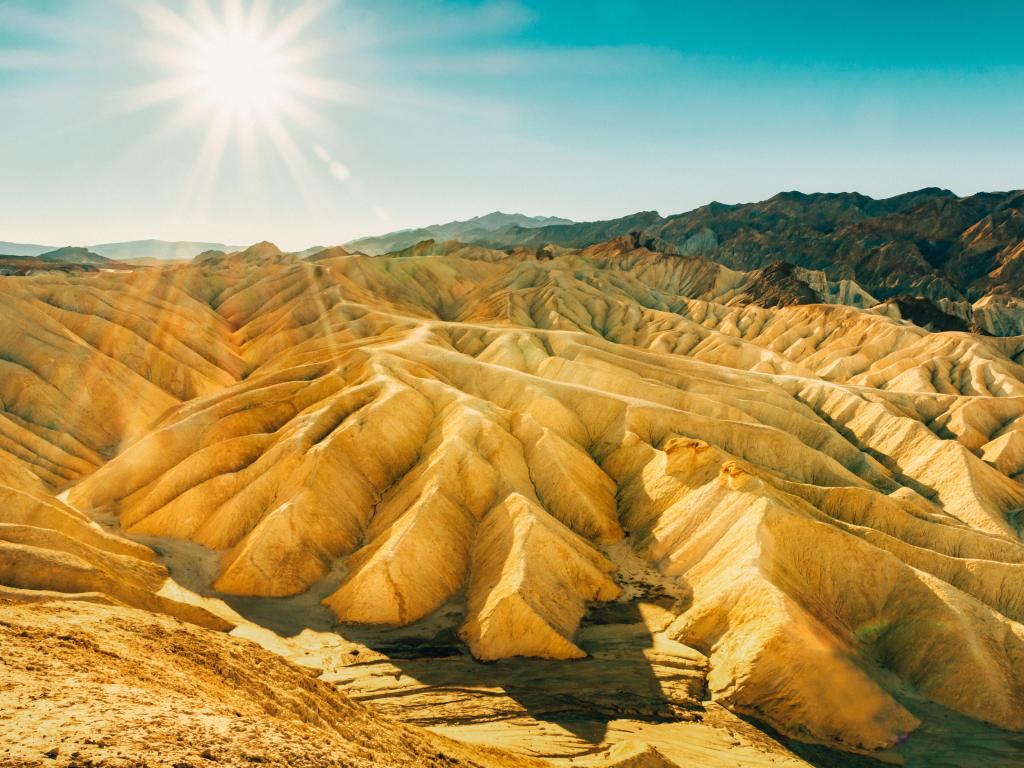 The Pacific Coast Highway Route
From Los Angeles, drive the short distance to Santa Monica. After walking the pier and checking out the sights of this coastal city, drive along the coast of Malibu and Ventura to Santa Barbara.
After enjoying Santa Barbara, make your way to Solvang. Then, hit the road north into San Luis Obispo County and then into Big Sur. From iconic Big Sur, drive to Monterey. After staying in this iconic coastal city, head north to Santa Cruz.
Continue on from Santa Cruz north to San Jose. Then, make your way to San Francisco and take a detour to Half-moon Bay. From beautiful San Francisco, drive east into Berkley and continue following the I-80 to Sacramento.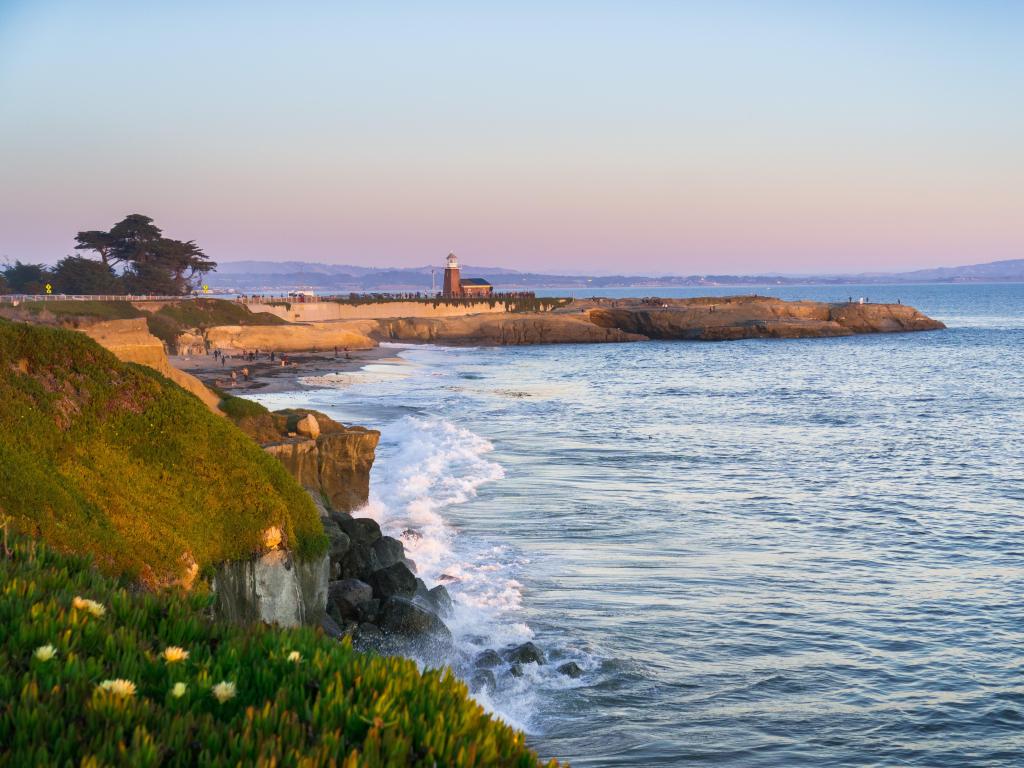 Best places to stop between Los Angeles and Sacramento
With so much to see, you'll want to split this trip up. We've picked our favorite places to stop along the way so you can do some resting and sightseeing.
Visit the winter sports capital of Mammoth Lakes
About halfway on the Lake Tahoe Route is the community of Mammoth Lakes. A highlight of this route, offering tons of options for outdoor recreation activities.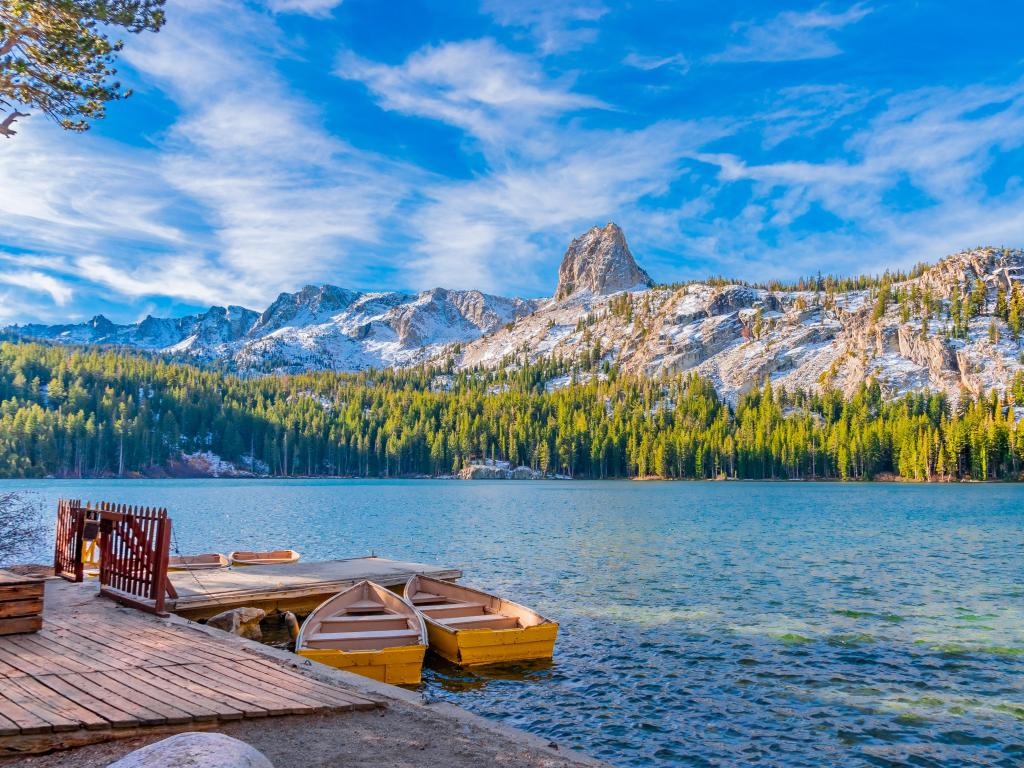 This town is a relaxing spot to stop after a day of driving through the Sierra Nevada. Being a year-round outdoor destination with world-class skiing and snowboarding in the winter, you'll be sure to find the ultimate adventure if you choose.
There are numerous hiking and mountain biking trails in the summer and some of the most famous ski resorts in the winter. The town is situated near Mammoth Mountain, which is an active volcano and a popular attraction for outdoor enthusiasts.
Other top attractions in the area include the Mammoth Mountain Ski Resort. This is one of the largest ski resorts in California, known for its long ski season and reliable snowfall.
If you have time, check out the Devils Postpile National Monument. This geological wonder created by volcanic activity over 100,000 years ago is free to visit via a relaxing hike, where visitors can enjoy stunning views of the surrounding landscape.
Once you make it to Mammoth Lakes, we recommend staying at the popular and highly-rated Cinnamon Bear Inn. Here, you can enjoy the beautiful views of the surrounding mountains and valleys and a private courtyard with access to a serene creek.
After resting in the morning, visit the cozy on-site café where guests can enjoy a complimentary breakfast and coffee in the morning. For dinner, make your way to the upscale on-site restaurant, the Bear Belly Bar & Grill, and try the grill's delicious mountain-inspired dishes.
To help you stay fit for the long drive ahead, the hotel has a rooftop fitness center and a full-service spa for ultimate relaxation and wellness. It's also located in a convenient location near many local attractions, such as the Mammoth Lakes Basin and hiking trails, which can be easily accessed by foot.
Get inspired by nature in Monterey
About two-thirds of the way on the Pacific Coast Highway Route is the coastal city of Monterey. This city is famous for its aquatic sports and being close to destinations like Big Sur and Carmel-by-the-Sea.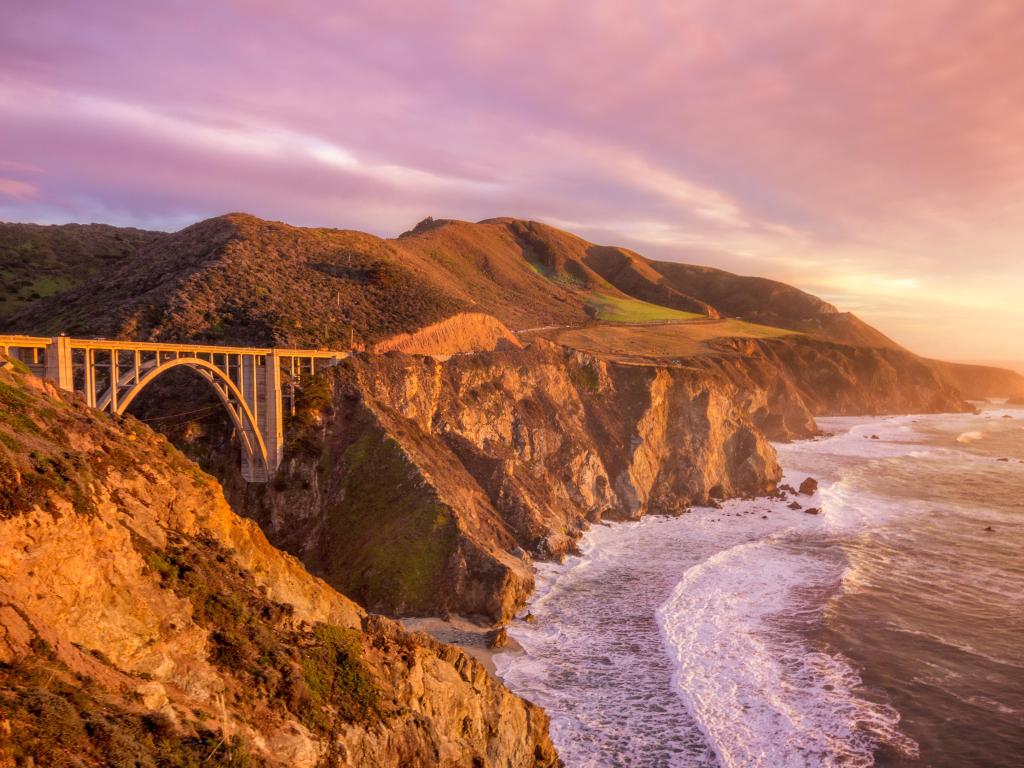 The city has it all, from whale-watching tours to world-class golfing. It's also one of the most stunning places to watch the dreamy Pacific Ocean.
Some highlights of Monterey include the famous Monterey Bay Aquarium. You'll see unique marine species and fun interactive exhibits for the whole family.
Next, visit the Monterey State Historic Park. This place is actually a conglomerate of historic houses and buildings that paint a picture of what life in old Monterey was like. Take a guided tour to get the most out of this incredible landmark.
Once you reach Monterey, we recommend staying at the luxurious Monterey Plaza Hotel & Spa. You'll enjoy incredible views of Monterey Bay and get to rest on the hotel's incredible private beach as well.
The hotel has an on-site café where you can enjoy a morning coffee. It also has an upscale restaurant serving marine delicacies like lobster and Sea Bass.
Once you arrive, relax and recharge in the rooftop fitness center and take advantage of the full-service spa. Many attractions can be reached by foot, including the iconic 17-mile Drive, a road that allows you to drive around the green Peninsula and see some of the most famous ocean views in California.
Where to stay when you reach Sacramento
Once you reach your destination of Sacramento, we recommend staying at the beautiful and luxurious Kimpton Sawyer Hotel, an IHG Hotel. This hotel has incredible views of the city skyline, Sacramento River, and Golden 1 Center.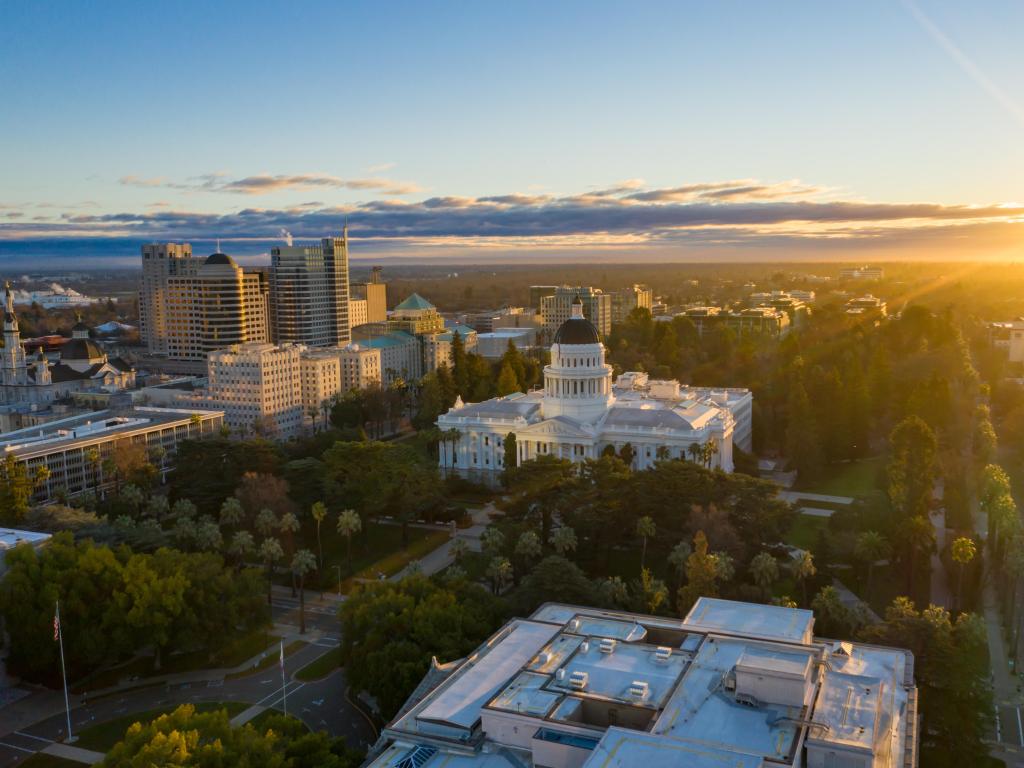 You're close in proximity to many local attractions, such as the State Capitol Building, Golden State Museum, and Old Sacramento Waterfront.
You'll enjoy convenient access to a private park and the downtown area. After sightseeing, relax and dine at the on-site café, Revival at the Sawyer, where guests can enjoy locally sourced coffee and pastries in the morning.
Then, make your way in the evening to the upscale on-site restaurant, Echo & Rig, with a focus on serving fresh and sustainable meat dishes
For the ultimate relaxing experience, check out the rooftop pool and lounge area with panoramic views of the city. Once you're in for the night, you'll be pleased with the spacious rooms, fine amenities, and comfortable decor that will make your stay in Sacramento amazingly comfortable and convenient.
Things to see on a road trip from Los Angeles to Sacramento
Even though you're staying within one state, you'll have almost endless activities and things to see. Below are our recommended highlights to check out.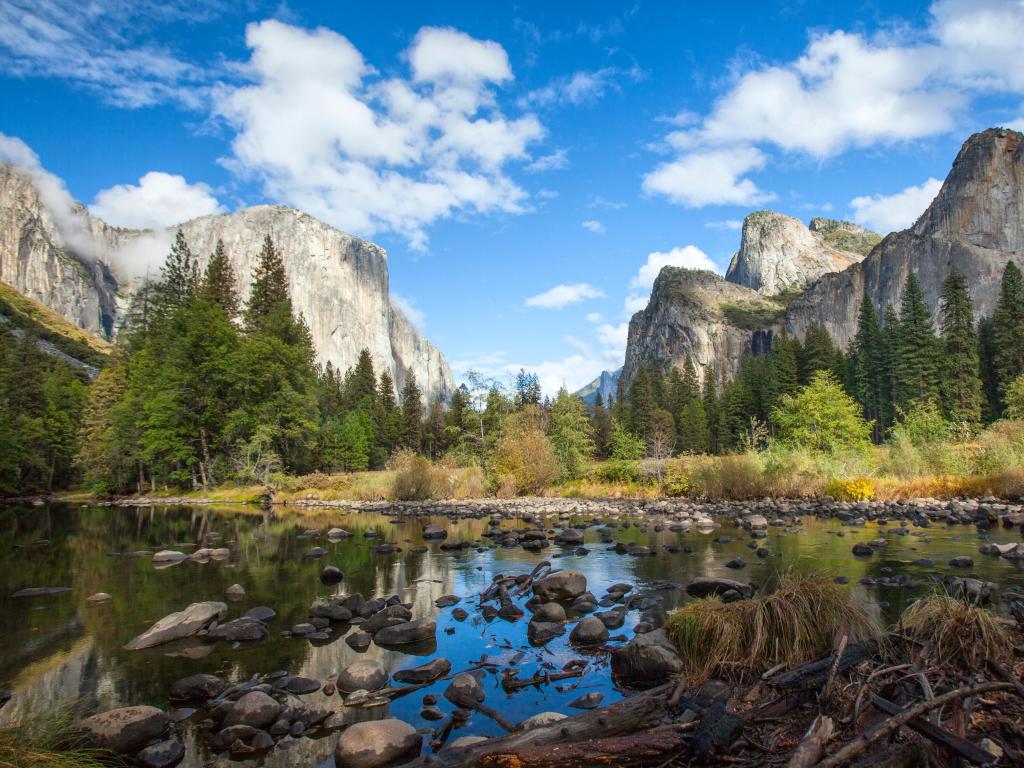 The Lake Tahoe Route
Death Valley National Park - This route highlight is a mesmerizing desert landscape with unique geological formations, wildlife, and rich history that attracts visitors from all over the world.
Mammoth Lakes - Discover this year-round outdoor paradise with world-class skiing, stunning hiking trails, picturesque lakes, and majestic mountains that offer visitors unforgettable experiences and breathtaking views.
Yosemite - Explore Yosemite National Park, a world-renowned natural wonderland with iconic landmarks such as Half Dome, El Capitan, and Yosemite Falls.
Lee Vining - Lee Vining is a charming small town located near the eastern entrance to Yosemite National Park, offering stunning views of Mono Lake and the Eastern Sierra mountains.
Lake Tahoe - This breathtakingly beautiful alpine lake surrounded by the majestic Sierra Nevada Mountains, offers year-round outdoor activities such as skiing, snowboarding, hiking, and swimming.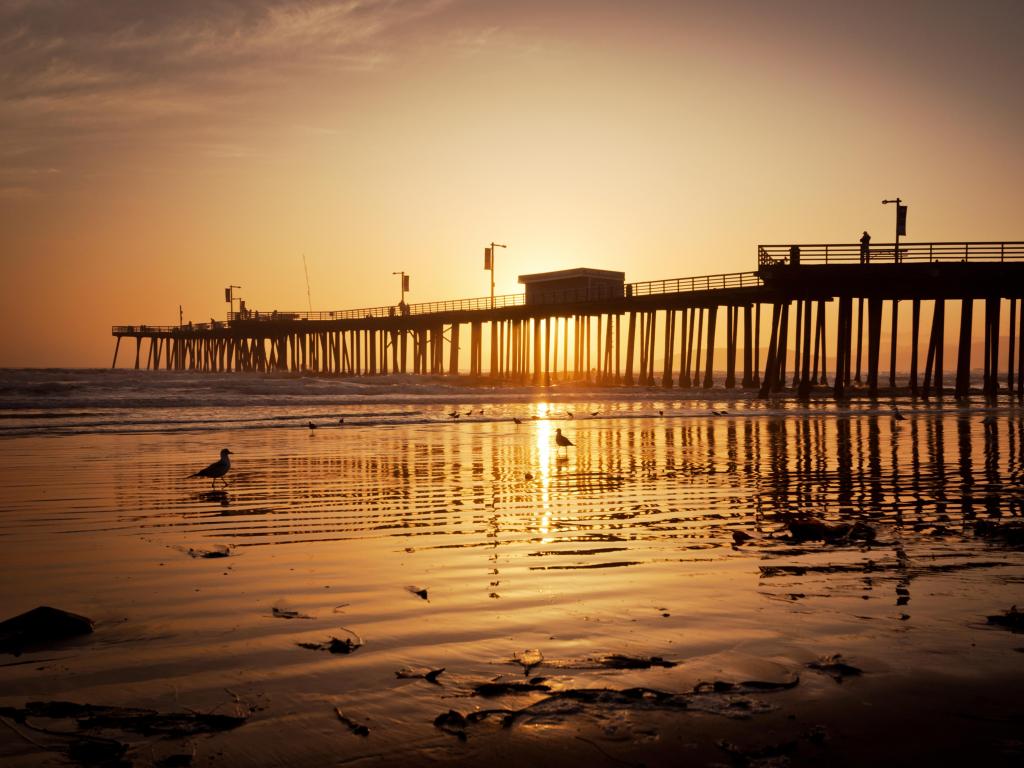 The Pacific Coast Highway Route
Santa Monica - This is the epitome of California beach culture. Famous for its pier and seafood, Santa Monica is a sight to behold and well worth a visit.
Santa Barbara - Known for its surfing opportunities, wine, and mansions, Santa Barbara is a one-of-a-kind stop. Go downtown and visit wineries like Skyenna and Sunstone Winery or visit the beautiful Santa Barbara Zoo.
Solvang - Get lost in this charming destination, famous for its Danish-inspired architecture and wineries.
Pismo Beach - This Central California beach town is known for its seafood, charming boardwalk, and pier.
Big Sur - This is one of the most beautiful stretches of coastline in the world. Take a drive down the iconic coastal highway where the Grateful Dead, Hunter S Thompson, and many other American rebels and artists have drawn inspiration.
Monterey - Visit the iconic Monterey Bay Aquarium or take a shot on one of the famous world-class golf courses nearby.
San Jose - Known as Silicon Valley, this city is full of wonderful museums and fun shops to enjoy.
Santa Cruz - Enjoy one of the surfing capitals of America. This city is full of towering redwoods and coastal forests along with a charming downtown.
Pescadero - This beautiful town is famous for the Pigeon Point Lighthouse that dates back to 1872. There are several other must-see landmarks as well.
Half-Moon Bay - This small community is known as the Pumpkin Capital of the World. It's also famous for Mavericks, one of the most famous big wave venues on the planet.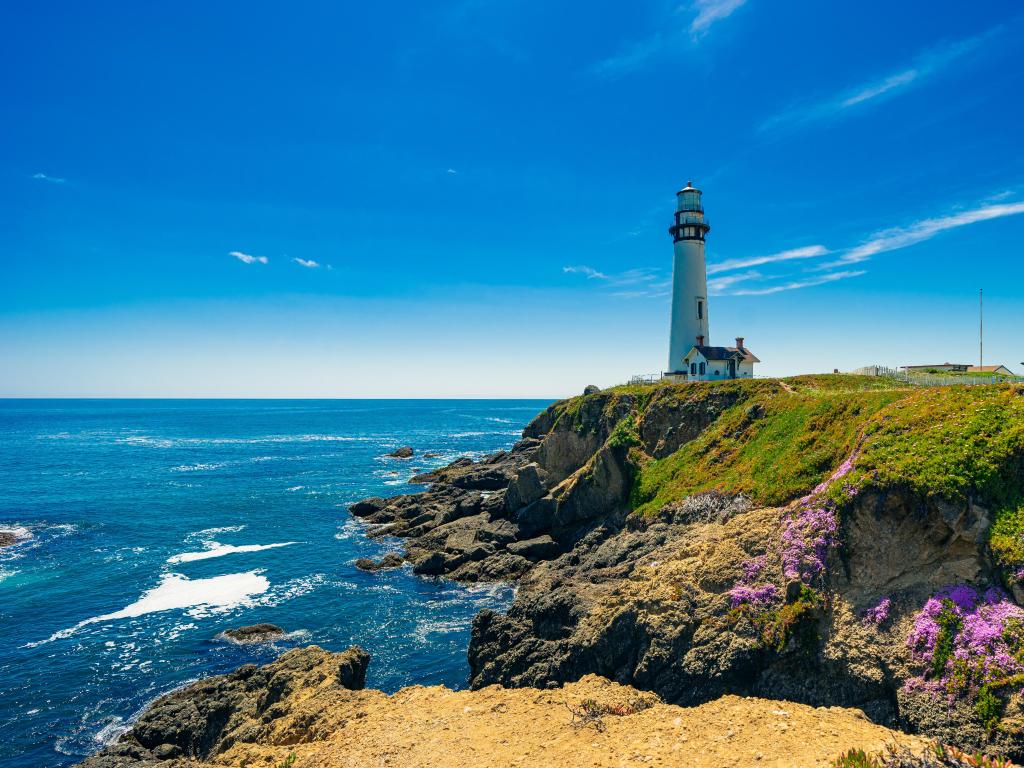 Best time to go on a road trip from Los Angeles to Sacramento
California and its capital city are perfect year-round destinations, offering beautiful weather most of the year and tons of festivals and events to keep you busy and entertained. Just choose when to visit based on your budget and what you'd like to see while in Sacramento.
Summers in Sacramento are hot and dry, with temperatures ranging from the mid-90s to low 100s Fahrenheit. This is the most popular time to visit Sacramento, so accommodation may be more expensive during this season. Summer is also a great time to enjoy the city's outdoor activities, such as river rafting, biking, and hiking.
Winters in Sacramento are mild, with temperatures ranging from the low 40s to mid-50s Fahrenheit. Winter is the least busy time to visit, so visitors can expect fewer crowds and lower accommodation prices. Keep in mind that the region may experience occasional rain and fog during the winter.
Spring and Fall are both great times to visit Sacramento with comfortable temperatures ranging between the mid-50s to high 70s Fahrenheit. These are also the shoulder seasons, so visitors can expect slightly lower accommodation prices while still enjoying plenty of sunshine and outdoor activities.
There are plenty of festivals and events throughout the year. Summer and fall see the California State Fair (July), Farm-to-Fork Festival (September), Sacramento Comedy Festival (September), Sacramento Film & Music Festival (October), and the Wide Open Walls Mural Festival (August).
In winter and spring, enjoy the Sacramento Arts Festival (November), Sacramento Chocolate Salon (January), Sacramento Beer Week (February), Camellia Show and Festival (March), and the incredibly fun Sacramento Music Festival (May).