Ultimate California Road Trip Itinerary
Countless songs have been sung about California. It's a land of dreams and opportunity; innovation and enchantment. On this 12-day road trip around the length and breadth of the Golden State, you'll see why it's been a muse to so many and agree with the State Motto – "Eureka!"
On this ultimate California Road trip start on the sun-filled shores of SoCal, drive by the dramatic cliffs of Big Sur to San Francisco, admire the Redwoods, explore distant peaks in the Sierra and be embraced by the solitude of the Mojave Desert.
This curated 12-day itinerary covers as many of the state's varied landscapes as possible – with helpful tips on where to stop and spend the night. Read on below to start planning your own ultimate California road trip.
What is the ultimate California road trip itinerary?
The ultimate California road trip itinerary covers a total distance of 2,455 miles and would take a whopping 55 hours to drive nonstop. We suggest breaking up the drive over 12 days; this makes the average drive time about 4 hours and 30 minutes per day.
Some days entail as much as 7 hours of driving and others are as short as two, so read carefully to see where you'll have more time in a day to explore and note where you might want to spend more than one night if a lot of the previous day was spent driving.
The ultimate road trip itinerary in California
What is the ultimate California road trip itinerary?
From gorgeous beaches on the sunny Pacific Coast to the towering redwood forests, majestic Sierra Mountain range and breathtaking scenery of Lake Tahoe, this road trip itinerary features the best things to do on the ultimate California road trip.
You can add detours and more days to your itinerary, but we strongly suggest visiting all the places highlighted on the map above for the best experience and an epic Californian adventure.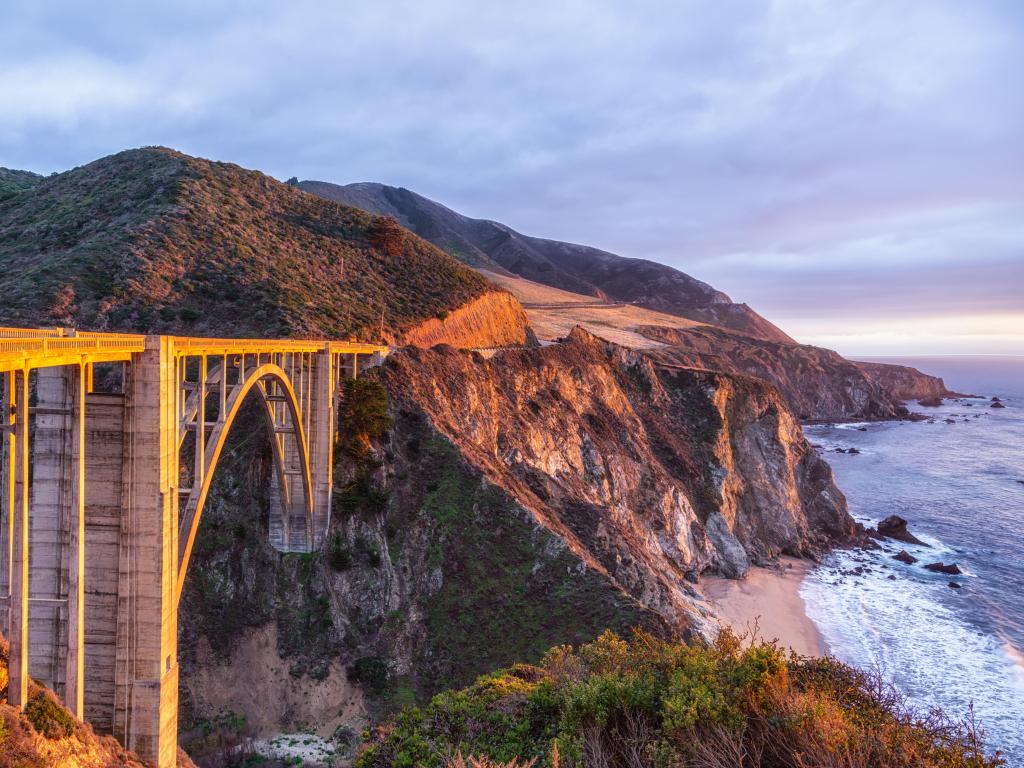 Day 1: Driving from Los Angeles to Pismo Beach
On your very first day on the road, you'll cover 180 miles from Los Angeles to Pismo Beach, which should take around 3 hours and 15 minutes of driving, mostly along the glistening coast.
Road trip route from Los Angeles to Pismo Beach
You'll pass quite a few SoCal hot spots on this first leg of the trip, including Malibu, Ventura, and Santa Barbara as you follow CA Route 1 (CA-1) North, Pacific Coast Highway, all the way to Pismo Beach.
If you'd like to learn more about driving on the Pacific Coast Highway, check out our comprehensive guide.
Things to explore on the way to Pismo Beach
Especially if you are an avid hiker, you won't want to miss Point Mugu State Park on your way north from Los Angeles. Just past Malibu, this state park has over 70 miles of gorgeous hiking and biking trails traversing the coastal hills at the northern end of the Santa Monica Mountains.
The popular Chumash Trail is accessible right off the Pacific Coast Highway. If you're feeling ambitious, do the Mugu Peak Trail. From the modest 1,266-foot elevation, you get sweeping panoramic views of the coast and La Jolla Valley; on a clear day, you can even see the Channel Islands!
If you know anything about California, then you know Santa Barbara is one of the cutest coastal cities in the south of California where you can enjoy the best beaches, wine, and nightlife.
This city makes the most of its enviable warm climate; you can lounge along the broad Leadbetter Beach or walk with an ice cream cone up and down Sterns Wharf.
In town, phenomenal food and wine await you along State Street; some of the best places are in the aptly named, and colorful, Funk Zone.
Santa Barbara is also famed for its Spanish Colonial style of architecture, and you can see great examples of it in the Old Mission as well as in the Santa Barbara County Courthouse.
Where to stay in Pismo Beach: a dune-buggy destination
One of the most idyllic and popular towns on the central coast, Pismo Beach is one of the few places where you can drive a dune buggy on the beach, see migrating Monarch butterflies, and enjoy a stellar local wine over the sunset.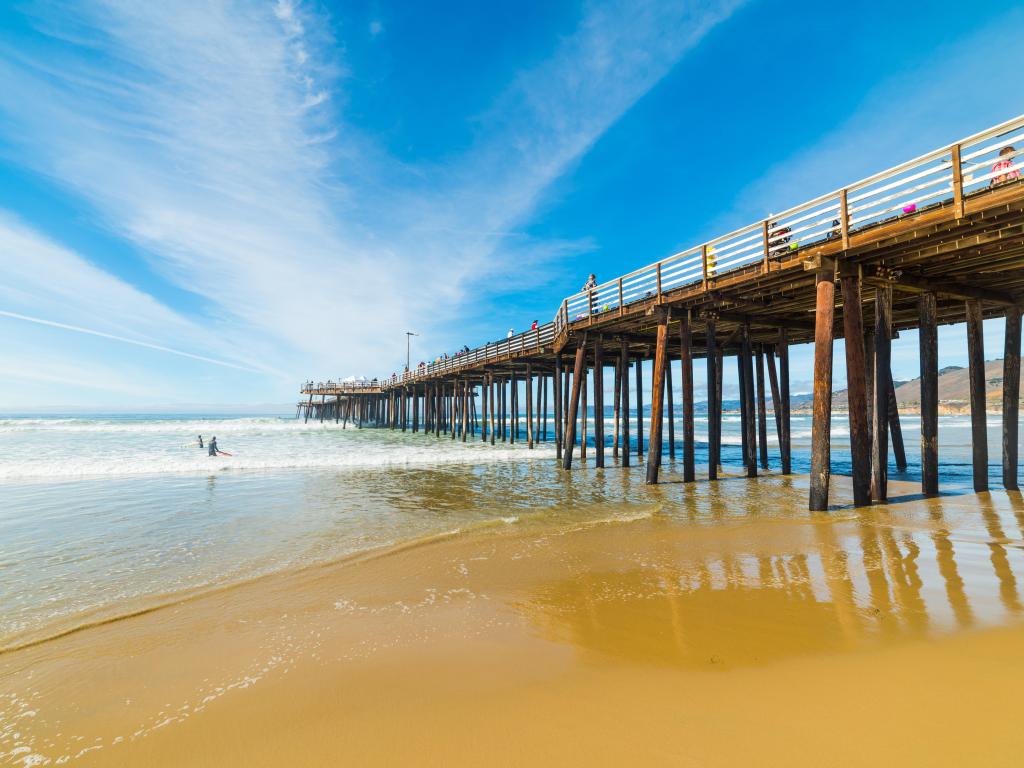 The Inn at the Cove maximizes the breathtaking coastal vistas of Pismo Beach and is conveniently located off the Pacific Coast Highway. Along with all the standard amenities you would expect at a mid-range hotel, you can also book an in-room spa treatment or massage.
Many of their king rooms have private patios where you can continue to unwind after a long drive with a juicy local pinot noir. Across the highway, you'll find the Pismo Preserve, an abode of coastal serenity and a great place for a vigorous morning walk.
Day 2: Driving from Pismo Beach to Monterey
The second day of driving is slightly shorter at 150 miles, which will take around 3 hours and 30 minutes. You will drive past the rugged cliffs of Big Sur, past scenic Bixby Bridge and admire the crystal-clear ocean views in Carmel-by-the-Sea.
READ MORE - Our Guide to Pismo Beach
Road trip route from Pismo Beach to Monterey
You can look forward to more breathtaking coastal vistas as you continue driving north along US Route 101 North and CA-1. This is a particularly isolated stretch of road once you leave San Luis Obispo you likely won't find another gas station until you get to Big Sur.
Keep in mind that part of this route on the Pacific Coast Highway is currently closed due to rockslides and you might have to make an inland detour to get to Monterey.
Things to explore on the way to Monterey
There are many must-see stops all along the mythically beautiful coast of Big Sur, where mountains meet the sea. The Julia Pfeiffer Burns State Park is much more accessible than the sprawling Peiffer Big Sur State Park and is located right on the coast.
Here you'll find that postcard-perfect McWay Cove Beach with its graceful waterfall.
Further north, treat yourself to some lip-smacking baked goods from the hamlet of Big Sur and make your way to Pfeiffer Beach. Here the sand has a purplish hue from the Manganese garnet cliffs that formed it. Don't miss out on taking a photo of the famous Keyhole Arch while you're here.
The old-world charm of Carmel-by-the-Sea is a nice change of scenery along a coast known for innovation and new-age eccentricities. Around the immaculate Carmel Plaza, you'll find multiple Michelin Star restaurants and tasting rooms showcasing the area's notable wines.
If you'd prefer a laid-back picnic followed by a hike, then you have a few outstanding options like Garrapata State Park, Point Lobos State Natural Reserve, and the powdery white sands of Carmel Beach.
Where to stay in Monterey: a sea view over cypress trees
A small, seaside town adjacent to Monterey, Pacific Grove is rustic and relaxing. The main attractions of Monterey are a moderate walk or a short drive away. Make the most of staying on this pleasant spot along the coast at the Seven Gables Inn.
This boutique property is meticulously maintained to take your breath away at every step.
All the common areas and many rooms have fantastic views of the cypress-lined Monterey coast. As if it couldn't get any better, they offer a scrumptious continental breakfast bathed in the coastal light to fully energize you for the next day of driving.
We highly recommend visiting Monterey State Beach before you leave the city.
Day 3: Driving from Monterey to Sonoma
This is another moderate day of driving 160 miles along the Pacific Coast Highway. If you don't hit any traffic along the way, then it should take 3 hours and 30 minutes.
Keep in mind that you'll be passing through the San Francisco Bay Area, so traffic in the mornings and evenings around commute time will be substantial. Traffic aside, it is a beautiful and diverse landscape that makes for a beautiful drive.
Road trip route from Monterey to Sonoma
Start driving north of Monterey on CA-1, this takes you past Santa Cruz, San Gregorio State Beach, and Half Moon Bay into San Francisco.
There's plenty to see here, in case you want to stay a day or two. Take US-101 North across the Golden Gate Bridge, then continue past San Rafael and navigate to CA Routes 121 and 12 to get to Sonoma.
Things to explore on the way to Sonoma
Santa Cruz is a popular weekend destination for people from the Bay Area and we can see why. Even though Southern California has arguably better weather for surfing, Santa Cruz is where this free-spirited water sport took root in the mainland US.
At Steamers Lane, a famous surf spot in the north of town, there's a quirky museum inside a lighthouse where you can learn about the area's connection to the sport dating back to the 1930s.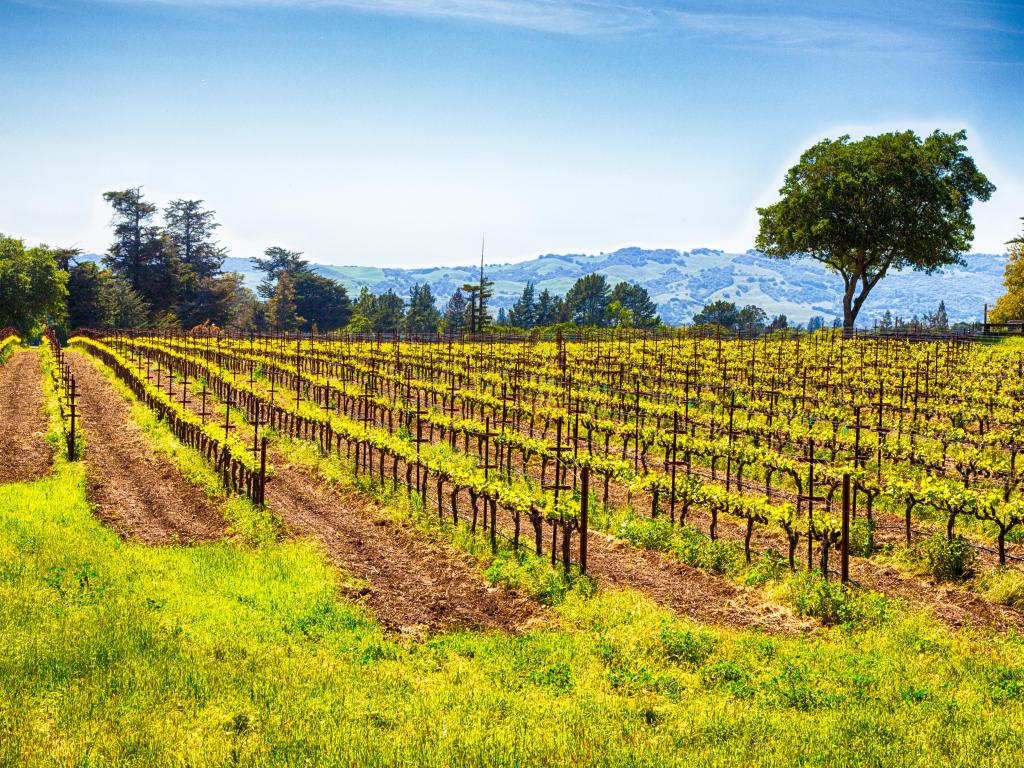 Santa Cruz is also famous for its Beach Boardwalk, one of the oldest amusement parks in the state featuring classic rides like the Giant Dipper wooden roller coaster. A pro tip for a great time in Santa Cruz: recharge with a warm cup of Pu-erh or green tea at the Hidden Peak Teahouse.
After exploring Santa Cruz drive another hour and a half north to reach San Francisco. This world-famous city has been booming and innovating for over a century.
Filled with colorful Victorian homes, distinctive neighborhoods, every kind of tasty ethnic cuisine, and major landmarks like Coit Tower, Pier 39, and Alcatraz, you might want to consider more than one night here if you have the time.
If you want to see a historic neighborhood, award-winning museum, and gorgeous park all in one go, then head to Haight-Ashbury to pay tribute to the godfathers of psychedelic rock, then walk through Golden Gate Park to the De Young Museum and admire their distinctive art collection.
On the other side of town, along the bay, grab an expensive-but-worth-it treat at the Embarcadero Market in the Ferry Building then walk along the piers before heading to the heart of the city for some shopping in union Square.
Where to stay in Sonoma: the golden heart of Wine Country
Sonoma is the flagship town of California Wine Country. The many varieties grown here pair well with farm-to-table cuisine available on every corner and the golden rolling hills that surround the area.
We recommend checking out a wonderful boutique hotel here that gives you a glimpse of the best of California living. The rooms of the Cottage Inn & Spa include bungalow-style cottages encircling a courtyard with a beautiful fountain at the center.
Whether you feel like an aromatherapy session or need some deep-tissue work done, their on-site spa has you covered.
It is just a 5-minute walk from Sonoma Plaza. Especially since this is a destination with too many wine-tasting opportunities to count, it is safe and convenient to place to stay within walking distance of all the major tasting rooms.
Day 4: Driving from Sonoma to Mendocino
On this day you'll drive for 140 miles back over to the coast and continue your northward journey along the rugged and breathtaking Sonoma coast. This drive will also take around 3 hours and 30 minutes.
Road trip route from Sonoma to Mendocino
From Sonoma, take CA Route 116 West through Petaluma and hop on Valley Ford Road to CA-1 North in Bodega Bay. From there, drive past Sonoma Coast State Park and Point Arena all the way to Mendocino.
Things to explore on the way to Mendocino
Beyond being the harbor side town where Hitchcock's "Birds" was filmed, Bodega Bay offers charm and opportunities for enjoying the outdoors in equal measure. One of the best local trails leads to the Bodega Head, the hilly tip of a small peninsula that has phenomenal 360-degree views.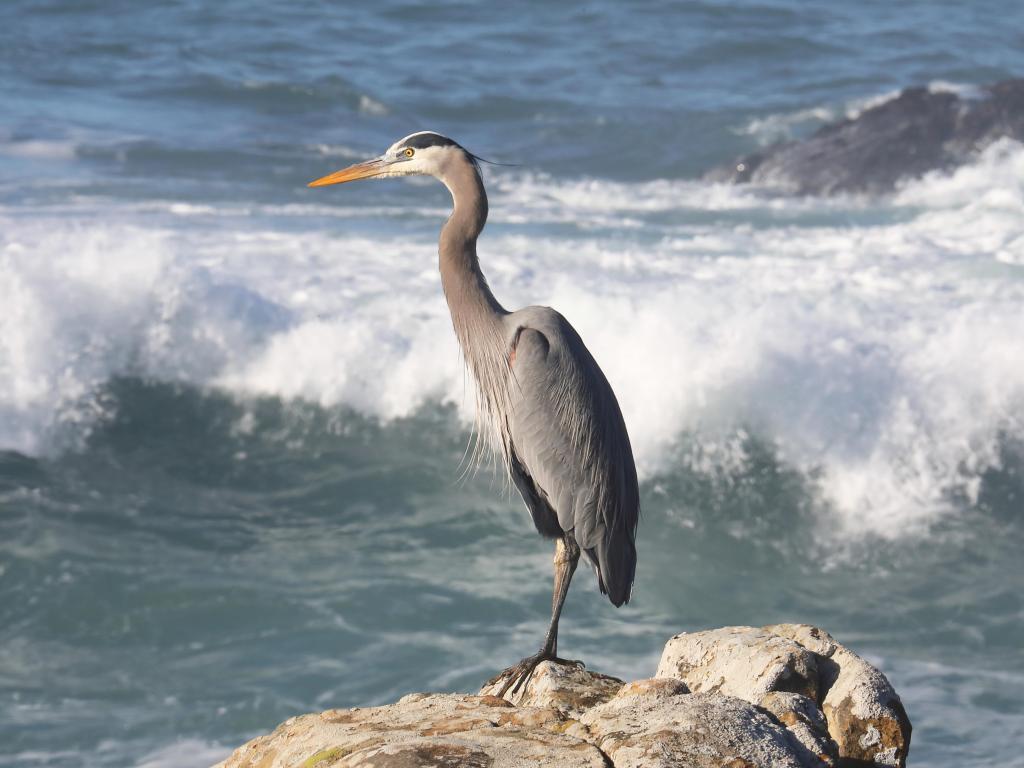 If the water is just too tempting, this is also a great place to try kayaking on the scenic waters of the bay. For a delectable lunch in Bodega Bay, consider splurging on the Michelin-rated Terrapin Creek Café or get your seafood fix at Spud Point Crab Company.
A little further north, Salt Point State Park makes for the perfect place to stop and stretch your legs while walking along the Mendocino coast for an hour or two. The trails of this park take you through the dense evergreen forest that gives way to rugged cliffs and the roiling ocean.
This constant bombardment by the waves has sculpted the rocks and tide pools below into the most wondrous formations. Watching wave after wave crash and dissolve into frothy white foam is truly mesmerizing.
Where to stay in Mendocino: between rivers big and small
Mendocino is an isolated town at the mouth of a river that has a unique, East Coast aesthetic that stands out on the Pacific Coast. In addition to superior dining and whale-watching opportunities, the Mendocino Headlands State Park has fantastic trails that follow the Big River as it forms an estuary before merging with the ocean.
Just a little before you reach Mendocino, keep an eye out for Little River and the wonderfully bucolic SCP Mendocino Inn and Farm. It is only a 5-minute drive from the adorable downtown Mendocino area but offers better beach access than most places in town.
We couldn't get over the chance to wake up to a view of llamas overlooking the Pacific Ocean. After enjoying an artisanal breakfast at the inn, you can also walk directly through farm grounds to Van Damme State Beach and through the Spring Ranch Nature Preserve to more pristine coastal outlooks.
Day 5: Driving from Mendocino to Klamath
Today's drive is a little longer at 4 hours and 15 minutes and covers a distance of 210 miles. It takes you deeper into the foggy northern extremes of the redwood curtain.
Road trip route from Mendocino to Klamath
Take CA-1 North from Mendocino and follow it as it wanders inland and merges with US-101 North in Leggett. Here it continues north, but we recommend hopping on CA-254, also called the Avenue of Giants scenic road, just before Phillipsville.
This stunning road through the ancient redwood forests is worth the extra miles and the road eventually re-joins US-101 North just before the town of Stafford. Stay on US-101 North as it heads back towards the coast, past Eureka and Arcata, to Klamath.
Things to explore on the way to Klamath
Eureka is an underrated north coast town that we think is worth a visit. Once a booming port town that shipped lumber from the expansive interior forests to all corners of the globe, the wealth of Eureka's heyday is reflected in the many ornate Victorian homes you can see here.
The historic waterfront is a great place to stop for lunch and wander the docks for an afternoon. In nearby Arcata, there's a more "granola" vibe, with organic markets, Finnish saunas, and a rainbow of characters you can see on any given day in the square.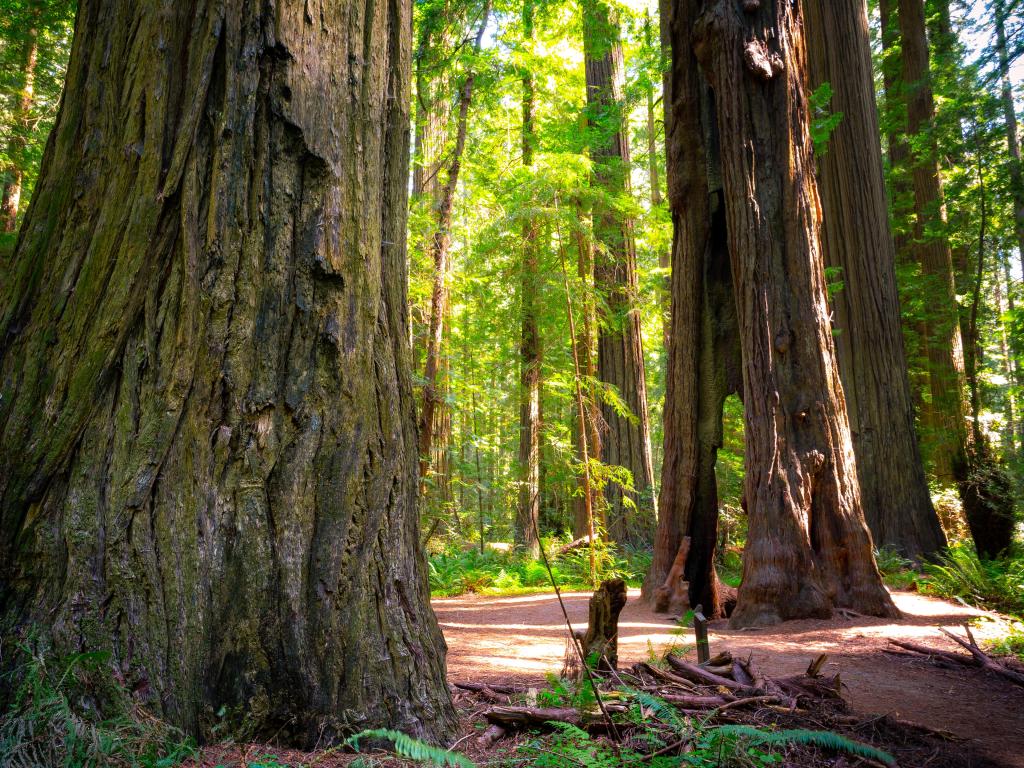 The biggest attractions in Humboldt County are Redwood National and State Parks. All along the California Coast, you can find Sequoia groves, but the old-growth forests preserved in Redwood National and State Parks are on a whole different level.
Once you pass through the entrance near Orick, you'll feel as if you've been transported back to the Jurassic Age when life was lived on a larger scale. No part of the park embodies this more than Fern Canyon, so be sure to see this when you come to the park.
The 1.4-mile-long trail through Lady Bird Johnson Grove is another easily accessible and breathtaking hike you should do while you're here.
Where to stay in Klamath: the very north of the North Coast
Trinidad is a small town located near Klamath with gorgeous beaches which overlook towering outcrops in the ocean. It is slightly more built up than Klamath, with cafes and markets, which make it a better place to spend some time and stock up on a long trip.
The ranch-style View Crest Lodge operates between a more standard hotel space and several independent cottages spread over verdant grounds, with trails leading deeper into the surrounding redwoods or the beach.
Its quiet location will allow you to fully take in the splendor of the Humboldt coast and the tasty breakfast will have you contemplating spending another night here.
Day 6: Driving from Klamath to Mineral
Today's drive is a 340-mile, 6-hours 30-minutes long haul to the northernmost point in the route which will take you briefly across the Oregon border before you start heading southeast as you start the other half of the state-wide loop.
Road trip route from Klamath to Mineral
After savoring some final glances of the NorCal coast in Klamath, take US-101 North through Crescent City to US Route 199 North to O'Brien, Oregon. From there, take Waldo Road and Greyback Road south to the California border and continue on towards Happy Camp.
Navigate to CA Route 96 East and take that from Happy Camp to Yreka, where you'll be able to get on Interstate 5 and continue driving south past the towering Mt. Shasta. Once you get to Redding, look for CA Routes 44 and 36 which will take you east to Mineral.
Things to explore on the way to Mineral
Just before Crescent City, look out for Del Norte Coast Redwoods State Park. This is a great place to enjoy a final romp in the coastal redwoods before this route takes you inland.
There are several trails that start from the visitor center, and you will be overcome with the grace of these gentle giants from your first step in the park.
Some trails lead to the ocean and others meander along streams deep in the forest. The redwood curtain is known for wet conditions, so make sure you have some light rain gear to stay dry on a magical, misty trail.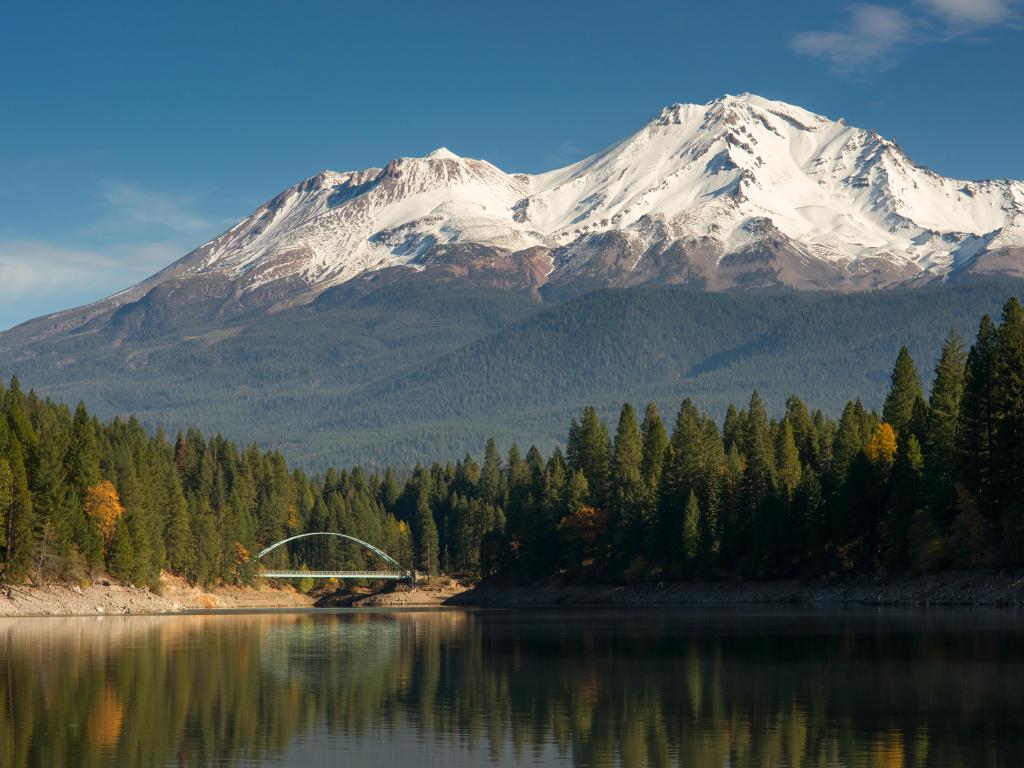 Both the rural town of Mt. Shasta and the towering Volcano of the same name are both worth checking out as you pass by them along I-5. The town is filled with a variety of home-town dining options from casual grills and burger joints to Indian food.
In case you wanted to learn more about this area, which has been revered as a cosmic center by several Native American tribes and settled by people of European ancestry in the late 19th century, head to the Mt. Shasta Sisson Museum.
In case you're itching to stretch your legs, nearby Lake Siskiyou has several pretty trails which offer incredible views of Mt. Shasta. There are even more hiking, biking, and backpacking opportunities a little to the south of Mt. Shasta in Shasta-Trinity National Forest.
Where to stay in Mineral: get acquainted with the high Sierras
Mill Creek is another small town, like Mineral, which sits near the entrance to Lassen Volcanic National Park in the northern Sierra Nevada Mountain range.
In addition to providing easy access to the nearby national park, the Village at Childs Meadow offers incredibly comfy beds that will be incredibly welcoming after a long day's drive.
Many rooms also have a patio that looks out over the peaks of Lassen. There's also a little market at the property which is incredibly convenient given the limited services and amenities in the surrounding area.
Day 7: Driving from Mineral to Lake Tahoe
The drive from Mineral to Lake Tahoe is a bit easier than the previous days, but you'll still need to be alert and drive carefully on these mountain roads. It will take you just over 4 hours to complete this 180-mile section of the trip.
Road trip route from Mineral to Lake Tahoe
From Mineral, drive via CA-36 East to CA-89 South which will take you through Plumas National Forest to Truckee. From Truckee, head across the Nevada border to Incline Village, then hop on NV-28 South along the lake, which joins with US-50 South.
This will take you through Zephyr Cove and to South Lake Tahoe, which sits on the California border.
Things to explore on the way to Lake Tahoe
You can't come this far north without seeing Lassen Volcanic National Park. With dozens of geothermal features like geysers, hot springs, and mud pots, Lassen is California's own version of Yellowstone.
One of the most popular areas to see these natural wonders is the trail through Bumpass Hell. Another, more accessible, place to see the earth venting off some steam is Sulphur Works.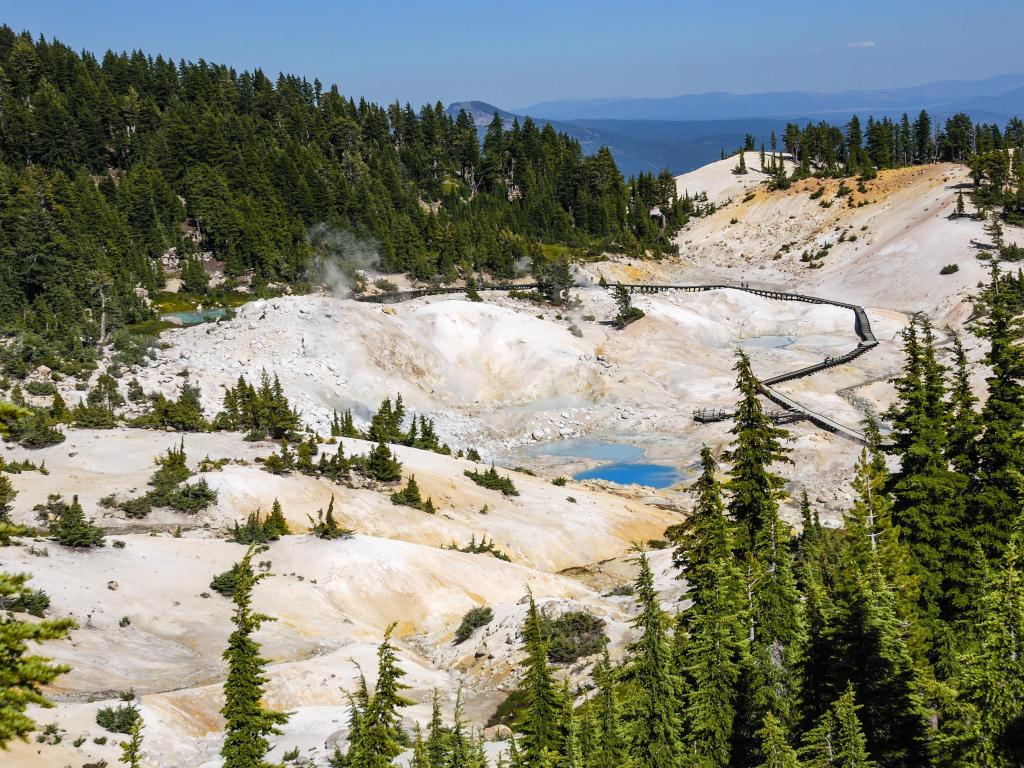 In addition to these more exotic features, Lassen Volcanic National Park is simply a stunning mountainous area with grand views, miles of hiking trails, and revitalizing high-altitude air.
Truckee is a typical, small Sierra town with a fascinating history going back to the earliest days of the European-American settlement of the region.
Truckee is most well known for being the area near Donner Pass where the infamous Donner Party met with disaster. You can visit the nearby pass as well as a memorial museum in the town itself.
The charming, historic main drag of Truckee along Donner Pass Road is worthwhile walking around. This is a great spot to grab lunch, coffee, or a sip of microbrew before heading off to Tahoe. In case you're making this trip in the winter and are an avid skier,
Truckee is close to some of North Tahoe's best slopes, including NorthStar.
Where to stay in Lake Tahoe: enveloped in evergreen
South Lake Tahoe is the more happening side of the lake where you can try your luck or catch a show at a casino, as well as enjoy the abundant natural beauty of this incredible alpine region.
From the moment you arrive at the Black Bear Lodge, you'll be enveloped in that old Tahoe feel, but one with all the right updates. While the common areas and pool have that wooden, rustic charm, the rooms are clean, spacious, and modern.
Many also have attached patios so you can look out into the evergreen forest and unwind over a hot cocoa or brew of your choice in peace.
Located just a few blocks from the lakeshore and less than two miles to the main downtown area, the location makes it easy to explore the area on foot if you'd like to take a break from driving.
Day 8: Driving from Lake Tahoe to Yosemite
This is a straightforward 110-mile drive towards Lee Vining and Yosemite National Park that will take you 2 hours and 15 minutes.
Road trip route from Lake Tahoe to Yosemite National Park
From South Lake Tahoe, you'll hop briefly back over the border to Nevada and get on US-395 South in Gardnerville, NV. This route takes you east of the Sierra highlands to Lee Vining and the back entrance to Yosemite.
Things to explore on the way to Yosemite National Park
Who doesn't love nature's spa? Travertine Hot Springs are isolated thermal pools that attract a surprising number of visitors. Still, there are many springs with varying temperatures, so you can easily find one to your liking that doesn't feel crowded.
If the natural hot tubs themselves aren't enough to melt away any accumulated stress, then the stunning views will make you feel like you've reached a heavenly land.
Lee Vining is about a half an hour drive from the Tioga Pass entrance of the incomparable Yosemite National Park. The most popular attraction on this side of the park is the idyllic Tuolumne Meadows.
Far fewer visitors come via this entrance, compared to the Yosemite Valley side, so you won't get caught up in the crowds, even if you're making this trip during the summer.
The drive itself over Tioga Pass is stunning and there are places to stop, enjoy the view, and even hike in case you didn't feel like paying the $35 entrance fee at Yosemite.
Where to stay in Yosemite National Park: adventure beyond the park's bounds
Set against the rugged ridges of the Sawtooth Mountain range, Bridgeport has a special place in the heart of all Californian outdoor adventurers who have had the good fortune to find it. Here we recommend staying at the Silver Maple Inn and The Cain House Country Suites.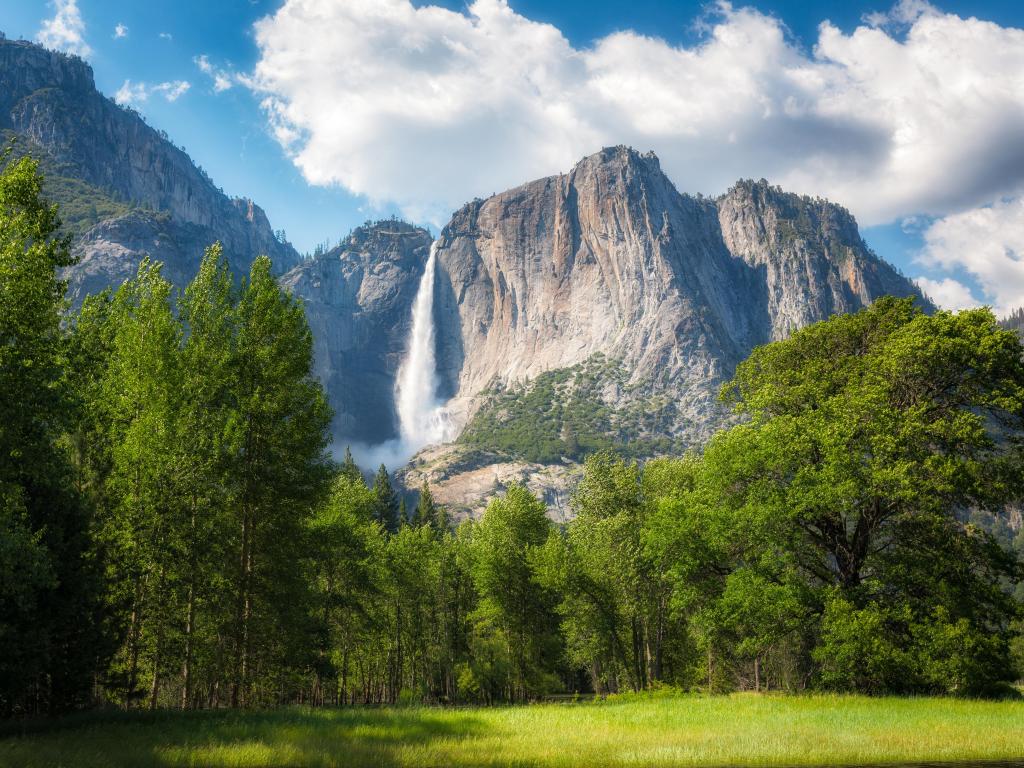 This has a classic motel vibe with nicely maintained interiors giving the inn a more polished feel than most motels. It is located just 26 miles from the Tioga Pass entrance to Yosemite, which you might want to see in the morning rather than when you just arrive.
If you happen to arrive with some extra time and energy on hand, they have free bikes for guests to use to explore the beautiful surroundings of Bridgeport.
Day 9: Driving from Yosemite National Park to Bakersfield
On this day you'll log more time on the road than usual, with this leg of the route taking 6 hours to drive, covering approximately 350 miles.
Road trip route from Yosemite National Park to Bakersfield
Get back on US-395 and drive south to Lone Pine. Here you can take country roads towards Panamint Springs and Death Valley if you wanted to include this as a stop on your trip.
To get to Bakersfield from here, drive towards Searles and CA-14. Take this towards the town of Mojave, then hop on CA-58 West to Bakersfield.
Things to explore on the way to Bakersfield
The massive Inyo National Forest is the most visited in California, attracting over 4 million people each year, and with good reason. Inyo is home to Mt. Whitney, the tallest peak in the contiguous U.S. as well as eye-catching geological formations like Banner Peak.
There are abundant backpacking opportunities in the various wilderness areas that lie within the national monument, like the stunning Ansel Adams Wilderness.
Inyo is also home to some of the oldest trees on the planet. While the Ancient Bristlecone Pine forest is a good two-hour hike into the park, it is the chance of a lifetime to see these ancient trees up close.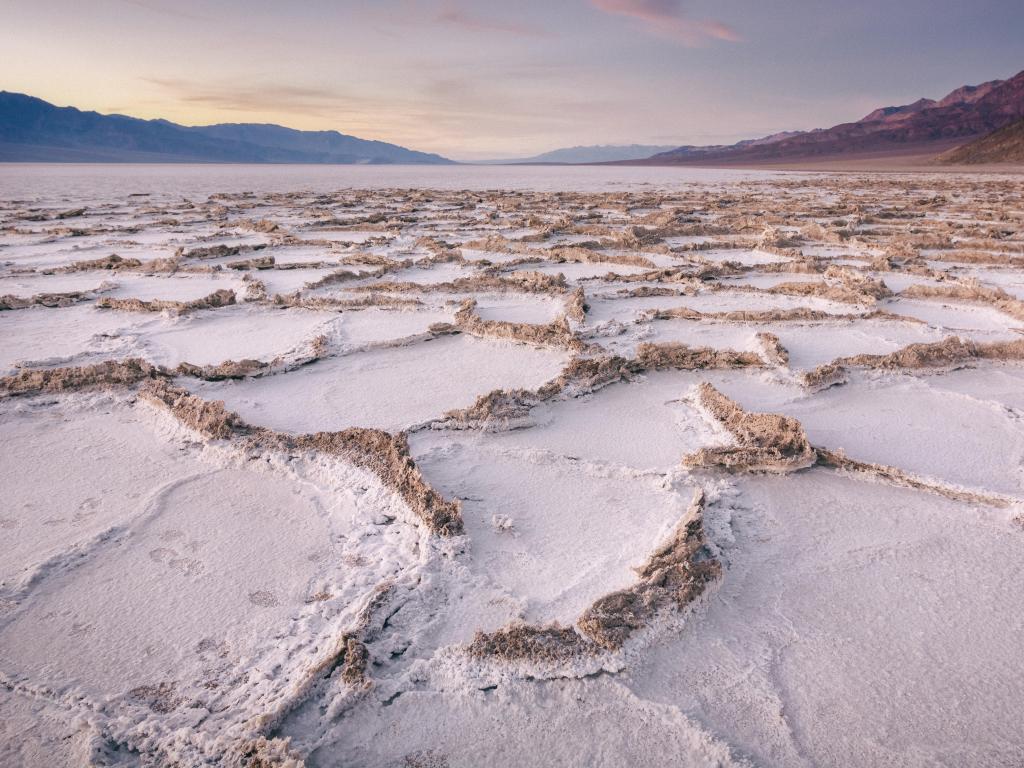 While visiting Death Valley National Park would likely involve another night's stop before heading on to Bakersfield, it is yet another area of rare natural beauty that you'll probably regret not seeing if you had the chance.
Within its 3 million acres you can visit the lowest point in America at the Badwater Basin salt flats, trace the trails of moving rocks at the Racetrack Playa, and see kaleidoscopic hillsides at Artists Palette.
There's even evidence of relatively recent volcanic activity in the form of the Ubehebe Crater, which measures half a mile across and was likely formed just 2,100 years ago.
Of course in the spring a sight you can't miss are the dozens of species of wildflowers that crop up if there have been enough winter rains. What you see here will forever change your perception of the desert as a barren place.
Where to stay in Bakersfield: experience a bit of Country out West
Bakersfield is the industrial and economic hub in the heart of California's fertile Central Valley. It's also renowned for its country music scene and has a few pockets of vibrant nightlife as well.
Conveniently located in downtown Bakersfield, the Padre Hotel is a historic property with a modern interior. It has on-site parking, so you can give the wheels a break and explore the city on foot.
Attractions like the Bakersfield Museum of Art and the historic Fox Theater are both nearby. In case you're tuckered out and prefer a night in, their restaurant Belvedere is one of the best in town for a delicious dinner.
Day 10: Driving from Bakersfield to Palm Springs
On this drive back into the desert you'll cover 325 miles, which should take you about 6 hours. In terms of scenery, this is not the most exciting day of driving, so have a few episodes of your favorite podcast downloaded and ready to go.
Road trip route from Bakersfield to Palm Springs
From Bakersfield, take CA-58 West to Barstow then hop on CA-34 towards Yucca Valley and the entrance to Joshua Tree National Park. You can drive all the way through the park on Pinto Basin Road and Cottonwood Springs Road, which will take you to I-10.
Take I-10 West towards Coachella and Palm Springs.
Things to explore on the way to Palm Springs
Though there aren't many major attractions on the stretch of road leading out of Bakersfield, a few local gems can be found in the heart of tiny Tehachapi, which you'll pass before Barstow and the route into Joshua Tree.
Housed in a beautiful Art Deco building that dates to the 1920s, the Tehachapi Heritage League Museum lays out the natural and native history of this quiet pocket of Central California.
In case you simply can't get enough of mountainous trails through the forest, check out Tehachapi Mountain Park to the south of the town.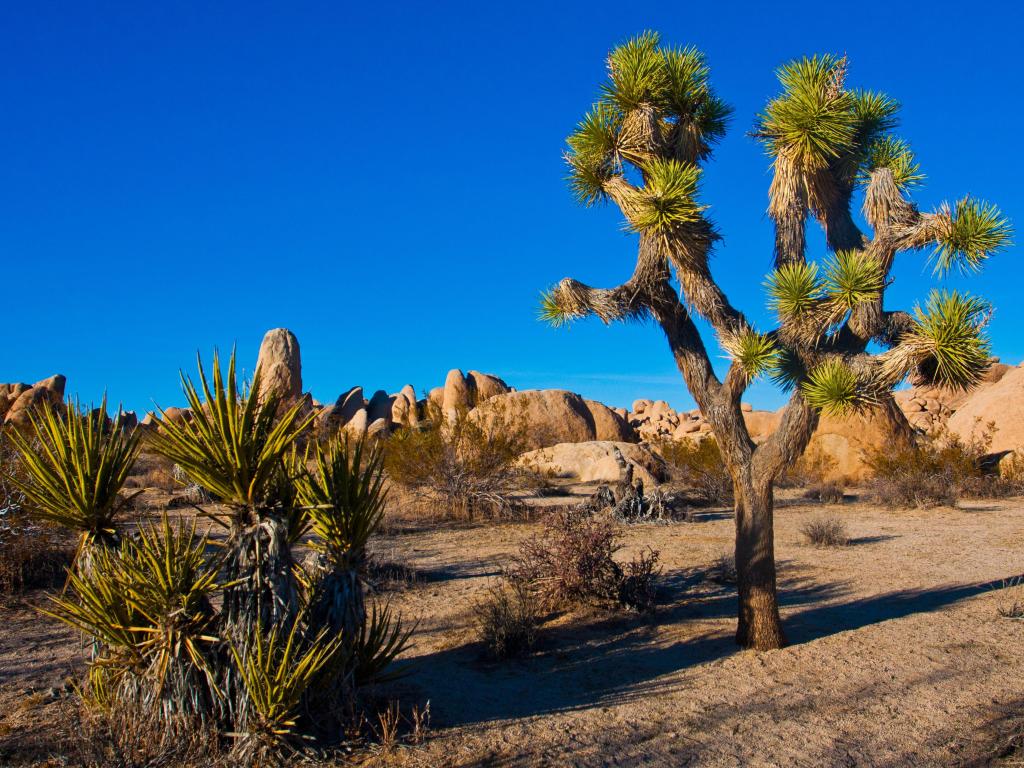 Until recently Joshua Tree National Park was only on the radar of particularly outgoing outdoors people and eccentrics from SoCal. Now it is one of the most popular and photographed national parks in the state.
In addition to the spikey and spindly Joshua trees themselves, there are gardens of Cholla cactus and maze-like rock formations along the Skull Rock trail. One of the most accessible and rewarding trails to do here, especially if you're just stopping by for a day, is the Hidden Valley Nature Trail.
Where to stay in Palm Springs: relax under the desert sky
Palm Springs was once an exclusive getaway for the stars of the Golden Age of Hollywood; now it's a place for rejuvenation that welcomes people from all walks of life.
Palm Springs has no dearth of adorable boutique hotels and spas, yet the Fleur Noire Hotel stood out with its bold floral designs, great fire pit for some evening socializing, and lovely pool area. The staff are incredibly welcoming and pay close attention to detail, so you'll be in excellent hands once you arrive.
Day 11: Driving from Palm Springs to San Diego
On this day you'll drive an easy 180 miles from the desert back to the fresh Pacific Coast, which will take 3 hours and 20 minutes. Try to avoid reaching San Diego during the peak afternoon commute time of 4-7 pm.
Road trip route from Palm Springs to San Diego
From Palm Springs head east along I-10 then go south on CA-86 towards Salton City. Look out for CA Route 78 West and take that road past Anza-Borrego Desert State Park. Once you reach Descanso Junction, take Interstate 8 West all the way to San Diego.
Things to explore on the way to San Diego
The Anza-Borrego Desert State Park is full of surprises. Spread over 600,000 acres, this state park features several different kinds of desert habitats and boasts 12 wilderness areas.
It's possible to spot roadrunners, bighorn sheep, kit foxes, mule deer, iguanas and even red diamond rattlesnakes, so be sure to keep your eyes on the trail as you explore.
There are features you can enjoy all throughout the year like the hike to Slot Canyon or the Fonts Point overlook, but this place really comes to life during the spring.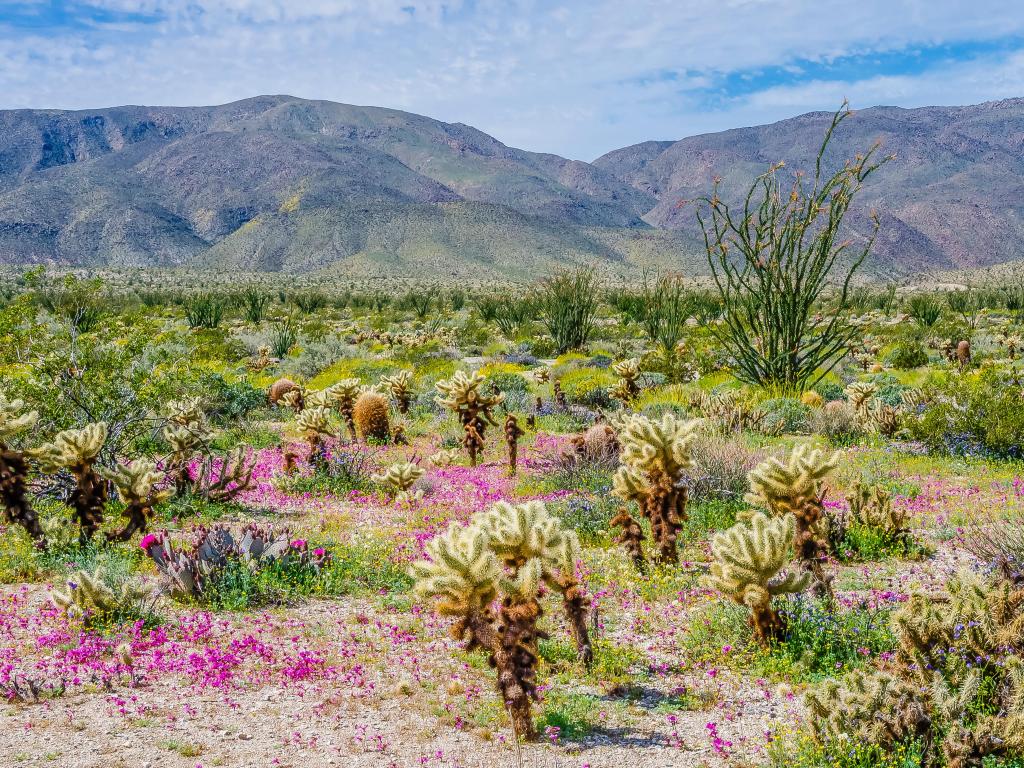 From January to mid-April the canyon floors become a patchwork of yellow, white, and purple as dormant wildflower seeds briefly wake up to transform the desert landscape, making this a must-see stop on a spring road trip.
If you want to learn more, you can find our guide on the best road trips to see the superbloom locations in California here.
A little closer to San Diego, Cuyamaca Rancho State Park is one of those state parks that you could easily overlook, but you'd be missing out. With steams, oak and pine-covered rolling hills, and miles of gorgeous trails you could be forgiven for thinking you're back in the Sierra foothills.
Whether you're rearing to go bouldering on some outcrops, hike to a picturesque pond, admire the deep-red bark of manzanitas, or just stop here to picnic and make use of the well-maintained bathrooms, a few hours here will do your mind and body good.
Where to stay in San Diego: the city of surf and sun
Coronado is on a thin peninsula that forms the San Diego Bay, so staying here will have you as close to the warmest waters in California as you can be.
Just walking distance from one of San Diego's most popular urban beaches, the Hotel Marisol Coronado offers a personal touch that will have you feeling relaxed and ready to explore sunny San Diego.
You can take your time getting here as they offer a 24-hour front desk service. Once you've settled in, consider renting one of the complimentary bikes to explore Coronado or take it easy watching the sunset by the beach.
From here it's easy to enjoy the best that the city has to offer since it is just a 10–15-minute drive on the freeway to places like Balboa Park and the San Diego Zoo.
Day 12: Driving from San Diego to Los Angeles
This final day's driving distance is modest at 125 miles but that can take anywhere from 2 hours to 4 hours to cover depending on the traffic. As your trip literally comes full circle, you'll be able to savor every moment of beach culture and urban chic that SoCal is famous for.
Road trip route from San Diego to Los Angeles
You can take Interstate 5 North all the way from San Diego to Los Angeles. This freeway stays right on the coast as it passes Del Mar, Oceanside, and San Clemente, then it heads inland through Anaheim to reach downtown Los Angeles.
Things to explore on the way to Los Angeles
Both San Diego and Los Angeles have amazing beaches, but Oceanside is a town that lives and breathes beach culture. Surfing and simply being on the beach is such a central component of life here that it was deemed a California Cultural District in 2017.
The California Surf Museum aims to preserve and explore the unique boarding culture shared by both skateboarding and surfing throughout Southern California.
By far one of the must-see local haunts of the Oceanside Municipal Fishing Pier, one of the longest wooden piers on the West Coast. It's lined with shops and vendors so you can get your snack on while you people watch and wait for the next big catch.
It might seem a bit cliché, but a stop by Disneyland in Anaheim can really lift the spirits and act as the capstone to a quintessentially Californian road trip.
Disneyland has always been intended as a place where people of all ages can immerse themselves in fantasy and fun, but recently they've made adult-oriented additions like a Star Wars-themed bar and the luxurious Tenaya Spa.
Then of course there are the rides, the characters, and the chance to feel like a kid all over again.
Where to stay in Los Angeles: find your place among the stars
Nestled in the hills between Beverly Hills and Santa Monica, Westwood Village is a gorgeous home base that's close to many of Tinsel Town's major attractions.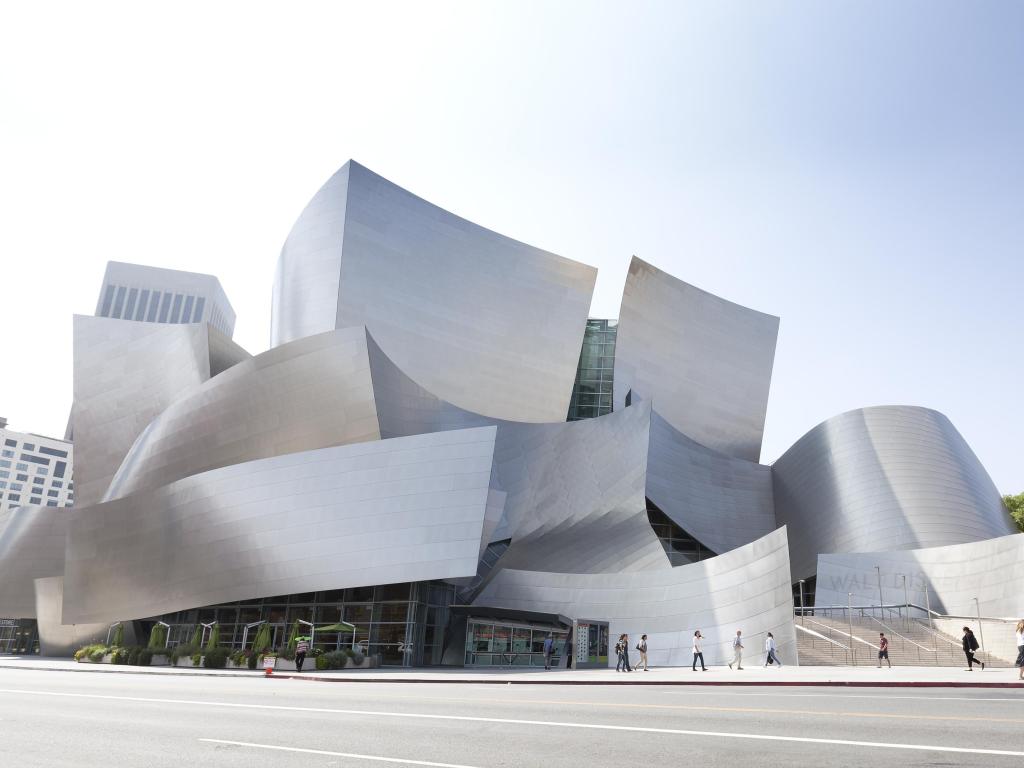 In addition to having that classy feeling created by ample hardwood interior finishes, the Plaza la Reina is a comfortable place to spend a few days at the end of your whirlwind trip around the Golden State.
Many rooms have kitchenettes, but our absolute favorite amenity was the on-site washing machines. It is set in a pleasant and safe neighborhood that's perfect for morning walks and it is less than five miles from must-see Los Angeles attractions like Sunset Boulevard and the Getty Museum.
Things to see on the ultimate road trip in California
This trip is the perfect opportunity to take your time and discover the many sides of California. In addition to the main stops, we've given for each day of the trip above, try to see some of these gems as well.
Malibu - Just north of Santa Monica, there's a lot more to Malibu than celebrity homes. The broad and sandy Zuma Beach is inviting on any day and the cliffs of Point Dume are worth exploring as well.
San Luis Obispo - This college town a little inland from Pismo Beach has a wonderfully walkable downtown set alongside a creek and features an 18th-century Spanish mission you can tour.
San Simeon - Perched on the central coast, here you can see an elephant seal rookery from a safe distance or head for the hills and take a tour of the elaborate Hearst Castle.
The Forest of Nisene Marks State Park - This refreshing state park southeast of Santa Cruz is filled with wandering trails, some challenging changes in elevation, redwoods, and bright yellow banana slugs. For those interested, it was also the center of the Loma Prieta earthquake of 1989.
Half Moon Bay - This charming coastal town north of Santa Cruz has a lovely little marina and pier. If you drive inland along Highway 92 there are some incredible nurseries and craft studios.
Muir Woods - This enchanting grove of coastal redwoods is a popular weekend excursion, so try to visit on a weekday if you can. Nearby Mill Valley is an adorable town that also makes a good breakfast or lunch spot as you drive north from San Francisco.
Point Arena - Here you can find a well-preserved lighthouse and museum. From the top, there are breathtaking views of the Mendocino coast.
Avenue of the Giants - This 31-mile stretch of scenic highway lies parallel to US Route 101 and will have you slowing down to admire the towering trees on either side of the road.
Luffenholtz Beach - This rugged beach north of Arcata, just before you reach Trinidad, is a wonderful place for a morning stroll and casual tide pool gazing. Steep stairs lead down to the beach, which is rarely crowded.
Happy Camp - On the long drive through a winding, mountainous road between Klamath and Mineral, Happy Camp is a convenient place to stop and refuel. There's a statue of the legendary Big Foot here, in case you'd like to get a picture with a local celebrity.
Redding - This sunny mountain town is a hub where you can get a gourmet meal and enjoy creature comforts that are few and far between in the vast forests of Northern California.
Zephyr Cove, Nevada -Before you reach the relatively Built-up area of South Lake Tahoe, stop by Zephyr Cove to swim, sunbathe, and relax with the heavenly views over Lake Tahoe among minimal crowds.
Bridgeport - Though too small to be called a town, Bridgeport was established in the mid-19th century and has a quaint, historic main street that speaks to its more populated past. It is surrounded by mountains and wide meadows and is a great base for day hikes and excursions in the surrounding wilderness.
Mono Lake - This saline, high-altitude lake serves as a unique habitat for dozens of bird species and other wildlife. You can learn more about the natural history of the lake at the Mono Basin Scenic Area Visitor Center then wander the lake-side trails of the Mono Lake Tufa State Natural Reserve.
Mammoth Lakes and Mountain - A beloved eastern Sierra ski spot, this is a stunning place to visit any time of the year. Hike through the pine-scented air to get unbelievable views of the surrounding mountain ranges.
Devils Postpile National Monument - If you're an aficionado of the odd geological formation, then make sure you drive the few extra miles behind Mammoth Lakes to see this exquisite example of columnar basalt. Nearby, you can also walk parts of the John Muir and Pacific Coast trails and see Rainbow Falls.
California Route 66 Museum - Not far from Barstow you can pay homage to the great American tradition of road-tripping and see every kind of road sign and a few vintage vehicles at this museum with just the right amount of kitsch.
Whitewater Preserve - Explore another stunning desert area near Palm Springs, filled with more colorful flora and water features than you might expect.
Surfing Heritage and Culture Center - A little inland from San Clemente, this small museum has been curated with love and offers an amazing selection of surfboards and memorabilia from surfing legends.
San Juan Capistrano - This slightly inland town is most famous for the intricate beauty of the Mission Basilica San Juan Capistrano. While the swallows no longer nest here, it is a stunning example of religious architecture on the West Coast.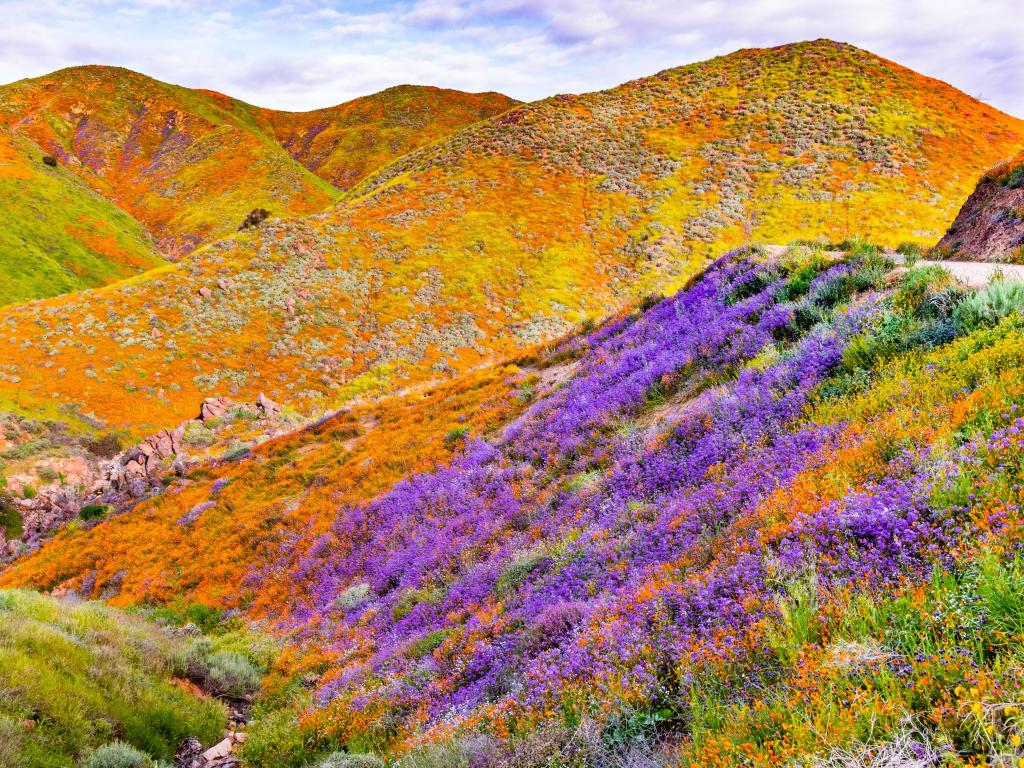 Best time to go on the ultimate road trip in California
California is a famously sunny state with winters that are much milder than elsewhere in the States, so this is really a trip you could make at any time of the year.
The only caveat is that some of the roads between Mineral and Lee Vining, basically the eastern Sierra portion of the trip, face multiple road closures from November to May so you'll want to plan your trip with this in mind.
Traveling in winter
If winter is the only time you have to explore, or if you were interested in hitting the slopes on some parts of the trip, you could do a modified version of the route we've outlined.
From South Lake Tahoe, take the Golden Chain Highway (CA-49) through several Gold Rush Era towns to get to the Big Oak Flats Entrance of Yosemite. From here you could head to Bakersfield and take a detour east to Death Valley National Park or continue the original route to Palm Springs.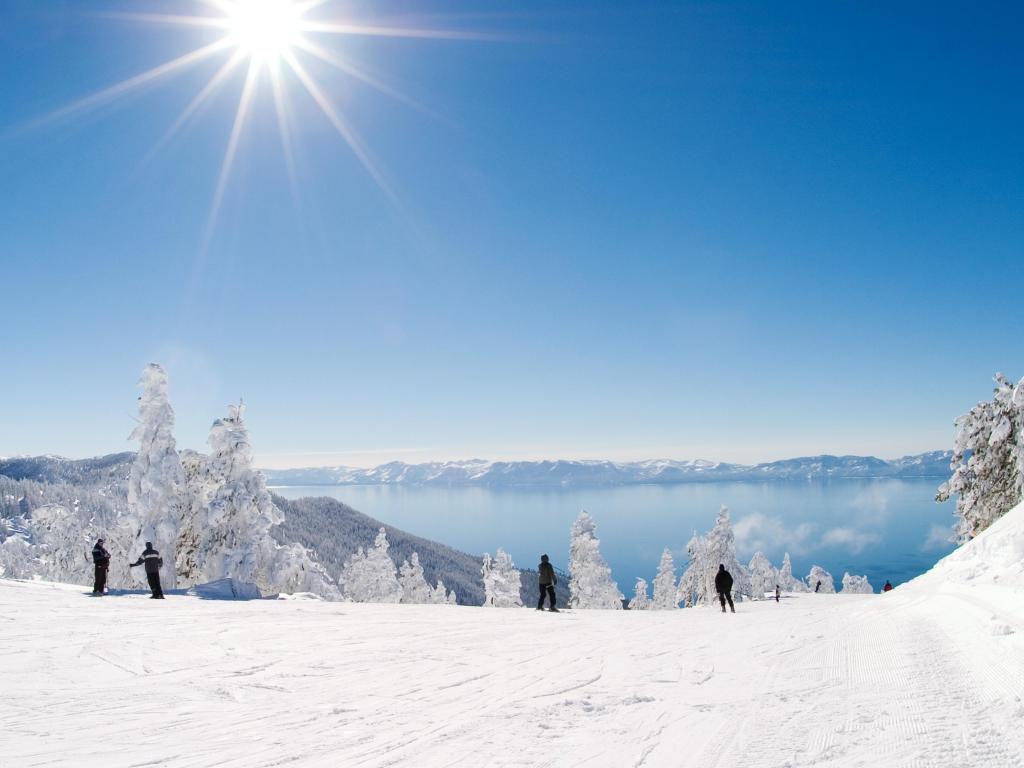 Traveling in summer
For swimming on the coast and being able to adventure in the highest reaches of Lassen and Yosemite National Parks, the summer would be the best time to do this trip.
The only drawbacks are that attractions in major cities might get crowded and some of the desert locations might be too hot to visit during most of the day.
Traveling in spring or fall
While the high-altitude roads will still be closed in the early spring, the late spring could be an ideal time to do this trip, with warm weather interspersed with light showers on the north coast and some lingering wildflowers by the time you reach the southern deserts.
The mid-fall around October, is another surprisingly great time for this trip. You would maximize your chance of seeing clear coastal views along the north coast, be able to access mountain passes before the heavy snow starts and get temperate weather for outdoor activities all over the state.
In addition to timing your trip to coincide with spring blooms or October skies, consider including a few concerts or festivals along the way.
In addition to gigantic festivals like Coachella, which happens in April, there are smaller ones like Outsidelands in San Francisco which takes place every August and the Monterey Jazz Festival in September.