Yellowstone vs Yosemite: which national park is best to visit?
Yellowstone and Yosemite are two of America's most popular national parks, and for good reason. Forged by fire and ice, the solemn granite faces of Yosemite Valley have captured countless hearts. Some monoliths are named, like Half Dome and El Capitan; others remain nameless though they are no less awe-inspiring.
Yellowstone is almost triple the size of Yosemite. Here the forces of nature are rawer and more active in their sculpting of the landscape. Geothermal activity emerges dramatically as geysers, like Old Faithful, and as sultry, kaleidoscopic thermal pools like the Grand Prismatic Springs.
Both Yellowstone and Yosemite offer unfettered access to pristine wilderness and wildlife, so which one you choose for your next outdoor adventure depends on how far you're willing to drive, what you'd most like to see, and which season works best for you.
Read on below through our comprehensive comparison so you can make an informed decision when choosing between these two gems of the national park system.
Yellowstone vs Yosemite: which national park should you visit?
Yellowstone stretches across three states, though it is primarily located in the northwestern corner of Wyoming. Parts of the park are also located in Montana and Idaho.
Many people combine a trip here with a visit to the Grand Teton National Park to the south in Wyoming or to the Caribou-Targhee National Forest to the west in Idaho.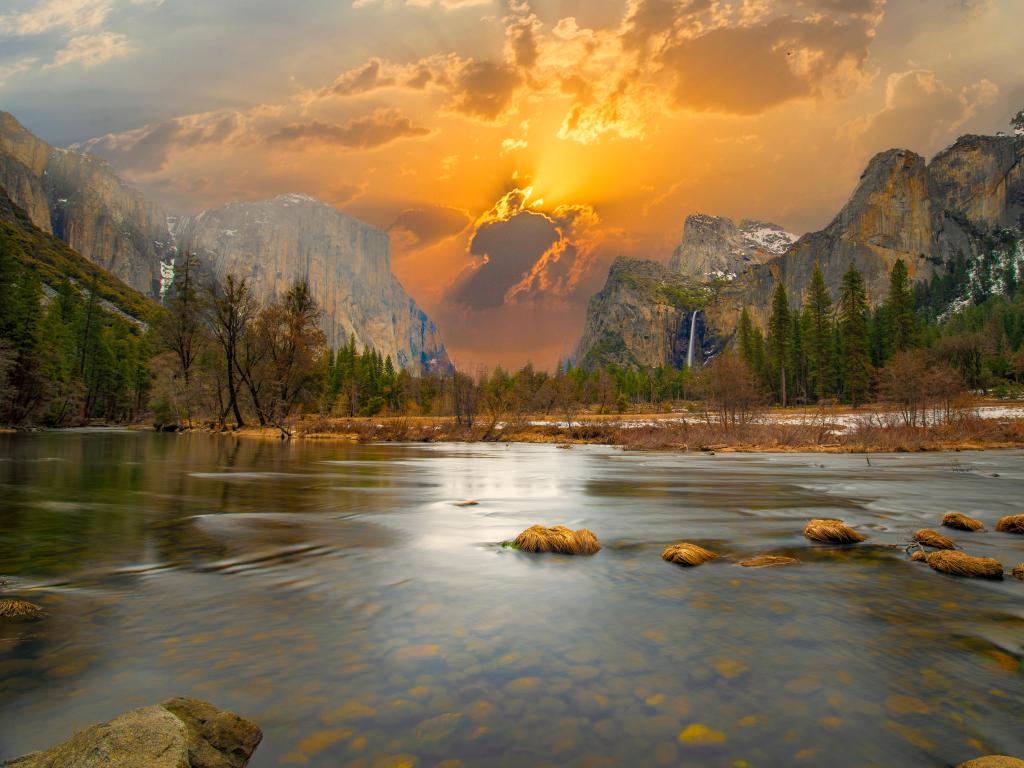 The steep cliffs of Yosemite Valley and the surrounding national park are cut into California's eastern Sierra Nevada Mountain range, about 140 miles southeast of the state capital, Sacramento.
To the north lies Stanislaus National Forest and idyllic Lake Tahoe and the Sierra National Forest sits to the south.
Here's a helpful side-to-side comparison of the parks' main features:
Comparison of Yellowstone and Yosemite National Parks
Yellowstone National Park
Yosemite National Park
Size
3,400 square miles
1,169 square miles
Landscapes
Hydrothermal features, canyons, mountains, lakes, rivers, and waterfalls
Granite monoliths, valleys, mountains, meadows, waterfalls, glaciers
Wildlife
Bison, grizzly bears, wolves, elk, fox, eagles
Black bears, coyote, bighorn sheep, mule deer, turkey
Scenic views/overlooks

Grans Prismatic Springs
Old Faithful
Hayden Valley
Lamar Valley
Grand Canyon of the Yellowstone
Norris Geyser Basin
Fairy Falls
Thumb Geyser
Tower Fall

El Capitan
Half-Dome
Yosemite Falls
Bridalveil Fall
Sentinel Rock
Mist Trail
Mariposa Grove
Tuolumne Meadows
Tenaya Lake

Value for money
Park entry is $35 per vehicle for seven days; more affordable local accommodation
Park entry is $35 per vehicle for seven days; Californian prices tend to be higher
Which national park is bigger, Yellowstone or Yosemite?
Yellowstone is the largest national park in the contiguous United States, encompassing 2.2 million acres, making it much bigger than Yosemite. That said, both parks are massive, and you could spend weeks walking their many trails without seeing all they have to offer.
We recommend a bare minimum of three days to explore the many spread out attractions in Yellowstone National Park. It would be best if you could set aside a week or more to explore the park, especially if you plan on hiking and not simply driving past the main features.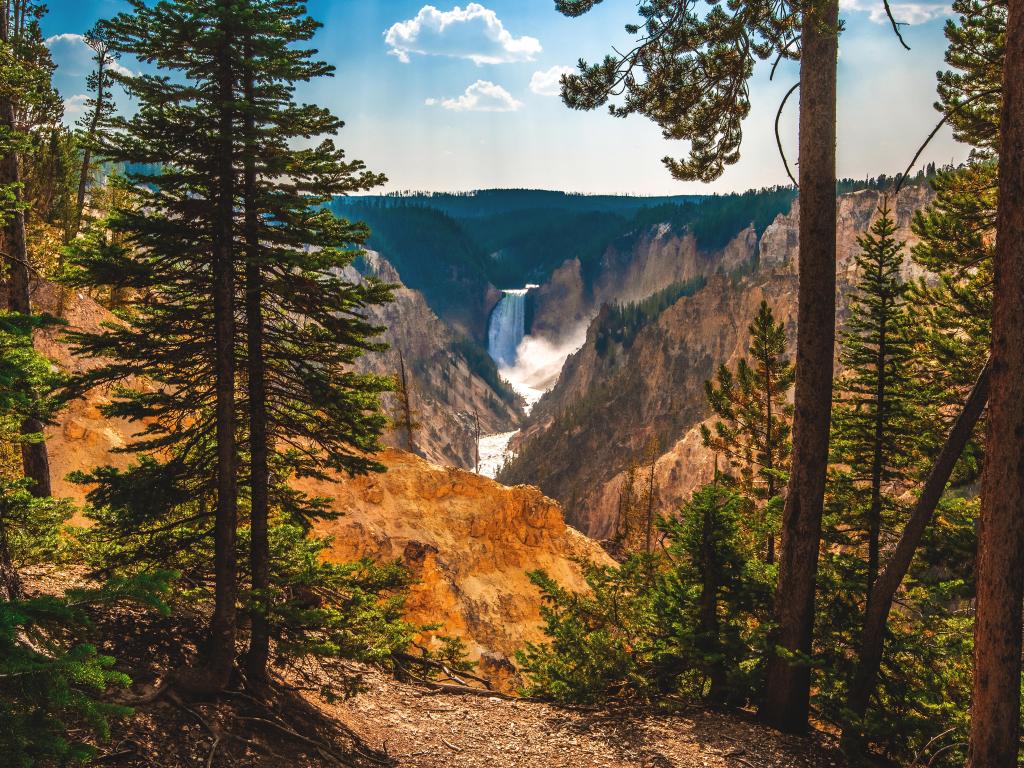 As for Yosemite, there's a famous quote by Dayton Duncan about a ranger who was asked what he would do if he only had one hour to visit the park. His reply was "I'd go right over there, and I'd sit on that rock, and I'd cry."
While only spending such a short time in Yosemite borders on the tragic, really and truly, you can visit Yosemite for a day and be able to see most of the iconic features in and around the compact Yosemite Valley.
Ideally, you would leave more time for this trip from three days to two weeks, in case you'd like to do some backpacking in the high Sierras.
Is Yellowstone better for the scenery than Yosemite?
One of the best things about getting out into nature is being enveloped in an expansiveness that makes any stress or worry simply melt away. Both Yellowstone and Yosemite have miles of roads and trails with breathtaking views.
Yellowstone sits atop one of the largest super-volcanoes in the world, which gives rise to all its mesmerizing thermal treats. There are more geysers here than anywhere else on earth.
The Upper Geyser Basin is home to 150 features including the park's most famous geyser, Old Faithful, which erupts every 90 minutes or so.
Many of the thermal pools like those in the Midway Geyser Basin harbor thermophilic, or "heat-loving", bacteria and algae which give them their stunning colors.
The Yellowstone River carves a canyon, 1,000 feet deep and 20 miles long, that is sometimes compared to the Grand Canyon. Here you will also find photogenic viewpoints over the powerful Lower Falls.
Finally, Yellowstone is in some senses the quintessential National Park, being the original park which inspired the very idea of preserving vast stretches of America's wilderness for the sake of posterity.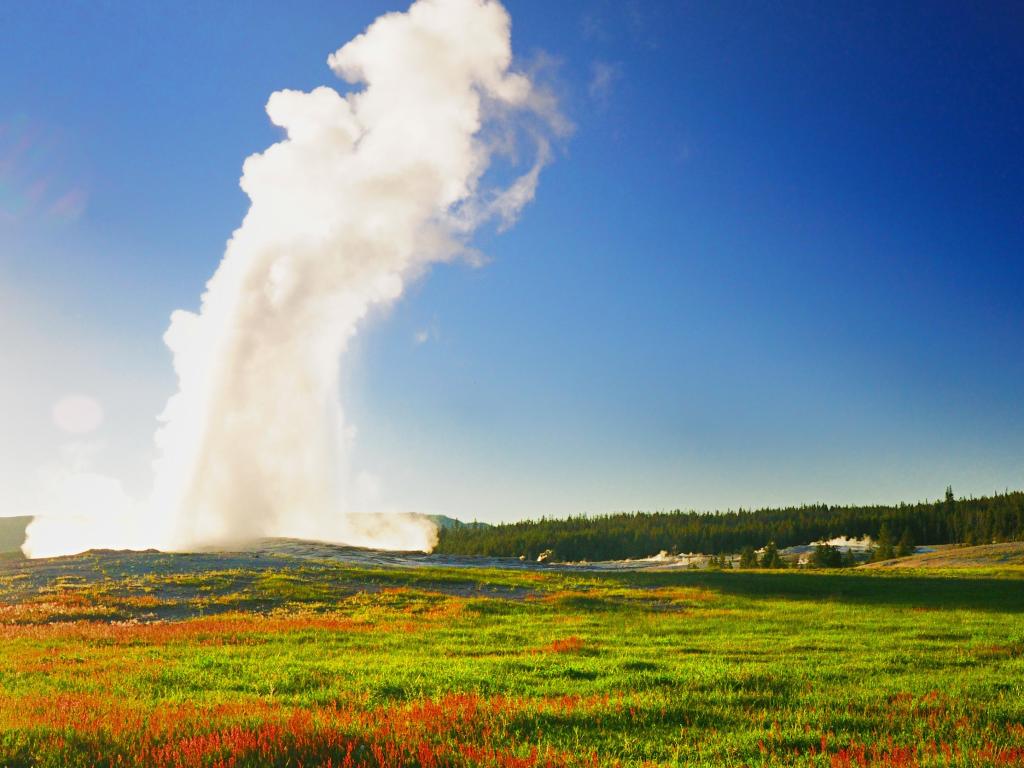 Not easily outdone, Yosemite can go toe to toe with Yellowstone when it comes to amazing scenery. The naturalist John Muir, who wrote extensively about Yosemite and lobbied for its preservation, once said, "No temple made with hands can compare with Yosemite."
The unique topography of Yosemite Valley is its most famous feature. The steep angles formed by its iconic granite monoliths make it seem like you are wandering through a cathedral of giants.
The cliffs aren't the park's only giants. In the south of Yosemite, you can hike amongst redwood groves where some of the trees stand at over 250 feet tall.
The glaciers high in the Sierra Mountains melt during the spring to form some spectacular waterfalls throughout Yosemite; some of the tallest waterfalls in the US are located here.
Yosemite's most famous scenes and natural monuments are also wonderfully accessible. From the totally flat Yosemite Valley Loop Trail, open year-round, you can walk for hours and get those postcard-worthy shots of the park.
As you can gather, each national park offers pristine forest, mountain, and river views in addition to their more distinctive features. You won't lack for memorable panoramas in either park.
Does Yosemite have better wildlife than Yellowstone?
Ask around and you'll find that many visitors to Yosemite have their stories about a hungry bear running off with their picnic lunch or bag with forgotten toothpaste. Both parks caution visitors to be "bear aware" and sightings are common in certain areas of the parks.
In Yosemite, you'll mostly see the smaller and relatively harmless black bears, many of which are more of a brownish color, whereas Yellowstone is home to black bears as well as more ferocious grizzly bears.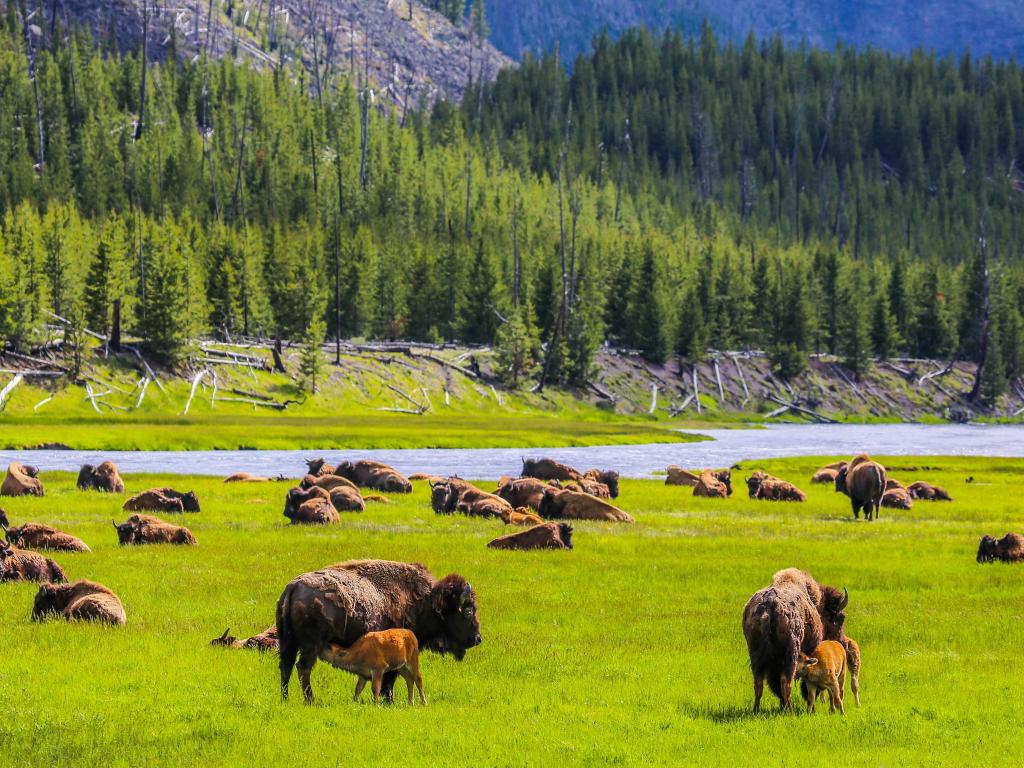 In addition to bears, there are bighorn sheep and bobcats in the backcountry, though sighting of these animals is less common. Coyotes can be seen on the prowl for small rodents throughout Yosemite.
Yellowstone has more exotic animal species, most notably the last natural Bison population in the US. Here you can also spot wolves, elk, foxes, and soaring bald eagles.
In Yellowstone there are areas that are well-known for the likelihood of wildlife sightings like Lamar Valley and Hayden Valley. On a visit here you are more likely to catch a glimpse of an animal than on a trip to Yosemite.
Where can I take the best photos, Yellowstone or Yosemite?
Whether you're an aspiring influencer or just want to have some great pics to share with friends and family back home, both Yellowstone and Yosemite offer up plenty of photo ops.
In Yellowstone, popular overlooks for social media shots include Artist Point, Upper Falls View, Lower Falls, Inspiration Point, Artist Paintpots, and Observation Point.
We were particularly impressed with the Grand Prismatic Overlook, which provides an otherworldly backdrop that you'll definitely have to post with #nofilter to amaze your followers even more.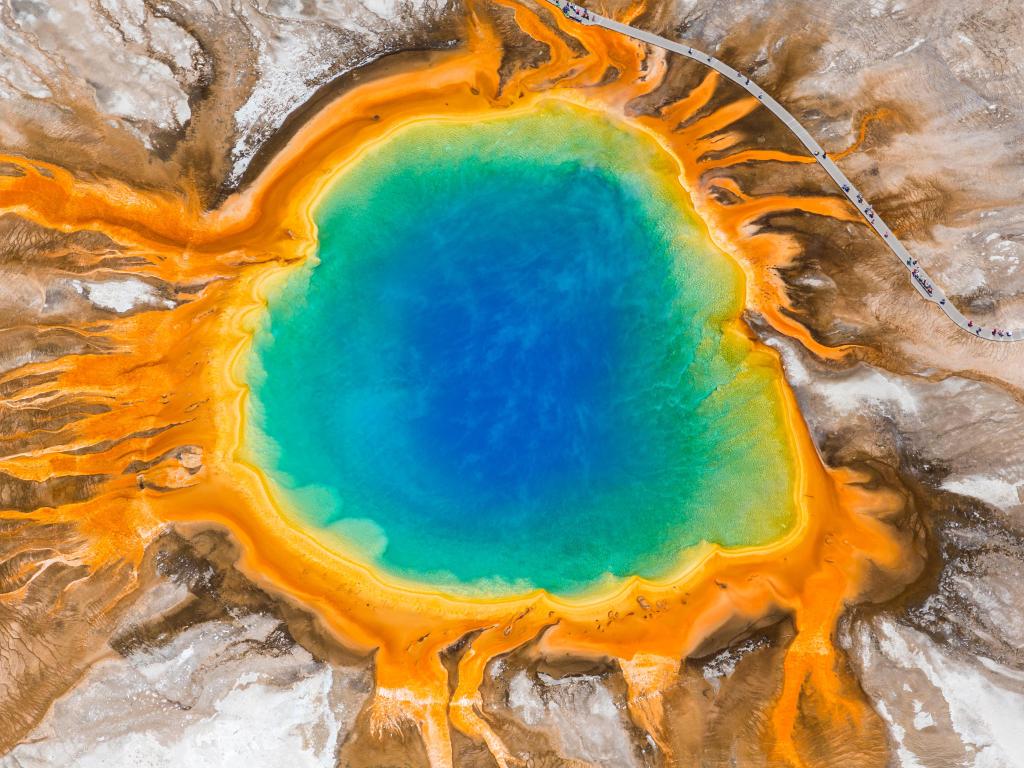 If you time your visit to Yellowstone just right, you can even get a picture with one of its erupting geysers in the background. Most eruptions last for several minutes, so you'll have time to strike the perfect pose.
Over in Yosemite you can take that new profile picture in front of the overlook at Glacier Point, with the wide bottom of Yosemite Valley 3,200 feet down below.
Two other classic places for larger-than-life pictures are at Taft Point and above the Half Dome Summit. Another great angle of Half Dome is from Sentinel Bridge, where you can frame a truly majestic picture with the monolith's reflection in the Merced River.
Just as you're coming into Yosemite, on CA Route 41 after Tunnel View, another utterly photogenic stop, you'll get your first sight of the billowing Bridalveil Fall towering above the evergreen forest.
Ansel Adams made a whole career of photographing Yosemite in the 1920s and the park continues to attract world-class photographers today, which should give you a clue to just how many epic pics you can take here.
Which park is easier to drive around, Yellowstone or Yosemite?
A great feature of Yellowstone is that there's a well-maintained road network throughout the park. Especially if accessibility is a concern, you'll be able to see many of the attractions a short walk from a designated parking area off the main road.
The lifeline of the park that connects the major entrances is the winding, 142-mile-long Grand Loop. Driving this loop continuously and slowing down for the many curves and eye-catching formations would take at least 5 hours.
We recommend driving this loop over a couple of days to appreciate the many wondrous places it takes you past. Read our detailed guide on traveling through Yellowstone to learn more about this drive.
There are routes leading to Yellowstone from all sides. The South and East entrances are both in Wyoming and accessible via U.S. Routes 89 and 20, respectively.
The West Entrance, the park's most popular, is just across the border in Montana on US Route 191. The North and Northeast Entrances are also in Montana along U.S. Routes 89 and 121.
Some of the gorgeous roads weaving through Yellowstone are closed due to the severe winter weather; we'll fill you in on the details below.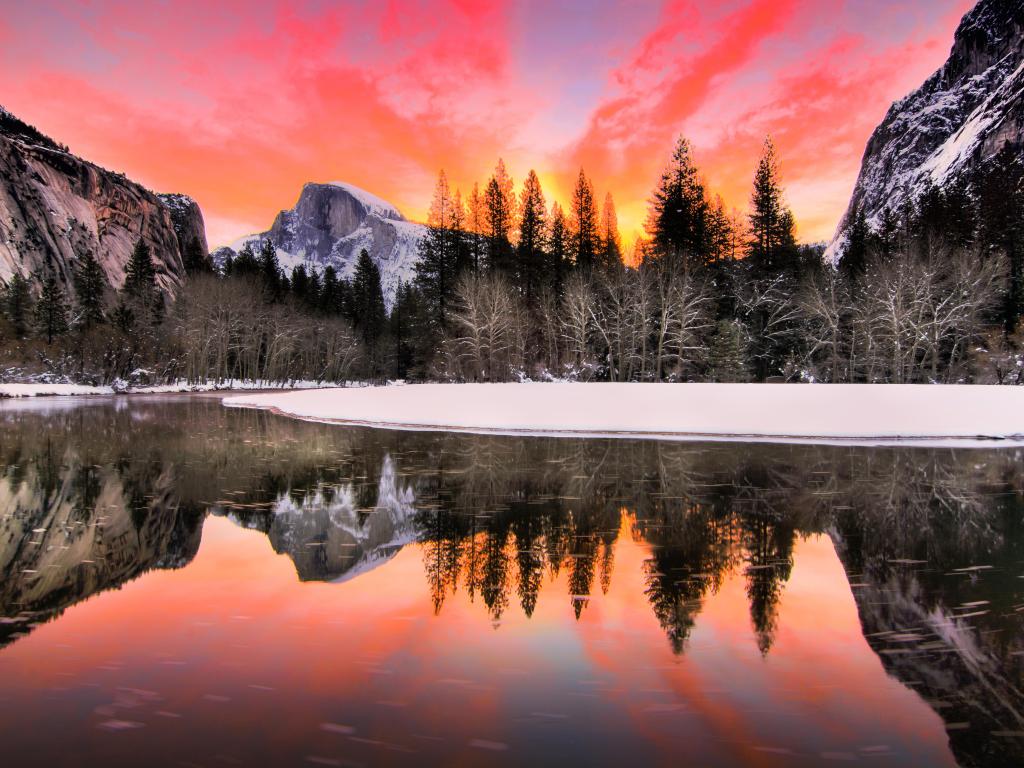 Moving on to Yosemite, the first thing to note is that there are fewer roads throughout the park when compared to Yellowstone. This means that many of Yosemite's high-altitude landscapes, mountain passes, and hidden valleys are accessible by foot or horseback only.
The largest road, CA-120/Tioga Road, stretches across the east-west axis of Yosemite and covers some incredibly rugged and isolated terrain. Most of this road, including the eastern entrance, is closed from November to May. The road to the breathtaking view at Glacier Point is also closed from November to May.
Fortunately, there's a road that loops through most of Yosemite Valley, where most of the iconic viewpoints are, which stays open year-round. Here is our ultimate guide on the best drives through Yosemite National Park.
Wawona Road, El Portal Road, and Big Oak Flats Road all on the west side of the park, merge into Northside and Southside Drives on either side of the Merced River in the middle of Yosemite Valley.
Due to the soaring popularity of this park, and resulting traffic, the National Park Service has introduced a reservation system to drive into the park during peak visitor periods.
These are irregularly established, sometimes on designated weekends, sometimes for the whole summer, so be sure to check the park's website as soon as you start planning your trip.
One of the things that add to Yosemite's popularity is its proximity to major population centers around the San Francisco Bay Area, Sacramento, and a little further south, Los Angeles.
The primary roads into Yosemite are CA Routes 120 (CA-120), 140 (CA-140), and 41(CA-41). In all, there are five entrances to the park.
In the northwest lies the Hetch Hetchy Entrance, on the western side are Arch Rock Entrance on CA-140 and the Big Oak Flat Entrance on CA-120, on the southwestern side of the park is South Entrance on CA-41, and the only eastern entrance on the mountainous eastern side of Yosemite is Tioga Pass Entrance on CA-120.
This last entrance is stunning and a great way to see the park as part of a larger trip through the Sierras visiting places like Lake Tahoe and Death Valley.
Which park is more expensive, Yellowstone or Yosemite?
Pass prices for Yellowstone and Yosemite

| Pass type | Price |
| --- | --- |
| 7-day without vehicle | $15 |
| 7-day with vehicle | $35 |
| Annual Yosemite pass | $70 |
| America the Beautiful | $80 |
*Prices calculated at the time of writing; vehicle passes cover all the occupants
Since both Yellowstone and Yosemite are managed by the National Park System, the basic costs of admission are the same.
The cost for a single car to enter Yosemite or Yellowstone with all its occupants is $35. If you park somewhere outside and come in on foot, it is $15 per person. Both of these passes are valid for 7 days and also cover free parking in designated lots throughout each park.
Given this price scheme, if you plan to stay for multiple weeks or want to visit any of three national parks in the next year, consider getting an America the Beautiful pass for $80.
This covers one vehicle plus up to 4 adult occupants for unlimited entry to all National Parks and Federal Recreational Lands for one year.
Yosemite has its own dedicated annual pass for $70, but we think paying the extra $10 for the America the Beautiful pass is a no-brainer for anyone who loves time in the great outdoors.
The cost of travelling to Yosemite and Yellowstone starts to differ when you take into consideration where each park is located.
Being in one of the states with the highest cost of living means you will pay more for food and lodging on a trip to Yosemite. Gas in California is regularly a dollar or more than the national average. On the other hand, gas and other prices in Wyoming can be significantly lower than the national average.
Take this into consideration when planning your trip since the cost of park entrance etc. are relatively minor when compared to the cost of food and lodging over and entire trip.
Which national park has better accommodation options, Yellowstone or Yosemite?
There's no dearth of places to stay in either national park. From back-to-basics campgrounds to luxury hotels on the park's outskirts, you'll find a range of accommodations.
Few things are as magical as a night under the stars. Yellowstone has roughly 2,000 campsites spread over 12 designated campgrounds, five of which are operated by the national park service. Yosemite has approximately 1,500 campsites spread over 13 campgrounds.
In Yellowstone, only one campground operated by the park service is open in the winter: Mammoth Hot Springs. Four Campsites are open during the winter in Yosemite, including the popular Upper Pines and Wawona.
Reservations are required for Yosemite, but not for Yellowstone, though it is advisable to book your campsite as far in advance as possible for both parks.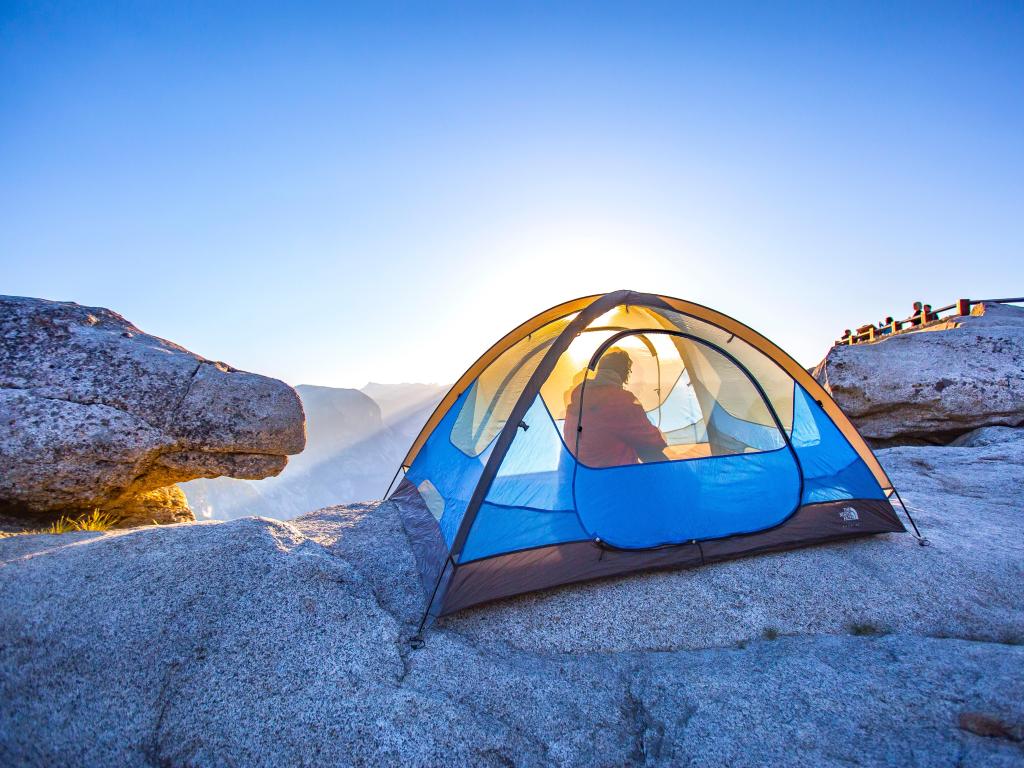 If your idea of roughing it means fewer channels and filter coffee in place of espresso, then both parks also have comfortable accommodations outside of the park's boundaries.
Heading to Yellowstone, Gray Wolf Inn & Suites is located just outside of the Western Entrance, close to the Montana-Wyoming border. It is a few blocks from the park's Visitor Information center as well, making it an excellent home base for acquainting yourself with Yellowstone.
Coming from the east of Yellowstone, we heartily recommend the Chamberlin Inn. This boutique hotel is located near the Eastern Entrance of the park and is housed in a charming historic property. Many rooms have roll-top baths so that you can enjoy a nice, warm soak after a day of hiking Yellowstone.
If you're leaning towards a Yosemite visit, The Oakhurst Inn at Yosemite is an affordable option near the South Entrance. The clean rooms and complimentary breakfast will have you feeling fresh each day to explore Yosemite's hundreds of miles of trails.
A fabulous and funky place to stay if you're approaching via the southwestern Arch Rock Entrance is AutoCamp Yosemite in Midpines. They have retrofitted classic camper vans as luxury "glamping" pods. The whole property screams retro chic.
Regardless of which park you choose; you'll be able to stay in style and create many priceless memories.
Comparing Yellowstone and Yosemite National Parks by season
Some people like it hot and others prefer a nip in the air as they hike. Given the different geographic locations and average altitude of each park, the season you plan to take your trip in could be the deciding factor between Yellowstone and Yosemite.
While you can visit Yellowstone National Park any time of the year, the areas of the park reachable by car vary greatly throughout the year. Yosemite is also open year-round and while there are seasonal road closures, they are less extensive than Yellowstone's.
Yellowstone vs Yosemite in spring
For both parks, spring is a shoulder season with far less visitors than the summer. The extreme winter in Wyoming means that you might still need a down jacket there in April, whereas you could be walking in shorts during the same time in Yosemite.
In the spring, between late March and June, Yellowstone is bursting with new life, including baby bears, wolves, and elk. Lamar Valley is one of the best places to see some of these adorable new additions to the park, but be sure to keep a safe distance.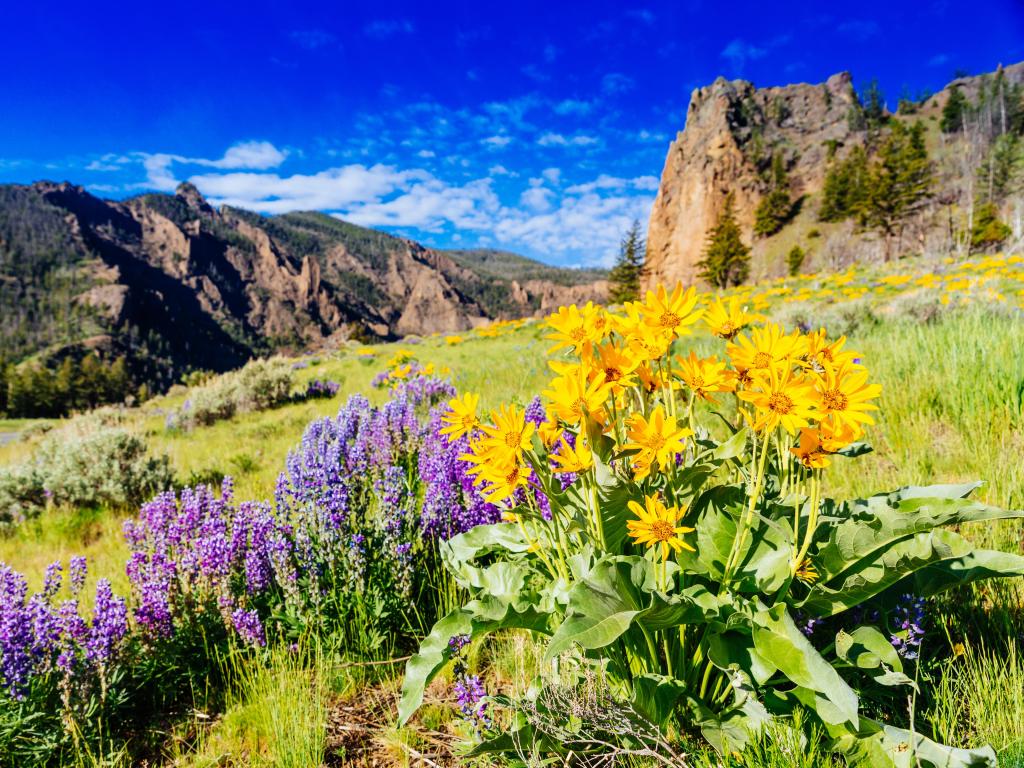 Yosemite's gorgeous waterfalls start to reach their peak run-off in the late spring, making it one of the best times to see them, along with many wildflowers throughout the park.
If you are so lucky to visit Yosemite in mid to late February, you will catch one of its most magnificent spectacles: the firefall. Every year for a brief two-week period the setting sun hits Horsetail Fall in such a way that it is set ablaze with light and looks as if molten lava is flowing down its side.
Some of the best places to catch a glimpse of the firefall are El Capitan Picnic Area and along the Southside Drive.
Yellowstone vs Yosemite in summer
Yellowstone has exceedingly pleasant weather in the summer. In case you wanted to swim in the lakes and rivers, the summer is the most comfortable season for splashing around.
Temperatures in the 70s and 80s Fahrenheit combined with kids being out of school for the summer vacation make the park crowded in July and August. Parking and finding good campsites will be more challenging at this time of the year. The same goes for Yosemite.
Between May and October in Yellowstone, you can also catch many migrating bird species, including colorful hummingbirds and elegant owls.
In some of the communities south and east of Yellowstone, there are rodeos throughout the year. One of the largest rodeos, the Cheyenne Frontier Days, happens every July in Cheyenne, WY, about 100 miles north of Denver, CO.
Summers in Yosemite might be a bit hot for some people's tastes with hovering in the 80s and 90s degrees Fahrenheit. With proper hydration and staying on shaded trails most people will be able to have a safe and enjoyable summer trip here.
Like with Yellowstone, a visit during this hot and arid season opens up the possibility to play in some of Yosemite's waterways and really let loose on your trip.
Due to the park's popularity and summer vacation from school, the park has its peak amount of visitors during the summer season and sometimes you need to make a reservation just to enter the park with your car.
Given that both parks experience a summer rush, keep in mind that both parks have less popular entrances where you won't get stuck in traffic.
Yellowstone vs Yosemite in the fall
To avoid the peak summer crowds, those in the know aim to visit Yellowstone and Yosemite during the early fall before the frigid weather sets in and roads begin to close in November.
Both parks have some brilliant foliage, but you'll find slightly more turning leaves in Yellowstone, including bright yellow aspens in early October.
Keep in mind that many of Yosemite's waterfalls can be completely dry in the fall, due to the lack of rain over the long, hot, summer. Occasionally, they are replenished by storms in October and November. Combined with the mild Californian climate, a late fall trip to Yosemite can be particularly enjoyable.
Yellowstone vs Yosemite in winter
Visiting Yellowstone in the winter has its own challenges as well as its own rewards. Many roads, like the Great Loop, are closed to cars from December to April but open to "oversnow" vehicles like snowmobiles.
Old Faithful and other major park features are only accessible via snowmobile and snow coach tours operated by the park service. Read our detailed guide on driving through Yellowstone National Park to learn which roads to follow in winter.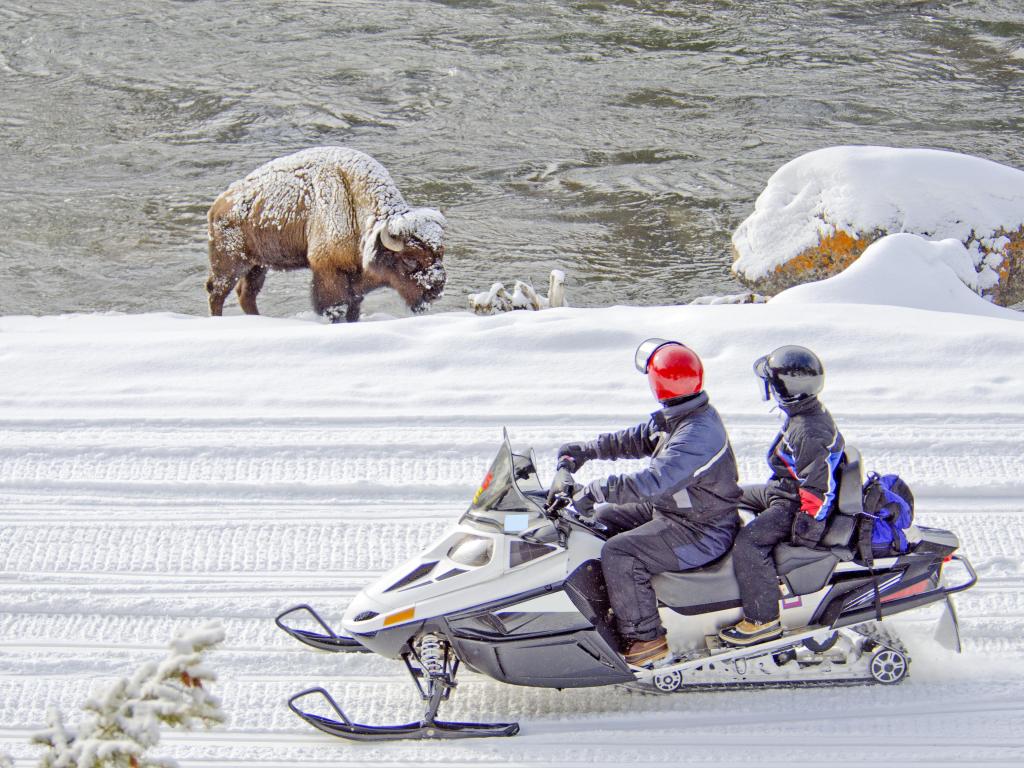 Compared to the Midwest and Northeast, the winters in Yosemite are pretty mild, with temperatures in the 40s and high 30s Fahrenheit. Still, it can snow in all parts of the park.
Roads on the high mountain passes, including Tioga Road, are closed from October to May, but the other roads in the west of the park are open. Click here for our ultimate guide on driving through Yosemite, including information on how to reach the national park in winter.
Some of the most popular hikes, like the Valley Loop Trail and the Mist Trail, are open and much less crowded in the winter. The only disadvantage to this season is that some of the waterfalls might be frozen or dried up.
While both parks offer visitors a different kind of winter experience, Yosemite is arguably more accessible, and you'll be able to see its iconic features more easily when compared to Yellowstone.
Planning a road trip to Yellowstone or Yosemite
The easier park to drive to largely depends on where you're driving from. For people from California, Oregon, and Nevada, Yosemite is more accessible, for people from the rest of the U.S. Yellowstone would likely be closer given its central location.
People flying in from abroad and renting a car will find Yosemite more accessible. It is closer to international airports in Sacramento and the San Francisco Bay Area. That said, driving there involves navigating along some curvy mountain roads.
With all this in mind, take a look at the table below for some of the popular road trips to Yellowstone National Park from major cities in the US. To read further about these trips, you can click the links in the table.
Popular road trips to Yellowstone

| Starting city | Recommended entrance | Distance (time) | Highlights |
| --- | --- | --- | --- |
| Salt Lake City | West | 320 miles (4 hours 50 minutes) | Lava Hot Springs, ID |
| Denver | South | 510 miles (8 hours 30 minutes) | Fort Collins, CO and Grand Teton National Park |
| Seattle | North | 760 miles (11 hours 40 minutes) | Coeur d'Alene, ID and Missoula, MT |
| Phoenix | South | 970 miles (16 hours) | The Grand Canyon and Provo, UT |
| Los Angeles | West | 1,000 miles (16 hours) | Death Valley National Park, Las Vegas, and Salt Lake City |
| Dallas | South | 1,300 miles (20 hours 20 minutes) | Raton, NM, Colorado Springs, and Medicine Bow-Routt National Forest, MT |
| Chicago | East | 1,360 miles (21 hours) | Madison, WI, Sioux Falls, SD, Rapid City, SD, and Cody, WY |
| Philadelphia | East | 2,120 miles (32 hours) | Cleveland, Chicago, Madison, WI, Sioux Falls, SD, Bighorn National Forest, and Cody, WY |
| Orlando | South | 2,300 miles (34 hours) | Atlanta, Nashville, St Louis, Lincoln, NE, and Cheyenne, WY |
Similarly, Yosemite National Park is a popular road trip destination from the nearby (and not-so-nearby) cities. Please refer to the table and links below for more information on these epic adventures on the road.
Popular road trips to Yosemite

| Starting city | Recommended entrance | Distance (time) | Highlights |
| --- | --- | --- | --- |
| Los Angeles | South | 280 miles (4 hours 50 minutes) | Castaic Lake State Recreation Area, Fresno, Bass Lake |
| Salt Lake City | Tioga Pass | 570 Miles (9 hours 10 minutes) | Nevada Northern Railway Museum, Lone Mountain, NV, Mammoth Lakes |
| Phoenix | South | 650 miles (10 hours 50 minutes) | Joshua Tree National Park, San Bernardino National Forest, Los Angeles, Fresno |
| Seattle | Big Oak Flat | 900 miles (15 hours 10 minutes) | Portland, Mt. Hood National Forest, Grants Pass, OR, Mt. Shasta, Sacramento, CA |
| Denver | Tioga Pass | 1,000 miles (16 hours) | Grand Junction, CO, Great Basin National Park, NV |
| Dallas | Tioga Pass | 1,560 miles (23 hours 20 minutes) | Amarillo, TX, Albuquerque, NM, Flagstaff, AZ, Las Vegas, NV |
| Chicago | Big Oak Flat | 2,180 miles (32 hours) | Des Moines, IA, Omaha, NE, Salt Lake City, and Mammoth Lakes |
| Orlando | Tioga Pass | 2,650 miles (39 hours) | Jackson, AL, Dallas, TX, Albuquerque, NM, and Mammoth Lakes |
| Philadelphia | Tioga Pass | 2,710 miles (40 hours) | Chicago, IL, Omaha, NE, Salt Lake City, and Mammoth Lakes |
Which national park is the best, Yellowstone or Yosemite?
With beauty being in the eye of the beholder, it is difficult to declare one park as better or more beautiful than the other. Both national parks are located in pristine, wild, areas with unique features.
If you're willing to drive more between parts of the park, then there's a greater variety of scenery in Yellowstone from the steamy hot springs and geysers to the massive canyon and meadows where you can see wildlife.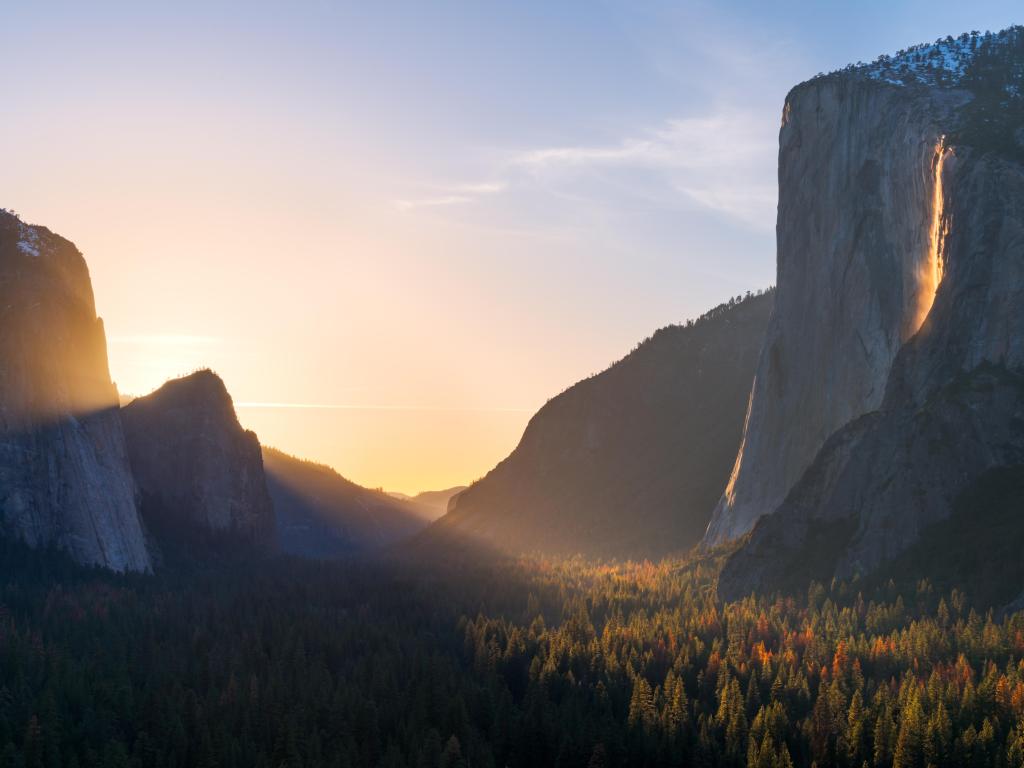 If you're aiming to get off the beaten path and don't mind some climbing, then the landscapes in Yosemite's backcountry and along the famous monoliths provide some of the most outstanding terrains for a longer hiking trip.
With the entrance fees being the same, technically you are paying less for more at Yellowstone, given the park's larger area. That said, Yosemite packs in the bang for your buck and some people even visit Yosemite for a day trip.
It is the compactness of Yosemite Valley and the number of jaw-dropping features in close proximity which leaves such a strong impression on everyone who visits here.
In the end, it's up to your personal taste and when you have time to make this adventurous trip. Both national parks will give you a once-in-a-lifetime experience of America's great wilderness.