Is the drive from Salt Lake City to Moab Scary?
Salt Lake City and Moab are both in the beautiful state of Utah, in the western United States. Salt Lake City lies to the south of the Great Salt Lake and Moab is further southeast of Salt Lake City, between Arches National Park and Canyonlands National Park.
This area is mountainous and mesmerizing to drive through but it can be slightly dangerous. Some factors that may make this drive scary are the area's altitude, undivided highways, long stretches of barren land, winter weather, and heavy traffic.
All these factors are important to keep in mind, but unless you hit severe weather, they shouldn't cause an issue for most drivers. Read on to learn more about the safest route between the locations and how to avoid any dangers along the way so you can make the most out of this wonderful drive.
Which route should I take from Salt Lake City to Moab?
Comparison of route options between Salt Lake City and Moab

| Route | Distance | Drive time |
| --- | --- | --- |
| The Direct Route | 230 miles | 3 hours 45 minutes |
| The Interstate Route | 310 miles | 4 hours 30 minutes |
Salt Lake City is in the state's north, between the Great Salt Lake, the Oquirrh Mountains, and the picturesque Wasatch Range. Moab is further south, on the eastern side of Utah, close to the border with Colorado.
There are stretches on both routes where you'll have to drive with extra care and attention, and both routes can be affected by winter weather.
We do, however, recommend the Interstate Route because you'll have more access to services and there are safer passing opportunities as well.
Driving on the safest route from Salt Lake City to Moab
Most of the 310-mile route follows interstates for 4 hours and 30 minutes, so we will call it "the Interstate Route". Utah has a really high-speed limit of 75 to 80 mph on the interstate, but you don't have to drive this fast if it doesn't feel safe, especially if you're used to a lower limit.
The stretch of road after Green River has few facilities until you approach Moab, but it's a busy road so if you encounter difficulties, you won't be stuck by the roadside alone.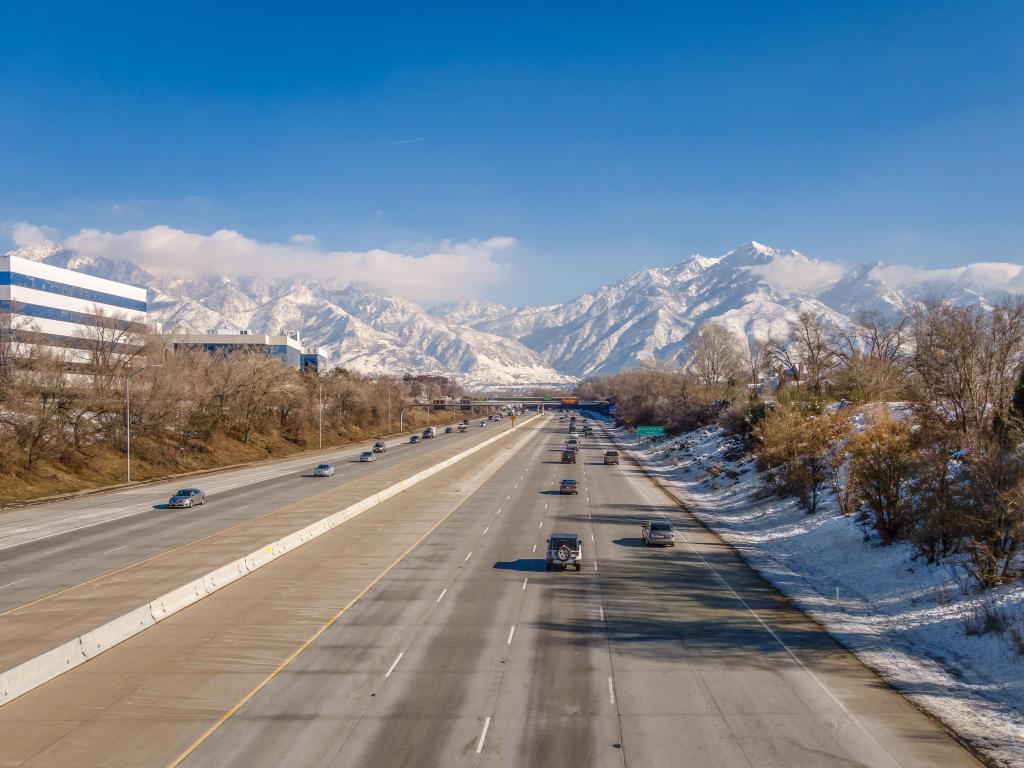 Traffic can be heavy, especially as you leave the Salt Lake City area but as it's mostly a four-lane divided highway there are safe passing places on much of the route.
In winter, heavy snow is possible. Fortunately, because it follows major interstates most of the way, the route will be well-kept by snow plows. Make sure to drive during the day during wintery weather for better visibility and slightly warmer temperatures.
Another thing to be aware of is when you pass exit 225 on I-15, services are extremely limited so make sure to fill up with gas here.
The 100-mile stretch on Interstate 70 (I-70) from Exit 56 (Salina) to Exit 160 has no services at all. It also passes through a sparsely populated area, so make sure you have adequate fuel, food and drinks before you reach this stretch of the road.
Although there's mobile phone coverage on most of this route, there are areas of no coverage along I-70.
Driving on the alternative route from Salt Lake City to Moab
The direct route will cover 230 miles of stunning Utah terrain. You'll be driving for about 3 hours and 45 minutes along this route, which takes you through mountains and valleys on your way to Moab.
The Direct Route has some tricky stretches of driving, especially through the mountains between Spanish Fork and Helper.
While this route is manageable in all but the most severe weather and has benefited from an improvement program in recent years, there are still serious collisions that happen on this route.
This is often because of unsafe passing or driver error. For this reason, some travelers will feel safer traveling on the longer Interstate Route.
Things to know that can impact the drive on the safest route from Salt Lake City to Moab
I-70 crosses the Wasatch Plateau and reaches the highest elevation of any interstate in Utah (7923 feet). This section of the route follows a natural canyon, so you shouldn't expect huge alpine style drop offs, but there are some smaller drops and not all of them have barriers.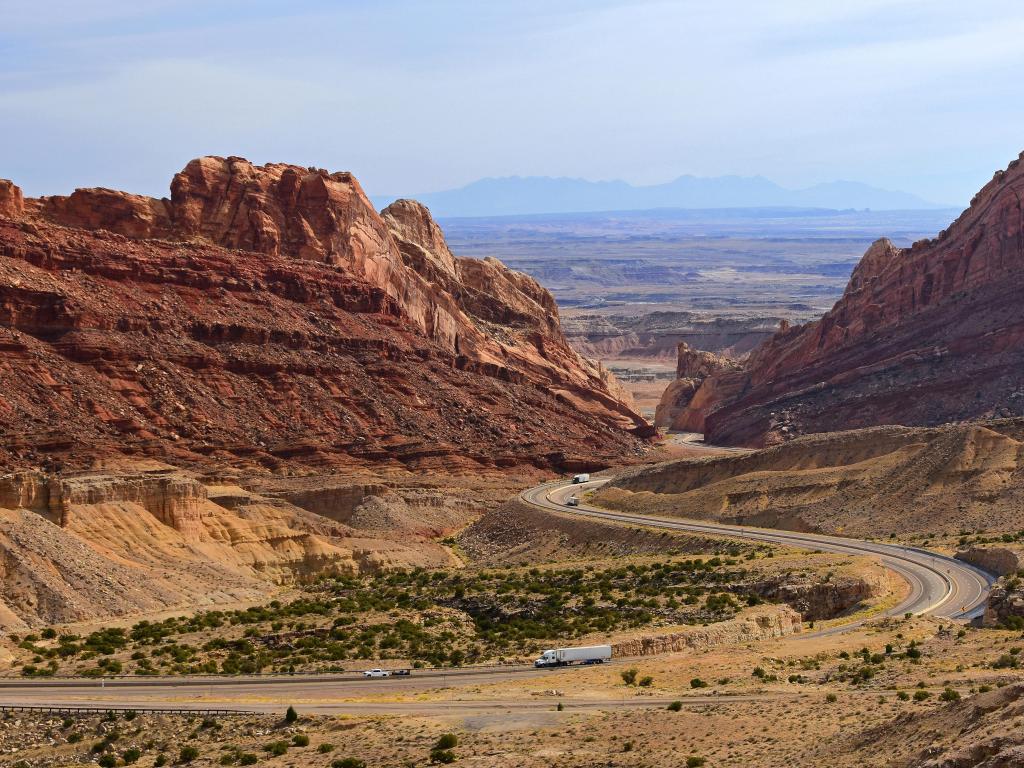 Take care traveling through Spotted Wolf Canyon, where there are some more significant twists. Other than that, there are only few twisty switchbacks and hairpin bends along the Interstate Route.
Severe snowfall can see I-15 and I-70 closed for a time during the winter. If conditions are bad here, it's likely that the reasonable alternative of US-6 (our direct route) will also be affected, so the best option is to stay in SLC until conditions improve.
Tips to drive from Salt Lake City to Moab in the safest way
There are several important steps to take to make sure your drive from Salt Lake City to Moab is safe and comfortable.
The time of day you drive makes an enormous difference in safety. Make the trip in the middle of the day to make sure you have the best visibility and the sun isn't in your eyes.
Snow tires are compulsory on some Utah roads from October to April. Signs are posted above many roads if snow tires are required. It's a good idea to have them just in case you're planning on driving this route in the colder months.
Take regular breaks so that you're alert and responsive. Drive cautiously and stay alert to the actions of other drivers
Make sure you have adequate fuel for your journey. You can fuel up at Nephi (just off I-15) and again at Green River (I-70) to avoid running low.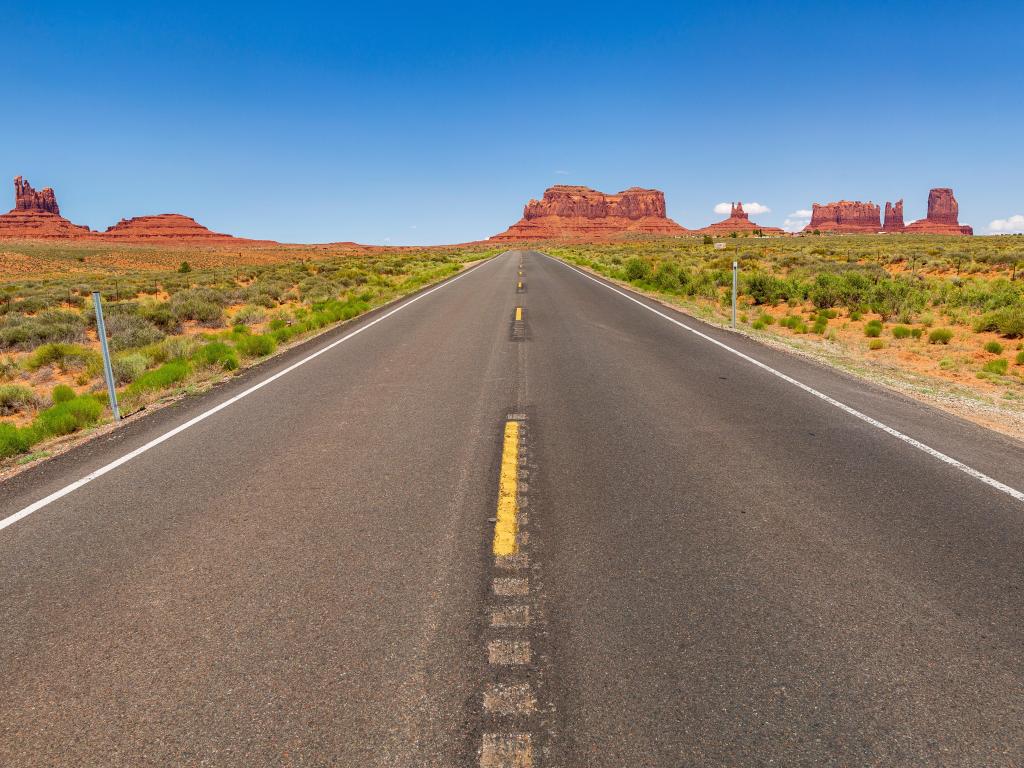 Do not drive in severe winter weather. Stay in a hotel in Salt Lake City instead. Be mindful of heavy trucks and their limitations, especially in snowy weather.
Check weather, traffic, and travel advisories. Please link to useful ones specific to the area and if possible, have two designated drivers to share the drive. This will make sure you remain fresh and alert.
Do a virtual drive using Google Street view so that you can see what to expect along the way.
Average temperatures sit in the high 90s on much of this route in summer, so make sure you're prepared for traveling in hot weather. Take plenty of water.
Alternatives to driving yourself from Salt Lake City to Moab
If the drive from Salt Lake City to Moab is just too stressful, there are other options for you to take. Flights from Salt Lake City take 1 hour and are relatively frequent.
The Salt Lake Express (coach) travels this route up to twice per day and takes 5 hours. This is a good opportunity to stretch your legs and watch the beautiful scenery without dealing with driving yourself.
Best time to drive from Salt Lake City to Moab
Spring and fall are the best seasons for driving from Salt Lake City to Moab. You'll have normally pleasant weather and a lower chance of driving in the snow.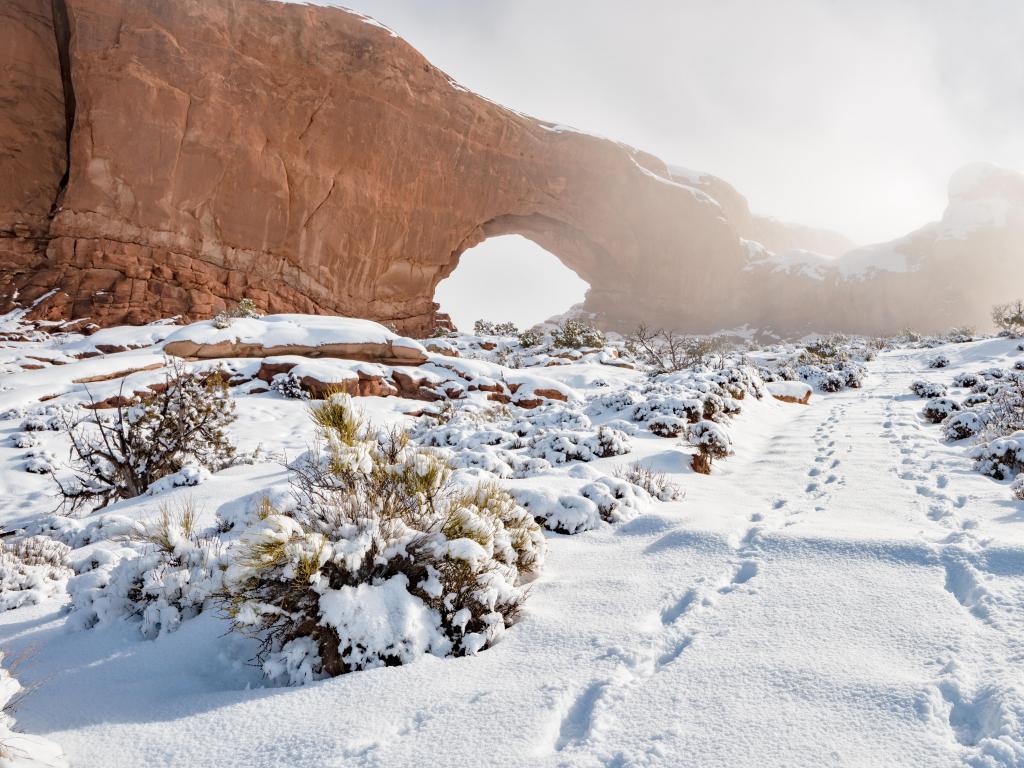 Moab isn't the ideal summer destination because of its high temperatures, because the national parks are scorching hot during the daytime. Also, hot weather makes for more dangerous driving conditions because of the risk of overheating.
Winter is the worst time to drive this route, especially on the Direct Route. Although the passage is beautiful in this season, you'll be taking a risk once the intense snowstorms roll in. On the Interstate Route, winter storms can be severe as you travel down I-15 and across I-70.