Road trip from San Diego To Salt Lake City
California and Utah are beautiful states filled with spectacular natural wonders and exciting cities. If an adventure through the desert and mountains of these great states sounds intriguing, consider the legendary road trip from San Diego to Salt Lake City.
The 750-mile road trip from San Diego to Salt Lake City will take about 11 hours to drive. Stops include Temecula, Las Vegas, Palm Springs, Death Valley, Bryce Canyon, Zion, and Joshua Tree National Parks as well as Mojave National Preserve.
If you are looking to plan a road trip between these two great cities, read on for information about the best routes, places to stay, and the main sights along the way.
How far is Salt Lake City from San Diego and how long will the road trip take?
Table caption

| Route | Distance | Driving Time |
| --- | --- | --- |
| Direct Route | 750 miles | 11 hours 40 minutes |
| The Joshua Tree National Park Route | 930 miles | 16 hours 30 minutes |
The road trip from San Diego to Salt Lake City will cover nearly 750 miles of arid desert, red rock canyons, heaving metropolises, and forested mountains on the Direct Route. It will take you 11 hours and 40 minutes to drive nonstop.
The Joshua Tree National Park Route is somewhat longer at 930 miles and 16 hours 30 minutes drive time without accounting for any further detours.
We recommend setting aside at least 5 days to enjoy the sheer number of scenic stops you can make, incredible national parks you can explore and adventures you will never forget.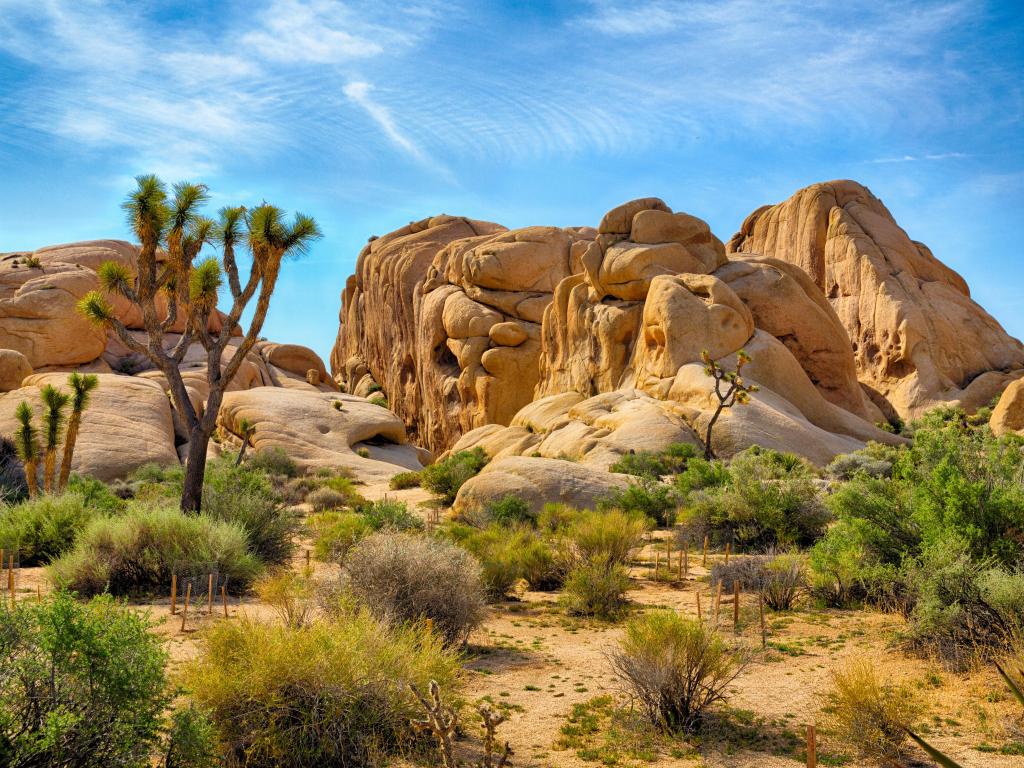 Best road trip route from San Diego to Salt Lake City
A road trip from San Diego to Salt Lake City is packed full of breathtaking scenery. The Direct Route can save you a day of driving if you don't have time, but otherwise, you'll want to commit to the detour and visit Palm Springs and Joshua Tree National Park.
Try to go slow and plan to spend at least a full day in each of the national parks along the way and be sure to spend some time in Vegas if your schedule allows for it.
Most of the driving takes place on interstates, making the drive relatively easy despite the length. There are some sections of highways and country roads depending on which route you take, but these are mostly detours you can easily plan around.
The only major city on the route is Las Vegas. Try to avoid rush hour in the city, as this is when traffic will be at its worst. On the flip side, the abundance of activity on The Strip means you'll definitely want to incorporate it into your trip for the best possible experience.
How to drive from San Diego to Salt Lake City
The map above shows our suggestions for the best road trip routes between San Diego and Salt Lake City. Keep reading for detailed descriptions of both routes, where to stay on either, and the best things to do on the way.
Joshua Tree National Park Route
Head north out of San Diego, following Interstate 15 (I-15) to Temecula. You will soon leave the interstate and head towards Palm Springs and Joshua Tree National Park. Enter the park by detouring onto Cottonwood Springs Road.
After visiting the park, return to I-10 and continue following it east until you hit Route 177, which will lead you north to Route 62 and then to Vidal Junction.
From here, head to Las Vegas. After your visit to Sin City, you will stay on I-15 for the remainder of your journey. If you have time, you can make a quick detour to Valley of Fire State Park.
Another worthy detour is Zion National Park. Once you are back on the interstate, you will simply follow it all the way to Salt Lake City, passing Fishlake and Manti-la-Sal National Forests.
The Direct Route
If you would rather skip over Joshua Tree and Palm Springs, this route changes up the first portion of the trip. The only difference is that you don't leave I-15 - follow it all the way from San Diego to Salt Lake City.
The interstate leads you right around the perimeter of Mojave National Preserve, so take a detour on one of the smaller roads, like Kelbaker Road, if you want to explore it further.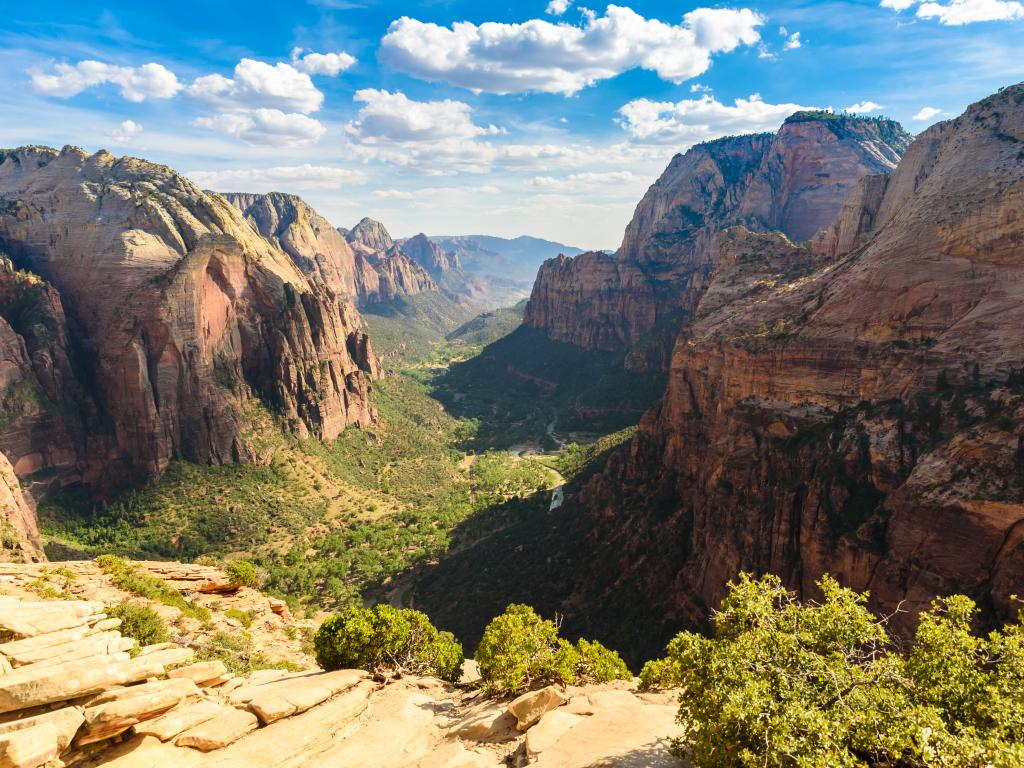 Best places to stay on a road trip from San Diego to Salt Lake City
Splitting up your road trip from San Diego to Salt Lake City into multiple nights is what we would advise. Why rush a trip that will take you through some spectacular scenery and one of the most famous cities in the world?
Here are some of the best places to stay along the way.
Enjoy the vineyards at Temecula Wine Country
If you enjoy sampling local produce and great wine, then the South Coast Winery Resort and Spa could be your idea of heaven. While it may not be far from your starting point of San Diego, it could be a highlight of your road trip if you dedicate some time to it.
The resort feels like it's been transplanted from somewhere in the Mediterranean, with pastel shades of red, terracotta, and cream dominating the interior décor.
The rooms all contain a spa bath, fireplace, and tea and coffee-making facilities. Gently rolling hills covered with vines add to the Mediterranean feel, and private balconies in some rooms offer a great place to soak in the view.
The Vineyard Rose Restaurant is on-site and serves breakfast, lunch, and dinner. They love to use local ingredients that complement their wines, creating a memorable dining experience.
During the day, you can stay busy at their spa and wellness center, take a dip in the pool, or get a workout in at the fitness center. In the evening, you can enjoy a refreshing glass of wine on the veranda.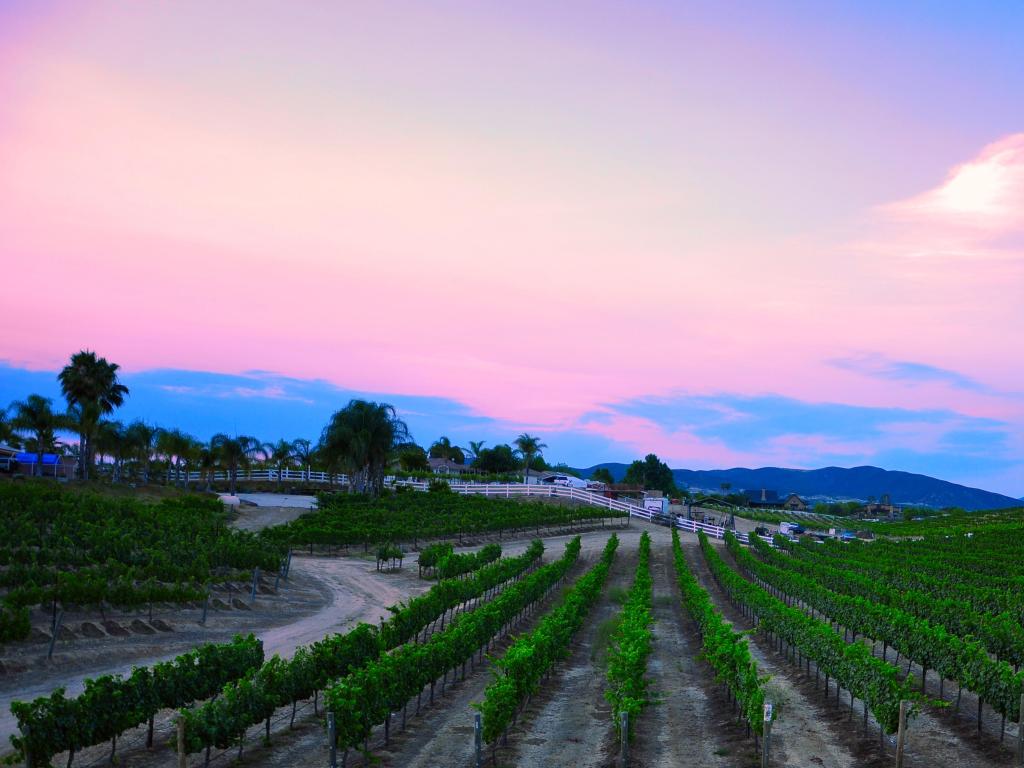 While it may seem counterintuitive to stop so early in your journey, there are very few resorts en route that can even come close to matching this one - the South Coast Winery Resort and Spa will transport you to the south coast of France for an unforgettable stay.
Stay at the heart of Las Vegas
Las Vegas is one of the most prodigious cities in the world, known for its gambling facilities and non-stop fun. If you want a piece of the action, consider a stay at the Aria Resort and Casino and enjoy one of the best swimming pools in all of Nevada.
Set right at the center of Las Vegas, this resort will give you an authentic experience of this lively city. All rooms have floor-to-ceiling windows that give you incredible views of the surrounding cityscape.
The resort is everything you would expect from a Las Vegas hotel and then some - its interior design is incredibly modern, allowing the place to stand out in a sea of incredible competitors.
There are numerous restaurants to choose from in this palatial resort, including fine dining establishments like Jean Georges Steakhouse, Carbone, and Bardot Brasserie. There are also more casual choices like Din Tai Fung and Posh Burger if you're just looking for a quick bite.
If you get tired of gambling, there are 62 spa treatment rooms, offering a range of services alongside a fitness suite and 3 pools. Ensuring you won't run out of things to do during your stay.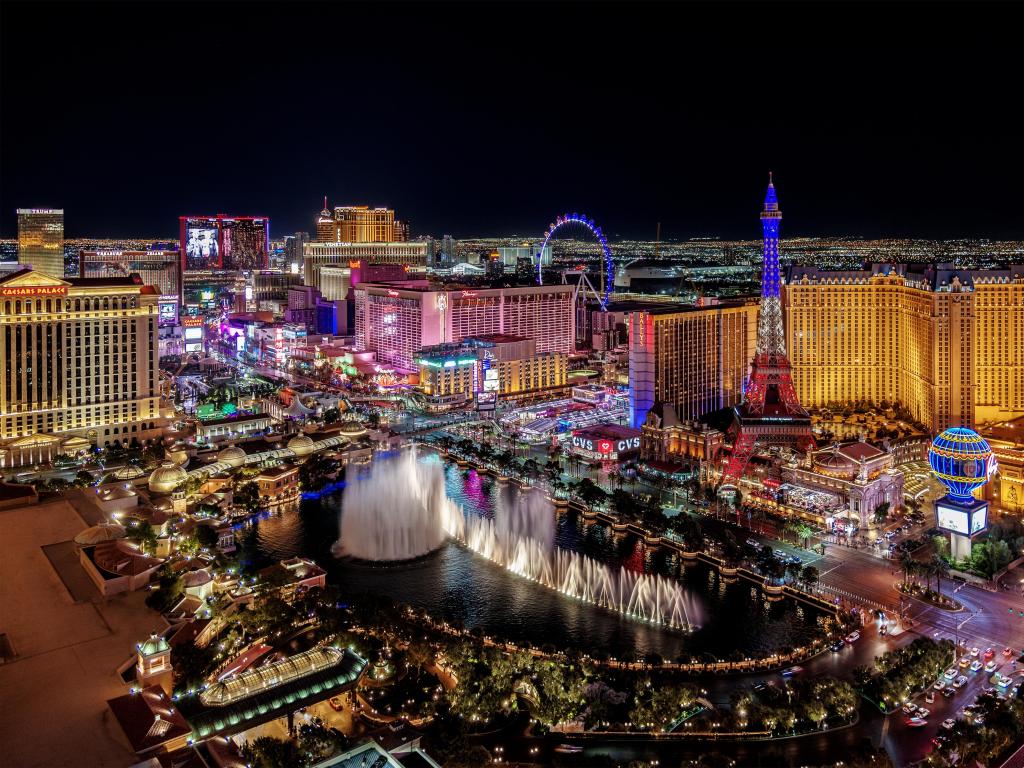 Things to see on a road trip from San Diego to Salt Lake City
On your 800 miles road trip from San Diego to Salt Lake City, you will come across a number of amazing attractions. To help you plan your journey and where you want to stop, we've picked out some of the must-see spots.
Both Routes
Temecula Wine Country - Although it's not far out of San Diego, this place is definitely worth a stop if you want to tour some of the beautiful wineries and vineyards the region is known for.
Death Valley National Park - As long as you don't visit this place in the middle of summer, Death Valley might just be the definitive desert experience in these parts of The States.
San Bernardino Mountains - On both routes, you will have a chance to explore the San Bernardino Mountains, where there are countless hiking trails to be explored and photographs to be taken.
Mojave National Preserve - Home to mountainous dunes, Joshua trees, and volcanoes, this is a surreal yet beautiful landscape to explore.
Las Vegas - Right in the middle of this route sits one of the most famous cities on the planet - try your hand in one of many casinos or go for a wander on The Strip.
Red Rock Canyon - Situated at the edge of Las Vegas is a picturesque landscape with lots to offer to outdoorsy people - be sure to check out the red rock formations around sunrise or sunset for the best possible visuals.
Valley of Fire State Park - Another park famous for its striking red rock geography - if you visit early enough in the morning, the rock formations look like they're on fire, hence the name.
Zion National Park - A short detour will lead you to this iconic park, where you can hike to Angels Landing or into the Narrows. If you'd like to hike up to Angels Landing, you will need a permit and will need to make a reservation. Check the Zion National Park's website for more details.
Bryce Canyon - While not on the official route, if you have extra time, factor in a day or two to explore this beautiful landscape.
Fishlake and Manti-la-Sal National Forests - If you need a bit of a break from the desert experience, you can shake things up with some birdwatching or hiking at these beautiful forests.
Joshua Tree National Forest Route
Palm Springs - A trendy, chic city known for its lavish resorts, spas, and countless celebrity endorsers.
Joshua Tree National Park - This is one of the region's definitive national parks - make sure you explore the Cholla Cactus Gardens.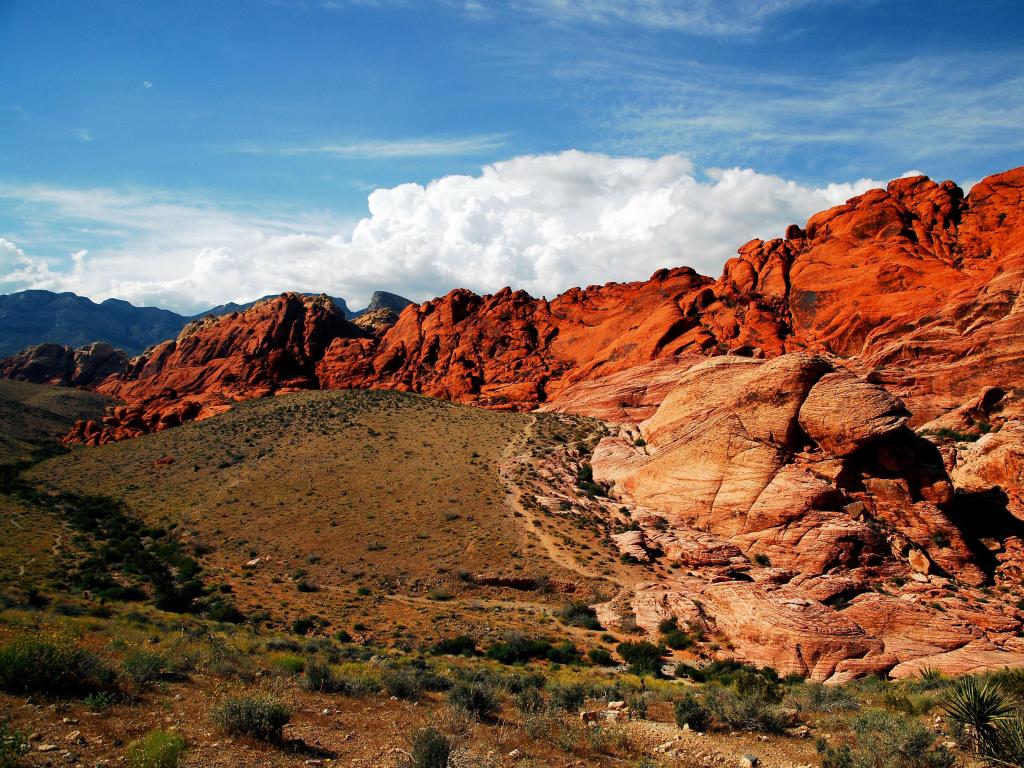 Best time to go on a road trip from San Diego to Salt Lake City
Summer will bring the best weather for a road trip from San Diego to Salt Lake City. With such good weather comes an increase in tourist numbers, meaning every attraction along the way will be busy.
During summer, average high temperatures are typically in the 80 degrees and 90 degrees Fahrenheit, while average lows are in the 60 degrees.
Summer is also the peak season for hotel prices (both in and near Salt Lake City), but don't let that put you off if the good weather is what you desire. Be sure to book a room well in advance if you want to embark on this journey in July or August.
If you are visiting in August make sure to head to Sandy and admire tens of colorful hot air balloons soaring in the sky during the annual Hot Air Balloon Festival.
Many of the attractions, including the national parks, remain open in winter. Some of the parks, like Zion, will get cold, but there are plenty of beautiful landscapes to be enjoyed if you pack some warm winter clothes.
During the colder months, the average high temperatures range from the mid-30 degrees to low 40 degrees Fahrenheit, and average lows in the 20 degrees.
Winter will be the quietest in terms of tourist numbers, and it will also have the cheapest hotel prices. Salt Lake City can be cold in winter, with temperatures frequently below freezing during December, January, and February.
If the cold winter weather and summer crowds are off-putting, another option would be going in either fall or spring. Traveling in the shoulder seasons might allow you to reach a compromise between all these factors on top of saving you some cash on your hotel deal.
Temperatures during spring can vary quite a bit, starting off cooler in March and warming up towards May. The average highs range from the mid-50s to the low 70 degrees Fahrenheit, while average lows range from the mid-30s to the mid-40 degrees.
Fall temperatures can also vary significantly from the beginning to the end of the season. Average highs range from 70 degrees in early fall to 50 degrees in late fall.