Road Trip from Denver to Durango
Dramatic canyons, lush forests, cascading waterfalls and charming mountain towns: a road trip from Denver to Durango is blessed with all of this and more. Leave the city behind and dive into an adventurous escape as you wind your way through some of Colorado's most incredible landscapes.
The 340-mile road trip from Denver to Durango takes around 7 hours to drive. Along the way, you can see Colorado Springs, Salida, Pagosa Springs, and Cañon City on one route, or Gunnison National Forest, Ouray, and Ridgway if you choose the other.
Read on to find out about the best routes to follow on a Denver to Durango road trip, amazing things to see and do, unforgettable places to stay and the best time to embark on this back-to-nature voyage.
How far is Durango from Denver, and how long will the road trip take?
Comparison of road trip routes between Denver and Durango

| Route | Distance | Driving Time |
| --- | --- | --- |
| The Royal Gorge Route | 375 miles | 6 hours 50 minutes |
| The Gunnison National Forest Route | 380 miles | 7 hours 40 minutes |
The Royal Gorge Route, a picturesque journey from Denver to Durango, typically takes about 6 hours and 50 minutes to drive and covers around 375 miles without detours. This passes Colorado Springs, the breathtaking Royal Gorge Bridge in Cañon City, Salida, and the majestic Wolf Creek Pass in Rio Grande National Forest, taking some fabulous scenery in along the way.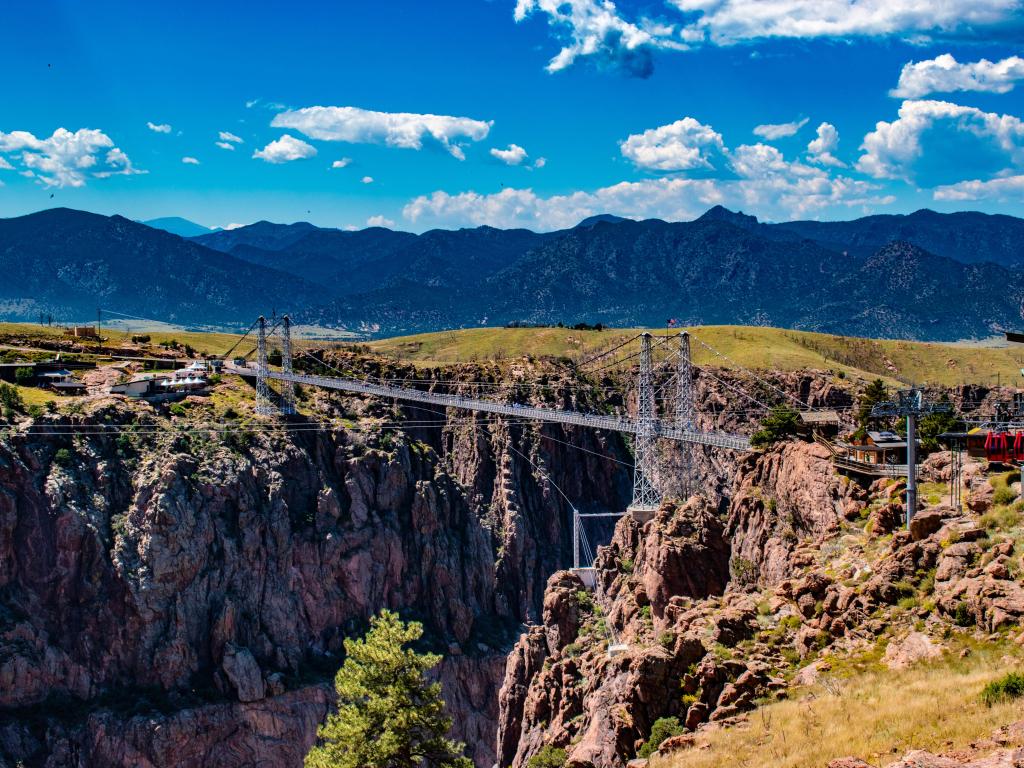 The alternative, the Gunnison National Forest Route, is not vastly different in terms of distance or duration. Covering about 380 miles and taking roughly 7 hours and 40 minutes, this route takes you through serene Bailey, historic Gunnison, and beautiful Ouray, and much more besides.
While these trips could feasibly be completed in a single day, there is so much to see and explore that we recommend spreading the journey over 2-3 days. Plus, there are options to extend these wonderful road trips further, venturing off to even more breathtaking national parks and natural landmarks along the way.
Best road trip route from Denver to Durango
While both routes roughly span the same distance and promise an array of enchanting attractions, the scenery each route offers varies dramatically. Your choice of route will depend on the type of experience you're seeking.
The Royal Gorge Route provides a vibrant, rugged Colorado experience. Starting from Denver, this route takes you through Colorado Springs and the charming town of Cañon City, where the awe-inspiring Royal Gorge Bridge awaits.
From there, the journey continues through scenic locations like Salida, Poncha Springs, and Center, before immersing you in the tranquil beauty of the Rio Grande National Forest. The route also offers the chance to visit the Wolf Creek Ski Area, take in the breathtaking views at Wolf Creek Pass, marvel at Treasure Falls, and explore Pagosa Springs.
The journey ends in Durango, but not before a visit to the fascinating Chimney Rock National Monument. This route is ideal if you're looking for a mix of small-town charm, natural wonder, and historical intrigue.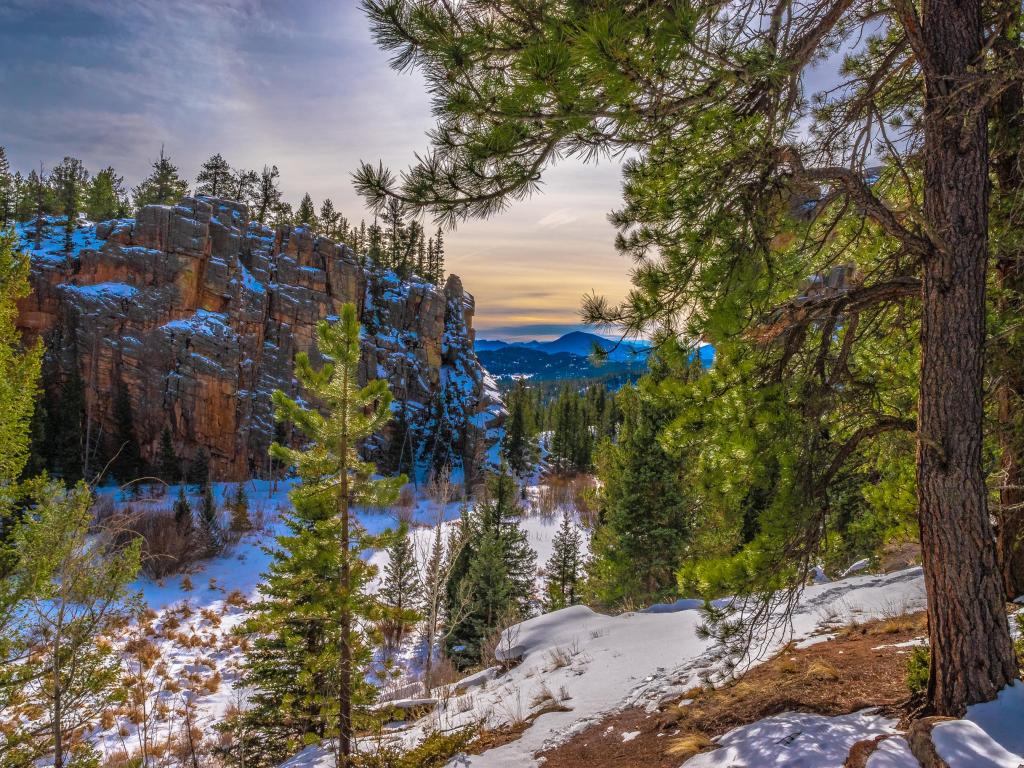 The Gunnison National Forest Route, on the other hand, caters more to those who looking for some adventure and natural beauty. Starting at Denver, this route takes you through Staunton State Park, Bailey's quirky Sasquatch Outpost and the serene Antero Reservoir.
It also gives you the opportunity to explore the Buena Vista and the astounding Brown's Canyon National Monument. As you continue, you'll encounter the exhilarating slopes of Monarch Mountain, the bustling town of Gunnison, and the sprawling Blue Mesa Reservoir. Stops at the Black Canyon of the Gunnison National Park and Montrose offer more natural beauty before passing through Ridgway and Ouray.
This route also includes a drive on the famous Million Dollar Highway: a legendary stretch of road that passes through the beautiful San Juan National Forest. Some people might be hesitant about driving on this infamous mountain road. If this is you, check out our helpful guide here.
How to drive from Denver to Durango
The map above shows our suggestions for the best road trip routes between Denver and Durango. Keep reading for detailed descriptions of both routes, where to stay on either, and the best things to do on the way.
The Royal Gorge Route
Start your journey on the Royal Gorge Route heading south out of Denver on Interstate 25 (I-25), towards Colorado Springs, a city that lies at the foot of the majestic Pikes Peak. From here, head west on US-50 to Cañon City, home of the Royal Gorge Bridge, one of the world's highest suspension bridges (that you can, in fact, drive across!).
Continue west through Salida, a town known for its vibrant arts scene and historic downtown, before arriving at Poncha Springs, a hub for outdoor activities. From Poncha Springs, take a detour south on US-285 towards Center, a farming at the heart of Colorado's potato country.
Then, journey into the Rio Grande National Forest, taking the opportunity to enjoy the tranquility of nature and perhaps catch a glimpse of the local wildlife. Further on, you'll encounter the Wolf Creek Ski Area and Wolf Creek Pass, both offering stunning views and opportunities for outdoor adventure. Following this, take a moment to appreciate the beauty of Treasure Falls, a waterfall named for a local legend of buried treasure.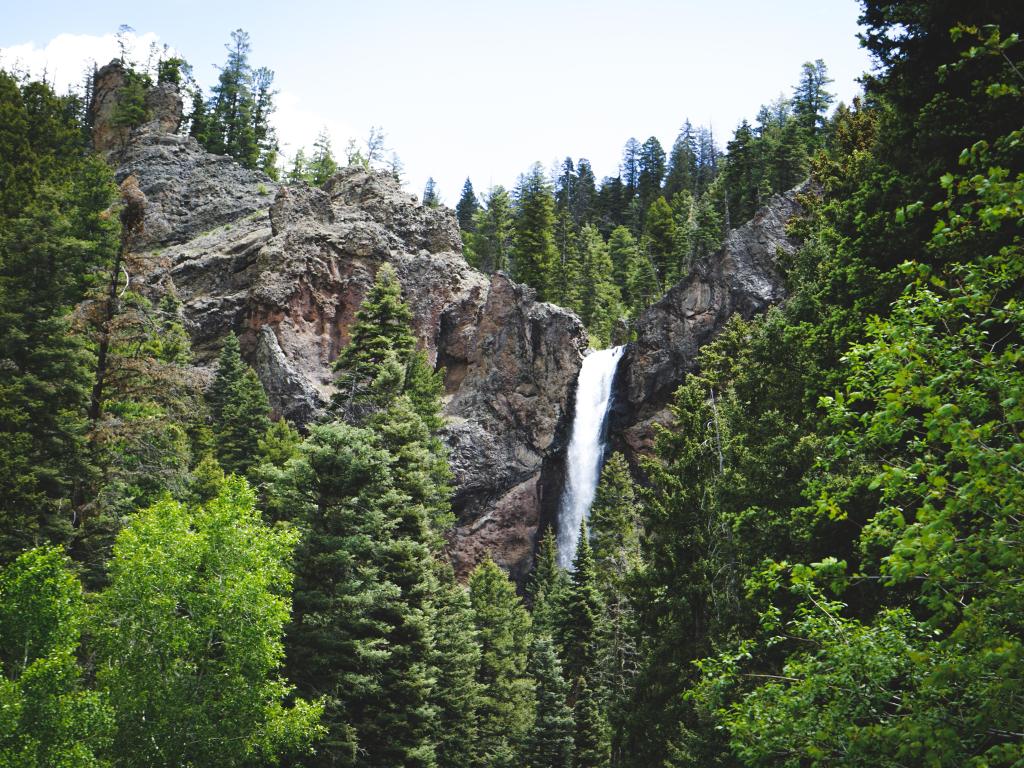 From here, make your way towards Pagosa Springs, a town known for its hot springs and stunning mountain views. Then, continue to Chimney Rock National Monument, an archaeological site offering a glimpse into the ancient Puebloan people who once called this area home.
The final stretch of this route takes you south on US-160, passing by beautiful landscapes before culminating in the vibrant city of Durango. This city offers an array of activities, from exploring historic downtown to embarking on outdoor adventures, making it a perfect conclusion to this diverse and picturesque route.
The Gunnison National Forest Route
Begin your journey on the Gunnison National Forest Route heading southwest out of Denver on US-285, passing through the serene Staunton State Park. Continue on to Bailey, where you can visit the quirky Sasquatch Outpost, before heading on to Fairplay. Here, a detour to the South Park City Museum is well worth the time.
From Fairplay, you'll head on to Antero Reservoir, a haven for fishing and boating enthusiasts. After that, drive to Buena Vista, where you can visit the Buena Vista Heritage Museum, before proceeding on to Brown's Canyon National Monument, a spectacular spot known for its unique geology.
Next, travel west to Monarch Mountain and take in the stunning views via the Monarch Crest Tram Ride. From there, drive to Gunnison, a charming town perfect for a short break. Nearby, don't miss the Hartman Rocks Recreation Area and Blue Mesa Reservoir for a serene and beautiful breather from your drive.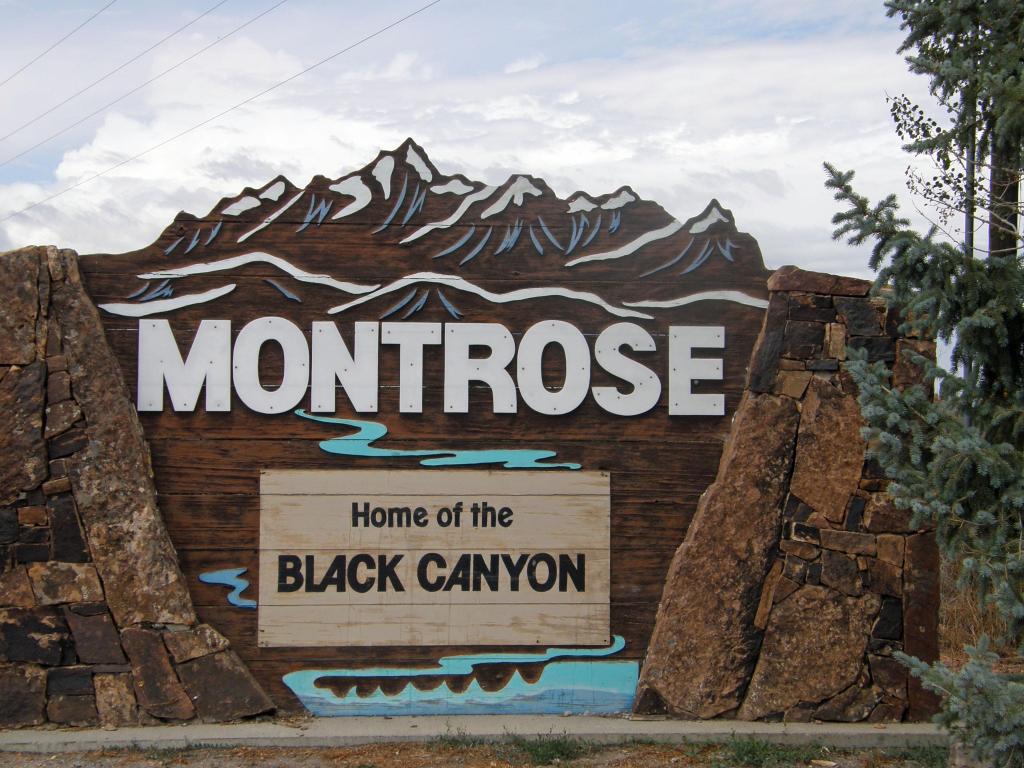 Further along, you'll reach Montrose, which welcomes you to Black Canyon of the Gunnison National Park. As you continue southwest, you'll come across Ridgway, home to the True Grit Cafe, a perfect place to refuel. Head south from Ridgway, and you'll reach Ouray, also known as the "Switzerland of America" for its picturesque setting in the San Juan Mountains.
Finally, follow US-550 south to your destination: Durango. Whether you want to relax in a local brewery, explore the historic downtown, or embark on outdoor adventures, Durango has it all.
Best places to stop between Denver and Durango
We've carefully selected our favorite stopovers along both the Royal Gorge and The Gunnison National Forest Routes on a road trip from Denver to Durango, both of which offer that perfect balance of fun and comfortable relaxation. Read on to find out more about the best places to stay.
Enjoy Salida's artsy vibe
Salida, Colorado is a perfect place to take a breather on the Royal Gorge Route from Denver to Durango. Located about halfway into the drive, the charm of this small town, nestled amidst the breathtaking landscapes of the Rocky Mountains, will captivate your senses.
The main attraction of this route stop is the vibrant downtown Salida, an area known for its unique arts scene, historic buildings, and numerous boutiques. Spend some time exploring the local shops, soaking in the local culture, and perhaps even meeting some of the friendly locals. The Maverick Potter is one of our personal favorite galleries, and Wood's High Mountain Distillery is perfect if you fancy a tipple.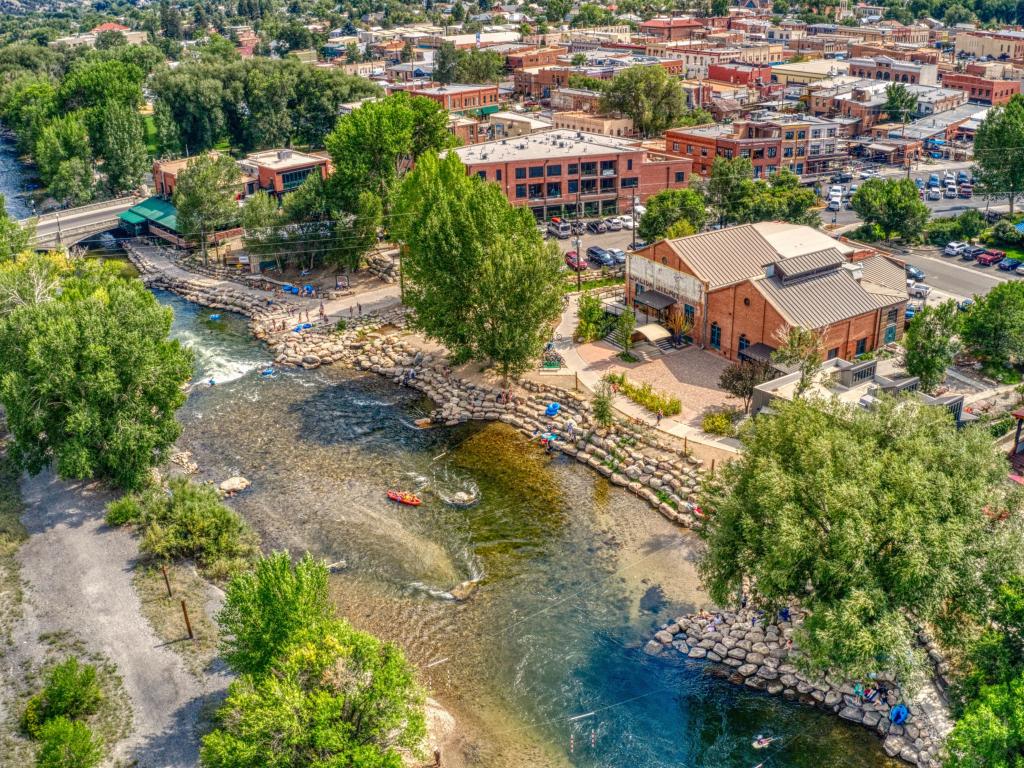 The Arkansas River, running through the heart of the town, offers stunning scenic beauty and a variety of recreational opportunities. Enjoy a tranquil rafting trip, try your hand at fishing, or simply admire the view from the riverbank. It's a fantastic way to unwind, appreciating the natural allure of the area.
While visiting Salida, we suggest staying at the delightful Amigo Motor Lodge. This modern boutique lodge beautifully combines vintage charm and unique design elements, offering guests a truly unique stay. Amenities such as a teepee, sunroom, and an outdoor fireplace provide plenty of spaces for relaxation and connection.
Amigo Motor Lodge also offers a collection of Airstream trailers. Each trailer is comfortably equipped, ensuring that you are close to nature without sacrificing any comforts.
Exploring downtown Salida and the Hot Springs Aquatic Center are both easily accessible from the lodge. However, we'd recommend winding down your day back at the Lodge, possibly with a pleasant evening by the outdoor fireplace, taking in the starlit Colorado sky.
Explore the San Juan Mountains in Ouray
Ouray, Colorado, known as the "Switzerland of America", is the perfect place to rest on the Gunnison National Forest Route from Denver to Durango. About three-quarters into the drive, this quaint mountain town, surrounded by the stunning San Juan Mountains, provides a serene retreat.
An iconic attraction in Ouray is the Wright Opera House, a historic venue hosting a variety of cultural events. From live music to film screenings and theatrical performances, the program here is just as appealing as the venue's beautiful façade.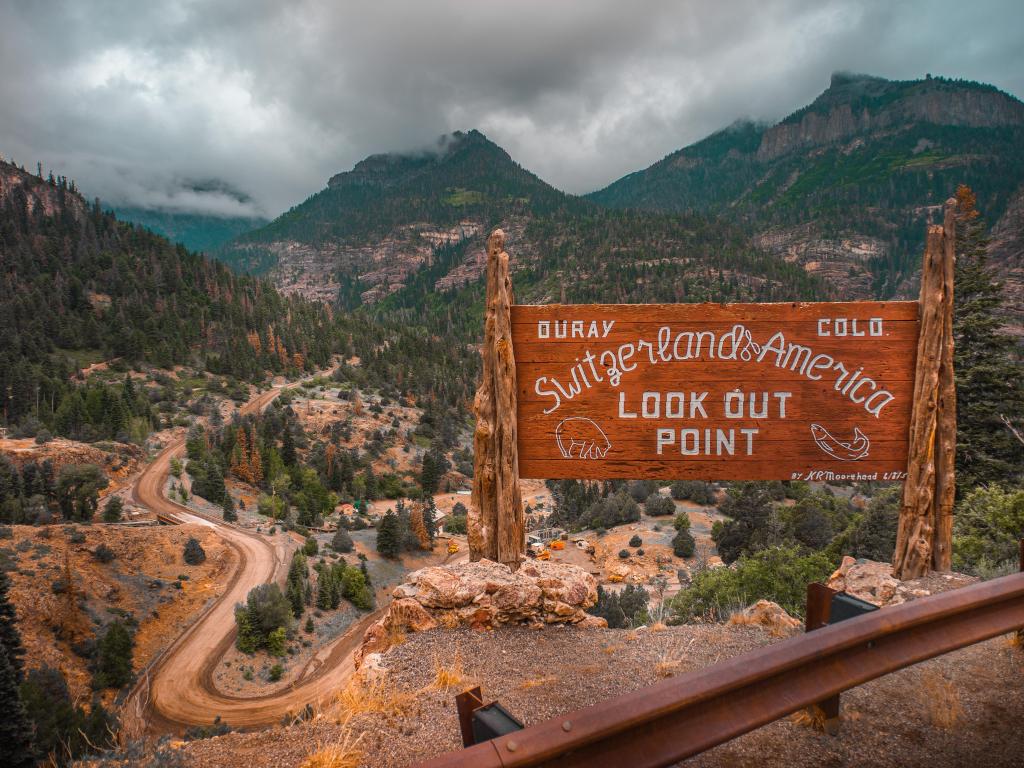 Next, pay a visit to Box Canyon Waterfall and Park. Here, witness the breathtaking sight of Canyon Creek narrowing dramatically and cascading thousands of gallons a minute down into the town's hydroelectric power plant. It's a natural spectacle not to be missed.
Your drive on the Million Dollar Highway (US 550) will already provide spectacular views, but taking the time to pull over and fully appreciate the vistas is a must, especially the stretch south from Ouray to Silverton. The majesty of the surrounding landscape will leave you awestruck.
Round off your day with a visit to the Ouray County Museum. Housed in the original St. Joseph's Miners' Hospital, it offers fascinating insights into the town's mining history, displaying a variety of mining equipment and local artifacts.
During your visit to Ouray, we highly recommend staying at Timber Ridge Lodge Ouray. Located just a short walk to the town center, this beautiful lodge offers hiking, ice climbing, whitewater rafting and summer canyoning which makes it a perfect base for anyone wanting to explore the great outdoors.
The lodge will make you feel that "home-away-from-home" vibes. You will find BBQ facilities to enjoy a delicious meal, a picnic area and a fire pit. You can also enjoy nightly bonfires and s'mores year-round around the fire. We don't think it could get more comfortable than this!
Where to stay when you reach Durango
Known for its unique blend of Old West heritage and natural beauty, Durango truly offers something for everyone.
A living testament to Durango's storied past is the Strater Hotel, a member of Historic Hotels of America. Built in 1887, the Strater Hotel immerses guests in a bygone era with American Victorian walnut antiques and period wallpaper adorning each room. It's not just a hotel, but a living museum, housing the world's largest collection of American Victorian antiques.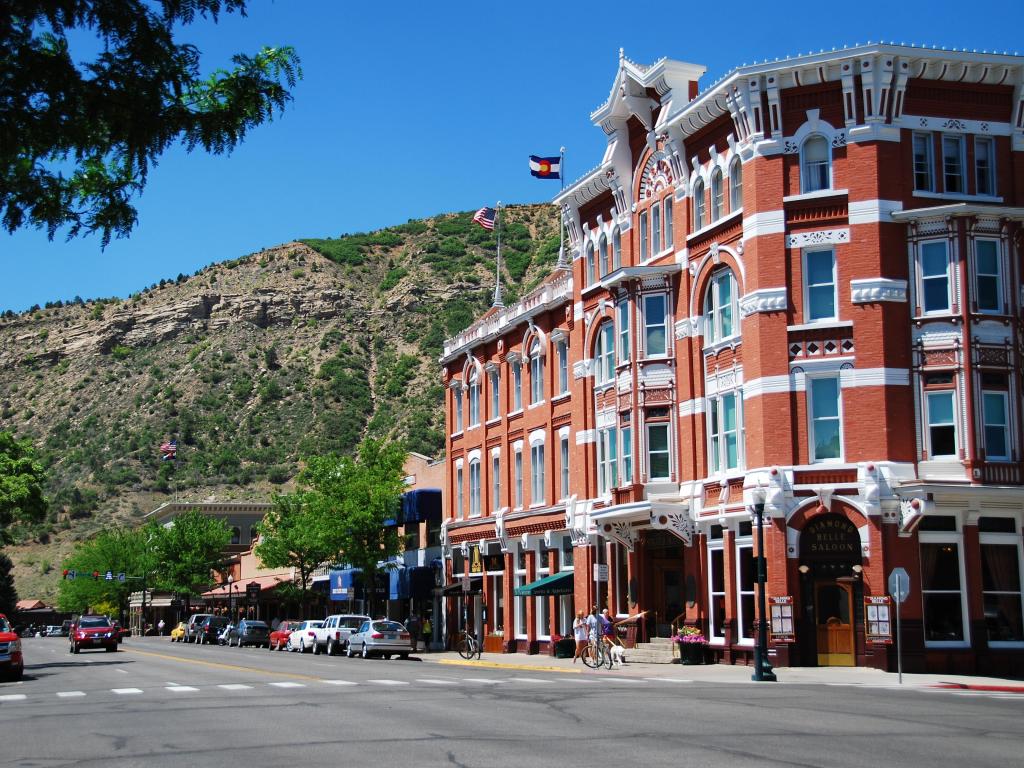 The hotel is also home to The Diamond Belle Saloon, one of the most renowned original ragtime piano bars in the Wild West, where guests can enjoy nightly live entertainment. If you're looking for a relaxed evening, head over to The Office Spiritorium, the hotel's bar and lounge. Here, you'll find a Victorian-era environment complemented by live music and a stellar selection of cocktails.
The Strater Hotel also proudly houses The Henry Strater Theatre, one of the oldest and most prestigious continually running theaters in Colorado, offering guests high-quality performances.
Located in the heart of downtown Durango, the hotel provides easy access to local attractions. Just a two-minute walk away, you'll find the Durango & Silverton Narrow Gauge Railroad and Museum, a historic steam train that offers scenic rides between Durango and Silverton, doubling as an engaging history lesson on the region's railroad legacy.
A short five-minute stroll will lead you to the Animas River Trail, a beautiful 7-mile trail along the Animas River, perfect for walking, jogging, cycling, or just basking in the scenery. If you're keen on learning more about the local history of power generation, the Powerhouse Science Center is just a 15-minute walk or a quick five-minute drive from the hotel.
With its historic charm, diverse entertainment options, and convenient location, the Strater Hotel is an excellent choice for your stay in Durango, adding a rich layer of history to your scenic road trip through Colorado.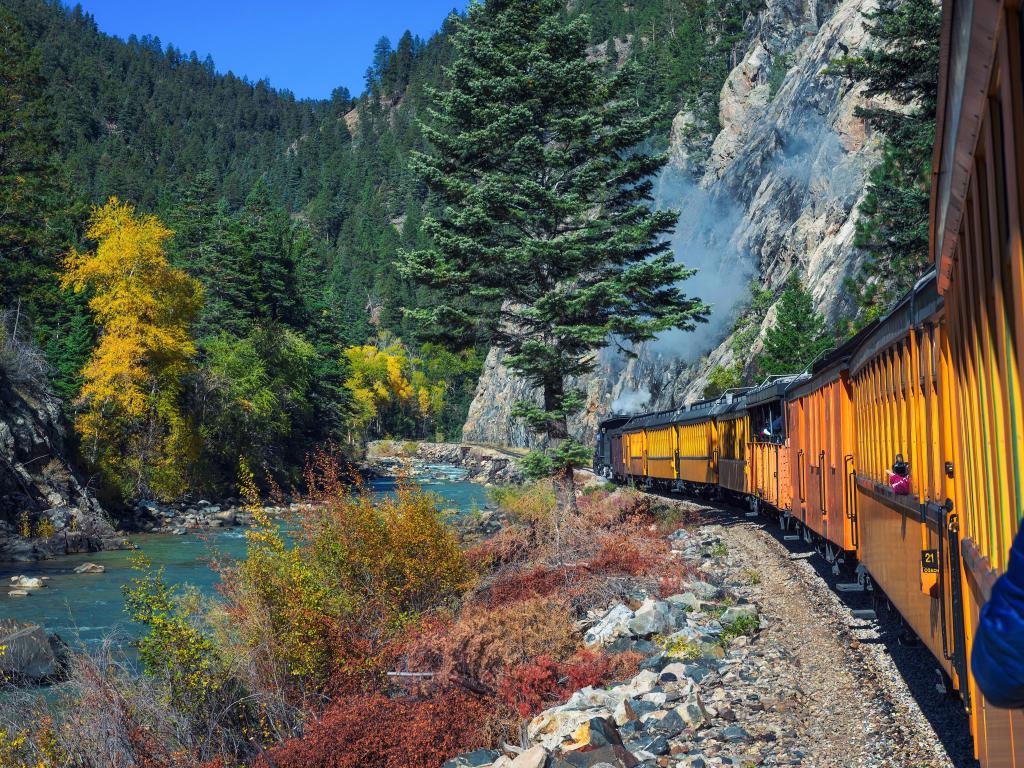 Things to see on a road trip from Denver to Durango
Whether you're an adventurous outdoor enthusiast drawn to stunning landscapes and thrilling sports, a history buff captivated by tales of the Wild West and impressive architecture, or a culture aficionado eager to experience local art and music, the Denver to Durango road trip promises a journey packed with unforgettable experiences.
On The Royal Gorge Route
Garden of the Gods, Colorado Springs - This park features dramatic red-rock formations against a backdrop of snow-capped Pikes Peak.
Pikes Peak, Colorado Springs - Known as "America's Mountain," it offers stunning views of the surrounding area.
US Olympic & Paralympic Training Center, Colorado Springs - The flagship training center for the U.S. Olympic Committee and home to several national sports organizations.
Colorado Springs Fine Arts Center at Colorado College, Colorado Springs - This museum, theater, and school complex features an impressive collection of Latin American and American Indian art.
Royal Gorge Bridge and Park, Cañon City - A natural wonder defined by its deep, narrow canyon spanned by one of the world's highest suspension bridges.
Royal Gorge Zip Line Tours, Cañon City - Zip line across the stunning natural beauty of the Royal Gorge.
Museum of Colorado Prisons, Cañon City - A unique museum located in a former state women's prison, sharing the history of the Colorado penal system.
Monarch Scenic Tramway and Monarch Pass, Salida - Offers stunning views of the Continental Divide and surrounding mountains.
Wolf Creek Pass, Pagosa Springs - Known for some of the most abundant snowfall in Colorado, it offers a beautiful scenic drive.
Geothermal Greenhouse Project - In the heart of Pagosa Springs, these public geothermal greenhouses are powered by the world's deepest geothermal hot spring. A testament to sustainable living, it's a glimpse into innovative agriculture.
Animas Forks Ghost Town, near Durango - An abandoned mining town that offers a fascinating look into the region's past. This one is a bit further from your route (more than 5 miles), but it's worth mentioning if you are interested in offbeat attractions.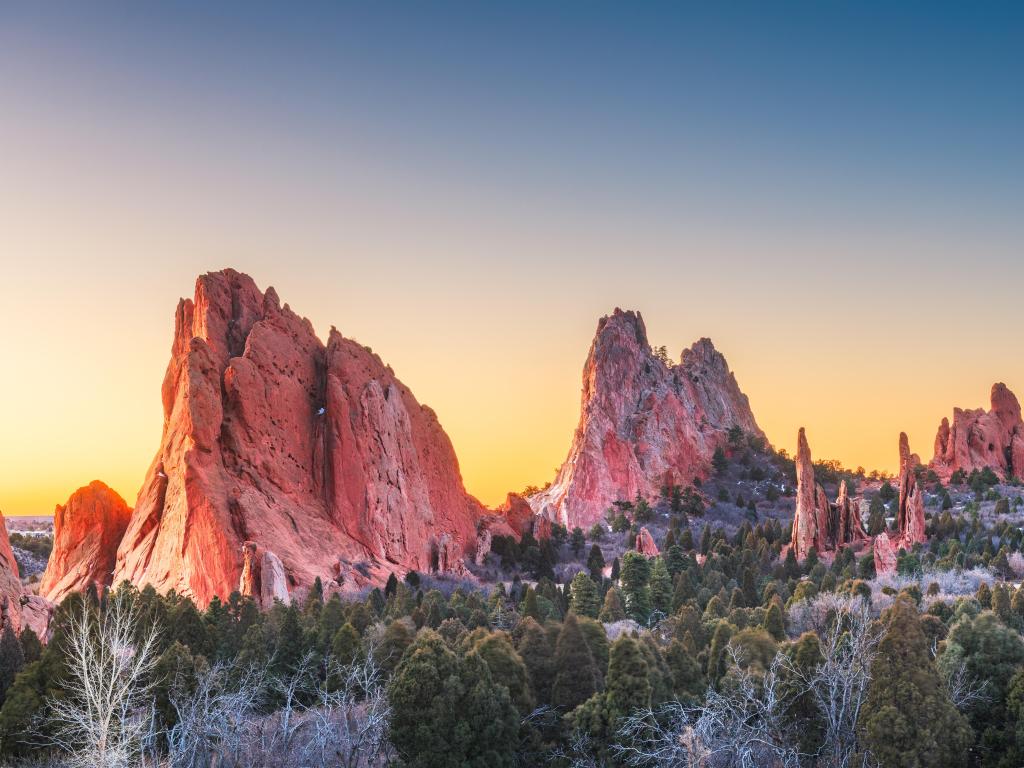 On The Gunnison National Forest Route
Eleven Mile State Park, Lake George - A beautiful park offering wildlife viewing and fishing, located just off US-24 on your way out of Denver.
Blue Mesa Reservoir, Gunnison - The largest body of water in Colorado, located in Curecanti National Recreation Area.
Gunnison Pioneer Museum, Gunnison - Featuring an array of exhibits focused on the region's history.
Hartman Rocks Recreation Area, Gunnison - Near Gunnison, offering numerous trails for hiking, mountain biking, and rock climbing.
Black Canyon of the Gunnison National Park - Offering some of the steepest cliffs, oldest rock, and craggiest spires in North America.
Ouray County Museum - Housed in the original St. Joseph's Miners' Hospital, displaying local history and culture.
Box Cañon Sign, Ouray - A large, historic sign located on the side of a cliff in Ouray.
Box Canyon Waterfall & Park, Ouray - Nature preserve featuring a cascading waterfall, accessed via a short walk.
Ridgway State Park - A popular spot for boating, fishing, camping, and hiking located just off US-550.
True Grit Cafe, Ridgway - Located in Ridgway, this cafe pays tribute to the movie "True Grit" which was filmed in the area.
Cano's Castle, Antonito - A quirky, artistic structure built of beer cans and other recycled materials in Antonito, a short detour off US-285.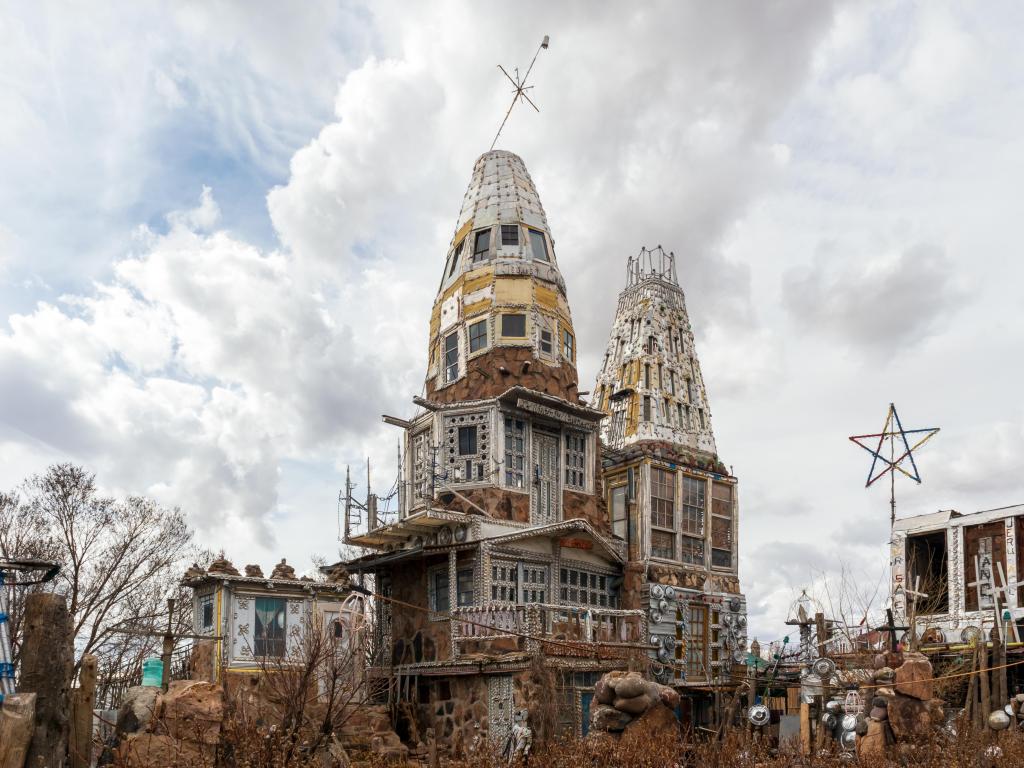 Best time to go on a road trip from Denver to Durango
Durango, your final destination, boasts a wide range of climates throughout the year, each season offering its unique charm and allure. While spring sees highs ranging from 45 to 65 degrees Fahrenheit and lows from 15 to 35, it's a great time to indulge in outdoor activities but be prepared for sudden weather changes.
Come summer, Durango experiences highs typically in the pleasant 70s and 80s and lows in the 40s and 50s, making it an ideal time to explore the myriad outdoor recreational activities the region has to offer. It's a great escape from the heat of lower-lying areas.
Fall in Durango is another captivating time, with the foliage in the surrounding mountains painting a picture-perfect scenery, and temperatures swinging from 70 degrees Fahrenheit highs to 40-degree lows.
And for those who relish winter sports, Durango's winter climate with highs from 30 to 45 degrees Fahrenheit, and lows from 0 to 15 degrees, might offer an exciting thrill.
The most popular time to visit Durango is typically during the summer months, from June through August, when the weather is most comfortable for a range of outdoor activities like hiking, mountain biking, and river rafting. The Durango & Silverton Narrow Gauge Railroad, a significant tourist attraction, also offers its most extensive service during this period.
This region is blessed with many fun events that may influence your travel plans. In Durango, highlights include the Durango Bluegrass Meltdown in April, Animas River Days in June, Durango Fiesta Days in July, and the Durango Cowboy Poetry Gathering in October.
On the Royal Gorge Route, you can experience the Royal Gorge Whitewater Festival in June, the FIBArk Whitewater Festival also in June, and the ColorFest Weekend in September in Pagosa Springs, all celebrating the region's deep connection with water and nature.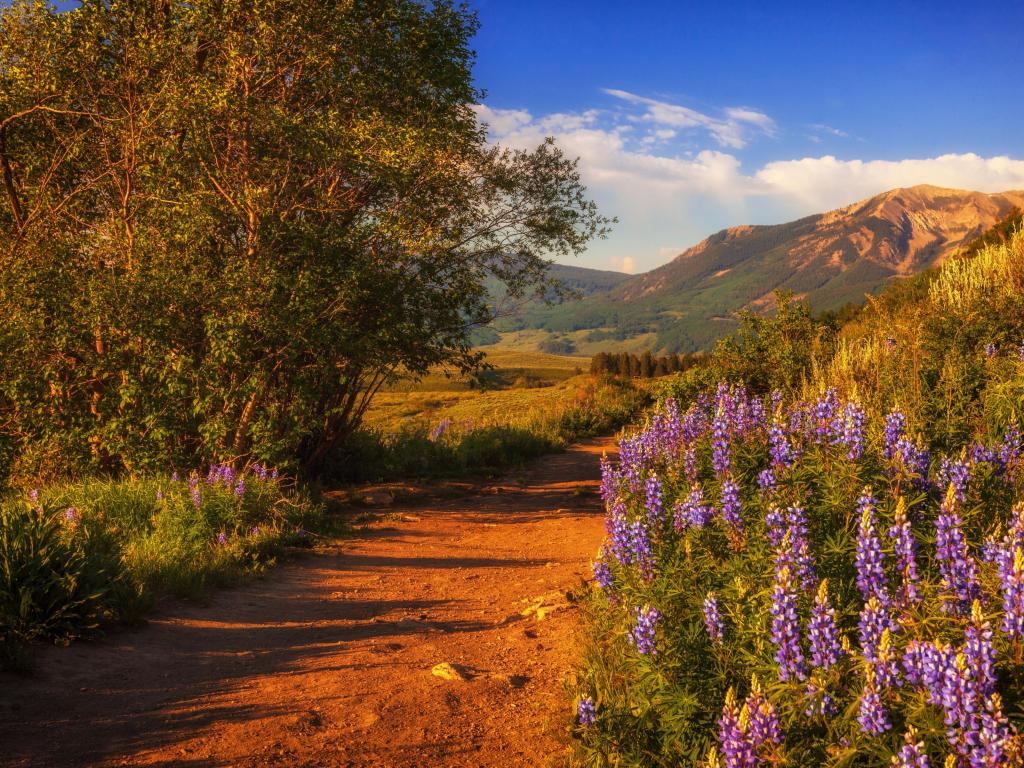 If you're taking the Gunnison National Forest Route, the Crested Butte Wildflower Festival in July and Gunnison Car Show in August provide enjoyable summer festivities. The Ouray Ice Festival in January offers a mesmerizing spectacle, as one of the most famous ice climbing festivals globally, drawing both competitors and spectators from around the world.
Regardless of when you decide to embark on this road trip from Denver to Durango, each season offers its unique beauty and a plethora of events to enrich your journey, ensuring a memorable experience filled with stunning landscapes and vibrant local culture.