Road trip from El Paso to Mesa Verde National Park
This jam-packed journey from El Paso to Mesa Verde National Park is brimming with vast desert landscapes and historical attractions, blending Southwest cultures with lots of places for discovery - and that's even before reaching Mesa Verde and the captivating ancient Puebloan cliff dwellings!
The 650-mile road trip from El Paso to Mesa Verde National Park takes 11 hours, along either the Santa Fe Route to Albuquerque, Taos, Pagosa Springs and Durango, or Grand Canyon South Rim Route passing Tucson, Phoenix, Sedona and Flagstaff.
This beautiful drive from El Paso to Mesa Verde National Park is dotted with inspiring landscapes, memorable museums and unique attractions. Continue reading to learn about the best routes, all the places we suggest stopping off at and the ultimate time to set off on this journey.
How far is Mesa Verde National Park from El Paso and how long will the road trip take?
Comparison of road trip routes between El Paso and Mesa Verde National Park

| Route | Distance | Driving Time |
| --- | --- | --- |
| The Santa Fe Route | 1,160 miles | 24 hours |
| The Grand Canyon Route | 1,000 miles | 20 hours |
Head along the Santa Fe Route from El Paso to Mesa Verde National Park and you can expect to cover around 640 miles, taking 10 hours and 50 minutes.
Choosing the Grand Canyon Route, your journey will be extended to 935 miles to take in the iconic red canyons, traveling for around 15 hours and 15 minutes through many captivating stops.
These epic routes between El Paso and Mesa Verde National Park warrant at least one or two stopovers along the way to make the most of this memorable experience, so we suggest taking 3-4 days for this road trip.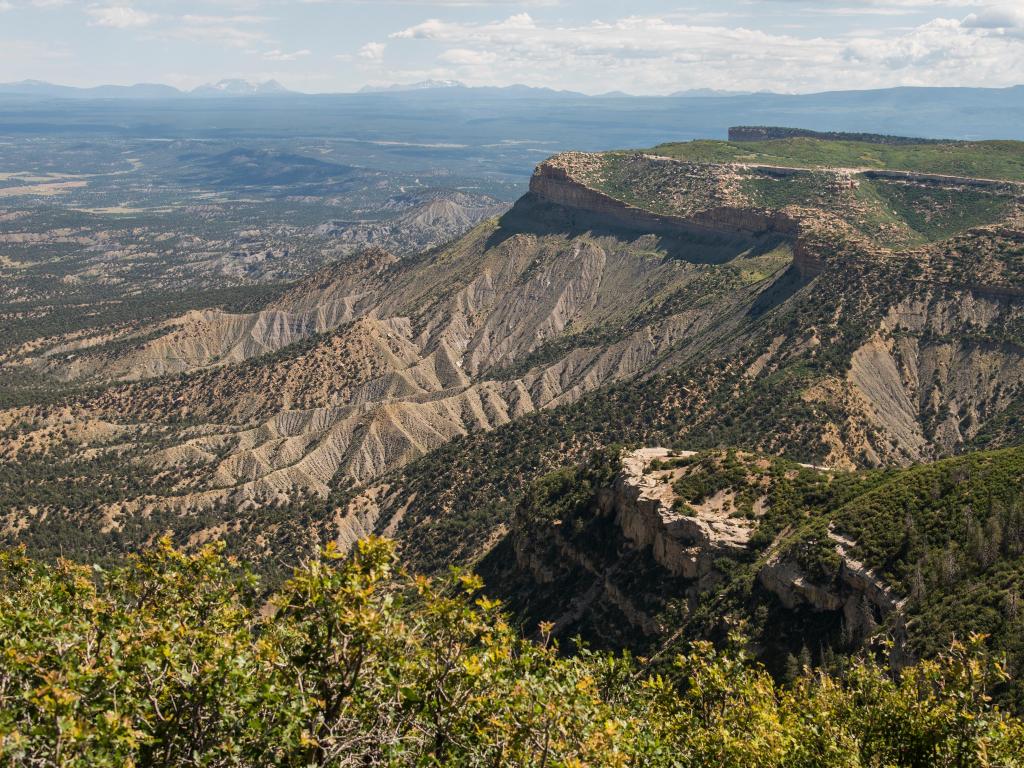 Best road trip route from El Paso to Mesa Verde National Park
While both routes take you through natural and cultural wonders, they are a little different in the experiences they offer, including one passing bucket-list Grand Canyon en route.
The Santa Fe Route, from El Paso to Mesa Verde National Park, winds through historic towns and vast landscapes, passing through the delights of Taos and to Rio Grande Gorge Bridge. Stopping points on either side of the bridge provide unrivaled views of the gorge below.
Further, near the Santa Fe Opera House, stop at the overlook here, with views of the Jemez Mountains to the west and the imposing Sangre de Cristo Mountains to the east.
On the other hand, the Grand Canyon Route, while longer, passes urban centers before arriving at iconic canyons. The Oak Creek Canyon Overlook is a must-visit north of Sedona, with sweeping views of red rock formations alongside forested canyons.
As you approach the Grand Canyon, the Desert View Drive along the eastern portion of the South Rim unfolds. There are plenty of overlooks here; however, the Desert View Watchtower stands out, drawing visitors in with its history and panoramic views.
How to drive from El Paso to Mesa Verde National Park
The map above shows our suggestions for the best road trip routes between El Paso and Mesa Verde National Park. Keep reading for detailed descriptions of both routes, where to stay on either, and the best things to do on the way.
The Santa Fe Route
Starting in El Paso, head north on Interstate 25 (I-25), with a first memorable stop at Riverbend Hot Springs, to relax and take in the natural beauty, before heading back on the road. You'll pass the quirky Recycled Roadrunner Sculpture close by.
Continuing on the interstate, you'll arrive at Sevilleta National Wildlife Refuge and soon after Albuquerque. Whilst here don't miss the Sandia Peak Tramway for a panoramic view of the city and surrounding mountains. Afterwards visit the Petroglyph National Monument, offering ancient rock art to admire.
Proceeding northward, Santa Fe awaits for an overnight stop. Spend time at Santa Fe Plaza, the heart of this old city, and visit Loretto Chapel with its mysterious staircase. If you're into contemporary arts, Meow Wolf offers an immersive experience.
From Santa Fe, head north towards Taos and visit the Taos Pueblo, showing indigenous culture. Also, pause at Rio Grande Gorge Bridge for unrivaled views of the gorge.
From Taos take the US-64 and wind into Colorado. Stop at Pagosa Springs, where the Pagosa Hot Springs offer a rejuvenating break. A slight detour from here also allows you to experience Chimney Rock National Monument, dotted with ancient Pueblo structures.
Your final stretch along US-160 leads you to Durango, where you can see the historic Durango & Silverton Narrow Gauge Railroad. Finish your journey with a stop at the Powerhouse Science Center before making your way to Mesa Verde National Park.
The Grand Canyon Route
Kickstart your adventure in the vibrant city of El Paso, heading westbound along Interstate-10 (I-10) before arriving Phoenix, where we suggest spending a night or two. Here you can visit the Arizona-Sonora Desert Museum or The Mission San Xavier del Bac.
The Titan Missile Museum offers a unique cold-war-era educational experience. Afterwards, spend an afternoon strumming to the tunes of the world at the Musical Instrument Museum.
From Phoenix, take I-17, leading you straight into the heart of Sedona, where you can explore Slide Rock State Park or indulge in arts and crafts at the Tlaquepaque Village. For nature lovers, the Coronado National Forest and Sabino Canyon Recreation Area are both worth a detour.
Continue north along State Route 89A to Flagstaff, known as the gateway to the Grand Canyon. Lowell Observatory and the adrenaline-pumping Flagstaff Extreme Adventure Course are both great visits to make, as well as the quirky Bedrock City amusement park.
Take US-180, then towards the awe-inspiring Grand Canyon South Rim. You can hike down the Bright Angel Trailhead or enjoy the mesmerizing views from various lookout points. Kaibab National Forest is also on the doorstep to admire.
After visiting the jaw-dropping Grand Canyon, head northeast along US-160, where shortly after you'll arrive at the unforgettable Mesa Verde National Park.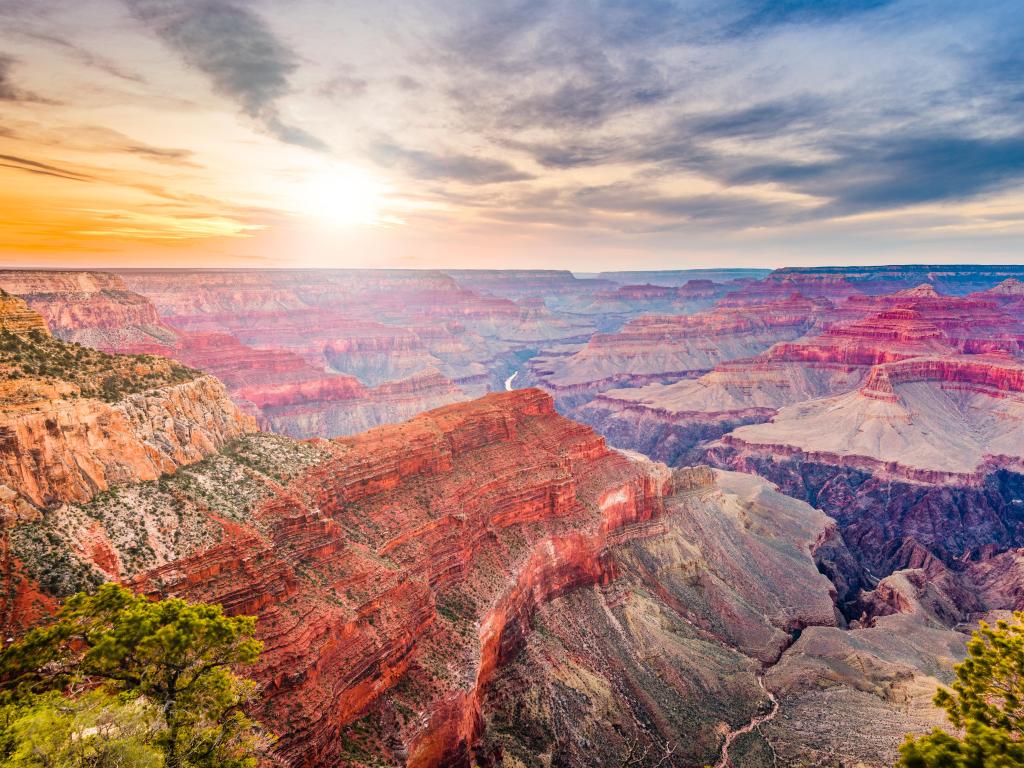 Best places to stop between El Paso and Mesa Verde National Park
With so many incredible places to discover and sights to see as you head towards Mesa Verde National Park, you'll want to stay longer in some of the top spots en route. Below, we've laid out some of our best choices for a great stay. Enjoy!
Explore a different side of Santa Fe
Santa Fe, located around halfway along the Santa Fe Route, is the ideal place to take a pause, packed with art, culture, and historical sites surrounded by incredible scenery.
Did you know that Santa Fe is the oldest capital city in the United States? Often referred to as "The City Different," the city is true to its name and boasts a vibrant festival scene, historic adobes, and Southwest culinary delights.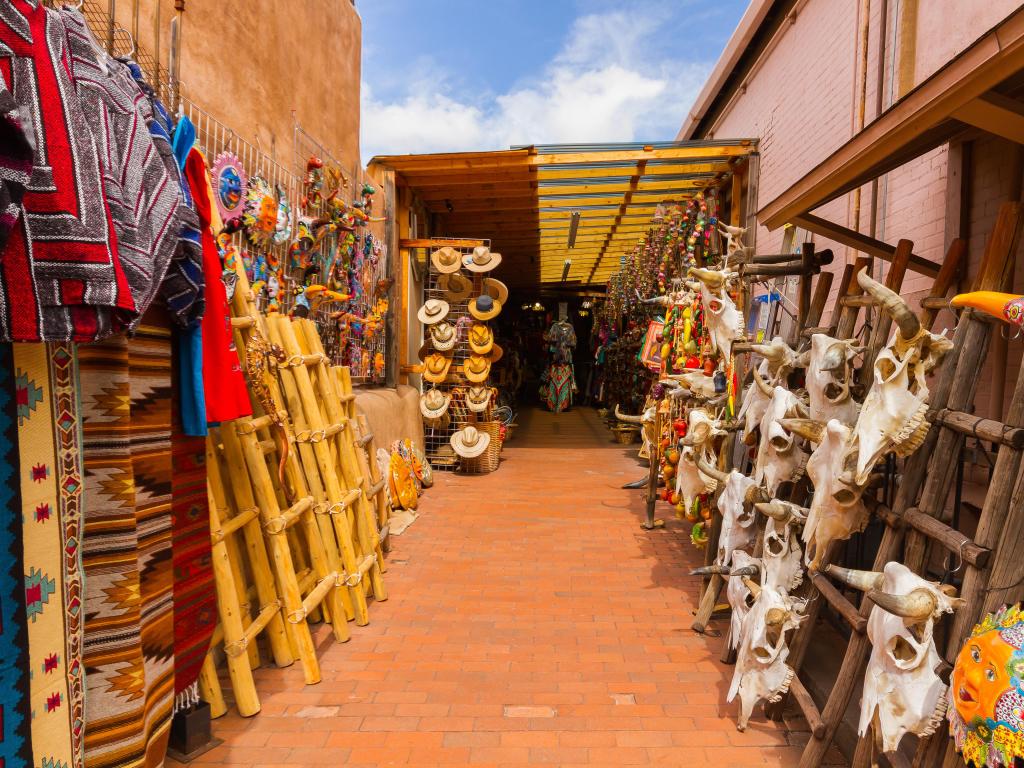 Another significant highlight is the Cathedral Basilica of St. Francis of Assisi, a testament to Santa Fe's deep historical roots. Afterwards, head to Santa Fe Plaza to experience the buzzing heart of the city. Rich in history and always alive with events, markets, and local artisans showcasing their craft.
And for art enthusiasts, Canyon Road awaits. This lane is dotted with art galleries, with works from traditional Native American art to avant-garde contemporary pieces.
While in Santa Fe, we suggest making the Inn on the Alameda your home away from home. This haven, not far from the city's significant sites, has a stunning courtyard and gardens that are perfect for relaxing in after a day of exploring.
Cathedral Park is a mere 400 yards away for those keen to venture out, while The Plaza is just a 700-yard stroll.
Relax in sun-kissed Phoenix
As you make your way across the Grand Canyon Route, consider stopping at the sun-kissed Arizona capital Phoenix, around midway. Often dubbed "The Valley of the Sun", as you step into the city you'll be greeted by Southwestern culture and thriving arts scene, set against the picturesque backdrop of Camelback Mountain.
While in Phoenix, a visit to Desert Botanical Garden is a must, where you can walk its trails to explore an array of desert plants.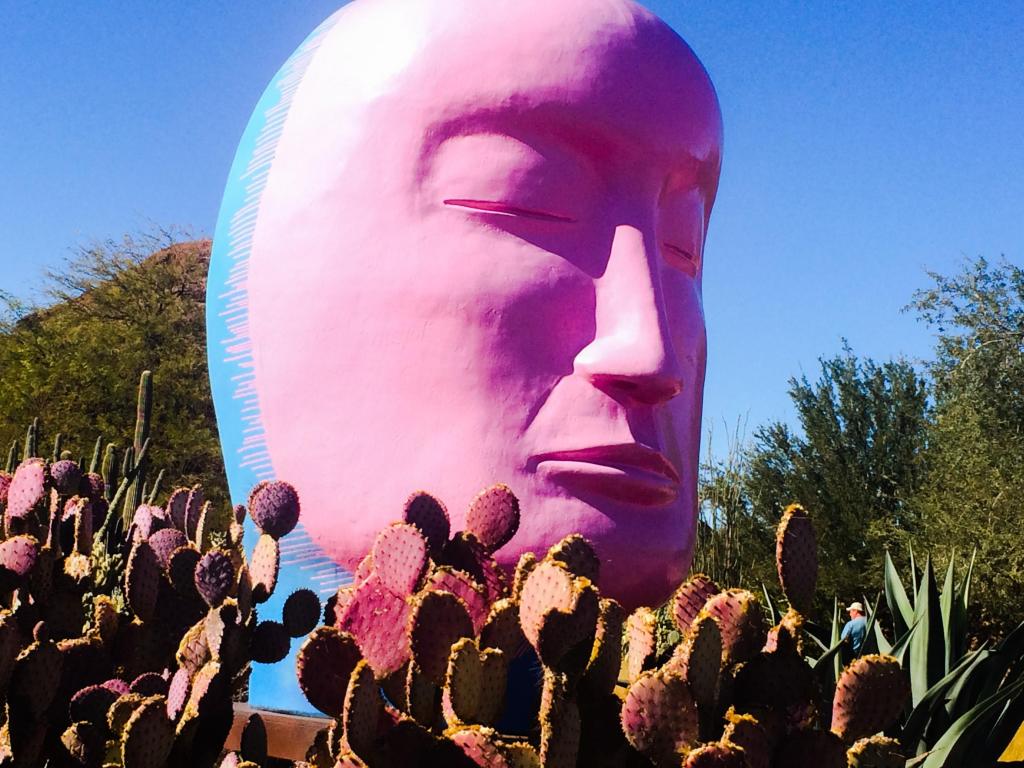 If you'd like to learn more about the indigenous history of the city, the Heard Museum is a treasure trove showcasing the stories, art, and culture of Native Americans. For music fans, the Musical Instrument Museum is ideal, with its vast collection of instruments from across the globe.
When the day winds down, the RISE Uptown in Phoenix is the ideal place to head. This hotel features a quirky, offbeat style, including a warm (or rather, chilly but delicious!) welcome with gourmet popsicles.
Dive into the inviting outdoor pool before lounging on the sun terraces with a drink from the bar. This modern oasis is just a short drive away from top attractions like Heard Museum and Phoenix Art Museum.
Where to stay when you reach Mesa Verde National Park
Mesa Verde National Park, dominated by the iconic Cliff Palace, offers a rare peek into the architectural marvels of its ancient inhabitants.
The Mesa Top Loop Drive is a great starting point to see the best parts of the park in panoramic glory. Then as you hike through this incredible landscape, the Balcony House also shows off the design genius of the Puebloans.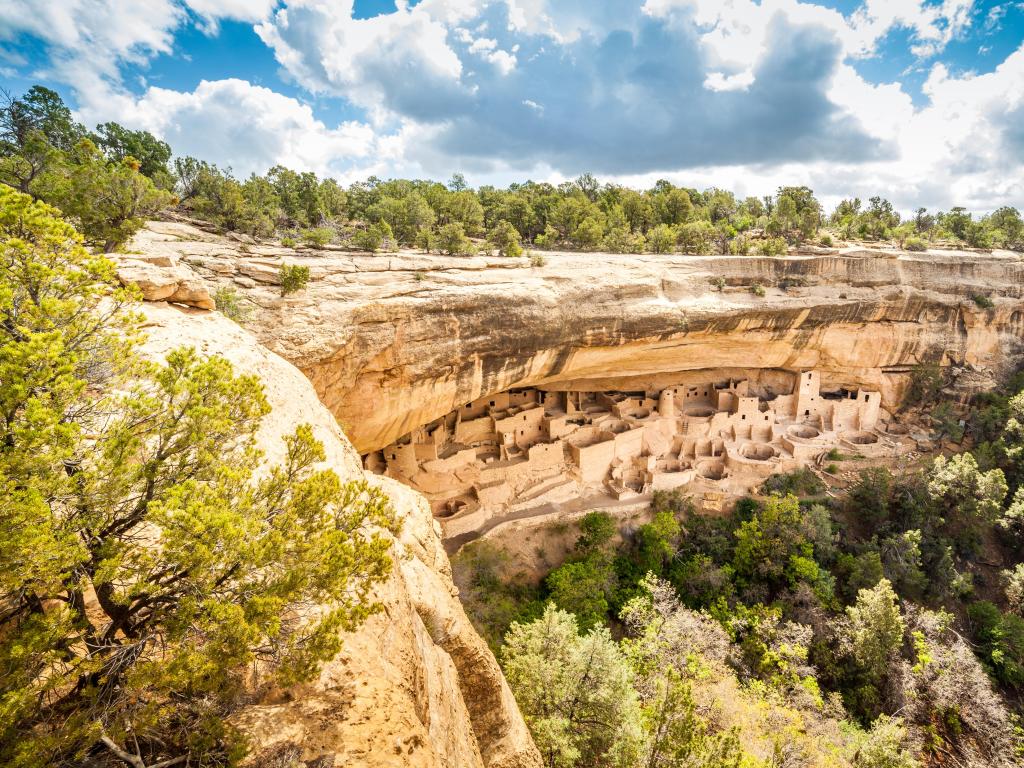 Nestled not too far from this historic wonder is the Fairfield Inn & Suites by Marriott Durango. The first thing you'll notice each morning here is the breakfast spread, brimming with warm, fluffy waffles or savory frittatas, to start your day right.
Looking to relax after a day of exploration? Dive into the indoor swimming pool, soak in the hot tub, or break a sweat at the state-of-the-art fitness center. And for travelers who've been on the road for a while, or those extending their stay, the on-site laundry facilities are great.
The cherry on top? The hotel's superb location is just a 30-minute drive away from Mesa Verde National Park, making it the perfect base for your adventure.
Things to see on a road trip from El Paso to Mesa Verde National Park
Even before you reach the stunning cliff dwellings and deep canyons of Mesa Verde National Park, you can expect the trip there to be peppered with beautiful landscapes, memorable monuments, and unique stop-offs.
Keep reading to see some of our favorites as you make this scenic and exciting journey.
Santa Fe Route
Riverbend Hot Springs - Nestled along the Rio Grande, Riverbend Hot Springs offers tranquil mineral-rich waters with stunning riverside views.
Recycled Roadrunner Sculpture - A quirky, large-scale sculpture in Las Cruces, this artwork is crafted entirely from discarded items, epitomizing sustainable art.
Sevilleta National Wildlife Refuge - Spanning four different biomes, this refuge boasts diverse wildlife and offers pristine landscapes for nature enthusiasts.
Sandia Peak Tramway - Soaring above Albuquerque, this tramway provides breathtaking panoramic views as it ascends the Sandia Mountains.
Petroglyph National Monument - A living canvas of ancient stories, this site showcases thousands of symbols and designs carved onto volcanic rocks by Native Americans and Spanish settlers.
Santa Fe Plaza - A historical heart of Santa Fe, this plaza bustles with art markets, festivals, and architectural marvels.
Loretto Chapel - Famous for its mysterious spiral staircase, this chapel is a blend of religious devotion and architectural intrigue.
Meow Wolf - An immersive art experience in Santa Fe, Meow Wolf's House of Eternal Return invites visitors into a fantastical, interactive multidimensional space.
Taos Pueblo - A UNESCO World Heritage Site, this pueblo is an ancient dwelling that has been continuously inhabited by the Tiwa people for over a millennium.
Rio Grande Gorge Bridge - Towering over the Rio Grande, this bridge offers a heart-stopping view of the river snaking through the deep gorge below.
Pagosa Hot Springs - Natural hot springs known for their therapeutic properties, set amidst the scenic beauty of Pagosa Springs, Colorado.
Chimney Rock National Monument - A sacred site, it showcases twin rock pinnacles and offers insights into the Chacoan people and their ancestral Puebloan culture.
Durango & Silverton Narrow Gauge Railroad - A historic railroad that offers a nostalgic journey through Colorado's stunning mountainous terrain.
Powerhouse Science Center - Located in Durango, this interactive museum sparks curiosity with hands-on exhibits focusing on energy, science, and the region's history.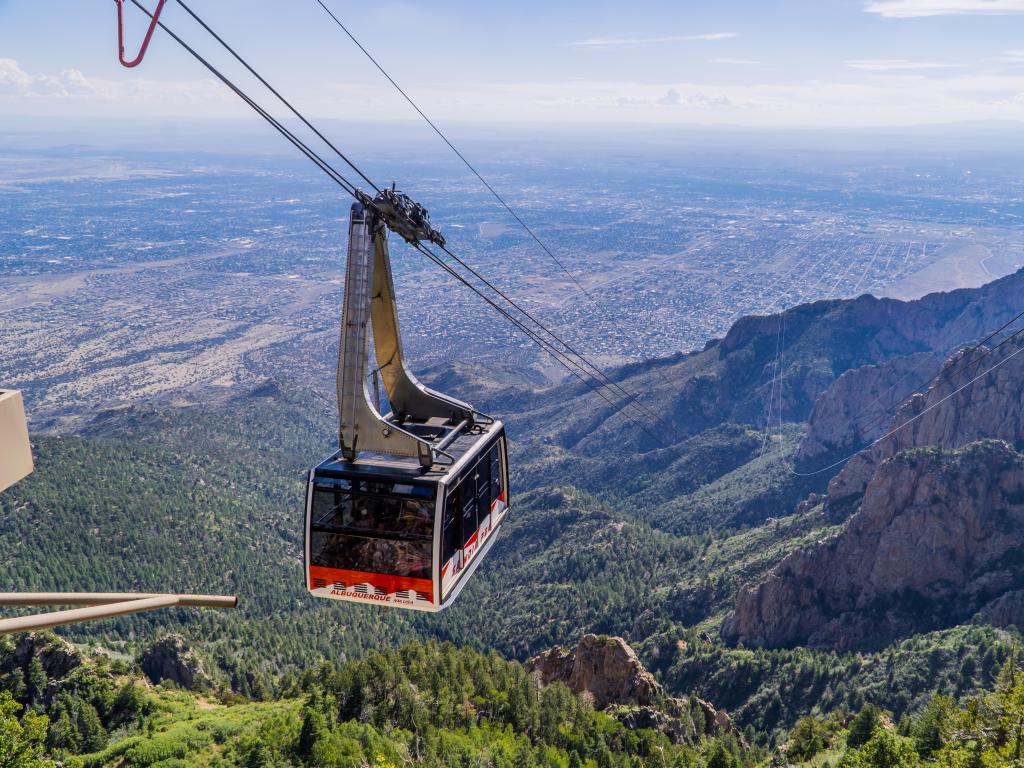 Grand Canyon Route
Coronado National Forest - A vast expanse of diverse landscapes in southeastern Arizona, home to myriad plants, animals, and scenic trails.
Sabino Canyon Recreation Area - A desert oasis near Tucson, offering a captivating landscape with waterfalls, cacti, and varied hiking trails.
Arizona-Sonora Desert Museum - A fusion of a zoo, botanical garden, and museum, highlighting the vibrant life of the Sonoran Desert.
Mission San Xavier del Bac - A historic Spanish Catholic mission with ornate architecture located just south of Tucson, Arizona.
Titan Missile Museum - A unique Cold War relic in Sahuarita, Arizona, offering a glimpse into the world of intercontinental ballistic missiles.
Musical Instrument Museum - Located in Phoenix, this museum celebrates the universal language of music with an impressive collection of instruments from around the world.
Taliesin West - Frank Lloyd Wright's winter home and architectural school, this Scottsdale landmark offers a deep dive into the visionary's design philosophy.
Slide Rock State Park - Renowned for its natural water slide, this park in Sedona is a delightful blend of fun and scenic beauty.
Tlaquepaque Arts & Crafts Village - A Sedona treasure, this village is reminiscent of a traditional Mexican hamlet, brimming with art galleries and boutique shops.
Lowell Observatory - Located in Flagstaff, this renowned observatory is where Pluto was discovered, offering celestial gazing and educational programs.
Flagstaff Extreme Adventure Course - An adrenaline-pumping aerial obstacle course set amidst Flagstaff's towering ponderosa pines.
Grand Canyon South Rim - The most visited section of the Grand Canyon, offering some of the most iconic and panoramic views of the majestic canyon.
Bright Angel Trailhead - A popular hiking starting point, leading adventurers into the depths of the Grand Canyon.
Bedrock City - A nostalgic Flintstones-themed attraction, offering a fun trip down memory lane for fans of the classic cartoon.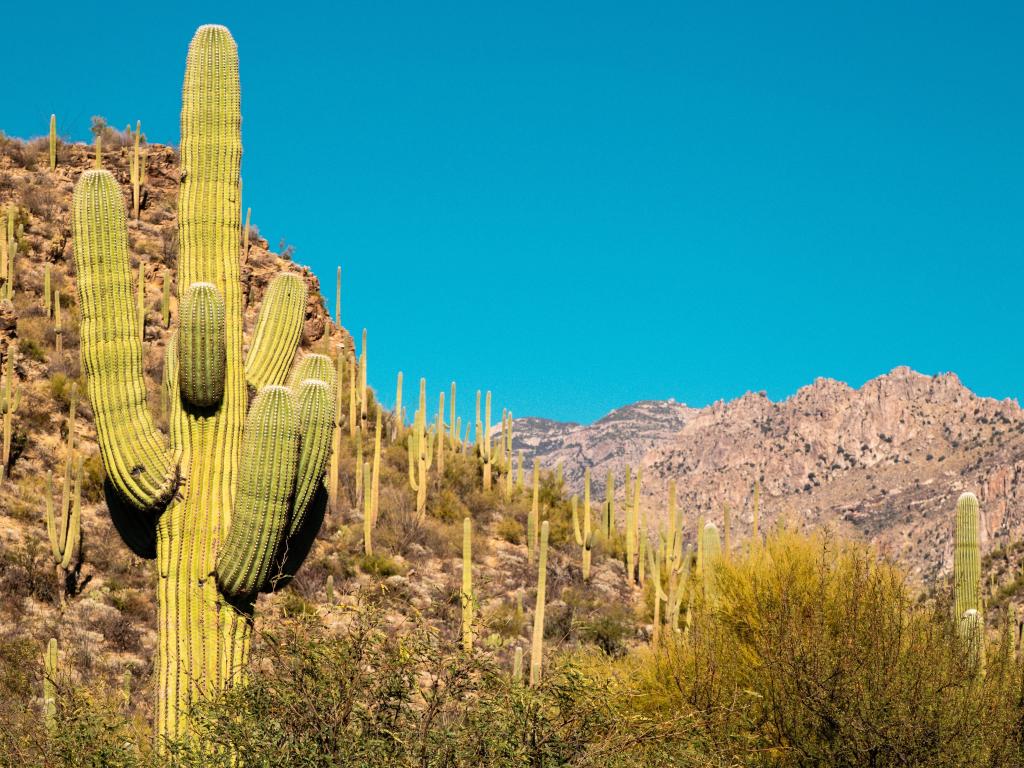 Best time to go on a road trip from El Paso to Mesa Verde National Park
Mesa Verde National Park is a destination that is sure to mesmerize whichever time you choose to visit; however, the experience can differ.
During the summertime, particularly from June to August, Mesa Verde can be pleasantly warm, reaching temperatures between 70 to 90 degrees Fahrenheit. This makes it ideal for exploring the iconic cliff dwellings and panoramic views.
However, if you're traveling the Santa Fe Route to get there, remember that desert regions can face soaring temperatures, so avoid all-day outdoor activities if things get too hot.
The Southwest's monsoon season from July to September also brings sudden showers, which could lead to flash floods, especially in low-lying areas. So make sure to check travel routes and pack an umbrella!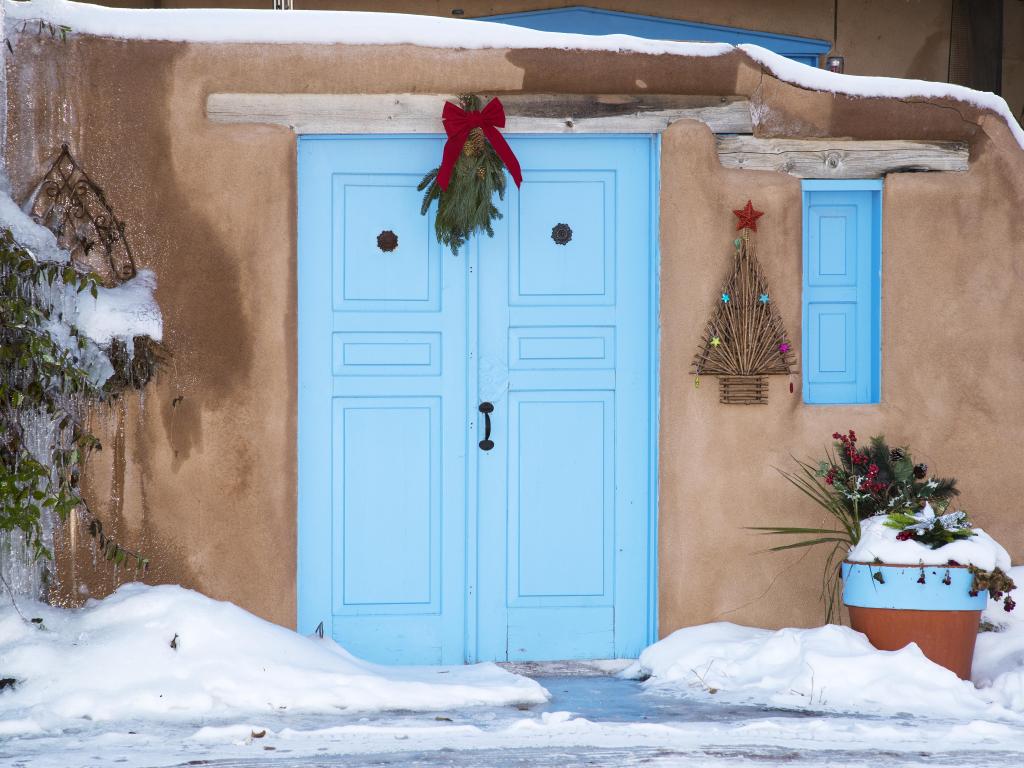 For those considering a winter adventure, keep in mind that Mesa Verde's temperatures dip to a chilly range of 20 to 40 degrees Fahrenheit, and if you are traveling the Santa Fe Route, snowfall might be on the cards. The honey-colored buildings of Santa Fe make a picturesque sight with a cloak of glittering snow.
The Santa Fe area is peppered with cultural events throughout the year, such as the Taos Pueblo Pow-Wow in July or Durango Cowboy Poetry Gathering come October. Both give you a chance to get to know local customs.
Alternatively, if you choose the Grand Canyon Route, the Scottsdale Arabian Horse Show in February or the Grand Canyon Music Festival in September could be highlights of your journey.
Once at Mesa Verde National Park, the Star Party in June is a must for stargazers, and Native American Dance Performances in July provide a glimpse into indigenous traditions.