Is there a ferry across Lake Michigan?
Lake Michigan is one of the largest lakes in the world spanning over 300 miles long and over 100 miles wide. It's striking coastline has inspired sailors, artists, writers, and travelers to embark to its distant corners. It's one of the most inspirational and beautiful bodies of water in the United States.
Because of its size, traveling around it can take a long time. Fortunately, there are several ferry options connecting several states like Wisconsin and Michigan and cities like Ludington, Manitowoc, Milwaukee, and Muskegon.
Ferrying across Lake Michigan can be one of the most memorable road trip adventures in the USA. Read below to learn more about the ferry routes, alternative driving times, time it takes to cross the lake, and things to see once you cross it.
Is there a ferry across Lake Michigan?
Ferry options across Lake Michigan

| Route | Mode | Distance | Travel Time |
| --- | --- | --- | --- |
| Milwaukee to Muskegon | Vehicle ferry | 80 miles | 2 hours 30 minutes |
| Ludington to Manitowoc | Vehicle ferry | 60 miles | 4 hours |
There are two great ferries that cross Lake Michigan. Both connect Michigan and Wisconsin and are convenient and affordable.
The S.S. Badger takes you between the cities of Ludington, MI and Manitowoc, WI. The Lake Express runs between the bigger cities of Milwaukee and Muskegon.
Ferry crossings are safe and convenient. Plus, you get to drive your car right on board and relax during the passage.
How to reach from one coast of Lake Michigan to the other
Although Lake Michigan is large, it's easy to reach from one coast to another. Many people choose to take the ferry, although some prefer to drive or, on rarer occasions, fly.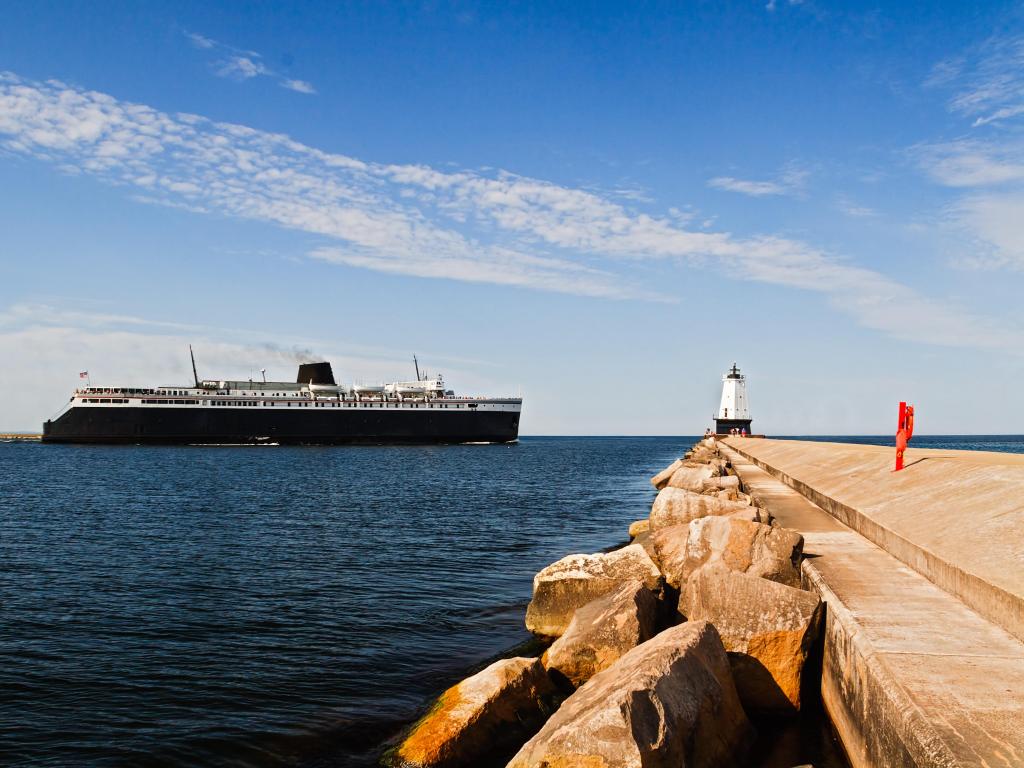 It depends on you which method of transportation you'll choose. Driving via Chicago is the cheapest way to get from one side of Lake Michigan to the other as it's just the cost of gas. That said, if you encounter Chicago at the wrong time, you'll face heavy delays.
The Lake Express is the speediest mode of transport if you're not flying. However, both ferry routes are direct and straightforward. Whether driving or taking your car on one of the ferries, you'll have the flexibility of your vehicle.
In a destination like the coast of Lake Michigan, this is key to exploring all there is to offer.
Taking the ferry from Ludington to Manitowoc
The ferry route from Ludington to Manitowoc is serviced by the S.S Badger Lake Michigan Car Ferry Service. This is a direct and convenient ferry route that takes you between two smaller northern cities in both Michigan and Wisconsin.
The ferry ride is convenient and comfortable. Plus, the ferry has basic amenities and restrooms on board. You'll cross the middle of Lake Michigan and see lots of pristine forest and sand dunes along the shores.
The S.S. Badger is an older ship and one of the last ferries in the USA powered by coal. If you love history and nautical vesicles, then this is the ferry for you.
Taking the ferry from Milwaukee to Muskegon
The Lake Express High-Speed Ferry makes the crossing between Milwaukee and Muskegon. You'll cross the lake at its southern end and end up in big cities.
The journey is easy and comfortable with extra fast boats that will get you on the other side in no time. There are amenities as well as bathrooms on board so you can get out of your car and relax.
The Lake Express is a newer ship, with a modern design featuring a catamaran hull. You'll marvel at its sleek design, convenience, and speed.
Driving from one coast of Lake Michigan to the other
Alternatively, if you drive, you have a few options depending on where you want to go. Driving around Lake Michigan takes a while, because of the size of the lake and traffic, but it's a straight-forward journey with plenty to see and do along the way.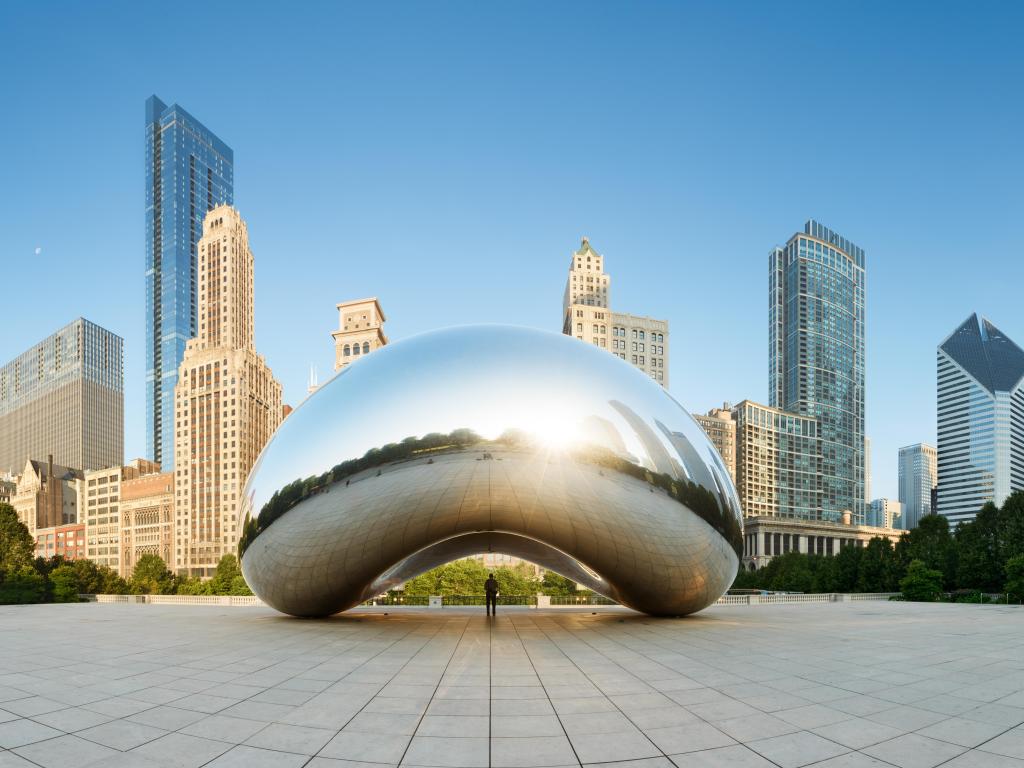 To get from Ludington to Manitowoc, you can drive via Chicago using this route. You'll pass through big cities like Chicago and Milwaukee and long stretches of empty beaches and coastal countryside. This route will take roughly 6 hours and 30 minutes, covering 410 miles.
Alternatively, to get from Milwaukee to Muskegon, you can also drive via Chicago using this route. You'll bypass a lot of the smaller towns and rural areas and stick to the more developed southern coasts of the lake. You'll drive for around 4 hours and 20 minutes, covering 280 miles.
How long does it take to take the ferry across Lake Michigan?
The crossing time depends on which ferry you choose to take. Also, it's important to factor in the weather as high winds and waves may slow the crossing speed.
The S.S. Badger takes roughly 4 hours to cross Lake Michigan. There is one crossing daily, departing Ludington at 9 AM ET and returning the same day from Manitowoc at 2 PM CT.
The Lake Express High-Speed Ferry takes only 2 hours and 30 minutes to cross. In the summer, there are three crossings per day and only two crossings per day in the spring and fall.
For both ferries, make sure you arrive at least 90 minutes early for check-in. You need to arrive at the port at least 45 minutes ahead of departure. This makes the total travel time just over 5 hours for the S.S Badger and 4 hours for the Lake Express.
How much does it cost to take the ferry across Lake Michigan?
Price comparison of different options for traveling from Milwaukee to Michigan
Route
Mode
Provider
Approx. Cost
Ludington-Manitowoc
Vehicle ferry
S. S. Badger Ferry
$92
Milwaukee-Muskegon
Vehicle ferry
Lake Express Ferry
$118
*Calculated at the time of writing, prices include an adult and a vehicle, single trip
For the S.S. Badger in summer, a one-way trip will cost $85 or $92 with a car. A round trip will cost $155 or $167 with a car.
In the spring and fall from the 18th of May to 8th June and the 5th of September to 9th October, the prices will be cheaper. One way will run $74 without a car and $92 with a car and round trip will be $135 without a car and $167 with a car.
The Lake Express will cost $108.50 one way without a car and $118 with a car. Round trip will be $187 without a car and $214 with a car.
Prices for the Lake Express will not vary by the time of the year. So, if you buy your tickets for summer, spring, or fall, they will remain the same price.
Which ferry port should you choose as your destination across Lake Michigan?
Depending on where you're coming from and which ferry you're taking, you'll have four ports to choose from. Each port is easy to get to and surrounded by gas stations, restaurants, and other necessities you'll need once you reach the other side.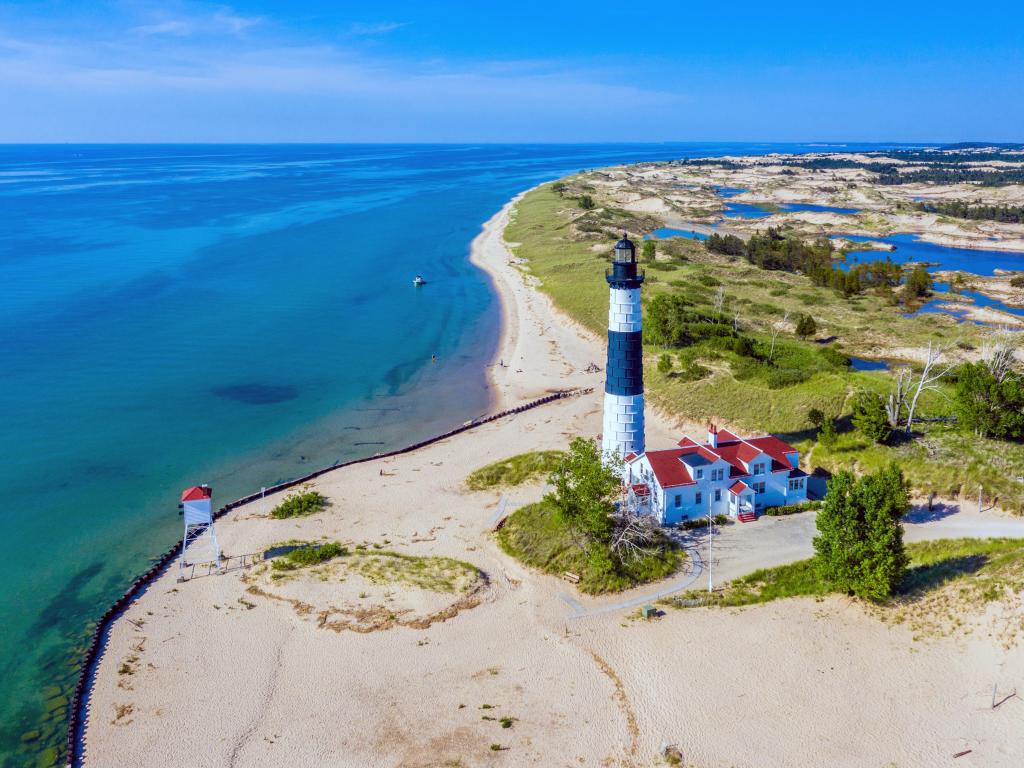 If you're taking the S.S. Badger, you'll be using the port of Ludington, MI, on the Michigan side and Manitowoc, WI on the Wisconsin side. Once you get to the ferry, you can drive your car right on board.
If you're choosing the Lake Express High-Speed Ferry, you'll be using Milwaukee, WI, or Muskegon, MI, as your ports. Just like the S.S Badger, you can drive your car right onto the ferry.
The S.S. Badger is located in the northern end of the states of Michigan and Wisconsin, so if you want to head north, this is a good option. On the other hand, the Lake Express is further south.
Things you need to know about traveling across Lake Michigan
When most people think of lakes, they picture tranquil waters surrounded by visible land on all sides. Not Lake Michigan. The lake is so massive that you can't see the other side. Most first-time visitors think they're standing on the shore of the ocean.
The lake can be calm with a surface that looks like glass. Other times, it can be filled with high seas and poor weather. As with any journey, make sure to check the weather before crossing the lake via ferry.
Lake Michigan is located in the upper Midwest United States and gets very cold winters. The lake often freezes over during severe winters. This can happen from December to early March.
Best time to take the ferry across Lake Michigan
The best time to cross Lake Michigan is in late spring, summer, and early fall. This is when the weather is at its calmest and there won't be any ice on the lake.
The S.S. Badger closes between October 10th and May 17th. The Lake Express closes from October 23rd to May 4th.
If you want beautiful weather and a chance to swim once you arrive on shore, then summer is the best time. This is also when most festivals and events are taking place in Michigan and Wisconsin.
Things to see once cross Lake Michigan
The shores of Lake Michigan are filled with charming towns and cities, plus some of the most striking braces in America. Below are our top things to see and do on either side of the shoreline.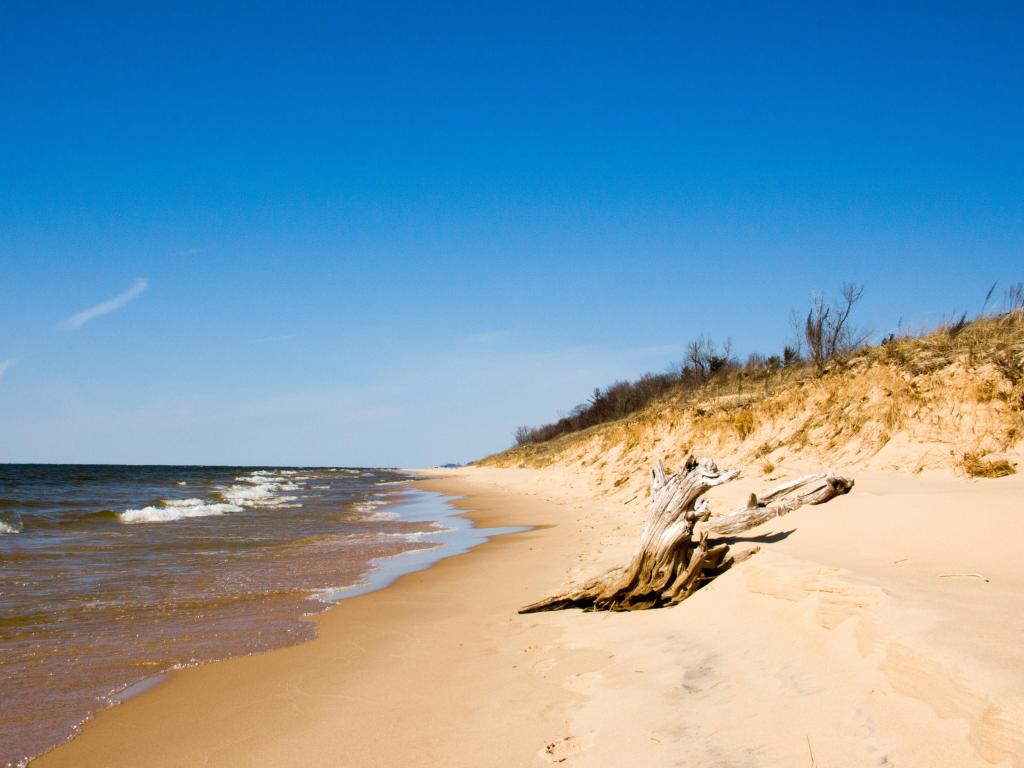 Downtown Muskegon - The artful Downtown Muskegon has both history and culture all on the waterfront of Lake Michigan. You can browse boutique shops, indulge in fantastic cuisine and walk through well-manicured garden spaces.
Pere Marquette Park - Here you'll find one of Muskegon's most famous beaches. The sandy shoreline has clear swimming water, beach volleyball courts, restaurants and a lighthouse.
Hoffmaster State Park - This State Park is a must visit for hikers. Covering 3 miles of shoreline, there are 10 miles of scenic trails to explore. The Dune Trail Overlook Trail is a 0.5-mile hike with magnificent views, especially at sunset.
Michigan's Adventure - For a family day out, there's Michigan's Adventure, coined 'Michigan's Best Amusement Park and Waterpark'. There are rides for different levels of thrills and a water park with slides and wave pools.
Muskegon Museum of Art - There's a vast collection of American and European artwork here. Ranging from paintings to sculptures, the permanent collection is a great way to spend a day. There are also temporary exhibitions showcasing local artists.