Is there a ferry from Boston to Salem?
Salem, known for its witch trial history, stunning architecture, and coastal charm, is located just north of Boston, Massachusetts. Both of these cities are tourism hotspots, and it isn't surprising that there are many different ways to reach Salem from Boston.
There is a direct ferry from Boston to Salem, a journey that takes about 50 minutes and covers a relatively short sea distance. This passenger ferry runs several times a day, seasonally from May to October. You can also drive from Boston to Salem.
Continue reading to explore the different ways to reach Salem from Boston, useful tips to enhance your travel experience, and the must-see attractions upon your arrival in this historic city.
Is there a ferry from Boston to Salem?
Comparison of travel times and modes from Boston to Salem

| Mode | Operator | Travel time |
| --- | --- | --- |
| Passenger ferry | Boston Harbor City Cruises | 50 minutes |
| Direct drive | N/A | 40 minutes |
A convenient ferry service, operated by Boston Habor City Cruises is available for travel from Boston to Salem. This direct route offers an enjoyable sea journey and a chance to take in stunning sights along the way.
The ferry service departs from Boston at the Long Wharf South, a location known for its historical significance and beautiful surroundings. From here, the ferry embarks on its voyage, arriving in Salem at the Blaney Street Boston Harbor City Cruises Terminal, which is conveniently located close to some of Salem's main attractions.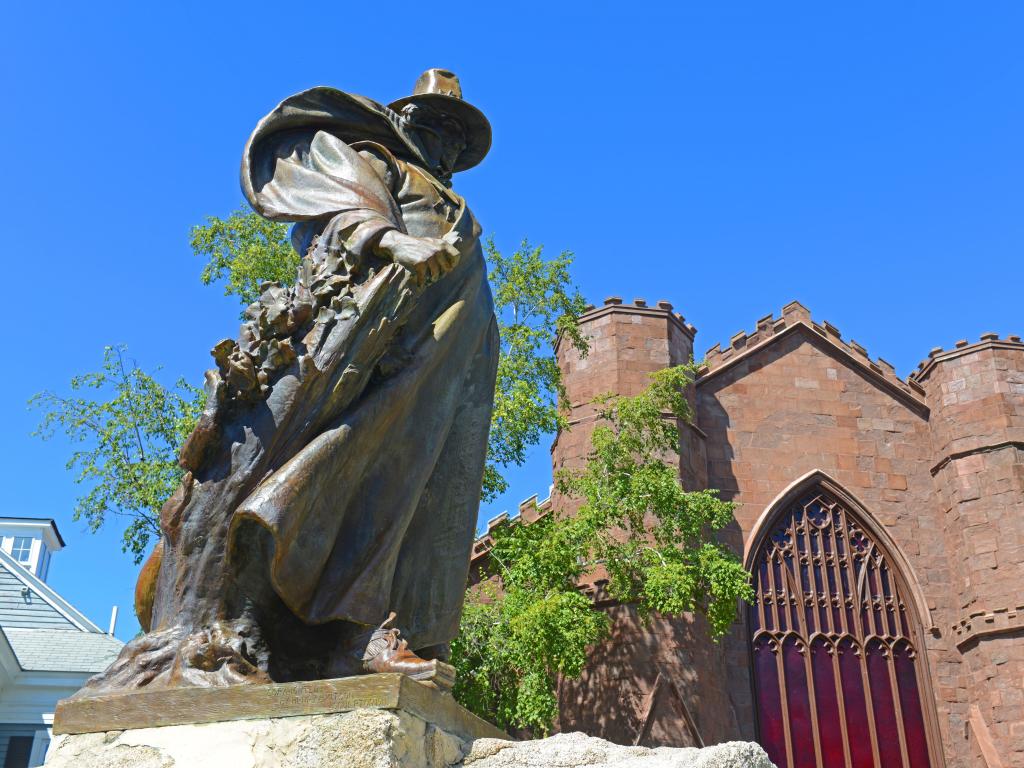 Taking the ferry from Boston to Salem
This ferry journey from Boston to Salem lasts approximately 50 minutes, making it a quick and efficient way to travel between the two cities. The service usually runs four trips per day.
However, it's important to note that the ferry service is not year-round and only runs between the 26th of May and the 31st of October. The prices for the ferry are the same throughout the months that the ferry runs.
This is a passenger-only ferry, so you cannot bring your car aboard for the journey.
In terms of alternatives, there are no other ferry options for traveling from Boston to Salem that match the quality and convenience of this service. It's an outstanding choice for those looking to explore these two iconic Massachusetts cities via the sea route.
Driving from Boston to Salem
For those preferring a road trip, the journey from Boston to Salem can be made by car, offering some flexibility and the opportunity to enjoy the New England scenery along the way. There are two primary routes you can choose from.
The first is via US-1 N and then I-95 N. This route is shorter, with a total distance of about 20 miles. However, it's worth noting that there is a toll charge on this route. The US-1 N offers an enjoyable drive with varied landscapes to appreciate.
Alternatively, you can choose to drive via I-93 N and then I-95 N. Although this route is slightly longer, spanning a distance of 25 miles, it is often faster due to higher speed limits. Therefore, if time is of the essence, the I-93 N could be the better choice for you.
Furthermore, a reliable bus service offers another alternative for this short journey. The 450 line runs from Wood Island, Boston, making it a convenient option for those seeking public transportation.
If you'd like to learn more about the drive from Boston to Salem, here is our comprehensive guide.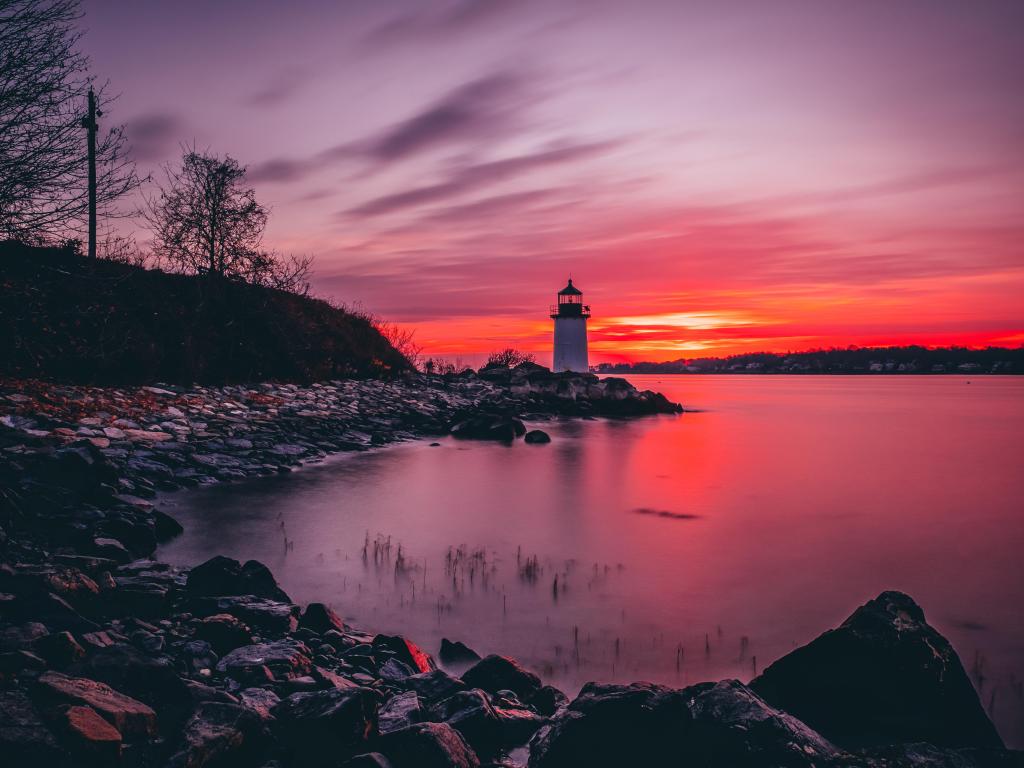 How long does it take to reach Salem from Boston?
The time it takes to travel from Boston to Salem via ferry can vary based on a few factors, but the crossing itself usually takes about 50 minutes. The ferry service, provided by Boston Harbor Cruises is a smooth and efficient way to make the journey.
Given that cars are not permitted onboard, you should consider additional time for transit to and from the ferry terminals. Assuming around 10 minutes for these transitions, your total journey time should be approximately one hour.
However, this is a general estimate, and it's recommended to always check exact schedules and arrival requirements with the ferry operator or booking agent.
In comparison to alternative methods of travel between Boston and Salem, the ferry's travel time is similar to that of driving and taking the train, operated by the Massachusetts Bay Transportation Authority.
The bus service, also provided by the Massachusetts Bay Transportation Authority, is another option.
It's important to note that while the ferry, train, and driving may have similar best-case scenario travel times, driving times can often be longer due to traffic. The convenience, scenic views, and avoidance of potential road congestion make the ferry a great option for this journey.
How much does it cost to travel to Salem?
Comparison of ferry ticket prices from Boston to Salem

| Ticket type | Price |
| --- | --- |
| Adult | $29.59 |
| Senior | $26.36 |
| Child | $24.82 |
*Prices are for a single journey, calculated at the time of writing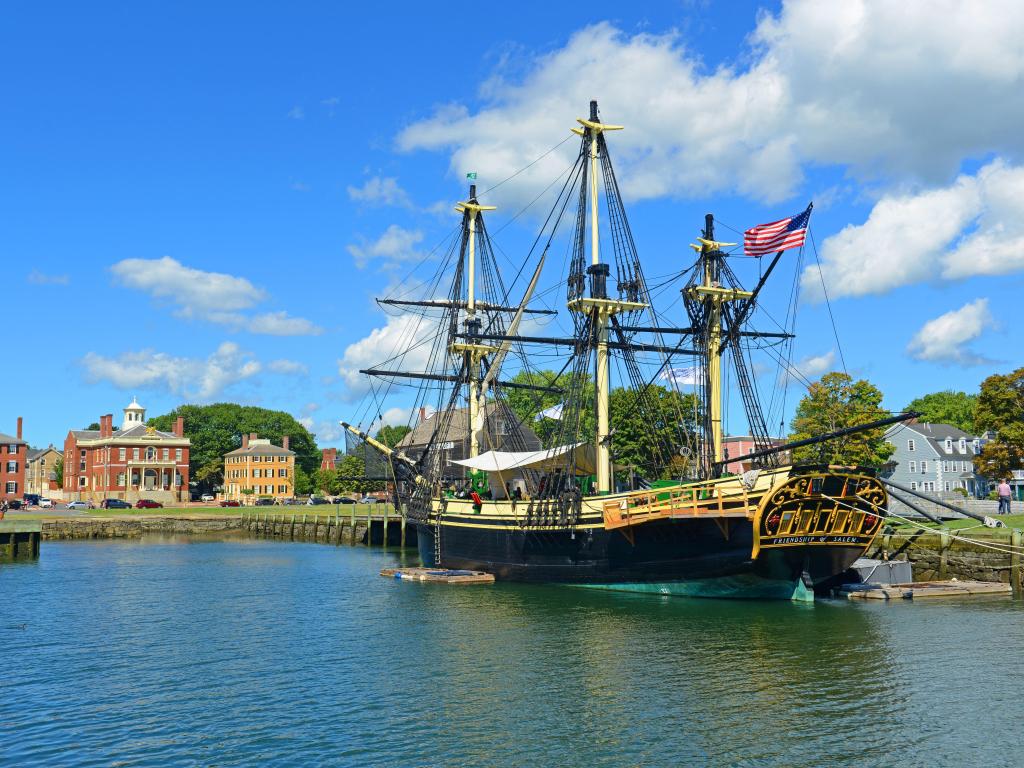 Things you need to know about traveling to Salem from Boston
Taking the ferry from Boston to Salem is a swift and soothing way to travel between these two historic cities. To ensure you have a smooth and enjoyable journey, here are some key points to consider:
It's worth noting that while the ferry service does not allow cars onboard, Salem is a very walkable city, meaning a car may not be necessary at your destination.
Regarding your arrival at the port, the meeting point for passengers is at 1 Long Wharf, Boston. Without the need for boarding cars, as long as you're at the meeting point about 15-20 minutes before your departure time, you should be all set.
However, this information is general and it's always a good idea to double-check the exact check-in and embarkation times with the ferry operator or your booking agent.
Parking considerations also play a part in your total travel time. The ferry company does not provide parking, but the nearby Boston Harbor has a parking lot, which is the closest available option.
Best time to visit Salem
The ferry service, at the time of writing, operates from the 26th of May to the 31st of October. This period aligns perfectly with the milder weather conditions, making it an ideal time to enjoy the beautiful coastal journey.
It's important to note that while the ferry maintains the exact pricing from May through October, Salem's hotel prices can increase in October due to high demand.
This uptick in visitors is largely because Salem is known for its historic associations with witch trials, making it an incredibly popular destination during the Halloween season.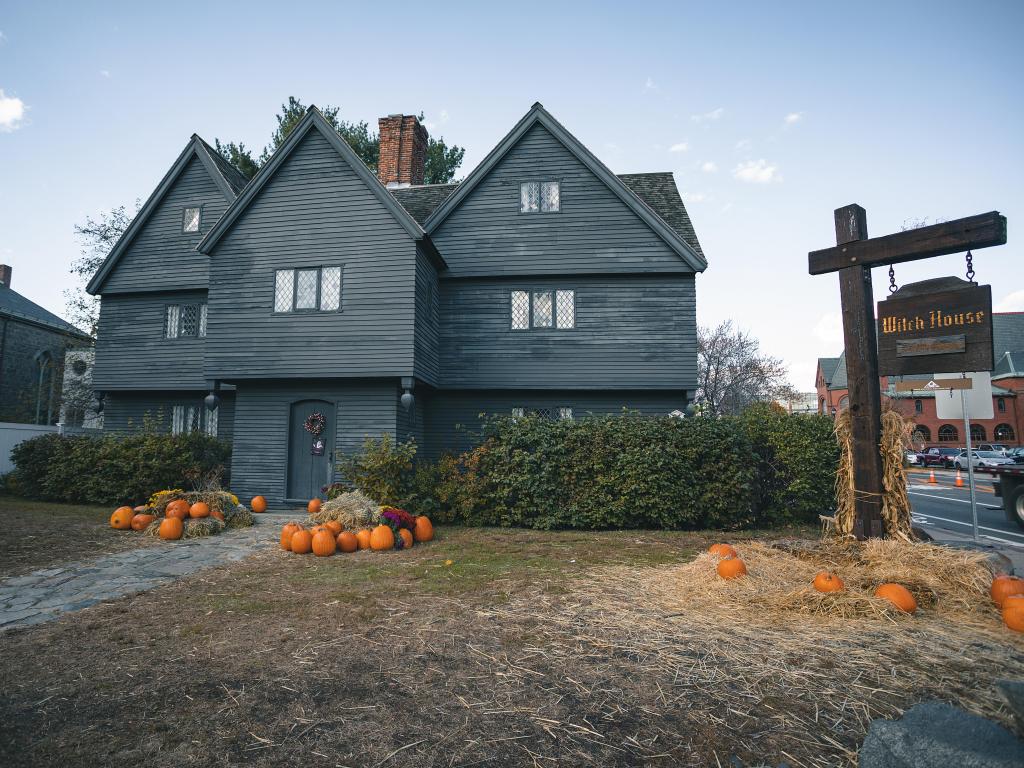 Indeed, Salem's Halloween celebration is recognized as the largest in the world, drawing over 500,000 visitors to the city. This influx of tourists results in a lively atmosphere filled with parties, parades, and special events in the museums.
If you're interested in experiencing this unique cultural event, visiting in October would be your best bet.
However, visiting Salem outside of the Halloween season would be a good idea if you're looking to avoid crowds and enjoy the city in a quieter setting and with much cheaper prices that will accompany this peaceful experience.
Things to see once you reach Salem
Salem's rich history, intertwined with tales of witchcraft and maritime adventure, offers a wealth of attractions for visitors. From its iconic museums to tranquil waterfront, there are numerous sites to explore in this historic city. Here are some top recommendations for your visit:
The Salem Witch Museum - Learn about the 1692 Salem Witch Trials. The lifesize stage sets make it an immersive experience to discover the timeline of events and the hysteria that riddled the town.
The Witch House (Jonathan Corwin House) - Visit the home of the judge, who was a key figure throughout the witch trials. It's the only building still standing since the trials.
House of the Seven Gables - Nathaniel Hawthorne's novel of the same name made this historic mansion famous. You can take a guided tour to learn more.
Salem Maritime National Historic Site - Explore Salem's rich maritime history at this renowned national historic site. You'll find a replica of the "Friendship of Salem" ship.
Peabody Essex Museum - One of the oldest museums in the US. Here you'll find a collection of art from all corners of the globe.
Pickering Wharf - For a relaxing stroll, head to Pickering Wharf. Enjoy the waterfront area by diving into restaurants and shops.
A trip to Salem presents a unique blend of history, culture, and coastal charm. Whether you're a history enthusiast, art lover, or simply in search of a relaxing escape, Salem has something to offer.