Is there a ferry from Myrtle Beach to Charleston?
South Carolina is blessed with beautiful beaches and Myrtle Beach and Charleston are two of its most iconic coastal cities. Located around 1,00 miles apart, Charleston is famous for its rich history and architecture, and Myrtle Beach is known for its beaches and vibrant tourist attractions, but are they linked by a ferry?
There isn't a ferry from Myrtle Beach to Charleston, but you can take an epic drive down the South Carolina Coast on Highway 17. With glorious views across the Atlantic Ocean, it's a great way to explore the stunning coastline and surrounding areas.
Continue reading to discover much more about this delightful coastal adventure, some of our top tips for the journey, and some of the major attractions to round off the trip.
Is there a ferry from Myrtle Beach to Charleston?
With no ferry route between Myrtle Beach and Charleston, the most popular way to travel between the two cities is to drive.
It is also possible to put your feet up and take a bus and enjoy the coastal vistas without taking to the wheel yourself, with Southeastern Stages and Greyhound both covering the route.
Given the closeness of the two cities, it is not possible to catch a flight between them, and driving yourself is the fastest and easiest way to make the trip by road. The four-lane highway takes you on a direct route and is relatively straightforward.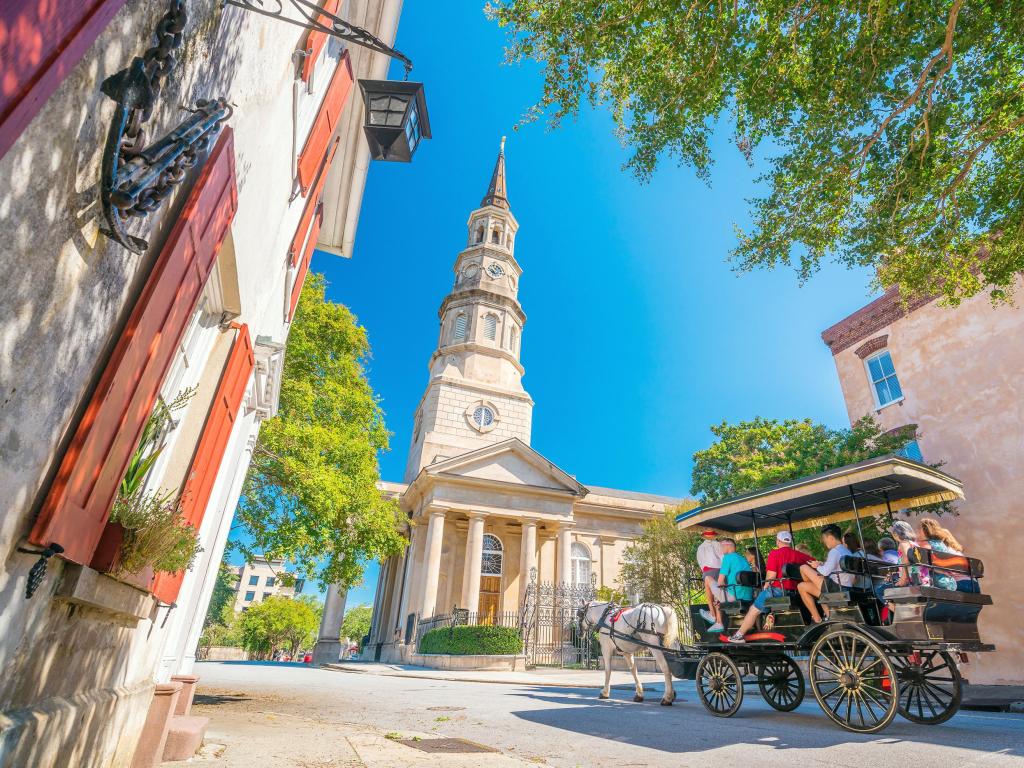 Driving from Myrtle Beach to Charleston
The 100-mile drive to Charleston takes around 2 hours and 20 minutes and begins by heading south from Myrtle Bridge and joining Highway 17 towards Murrells Inlet, known as the seafood capital of South Carolina.
Continuing along Highway 17, passing Pawleys Island before crossing Waccamaw River Bridge with wonderful views across the river and out to Winyah Bay, before reaching Georgetown, and almost the halfway point of the trip.
Georgetown is the third oldest city in South Carolina and is rich in history, with several impressive museums to explore and discover all about the area's development and evolution.
The route then heads inland slightly, taking you past Georgetown Airport and Hopsewee Plantation, before passing McClellanville, with views out across Bulls Bay before reaching the suburbs of Charleston, and Mount Pleasant.
The pace of life is much slower here, and you can enjoy a relaxing walk along the waterfront or a stroll around Boone Hall Plantation and Gardens.
The route then leads you over the iconic Arthur Ravenel Jr. Bridge, taking you over Cooper River into the heart of historic downtown Charleston.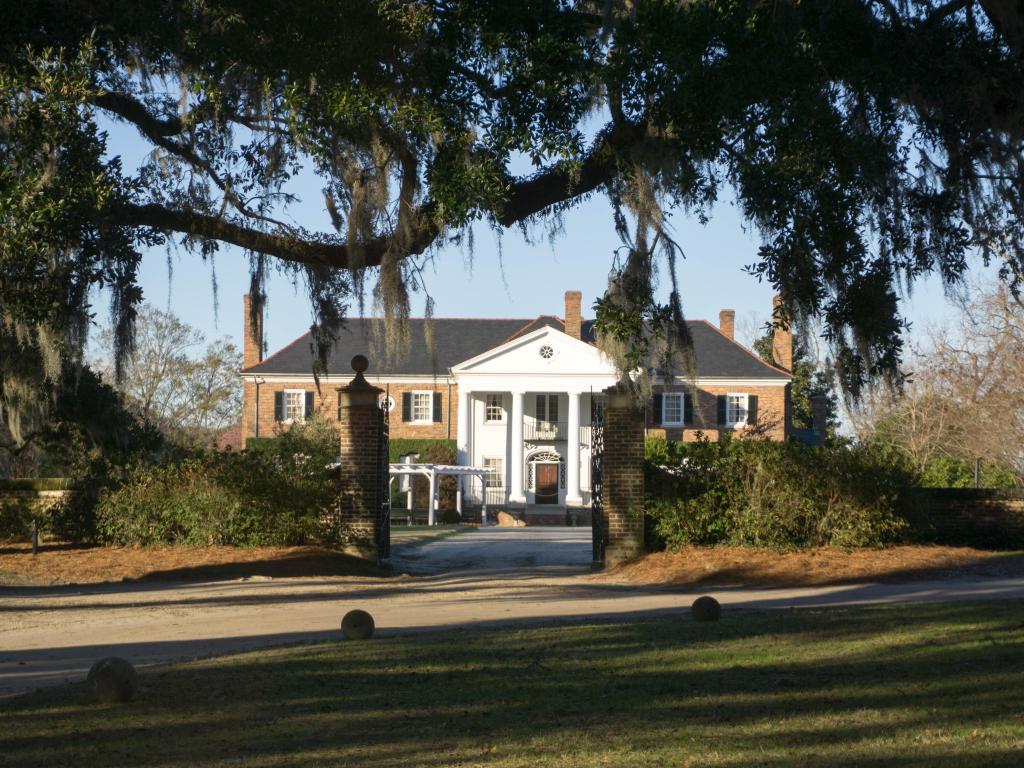 How long does it take to reach Charleston from Myrtle Beach?
The driving route from Myrtle Beach to Charleston is a 100-mile journey along the South Carolina coastline and the drive takes around 2 hours and 20 minutes.
However, with so many beautiful shoreline locations to visit, and amazing local seafood to sample, taking the drive at a leisurely pace over a day or two is a great option.
If you are making the journey by bus, the journey time increases to 6 hours and 45 minutes, as the bus stops off at various towns and cities along the route.
Whether you are traveling with Greyhound or Southeastern Stages, both head inland and require a transfer at Columbia before completing the trip to Charleston.
How much does it cost to travel from Myrtle Beach to Charleston?
Comparison of fares from Myrtle Beach to Charleston
Ticket Type
Provider
Time Taken
Adult fare
Single fare
Southeastern Stages
6 hours 45 minutes
$79
Single fare
Greyhound
6 hours 45 minutes
$90
[tr]
Single journey
Own vehicle
2 hours 20 minutes
$15
*Prices are calculated at the time of writing and gasoline costs are estimated for driving yourself
Things you need to know about traveling from Myrtle Beach to Charleston
The journey from Myrtle Beach to Charleston is full of interesting towns and cities, with numerous historical sites and plantation houses to visit and delightful Southern cuisine to enjoy. There are a few things to consider that will ensure the journey is as enjoyable as possible
The main route takes you along Highway 17, a well-maintained major highway that is an enjoyable drive with excellent views throughout. Do check ahead for any road closures or major roadworks before departing.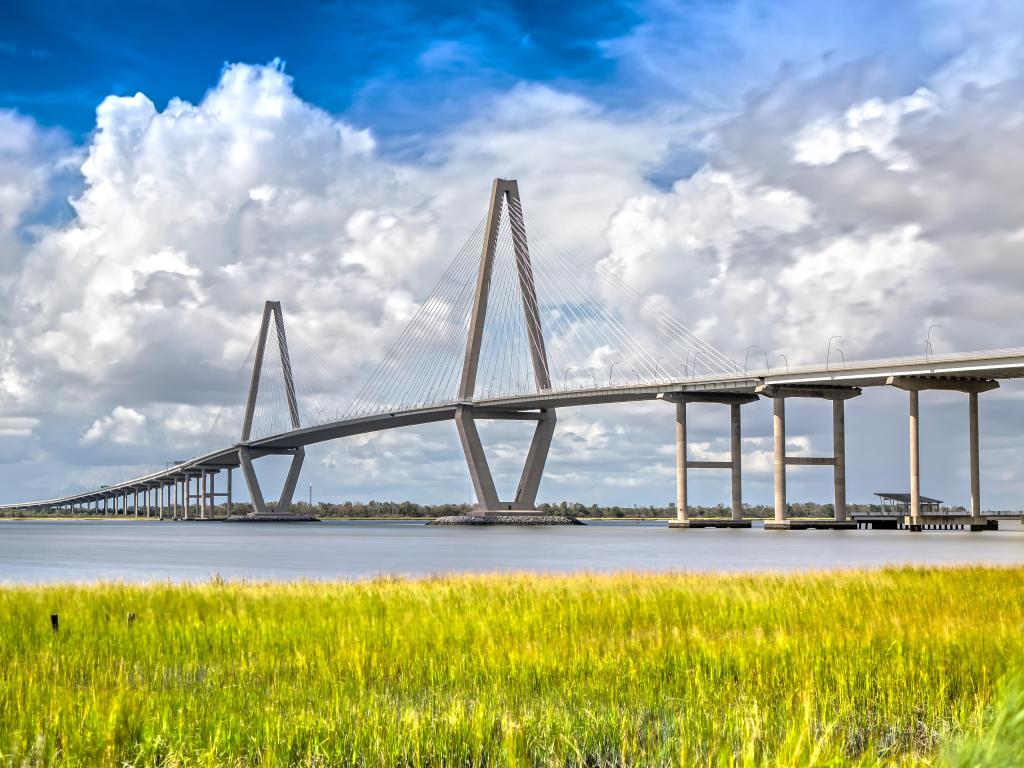 Traffic along the route is not generally an issue, although in the peak tourist season, of spring and fall, there will be an increased number of vehicles on the highway.
Traveling around Georgetown and Mount Pleasant can be traffic hot spots, especially around rush hour so it's best to avoid passing these areas at these times.
The summer hurricane season can bring sudden heavy rainfall and powerful winds. The summer months can also see incredibly hot and humid conditions, so keep your eye on the forecast and local advisories to ensure you don't get caught out in serious conditions
While it is less than 100 miles between Myrtle Beach and Charleston, there are many places to visit along the route. Plan an itinerary in advance and take as many days as you like to enjoy the main attractions, including Murrells Inlet, Huntington Beach State Park, and Georgetown.
The Arthur Ravenel Jr. Bridge offers an impressive end to the trip, but the rush hours can mean you might encounter some traffic congestion on the way.
Best time to visit Charleston
Charleston is a true year-round destination and whenever you choose to visit, you will be enthralled by its history and beautifully preserved architectural styles, which reflect its evolution.
Spring or fall is the ideal time to visit, with temperatures ranging around 70-80 degrees Fahrenheit, making it perfect for exploring the city and enjoying the many outdoor activities on offer.
In spring, the gardens and outdoor areas will be in colorful bloom and you can sample the delights of the Wine and Food Festival in early March.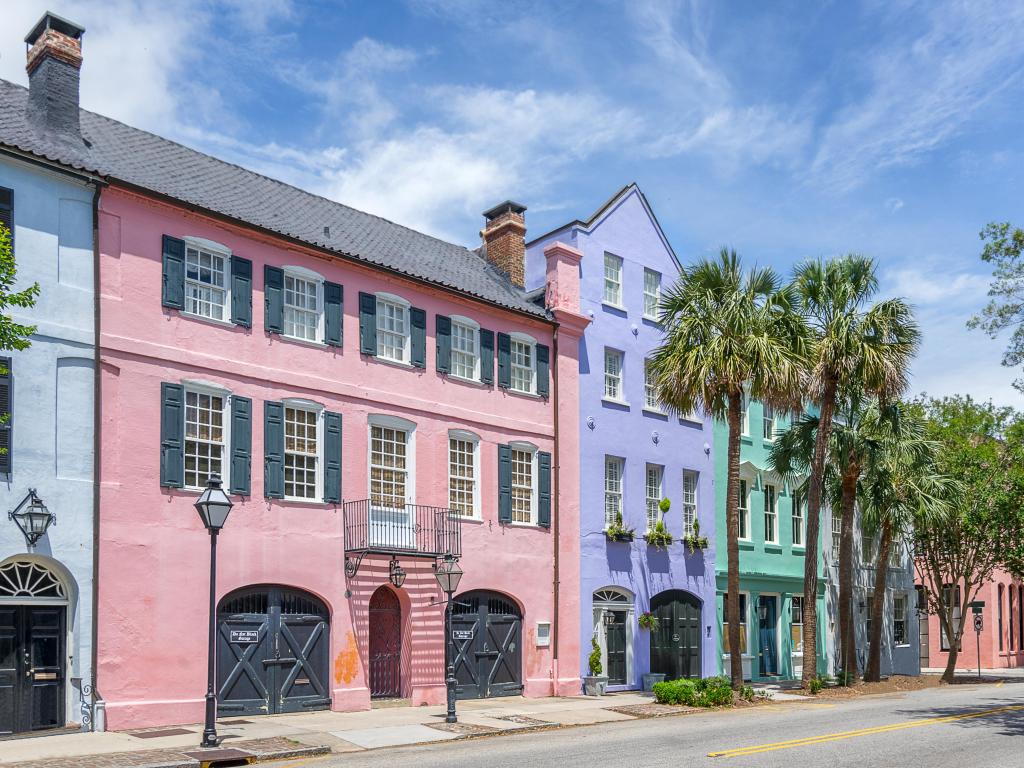 Visiting in Fall is a better time to enjoy outdoor activities away from the heat of summer and attend the MOJA Arts Festival from late September to early October. It is also a popular time for wildlife watching by the shoreline, and bird watching on the surrounding marshlands.
Charleston is popular with tourists over the summer months, keen to take advantage of the summer sun and the amazing beaches. It is however also hurricane season, which runs between June and November, and tropical storms can be common in the hot and humid conditions.
If you do choose to visit at this time, then be sure to check the weather forecast as flooding and strong winds can cause serious problems.
Winters in Charleston are mild, and although you can experience an odd icy morning, the weather is still pleasant enough to enjoy many of the main attractions without the peak season crowds, and you'll find hotel prices significantly cheaper.
Christmas in Charleston is a spectacular event, with the whole city decorated in sparkly lights and garlands, and the Holiday Festival of Lights at James Island County Park is unmissable.
Things to see once you reach Charleston
Charleston is a popular destination, steeped in history with many cultural attractions, beautiful beaches, and delightful local cuisine. Here are some of our recommendations to make the most of your trip to this fascinating city:
Historic Downtown Charleston - Delve into the historic district and marvel at the architecture as you explore the charming cobblestone streets in the French Quarter. The Battery down by the waterfront gives impressive views of the harbor and is home to unique historic monuments.
Magnolia Plantation and Gardens - Founded in 1676, it's one of the oldest plantations in the South. Enjoy a stroll through the impressive botanical gardens which have brought joy to many for over 200 years.
Fort Sumter National Monument - Located at the entrance of Charleston Harbor, take a boat tour to this historic fort and learn all about where the American Civil War started after the first shots were fired in 1861.
Charleston City Market - The historic Charleston City Market is a bustling market where you can embrace the locals and shop for great souvenirs. Sweetgrass Baskets make an ideal gift, and you can see local traditions maintained.
Taste Southern cuisine - Known as a food lover's paradise, check out the delicious local delicacies. You can't visit Charleston without trying shrimp and grits and you'll find some of the finest seafood in the south, as well as She Crab Soup and the famous pecan pie.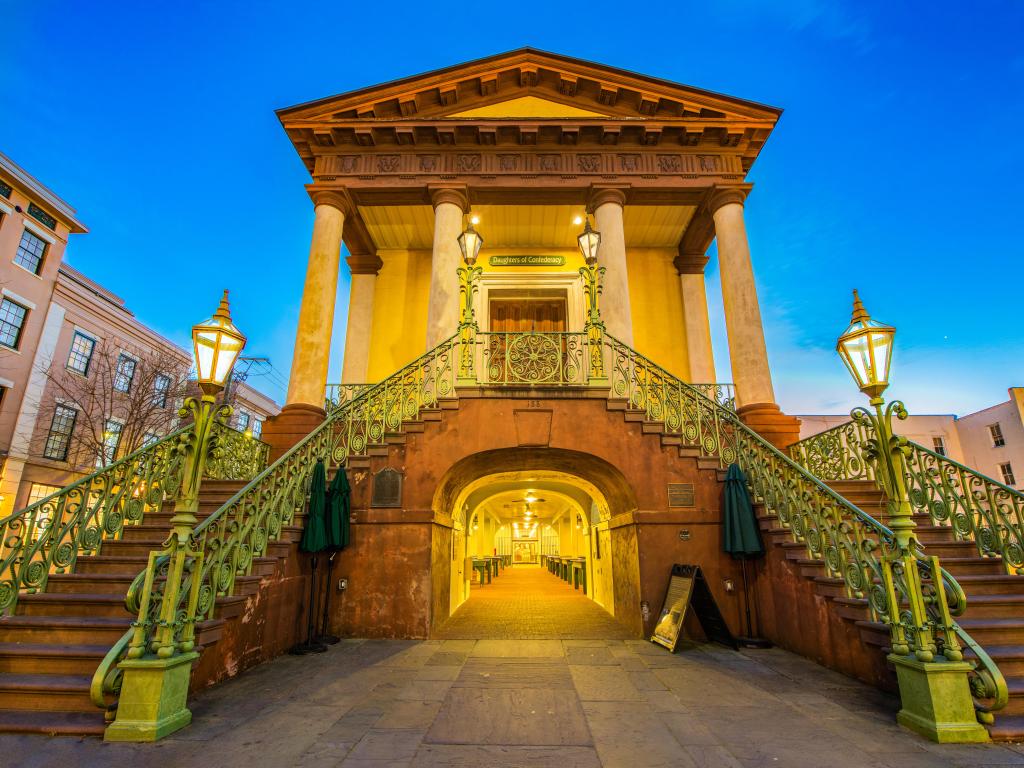 Whether you are visiting for the history and culture, the beaches, or the food, you'll be delighted with what you discover in Charleston. It's a charming city with so much to offer and a trip to Charleston is a truly rewarding experience.