Is there a ferry from Port Angeles to Seattle?
Nestled in the northwest corner of the United States, Seattle is located southeast shore of Puget Sound. Port Angeles is located on the northern fringe of the Olympic Peninsula, and with both cities sitting on the coast, you might be considering a ferry trip from one to the other.
There is no direct ferry route that connects Port Angeles to Seattle. However, you can drive to Bainbridge Island or Bremerton to take a direct ferry to Seattle. Alternatively, you can choose to drive all the way from Port Angeles to Seattle.
Read on to find more about these ferry routes, where they depart and arrive, how long they take to cross Puget Sound and our helpful tips to start your planning.
Is there a ferry from Port Angeles to Seattle?
Comparison of travel times to Seattle

| Option | Departure point | Total travel time |
| --- | --- | --- |
| Vehicle ferry | Bainbridge Island | 2 hours 15 minutes |
| Vehicle ferry | Bremerton | 2 hours 30 minutes |
| Direct drive | Port Angeles | 3 hours |
*These times do not include our suggested arrival times for the embarking process
If you're planning a trip from Port Angeles to Seattle and wondering if there's a direct ferry route between the two, the short answer is no. However, there are a few nearby ports from which you can catch a ferry to Seattle, making the journey convenient and scenic.
Although there's no direct ferry from Port Angeles to Seattle, you have three primary options for ferry crossings. The shortest and fastest method is using the Bainbridge Island ferry, a 1 hour and 40 minutes drive from Port Angeles.
This ferry departs from The Bainbridge Island Ferry Terminal docks at the iconic Colman Dock in Seattle. One of the highlights of this route is the ability to take your car on board. While it is rare, you might get lucky and see killer whales on your ferry ride on this route!
Another option to consider is the Bremerton to Seattle vehicle ferry, which offers a different scenic route to the city. You can drive from Port Angeles and take the ferry from Bremerton across to Seattle.
The third ferry option is the Kingston to Edmonds vehicle ferry. For this option, you can drive from Port Angeles to Kingston, Washington. After the ferry reaches Edmonds, you can continue with a drive south to Seattle.
If you aren't traveling with your car, you can also opt to take the passenger ferry from Southworth to Seattle. However, for this option, you will need to either drive as a passenger in a car or take the bus.
Alternatively, you can drive directly from Port Angeles to Seattle via Tacoma.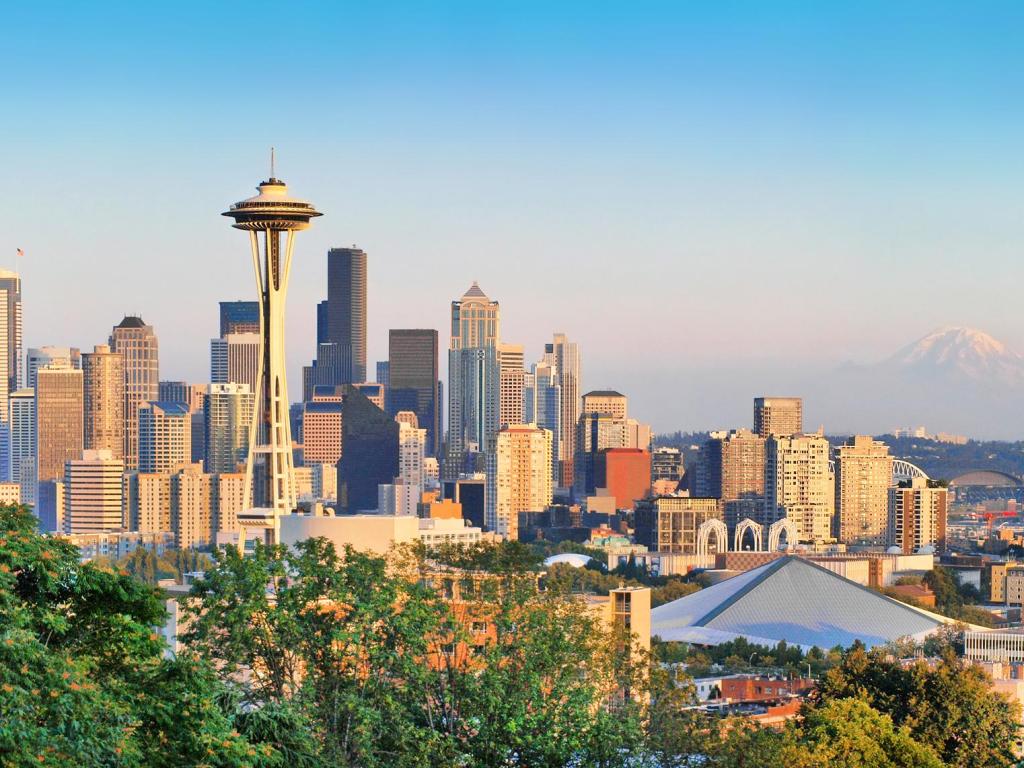 Taking the ferry from Bremerton to Seattle
From Port Angeles, you will drive to Bremerton following a similar route as above. Setting off on US-101, you will head south on WA-S but instead of Bainbridge Island, you will keep heading south through Silverdale to reach Bremerton.
This ferry route does not have as many crossings as the Bainbridge Island-Seattle route, with up to 8 crossings per day.
Bremerton-Seattle ferry departs from Bremerton terminal and arrives at Colman Dock in Seattle, similar to the Bainbridge ferry.
You can buy tickets for the Bremerton Ferry either online or directly at the Bremerton Ferry terminal. There's no need for reservations on this route, and you're not obligated to specify a time for your journey.
Taking the ferry from Bainbridge Island to Seattle
To take the Bainbridge Island ferry to Seattle, you will drive about 70 miles from Port Angeles. Head out of Port Angeles using US-101 and head northeast. Past Shine, you will cross the Hood Canal Floating Bridge.
From here, following WA-3 and then WA-305 will get you to Bainbridge Island, where you can take the ferry to Seattle.
Washington State Ferries manages this popular route. To cater to the demand, during summer (from June to September), there are up to 23 crossings each day. On weekends and holidays, however, the schedule adjusts slightly, so check before you travel.
If you choose to leave your car behind, foot passengers will be pleased to know that they can travel for free from Bainbridge Island to Seattle. Those who opt to venture without their vehicle can find parking facilities a mere two blocks from the departure port.
Driving from Port Angeles to Seattle
Head northeast on US-101 as you set off from Port Angeles. Cross Hood Canal Floating Bridge to reach Kingston. From here, take the ferry across to Edmonds.
Keep heading northeast on WA-104 until you reach Interstate 5 (I-5) and follow this all the way to Seattle.
Alternatively, you can avoid taking the Kingston-Edmonds ferry and follow WA-3 and WA-16 all the way north to Tacoma and then follow I-5 north to reach Seattle.
How long does it take to reach Seattle from Port Angeles?
The shortest and fastest method is using the Bainbridge Island ferry, a 1 hour and 40 minutes drive from Port Angeles. The ferry crossing itself is quite swift, taking just 35 minutes.
Driving to Bremerton from Port Angeles takes 1 hour and 30 minutes and the Bremerton-Seattle ferry crossing takes about an hour, so you can expect your total travel time to be about 3 hours, including embarking.
If you prefer to drive all the way from Port Angeles, you will need to spare about 3 hours for the journey. Keep in mind that traveling during rush hour might add to this timing.
If you are taking the Kingston-Edmonds ferry across Puget Sound, then this journey from Port Angeles to Seattle will take 2 hours 45 minutes, including the 30-minute ferry ride.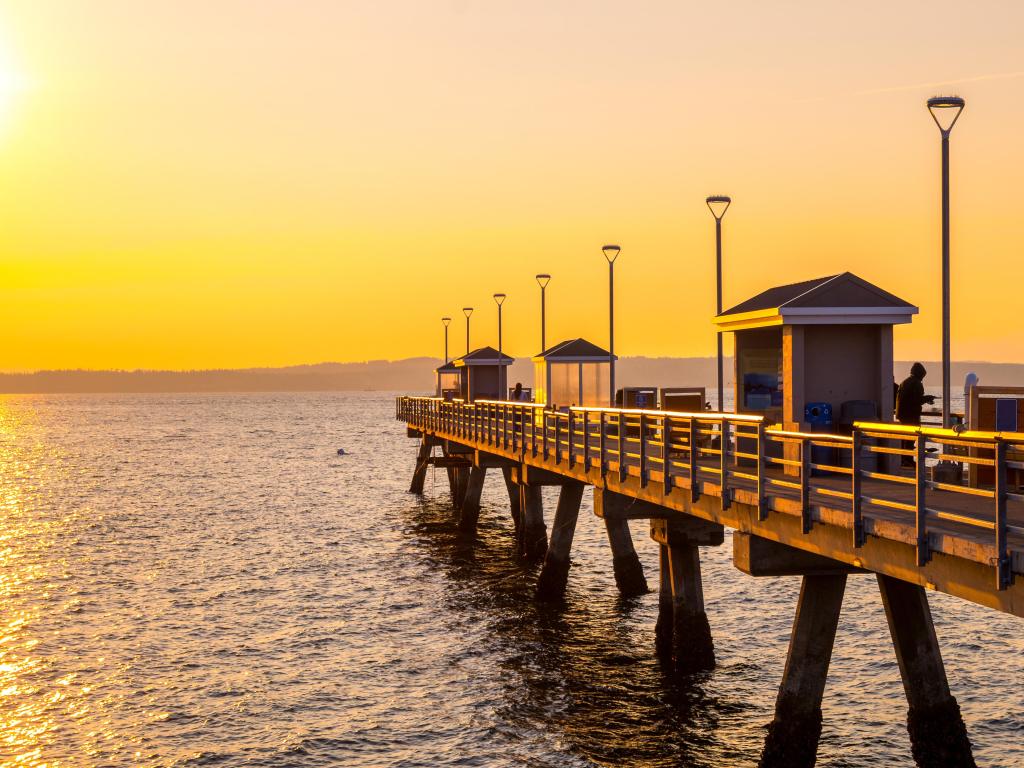 How much does it cost to travel to Seattle?
Comparison of travel prices to Seattle
Route
Mode
Adult Fare
Car Fare
Bainbridge Island-Seattle
Vehicle Ferry
Free


Round trip: $9.45

Starting from $16.80
Bremerton-Seattle
Vehicle Ferry
Free


Round trip: $9.45

Starting from $16.80
Kingston-Edmonds
Vehicle Ferry
Free


Round trip: $9.45

Starting from $16.80
* All prices are based on a single journey, including 1 adult ticket, calculated at the time of writing
Things you need to know about traveling from Port Angeles to Seattle
When planning your journey from Port Angeles to Seattle, it's essential to stay informed and prepared to ensure your travels are smooth and stress-free.
Here are our top tips when it comes to preparing for a journey to Seattle from Port Angeles:
While reservations aren't mandatory for the Bainbridge Island ferry route, planning your trip in advance can help you avoid peak times and potential long waits, especially during the summer months.
Reach the Bainbridge Island Ferry Terminal at least 20 minutes before the departure time if you're with a vehicle, and 5 minutes if you're a foot passenger. During peak season and weekends, when it's bustling, you might want to give yourself a little more time.
For an efficient check-in experience and to potentially hasten the boarding process, always check with the ferry operator for any online check-in facilities they might offer.
If you are driving from Port Angeles to Seattle, you can encounter traffic on the interstate as you enter the city, especially during rush hours.
Best time to visit Seattle
When you're pondering the best time to explore Seattle, it's reassuring to know that the ferry services operate throughout the year, ensuring seamless access to the city regardless of the season. Plus, if you're looking for a bargain, ferry prices drop by during the off-peak period from 1st October to 30th April.
Late June to early September sees the highest influx of tourists in Seattle. The climate during these months is delightfully mild, with temperatures generally ranging from the mid-70s to 80s Fahrenheit, accompanied by significantly less rain.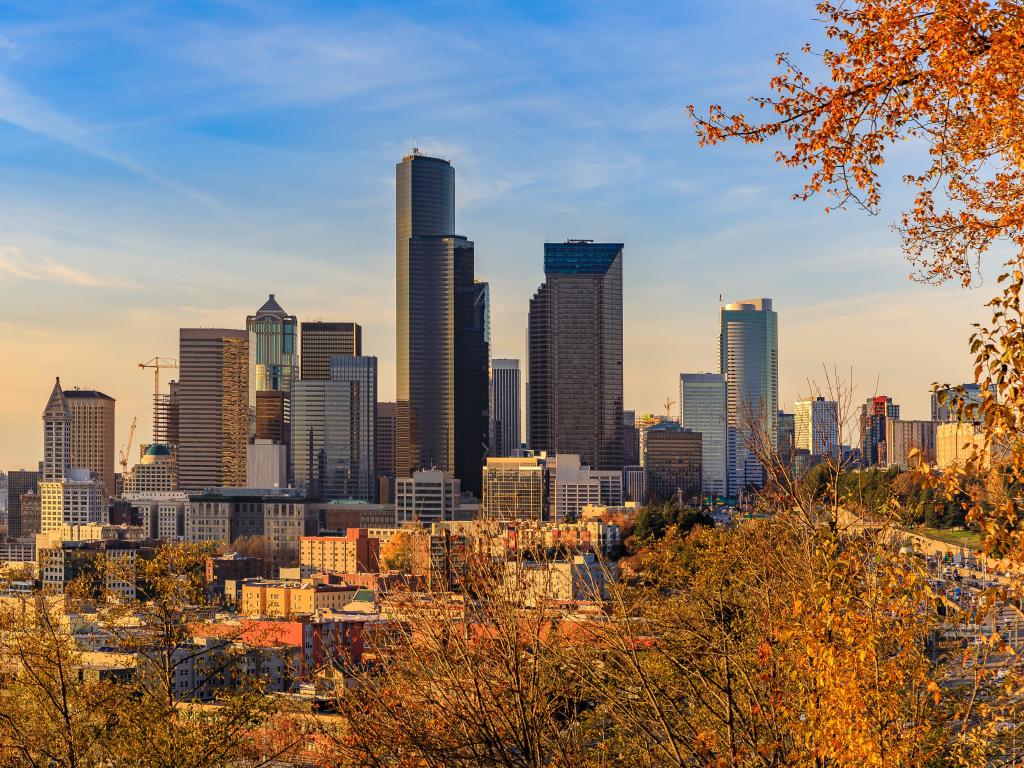 Whether it's the warm and dry weather or the array of spring and summer events, Seattle hums with life in these months. Highlight events include the Seattle International Film Festival in May.
Additionally, the Bumbershoot Music and Arts Festival lights up the city on Labor Day Weekend. Combine this with school holidays, and it's easy to see why the city is buzzing with activity.
Opting for a fall trip can be an equally rewarding experience. The temperatures might have receded a bit from the summer highs, but the atmosphere is still welcoming for outdoor explorations.
If festivals aren't your only motive, this season is relatively calmer, providing a respite from the summer crowd.
While Seattle's winters are wetter, they're reasonably mild, with less rainfall than many other cities on the West Coast. This backdrop is perfect for diving into the city's rich history, exploring cultural landmarks, museums, and galleries.
While snow isn't frequent, the occasional snowfall only adds to the city's charm, painting it in a new, enchanting light.
Things to see once you reach Seattle
Upon setting foot in Seattle, you'll be overwhelmed by the array of attractions and vistas the city offers. To ensure you don't miss out on the quintessential experiences, we've curated a list of must-visit spots in Seattle.
The Space Needle - Elevate your trip by ascending this iconic observation tower. From its apex, feast your eyes on panoramic views of Seattle's skyline, intertwined with the majestic mountains and shimmering waterways that frame the city.
Pike Place Market Foundation - Step back in time at this historic marketplace, alive with stalls brimming with fresh produce, artisanal products, and local crafts. And while you're there, stand by for the celebrated fish toss - it's an experience you won't forget!
Museum of Pop Culture - Embark on a nostalgic journey through exhibits that celebrate music, science fiction, and pop culture. The museum houses interactive installations and iconic memorabilia that speak to every generation.
Chihuly Garden and Glass - Allow yourself to be captivated by the mesmerizing glass art installations of Dale Chihuly. Set in a garden teeming with colors, this venue offers a blend of serenity and creativity that's bound to inspire.
Olympic Sculpture Park - Take a leisurely stroll amidst awe-inspiring sculptures, all set against the backdrop of the tranquil Puget Sound. This park is where the elegance of nature collides with human creativity.
Seattle is more than just a destination; it's a mosaic of experiences. Whether you're drawn to its rich history, dynamic culture, gastronomic delights, or the serene beauty that envelopes it, the Emerald City promises memories that will last a lifetime.