Road Trip from Seattle to Olympic National Park
Leave the city behind and embark on a breathtakingly beautiful road trip from Seattle to Olympic National Park. You'll get to explore over 920,000 acres of rainforest, glacier-gapped peaks, meadows and hot springs as you pass quaint towns and admire the incredible views.
The 380-mile road trip from Seattle to Olympic National Park will take about 9 hours to drive. The route passes through Port Angeles, Forks, Quinault, Grays Harbor City, plus Clear Water, Pacific Beach, Olympic National Forest and Lake Crescent.
Despite being a short trip, the drive to Olympic National Park is packed full of incredible views, great outdoor opportunities and interesting towns as you drive around the Olympic Peninsula and along the Pacific Ocean. Read on to discover the best route and places to stop along the way.
How far is Olympic National Park from Seattle, and how long will the road trip take?
There really is only one good route which takes you along the Olympic Peninsula and follows the coast. Covering a distance of 380 miles, the best route from Seattle to the Olympic National Park will take a minimum of 8 hours and 50 minutes to drive without stopping.
There is a more direct route which takes you directly from the city to the park. This option is only 90 miles and will take just 2 hours and 50 minutes to drive, but you'd be missing out on seeing the Pacific Coast as well as the towns of Quinault, Grays Harbor City and the state forest.
Although you could make this journey in a single day, we wouldn't recommend it. This trip is all about stunning views, hiking opportunities and visiting quaint and interesting towns along the way.
The best way to explore it all is by allowing at least three to four days and by including a couple of overnight stops along the way (but don't worry, we have some fabulous recommendations below for you to check out).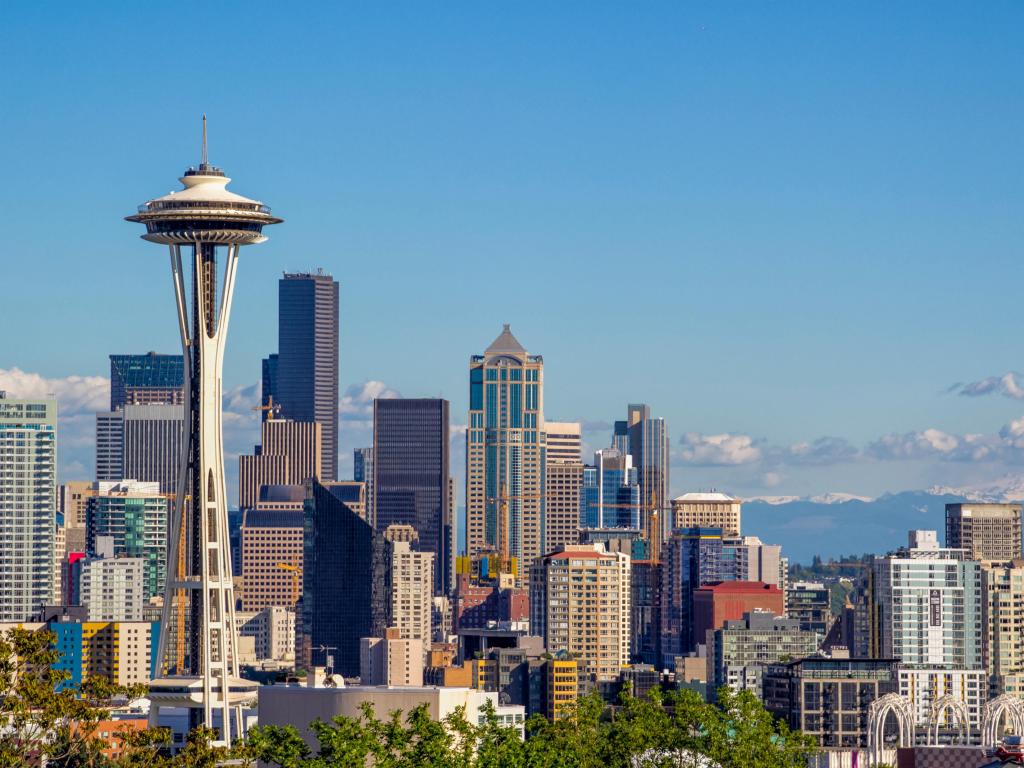 Best road trip route from Seattle to Olympic National Park
The best route from Seattle to Olympic National Park will take you west from the city to Port Angeles, before following the peninsula around the outside of the national park. You'll get to explore the towns of Forks, Clear Water and Montesano, plus Quinault and Beaver.
The main benefit of this route, versus a direct route, is that it gives plenty of options to stop and take in all the different historic sites and landmarks. There are opportunities to venture into the national park from the outskirts of the peninsula too.
This route is perfect for outdoor lovers or hiking enthusiasts, from Port Angeles you can venture further into the park and do a short hike up to the High Ridge Trail. If you want more of a challenge, you can take on the peak of Mount Angeles which offers breathtaking views.
While you won't bustling cities on this road trip, you'll get great mountain, forest and ocean vistas to enjoy. From Grays Harbor City to the Pacific Beach, there will be plenty of water sports fun to be had too.
Road trip route from Seattle to Olympic Park
Leave Seattle by heading west on WA-305 to Bainbridge Island. From here venture north to Port Gamble and cross over into the Olympic Peninsula.
Follow the coast to Port Angeles where you can explore a part of the Olympic National Park for forest hikes or enjoy stunning ocean views.
Afterwards, continue west to the shore of Lake Crescent where you can swim or relax on the shore at Fairholme Beach before driving just over 30 minutes on the Olympic Highway towards Forks.
From Forks, you'll head south towards the coast and continue past Clearwater before turning east to Lake Quinault where you can enjoy water sports or take a rest from driving.
You'll find Quinault along the shore of the lake, where you can rest and explore the rainforest or join a hiking trail before continuing with your drive. Afterwards, head south to Pacific Beach for a relaxing afternoon.
Follow the coast or swing slightly inland, following the North Bay, to Grays Harbor City, before heading west through several smaller towns to the Capitol State Forest.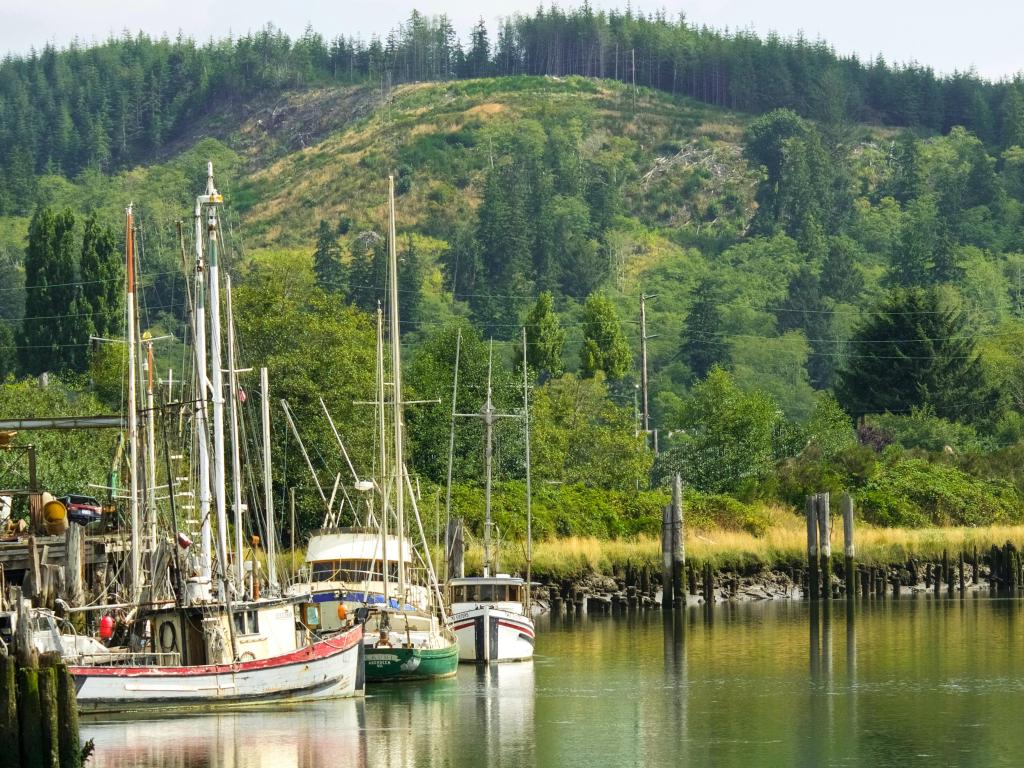 Best places to stop between Seattle and Olympic National Park
Although there aren't any major cities you can spend the night in on this road trip, there are plenty of lesser-known scenic towns which make the ideal place to explore. Here are a couple of great options which you might want to consider.
Enjoy hiking opportunities in Port Angeles
An easy 2 hours and 30 minutes into your road trip, the town of Port Angeles on the northern part of the Olympic Peninsula makes an ideal first stop. With easy access to the national park, this area has stunning views, waterfalls and plenty of hiking and outdoor opportunities surrounding it.
Port Angeles is best known as being an area of natural beauty. The town itself offers great amenities so refuel and freshen up while exploring the Olympic National Park which is just a short drive away.
Port Angeles is also a fantastic base for exploring Lake Crescent which is just a 30-minute drive away. Here you can enjoy easy walking trails around the clear water of the lake. Head to Fairholme Beach if you'd like to take a dip in the water or enjoy water sports such as boating.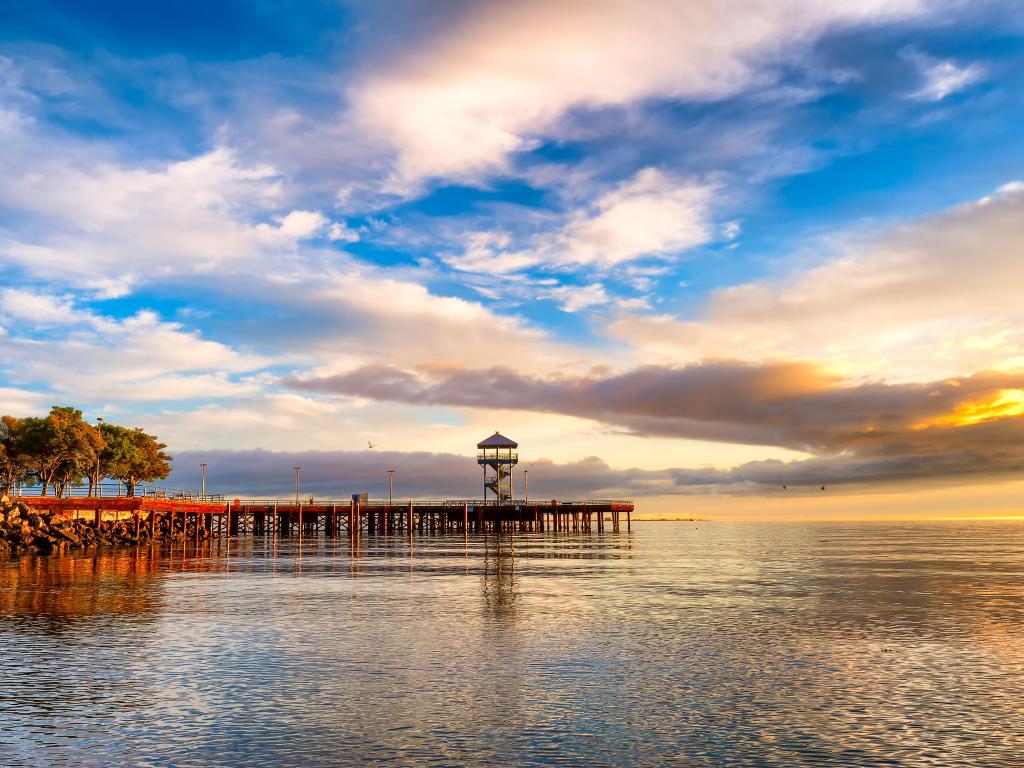 For the more adventurous, how about a hike at nearby Mount Storm King? This mountain is a short drive away from Port Angeles and offers viewpoints overlooking Lake Crescent. Though be warned it's steep and challenging to climb.
For those looking for something less challenging there's the Railroad Spruce Trail which is part of the 134-mile-long Olympic Discovery Trail if you wanted to extend it. Plus, Madison Falls is paved, making it suitable for all levels of fitness.
To really get into the spirit of the adventurer, how about stopping at the Olympic Lodge by Ayres? This stunning 4-star hotel is an oasis in the middle of the forest. Located at the base of the Olympic Mountains, guests will be treated to an outdoor pool and beautifully decorated rooms.
Continuing with the lodge theme, expect wood-furnished rooms which are both warm and homely. Complimentary breakfast is served each day and there's even a whirlpool for the ultimate relaxation. There are also stunning outdoor water features to enjoy.
This hotel is conveniently located within easy reach of Port Angeles. The property is in a prime position for the Olympic National Visitor Center which is within walking distance, meaning you can leave your hotel and be exploring the stunning mountains within the hour.
Ocean views at Quinault
If you're looking to add a second overnight stop to your trip (and we'd recommend that you do) then the town of Quinault is ideal. Located just over 6 hours from Seattle (and 3 hours from Port Angeles), this town is nestled by the shore of Lake Quinault.
Surrounded by nature, Quinault is also located just southwest of the Olympic Park Forest, making it another fantastic gateway to explore the national park.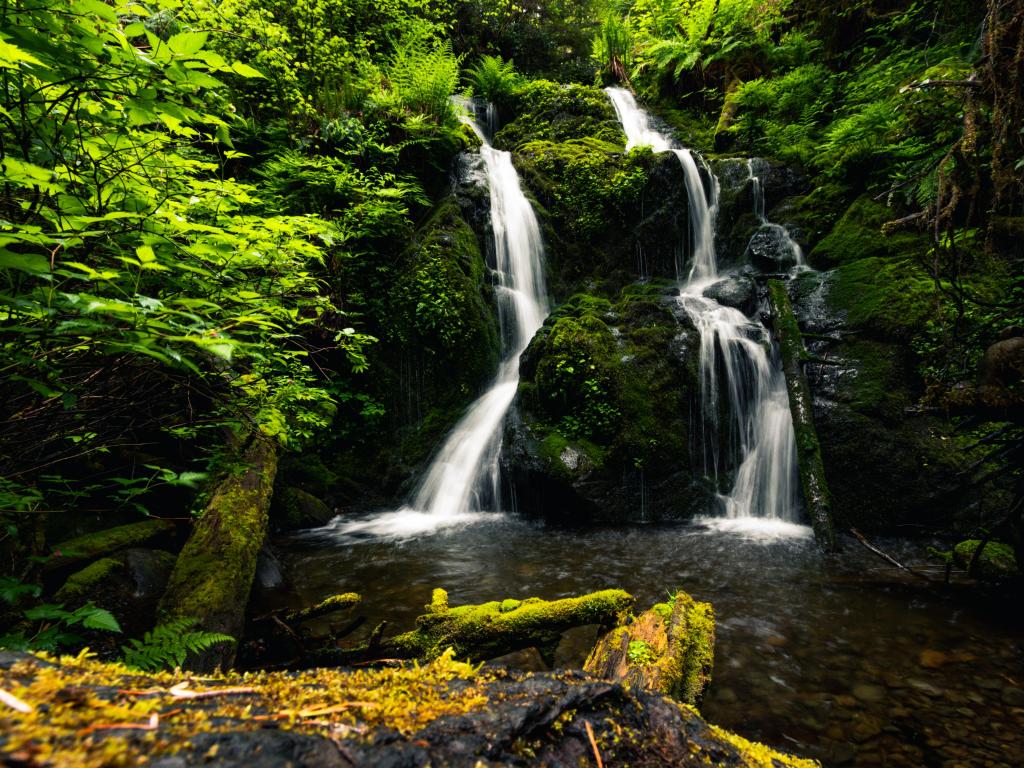 Whether you're looking to explore the woodland or lake, this spot has it all. Enjoy watersports on the lake or take a swim, or explore the Quinault Rainforest, which has creeks, camping spots and old-growth trees. There are trails to hike through and incredible mountain views.
There are fewer accommodation options in this part of Washington, but the Quinault Beach Resort & Casino is a great option. This fantastic hotel is just a short drive from the center of Quinault and is an ideal base for exploring the area.
The hotel itself features a refreshing indoor swimming pool, comfortable modern rooms and a convenient onsite restaurant, which is handy if you've had a busy day hiking and are ready for a rest back at your hotel. Guests can also enjoy the onsite casino.
As well as ocean views and nature right on its doorstep, the hotel has several trails and hikes that are accessible moments away. There's also a free shuttle service from the resort and you're within easy access to the highway making it a stress-free option when embarking on your final day of driving.
Relax in style in Rochester
While you can't stay at Olympic National Park itself, you can make a final overnight stop at Rochester which is just a short drive from your final destination and is a great base given you can't actually stay in the forest.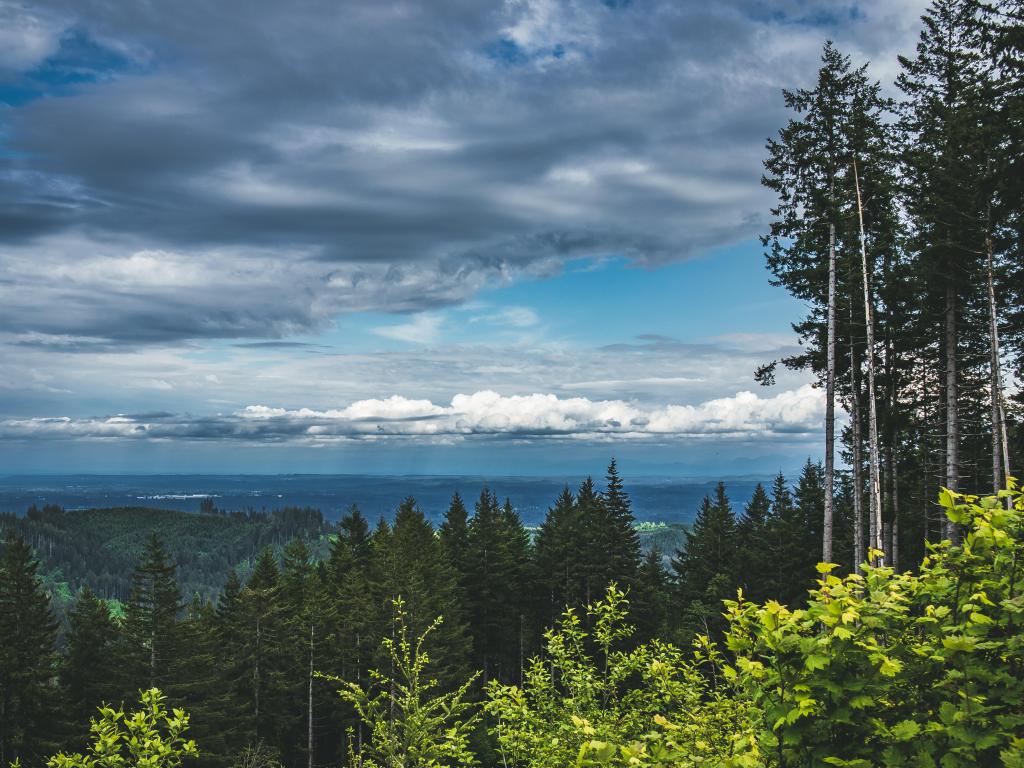 The Lucky Eagle Casino & Hotel is a great choice as it offers a blend of activities and is just 30 minutes from Olympia. After being on a nature road trip with lakes and forests, this hotel offers a nice alternative with a fun casino and entertainment.
The hotel itself has a welcome indoor swimming pool, modern rooms and an onsite hot tub for the ultimate relaxation. There are several dining options (including a steakhouse and Starbucks) and select rooms with balconies. There's also free parking.
As well as the Olympic National Park, you'll also be nearby the Black River Habitat Management Area and the highway, which is conveniently close.
Things to see on a road trip from Seattle to Olympic National Park
There's a lot to see on this small but mighty road trip, including forests, lakes, mountains and towns to explore. But if you're pressed for time, we've made a list of some of the best bits you'll pass en route to the Olympic National Park.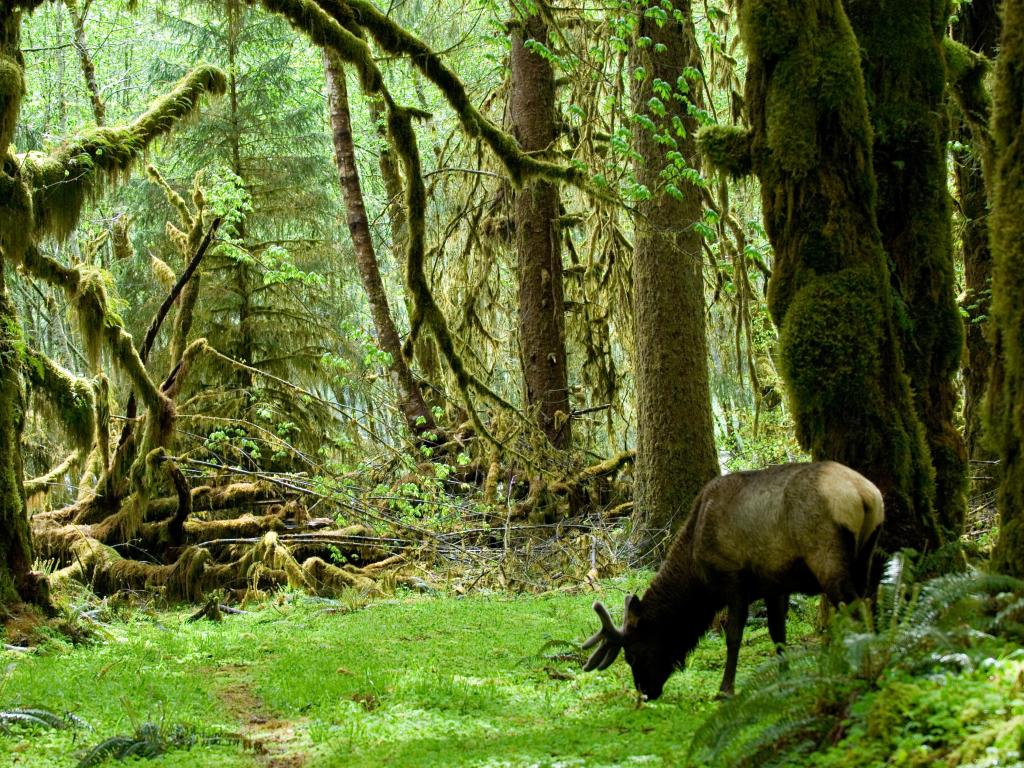 The Olympic Discovery Trail by bike - A different way to experience all the wonderful nature around this area is to take in the sights and sounds via bicycle. There are lots of bike paths stretching from downtown Port Angeles all the way to lake crescent.
Feiro Marine Life Centre - Also in Port Angeles this center allows visitors to get up and close to marine life. Open between 10am and 4pm in the week, except Tuesdays and Wednesdays when it is closed for seasonal hours.
Lake Crescent - Enjoy easy walking trails around this beautiful lake and forest terrain. Lake Crescent is famous for its clear waters, head to Fairholme Beach if you'd like to take a dip in the water or enjoy water sports such as boating. There's also a shop and cafe to visit.
Forks - A dream for any "Twilight" fan! From the Forks visitor information center, they provide a self-guided tour to fulfil your movie trivia fix! If that is not your thing, don't worry; the breath-taking coastlines and forests will keep you thoroughly engaged.
Forks Timber Museum - Visit the Forks Timber Museum or Johns Beachcombing Museum to see the treasure the coastlines have been washing up. The exhibit has been put on display and collected since 1976.
Hoh Rainforest - Lying on the west side of the Olympic National Park, the Hoh Rainforest is a wonderful example of a temperate rainforest that has been awarded both a World Heritage Site and Biosphere Reserve by UNESCO. There are also trails you can follow that loop from the Hoh Rainforest Visitor Center.
Olympic National Park - Designated as a UNESCO World Heritage Site, the Olympic National Park is a vast and beautiful place to explore. There are mountain peaks and forests to hike, and wildflower meadows and hot springs to enjoy. You can also camp in parts of the park.
Quinault - Explore the rainforest in a loop on this picturesque drive that allows you to take in all the beauty of the rainforest along with waterfalls and stunning scenery. If you are feeling particularly fit, hiking is also an option.
Lake Quinault - Here you can enjoy stunning scenery, or simply relax by the shore where you can enjoy boating, swimming or fishing. You can even camp by the shore or simply enjoy a picnic.
Pacific Beach - Perfect for a day to relax on the sands, go clamming or crabbing, walk up and down the shoreline or fly a kite. Low key enjoyment. Swimming, camping and beachcombing are all enjoyable activities as well.
Westport Winery - This winery has won Washington Winery of the year 2022! Visitors can indulge in wine and spirit tastings or visit nearby Dales Lavender Farm and farmer's market where you can breathe in the beautiful scents of lavender at this cute farm.
Kurt Cobain Memorial Park - For lovers of all things grunge or musical history, take a look at the memorial for Nirvana's frontman which can be found at Aberdeen. You can also take a visit to North Aberdeen Bridge which features in one of Nirvana's songs and was reportedly one of the bridges Kurt Cobain actually slept under.
Aberdeen - Take an adventure sail on Lady Washington! This ship sails with a full crew who sometimes sing and has been heavily featured in many a movie including Pirates of the Caribbean!
Grays Harbor - Known as having the largest shipyard in the world, today Grays Harbor is a fantastic town to visit offering an abundance of nature all around. Visit Twin Harbors State Park or take a walk to the Grays Harbor Lighthouse.
Bottle Beach State Park - Close to Ocosta and on the shoreline of Grays Harbor, this state park is a great place for birdwatching or taking a walk along the shoreline. There are over 64 acres to explore and beautiful flat tides which make a stunning contrast to the surroundings.
Brewery Park - Walk around the park to visit the waterfall and take some lovely photos before heading into the historic town for lunch afterwards.
Delphi - Close to Delphi is the Darlin Creek Reserve. Here you can walk the loop around the lake taking in all the local flora and fauna.
Olympic National Forest - This forest is nestled around the Olympic Mountains and is separate from the Olympic National Park. The forest is a great place to spot wildlife like mountain goats, lions and black bears, as well as forest and mountain hiking trails.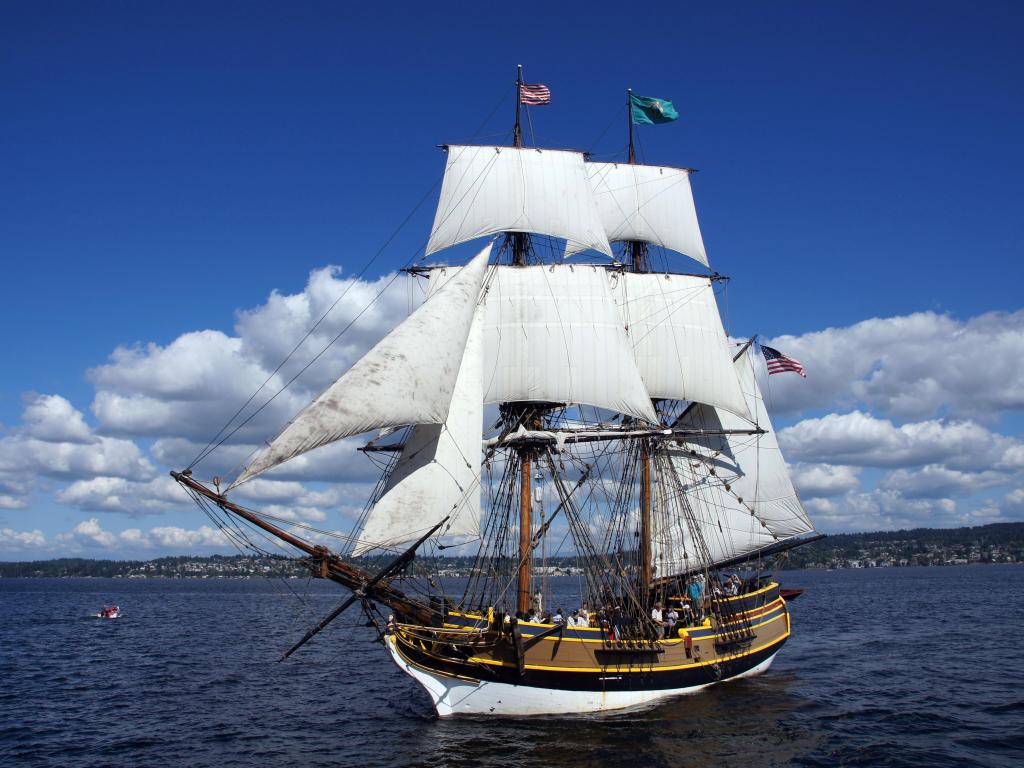 Best time to go on a road trip from Seattle to Olympic National Park
While you can visit Olympic National Park year-round, the best time to visit is generally considered from spring through to fall when you'll get warm temperatures, and most roads and facilities will be open.
Summer is the most popular time to visit the park, thanks to the beautiful weather. Expect temperatures of around 74 degrees Fahrenheit, though it is always advisable to bring extra layers as it can get cool depending on altitude. Expect the park to be at its busiest and booking ahead is recommended.
In winter the mountains are particularly beautiful. The rainforests are lush and green, and the lakes still see plenty of activity. Expect some campsites and local cafes to close but the park is always open.
That said, the weather can get pretty cold around the Olympic National Park. During the winter months, you'll see lows between the upper 20s and lower 30s, so you'll need warm layers. There's also a higher chance of rain during winter.
The best time to visit the park is spring and fall. Here you'll escape the busy crowds of the summer and avoid the cold and wet weather of winter.
Spring will bring stunning wildflower blossoms to the meadows of the parks, while fall will bring the forests alive with golden foliage. Meanwhile, spring and fall will see warm weather of 35 to 60 degrees.
If you'd like to time your trip with an event or festival, then visiting in the summer months will tie nicely with the Olympic Music Festival, while nature lovers will love the BirdFest held in April. There's also a Lavender Festival held in July and CrabFest held in Port Angeles in October for seafood fans.