Is there a ferry from Toronto to Rochester?
Toronto is the bustling capital of Ontario Province that is home to world famous restaurants, entertainment, museums, and more big city fun. Across Lake Ontario is the American City of Rochester, a smaller city that's also full of incredible sights, wonderful restaurants and museums, and beautiful natural surroundings.
There is no ferry between Toronto and Rochester, even though they're just across Lake Ontario from each other. There used to be one, but it has been decommissioned. There are other ways to get between the two cities, like taking a car, train, or bus.
No matter how you get there, you'll be sure to love Rochester, New York. Continue on to learn more about how to get to Rochester, how much it costs, and what to do when you get there.
How to reach Rochester from Toronto
Although you can't take a ferry from Toronto to Rochester, you can drive, take a train, or take a bus. Although Rochester has an airport, there are no direct flights from Toronto or Canada as a whole.
The journey is very comfortable and allows you to see the beautiful countryside of Ontario and New York State. You'll pass farmland, forests, small towns, and some larger cities on the way.
What's more, you'll be close to incredible natural landmarks like Niagara Falls, Lake Ontario, and the gorgeous Finger Lakes. If you want to stop along the way, you'll have plenty of options.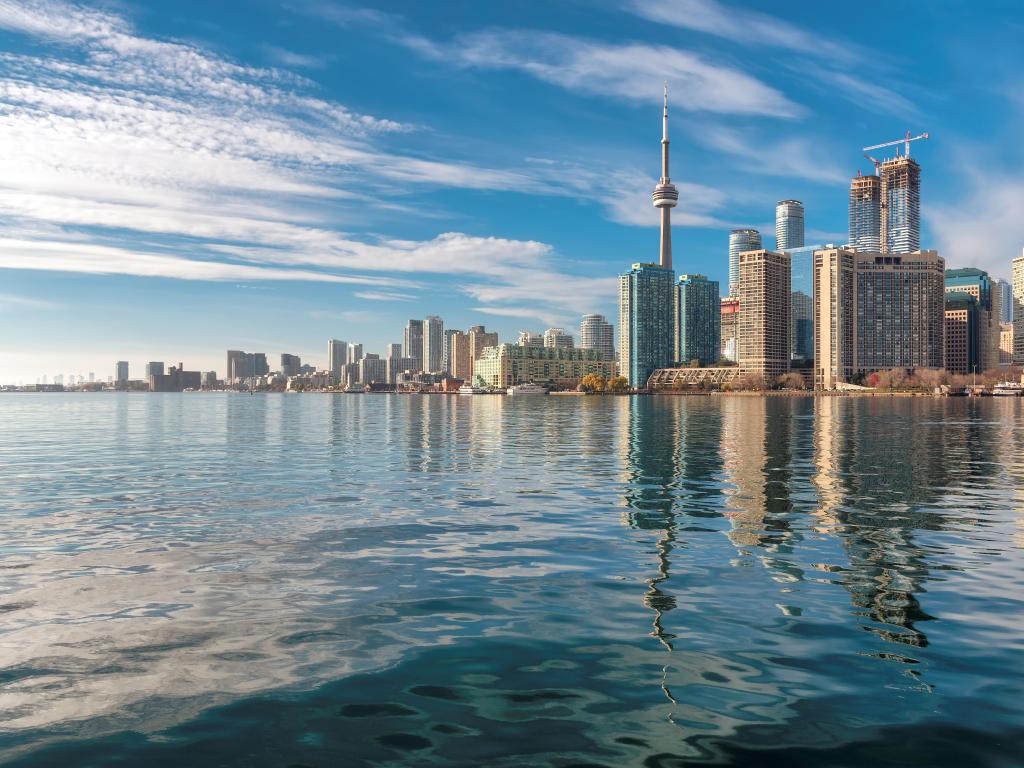 How to drive from Toronto to Rochester
It'll take around 3 hours to drive from Toronto to Rochester. The drive itself is straightforward and very beautiful, with plenty of natural sights and charming countryside views along the way.
Keep in mind, you'll encounter a toll bridge on your return journey, so make sure you have enough money on you to pay the toll. You'll also have to cross into the USA, so there may be delays at the border.
The journey takes you around 168 miles from the Canadian coast of Lake Ontario, around the Canadian city of Hamilton, and into Rochester. This should take three hours to complete.
From Toronto, you'll take the Gardiner Expressway and Queen Elizabeth Way to New York State, USA. From there, you'll pay customs and cross the border control station and make your way through Buffalo, New York.
Then, you'll continue on I-90 East. This will take you directly into Rochester.
Getting from Toronto to Rochester via bus or train
Driving can be stressful and sometimes you just don't have the energy. If you want to take a bus instead, you can jump on a Greyhound which will leave from Toronto and arrive in Rochester in no time.
Taking the train is another option to get to Rochester, New York. You'll jump on the iconic Amtrak train and make your way from Canada to upstate New York.
This way, you can kick back and relax, enjoying the sights along the way and resting your legs. Some people prefer to take the train because of the relaxing aspects of it.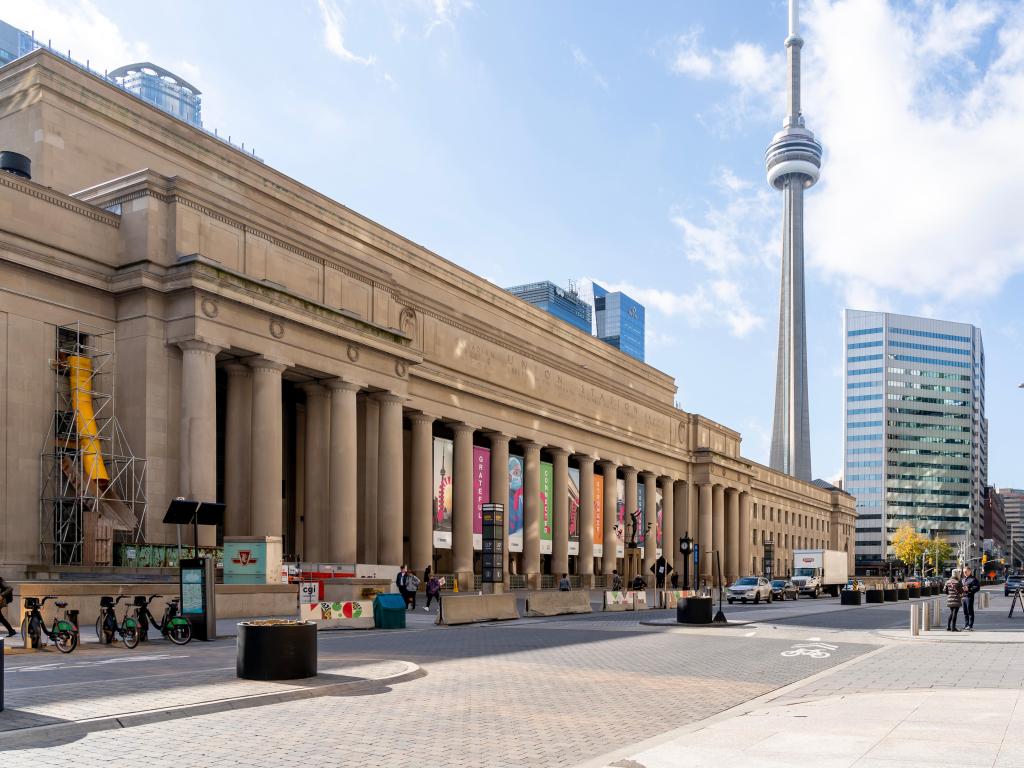 How long does it take to reach Rochester from Toronto?
If you drive on your own, you'll make it to Rochester in around 3 hours. This doesn't take into account any traffic or stops along the way.
If you take the bus, it will take around 5 hours and 15 minutes and just like driving on your own, you'll pass some beautiful landmarks on the way. You'll pay less money if you pay in advance.
The train journey will take 5 hours and 40 minutes. You will have plenty of room to stretch out and relax. Boarding the train will only take a couple of minutes and the process is very straightforward.
For all the methods of getting to Rochester, the weather may affect your travel time. Trains and buses can become delayed in bad weather.
How much does it cost to travel from Toronto to Rochester?
Price comparison of different options for traveling from Toronto to Rochester

| Mode | Operator | Fee |
| --- | --- | --- |
| Bus | Greyhound | $83.97 |
| Train | Amtrak | $118.99 |
*Prices calculated at the time of writing for 1 adult, round trip
Other than paying a toll on a return trip to Canada, all you'll pay for driving is gas fares and food costs along the way. Driving is by far the cheapest option if you have your own car.
By bus, the journey will cost $83.97 if you travel with Greyhound and this round-trip price includes tax.
If you take the Amtrak train, the round trip will cost $118.99 including tax, and you will travel from Toronto's Union Station to Louise M. Slaughter Station in Rochester, New York.
Where should you arrive if you are traveling from Toronto to Rochester?
If you're driving, you'll end up in beautiful downtown Rochester. By car, you can drive around the entire city and make your way anywhere.
If you're taking the train, you will arrive in Rochester at the Amtrak Station downtown Rochester. By bus, you'll likely end your journey at Rochester Bus Station, just across the street from Amtrak station.
Things you need to know about traveling to Rochester from Toronto
Although the countries are very similar in culture and layout, you'll want to keep a few things in mind. Both places speak English, so you won't have any trouble communicating on either side of your journey.
Remember, Canada uses kilometers while the USA uses miles. It's important to remember as you cross the state line when looking at speed limit signs.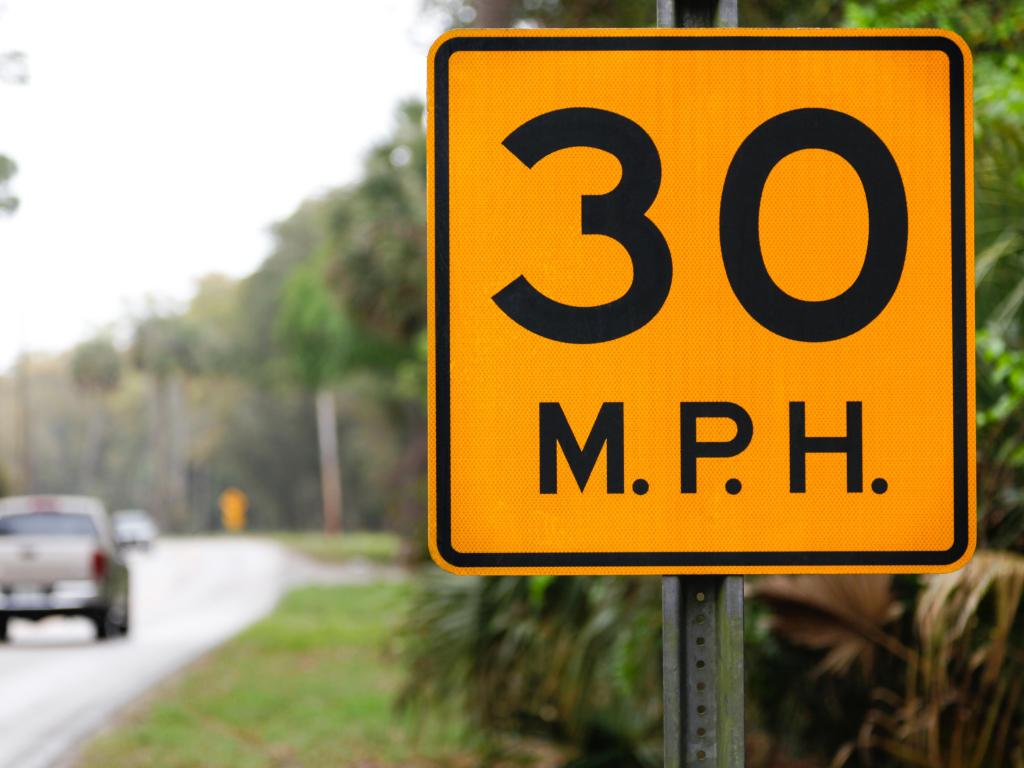 All Canadians entering the USA will need proof of Canadian citizenship. If you're older than 16, you'll have to supply one of the following documents when traveling by land: a valid passport, certificate of Indian Status, Enhanced Driving License, Enhanced Identification Card, or a Trusted Traveler Program Card.
For the under 16s' you're traveling with, you'll need to bring one of the following: a passport, the original or a copy of a birth certificate, or a Canadian citizenship certificate.
You only pay a toll across the Lewiston–Queenston Bridge when entering Canada from the USA. The toll charge is $5 or $6.50 CAD and you can pay using cash or E-Z Pass.
Best time to visit Rochester
July and August are also the busiest months in Rochester, so hotels tend to be more expensive in these months. These months are the hottest months when temperatures average around 70 degrees Fahrenheit.
The warmer weather makes them the most popular months and people flock to the Lake Ontario Beaches and Downtown. That said, in June there's the International Jazz Festival. In 2023, this is between the 23rd of June and 1st of July.
Visitors and artists alike visit Rochester to enjoy the music. In 2022, there was an attendance of 210,00 across multiple venues.
In September the Rochester Fringe Festival takes place. This runs from the 12th of September to the 23rd of September. The popular festival showcases everything from film, dance, music theater and comedy.
Things to see once you reach Rochester
Rochester is full of beautiful museums, restaurants, and natural wonders just a short drive away. Below are some of our favorite locations to enjoy this wonderful lakeside paradise.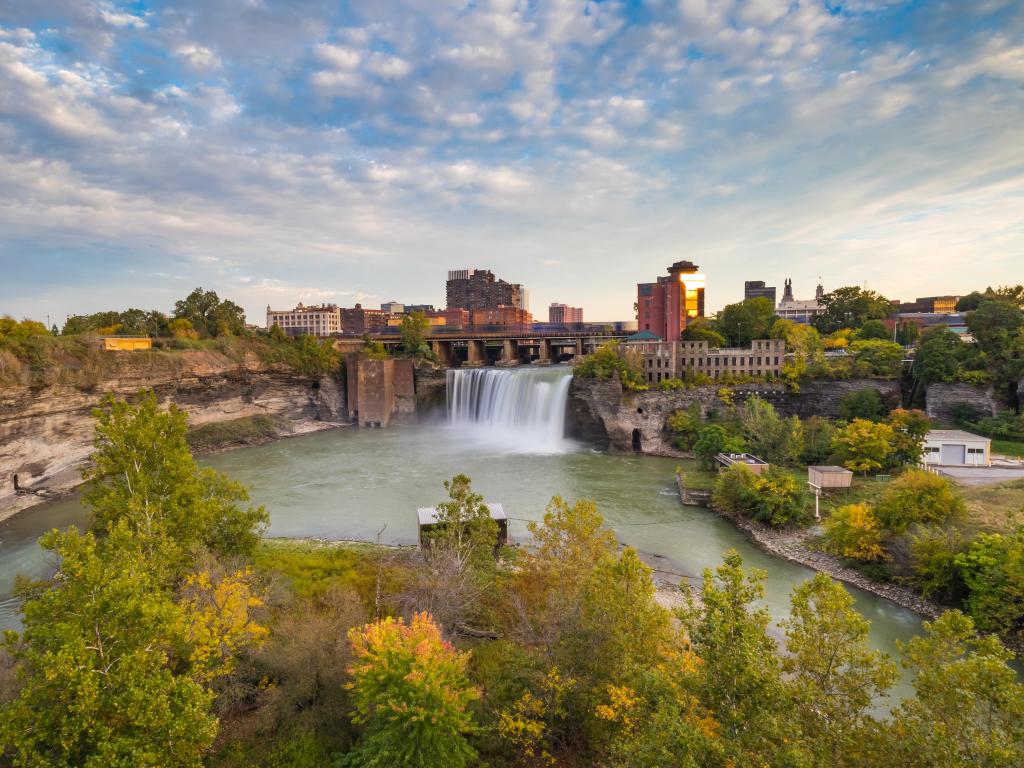 Downtown Rochester - Downtown Rochester is a lively place to explore. Walk the Heritage Trail. Marked with paint, the 1.25-mile path goes through downtown, taking you to historical stops along the way.
High Falls - High Falls is a 96-feet high waterfall downtown. Enjoy the views from the Pont De Rennes bridge or head to the rooftop of Genesee Brew House to enjoy a drink with a view.
Ontario Beach Park - Head north to Ontario Beach Park. The sandy beaches are a hub of recreation, not only for swimming, there's even a beach volleyball court.
George Eastman Museum - Visit the estate of photograph and motion picture pioneer George Eastman. Best known for founding the Eastman Kodak Company, you can visit the oldest photography museum in the world. Alongside exhibitions, there are film showings, music recitals and talks.
The Strong National Museum of Play - The Strong is jam-packed with interactive exhibits to enjoy. Home to the National Toy Hall of Fame, even adults can reminisce.