Is there a ferry to Sanibel Island?
Sanibel Island is a beautiful barrier island lying off the southwest coast of Florida. The coastline of the island sits on the tranquil shores of the Gulf of Mexico and is full of romantic beach walks, beautiful nature, marine sports, and fun restaurants.
Even though Sanibel Island is close to the mainland, there is no ferry between the island and Cape Coral or anywhere else on the mainland. You can, however, access Sanibel Island easily by car via the Sanibel Causeway which is open to the public.
Even though you can't take a ferry, Sanibel Island is a beautiful tropical getaway worth exploring by car. Read on to learn more about how to get there, how much it costs and things to do and see once you arrive.
Is there a ferry to Sanibel Island?
Sanibel Island sits just off the coast of Florida, very close to the mainland city of Cape Coral. The island is visible from the mainland and many people take their private boats there.
Even though people frequently boat there, there is no ferry between the mainland and the island. If you want to travel to Sanibel Island by boat, you'll have to charter one or have a good friend who can enlist you as their crew.
There used to be a ferry but in 1963 the creation of the Sanibel Causeway removed the need for a ferry crossing from anywhere on the mainland.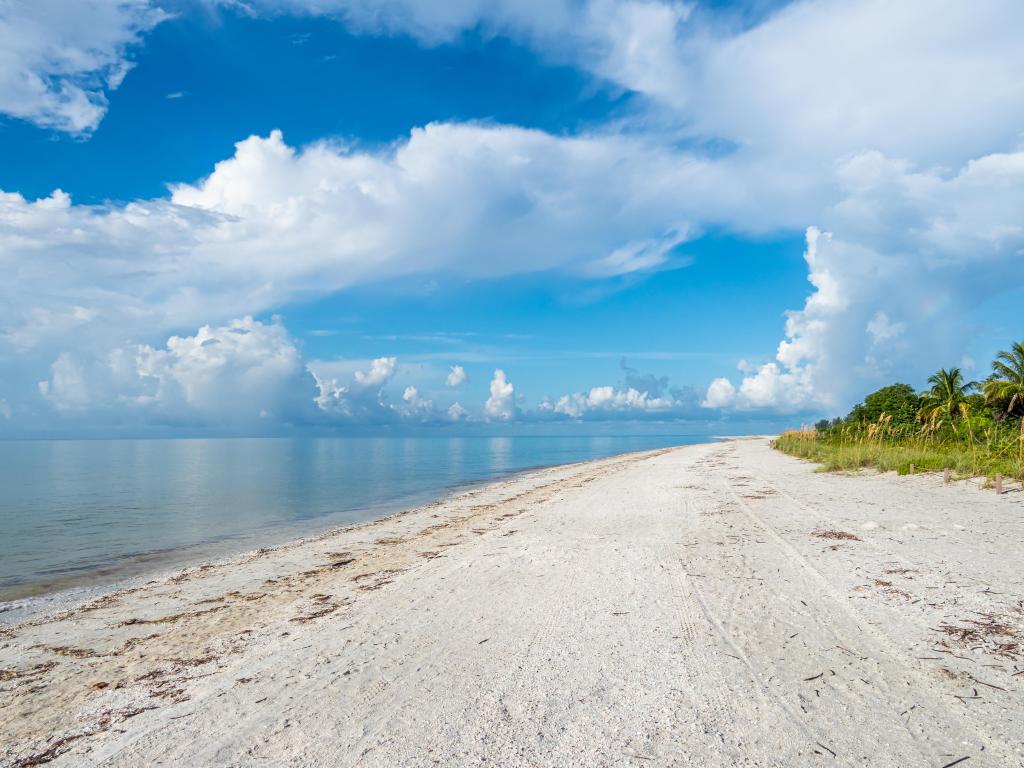 How to reach Sanibel Island from mainland USA
Other than ferries, there are other easy ways to reach the island. The cheapest and best way is to drive. You can drive across from the mainland to Sanibel Island using the Sanibel Causeway, which is now open to the public once again after it was damaged by Hurricane Ian.
Our detailed guide on how to drive to Sanibel Island provides detailed information about how to reach the island by car.
If you want to fly, the nearest airport to Sanibel Island is Southwest Florida International Airport in Fort Myers. From here, you'll have to rent a car to get to Sanibel Island.
Alternatively, you can fly to nearby Fort Myers, Frontier Airlines Runs budget flights from many cities in the USA like Buffalo, Indianapolis, Denver, Milwaukee, Grand Rapids, Philadelphia, Trenton, and many more. These flights run year-round with plenty of options throughout the week.
Driving to Sanibel Island from mainland USA
Driving is the best way to get to the picturesque shores of Sanibel Island. It's not only cheaper than chartering a boat, but it's also more relaxing and will give you more time to enjoy the island.
It'll take around 45 minutes to drive from Cape Coral to Sanibel Island. It's an easy trip, you'll cross the Cape Coral Bridge, then drive along FL-867 (McGregor Boulevard) until you reach the Sanibel Causeway where you'll cross the gorgeous San Carlos Bay to Sanibel Island.
You're likely to hit traffic during rush hour when entering the Cape Coral Bridge and the Sanibel Causeway. That said, compared to big city traffic, you'll be fine. Peak rush hour times are between 6am to 9am and 5pm to 6pm in Cape Coral.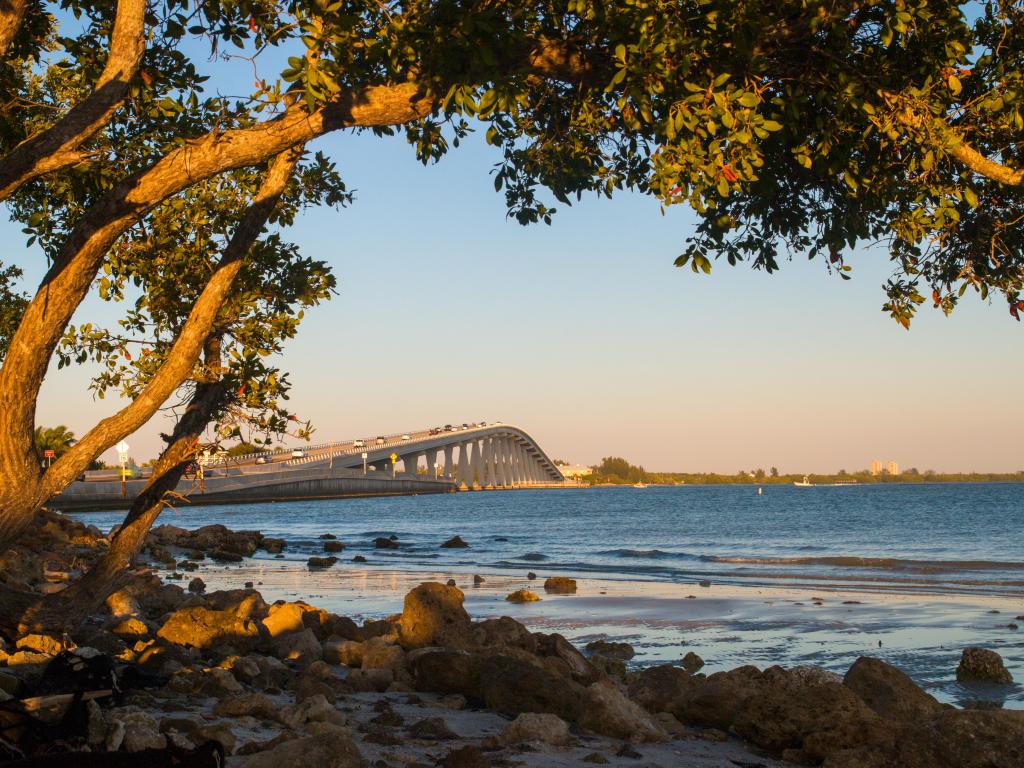 How much does it cost to travel to Sanibel Island?
Price comparison of different options for traveling from Chicago to Michigan
Mode
Fare
Drive via Sanibel Causeway
$6
Flight
$25-100
* All prices are calculated at the time of writing and are based on a single journey including 1 adult ticket
Driving to Sanibel Island is very affordable. The only cost you'll have to pay to get to Sanibel Island if you have a car is gas and the toll for crossing the Sanibel Causeway.
The most straightforward way to pay is using a transponder. These include Leeway, Florida SunPass, E-Pass, E-ZPass, and many more. If you're using a transponder, you'll only pay $6, without one and you'll pay $9.
If you choose to fly to Fort Myers and then drive to the island, a one-way flight can range from $25 to $100. The round trip can range from $50 to $200. There are many factors affecting flight prices, including distance and time of the year.
Once you arrive at the airport, there are many companies like Hertz available for car rental. Another less popular option, if you don't rent a car, you can get a taxi to Sanibel Island and use water taxis to explore once on the island.
Which port should you choose as your destination on Sanibel Island?
Even though you'll most likely be driving, some people choose to charter a boat to Sanibel Island. The normal crossing from Cape Coral will take about 30 minutes.
The journey to the island is 14 miles. Once you get there you can pull your boat into Sanibel Island Marina, on the island's eastern end, and pay a $60 wet slip charge.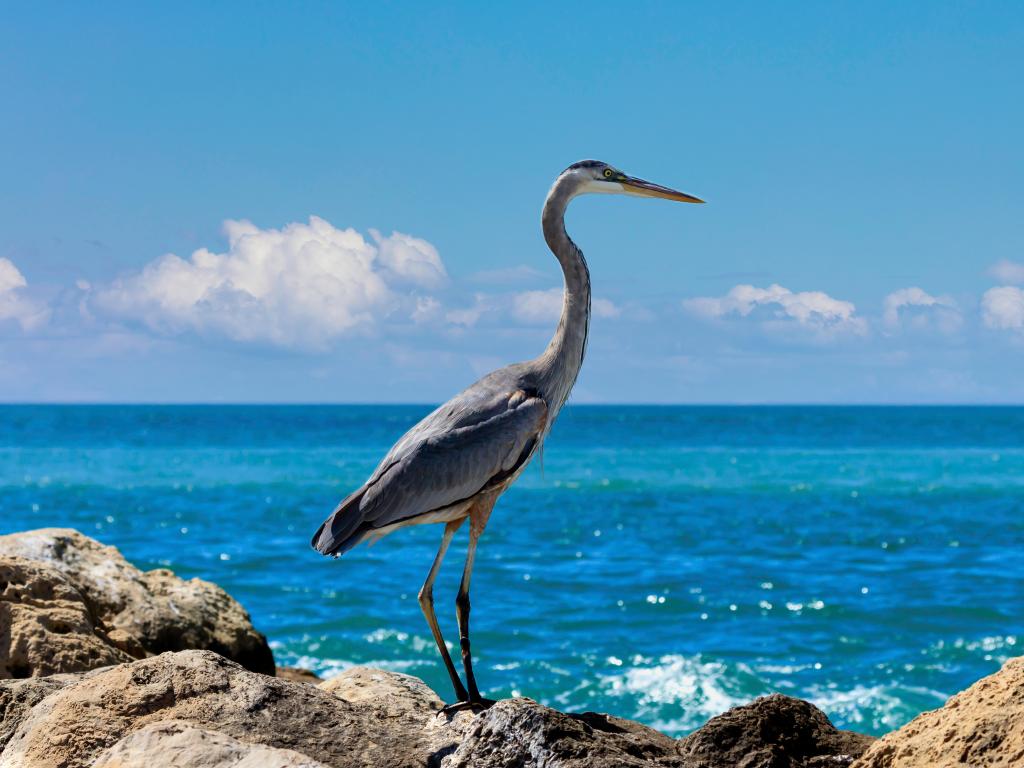 Things you need to know about traveling to Sanibel Island
The drive to Sanibel Island is usually stress-free and beautiful, but like anywhere there are things to keep in mind when traveling. The most important thing to keep in mind is the weather. Always check the weather conditions before venturing out.
This being Florida, the weather can become very severe, especially during hurricane season. On September 28th, 2022, Hurricane Ian hit the area, damaging the causeway and many of the island's neighborhoods.
Fortunately, the causeway and public beaches are open. The island community is rebuilding and restoring Sanibel Island to the peaceful beauty it is so well known for. Make sure to check the city's website and see the ongoing situation before you visit.
Best time to visit Sanibel Island
Sanibel Island is an all-year destination and full of fun and excitement any month or season. December and April are the busiest times and are considered the peak season for tourism.
The subtropical climate means many visitors come in winter to get winter sunshine and warm beach days. Average temperatures in February, March and April range from 66 to 73 degrees Fahrenheit.
June, July, August and September are very hot and average a balmy 81 and 82 degrees Fahrenheit. Temperatures around this time can soar well into the 90s and sometimes hotter so if you come during summer, you'll be spending much of your time in the ocean or the pool to keep cool.
Things to see and do once you reach Sanibel Island
The island is full of attractions and down-home beach life just waiting to be enjoyed. Below are our top attractions and activities for you to experience once you arrive.
Sanibel Island Beaches - The white sandy beaches of Sanibel Island are perhaps the island's biggest attraction. Relax and take your pick from the likes of Sanibel Lighthouse Beach, Bowman's Beach and Blind Pass Beach.
J.N. Ding Darling National Wildlife Refuge - You can drive, bike or hike through Wildlife Drive. Along the way, there are hiking trails to walk where you can spot over 245 species of birds.
Shelling - Shelling is popular on the island. Turner Beach is considered the hotspot to find rare seashells.
Boat Rentals - There are many ways to hit the waters. Rental companies offer charter boats, canoes and kayaks. Whether you want a guide to find dolphins in the Gulf of Mexico or pick your own route and kayak through lagoons.
Fresh Seafood - Fresh seafood is a favorite food in Sanibel. With over 50 restaurants on the island, you can enjoy the cuisine that's become synonymous with the idyllic island.
Wellness - Sanibel is all about relaxation and you can take that further in one of the spa centers. Enjoy a massage or take part in a beachfront yoga session.