Road Trip from St Augustine to Key West
Hit the road from St Augustine and let the Florida coastline guide you all the way to the southernmost shores of Key West. On this journey, you'll explore sun-kissed beaches, Florida's untouched wildlife, and stories that trace back centuries - a true taste of paradise with every mile.
The 550-mile road trip from St Augustine to Key West will take 10 hours and 40 minutes to drive. Key stops include Orlando, Cape Canaveral, Vero Beach, Miami, Tampa, St Petersburg, Cape Coral, Fort Myers, Marco Island, and Everglades National Park.
There's no time like the present to plunge into this unique journey. Let's dive into the specifics and uncover the treasures that await on this unforgettable road trip from St Augustine to Key West.
How far is Key West from St Augustine, and how long will the road trip take?
Comparison of road trip routes between St Augustine and Key West

| Route | Distance | Driving Time |
| --- | --- | --- |
| The Atlantic Coast Route | 550 miles | 10 hours 40 minutes |
| The Gulf of Mexico Route | 635 miles | 14 hours |
If you choose to travel on the Atlantic Coast Route from St Augustine to Key West, then prepare yourself for an adventure spanning around 10 hours and 40 minutes and covering approximately 550 miles of diverse and stunning landscapes.
Alternatively, opting for the Gulf of Mexico Route will cover a slightly longer distance of approximately 635 miles, which can be navigated in approximately 14 hours.
We highly recommend setting aside at least 3-4 days for your journey to fully appreciate the enriching experiences along the way. Whether you choose to meander along the Atlantic Coast or delve into the allure of the Gulf of Mexico, an unforgettable road trip awaits.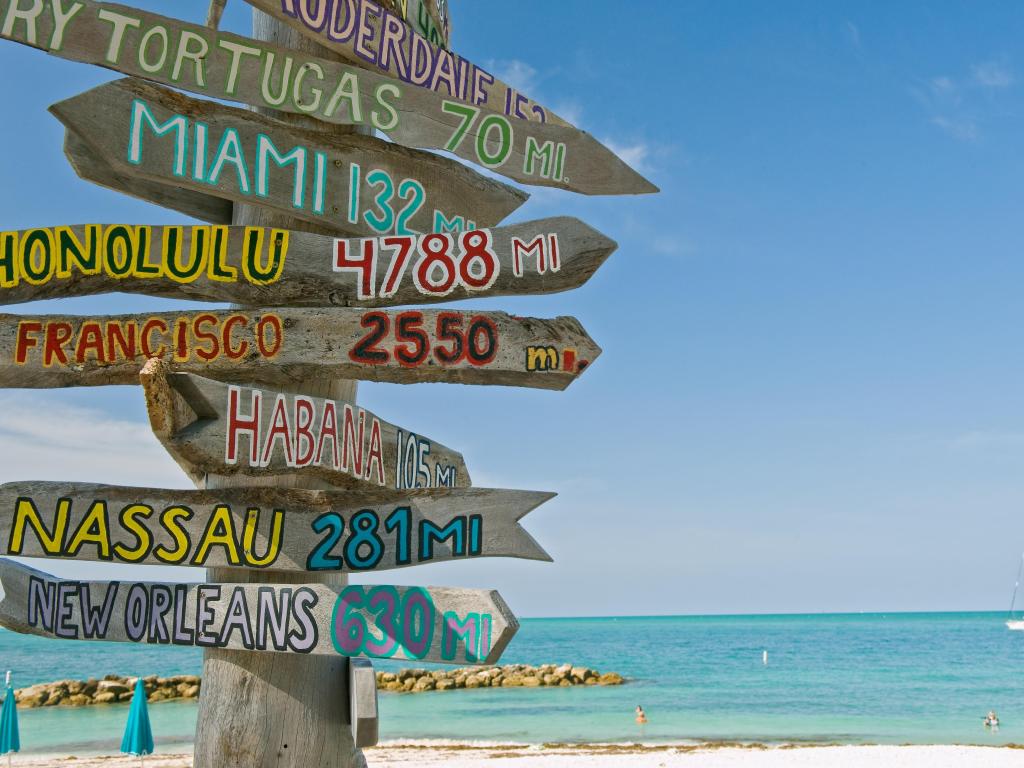 Best road trip route from St Augustine to Key West
If your preference leans toward a journey dotted with pristine beaches, charming seaside cities on the shores of the Atlantic Ocean, and a short dip inland to let your inner child out in the famous theme parks of Florida, then the Atlantic Coast Route will cater to your wanderlust.
The route threads through the iconic cities of Orlando, Daytona Beach and Miami. Additionally, the numerous parks along the way offer wonderful opportunities to immerse in Florida's nature and wildlife.
The Gulf of Mexico Route will take you to Tampa and St Petersburg, replete with their remarkable museums, gardens, and artistic hubs. Fort Myers and Cape Coral enthrall with their unique Floridian character and allure. As the route meanders along the Gulf's edge, you will take in breathtaking marine views.
If you are up for more adventure, you can leave your car in Fort Myers or Marco Island on this route and take a ferry to Key West. Check out our comprehensive guide on the ferry route to Key West.
An even bigger adventure would be to follow our ultimate Florida road trip itinerary if you are after discovering the best of what Florida has to offer.
How to drive from St Augustine to Key West
The map above shows our suggestions for the best road trip routes between St Augustine and Key West. Keep reading for detailed descriptions of both routes, where to stay on either, and the best things to do on the way.
The Atlantic Coast Route
Start your journey heading west along US-1 until you reach Interstate 95 (I-95). From here, you will head inland towards Orlando, the home of Walt Disney World Resort, and Universal Studios Orlando.
After taking in all the magic that Orlando has to offer, had back east towards the coast, which will lead you to Cape Canaveral. Be sure to explore the Kennedy Space Center, a hub of space exploration history.
From here on, you will follow US-1 and I-95 south through Vero Beach, West Palm Beach and Fort Lauderdale, known as the "Venice of America" due to its expansive and intricate canal system.
Continue heading south to Miami, home to the iconic South Beach. Enjoy the Art Deco Historic District and vibrant Latin-inspired cuisine before hopping on US-1, which will take you through the stunning Florida Keys. Driving on the Seven Mile Bridge, you will soon reach Key West.
The Gulf of Mexico Route
Head inland from St Augustine towards Gainesville. From here, follow I-75 S, until you reach the sun-drenched city of Tampa. Dive into the vibrant world of Tampa's Riverwalk, or step back in time with a visit to the Ybor City Historic District.
Venture on to St Petersburg across sprawling Tampa Bay. Hug the shore of the Gulf of Mexico and keep driving south to the beautiful cities of Fort Myers and Cape Coral. In Fort Myers, you can opt to hop on the ferry and travel to Key West without your car.
If not, follow the coast to the tropical paradise of Marco Island. Bask on the island's unspoiled beaches, or embark on an unforgettable dolphin-watching cruise. Here, you will get another opportunity to take a ferry to Key West.
Otherwise, follow US-41 to get on iconic Overseas Highway (US-1 S), immersing yourself in the Florida Keys' unique island chain. The road unveils a world of turquoise waters, stunning wildlife, and local color until it reaches its terminus in Key West.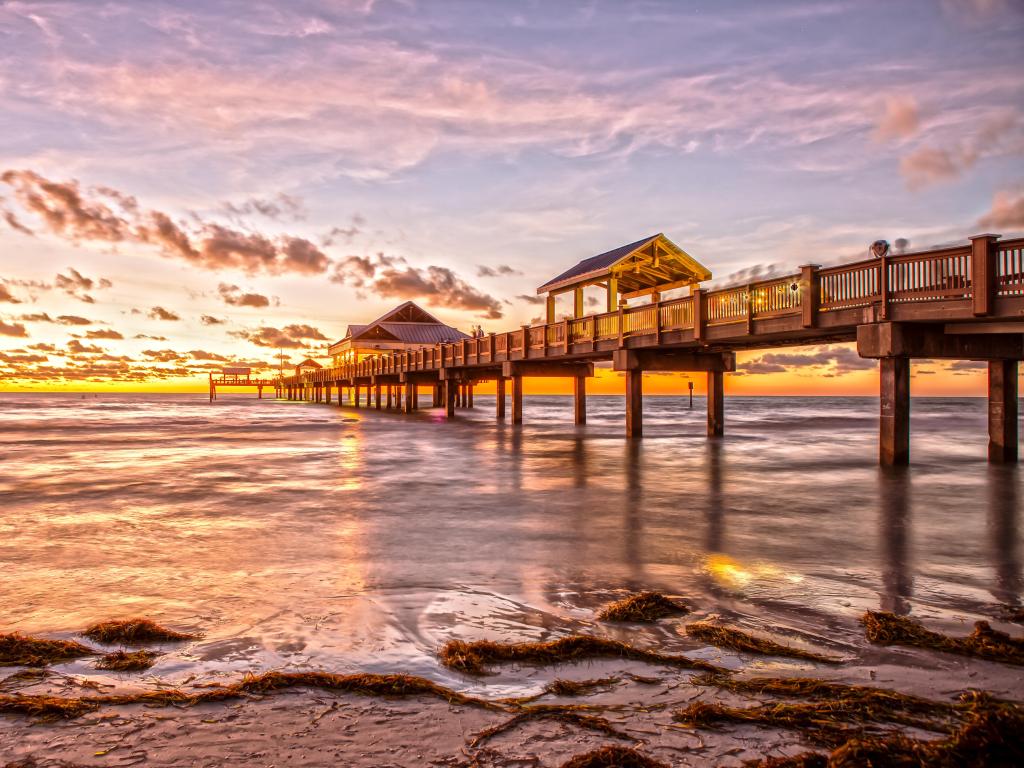 Best places to stop between St Augustine and Key West
In the spirit of turning your St Augustine to Key West drive into an unforgettable adventure, we've hand-picked some of the best places to stop and explore along the way.
Coupled with our list of fantastic things to explore at each stop, these stopovers will elevate your Florida road trip from delightful to extraordinary.
Take in the dazzling city lights of Miami
World-renowned for its vibrant culture, stunning beaches, and its spirited fusion of Cuban and American traditions, Miami makes an amazing stopover on the Atlantic Coast Route, located about 4 hours from Key West.
An essential experience is strolling through the famed Art Deco Historic District. Pastel-colored buildings, vintage cars, and neon signs add to the district's nostalgic charm, transporting visitors back to the Miami of the Roaring Twenties.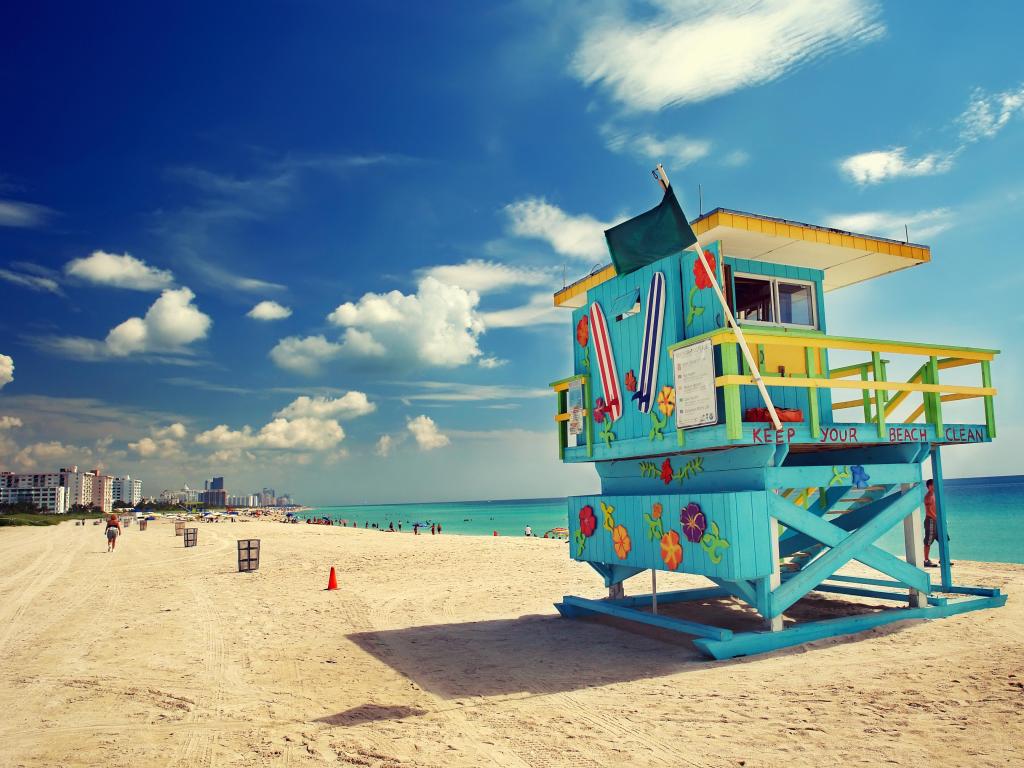 A visit to Little Havana is like stepping into a vibrant slice of Cuba. From the scent of freshly made Cuban coffee wafting through the streets to the rhythmic beats of Latin music filling the air, this neighborhood is the heart of Miami's rich Cuban culture.
Finally, for those inclined to experience Miami's glamorous side, there's the iconic South Beach. Known for its gleaming sands, crystal clear waters, trendy nightclubs, and chic boutiques, it's the perfect place to relax, people-watch, or dance the night away.
Miami is famous for its glitzy hotels, so when a hotel comes with high praise, this means that it is extraordinary and The Setai is exactly that. This stunning and luxurious hotel is located right on the beach on the famous Collins Avenue in the Art Deco District.
You will find 3 spectacular infinity pools and a full-service spa on-site for the ultimate relaxation. There is also an upscale American steakhouse that serves Asian-inspired dishes on the property, so you won't have to go far for a delicious meal.
Take in the views in Fort Myers
Nestled on the banks of the Caloosahatchee River, Fort Myers is a charming city known for its historical attractions, impressive cultural scene, and mesmerizing natural beauty, making it a delightful pitstop on the Gulf of Mexico Route from St Augustine to Key West.
The city's Edison and Ford Winter Estates are among its most iconic attractions. Once the winter homes of Thomas Edison and Henry Ford, these estates now serve as museums displaying artifacts and innovations from these inventors.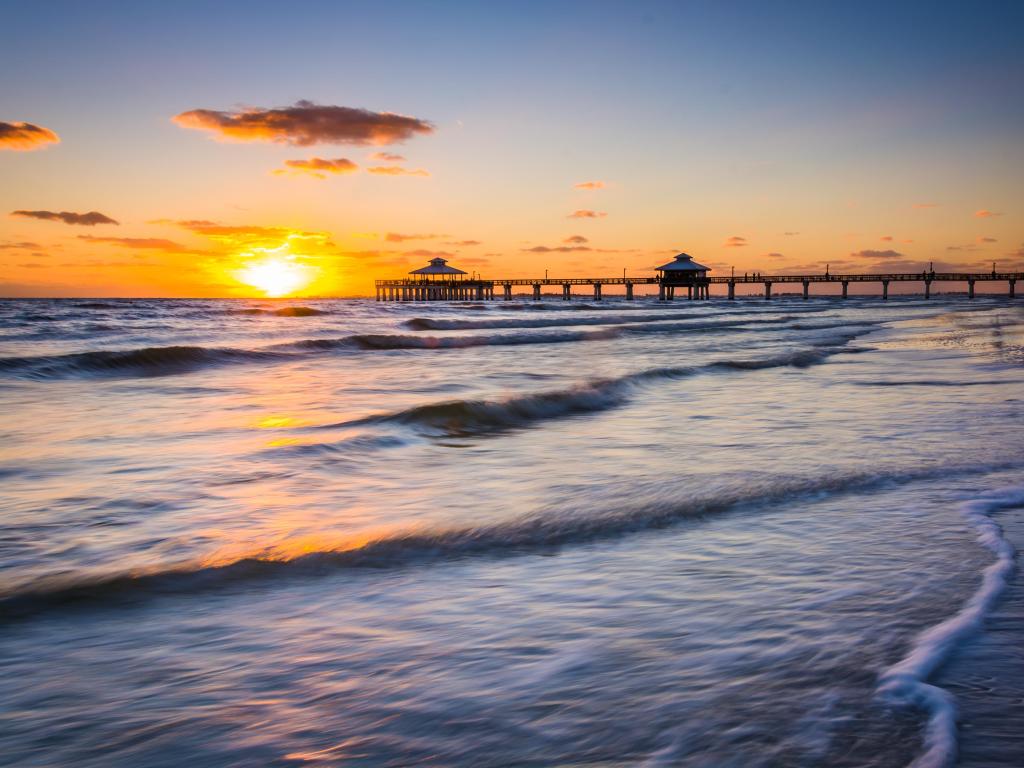 Another highlight in Fort Myers is the Six Mile Cypress Slough Preserve. This 3,500-acre wetland is an oasis for nature lovers with its boardwalk trail offering fantastic views of the preserve's wildlife, including alligators, turtles, and countless bird species.
Fort Myers' vibrant downtown, River District, is a hub of art and culture. Here, you can enjoy the city's buzzing nightlife, with its many restaurants, boutiques, and art galleries.
While visiting Fort Myers, we highly recommend staying at the Luminary Hotel & Co., Autograph Collection. This modern and stylish hotel is located just a block from the shoreline and features waterfront views from some of its rooms.
The Edison and Ford Winter Estates are also a walking distance away. Before setting off to explore Fort Myers, make sure to take advantage of the delicious breakfast on offer at the hotel.
Where to stay when you reach Key West
Key West is a unique blend of laid-back island living, rich history, and vibrant culture. Known as the "Conch Republic", this picturesque island with its pastel-hued houses and tropical flora has long been a haven for writers, artists, and those seeking an escape from the ordinary.
Surrounded by turquoise waters teeming with marine life, Key West is a paradise for snorkeling, diving, and fishing enthusiasts. Yet it's the enchanting atmosphere — a mix of Caribbean, Bahamian, and Floridian influences — that makes it feel more like a Caribbean Island.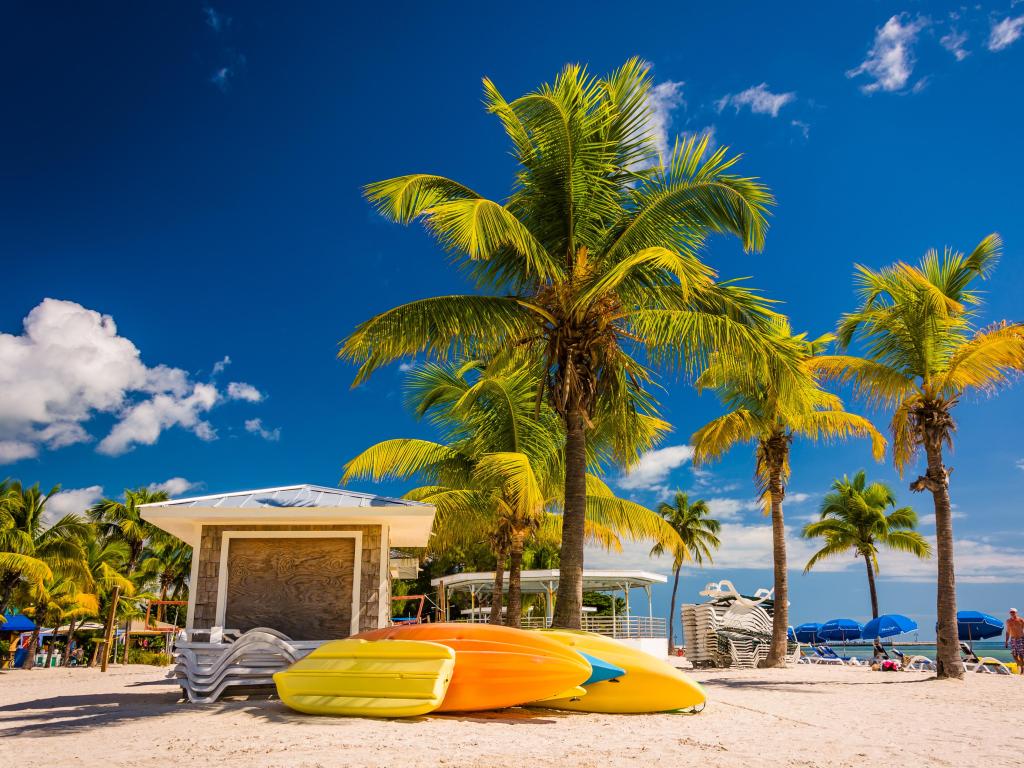 Key West is also famous for its historic landmarks like Ernest Hemingway's Home and Museum and the iconic Southernmost Point Buoy. But what truly sets Key West apart is its undeniable charm that leaves a lasting impression on anyone who visits.
You will get a taste of the unique Key West atmosphere at the beautiful Gardens Hotel. This adults-only boutique hotel is a short walk from Duval Street and the Hemingway Home and Museum. You can also hire a bike through the hotel if you prefer to stick to wheels.
After exploring, make sure to be back in time to enjoy the live jazz performance in the beautiful gardens if you are staying on a Sunday.
Things to see on a road trip from St Augustine to Key West
From sandy beaches lapped by turquoise waters to the enchanting calls of nature's wild heart and onto the rhythm of cosmopolitan nightlife, this St Augustine to Key West road trip is one for the books!
We have selected our favorite things to see on each route to make your planning easier so that your only worry will be to work on your tan.
The Atlantic Route
Walt Disney World Resort, Orlando - This iconic amusement park features four theme parks, including Magic Kingdom and Epcot, and two water parks. Enjoy world-class entertainment, delectable dining, and unique shopping experiences within its magical grounds.
Universal Studios, Orlando - A theme park that offers an opportunity to step into some of your favorite movies and shows. Experience the Wizarding World of Harry Potter, the action of Fast & Furious, and the fun of Minions, among others.
Kennedy Space Center, Cape Canaveral - Explore the history and future of human space exploration at this world-class facility. See Space Shuttle Atlantis, meet an astronaut, and maybe even watch a live rocket launch.
Cocoa Beach, Cape Canaveral - Known as the "East Coast Surfing Capital," enjoy the sun, sand, and surf on this iconic beach. Check out the famous Ron Jon Surf Shop for all your beach needs.
McKee Botanical Garden, Vero Beach - Home to 10,000 native and tropical plants, explore this unique subtropical jungle garden. It's listed on the National Register of Historic Places and is a designated historic landscape.
Norton Museum of Art, West Palm Beach - Known for its diverse collection of international art, it's the largest museum in Florida. The museum contains over 7,000 works in European, American, and Chinese art, as well as in contemporary art and photography.
Museum of Discovery and Science, Fort Lauderdale - Offers interactive exhibits on topics from aviation to prehistoric Florida. Features include an IMAX theater, live animal shows, and an exploration of Florida's unique ecosystems.
Miami Beach, Miami - A must-see destination for its beautiful sandy beaches, crystal blue water, and vibrant nightlife. Visit the historic Art Deco district, the bustling boardwalk, or simply soak up the sun on the shore.
Little Havana, Miami - This vibrant Cuban district offers authentic food, music, and culture. Don't miss Calle Ocho, the neighborhood's main thoroughfare, known for its Cuban restaurants, coffee shops, and cigar stores.
Venetian Pool, Coral Gables - A historic public swimming pool made from a coral rock quarry and filled with spring water. Visitors can swim in the large pool, enjoy waterfalls, and even explore cave-like grottos.
The Gulf of Mexico Route
Kanapaha Botanical Gardens, Gainesville - The garden is a 68-acre facility with 24 major collections that include Florida's largest public bamboo gardens and the largest herb garden in the Southeast. The gardens are a delight for plant lovers, with a variety of plants, flowers, and trees on display.
Busch Gardens, Tampa - An African-themed park with a unique blend of thrilling rides, one of the country's premier zoos with more than 12,000 animals, live shows, restaurants, shops, and games. It's an exhilarating adventure park that offers fun for the whole family.
The Florida Aquarium, Tampa - This is a large-scale aquarium where you can explore the aquatic wonders of Florida and beyond. The aquarium offers interactive programs like Dive with the Sharks, Swim with the Fishes and Penguins: Backstage Pass.
Dali Museum, St Petersburg - The Dali Museum celebrates the life and work of Salvador Dali and features works from the artist's entire career. The museum's collection includes oil paintings, many original drawings, book illustrations, artists' books and prints.
Sunken Gardens, St Petersburg - A botanical paradise in the midst of a bustling city, the Sunken Gardens are home to more than 50,000 tropical plants and flowers, and also features cascading waterfalls and beautiful demonstration gardens.
Six Mile Cypress Slough Preserve, Fort Myers - This 3,500-acre wetland preserve features a raised boardwalk allowing visitors to observe the diverse plant and animal life. The Slough is home to many species of birds and mammals, including alligators, otters, and deer.
Edison and Ford Winter Estates, Fort Myers - This 20-acre property was the winter retreat for Thomas Edison and Henry Ford, two of America's most influential innovators. You can tour the historic homes, gardens, laboratory, and museum.
Rotary Park, Cape Coral - This 97-acre park includes several habitats such as salt marshes, upland, and mangroves. There are also many amenities in the park such as walking paths, an observation tower, a butterfly house, and a dog park.
Tigertail Beach, Marco Island - A stunning tropical beach that offers a variety of shorebirds for birdwatchers, a playground area for children, and a concession stand for lunch or a quick snack. This is also a great spot for collecting shells.
Everglades National Park - This is the largest subtropical wilderness in the United States, and is known for its rich wildlife, particularly large wading birds and the endangered leatherback turtle.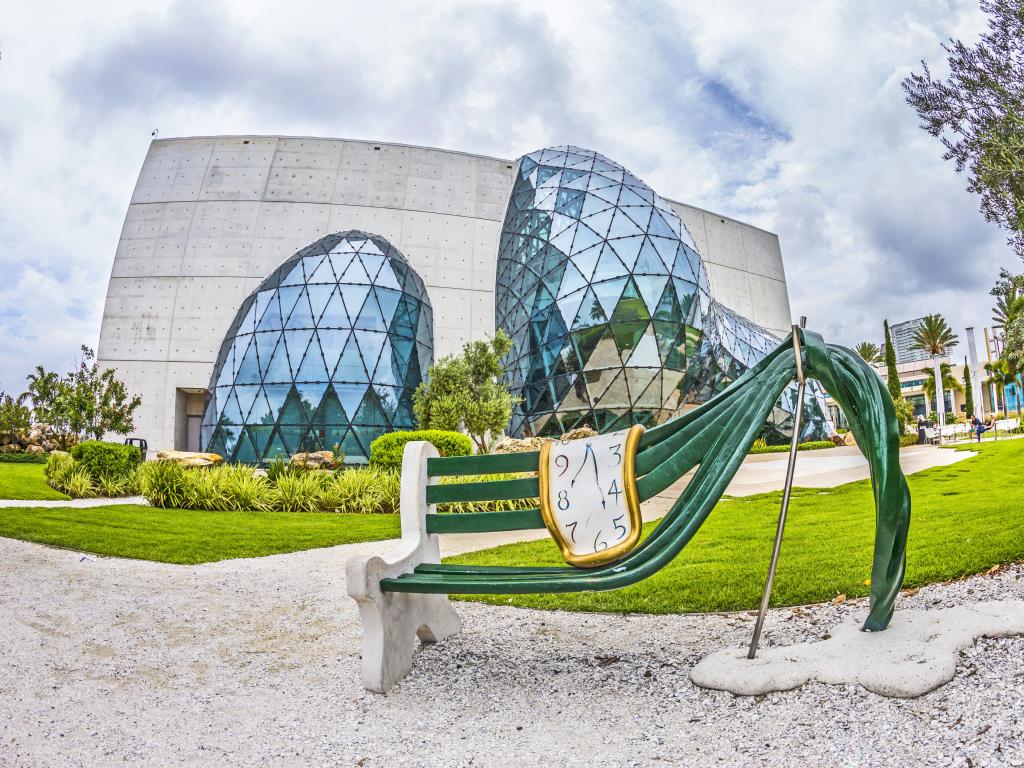 Both routes
John Pennekamp Coral Reef State Park, Key Largo - This was the first undersea park in the United States. The park offers visitors a chance to explore the vibrant coral reefs either by snorkeling, scuba diving, or taking a glass-bottom boat tour.
Dolphin Research Center, Grassy Key - This is a non-profit research and education center that allows visitors to learn about its family of dolphins and sea lions. You can view interactive sessions with researchers and the animals, watch training, play and feeding sessions, and take part in a variety of programs.
The Turtle Hospital, Marathon - This is a small non-profit organization dedicated to the rehabilitation of endangered sea turtles. The hospital provides guided, educational tours and a chance to see the resident sea turtles.
Bahia Honda State Park - This stunning state park located on Bahia Honda Key offers some of the best beaches in Florida. Enjoy a day of sunbathing, snorkeling, or camping on the white sandy beaches while you take in the picturesque surroundings.
Best time to go on a road trip from St Augustine to Key West
Florida's climate is famously warm and tropical, making the St Augustine to Key West road trip enjoyable year-round. However, each season offers a unique experience.
The best time to embark on this road trip would arguably be between November and April, when temperatures are most comfortable. Key West experiences mild to warm temperatures with highs ranging from the mid-70s to the low-80s Fahrenheit, and lows rarely dropping below the mid-60s.
This makes it a popular destination for those seeking to escape the colder winter climates found in other parts of the US. This is a popular season and can also be the busiest and most expensive period, especially around holidays like Christmas and New Year.
In January, make sure to check out the Key West Food and Wine Festival, a gourmet's paradise. The festival showcases local chefs' culinary talents and the region's unique flavors with a series of wine and food-themed events, including waterfront tastings.
There is less rainfall during this time, making outdoor activities and sightseeing more enjoyable. It is also less humid than the summer months, which can be a crucial comfort factor.
That being said, summer travel from May to October, although hotter and more humid, has its own charm. Temperatures in Key West during these months typically reach highs in the upper 80s to low 90s and rarely drop below the high 70s at night.
In terms of avoiding crowds, the spring and fall are often less busy times to travel. During these periods, temperatures in Key West typically range from the mid-70s to the high-80s during the day, dropping to the high-60s to mid-70s at night.
If you are visiting in May, you can attend Key West Songwriters Festival, celebrating songwriters across various genres, featuring both famous and up-and-coming artists.