18 Best Road Trips from Miami
Miami is famous for being a glamorous, cool hub in the South of Florida, and its amazing art-deco architecture and stunning skyline make it truly stand out. It's also the perfect place to take a road trip from, with so many fantastic cities and fabulous beaches within a few hours' drive and many iconic destinations reachable via a longer road trip.
On our list of the 18 best road trips from Miami, you can enjoy some of the best beaches in the world, discover the history of the region, and experience some of the States' most legendary iconic cities that attract travelers from around the globe.
Whether it's a day trip, a weekend, or a much longer road trip you are looking for, keep on reading to find out all about our recommendations on where to go and the best things to do when you get there.
Best road trips from Miami
Day trips from Miami (under 3 hours each way)
Having so many fabulous destinations as neighbors is another tick in Miami's box and here are our favorite seven that you can drive to in under three hours, making them perfect day-trip destinations.
1. Palm Beach, FL
1 hour 30 minutes from Miami (70 miles)
Why you should visit: The shortest of our road trips on this list, the island of Palm Beach is known as the home of the rich and famous, with impressive resorts and spectacular mansions.
Palm Beach is one of the most popular destinations in southern Florida with some of the finest beaches in the US and it's easy to see why so many people flock to this incredible barrier island.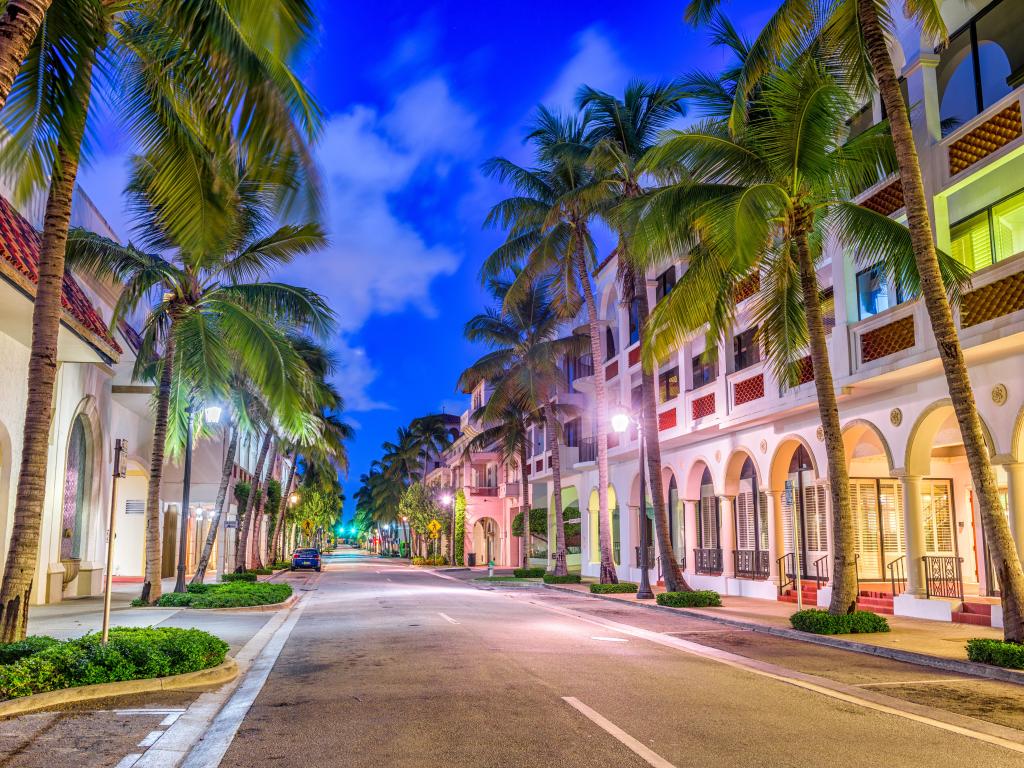 How to get there: To reach Palm Beach, head north out of Miami on the I-95 then take the I-95 Express, hugging the glorious Florida coastline past Fort Lauderdale and Pompano Beach. Then take the FL-704 at exit 70 and head along Royal Palm Way into Palm Beach.
Our highlights: Palm Beach has over 47 miles of beaches and the coastal waters are home to natural coral formations that make up the Florida Reef Tract, the 3rd largest coral reef in the world and the only one in the US.
Take an Everglades Airboat Tour and head off the beaten track through this unique landscape and witness the stunning scenery and varied wildlife this area is home to, and if you're feeling brave you can get up close and personal with an alligator.
If you're heading to Palm Beach then you should try your hand at many of the different water sports - feel the wind in your hair and witness the thrill of parasailing getting a birds-eye view of the breathtaking sights below, or go kayaking on the beautiful ocean, and snorkeling in the crystal-clear seas.
Exploring Palm Beach on foot allows you to appreciate how much more there is to see and do here and it's well worth visiting Worth Avenue, a stunning shopping venue, and then climbing to the top of the landmark Clock Tower.
You'll be sure to work up an appetite as you enjoy all the activities on offer and you'll find sensational wood-fired cuisine at Buccan, serving some of the tastiest food in Palm Beach.
Delray Beach is a hidden gem favored by the locals, a diverse village by the sea and full of culture and a thriving arts scene, with a party atmosphere along the main street, which comes alive at night and you can party away to beautiful sunsets.
Bonus: Many top celebrities call Palm Beach home and if you fancy a bit of celebrity spotting a trip to the 1000 North is a must.
Our travel tips: Do bear in mind the beaches here are situated on the Atlantic Ocean and while it looks picture perfect, the waves can be rough as they roll in from the Gulf of Mexico.
2. Fort Myers and Cape Coral, FL
2 hours 50 minutes from Miami (160 miles)
Why you should visit: Fort Myers is a thriving city full of culture and entertainment and sits uniquely surrounded by the Everglades, the Gulf of Mexico, and beautiful mangrove forests.
Fort Myers is the sunniest place in Florida with over 270 days of sunshine every year. This makes it the perfect location for watersports and outdoor activities and exploring the local marine life and what better way to do this than with a dolphin eco-tour?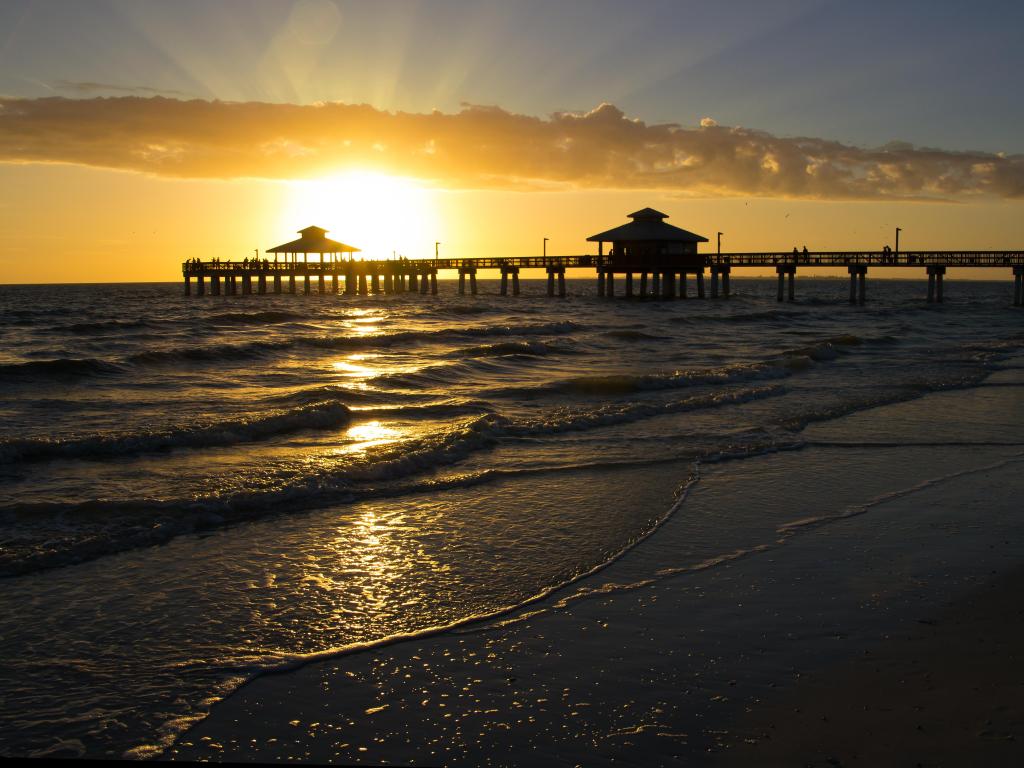 How to get there: Take the I-95 N out of Miami for a short distance before joining the I-75 N passing Big Cypress National Preserve and the Florida Panther National Wildlife Refuge. The route heads north running parallel to the coastline before exiting onto Dr. Martin Luther King Boulevard for the last few miles to Fort Myers
Our highlights: Bowditch Point Park is a beautifully scenic nature preserve and recreation area where you can enjoy the peaceful quiet waters and take one of the varied trails through this wonderfully serene setting, while viewing the local wildlife and enjoying stunning panoramic views over Estero Bay.
Embrace the cultural history with a visit to the Mound House where you can walk the historic grounds of this indigenous mound, formed over 2,000 years ago from the shell remains of the local Shell Indians tribe.
Learn all about ancient island life, kayak the Great Calusa Blue Paddling Trail, and discover how the skills and techniques used to defend their native homeland.
A visit to the famous Fort Myers Beach is a must for all visitors with its stunning 7-mile beachfront of gorgeous white sand which slopes gently into the ocean making it an excellent place for a swim, before visiting Lynn Hall Park, the perfect place for a picnic and a very popular family destination.
Take a catamaran and explore Key West, the southernmost point in the US, in style. Enjoy the air-conditioned interior seating or enjoy the spectacular views from one of the exterior sun decks as you marvel at one of the most incredible coastlines in the world.
Bonus: One of its famous former residents is Thomas Edison, the inventor of the light bulb, who brought electric lighting to Fort Myers in 1898. Not all locals were delighted with this breakthrough revelation with some being upset that the lights kept their cattle awake at night.
Our travel tips: The spring season is an excellent time to visit. The weather will be warm and ideal for outdoor adventures, and you will escape the heat of summer.
It's a popular location so book early to ensure a stay in luxury waterfront accommodation.
If you are a fan of festivals, you can enjoy the delicious local delights at the Annual shrimp festival that takes place in March, or why not visit in October when the annual Pirate festivals are in full swing for a truly unique experience.
Click here to skip back to the top.
Weekend trips from Miami (3-5 hours each way)
If you're looking for the ideal trip for a weekend away, then keep on reading to discover our favorite destinations, a mix of culture, history, and more of that fabulous Florida sunshine.
3. Sanibel Island, FL
3 hours 10 minutes from Miami (170 miles)
Why you should visit: Sanibel is a unique barrier island ensuring it is blessed with great sandy beaches, some of the best in Florida, with amazing shelling beaches. It's the perfect place to get back to nature with more than half of the island made up of wildlife refuges where you can enjoy the pristine habitat.
Sanibel Island is home to some of the most incredible coastlines in the world, with over 15 miles of perfect unspoiled beaches, and it is the perfect location to take to try out some exhilarating watersports.
Hover above the water on a flyboard or take a wave runner excursion where you can see all manner of marine life including dolphins, manatees, and turtles.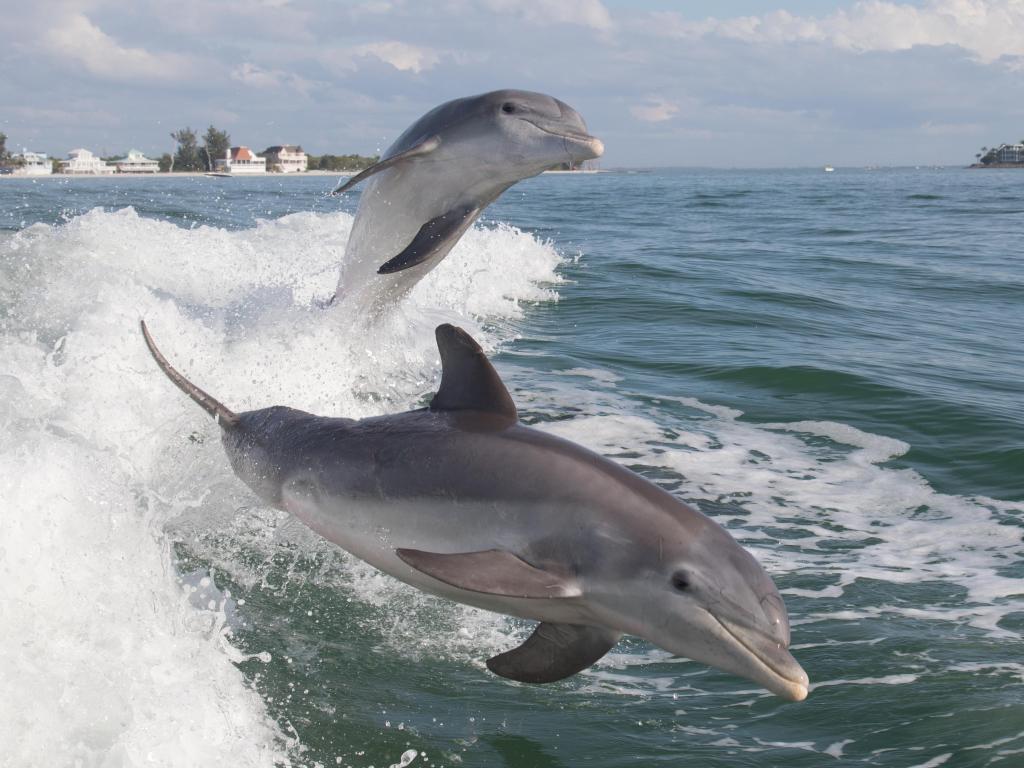 How to get there: Join the I-95 N and head out of Miami then take the I-75 N passing the Everglades and Francis Taylor Wildlife Area as you head towards the coast.
The route heads north at Naples and exit 128 takes you onto US Hwy 41 N which leads to the Causeway Bridge over San Carlos Bay to Sanibel.
Our highlights: Buy a "scooping rake" and join the locals beachcombing at low tide as they sift for rare prizes. You may make the local paper if you find one.
Kayak through the mangrove islands on the bayside of the island and encounter the birdlife wading in the shallows and see dolphins hunting in the bay.
Visit the Bailey-Matthews National Shell Museum, and learn about the Calusa Indians who used to control most of southern Florida and fished the coast, bays, and rivers, used shells as tools to build canals, tools, jewelry, ornaments, and much more.
If you are looking to escape the crowds in this beautiful island paradise, then The Far West is more secluded and peaceful and you'll be closer to the wildlife refuge and Bowman's Beach where you will witness the most amazing sunsets.
Bonus: Sanibel Island is renowned for its seashells. It's not uncommon to find them stacked 3 feet high and lurking beneath the water is a vast number of pistol shrimps. When they clap their claws they can create a bubble so powerful it reaches more than 5,500 °C
Our travel tips: Sanibel is reached via a toll bridge. The Causeway Bridge is 3 miles long and costs $9 per roundtrip.
Hurricane Ian devastated Sanibel in Sept 2022, including the bridge to the island, and although it is soon to reopen, it will take a while for the island to fully recover.
4. Key West, Florida
3 hours 50 minutes from Miami (170 miles)
Why you should visit: Key West is the southernmost point in the United States and is famous for its beaches and pastel conch-style architecture. The road trip from Miami to Key West will take you through some of the most fascinating coastal scenery.
This is an ocean lover's paradise, surrounded by water and the road trip is one of the most incredible drives on earth along a spectacular road that takes you through the heart of this sensational coral cay archipelago.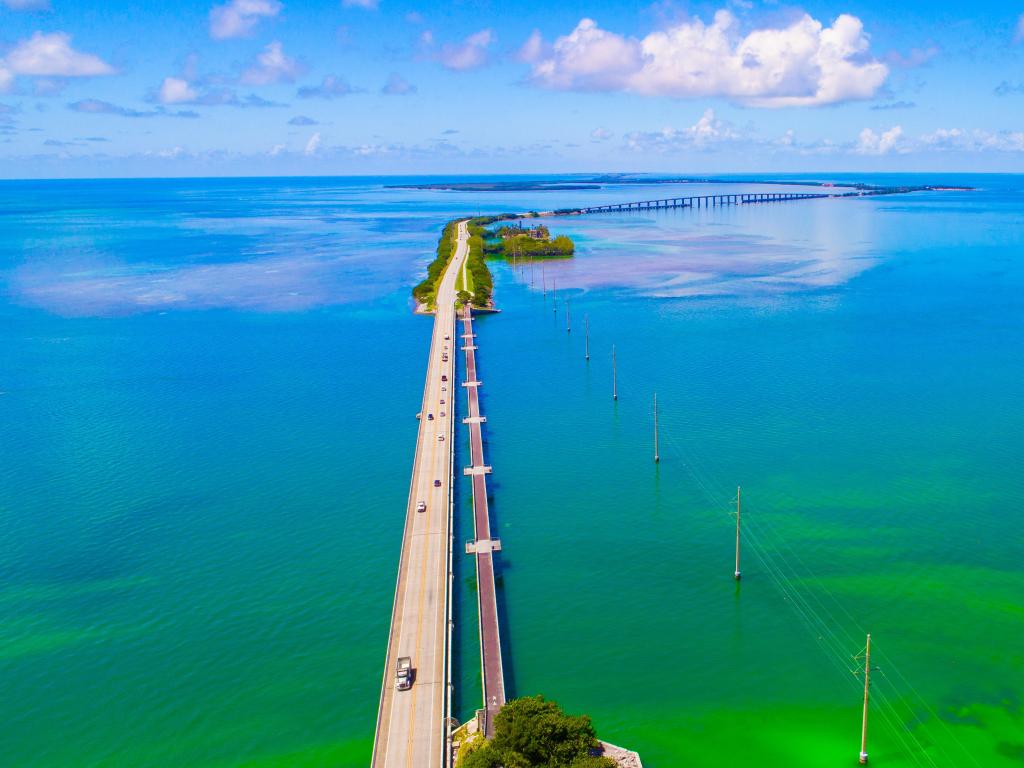 How to get there: Head southeast out of Miami and join US-1 S at Cutler Bay. Continue onwards past Florida City heading through the Southern Glades. The drive takes you past Manatee Cove and passes Manatee Bay and Little Blackwater Sound before you reach Key Largo.
The overseas highway is a unique route with unparalleled Ocean views in every direction as you continue for a further 2 hours to arrive in Key West.
Our highlights: A visit to Bahama Village is a must with its narrow streets and Caribbean vibe, it will get you in the party spirit with its coconut-heavy cocktails and enticing open-air restaurants offering delicious local seafood and tropically inspired dishes, and as the sunsets, you'll be dancing all night to infectious junkanoo music.
Take part in the daily sunset celebration starting 2 hours before sunset in Mallory Square. Enjoy the sun-setting in these incredible surroundings in the company of fire-eaters and jugglers.
Sample the iconic Key Lime Pie. Try the many local versions of this iconic dish as you find your favorite recipe.
Take a relaxing stroll around the Old Town and see the fusion of architecture that makes up many of the conch houses. A trip aboard the Conch Train is a fun way to take in a lot of the attractions.
Parasailing is a favorite pastime amongst the locals, with unparalleled views of the stunning geography on their doorstep. The luscious waters are just waiting to be explored and an ideal way to do this is to go wreck and reef diving, and if you're lucky you may find some buried treasure.
Bonus: Experience the nightlife in Duval Street with its range of vibrant bars and take a trip to Sloppy Joe's, a favorite haunt of Ernest Hemingway.
Our travel tips: Key West has a tropical climate and Summer is the wettest time of the year with 11-16 days of rain per month.
Peak season runs from late December - April and the weather is generally warm and dry.
READ MORE - Road Trip from Miami to Key West
5. Orlando, Florida
3 hours 50 minutes from Miami (230 miles)
Why you should visit: Orlando is the world capital of theme parks and allows you to release your inner child with such amazing choices including - Walt Disney World, Universal Studios, and Islands of Adventure where you can ride the Jurassic World Velocicoaster at up to 70 mph, SeaWorld, and Universal's Volcano Bay.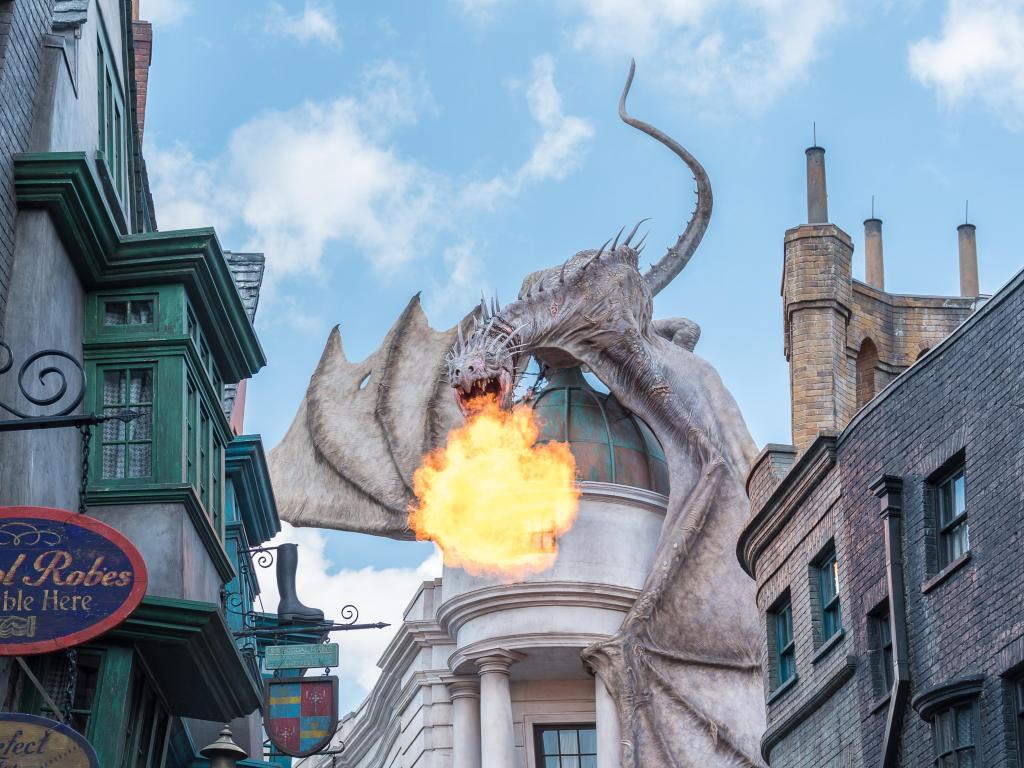 How to get there:The drive from Miami to Orlando is straightforward and starts off heading north on I-95 N. You'll quickly join Florida's turnpike heading up the beautiful coastline past Fort Lauderdale and Boca Raton.
The route heads inland as you pass Fort Pierce and after passing Lake Tohopekaliga and reaching the outskirts of Orlando, you'll exit onto W Church St into the heart of Orlando.
Our highlights: Orlando is full of unique experiences for visitors of all ages and a trip to International Drive is a must with so much to enjoy. A ride on The Wheel at ICON Park allows you to see all that Orlando has to offer from the air as the wheel reaches 400 feet at its highest point.
Enjoy the cultural aspects of Orlando with a visit to the many museums it has to offer, including the Orlando Museum of Art and the Museum of Osteology.
The Dr. Phillips Center for Performing Arts has hundreds of shows every year, from top musicians to Broadway productions, and performances from Orlando Philharmonic, Opera, and Ballet.
Gatorland is one of the oldest attractions in the area, set on over 100 acres. Home to thousands of Alligators and Crocodiles, Panthers, and a petting zoo! The Gator zip line adds to the adventure as you soar above the animals, including 130 giant alligators.
Boggy Creek Airboat Adventures located south of Orlando, let you explore the Everglades aboard the traditional airboat and discover its exotic wildlife as you glide across the water at up to 40mph.
Bonus: Universal Studios opened in Orlando in 1990. Amongst its main attractions at the time were E.T., The Bates Hotel, Back to the Future, and Ghostbusters.
Our travel tips: Visiting Orlando requires advance planning - with its popularity and complexity of attractions it is essential to know what you want to do before you head out.
If you are visiting theme parks, then buying tickets in advance will not only save you time on the day but also money.
Orlando is hot and humid in the summer months with daily thunderstorms.
READ MORE - Road Trip from Miami to Orlando
6. Tampa and St. Petersburg, Florida
4 hours 30 minutes from Miami (280 miles)
Why you should visit: Tampa is an excellent location for a weekend trip from Miami and is blessed with many beautiful beaches. Tampa has something for everyone, where you can embrace the culture and revel in the choice of outdoor activities.
The historical Ybor City region of Tampa is renowned for having a bar on every corner and this historic neighborhood near downtown Tampa offers an eclectic mix of old and new.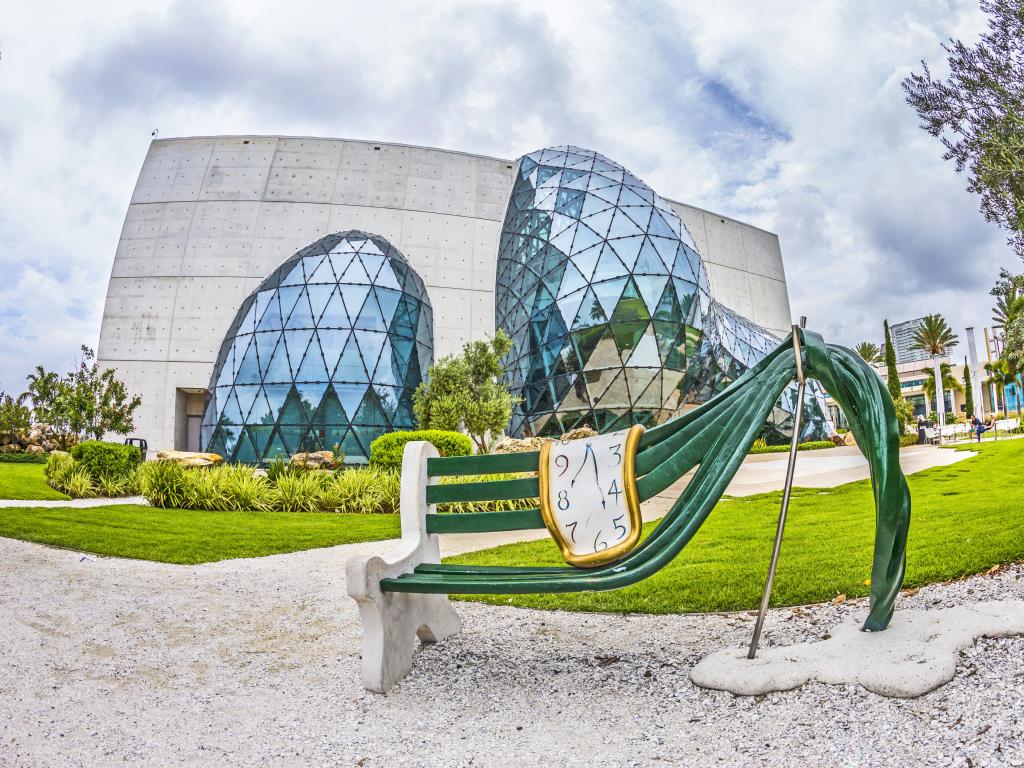 How to get there: Get on I-95 N in Miami for around 10 minutes and then join the I-75 N at Weston where you'll head through the Florida wilderness passing Big Cypress National Preserve and Picayune Strand State Forest before the route heads north at Golden Gate.
Continue past Ester and Fort Myers crossing the Caloosahatchee River, passing Lake Suzy before heading to Venice and up the western Florida coastline to Tampa
Our highlights: Tampa is home to Bayshore Boulevard - the world's longest sidewalk at 4.5 miles long. The Bayshore Greenway Trail offers excellent views of Tampa and the Bay.
Busch Gardens is a popular amusement park and zoo with Serengeti Safari, and amazing rollercoasters offering fun for all the family to enjoy.
Lower Tampa Bay is home to the Sunshine Skyway Bridge, connecting St. Petersburg with Terra Ceia. At over 4 miles long, the middle section of the bridge is suspended by two enormous pylons and the incline makes it a unique driving experience. It is a spectacular sight lit up at night.
Visit the Florida Aquarium and experience over 9,000 animals and interact with moon jellies that have been in the oceans for over 500 million years. In the nearby waters of Tampa Bay, you can spot Manatees during the winter months as these incredible creatures enjoy the warmer waters at this time of year.
Bonus: Ybor City in downtown Tampa is said to be one of the most haunted sites in the world with a long history of paranormal activity. Its been voted in the top 10 most haunted places in the US and visiting at Halloween is recommended.
Our travel tips: Tourist season in Tampa runs from January - May. It is less popular between June and November as it is hurricane season.
Florida is the lightning capital of the US and there can be storms and lightning daily in the summer months with more people struck here than anywhere else.
Click here to skip back to the top.
Longer trips from Miami (8+ hours each way)
If you are looking to spend a few days on the road exploring new exciting cities and taking in the stunning scenery along the way, then our final section is full of excellent ideas.
7. Savannah and Charleston, SC
9 hours 10 minutes from Miami (580 miles)
Why you should visit: Savannah is known for its spectacular coastal landscapes and beautiful architecture and River Street is a perfect place to enjoy views over the river. The city's waterfront is an eclectic mix of old and new and the place to go for galleries, restaurants, shops, and stunning river views.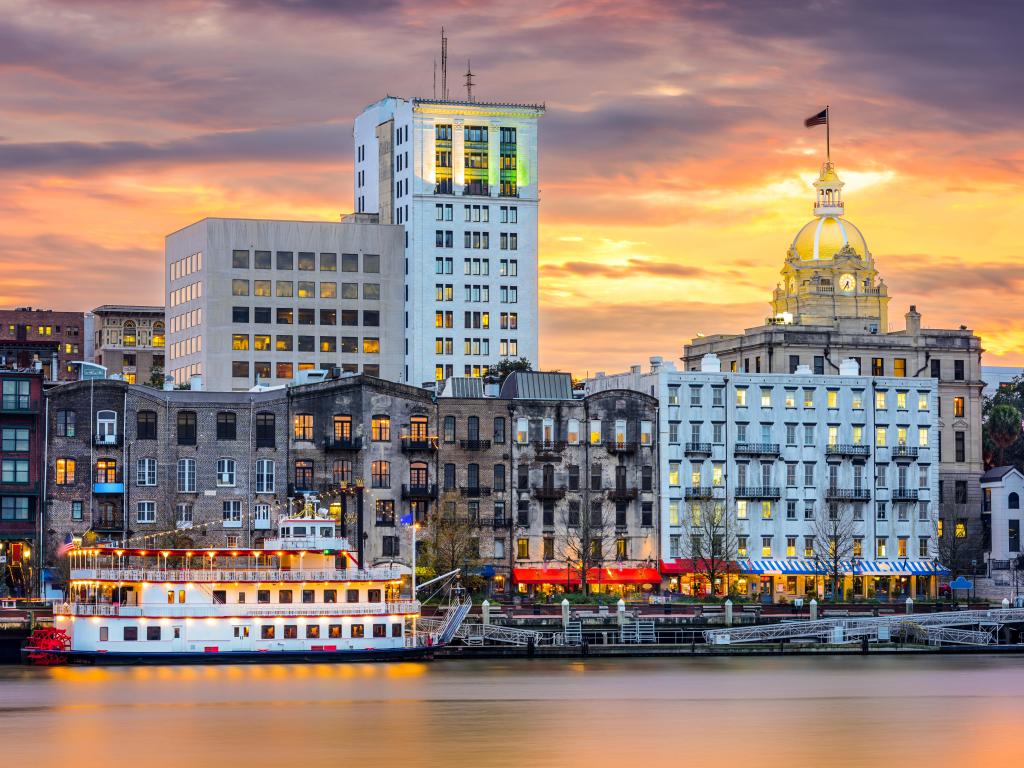 How to get there: On the road trip from Miami to Savannah, head north out of the city heading up the stunning east Florida coastline past Pompano, Delray, West Palm Beach, and Cape Canaveral.
Continue past Daytona Beach to Jacksonville as the road continues to hug the coastline passing Fernandina Beach and Brunswick before arriving in Savannah.
To reach Charleston, continue north from Savannah on Hwy 17 before taking the Lockwood Drive exit, following it into the heart of Charleston.
Our highlights: Charleston is a wonderfully diverse city, rich in cultural history, and heading downtown it's well worth a visit to the landmarked Battery as you make your way to Ravenel Waterfront Park and relax in the serenity of this picturesque area of the city.
Enjoy the natural beauty of Cypress Gardens where you can take a leisurely stroll in this idyllic setting or take a canoe through the beautiful Cypress Trees.
Take a trip to Boone Hall Plantation and learn all about the history of Charleston's illustrious plantation past, while experiencing the beautiful South Carolina low country exploring the grounds, and continue the history lesson with a trip to Charleston Tea Plantation
Tybee Island is only a short journey from Savannah, and with its beautiful beaches and delicious coastal cuisine, it makes for a perfect seaside escape. The Crab Shack is renowned for its steamed seafood delicacies with the added bonus of spectacular views over the lagoon.
Bonus: Charleston was the fourth largest city in colonial times, the richest, and had the first public college, museum, and golf club in the US.
Our travel tips: The best way to explore Savannah is on foot and its famed historic district covers 2 square miles of beautiful moss-draped streets that you can explore at your leisure.
Don't get too close to the alligators - they can run faster than you if they want to!
READ MORE - Road Trip from Miami to Savannah, Georgia
8. Panama City Beach and Destin, Florida
9 hours 40 minutes from Miami (640 miles)
Why you should visit: The beautiful emerald waters and picture postcard white sandy beaches make Panama City Beach and Destin the perfect coastal destination.
The waters around Destin are referred to as the crown jewel of the Emerald Coast and it is one of the top fishing destinations in the world.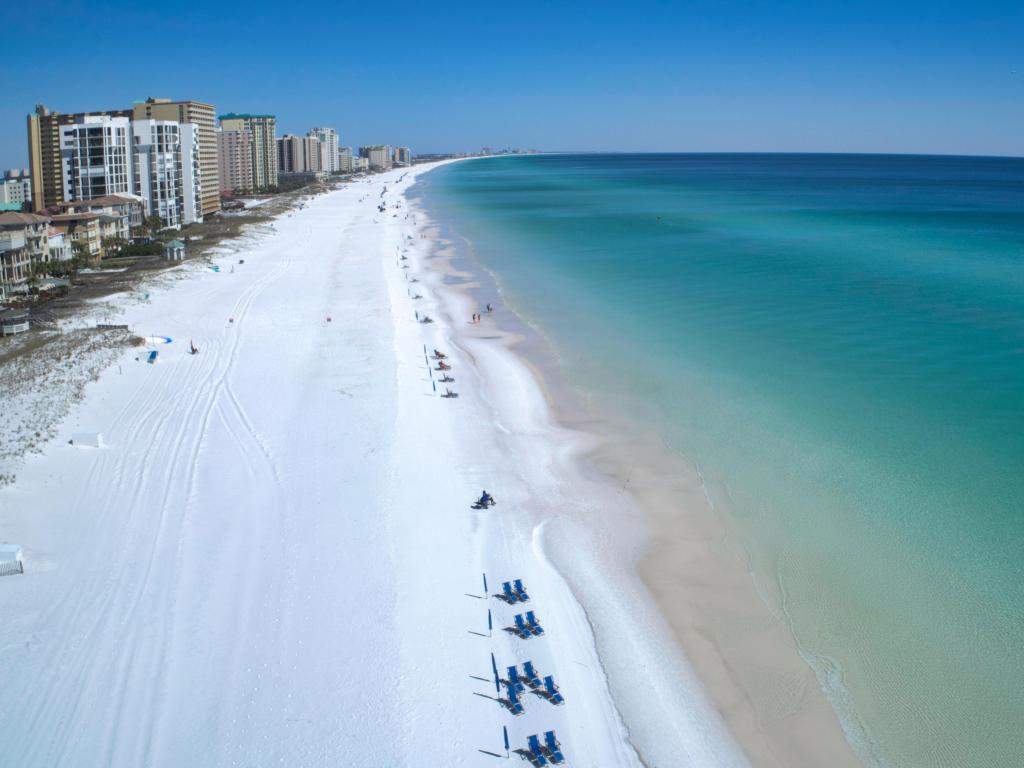 How to get there: Head north from Miami and then follow Florida's Turnpike passing Orlando and Lake Apopka, which both make excellent detours, before heading towards Lake City. Head west passing Tallahassee and Greensboro before continuing to Bristol where you'll head south to Panama City Beach. Destin lies to the north and is reached by a glorious coastal drive.
Our highlights: Harborwalk Village is the perfect waterfront location for endless fun in the heart of Destin Harbor. Take to the water and try paddleboarding and kayaking, as well as parasailing or even a glass-bottom boat tour. It's the place to go for fantastic restaurants and live music and spectacular weekly fireworks shows.
Henderson Beach State Park offers 200 acres of simply beautiful coastline with 30 feet high sand dunes and idyllic warm gulf waters. This peaceful paradise is home to winding nature trails, endangered species, protected plants, and shore birds as it aims to preserve the area's natural features.
Crab Island - is one of the most popular attractions in Destin. Its Idyllic shallow waters, floating bars, and an array of watersports on offer make it a family-friendly 24-hour destination.
Relax on the beach with a bonfire like the locals, or take a dolphin cruise, and marvel at these amazing creatures swimming beside you in this stunning natural environment.
Bonus: The beautiful sandy beaches are a result of quartz crystals being bleached and ground as they descended from the Appalachian Mountains over many centuries.
Our travel tips: The best times to visit Panama City Beach and Destin are March-April and September-November. The weather is more suitable for outdoor pursuits than in the summer months when it can average 82F.
The Annual Mardi Gras & Music Festival takes place the weekend before Fat Tuesday at the end of February/early March.
9. Atlanta, Georgia
10 hours from Miami (660 miles)
Why you should visit: Atlanta is one of the most popular places to visit in the southeast with its sweeping skylines, southern charm, and bustling nightlife, and it is also famous for its trees. It's known as a city within a forest with almost half of the city occupied with greenery.
The city is also famed for its eclectic dining scene, it has dozens of neighborhoods, each having its own unique appeal.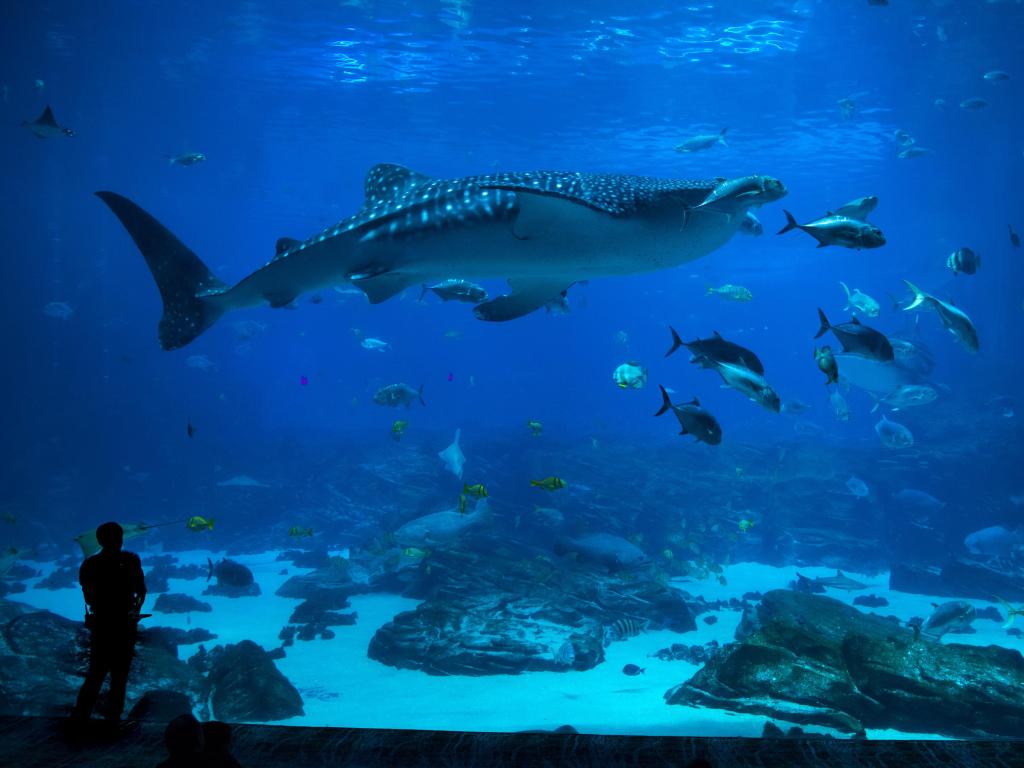 How to get there: Head north up the Florida coastline to Jacksonville before heading inland to Atlanta from Miami. The most direct route takes you north from Miami on the I-95 N then follow the Florida turnpike passing Orlando and Lake Apopka to Wildwood. From here I-75 N takes you the remaining 390 miles to Atlanta.
Our highlights: Atlanta has a lot of parks, which is not surprising given its famous for its greenery. The 185-acre Piedmont Park is home to the Atlanta Botanical Gardens and is popular all year round and especially so in the summer months when it stages many festivals.
Atlanta is the birthplace of Martin Luther King and understandably the city is a hotbed of Civil Rights history. The Martin Luther King Junior National Historic Site is home to the Civil Rights Movement, and you can visit the church where he preached and the memorial site where he was laid to rest.
The Georgia Aquarium is home to over 120,000 animals and over 500 different species. A walk through the underwater glass tunnel allows incredible views of whale sharks and beluga whales as they swim overhead and is an amazing experience.
Atlanta is famed for its food scene and the Buford Highway offers sensational international cuisine to suit anyone's craving. You can experience incredible panoramic views over Atlanta while enjoying delicious local cuisine at the Sun Dial Restaurant, situated at the top of the Westin Peachtree Plaza, the tallest hotel in the Western Hemisphere.
The nightlife in Atlanta is legendary and you can view the stunning skyline from a downtown rooftop bar or sip cocktails in Midtown, and even visit a nightclub via a secret bookcase in a pizza parlor. If you're after a bit of late-night comedy then Dad's Garage and the Original Uptown Comedy Corner will keep you laughing well into the early hours.
Bonus: Atlanta was burnt to the ground in 1864, the only city in North America to have been totally destroyed during the civil war. Despite General Sherman's efforts, the city rebuilt itself, rising from the ashes, hence the reason for the city having the phoenix as a symbol of its rebirth.
Our travel tips: Atlanta can be hot and humid in the summer months. Visiting in springtime, it will be awash with blossoming flowers and fauna and a much more temperate climate.
Atlanta hosts some amazing festivals in the summer months - TomorrowWorld and Counterpoint are two of the biggest, and Music Midtown and Sweetwater 420 Fest are smaller but equally enjoyable.
READ MORE - Road Trip from Miami to Atlanta
10. Asheville, North Carolina
11 hours 30 minutes from Miami (790 miles)
Why you should visit: Asheville is a gorgeous town located in western North Carolina's mountain country, where the famous Blue Ridge Parkway ends.
Marvel at the Blue Ridge Mountains on a road trip from Miami to Asheville itself or take a wonderfully scenic drive on the Blue Ridge Parkway.
When the sun starts to set, Asheville comes alive, with energetic street performances, a bustling nightlife scene, and rooftop bars with incredible sunset views.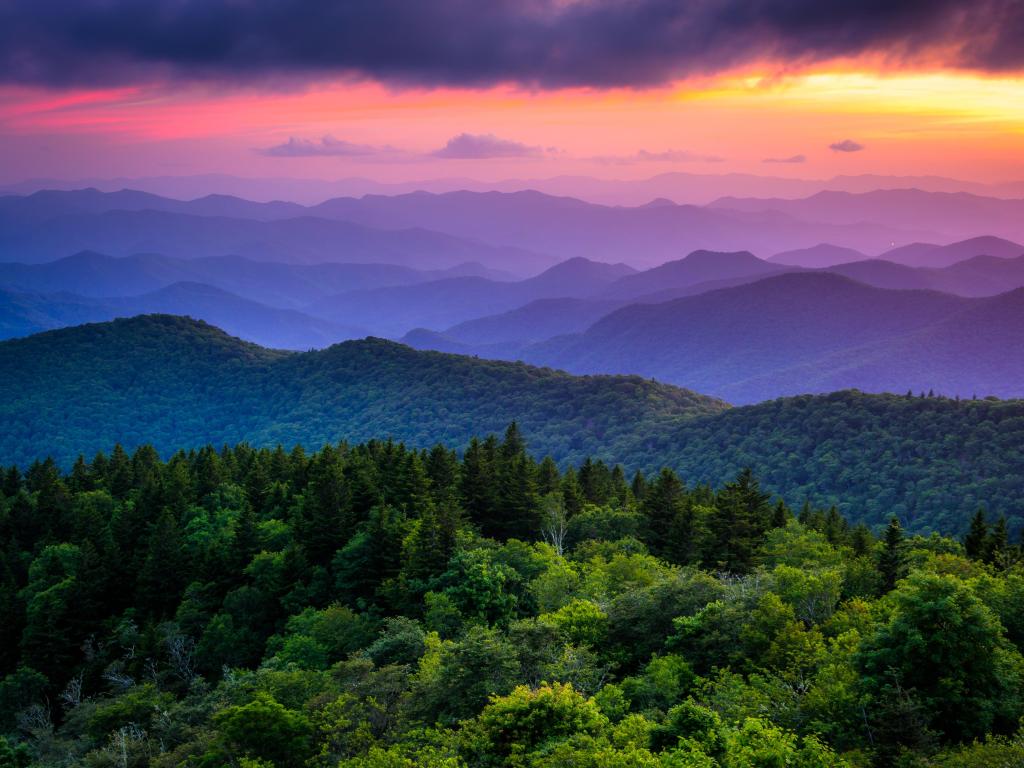 How to get there: Leave Miami heading north and join the I-75 N across up the east coast, passing Savannah before heading past Columbia and continuing north before arriving in Asheville.
Our highlights: Asheville is home to the incredible Biltmore Estate, the largest in the US, set in over 8,000 acres. The scale and splendor of this historic country estate really do have to be seen to be believed.
Biltmore Estate offers a range of indoor and outdoor activities, beautiful gardens, a winery, and exclusive restaurants. You can really explore the estate by enjoying its vast network of nature trails.
Take a chance to relax and unwind with a trip to the North Carolina Arboretum, situated in the beautiful Pisgah Forest to the south of Asheville. There are acres of gardens and trails to enjoy in this naturally diverse landscape. If you plan to visit in winter, then the spectacular walk-through light show is enchanting, with the gardens alight to the brilliance of over a million lights.
Asheville is renowned for its beer and is one of the most popular beer cities in the US. If you fancy a bit of brewery hopping then there are over 30 to choose from with more new and exciting breweries popping up all the time, each with its own unique local style.
The Pisgah National Forest is situated to the north of Asheville in the Appalachian Mountains and it's a beautiful hardwood forest stretching over 500,000 acres with hundreds of miles of trails taking you to whitewater rivers and majestic waterfalls.
Bonus: Asheville is uniquely home to the largest privately-owned residence in the country, the Biltmore Estate which has been a site location in several films, including Forrest Gump and Patch Adams.
Our travel tips: The best time to visit Asheville is March-May and September-November when temperatures range from the high 50s to mid-70s, making it ideal for exploring the great outdoors
READ MORE - Road Trip from Miami to Asheville
11. New Orleans, Louisiana
13 hours from Miami (860 miles)
Why you should visit: New Orleans is one of the world's most unique and interesting cities, famous for its fun, culture, and food. Our suggested road trip from Miami to New Orleans will take you through amazing attractions that will match the fame of NOLA.
New Orleans is full of French influence and Creole and Cajun culture, and you can't escape the music with jazz and blues being heard all around this amazing city. The French Quarter is the place to party in New Orleans.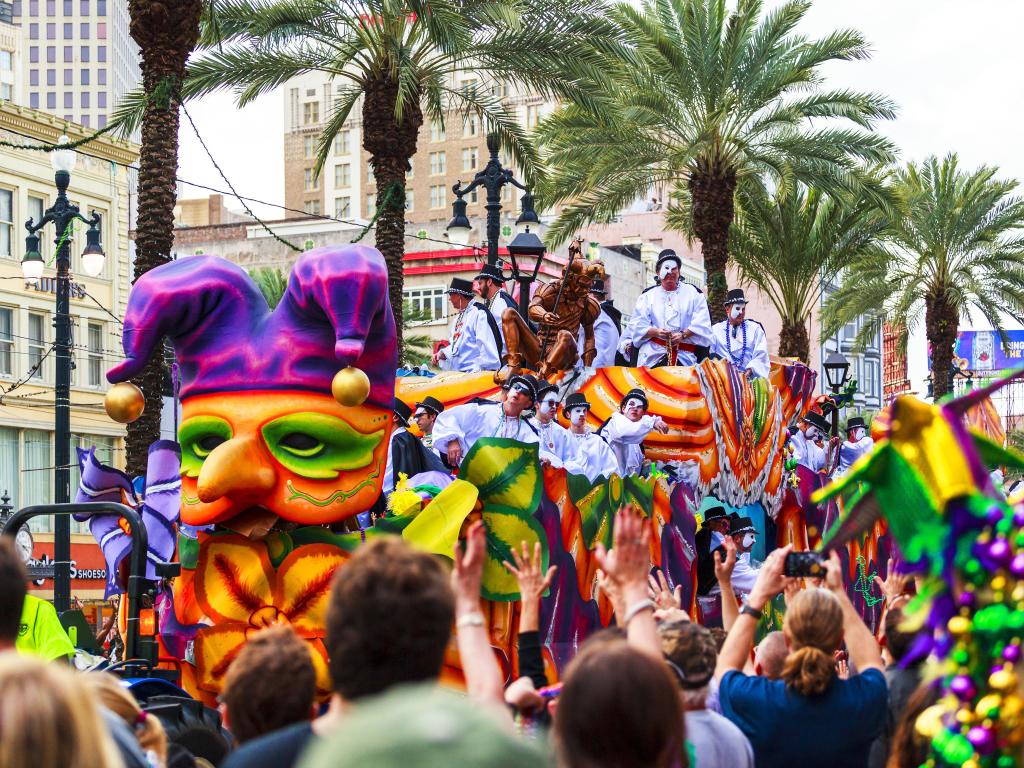 How to get there: Leave Miami on I-95 N and then take the Florida Turnpike through the heart of Florida before heading west just after Lake City. The route skirts Tallahassee before you head toward the coast and Pensacola.
Continue on to Mobile, crossing Mobile Bay, then continue with spectacular views across the Gulf Islands National Seashore before heading south where you'll head over Twin Span Bridge and onwards into New Orleans
Our highlights: See the city on two wheels as you go at your own pace with The Original Creole and Crescent Bike Tour. Learn all about the history and sights as you explore this unique city in the company of an expert tour guide.
If you're visiting New Orleans, then The French Quarter is a must-see, whatever the time of year. It's the oldest and liveliest neighborhood in the city with stunning architecture, history, food, music, and street performers.
If you love music then you'll love Frenchmen Street, with its host of live music venues, including the Spotted Cat, where jazz, blues, rock, and reggae can all be heard.
City Park is 1,300 acres of peace and tranquility, with walks, native birds, and Big Lake where you can rent a boat and take in the natural beauty of the water. The Couturie Forest nature trail will lead you to Laborde Mountain, the highest point in New Orleans.
A perfect way to end your stay in New Orleans is a Steamboat Jazz Cruise aboard a paddle-wheel riverboat. You'll get a unique view of the city as you sail down the Mississippi with an evening of culture, live jazz music, and a traditional Creole-style dinner to look forward to.
Bonus: New Orleans is well-known for its elaborate annual Mardi Gras party. But a little-known fact relating to the event is that wearing a mask when on a Mardi Gras float is mandatory.
In fact, this required mask-wearing is the law. The requirement is put in place to keep a sense of mystery and tradition that helps make the NOLA Mardi Gras season one of the best in the world.
Our travel tips: You can easily walk or cycle around New Orleans as it is extremely flat. If you do take public transport, then travel in a traditional streetcar.
Bourbon Street is renowned as one of the foremost party streets in the US. It is well worth a visit to soak up the atmosphere and enjoy the festivities.
READ MORE - Road Trip from Miami to New Orleans
12. Knoxville and Great Smoky Mountains, Tennessee
13 hours 10 minutes from Miami (880 miles)
Why you should visit: The stunning Smokies, a subrange of the Appalachian Mountains are situated within the nation's favorite national park. Take your pick from one of the many trails in this mesmerizing location.
The Appalachian Trail is the most famous, or take a wildflower walk and see the cascading waterfalls and wildlife with over 800 miles of breathtaking walks.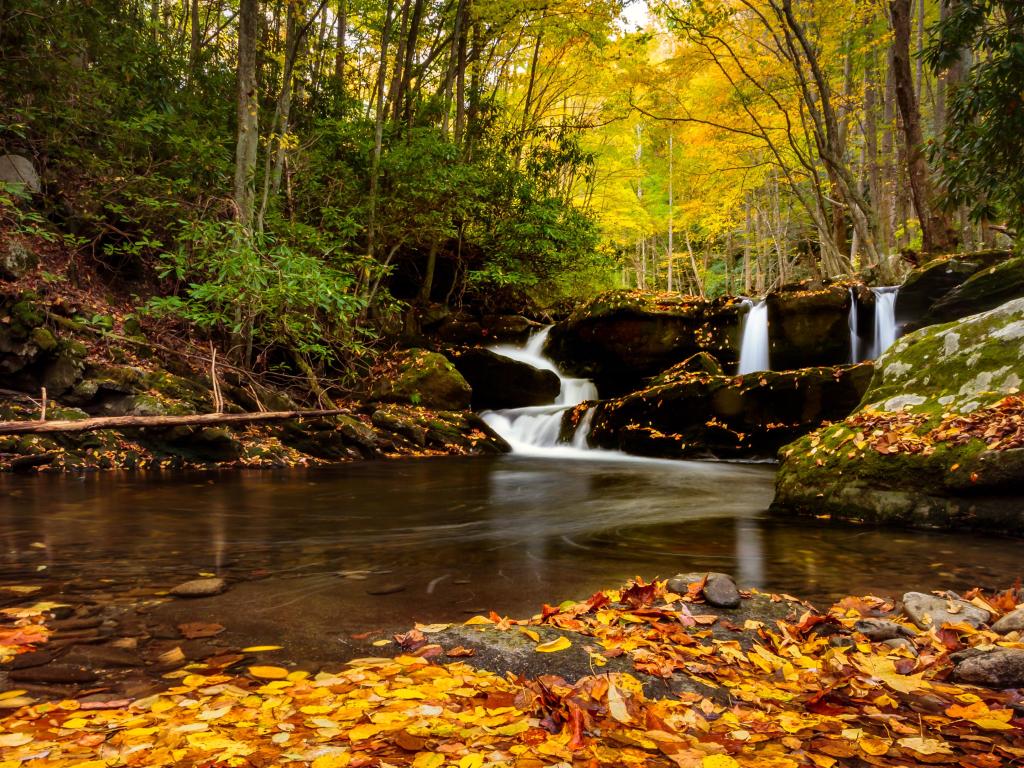 How to get there: Take I-95 N out of Miami and then join the Florida Turnpike. Continue onwards into Georgia heading through Tifton and Perry before arriving in Atlanta, an excellent place for a stopover after around 650 miles.
Leaving Atlanta, get back on I-75 and head north past Marietta to Chattanooga where the route heads northeast passing Athens and Eaton before arriving in Knoxville.
Our highlights: Every trip to the Smokies is memorable and taking the trail to Ramsey Cascades gives spectacular views of the tallest waterfall in the area.
Take the Roaring Fork Motor Nature Trail and explore more of the National Park and witness firsthand the preserved and restored buildings of the early settlers, perfectly showcasing their ingenuity and craft.
Visit the Sunsphere Tower, situated in World's Fair Park, standing 81 meters tall, the 4th-floor Observation Deck offers incredible 360-degree views across the Great Smoky Mountains
Embrace the local history and visit The Tennessee Theater. This truly unique building was built a century ago and is an architectural gem. While you're in Knoxville, be sure to take in a show at this spectacular venue.
The Peter Kern Library Speakeasy is one of the coolest venues in Knoxville, hidden inside the Kern Building. Why not indulge in a few of the local cocktails named after famous literary greats and soak up the alluring atmosphere?
Mead's Quarry Lake is the perfect place to visit after exploring the city, it's where the locals like to relax and chill amidst the beautiful pink marble and rolling woodlands.
Bonus: Knoxville Zoo is the Red Panda Capital of the World, having the greatest success in the breeding and survival of baby Red Pandas.
Our travel tips: The best times to visit are June, July, and October. Driving on the Blue Ridge Parkway is extremely popular and can take longer than the estimated times given online so do allow extra time for your journey.
13. Nashville, Tennessee
13 hours 30 minutes from Miami (910 miles)
Why you should visit: As the home of country music and bluegrass, tourists flock from around the globe to visit Nashville and enjoy the live music and thriving nightlife.
Nashville is at the heart of southern hospitality, and it may be known for its music scene, but it is fast becoming known for its delicious food with its fusion of cultures and traditional southern cuisine.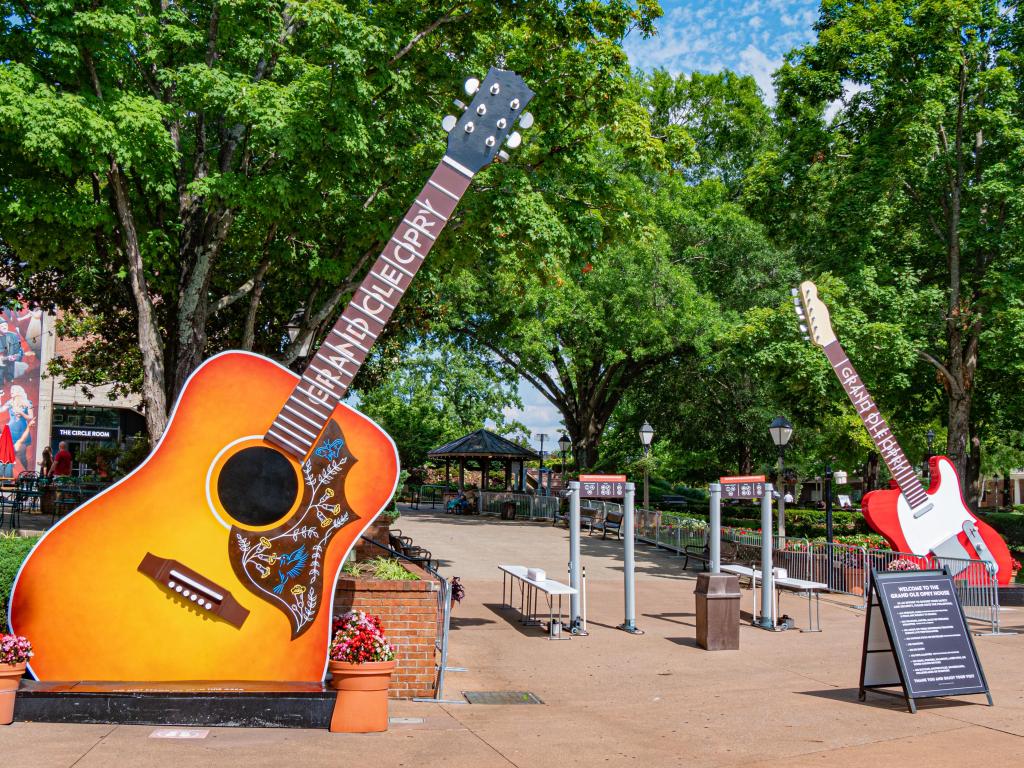 How to get there: Take I-95 N out of Miami and then join the Florida Turnpike. Continue until just after Orlando where you'll join the I-75 N. Entering Georgia, continue past Atlanta and Chattanooga before crossing the Tennessee River past Manchester before arriving in Nashville.
Our highlights: For music lovers, the Country Music Hall of Fame, Grand Ole Opry, and Johnny Cash Museum are a must-see on a trip to Nashville from Miami. Many of the world's greatest musicians have performed here and there is no better place to take in a live performance when you are in town.
Nashville is home to The Parthenon, an incredible full-scale replica of the original Parthenon in Athens, Greece. It is situated in Centennial Park and was originally built in 1897 as part of the Tennessee Centennial Expo, as Nashville was known at the time as the Athens of the South. Its awe-inspiring architecture is truly a sight to behold.
Learn all about the dark past of the south with a trip to Belle Meade, a historic site and winery with a museum and restaurant over 30 acres. This former plantation once covered 5,400 acres and was home to hundreds of slaves.
A great way to discover firsthand why Nashville is becoming a foodie heaven is to take a food tour. You'll get to sample all the local delicacies and stop at a handful of favorite eateries including some of the best places to eat that only the locals know about.
Bonus: Nashville was the first city in the US to desegregate public businesses in the push for equal rights and other cities and states later followed suit
Our travel tips: The best time to visit Nashville is spring or fall as the temperatures in the middle of summer can be hot.
Spring sees Nashville host the East Nashville Beer Festival, Tin Pan South Music Festival, and its also Nashville Fashion Week
In the summer months, Nashville is awash with Music and Food Festivals
READ MORE - Road Trip from Miami to Nashville
14. Virginia Beach, Virginia
14 hours 30 minutes from Miami (970 miles)
Why you should visit: Where the Atlantic Ocean and the Chesapeake Bay meet, Virginia Beach is the perfect place for outdoor and watersport activities.
The three city beaches play host to the Neptune Festival in September and October where everyone gathers to celebrate beach life and there is even an International Sand Sculpting Championship.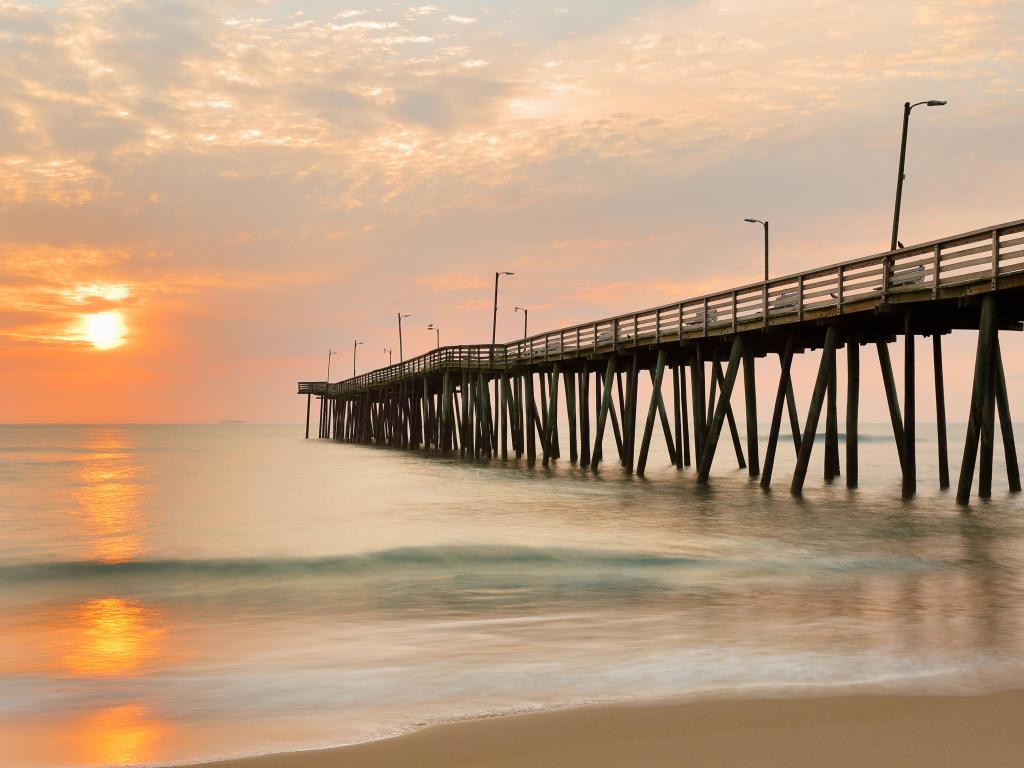 How to get there: Head north from Miami and take the Florida Turnpike with spectacular views out across the Atlantic as you head towards Jacksonville. Continue onwards to Savanna and Charleston before passing Rocky Mount and Roanoke Rapids and Chesapeake before arriving at Virginia Beach.
Our highlights: Walk the Virginia Beach Boardwalk stretching over 3 miles with glorious views across the ocean and home to many cafes, restaurants, museums, and amusement parks.
The Virginia Aquarium and Marine Science Center is the place to go for those interested in marine life. Home to over 12,000 animals, and over 700 different species, including the Komodo dragon.
If you are visiting Virginia Beach then you have to try the famous Chesapeake Bay blue crab and its delicious sweet meat. You'll be spoilt for choice for excellent seafood, be it fine dining or a surfside grille and you can enjoy some of the best at Bubba's Seafood Restaurant and Crabhouse and this waterside location has delightful views across the bay.
Bonus: The Guinness Book of Records lists Virginia Beach as having the longest pleasure beach on the planet.
The 35 miles of sandy shores are made up of three beaches which include Chesapeake Bay Beach, Sandbridge Beach, and Virginia Beach.
Our travel tips: Average winter temperatures are 40F and in summer this reaches a heady 79F
The best time to visit is May to mid-June and mid-September to late October and the temperatures will allow you to enjoy the many parks and trails around Virginia Beach
If you do visit in May you can enjoy the annual Pungo Strawberry Festival which offers over 50 different ways to taste the fruit, along with a bake-off, entertainment, and one of the largest carnivals on the east coast!
15. Washington DC
15 hours 45 minutes from Miami (1,060 miles)
Why you should visit: Washington is a cultural delight with its impressive architecture, monuments, and museums - including the home of the President, the White House, and Capitol Hill
There's something for everyone in Washington DC and it's especially true for art and history lovers, with 160 monuments and over 70 museums to explore.
How to get there: The drive from Miami to Washington is relatively straightforward as the majority of the journey can be taken on I-95 N.
Head north from Miami and take Florida's Turnpike along the coastline past Fort Lauderdale and Boca Raton before reaching West Palm Beach before heading to Jacksonville and then onwards to Savannah.
Leaving Savannah, the I-95 heads inland as you make your way past Florence and Richmond before continuing to Washington DC.
Our highlights: The Capitol is famous around the world and is on most people's must-see lists when visiting DC. It's a symbol of the United States with its hugely impressive dome, which is based on the dome of St. Peter's in Rome.
The Washington Memorial is the most revered of all the city's monuments with its impressive 19-foot marble statue of President Abraham Lincoln, surrounded by 36 columns, signifying the 36 States of the US at the time he died.
If you are planning to take the 896 steps to the top of the monument (or elevator), then it is well worth booking tickets in advance. The views front the top are spectacular and allow you to see all the famous landmarks.
Washington is home to the National Gallery of Art, one of the world's finest art museums with an incredibly diverse collection of masterpieces from across the globe. A short stroll will take you to the National Gallery of Art where a stroll around the gardens will introduce you to some amazing sculptures.
While you visit the home of the government, why not take a trip to The International Spy Museum and learn all about real-life spycraft, and James Bond.
The museum is interactive and you can test your spy skills as you make your way around, have a go at code-breaking, and learn some cool espionage tricks, while enjoying the exhibits which include the infamous James Bond Aston Martin.
Bonus: It's a little-known fact that two American Presidents kept Alligators at the White House. John Quincy Adams and Herbert Hoover both had pet alligators and they stayed at the white house during their time in office.
Our travel tips: You will rarely hear locals call the city "Washington", they refer to it as "DC".
While visitors flock to DC all year round, the best times to visit are between March and early June, or between September and November. The summers can be hot and humid.
READ MORE - Road Trip from Miami to Washington DC
16. New York City, New York
19 hours 40 minutes from Miami (1,280 miles)
Why you should visit: Known as the Big Apple and one of the most popular tourist destinations in the world. Enjoy the hustle and bustle and 24-hour lifestyle with its action-packed attractions and a wealth of cultural and historical appeal.
The diverse culture and endless entertainment options are why New York is known as the city that never sleeps.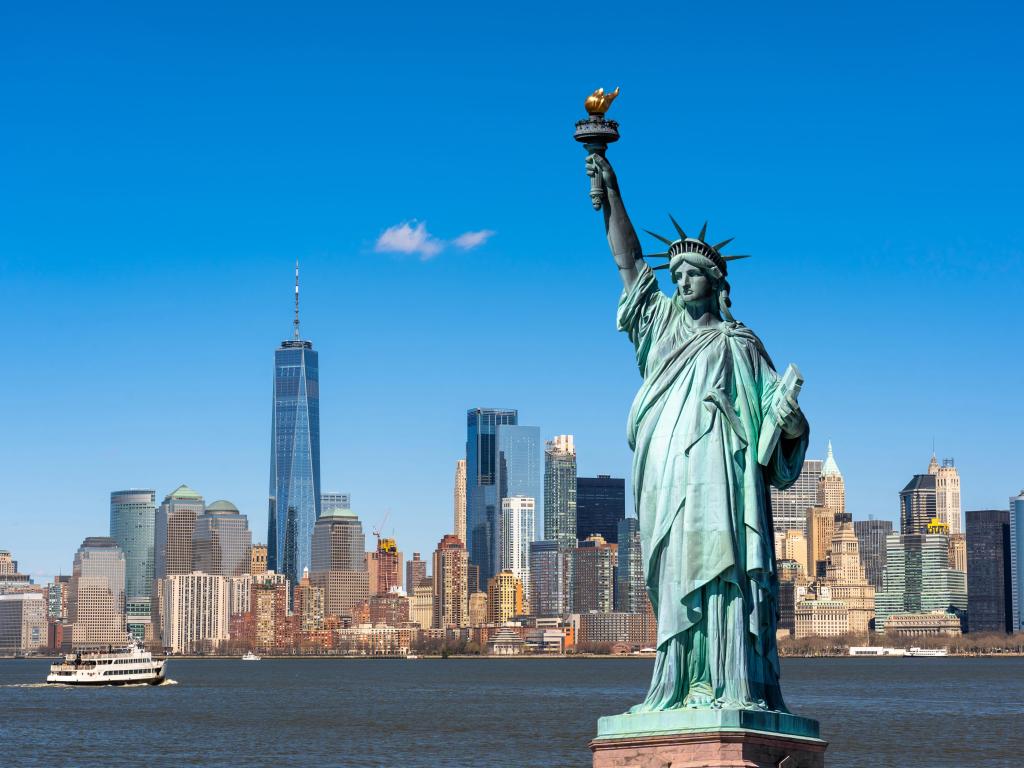 How to get there: The drive from Miami to New York is relatively straightforward as the majority of the journey can be taken on the I-95 N.
Head north from Miami and take Florida's Turnpike along the coastline past Fort Lauderdale and Boca Raton before reaching West Palm Beach. From here, join I-95 N passing Jacksonville, Washington D.C. and Philadelphia before arriving in New York.
Our highlights: High on most people's bucket lists on a trip to the Big Apple are The Statue of Liberty and Ellis Island. These dual symbols of freedom and hope are a tribute to the human spirit and the boat ride offers a fantastic alternative perspective of New York City from the water.
Central Park is one of the most famous parks in the world and also one of the biggest, covering 843 acres and is a landscaping masterpiece. It's a perfect place to take time out from exploring the city and enjoy the forests, meadows, fountains, and lakes.
The Great Lawn plays host to big concerts so you may be lucky enough to see your favorite artist performing when you visit.
One of the most popular attractions in New York is the Rockefeller Center, comprising 19 buildings in midtown Manhattan and is considered the best shopping and dining destination in New York.
Take a trip to the "Top of the Rock" with 3 viewing decks offering fantastic unparalleled 360-degree views over the city.
Take a trip to Fifth Avenue and the iconic Empire State Building. At the time of its construction in 1931, it was the world's tallest building and one of the greatest engineering feats in US history. Climb to the observation decks and enjoy incredible vistas of New York and beyond with the view encompassing six states.
For an alternative experience, visit the Whispering Arch at Grand Central Station and stand opposite a partner in the arches and experience the bizarre phenomenon of hearing your voice carry straight to their ear as the impressive domed geometry acts as an amazing amplifier.
Keep your eyes peeled as you explore this iconic city for the tiny little doors around pedestrian crossings and lampposts created by artist Cynthia von Buhler. Each has its own QR code that will lead you to the Speakeasy Dollhouse for an interactive experience of Prohibition-era New York.
Bonus: New York City's Federal Reserve Bank has the largest gold storage in the world. The vault is 80 feet below street level and contains $90 billion in gold. It was also the first capital of the United States, in 1789
Our travel tips: New York is made up of 5 boroughs that cover over 300 square miles so be sure to plan your trip carefully.
One of the best times to visit is April when the weather is pleasant, the city is springing into life and the prices are at their most favorable.
17. Denver, Colorado
31 hours from Miami (2,070 miles)
Why you should visit: Denver is situated amongst high rolling plains and is surrounded by mountains with a stunning panorama that is 140 miles long. It makes an excellent base for exploring the Rockies.
Get away from the hustle and bustle of city life in one of Denver's many parks and take the Cherry Creek Trail through the heart of downtown Denver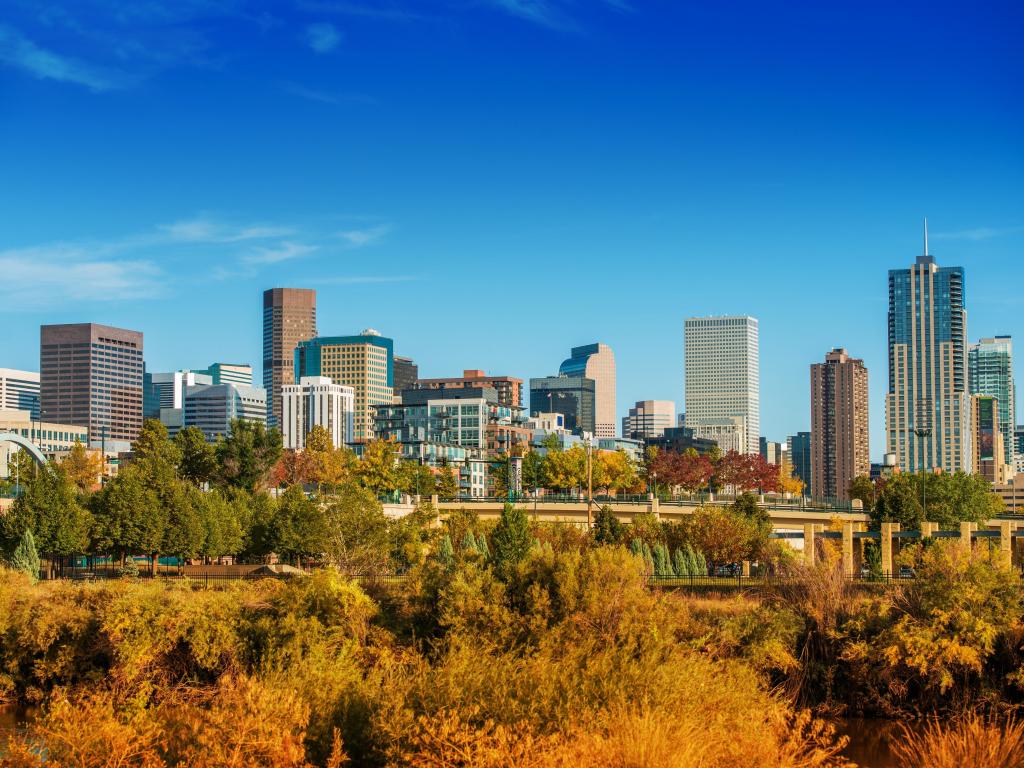 How to get there: Take the I-95 N on a road trip out of Miami and then take the Florida Turnpike, then the I-75N to Georgia. Continue to Nashville before heading west through Kentucky and into Illinois, passing St. Louis and Kansas City heading towards Topeka and Colby, before arriving in Denver.
Our highlights: You can't visit Denver without experiencing the Rocky Mountains and taking the Mount Evans Scenic Byway is a perfect way to do so. Known as the "road into the sky" this incredibly scenic journey headlines at 14,264 feet and there are many fabulous viewpoints along the way from which to admire the stunning mountain landscape.
Venturing into downtown Denver, the LoDo District is the happening place to be. This thriving neighborhood is home to 90 brewpubs and houses more breweries than any other US city.
Capitol Hill and the Golden Triangle offer an eclectic mix of arts, culture, and history and the stunning Colorado State Capitol sits at the heart of the Mile High City with its golden crown.
Meow Wolf Denver is home to incredible mind-bending art at Convergence Station. Take yourself on a surreal journey of discovery as you immerse yourself in this incredible exhibition which will leave you totally enthralled. You can then enjoy a vast array of culinary cultures in hellofood.
Larimer Square is the heart of Denver and this iconic gathering place is home to many unique restaurants and specialty boutiques, all housed in Victorian buildings. The street lights give it an almost festive feel at night and its cocktail lounges, secret speakeasies, and craft breweries guarantee you'll have a memorable night.
If you are visiting Rocky Mountain National Park, keep in mind that the national park uses a timed entry permit system. Please check the national park's website to see if you need to make a reservation before your visit.
Bonus: There are 200 named peaks visible from Denver, including 32 that soar to 13,000 feet (4,000 meters) and above.
Our travel tips: Denver is known as Mile High City as it sits at 5,280 feet above sea level.
Allow for varying weather - Denver sits at the base of the Rockies so you can experience 4 seasons in a day.
READ MORE - Road Trip from Miami to Denver
18. Los Angeles, California
39 hours from Miami (2,730 miles)
Why you should visit: Los Angeles is the entertainment capital of the world. It's known for its bright sunshine with its lovely weather, which ensures you can enjoy all this incredible city has to offer at any time of year.
The home of Hollywood, movie studios, stunning beaches, museums, famous theme parks, and nightlife, it's the city that has it all. Click here for our detailed guide to the epic road trip from Miami to Los Angeles.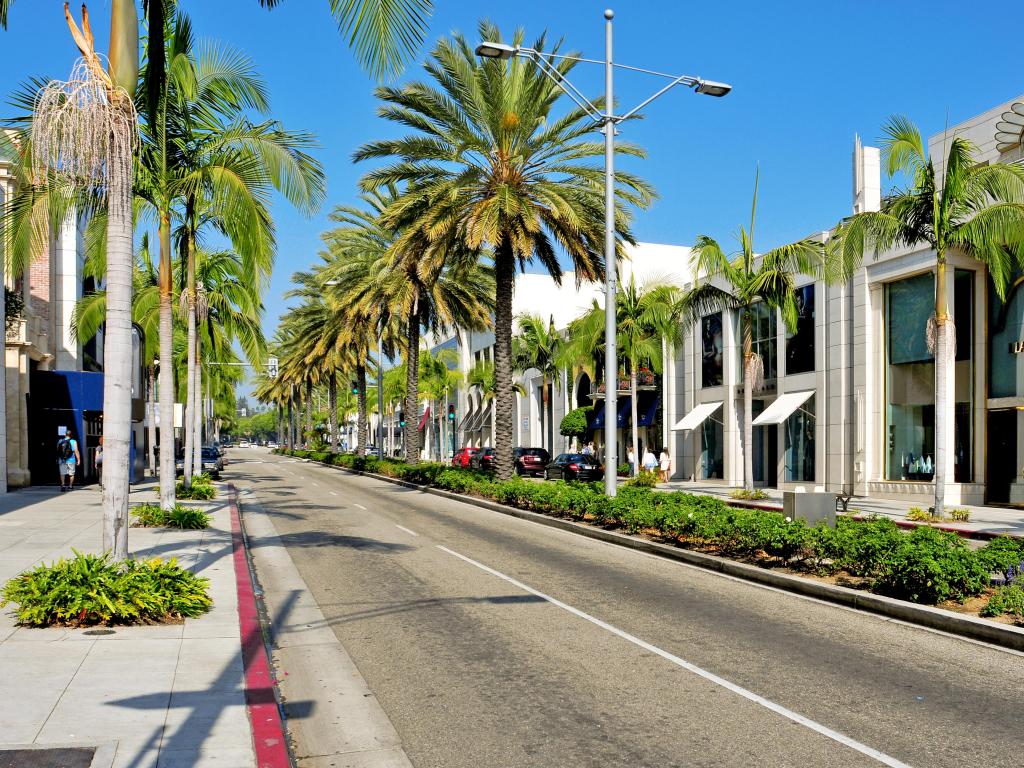 How to get there: Take the I-95 N from Miami and then take the Florida Turnpike and I-75N then head west towards Tallahassee following the Louisiana coastline before heading into Texas.
Continue past Houston, Ciudad Juarez, Tucson, and Phoenix before crossing the Arizona desert passing the Colorado River Reservation and the Joshua Tree National Park. The route skirts the San Bernadino National Forest before the I-10 leads you all the way to Los Angeles.
Our highlights: Being the movie capital of the world, a trip to the larger-than-life entertainment business that is Hollywood is an experience in itself. Visit the hall of fame and discover the history and glamour of the area, as well as spot your favorite celebrity on the famous star-studded pavement.
After an epic road trip, what better place to relax than a postcard-perfect Malibu Beach. You'll be spoilt for choice as there are so many great locations to choose from, but a trip to the small, beautiful beach at El Matador is the ideal place to witness a memorable sunset.
Los Angeles boasts miles of incredible coastline and Point Dume on the Malibu coast is no exception. Not only is it an excellent location for swimming, surfing and diving, but it's also the perfect place to see gray whales and other marine life and it is home to some spectacular trails affording incredible views of the Palos Verdes Peninsula and Santa Catalina Island.
A trip to the La Brea Tar Pits is an alternative to the usual LA tourist scene. This ancient Ice Age excavation site, and museum, is an active research site and where you can witness fossils of mammoths and saber-toothed cats.
Visit the Griffith Observatory and get an amazing view of LA from Griffith Park. Covering 4,310 acres the park is also home to museums, zoos, botanical gardens, and trails.
Bonus: Los Angeles is famous for its Hollywood sign that sits high and proud above the city. This iconic landmark didn't always look as it does today and originally it was spelled Hollywoodland. The current name came about in 1949 and has become synonymous with the film industry across the globe.
Our travel tips: It is almost always sunny in LA in the summertime and while it may have a few wet winter days it is always warm
The sea looks incredibly inviting but this stretch of the Pacific Ocean has currents heading south from Alaska and can be much colder than you expect
LA has over 70 miles of coastline so if you are looking to get away from the crowds you'll be certain to find a more secluded spot to enjoy a perfect sunset
READ MORE - Road Trip from Miami to Los Angeles