What is the Location of the Famous Banff Sign?
Located in the Canadian Rockies, visitors flock to Banff all year round to enjoy its mountain views, idyllic clear lakes and winter sports. Famous as the home of Canada's first National Park, this stunning area is rich in wildlife, and if you're lucky you might spot grizzly bears or wolverines during your trip.
A picture beside the Banff sign has become an iconic memento of a visit to the resort town. The sign is located on Mount Norquay Road, one of the main approaches to Banff. You can park up right across the street and then get ready to strike a pose.
The Banff sign was installed to celebrate the town but quickly became very popular as a photo spot - chances are that you will have seen pictures of it already if you've spent time planning your road trip to Banff. So carry on reading to discover how to get to the famous sign and the best way to get a photo when you arrive.
Where is the famous Banff Sign located?
There are actually two notable Banff signs, but the one you've probably seen in pictures is on Mount Norquay Road. That's the one with the distinctive outline lettering.
Mount Norquay Road is an easy 2-minute drive from Banff Visitor Centre in central Banff, opposite the Fenlands Banff Recreation Center.
If you want to tick off both Banff signs while you're in town, you'll also find the original style sign located on Banff Avenue.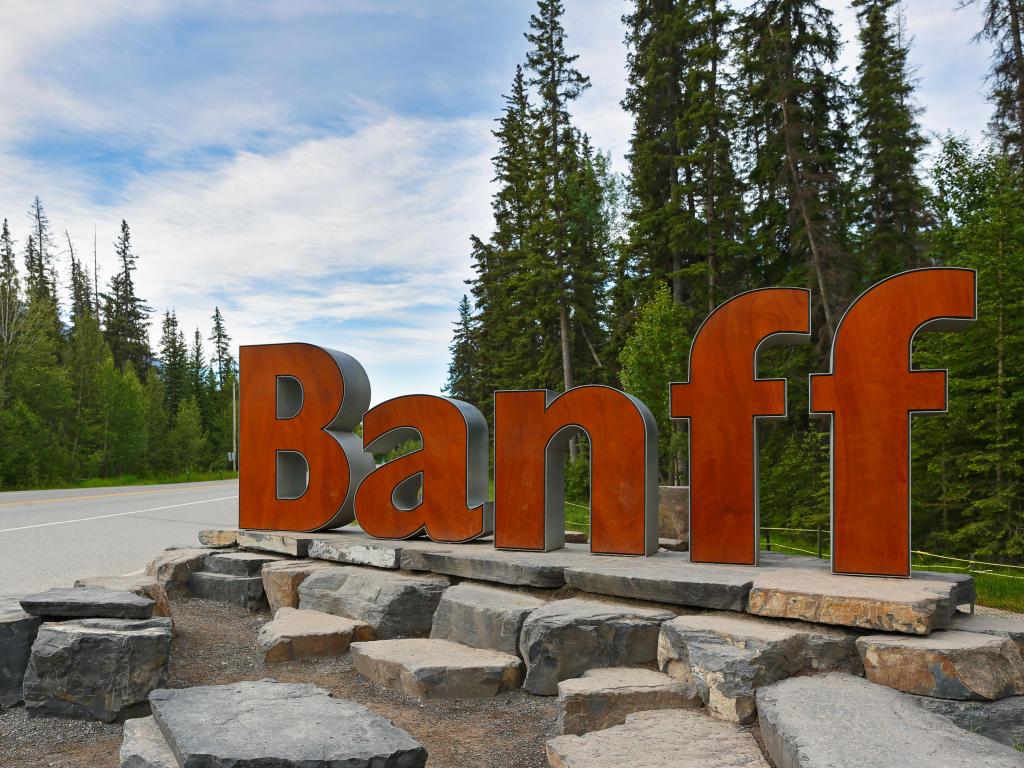 How to drive up to the famous Banff Sign
Driving up to the famous sign by car helps if you're driving in the direction of the resort town rather than away from it. That's because the sign is made of outline letters, so if you're traveling out of Banff town, the sign appears backwards.
Whatever direction you're approaching Banff, it's a relatively straightforward drive that includes stretches on the Trans-Canada Highway before turning onto Mount Norquay Road on the run into town.
That said, snowfall can cause problems in winter and in May 2023 a section of the road between Revelstoke and Golden - the route you'll take if you're traveling from Vancouver - was closed due to an avalanche.
You can also see the famous Banff sign on your way back into town from Mount Norquay Scenic Drive. The winding scenic road straightens out then becomes Mount Norquay Road as you drive over the Trans-Canada Highway.
This is the road that will lead you into town, and the one where the famous Banff sign is located.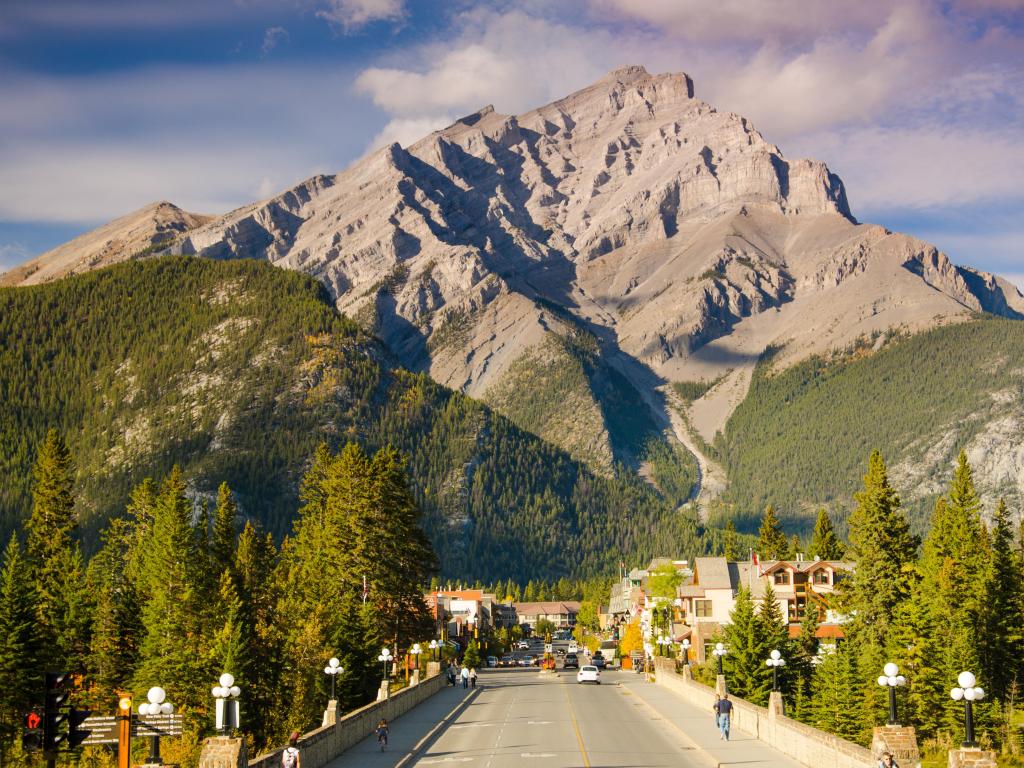 Driving up to the famous Banff Sign from Calgary
Calgary, 130 km to the east, is a popular starting point for visitors traveling to Banff and its famous sign. As you leave Calgary, simply make your way out to Trans-Canada Highway 1 and head west for 1 hour 20 minutes.
You'll enjoy some stunning lake and mountain scenery even on this short drive, and it's worth making a stop in the quaint town of Canmore, in the Alberta Rocky Mountains.
Once you hit Canmore, you're just 25 km away from the sign. Resist the temptation to take the first exit into Banff via Banff Avenue. Instead, continue along the highway to the next exit then turn towards the town on Mount Norquay Road (heading in the opposite direction to the ski area).
As you approach Banff on this route, the famous Banff sign will be visible from the road.
Reaching the famous Banff Sign from Vancouver
Although it's a longer drive, Banff is also a popular destination for travelers from Vancouver, British Columbia. The 850-km drive will take you around 9 hours 30 minutes. That means that, although it makes a great road trip split over two to three days, it's also possible to get there in one long day on the road if you'd rather spend your vacation time in Banff.
The most direct route starts out on Trans-Canada Highway 1 past Abbotsford and Chilliwack before taking BC-3 onto BC-5 after Silver Creek for a shorter drive up to Kamloops.
After Kamloops, you'll rejoin Trans-Canada Highway 1 for the stunning drive through Mount Revelstoke, Glacier and Yoho National Parks. Around the halfway point, Salmon Arm is home to Shuswap Lake where there are hiking trails and sandy beaches.
Traveling from Vancouver, Mount Norquay Road is the first exit into Banff from Trans-Canada Highway 1. The Banff sign will also be visible from the road in this direction, so keep on reading for more information on the best place to pull over to take a photo by this iconic landmark.
In case you're traveling to Banff from other parts of Canada or the United States, we've put together a list of popular starting points for people heading to the town. Check out the table below to start planning your trip.
Travel times and distances to Banff from major cities nearby

| Starting city | Distance | Driving Time |
| --- | --- | --- |
| Calgary | 130 km | 1 hour 20 minutes |
| Edmonton | 410 km | 4 hours 30 minutes |
| Alberta | 480 km | 5 hours 40 minutes |
| Vancouver | 850 km | 9 hours 30 minutes |
| Seattle | 600 km | 10 hours 30 minutes |
The best viewing spot for the famous Banff Sign
If you're driving into Banff along Mount Norquay Road then you'll get a great view of the famous Banff sign - but only for a moment or two as you pass by. So, to stop and take a closer look you'll need to find somewhere to pull over.
The sign has become so popular that you can no longer stop on Mount Norquay Road for a photo. At one point there were major tailbacks caused by visitors stopping to take photos, so it's not surprising that there are now restrictions in place.
Just in case you're considering trying to pull over right by the sign for a quick snap - there are bollards preventing motorists from trying this trick.
Not that you'll need to, since once you've parked up, it's both free and easy to cross the road and take a photo right in front of the Banff sign. There are even bollards and large boulders to protect you from passing cars.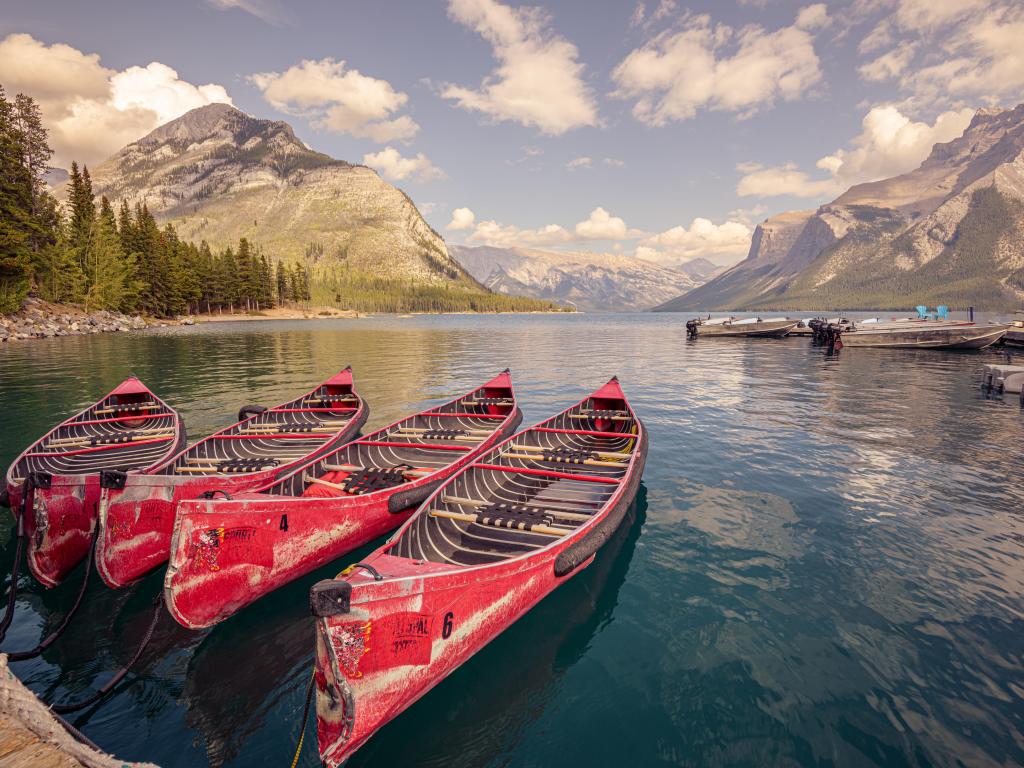 Can you park near the famous Banff Sign?
As you've already read, it's not possible to stop on Mount Norquay Road to visit the Banff sign, so you'll need to find somewhere nearby to park.
The good news is that you can park just across the road at the Fenlands Banff Recreation Centre, then use the pedestrian crossing to reach the Banff sign safely.
Things you need to know about driving up to the famous Banff Sign:
If you don't pass the sign when you first arrive in Banff it's just a short drive out of town, so you haven't missed out on the photo opportunity.
You might have to wait a few minutes for a photo so make sure you have enough time when you stop at the sign.
In winter, make sure you have snow tires - if you're hiring a car you can stipulate this when your order.
If you're traveling from Alberta, you'll encounter the Icefields Parkway, in which case it's the law to use snow tires between November and April.
Things to see once you reach the famous Banff Sign
The famous Banff Sign is just the starting point for your trip to Banff. Here are our top picks for things to see and do once you arrive in the town:
Banff National Park - There's a wealth of outdoor activities to enjoy, ranging from hiking, cycling, canoeing, and skiing in winter. You can even go on an evening wildlife safari to catch a glimpse of the native animals.
Banff Gondola - Climb Sulphur Mountain in a gondola. The summit stands at 670 meters (2,200 feet) offering spectacular vistas over Banff below.
Banff Upper Hot Springs - Take a dip into mineral waters. The naturally heated springs have consistent temperatures of 37 C to 40 C (98 to 104 degrees Fahrenheit), a fine way to relax.
Lake Minnewanka - Book a lake cruise, scuba dive, or even just drive the Minnewanka Scenic Drive to see this glacial lake.
Downtown Banf - While there's plenty of scenic outdoors don't neglect the town. There are craft shops, traditional pubs, and restaurants to discover in the mountain town.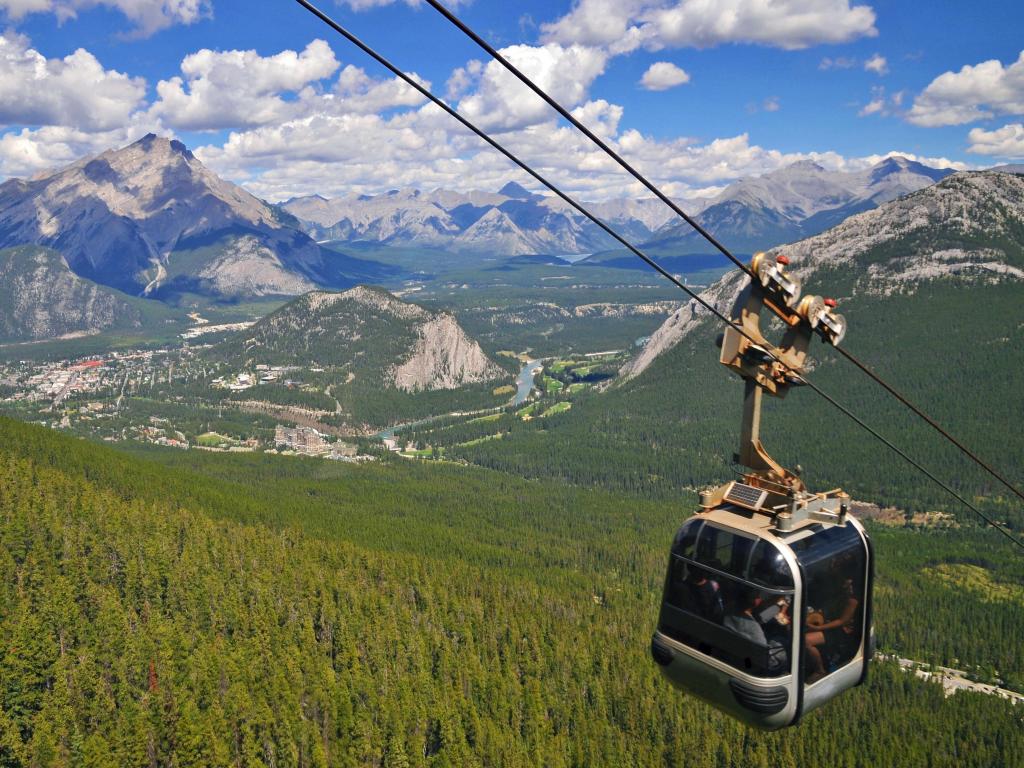 Now that you know how to get to the famous Banff sign, you're all set for your trip.