Road trip from Adelaide to Ayers Rock (Uluru)
Ready to shake the cobwebs off and set off on an enchanting journey, not only for the eyes but also for the soul, to the spiritual heart of Australia? The road trip from Adelaide to Ayers Rock (Uluru) will take you through coastal beauty and striking desert landscapes to one of the world's most majestic red rock formations.
The 1,600 km road trip from Adelaide to Ayers Rock (Uluru) will take about 17 hours to drive. The highlights en route are Wallaroo, Port Pirie, Napperby Gorge, Wirrabara Forest, Lake Torrens National Park, Lake Hart, Watarrka National Park and Yulara.
This amazing journey will take you through unforgettable landscapes that you can only find in South Australia and Northern Territory. Read on below to learn more about our recommended route, top highlights, best places to stay, and the ultimate time to make the journey.
How far is Uluru from Adelaide, and how long will the road trip take?
Travel time and distance from Adelaide to Ayers Rock (Uluru)

| Route | Distance | Driving Time |
| --- | --- | --- |
| Main Route | 1,600 km | 17 hours |
There is only one route that will take you from Adelaide to Uluru. This is a beautiful drive through some of Australia's most beautiful landscapes.
The road trip from Adelaide to Uluru (Ayers Rock) is a mesmerising journey that covers approximately 1,600 km. You can complete it in around 17 hours without detours.
While you might be tempted to complete this trip within a couple of days, the route boasts numerous intriguing stops and sights, prompting us to recommend stretching the journey over 5-6 days.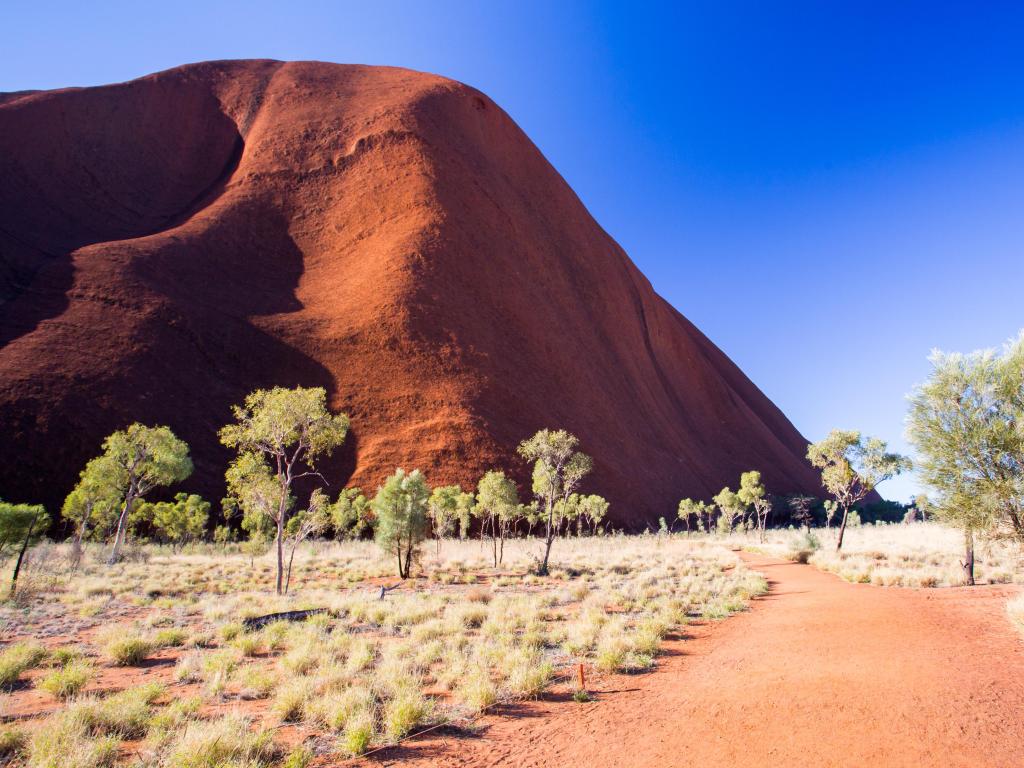 Best road trip route from Adelaide to Uluru
The beautiful route from Adelaide to Uluru will take you through the coastal town of Adelaide and through diverse landscapes, before reaching the iconic Uluru (Ayers Rock) in the heart of Australia, in the Uluru-Kata Tjuta National Park.
On the way, you'll explore the green, hilly terrains of Mount Remarkable National Park and the serene landscapes of Mount Brown Conservation Park.
Before entering the Australian outback, the route also offers glimpses of stunning salt lakes, such as Lake Torrens and Lake Hart.
If you have an adventurous spirit, taking a detour to Watarrka National Park, renowned for Kings Canyon and its beautiful red rock cliffs, is a must. This national park is famous for its hiking trails that take you right into the heart of the Australian landscape.
As you drive through South Australia, you'll visit places rich in aboriginal history. Here, you can experience incredible wildlife, vegetation, and the rich tapestry of cultures that have shaped the region.
As you enter the Northern Territory, you'll get to visit the Bon Bon Station Conservation Reserve. This beautiful reserve is teeming with diverse wildlife.
From here, you'll enter the expansive natural landmarks of the Northern Territory's Outback and arrive at your destination of Uluru.
How to drive from Adelaide to Ayers Rock
The map above shows our suggestions for the best road trip routes between Adelaide and Ayers Rock (Uluru). Keep reading for detailed descriptions of both routes, where to stay on either, and the best things to do on the way.
The Main Route
Start your unforgettable journey by heading north from Adelaide via the A1 highway. Your first stop is the charming coastal town of Wallaroo, where maritime history comes alive at the Wallaroo Heritage & Nautical Museum.
Continuing north, you'll pass through Port Pirie, where you can visit the fine art exhibits of the Port Pirie Regional Art Gallery, hike in the Napperby Gorge, or relax on Weeroona Island.
The journey then takes you past the majestic Mount Remarkable National Park and the serene Mount Brown Conservation Park.
Next, as you travel north on the Stuart Highway, stop by the Wadlata Outback Center in Port Augusta. After this, continue north on A1 or take a slight detour to Lake Torrens National Park.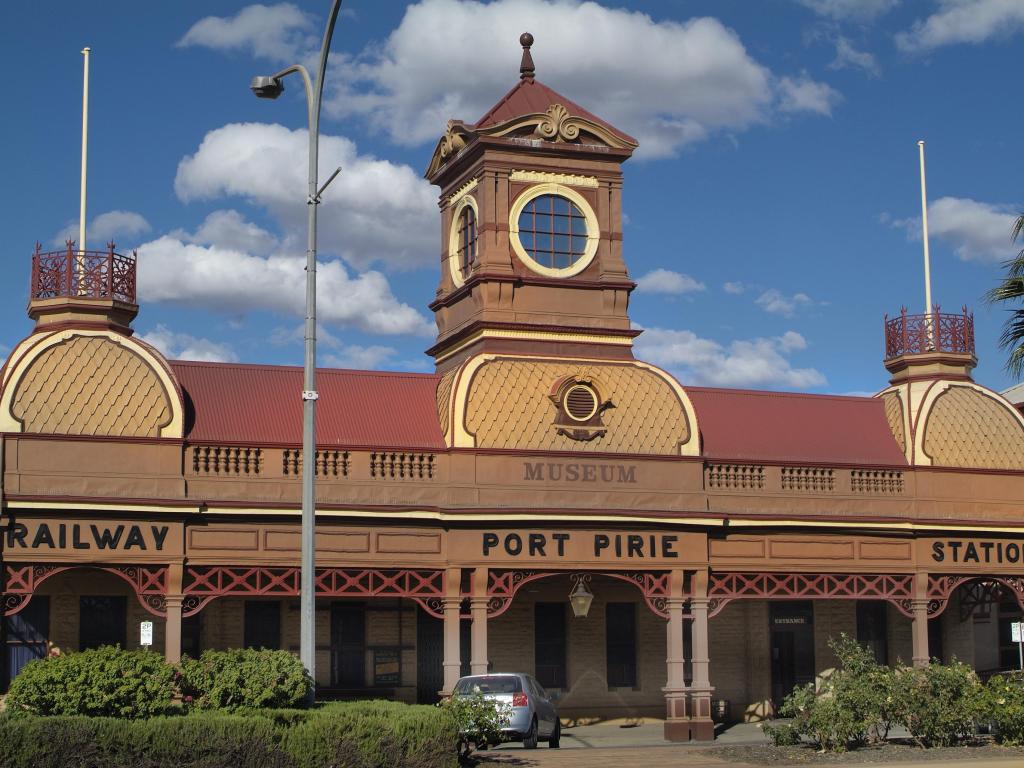 Make your way through the historic town of Woomera and take a moment to relive the space age at Woomera Rocket Park. The journey then takes you to the untouched wilderness of Bon Bon Station Conservation Reserve, a sanctuary for Australia's unique wildlife.
Soon, you'll reach Coober Pedy, where the Old Timers Mine & Museum provides a glimpse into the town's opal mining history. From here, make your way to the Kanku-Breakaways Conservation Park.
Continue driving north for several hours until you reach the town of Ghan. From here, you can take an amazing detour to Watarrka National Park, famously known as King's Canyon, to hike along its red rock cliffs and amazing scenery.
Back on the Stuart Highway, you'll arrive at Yulara. Just a few minutes south is your destination of Adelaide.
Best places to stop between Adelaide and Ayers Rock
On this road trip, you'll drive through natural wonders with infinite vistas, charming communities, and beautiful coastlines. To experience the most of this beautiful landscape, we recommend staying at one of the destinations listed below.
Coastal views in Port Augusta
Port Augusta is a picturesque pit stop approximately 3 hours and 20 minutes into the Main Route drive. Nestled at the crossroads of Australia, this coastal town feels both modern and connected to its past.
Often regarded as the gateway to inner Australia, the town invites you to indulge in relaxing activities like fishing and kayaking, or simply meandering through its beautifully manicured parks.
Among the town's notable attractions are the informative Wadlata Outback Center and the enchanting Australian Arid Lands Botanic Garden. Each site offers a distinct flavour of the region's rich history and unique ecosystem.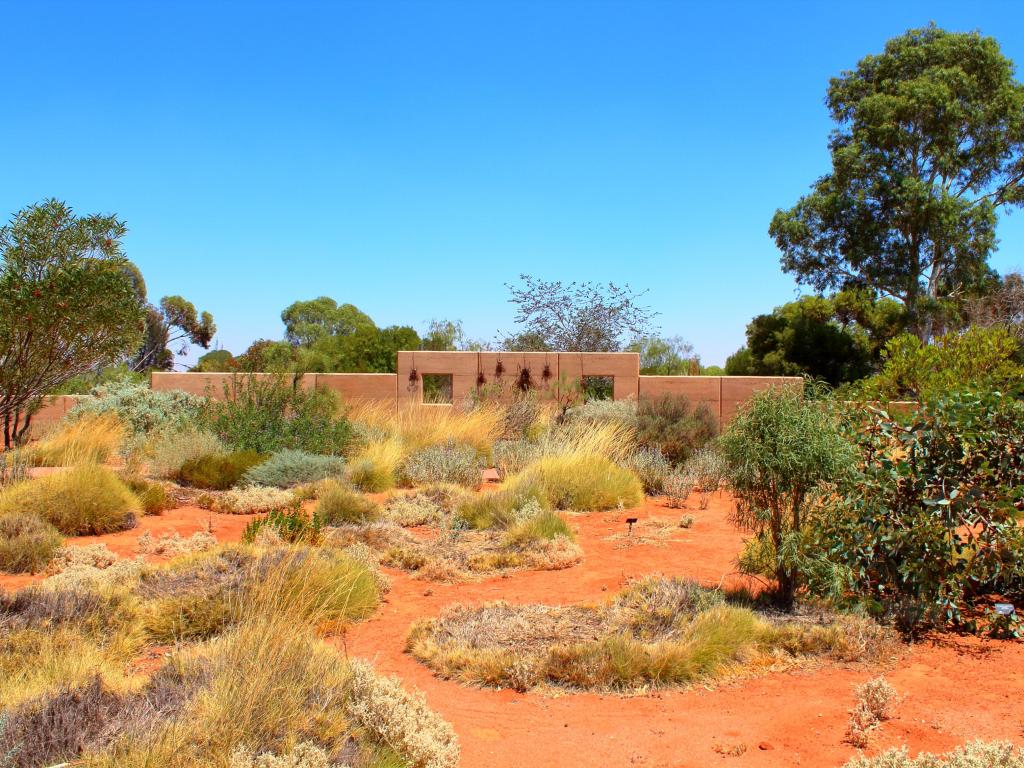 Once you reach Port Augusta, we recommend staying at the Majestic Oasis Apartments. This contemporary hotel overlooks the glistening waters of the Upper Spencer Gulf. Every apartment promises a comfortable stay, with plenty of amenities like an outdoor swimming pool.
Another plus is the hotel's prime location by the water, complemented by lovely parks and walking trails in the vicinity.
While at the Majestic Oasis Apartments, you can take a fresh breath and admire the beauty of the Swimmers Memorial Garden, which is a stone's throw away. Located just 50 metres from the property, this city park promises a peaceful retreat.
If you're keen on a brief excursion, the Pichi Richi Railway Station is merely 800 metres away, waiting to take you on a historic journey through the charming landscapes of Port Augusta.
Explore the underground town of Coober Pedy
Approximately 9 hours into your journey, Coober Pedy is an otherworldly oasis in the vast Australian outback. This unique town, recognized for its distinctive red-hued lunar landscapes, is the perfect place to stop overnight to split your journey.
The town is renowned for its ingenious way of life. The locals have ingeniously crafted a life below the surface to combat the sweltering heat. From cosy homes to a church, much of the city's daily existence is orchestrated underground.
During your stay, visiting the Umoona Opal Mine & Museum is a must for insights into the town's mining heritage. Additionally, the Old Timers Mine & Museum sheds light on Coober Pedy's rich history and the tenacity of its pioneers.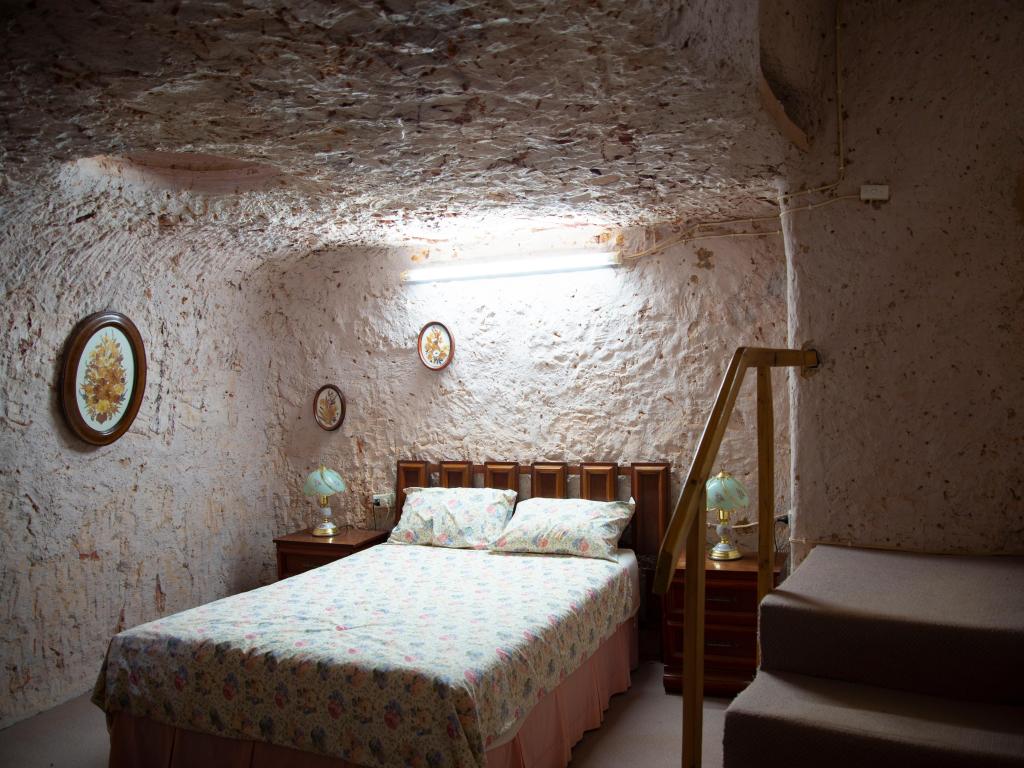 Coober Pedy is often hailed as the "opal capital of the world." A testament to the abundant minerals hidden beneath its surface.
We highly recommend the luxurious Dug Out B&B Apartments for your overnight stay. This one-of-a-kind accommodation offers a surreal experience of living underground while still offering panoramic views of the vast plains from certain rooms.
During your stay here, you will love the ambiance and the meticulous attention to detail clear in its décor. Venture outside to discover a cosy fireplace, braai facilities, and a patio, perfect for soaking in the twilight hues.
Come morning, enjoy a delicious breakfast spread that's perfect for fueling up for your drive.
While staying at the Dug Out B&B Apartments, enjoy a fun game at the Coober Pedy Minigolf, a mere 500 metres away. Or, for a deeper dive into subterranean living, check out Faye's Underground Home, in the heart of Coober Pedy and just 3 km from the hotel.
Where to stay when you reach Ayers Rock (Uluru)
Uluru, often referred to as Australia's beating heart, stands tall in the vast expanse of the outback, a beacon of natural wonder and cultural significance.
This iconic sandstone monolith, over half a billion years old, is cradled within the Uluru-Kata Tjuta National Park, a designated UNESCO World Heritage Site cherished for its natural wonders and deep-rooted cultural values.
Managed jointly by the indigenous Anangu people and Parks of Australia, this beautiful landscape features sacred sites, intricate rock caves, life-giving springs, and evocative ancient paintings. Uluru is not just a landmark; it's a journey into Australia's soul.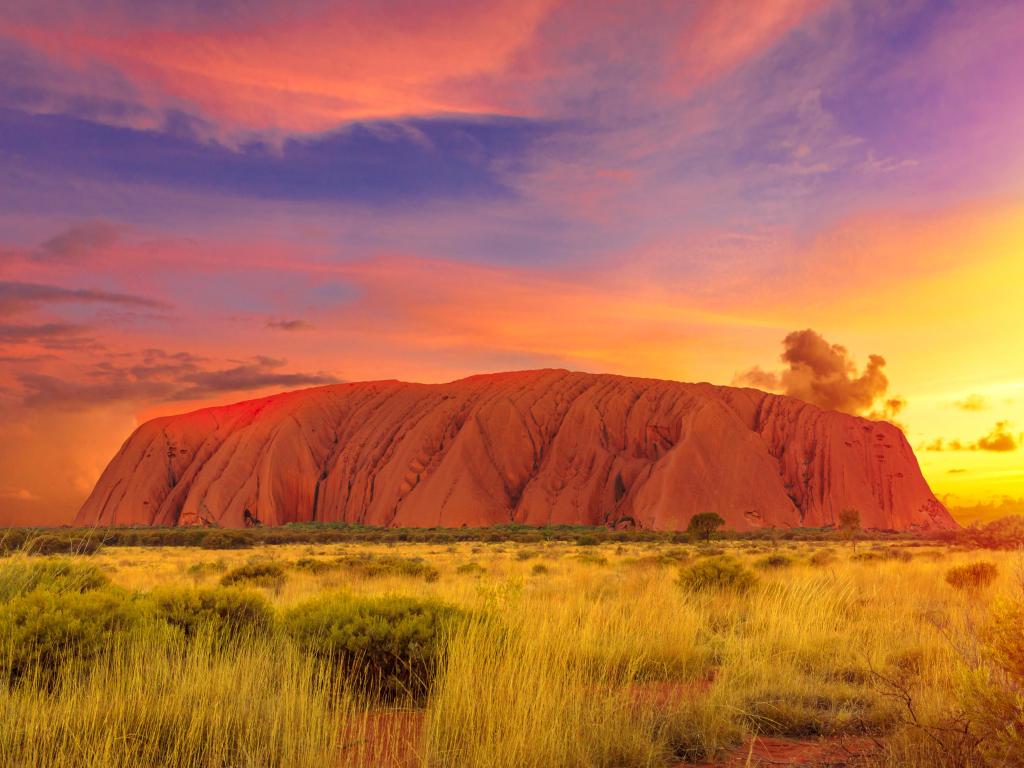 As you explore, the massive Uluru sandstone rock formation will majestically tower over you. Its ever-changing hues paint a captivating picture against the canvas of the sky.
Not far away, Kata Tjuta, also referred to as the Olgas, presents a contrasting but equally awe-inspiring set of rounded sandstone hills. Both sites, deeply sacred to the Anangu, narrate tales of the Dreamtime, the Aboriginal understanding of the world and its creation.
Nestled close to this natural marvel, the highly-rated Outback Hotel in Yulara is a tranquil oasis, perfectly located in the Uluru-Kata Tjuta landscape.
Each room at this serene establishment exudes comfort, with plush furnishings and spacious bathrooms. Other amenities include BBQ facilities, an outdoor swimming pool, and an outside garden.
Things to see on a road trip from Adelaide to Ayers Rock
With so much to see, your journey will surely be packed with fun and adventure around every corner. Below are our top highlights so you can plan easily and see the most out of this beautiful part of Australia.
Main Route
Wallaroo Heritage & Nautical Museum - Dive into the maritime history of Wallaroo, showcasing antique ship artefacts and illuminating tales of the sea.
Port Pirie Regional Art Gallery - A cultural hub in Port Pirie, this gallery showcases regional and national art, celebrating diverse artistic expressions.
Napperby Gorge - A rugged natural wonder, Napperby Gorge promises raw beauty and a pristine escape into nature's embrace.
Wirrabara Forest - An expansive green haven, the Wirrabara Forest beckons with its tall trees, diverse fauna, and serene trails.
Weeroona Island - A tranquil coastal gem, Weeroona Island offers pristine beaches and a laid-back island vibe.
Mount Remarkable National Park - This park captivates with its rugged landscapes, challenging hiking trails, and breathtaking viewpoints.
Mount Brown Conservation Park - A serene expanse, it houses unique flora and fauna, reflecting the rich biodiversity of South Australia.
Pichi Richi Railway - Relive history on this heritage railway, offering nostalgic train rides amidst picturesque landscapes.
Wadlata Outback Center - Experience the stories of the Outback, its history, and the indigenous cultures that shaped it.
Australian Arid Lands Botanic Garden - Experience the desert's beauty with a curated collection of flora thriving in Australia's arid regions.
Woomera Rocket Park - A testament to space exploration, this park showcases rockets and artefacts from the Space Age.
Lake Torrens National Park - A vast saline lake set amidst a sprawling park, offering a unique mix of desert beauty and wetland ecosystems.
Lake Hart - A shimmering salt lake, Lake Hart's crystalline expanse is an inspirational sight, surrounded by the dramatic landscape.
Bon Bon Station Conservation Reserve - A sanctuary for wildlife, it offers insights into conservation efforts amidst the Australian bush.
Old Timers Mine & Museum - Step into Coober Pedy's opal mining past, exploring tunnels and exhibits of this gem-rich region.
Kanku-Breakaways Conservation Park - Witness stunning landforms and a colour palette only nature could create in this breathtaking park.
Watarrka National Park - Iconic for King's Canyon, this park promises red rock cliffs, scenic views, and trails that challenge and thrill.
Imalung Lookout, Yulara - Offering panoramic vistas, this lookout is the perfect spot to witness the vast beauty surrounding Yulara.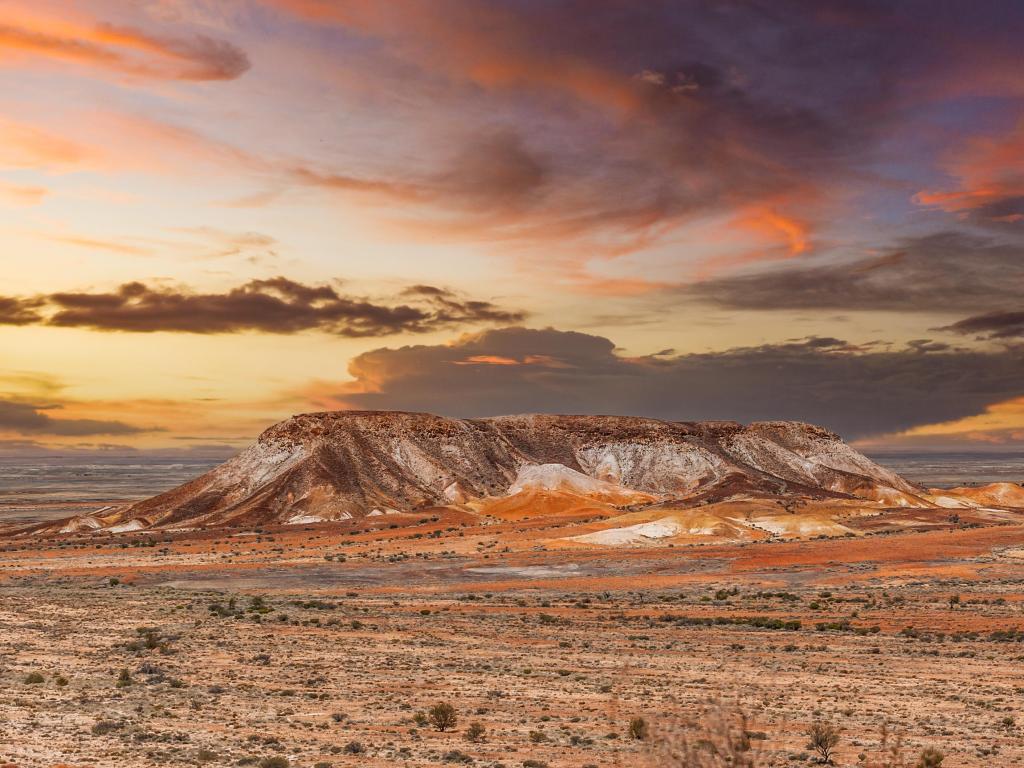 Best time to go on a road trip from Adelaide to Ayers Rock
Uluru is a phenomenal destination year-round. If you're coming from Adelaide, the experience will shift subtly with the seasons.
Winter stays a comfortable 12 to 24 degrees Celsius, making it ideal for outdoor exploration. Summer heat can soar, reaching a scorching 46 degrees Celsius.
Planning activities in the early mornings or late afternoons during these warmer months will allow you to appreciate Uluru's beauty comfortably.
Driving conditions along the Main Route from Adelaide to Uluru are favourable most of the year. The national parks and nature reserves along your journey, like the pretty Lake Torrens National Park, remain open throughout the year.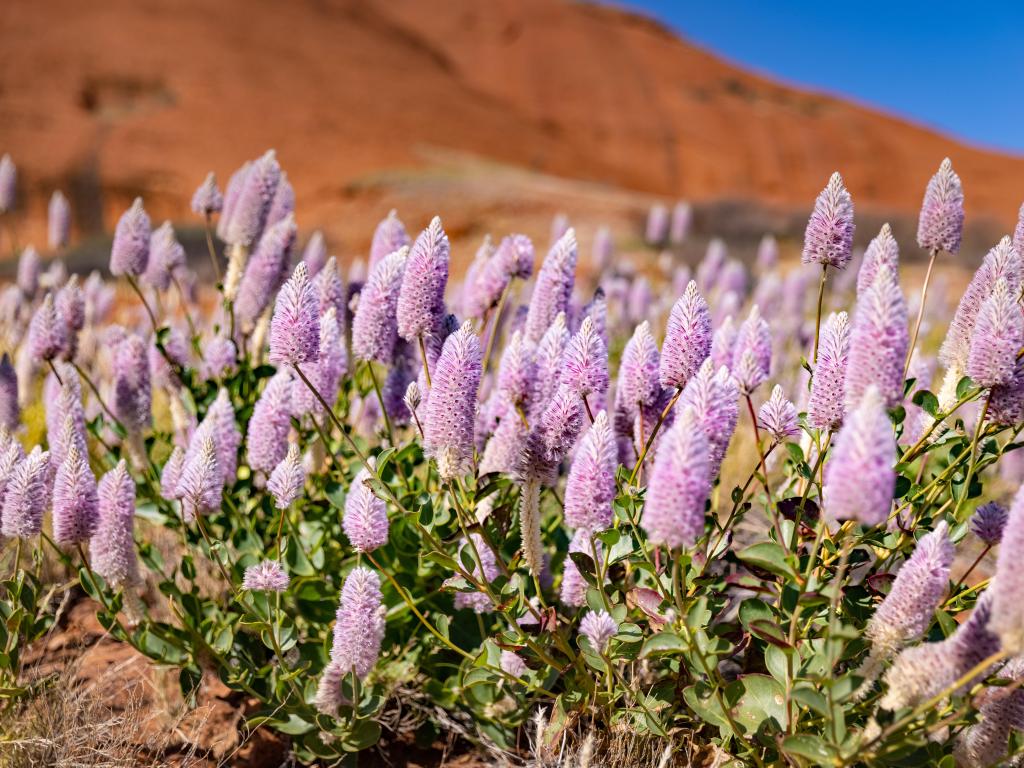 It's essential to remember that some detours, especially if you're drawn by the photographic opportunities or the geology of remote areas, might require a sturdy 4x4 vehicle because of unsealed roads.
Timing your trip can also align with some of the region's outstanding events. Travel in May and experience the cultural immersion of Kernewek Lowender or Coober Pedy's Opal Festival, which happens in June, celebrating the gemstone that has made the town famous.
Later in the year, the Jamestown Air Spectacular in October offers an aerial feast, while the Port Pirie Christmas Pageant marks the festive season in December.
Whether you opt for a cooler winter drive or embrace summer heat, Uluru and its surrounding wonders promise an unforgettable experience.