Road trip from Adelaide to Ceduna
Get ready for the ultimate Southern Australian road trip from Adelaide to Ceduna in the shoes of the Great Australian Bight. On this stunning coastal drive, you will cover some of Australia's most beautiful waterfront towns and cities and stunning national parks.
The 780 km road trip from Adelaide to Ceduna will take 8 hours and 30 minutes to drive. On the way, you can visit Port Wakefield, Moonta, Tickera Bay, Port Broughton, Port Pirie, Weeroona Island, Minnipa, Smoky Bay, Kadina and Fisherman's Bay.
There is so much to discover on this drive from Adelaide to Ceduna. Keep reading below to learn more about our recommended routes, top highlights, places to stay, and the best seasons to travel.
How far is Ceduna from Adelaide, and how long will the road trip take?
Comparison of road trip routes between Adelaide and Ceduna

| Route | Distance | Driving Time |
| --- | --- | --- |
| The Direct Route | 780 km | 8 hours 30 minutes |
| The Coastal Route | 1,120 km | 12 hours and 10 minutes |
The Direct Route covers a distance of approximately 780 km and takes around 8 hours and 30 minutes to complete.
The alternative Coastal Route offers a scenic journey that stretches over 1,120 km of Australian coastline and takes approximately 12 hours and 10 minutes to complete.
Although you can complete either trip within a day or two, there are so many attractions and experiences along the way that you'll want to take 3-4 days to complete.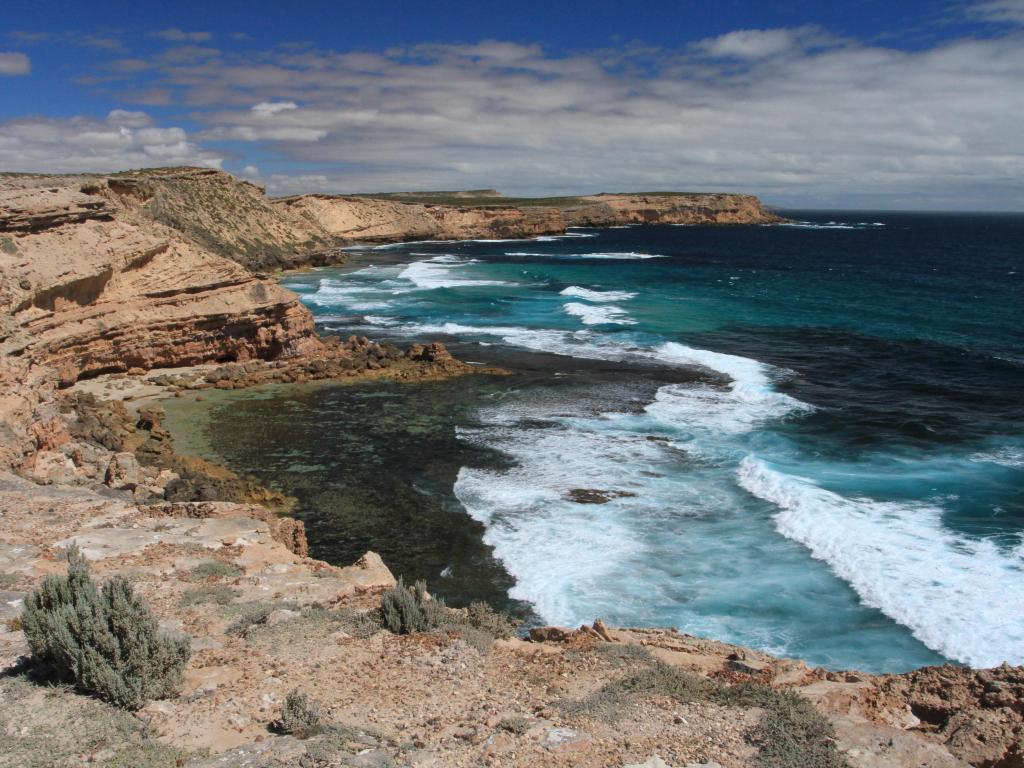 Best road trip route from Adelaide to Ceduna
While both routes have an abundance of natural splendours and cultural highlights, they are very different in their vibes. Which route you choose will depend on what you want to see the most and if you want to spend more time inland or on the coast.
The Direct Route from Adelaide to Ceduna is a journey that's as diverse as captivating. Initially, as you leave the city of Adelaide and its suburbs, you'll hit beautiful farmlands on one side and the mesmerising coastline on the other.
Then, you'll pass through quaint villages and natural landmarks. Once you reach Port Wakefield, the route veers inland, with rolling hills and quiet natural scenery.
Beyond Port Augusta, the scenery becomes even calmer and beautiful, especially when you reach the Gawler Ranges National Park. The rest of the drive is full of charming communities and open Australian highways.
On the other hand, the Coastal Route starts with the lush plains as you depart Adelaide; the journey to Port Augusta will be full of scenic overlooks of the coastline and postcard-worthy views at every turn.
The distant silhouette of the Middleback Range, a part of the Ironstone Hill Conservation Area, will give you the perfect glimpse at the Australian Outback from a distance.
Finally, you'll get panoramic vistas of coastal bays, each more stunning than the last, with their emerald water and beaches. This beautiful landscape will continue until you reach your destination of Ceduna.
On this route, you can shorten your journey by taking a ferry from Wallaroo to Lucky Bay but this would mean missing out on visiting Port Augusta.
How to drive from Adelaide to Ceduna
The map above shows our suggestions for the best road trip routes between Adelaide and Ceduna. Keep reading for detailed descriptions of both routes, where to stay on either, and the best things to do on the way.
The Direct Route
Starting your journey from Adelaide, you'll head north on the A1 highway. Continue your journey northward to Port Wakefield. While here, make sure to visit the Port Wakefield Historical Walk.
Further along, before reaching Port Augusta, detour slightly to Port Pirie to visit the Port Pirie Regional Art Gallery.Then, continue on to Weeroona Island. This popular destination is perfect for a peaceful stroll.
As you near Port Augusta, check out the Point Lowly Lighthouse, one of the most iconic lighthouses in Australia.
From Port Augusta, drive westwards on the Eyre Highway. Don't miss the Matthew Flinders Red Cliff Lookout. Here, you'll also get to see amazing vistas with a bit of history.
Continue west past Lake Gilles Conservation Park. Continue on route through beautiful landscapes and the edge of the famous Australian Outback. From here, continue on further west to Tcharkulda Hill. Here, you'll get plenty of hiking opportunities.
Just a short drive away is the historic and beautiful town of Minnipa. Here, you can visit the majestic Pildappa Rock natural landmark. After this, continue driving west and end your journey at beautiful Ceduna.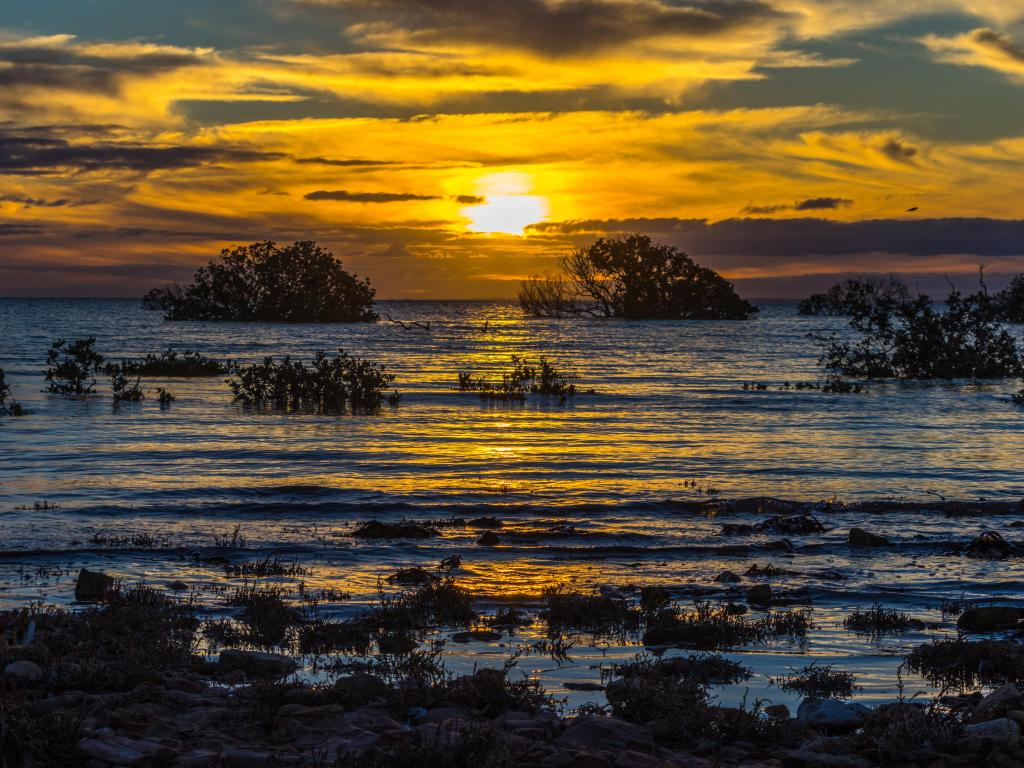 The Coastal Route
Begin your drive in Adelaide, the heart of South Australia. Head north on the A1 or make a slight detour first to Mount Crawford Forest for some incredible hiking opportunities.
Continue your journey onto the Copper Coast Highway towards Wallaroo past Port Wakefield. Here you can take a ferry to Lucky Bay if you'd like to shorten your journey.
Continue on north through the small yet exciting towns of the Spencer Gulf. From here, journey to Port Augusta, but not before visiting the Port Pirie Regional Art Gallery and Weeroona Island.
From here, take the B100 towards Port Lincoln, and enjoy the panoramic views of the Gulf. Upon reaching Port Lincoln, the nearby Franklin Harbour Historical Museum is the perfect place to experience the area's rich maritime history.
Proceeding further northwest, check out Lock's Well Beach. From here, drive further to the Elliston Coastal Trail. After hiking along the beautiful coastal trail, make your way to the popular Talia Caves and further along to the famous Whistling Rocks.
The drive then takes you along the southern coastline with picturesque bays like Streaky Bay and Smoky Bay, offering pristine beaches and clear blue waters, perfect for a refreshing dip or a leisurely picnic.
Your epic Coastal Route will end at Ceduna, one of South Australia's most picturesque destinations.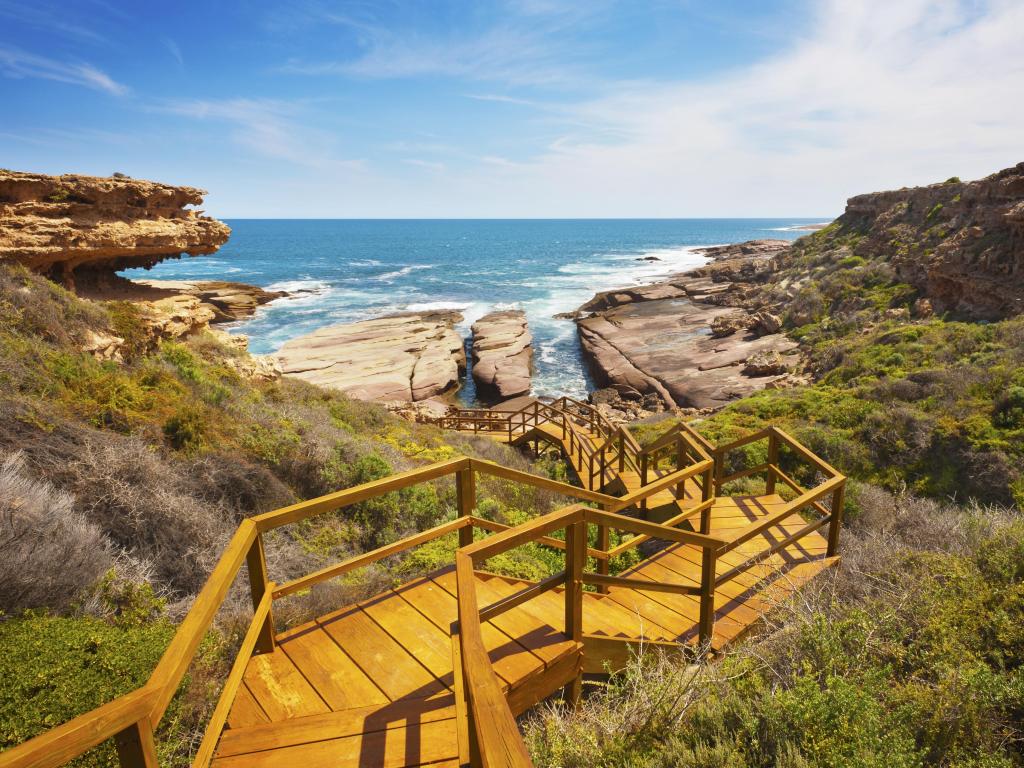 Best places to stop between Adelaide and Ceduna
With so much to see and do along the way, you're going to want to make a stop. Below are some of our favourite places for a relaxing and scenic stopover.
At the intersection of the Outback and the ocean in Port Augusta
Port Augusta is an ideal spot to rest and rejuvenate on The Direct Route, about 3 hours and 30 minutes into the drive. The serene intersection of outback and ocean, combined with the town's rich culture and attractions, make it a must-visit location on your journey.
This regional hub has an array of experiences, from spotting dolphins during a sailing adventure to immersing yourself in local art galleries.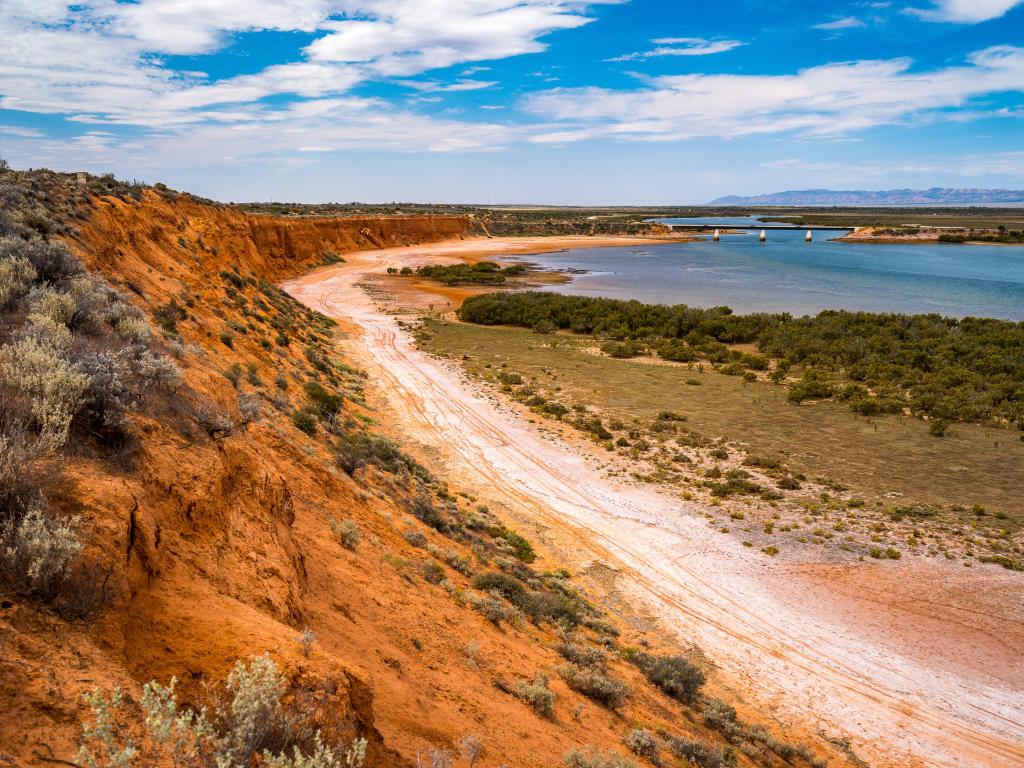 Another standout feature is the Wadlata Outback Centre, which dives deep into the region's history and natural wonders. Engage with interactive displays and stories of the ancient land and its indigenous people.
If you love the great outdoors, Mount Remarkable National Park is a stone's throw away. Venture into its vast landscapes, embrace the rich biodiversity, and experience some of the region's top hikes.
While visiting Port Augusta, we highly recommend staying at the charming Majestic Oasis Apartments. Perfectly positioned in the heart of the town, these apartments offer breathtaking views of the Upper Spencer Gulf from the balcony.
For further exploration, the Australian Arid Lands Botanical Garden and Bird Lake are conveniently located nearby. You're also close to downtown Port Augusta and plenty of well-known restaurants and bars.
Dip your toes in the sand in Port Lincoln
Port Lincoln is a picturesque pit stop on the Coastal Route, about 7 hours into the scenic drive. With the sweeping beauty of Boston Bay and its reputation as Australia's seafood capital, it's no wonder this destination is so popular.
Beyond its culinary delights, this gem on the Eyre Peninsula beckons adventure seekers with the chance to get up close with sea lions and even experience the thrill of Great White Shark diving (we didn't dare!).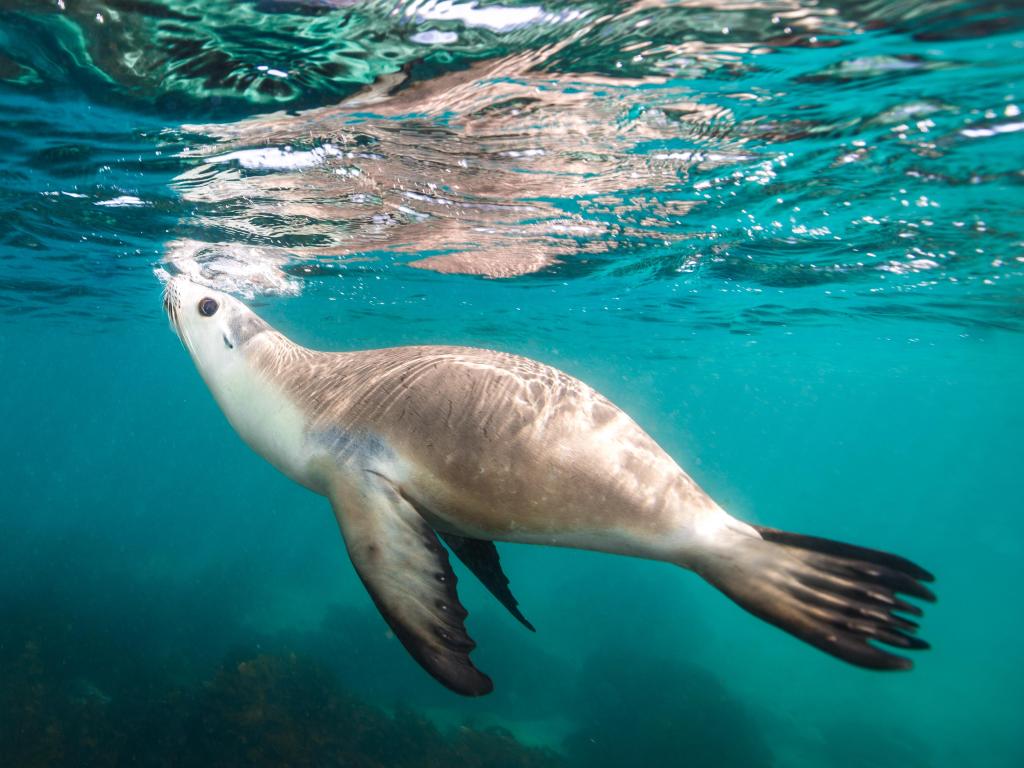 Nature enthusiasts won't want to miss a visit to the Mikkira Station Koala Sanctuary, where you can see these iconic Australian animals in their natural habitat.
When you're done exploring and need a highly-rated place to stay, we recommend the Marina Hotel. Perched on the Lincoln Cove Marina, this beautiful hotel offers breathtaking harbour views and great amenities.
Opt for one of the hotel's luxury suites and indulge in the added luxuries of a separate lounge and a spa bath. We also highly recommend making a reservation at the popular restaurant on-site.
When you are ready to explore, Shelley Beach, one of the region's most popular beaches, is a mere 4.1 km from the hotel.
Where to stay when you reach Ceduna
Ceduna is a scenic destination famous for its oysters and magnificent whales that come right up next to its coastline.
The surroundings of Ceduna have more than just oceanic wonders to offer. It's a place steeped in culture and history. Consider taking a journey into the past at the Ceduna School House Museum or immersing yourself in local culture at Arts Ceduna.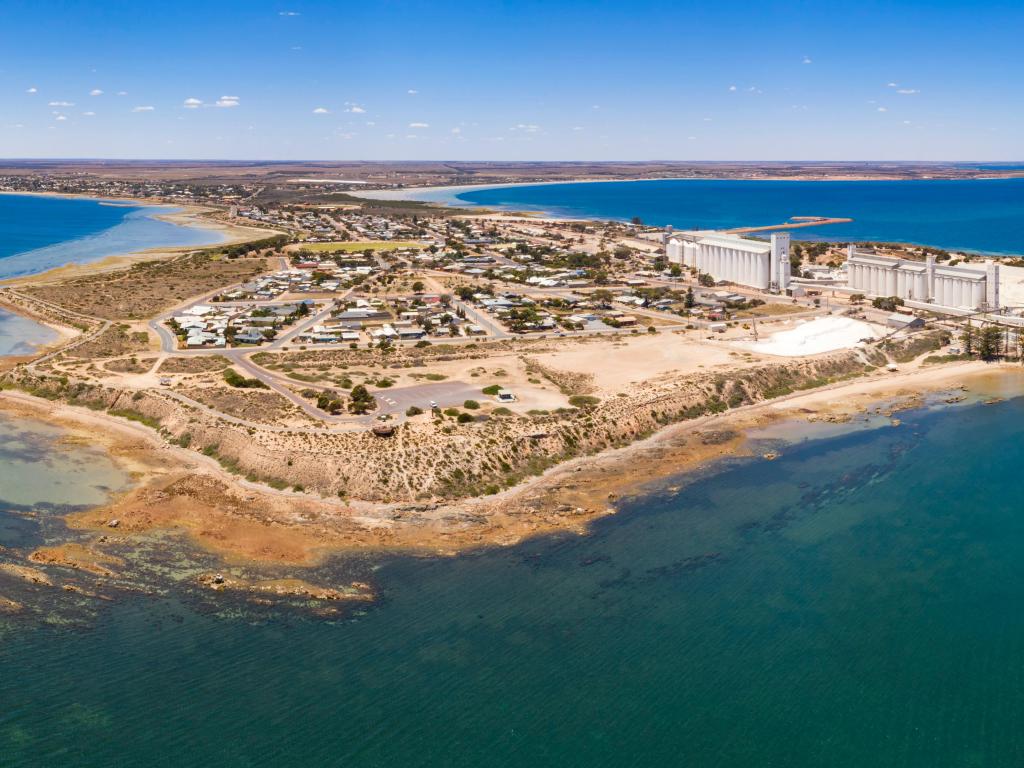 Just a short distance from the heart of Ceduna is the BIG4 Ceduna Tourist Park, a haven for travellers looking for both comfort and adventure on the Eyre Peninsula.
Whether you're keen on preparing the day's fresh catch with their fish cleaning and crab cooking bays, or you'd rather indulge in a barbecued feast at their camp kitchen, the park offers it all.
Things to see on a road trip from Adelaide to Ceduna
With so much to see and do, you're going to have a lot of planning to do. To help make your job easier, we've included some of our top highlights below.
Both routes
Chain Of Ponds - Nestled in Adelaide Hills, Chain Of Ponds boasts scenic landscapes with beautiful bodies of water and incredible wildlife viewing.
Port Wakefield Historical Walk - Wander through Port Wakefield's rich history, discovering heritage sites and understanding the town's past with this informative stroll.
Port Pirie Regional Art Gallery - Showcasing a diverse range of contemporary art pieces and historical artefacts, the Port Pirie Regional Art Gallery is a cultural hub that reflects the artistic pulse of the region. Visitors can explore rotating exhibitions and engage in various workshops and events held throughout the year.
Weeroona Island - A tranquil spot off the coast of Port Pirie, Weeroona Island boasts picturesque landscapes and offers a secluded getaway.
Port Paterson - With its roots in maritime history, Port Paterson offers scenic coastlines and a deep connection to South Australia's shipping past.
Point Lowly Lighthouse - Overlooking the Spencer Gulf, this iconic lighthouse offers panoramic views of the surrounding seascape.
Matthew Flinders Red Cliff Lookout - Named after the famous explorer, this vantage point offers breathtaking coastal views and insight into Flinders' journey.
The Water Tower Lookout - Providing panoramic views of the surrounding area, this lookout point in Whyalla offers an elevated perspective of the city and its natural beauty.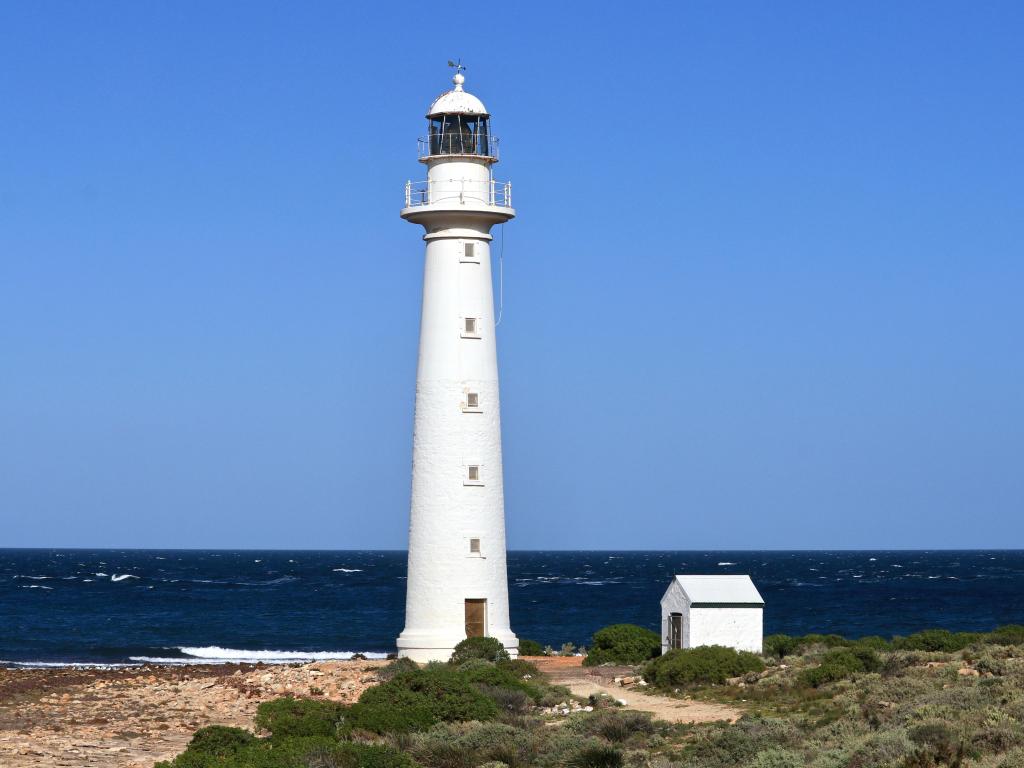 Direct Route
Moonta Mines Museum - Dive into the history of South Australia's mining past, where artefacts and exhibits tell the story of the copper mining in Moonta.
Lake Bumbunga - Located in South Australia, Lake Bumbunga is a captivating pink salt lake known for its changing hues that vary from pink to white, offering photographers and visitors a surreal landscape especially during certain times of the year.
Barunga Gap Conservation Park - Situated in the state's Mid North region, Barunga Gap Conservation Park boasts a rugged terrain of steep ridges and valleys, home to a diverse range of flora and fauna, making it an excellent spot for nature enthusiasts and hikers.
Gawler Ranges National Park - Located in the Eyre Peninsula of South Australia, Gawler Ranges National Park is a vast expanse of ancient volcanic landscapes, characterized by stunning granite outcrops, diverse wildlife, and the striking Organ Pipes rock formations.
Tcharkulda Hill - Dominating the landscape around Minnipa, this granite outcrop will give you challenging treks and rewarding panoramic vistas.
Pildappa Rock - A natural granite formation, Pildappa Rock is famous for its wavelike structure and offers a unique spot for picnicking and exploration.
Coastal Route
The Farm Shed Museum - Located in Kadina, The Farm Shed Museum offers a deep dive into the agricultural heritage of the Yorke Peninsula, showcasing vintage machinery, tools, and historical exhibits.
Fisherman's Bay - Fisherman's Bay is where you'll experience pristine beaches, clear waters, and a picturesque landscape, making it a perfect spot for relaxation, fishing, and coastal walks.
Franklin Harbour Historical Museum - Situated in Cowell, the Franklin Harbour Historical Museum delves into the local history, showcasing artefacts, photographs, and exhibits that narrate the tales of the area's past. It offers insights into the region's maritime, agricultural, and indigenous heritage.
Lock's Well Beach - Renowned for its dramatic cliffs and remarkable surf fishing spots, Lock's Well Beach is a paradise for anglers and nature lovers alike. The descent down its famed 282-step staircase offers mesmerising ocean views, making every step worth the journey.
Elliston Coastal Trail - Winding along the rugged coastline, the Elliston Coastal Trail captivates with its striking cliff-top views, secluded beaches, and unique rock formations. It's a haven for walkers, photographers, and those seeking the raw beauty of South Australia's coastline.
Talia Caves - The Talia Caves are a series of remarkable sea caves and tunnels that offer a glimpse into the geological wonders of the region. Their awe-inspiring formations and the stories they hold make them a must-visit spot along the Eyre Peninsula.
Baird Bay Ocean Eco Experience - An immersive marine adventure, Baird Bay Ocean Eco Experience offers the chance to swim alongside sea lions and dolphins in their natural habitat. This eco-friendly tour provides an intimate and respectful encounter with these playful marine creatures.
Whistling Rocks - Named for the eerie whistling sound produced by air being forced through natural blowholes, the Whistling Rocks at the Eyre Peninsula are a geological marvel that showcases the raw power and beauty of nature.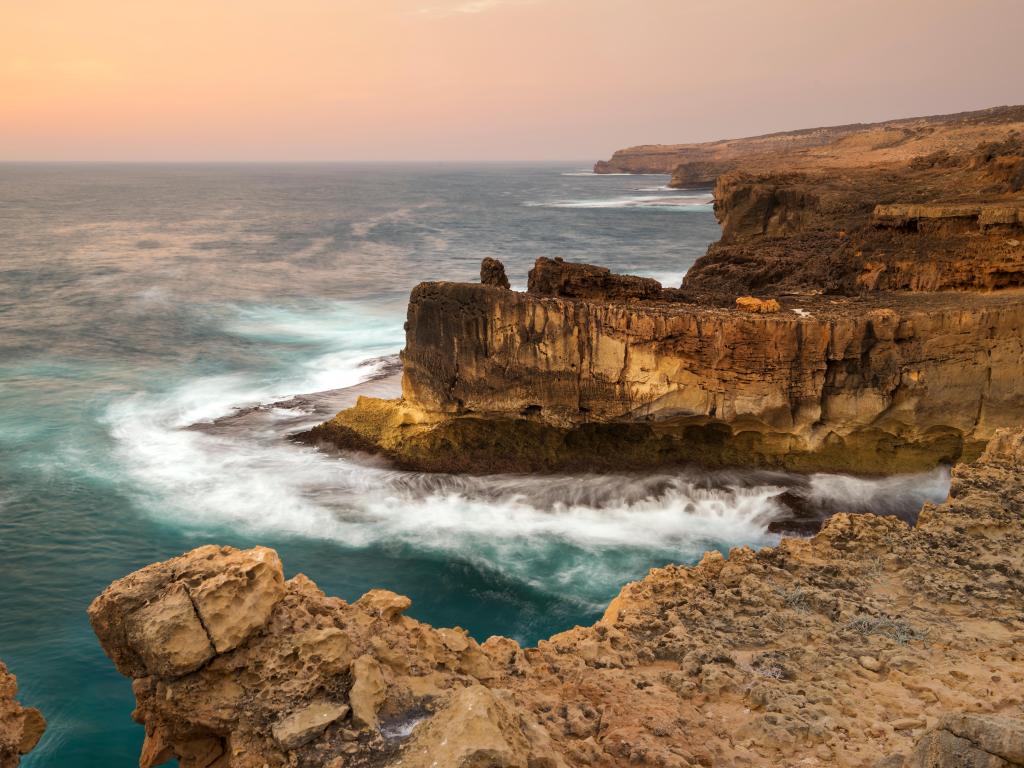 Best time to go on a road trip from Adelaide to Ceduna
A road trip from Adelaide to Ceduna in South Australia is a year-round adventure. Each season will give you a new experience, with weather, events, wildlife migrations, and festivities to enjoy, no matter the season.
During the summer, expect temperatures between 25-35 degrees Celsius. While this can make for some hot stretches, it's a prime time for beachgoers looking to experience the famous Australian sun and surf.
Festivals are another draw to visiting in the summer months. If you're taking the Coastal Route in summer, you can experience events like the festive Port Pirie Christmas Pageant come December or the lively Tunarama Festival in January.
Conversely, winter is cooler, with temperatures between 8-15 degrees Celsius. If you dream of spotting whales in the wild, this cooler season is your best bet.
Some highlights include popular events, such as the Port Augusta Cup in July. Other winter and spring highlights include the Ceduna Oysterfest in August and the Yalata Cultural Festival in October.
Shoulder seasons can be great times to make this road trip as well. You will experience temperatures ranging from 10-23 degrees Celsius in the early spring, moving to 12-26 degrees Celsius as summer approaches.
Mount Crawford Forest is particularly vibrant in spring with wildflowers in bloom. Fall brings a change in foliage, giving the forest a different kind of beauty. You can expect temperatures between 3-24 degrees Celsius, cooling down to 8-19 degrees Celsius as winter sets in.
Whichever route you choose to take, preparation is key. There are stretches where roadhouses are a good 200 km apart. It's wise to keep a keen eye on your fuel levels and pack refreshments for those longer legs of the journey.
On top of it all, you'll have to prepare yourself for all the amazing memories you'll make on this once-in-a-lifetime journey through South Australia. So, get planning and make this amazing trip a reality!