Road trip from Adelaide to Gold Coast
It's time to pack your bags and travel through southeastern Australia's vast landscapes and cultural hotspots. From stunning beaches, towns rich in history, and cities with non-stop fun, this road trip of a lifetime from Adelaide to the Gold Coast will take your breath away.
The 2,065 km road trip from Adelaide to Gold Coast will take 23 hours and 20 minutes to drive. You can visit Coonawarra, Mildura, Yanga Lake, Hay, Dubbo, Toowoomba, Narrandera Nature Reserve, Wagga Wagga, Sydney, Port Macquarie and Byron Bay.
Few journeys by car will be so beautiful and full of excitement as this one. Read on below to learn more about our recommended routes, top highlights, the best places to stay, and the best seasons to make this memorable road trip adventure.
How far is the Gold Coast from Adelaide, and how long will the road trip take?
Comparison of road trip routes between Adelaide and Gold Coast

| Route | Distance | Driving Time |
| --- | --- | --- |
| Dubbo Route | 2,065 km | 23 hours 20 minutes |
| The Sydney Route | 2,290 km | 25 hours |
The Dubbo Route spans approximately 23 hours and 20 minutes, covering a distance of 2,065 km without diversions. The route takes you through the scenic towns of Mildura and Robinvale in Victoria before making its way to Dubbo in NSW.
The alternative Sydney Route stretches 2,290 km, with around 25 hours of driving time. You'll pass through Wagga Wagga in NSW, Canberra, and Sydney in NSW.
Although you can do this drive in a couple of days, there's so many sights and experiences along the way, you'll want at least 5-6 days for the trip.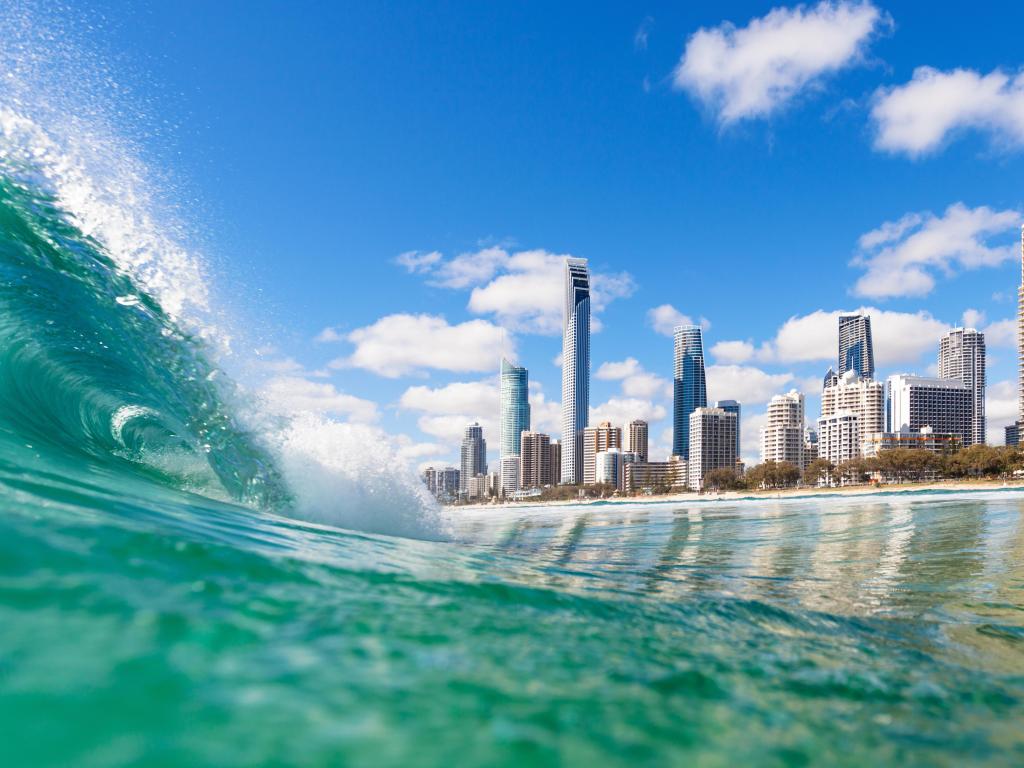 Best road trip route from Adelaide to Gold Coast
While both routes on this epic drive from Adelaide to Gold Coast feature endless natural wonders, the highlights along the way are vastly different. Which one you choose will depend on what you want to see the most.
The Dubbo Route takes you from Adelaide to the Gold Coast through gorgeous inland landscapes. You'll get to travel through rich red landscapes similar to Australia's iconic outback.
As you approach Goobang National Park en route to Dubbo, the scenery transforms, with lush green forests and vineyards. This route then brings you through rolling pastures and hills, eucalyptus forests, and ending with picturesque views from Byron Bay.
This route bypasses some of the more bustling cities and instead focuses on the country's rural gems. If you want to get away and enjoy the quiet countryside, then this route is for you.
The Sydney Route takes you past Mount Lofty and the Cleland Conservation Park. As you progress, you'll enter the wonderful Australian desert, dotted with a series of quaint towns leading up to Wagga Wagga. The journey becomes greener as you head to Canberra and into Sydney.
Beware of potential traffic jams, especially during peak hours, in this metropolis. The route also offers detour options to the mesmerising Blue Mountains National Park and Yengo National Park.
If you want to explore the majestic coast, the latter part of the Sydney Route will not disappoint, with stops in Port Macquarie, Coffs Harbour, and Byron Bay offering magnificent coastal views.
How to drive from Adelaide to Gold Coast
The map above shows our suggestions for the best road trip routes between Adelaide and Gold Coast. Keep reading for detailed descriptions of both routes, where to stay on either, and the best things to do on the way.
Dubbo Route
Setting off from Adelaide, you'll head northeast on A20. As you continue on the Sturt Highway, you'll get to Mildura, a must-visit hub of arts and culture.
From Mildura, you can make a detour to Murray-Sunset National Park. After your visit, continue on A20 to Robinvale. Just a brief detour off the main route is the tranquil Yanga Lake.
From here, you will drive through sharing small towns like Hay, West Wyalong and Parkes, where you can make a detour to Goobang National Park.
Soon, you'll reach Dubbo, NSW, driving northeast. Taronga Western Plains Zoo here is an absolute treat, home to an array of exotic wildlife in an expansive, open setting.
As you continue your drive, check out the Hickey's Fall detour. Veer east onto B76, and drive on to the Sandstone Cave. There are many other detour options if you have more time on your hands, including the captivating Mount Kaputar National Park.
Your journey then ends as you travel on the Pacific Motorway towards the beautiful Gold Coast, QLD.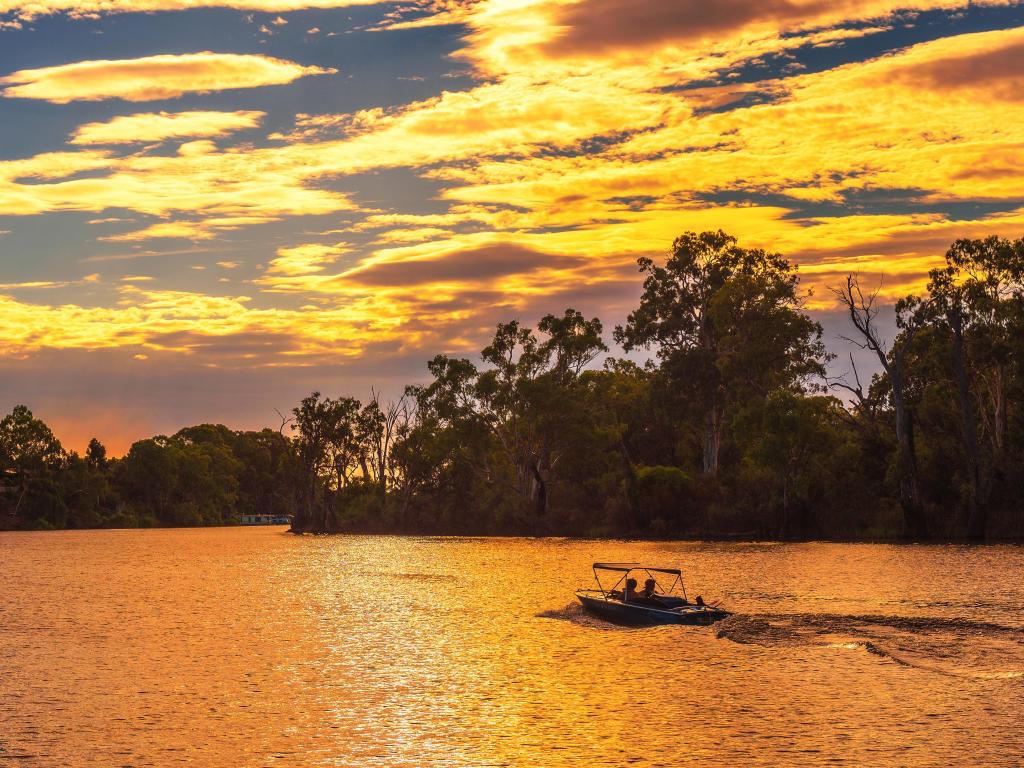 Sydney Route
From Adelaide, drive southeast on M1. You'll pass beautiful countryside landscapes and vineyards. Driving through Murray Bridge, Ouyen and Hay, you will keep heading east.
Then, continue on to Wagga Wagga, NSW. This bustling regional city not only presents the Shear Outback Museum but also Wagga Wagga Beach, a unique riverside beach.
From Wagga Wagga, the journey heads east. The road then leads to Canberra in the Australian Capital Territory, where the famed Mount Stromlo Observatory allows you to stargaze and wonder at the universe's vastness.
Leaving Canberra behind, you'll get to the iconic Bradman Museum in Bowral. Further along, the route takes you to the famous Australian Botanic Garden.
As you approach Sydney via the M31, the Sydney Opera House awaits. This architectural marvel is the epicentre of Australia's performing arts.
Exiting Sydney and heading north on A1, you'll get to experience the coastal views in spots like Port Macquarie, Coffs Harbour, and especially Byron Bay.
As you near the Gold Coast, check out the Hinterland Regional Park for unbeatable walking trails and panoramic views. The Sydney Route ends as you enter the Gold Coast.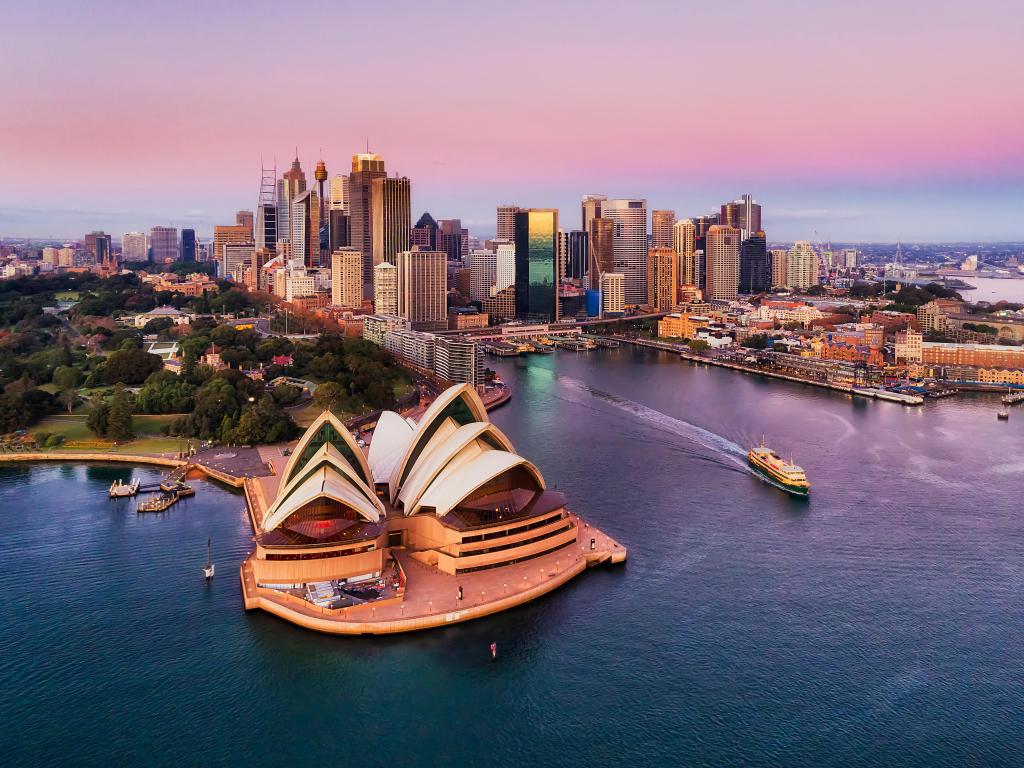 Best places to stop between Adelaide and Gold Coast
With so much to see and do, we recommend stopping for the night in one of the exciting destinations below.
A night at the zoo in Dubbo
Dubbo, situated approximately 12 hours and 40 minutes into the Dubbo Route, features cultural heritage and natural attractions in the heartland of New South Wales.
With a name deriving from the Wiradjuri word for 'red earth', Dubbo carries the essence of Australia's vast landscapes and indigenous culture.
At the top of Dubbo's attraction list is the illustrious Taronga Western Plains Zoo. Wander through its paths, and you'll come face to face with majestic African animals.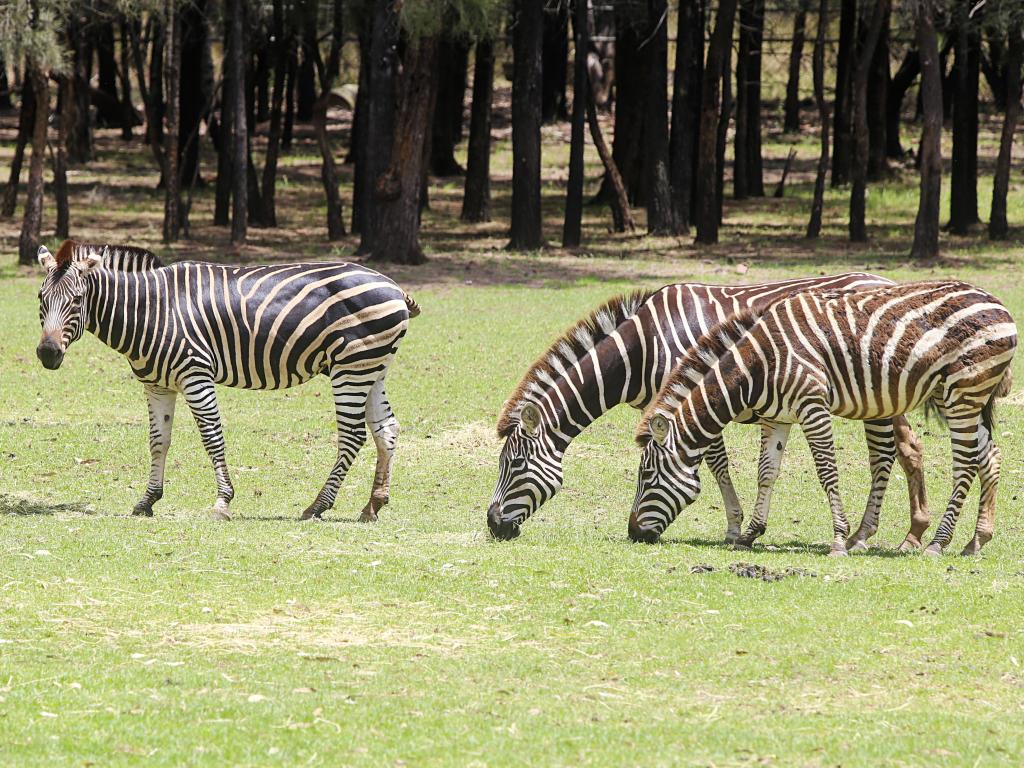 From here, check out the Old Dubbo Gaol. This landmark stands as a sombre reminder of the region's penal history.
As night falls, we recommend staying at the luxurious Savannah Cabins, Taronga Western Plains Zoo. These cabins offer immediate access to the zoo. The rooms have alfresco dining areas for an intimate dinner under the stars and beautiful views.
The proximity to major Dubbo attractions is another highlight. You're only a few kilometres away from the town's top destinations.
For the stargazers, the Dubbo Observatory, a mere 850 metres from the Savannah Cabins, offers something magical. A short 15km drive will also lead you to Butlers Falls Reserve, a natural oasis perfect for picnics and nature walks.
Learn about the history of the area in Wagga Wagga
Wagga Wagga, a picturesque stop located about 10 hours and 30 minutes into The Sydney Route, offers a blend of culture, history, and nature.
As a tranquil city, teeming with culture, Wagga Wagga is renowned not just for its gardens and food scenes, but also for its historical significance. The city also proudly hosts the National Art Glass Collection and the Sporting Hall of Fame.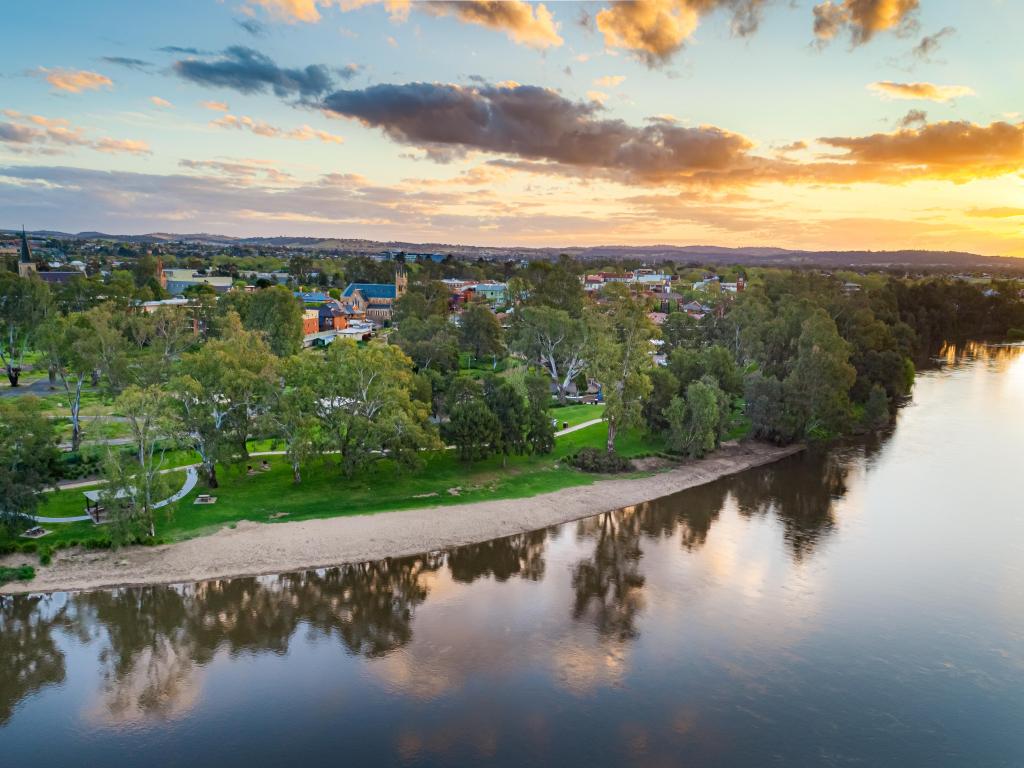 While the city has many attractions to offer, the Museum of the Riviera is a highlight for many visitors.
To unwind after a day of exploration, we recommend staying at the chic Carlyle Suites & Apartments. The establishment prides itself on its sophisticated ambiance, attention to detail, and amenities designed to cater to everyone.
Strategically near local attractions, these suites and apartments overlook serene parklands and gardens. Also, you'll love the complimentary breakfast, and well-equipped kitchen.
In the vicinity of the hotel, you can visit the Wagga Wagga Botanical Gardens. Wagga Wagga Beach, a mere 1 km from the Carlyle Suites, offers a refreshing dip, especially in the hot summer.
Where to stay when you reach Gold Coast
The Gold Coast is famous for its sun-kissed beaches, unparalleled surf conditions, and the thrill of being the theme park capital of Australia.
As you stroll through the boulevards of this coastal paradise, don't miss out on ascending the SkyPoint Observation Deck. This vantage point offers breathtaking panoramic views of the region.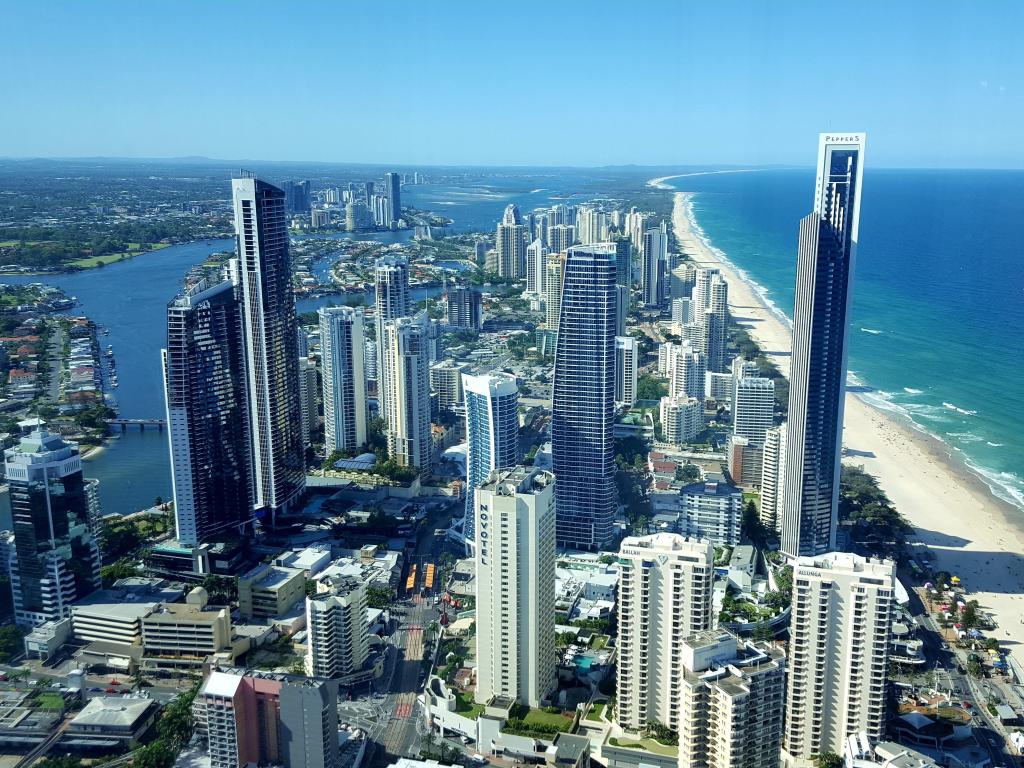 Further enriching the Gold Coast experience is the iconic Surfers Paradise Beach. Whether you're a surfer yourself or love watching the waves, this is a haven with endless hours of sun, sand, and surf.
Positioned in the middle of all the action is the JW Marriott Gold Coast Resort & Spa, a luxury retreat that seamlessly combines elegance, comfort, and oceanside style. There are also incredible views of the ocean from your balcony.
Situated a stone's throw away from the pristine sandy beaches, this hotel is one of a kind for relaxation and fun. Dive into the lagoon-style saltwater swimming pool or zoom down the waterslide into the freshwater pool - the choice is yours.
There are top dining options, from the freshest sushi to an array of international cuisines spread across four on-site restaurants. If you want even more choices, take a short drive or walk into town for one of the country's best nightlife.
Things to see on a road trip from Adelaide to Gold Coast
This is going to be an adventure like none other. To help you plan your jam-packed adventure easier, we've included our top highlights below.
Dubbo Route
Banrook Station Wine and Wetland Centre - Situated in the Coonawarra wine region, Banrook Station pairs exquisite wines with serene wetland views.
Mildura Paddle Steamers - In the heart of Mildura, these iconic steamers provide picturesque cruises down the Murray River. Guests can experience a nostalgic journey while enjoying the natural beauty of the riverbanks.
Yanga Lake - Found in New South Wales, Yanga Lake is a haven for birdwatchers and nature enthusiasts. The lake's pristine waters and surrounding wetlands and thousands of bird species throughout the year.
Shear Outback Museum - Located in Hay, New South Wales, this museum celebrates Australia's rich shearing heritage. Interactive exhibits and demonstrations offer insight into the life and skills of shearers past and present.
Taronga Western Plains Zoo - Set in Dubbo, this expansive zoo allows animals to roam in open-range settings. Visitors can get up close with exotic species on a safari-like experience without leaving Australia.
Hickey's Fall - Hickey's Fall offers breathtaking cascades amidst a lush backdrop. Nature lovers can enjoy scenic walking trails leading to the waterfall's base.
Sandstone Cave - These natural wonders showcase awe-inspiring rock formations and ancient indigenous artworks. Guided tours offer deeper insights into the cultural significance and geology of the caves.
Mount Kaputar National Park - A rugged landscape dominated by the Nandewar Range, this park offers panoramic views, great hiking, ancient volcanic formations, and diverse animal and plant life.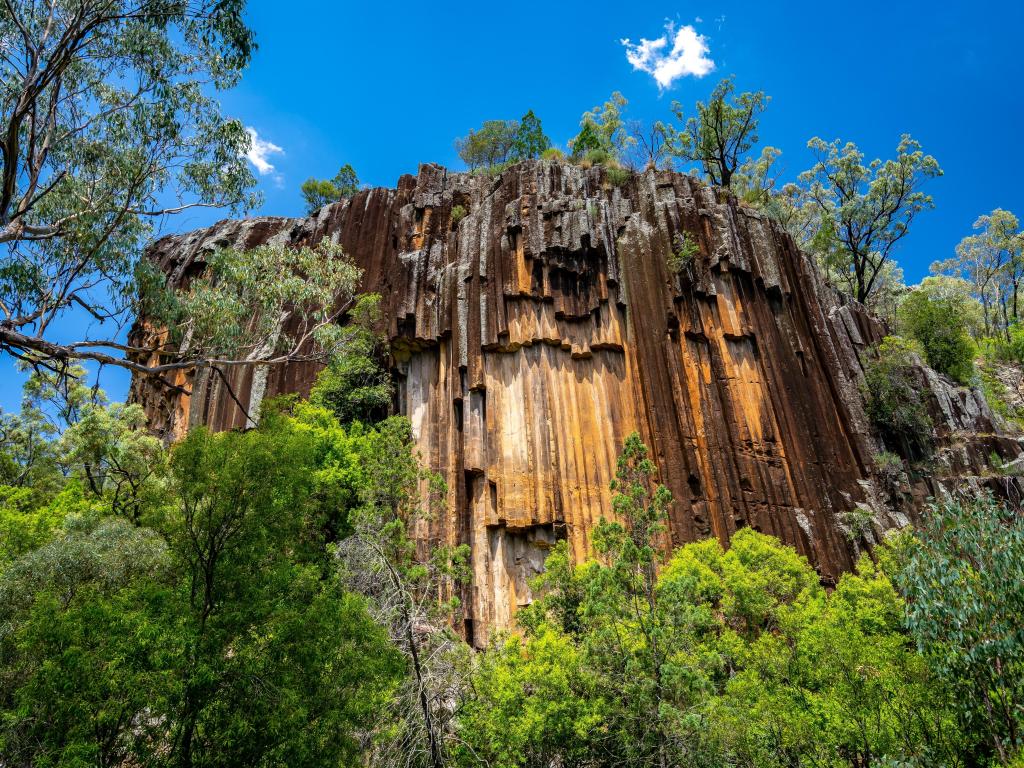 Sydney Route
Narrandera Nature Reserve - A haven for endangered animals and birds, this reserve protects vital habitats in New South Wales. Walking trails and observation points allow visitors to spot native wildlife in their natural surroundings.
Wagga Wagga Beach - Situated along the Murrumbidgee River, this inland beach offers a refreshing retreat. With shaded picnic areas and clear waters, it's a popular spot for locals and visitors alike.
Murrumbateman Chocolate Co. - Located near Canberra, this chocolatier offers handcrafted chocolates and delightful confections. Visitors can indulge in tastings while exploring the art of chocolate-making.
Mount Stromlo Observatory - Positioned outside Canberra, this observatory and research facility offers public stargazing sessions and informative exhibits. The site also has structures dating back to the early 20th century.
Bradman Museum - Honouring cricket legend Sir Donald Bradman, this museum in Bowral delves into the sport's rich history. Interactive displays and memorabilia captivate cricket fans and history enthusiasts alike.
The Australian Botanic Garden - Located in Mount Annan, this expansive garden showcases Australia's unique flora. With themed sections, educational programs, and events, it's a living testament to the country's botanical diversity.
Sydney Opera House - An iconic landmark, the Sydney Opera House is a marvel of modern architecture. Overlooking the harbor, it hosts world-class performances and offers guided tours, providing insights into its design and history.
The Big Axe - Located in New South Wales, this oversized monument celebrates the timber industry's significance. As one of Australia's "big things," it's a quirky roadside attraction drawing countless photographs.
Billabong Zoo Koala and Wildlife Park - Situated in Port Macquarie, this zoo emphasises conservation and interactive experiences. Visitors can get up close with koalas, reptiles, and other native animals, learning about their habitats and threats.
Coffs Harbour Butterfly House - A tropical paradise, this attraction in Coffs Harbour showcases a diverse collection of colourful butterflies and educational exhibits.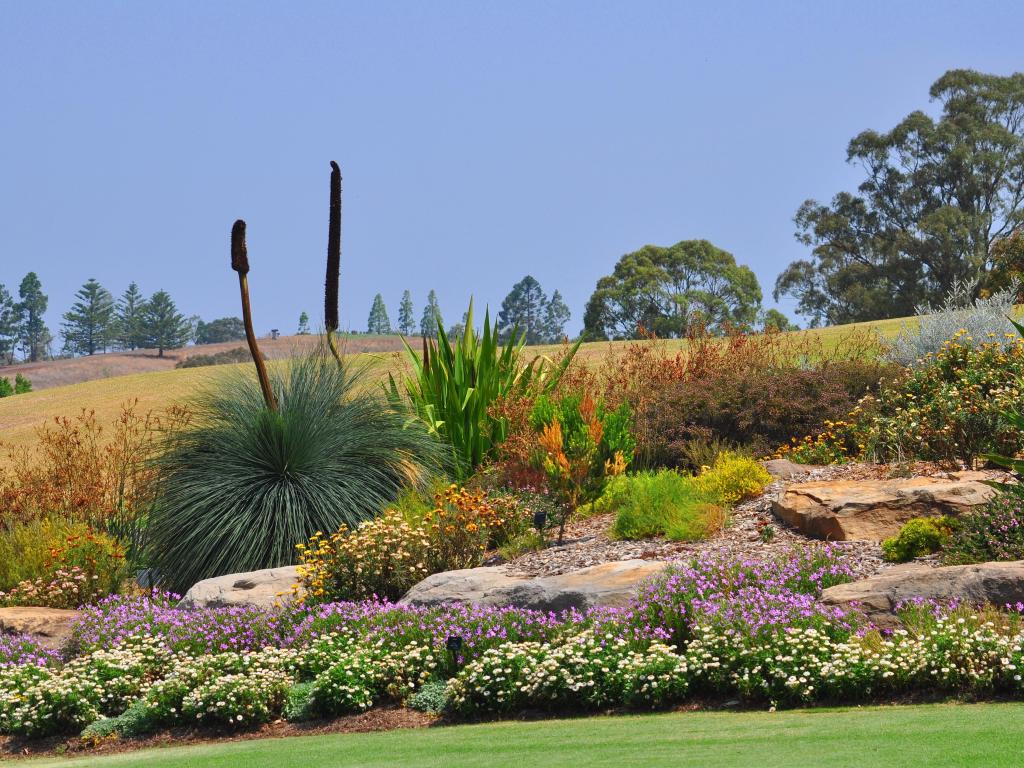 Both routes
Byron Bay - Known for its pristine beaches, bohemian vibe, and iconic lighthouse, Byron Bay is a coastal paradise. As the easternmost point of Australia, it offers breathtaking sunrises, surf spots, and a famous arts scene.
Hinterland Regional Park - Nestled behind the Gold Coast, this park offers lush rainforests, cascading waterfalls, and scenic lookouts. With a network of walking trails, it's a peaceful retreat from the city's hustle and bustle.
Best time to go on a road trip from Adelaide to Gold Coast
Gold Coast, with its stunning beaches, perfect surf, and a reputation as Australia's theme park capital, is a year-round destination. However, depending on when you plan your road trip, the experience can vary.
Winter months in Gold Coast are pleasantly mild, with average daytime temperatures hovering between 15 to 22 degrees Celsius, making it an appealing time if you're looking to escape the chilly winters elsewhere.
For those taking the Dubbo Route, the Dubbo Stampede in August or the Toowoomba Carnival of Flowers in September are annual highlights.
Summers are warm and can get humid, with temperatures ranging from 25 to 30 degrees Celsius. January and February are also rainy months, so travel in the morning to avoid the afternoon rainstorms.
Late summer, spring and fall are also great times to travel. On your way, check out Adelaide Fringe from February to March or the Junee Rhythm 'n' Rail Festival in May.
Upon reaching the Gold Coast, car enthusiasts will love the Gold Coast 600 in October. Music lovers, meanwhile, can see the Byron Bay Bluesfest in March-April.
Whichever season you choose to travel, you'll be in for a memorable adventure filled with non-stop adventure and excitement. So go on and start planning your ultimate southeastern Australian adventure.