Road Trip from Albuquerque to Las Cruces
Untamed wilderness and sweeping deserts are the best ways to describe the awe-inspiring landscapes of New Mexico. If you have been feeling the urge to get back to nature, this road trip from Albuquerque to Las Cruces is exactly what you have been looking for;
The 330-mile road trip from Albuquerque to Las Cruces takes about 6 hours to drive. Head through rural forests, stopping at small towns like Socorro, Ruidoso, and Cloudcroft. Visit Sevilleta National Wildlife Refuge and White Sands National Park.
If this is your first time traveling through the American Southwest, you're in for a treat. Whether you take the long or short way, this road trip is a stunning getaway into the wild. Read on to find out where to go and what to do.
How far is Las Cruces from Albuquerque, and how long will the road trip take?
Comparison of road trip route options between Albuquerque and Las Cruces

| Route | Distance | Driving Time |
| --- | --- | --- |
| The Cloudcroft Route | 330 miles | 6 hours |
| The National Forest Route | 670 miles | 16 hours 40 minutes |
The Cloudcroft Route is a direct 6-hour drive that covers 330 miles without accounting for any stops or detours you might want to make.
The National Forest Route is indirect, with a detour through the rural wilderness. It's a 670-mile drive that takes about 16 hours and 40 minutes.
Both routes have beautiful desert and forest scenery to explore, so we recommend setting aside at least two to five days to drive.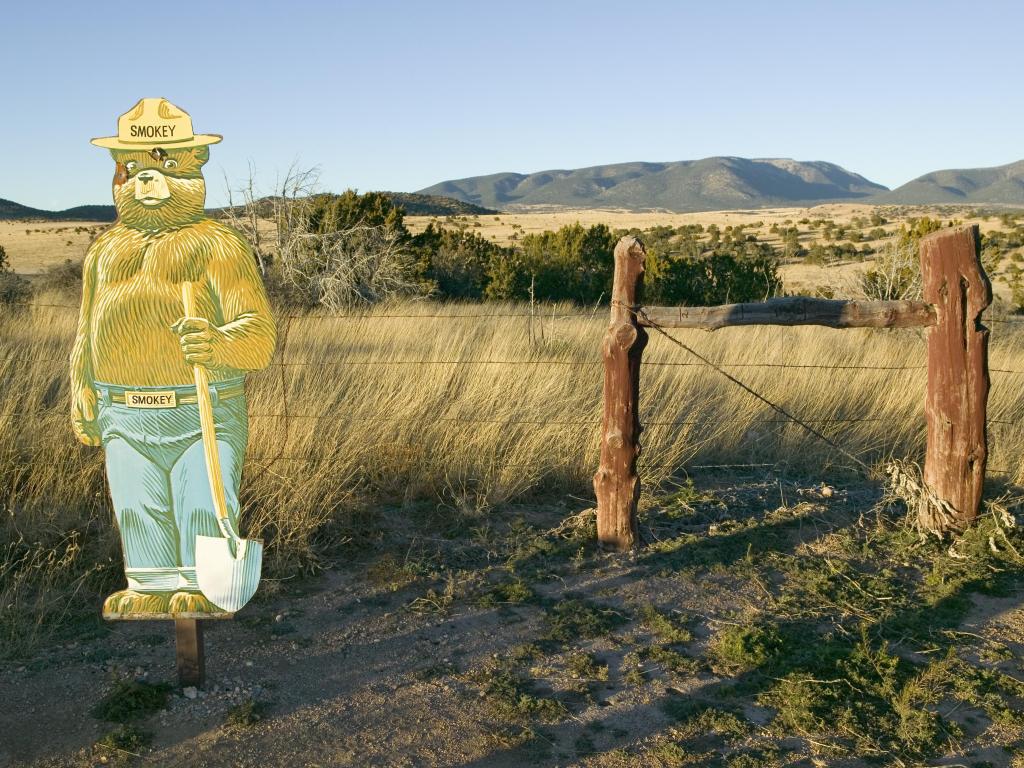 Best road trip route from Albuquerque to Las Cruces
The New Mexico landscapes are a mix of open desert and dense green forests. There is something beautiful and mysterious about the untamed nature here, and a road trip is an ideal way to explore it no matter which route you choose.
There are small towns with rich history and architecture on the Cloudcroft Route. Explore scenic walking and hiking trails at the Smokey Bear Historical Park and Mountain Park. Enjoy uninterrupted rocky mountain views at Dripping Springs and an endless horizon at White Sands National Park.
The National Forest Route is a detour into the rural bush. For campers and nature lovers, it's a gorgeous escape into deep forests at Cibola and Gila. The mountains and grasslands at Lake Roberts and the City of Rocks State Park are simply picturesque.
Sevilleta National Wildlife Refuge is a stopover on both routes and is a diverse landscape of desert, prairie, and woodlands.
If you prefer a more direct drive with stops at major natural sights, go with the Cloudcroft Route. The National Forest Route has just enough adventure and scenery to keep road trippers hooked during this wilderness retreat.
The Cloudcroft Route
Head out of Albuquerque on Interstate 25 (I-25) to Belen, your first stop. Belen is a quaint town with great food and natural landscapes. From here, go to Sevilleta National Wildlife Refuge on the interstate.
This beautiful reserve has a variety of wildlife, including deer, sheep, ducks, lizards, and bears. After your visit, head to Socorro on I-25 S. This curious little town has eclectic art, music, and theater scenes.
Explore it, then go to Alto and neighboring Ruidoso on US-380 E. It's a long stretch of road, but the Sierra Blanca Peak will be alongside you. Alto and Ruidoso are lovely in winter.
When ready, follow US-70 W to Cloudcroft, a great place to stop overnight. There are tons of outdoor activities for visitors here, so choose your own adventure.
Head to the stunning White Sands National Park from Cloudcroft on US-70 W. The pristine white dunes are a beautiful natural wonder in this state. Soak it in, and head to Las Cruces on US-70 W.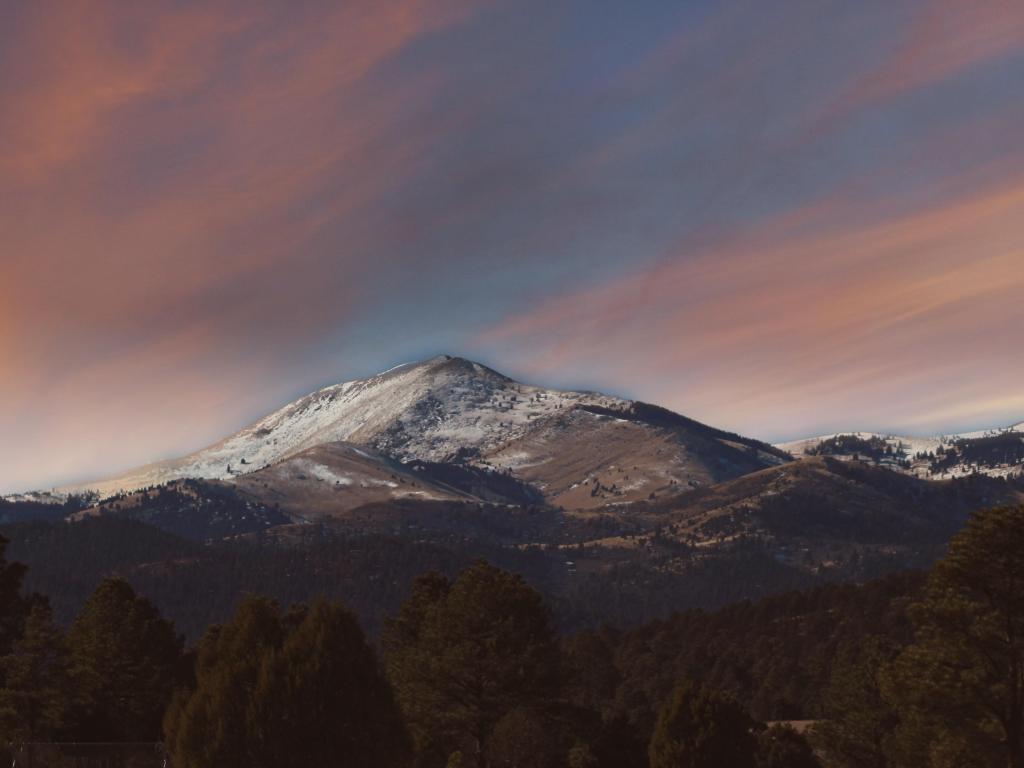 The National Forest Route
From Albuquerque, take NM-333 E to Manzano Mountains State Park. At an elevation of 7,250 feet, this quiet woodland area is a nice stop before the challenging drive ahead.
Make your way to Water Canyon Campground on the US-60 W. Surrounded by Juniper forests and craggy mountains, this is a great place to rest and take pictures. From here, head to Apache-Sitgreaves National Forest on US-60 W. The views from the vistas are breathtaking, and this woodland area is home to big game and wildlife.
Breathe in as much fresh air as you can, then get back on the road to Alpine on US-180 E. For intrepid travelers, this region has stunning alpine forests and beautiful hiking trails into the mountains.
Enjoy the serene lake views and then head to Gila National Forest on NM-435 S. The majestic mountains are gorgeous every season, and the wilderness in this area is untouched and worth exploring.
Look around and then go to Lake Roberts on NM-35 N through the mountain roads. Stop overnight and restock, refuel, and rest. Enjoy the campgrounds before hitting the road again to Silver City, a quaint mining town with history and charm.
Once ready, head to your final stop, Las Cruces.
Best places to stop between Albuquerque and Las Cruces
The southwestern parts of the US are some of the most beautiful, with mountains, forests, lakes, and deserts. It's a wildlife and wilderness wonderland just waiting to be explored.
To make your journey easier and to allow you to rest en route, we have some great recommendations on where to stop and stay overnight.
Visit quaint Cloudcroft in New Mexico
As the altitude rises, the charming mountain town of Cloudcroft comes into view. It's about two-thirds of the way on the Cloudcroft Route and 100 miles from Las Cruces.
For an outdoor enthusiast, Cloudcroft is a dream rest stop. The town is nestled inside the Lincoln Forest, surrounded by 480,000 acres of sweet trees and mountains. The Trestle Depot Recreation Area is a beautiful woodland with historic railroads like the Mexican Canyon Trestle.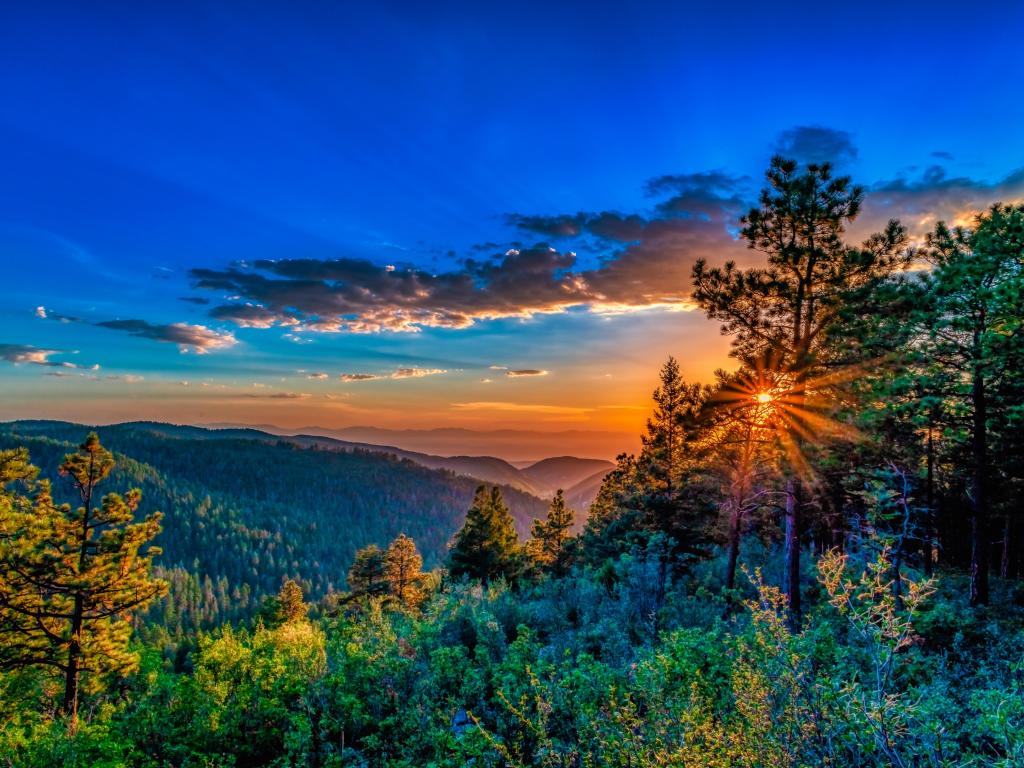 There are hiking, mountain biking, camping, and horseback riding opportunities around the area. If you love wildlife and birdwatching, go exploring. In winter, you can ski, ice skate, and go tubing.
Visit the village's charming downtown area, with Old West storefronts, bars, and cafes. The Sacramento Mountains Museum & Pioneer Village is a great place to learn about the region's history with restored buildings.
Cloudcroft attracts visitors year-round, but there are limited hotels in this area. We recommend staying at The Lodge at Cloudcroft. There is free parking for guests at this vintage hotel.
The turn-of-the-century styled rooms are comfortable and spacious. The hotel is in the mountains, so the views are beautiful. Enjoy the outdoor swimming pool and hot tub and go hiking nearby. There is a delicious on-site restaurant, and you can walk around the freshly landscaped grounds.
The Lodge at Cloudcroft is less than a mile from the downtown area, the Sacramento Mountains Museum & Pioneer Village, and the Trestle Depot Recreation Area.
Admire the scenery and the great outdoors at Lake Roberts
About 520 miles on the National Forest Route, stop overnight in Lake Roberts. It's about 140 miles to Las Cruces from here. Lake Roberts is located inside the beautiful Gila National Forest, with miles of untamed wilderness and mountains.
Go hiking and head to Mesa and the Upper-End Campgrounds to make the most of your time here.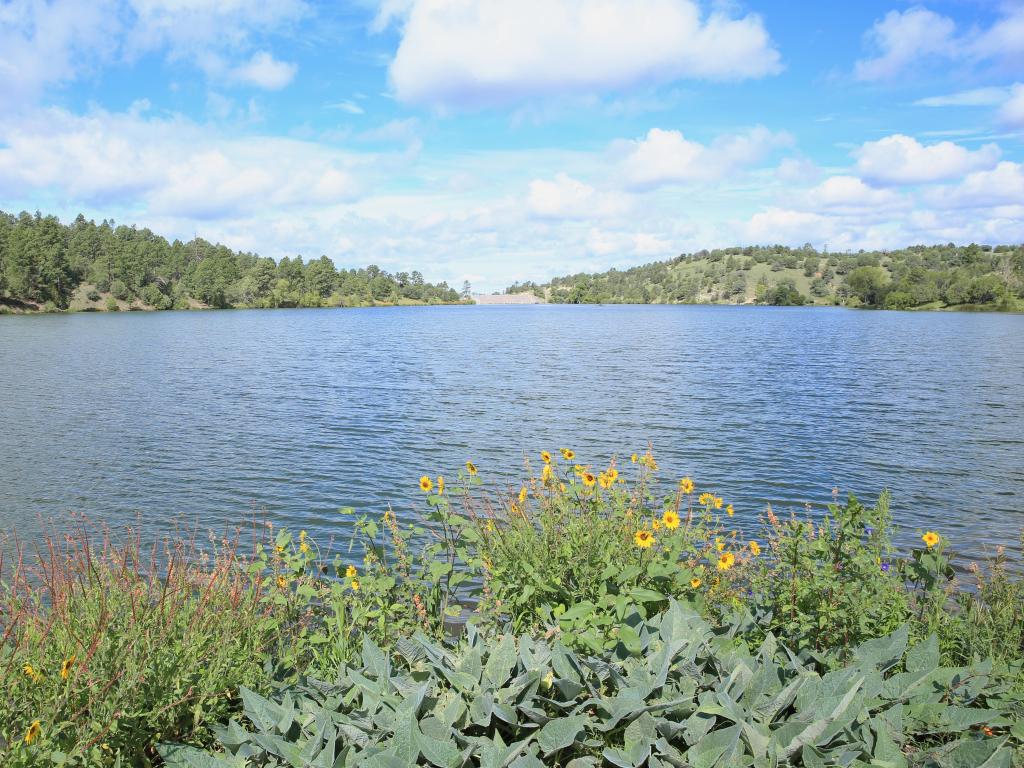 The Gila Cliff Dwellings National Monument is an intriguing, remote landmark that dates back to the 1200s. For those looking for an authentic old-west experience, there is a ranch nearby that you can visit – or even stay in.
This area is known for camping and outdoor accommodation. If you're looking for something different, we recommend staying at Salt Creek Ranch Cabin while here. It's a beautiful cottage on a ranch with free private parking.
The quaint cabin-style home has a full bedroom, living room, and well-equipped kitchen. There's a lovely outdoor patio area where you can enjoy the sunrise and sunsets over the mountains. The accommodation is self-catering, and there is a barbeque grill.
Salt Creek Ranch Cabin is a short distance from Lake Roberts and the Gila Cliff Dwellings National Monument. The beautiful Horse Mountain is only a short drive away from the property and is a great place to explore.
Where to stay when you reach Las Cruces
Near the border of Mexico is the historic town of Las Cruces. It's in the middle of a sprawling and vast desert valley and easily one of the most beautiful and underrated places in the southwest.
The Organ Mountains are nearby, so hike and explore the Chihuahuan Desert. By contrast, the Rio Grande to the west has sweeping paths of tall green trees and fields to enjoy.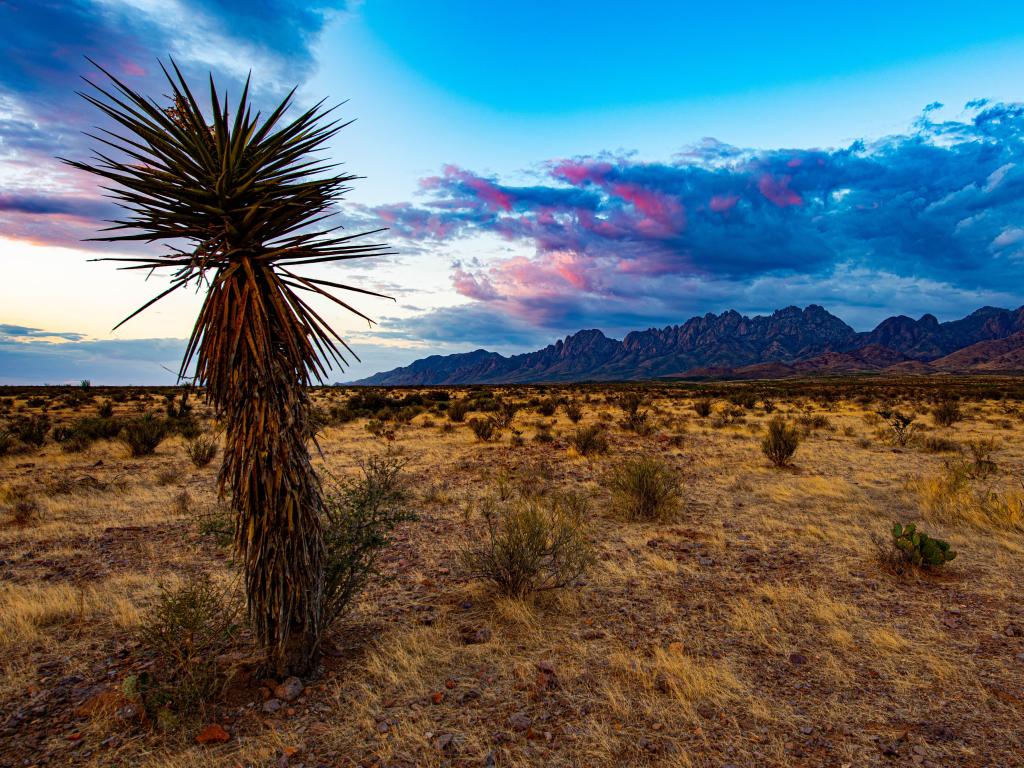 Las Cruces is notable for its striking architecture, spicy cuisine, and unique artwork. The Old Mill has many attractions, and you should check out the galleries, museums, and theatres. Visit the interactive New Mexico Farm and Ranch Heritage Museum here and walk around the lively Las Cruces Downtown Plaza.
There are a few hotels here, and our favorite is the beautiful Hotel Encanto de Las Cruces. This modern hotel has a gorgeous Spanish-Colonial interior with free parking for guests.
The rooms are comfortable and luxurious, with lovely city views. You won't want to stay cooped up for too long because the hotel's outdoor recreation areas are stunning.
There is a beautiful outdoor pool and hot tub with a fitness center and spa facilities to relax in after your long drive. The on-site restaurants have delicious New Mexican cuisine. Have a cocktail or two at the nightclub, and lounge around the deck.
Things to see on a road trip from Albuquerque to Las Cruces
Traveling through the American Southwest means driving through the rural wilderness – and you can do it comfortably with this road trip from Albuquerque to Las Cruces.
There are so many mountains to hike over, lakes to swim in, forests to navigate, and dunes to explore that you may wonder where to begin. Here's a list of things to see and do on both routes of this New Mexican adventure.
The Cloudcroft Route
Belen, New Mexico – Nicknamed 'The Hub City', this town has a rich railroad history. Visit Harvey House, the official railroad museum of New Mexico.
Carrizozo Volcanic Field, New Mexico – A hike through these fields gives you spectacular views of the rugged volcanic landscape.
Smokey Bear Historical Park, New Mexico – Home of the iconic mascot, this park is great for picnics, walking, and hiking.
Alto, New Mexico – Enjoy beautiful lakeside views at the Alto Lake Area and visit the Flying J. Ranch to time travel back to the Old West.
Ruidoso, New Mexico – This town has the southernmost ski resort in the US and has two notable casinos, breweries, and wineries.
Mountain Park, New Mexico – This gorgeous park has a beautiful detour to Bridal Veil Falls, a beautiful paradise in the middle of the forest.
Alamogordo, New Mexico – Visit the Museum of Space History and learn more about Alamogordo's role in the US space program.
White Sands National Park, New Mexico – The pristine, sweeping dunes are the largest gypsum field in the world. Take as many selfies and videos as you want – the scenery is spectacular.
Dripping Springs, New Mexico – Go on some easy hiking trails in this gorgeous, forested area and check out Soledad Canyon Waterfalls, a popular trek through the canyon walls.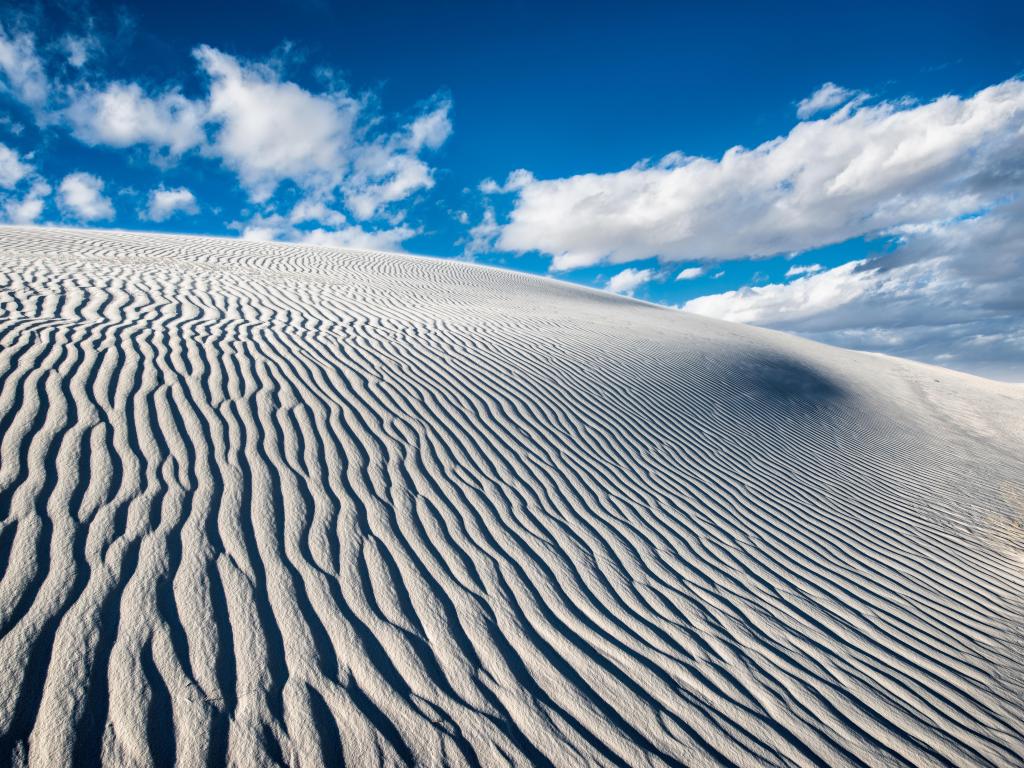 The National Forest Route
Tijeras, New Mexico – A secret and musical treat awaits road trippers on exit 170 onto Route 66 before Tijeras: a 'Musical Highway', where the road will sing America The Beautiful at 45mph.
Manzano Mountains State Park, New Mexico – This hiking and camping spot is 7,250 feet high and is a tranquil place.
Water Canyon Campground, New Mexico – Go birdwatching, hiking, and picnicking at the foot of the Magdalena Mountains.
Cibola National Forest, New Mexico – The stunning forest is a natural wonder. The nearby Mesa Trail is a popular mountain biking route.
Apache-Sitgreaves National Forest, Arizona – Take a scenic drive through this beautiful forest and stop to soak in the views of the wildflowers and mountains.
Alpine, Arizona – This small town has a lovely downtown area with historic buildings and murals.
Gila National Forest, New Mexico – Surrounded by sprawling pine trees, this forest is picture-perfect.
Silver City, New Mexico – This historic city has ties to Billy the Kid and is full of Old West charm.
City of Rocks State Park, New Mexico - The naturally sculpted rock formations give this landscape a unique and distinct aesthetic. There's also a desert botanical garden here.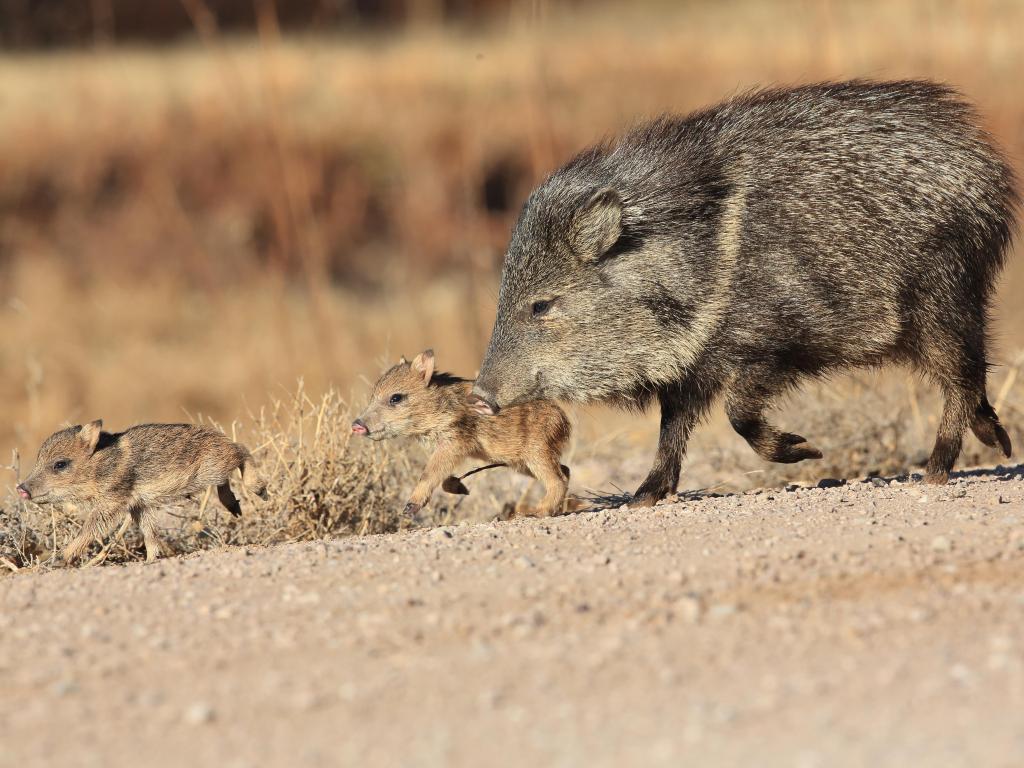 Both Routes
Sevilleta National Wildlife Refuge, New Mexico – Hike or walk through this preserve and discover an array of wildlife here – including coyotes, snakes, lizards, and birdlife.
Socorro, New Mexico – This area is a popular hiking spot during all seasons, so you can expect an outdoorsy crowd no matter when you visit.
Best time to go on a road trip from Albuquerque to Las Cruces
You can take a road trip from Albuquerque to Las Cruces year-round but be mindful of weather conditions and changing seasons.
Summer can be hot, with temperatures going above 90 degrees Fahrenheit. Outdoor activities may be uncomfortable during this time. Summer is the peak season for visitors, so you can also expect higher rates.
Winter is cold, and temperatures are between 44-52 degrees Fahrenheit. There is a chance of snowfall, so check road conditions. December to February is quieter with fewer crowds, so there may be more reasonable rates.
Spring has temperatures between 50-70 degrees Fahrenheit. May has milder weather and is a popular time to travel, so expect higher rates.
In the fall, temperatures average between 65-75 degrees Fahrenheit. September has an average temperature of around 80 degrees and is pleasant. Expect reasonable rates during this season.
The Las Cruces Space Festival is in March, and the La Vina Spring Festival is at the end of April. The Annual Blazin' Brew Festival is in May, as is Cinco de Mayo. At the end of the same month is the Las Cruces Wine Festival.
The Fourth July Electric Light Parade happens over Independence Day weekend, and the Tequila Festival is around mid-July.
Mexican Independence Day is in September, and the Southern New Mexico State Fair happens in the last week of the same month. In October, there are Day of the Dead celebrations. In December, enjoy the Christmas Tree Lights display and Chile Drop.