Road Trip from Austin to San Francisco
For an epic adventure across the southwestern states of America from colorful Texas to exciting California, look no further than this exhilarating road trip from Austin to San Francisco, where you will get to admire desert landscapes transform into glistening coastal sights right in front of your eyes.
The 1,940-mile road trip from Austin to San Francisco takes 31 hours to drive, visiting El Paso, Tucson, Phoenix, Joshua Tree National Park, Los Angeles, Big Sur, and Monterey, or via Santa Fe, Flagstaff, Grand Canyon, Las Vegas, and Mammoth Lakes.
If you love long mileage trips, you'll love this drive covering iconic cityscapes, vibrant nightlife, outdoor activities, and cultural and natural attractions. Get ready for this trip by going over details on the routes, unique spots to discover on the way, and the best places to stay.
How far is San Francisco from Austin, and how long will the road trip take?
Comparison of road trip routes between Austin and San Fransciso

| Route | Distance | Driving Time |
| --- | --- | --- |
| The Southern Route | 1,940 miles | 31 hours |
| The Northern Route | 2,240 miles | 37 hours |
The most direct drive to San Francisco from Austin via The Southern Route takes 31 hours to cover 1,940 miles without overnight stopovers.
For a considerably longer yet more scenic ride, you can take The Northern Route, covering 2,240 miles over 37 hours of driving, not stopping for food or gas breaks.
Whichever way you choose, the mileage is massive, and you'll need to take multiple overnight stops to make the most of this journey. We suggest you take 10-14 days to explore the exciting things to see on the way thoroughly.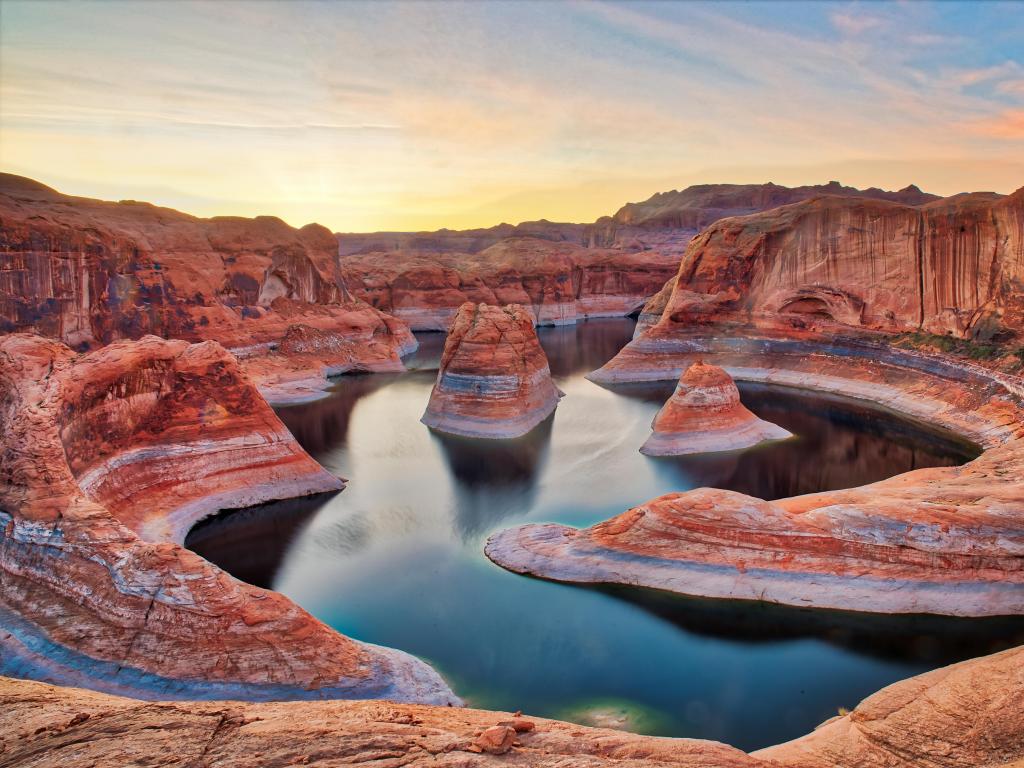 Best road trip route from Austin to San Francisco
We have highlighted two incredible route options that'll take you on a long and exciting road trip with plenty of unforgettable experiences and sights along the way.
This Southern Route takes you through several major cities, including Phoenix, Los Angeles, and San Francisco, where you can explore museums, restaurants, and nightlife.
This route also presents opportunities to experience the diverse cultures and communities of the American Southwest and California, from the vibrant Latino neighborhoods of Tucson to the iconic Hollywood scene in Los Angeles.
Also, be prepared to be mesmerized by the beautiful natural landscapes in the United States, like Joshua Tree National Park, Big Sur, and Monterey Bay.
For a drive through the most iconic natural highlights in Southern America, pick the Northern Route. You'll visit magnificent world-famous attractions like Yosemite National Park, Grand Canyon, and Death Valley National Park.
This route will also take you through historic and quirky cities like Santa Fe, Flagstaff, and Mammoth Lakes, where you'll experience a perfect blend of bountiful nature and historic charm.
Because of the perfect mix of adventure and relaxation, it is one of the most popular choices for the road.
The Southern Route
Exit Austin by taking US-290 out of the city and heading west. Once it merges into Interstate 10 (I-10), continue driving through the rugged terrain of Texas. As you approach El Paso, you'll see the rising Franklin Mountains against the backdrop of the city.
Then follow I-10, continue your westward journey, and quickly graze past New Mexico before entering the state of Arizona. You'll notice the Coronado National Forest to your left and a series of cacti lining the Tucson roads.
Head west in Arizona and drive through the rustic desert landscapes to reach Phoenix. After exploring the local attractions, continue along the I-10 to enter California.
After a brief detour to the Joshua Tree National Park, drive along San Bernadino, overlooking the gorgeous mountains to your right to Los Angeles.
Leave the beautiful city by taking US-101 and head towards the Pacific Coastal Road. Follow the road through Santa Barbara, Pismo Beach, and the wine region of San Luis Obispo.
After driving on US-101 till Speckles, head left on CA-68 briefly to reach Monterey. After exploring the lovely beach city, detour to Big Sur for a picturesque drive.
Retrace your route back to Monterey and head north on CA-1 briefly before you meet US-101 again. Following the beautiful road through lush greenery, arrive at San Jose. For the final part of your drive, follow the west coast of San Francisco Bay to reach your destination.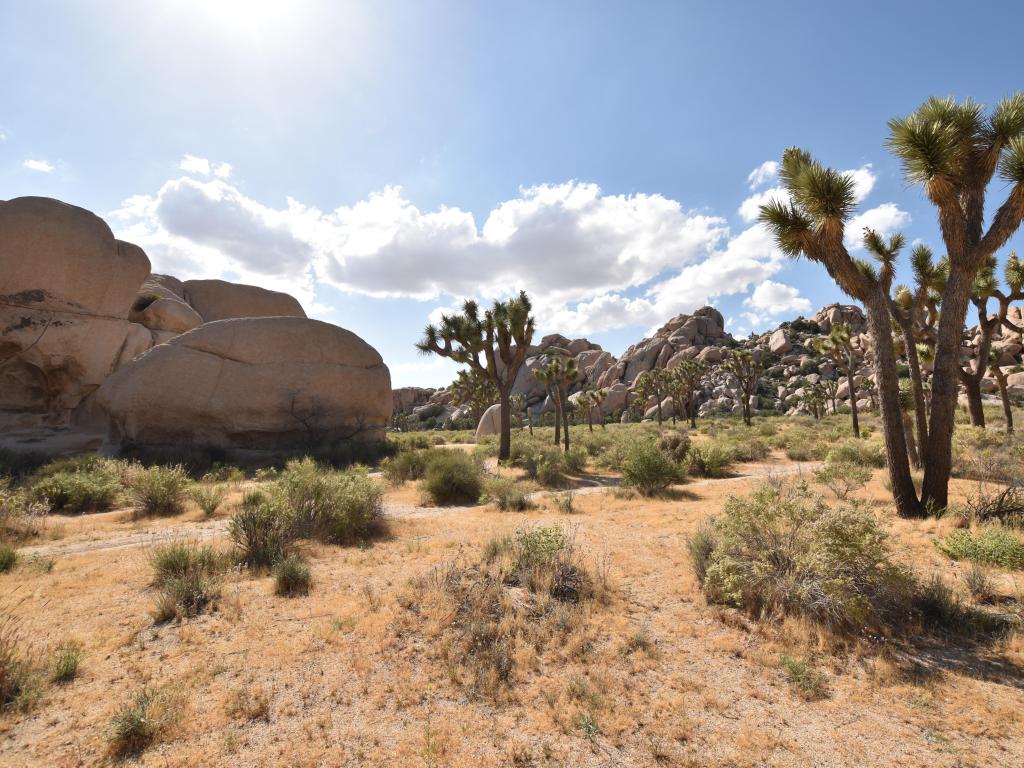 The Northern Route
Take US-183 out of Austin to head northwest. As you travel through the vast plains of Texas, you'll merge into the US-84 highway at Goldthwaite and continue traveling to Lubbock.
Cross the Texas State boundary and head to Santa Fe on I-40, briefly detouring US-285. After exploring the colorful Santa Fe, take I-25 south to reach Albuquerque. Enjoy the red rocks and the quirky city before continuing I-40 west.
Make your way through rugged New Mexico before entering Arizona. Drive through the unique Petrified Forest National Park all the way to Flagstaff. After a short detour to the Grand Canyon, continue driving on I-40 till you meet US-93 at Kingman.
Head north on US-93 and merge into I-11 to enter Nevada. Try your luck at Las Vegas and drive amidst the deserts taking US-95. For a detour to some of the most breathtaking arid views, take NV-374 to visit Death Valley National Park.
Take CA-190 to explore the mountains of California and then merge into US-395 to drive through Inyo National Forest. Follow the route to Mammoth Lakes and enjoy the scenic views.
Climb down the mountains and head east towards Nevada on US-6. Continue driving on US-95, passing Walker Lake and Silver Springs, and merge into NV-439.
After meeting I-80, head west passing Reno, and cross the beautiful Tahoe National Forest. Head southwest to reach Sacramento and finally follow the route to San Francisco.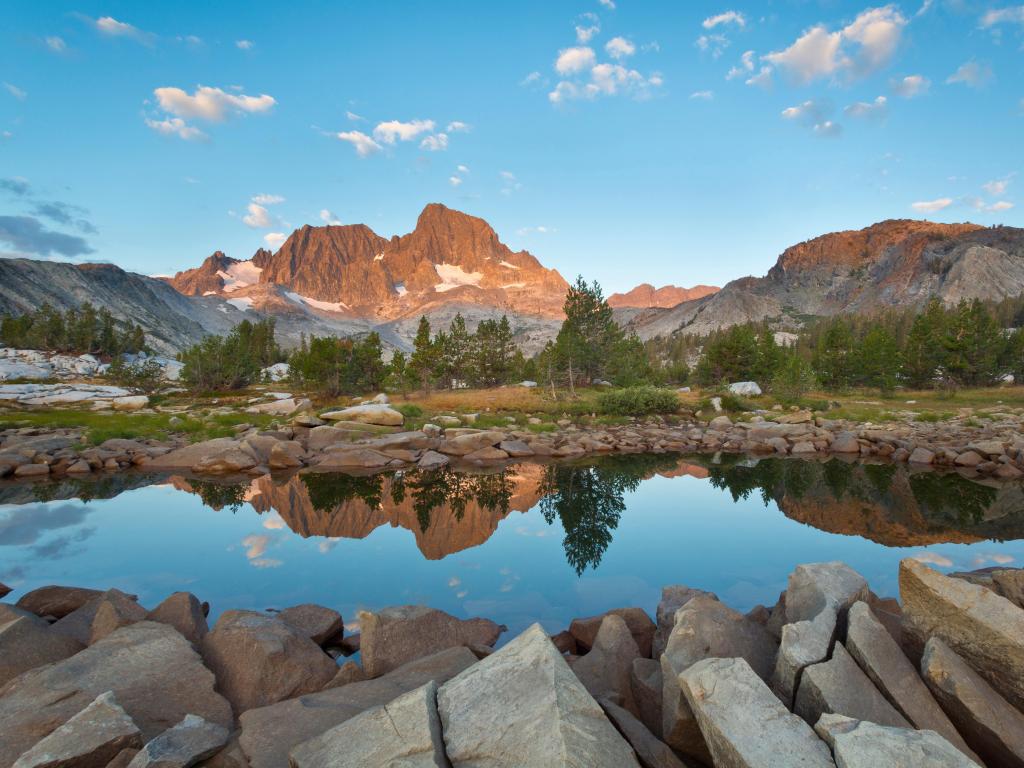 Best places to stop between Austin and San Francisco
The journey is long, and you'll need to rest during your trip to avoid exhaustion. To make your long travel worthwhile and relaxing, we have shortlisted our favorite hotels and places to rest and restore.
Relaxing stay at coastal Monterey
The charming coastal city of Monterey is roughly halfway between Los Angeles and San Francisco, making it a convenient place to break up the journey on The Southern Route and rest for the night.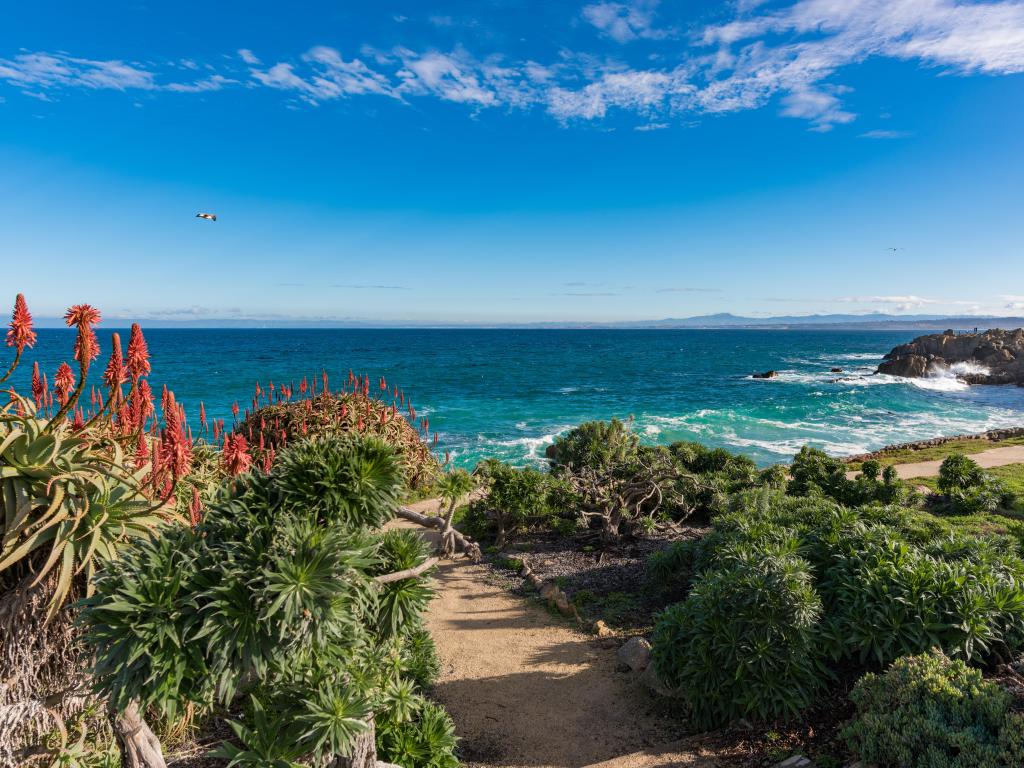 Situated on the coast of California, it offers stunning beaches and picturesque ocean views. One of the most famous attractions in Monterey is Cannery Row, a historic street made famous by John Steinbeck's novel of the same name.
The city is also home to the Monterey Bay Aquarium, one of the most famous aquariums in the world, where you can observe a diverse array of marine life and interactive exhibits that allow you to get up close and personal with the ocean's inhabitants.
Located centrally and offering easy access to the main attractions in Monterey, Monterey Plaza Hotel & Spa is an excellent choice if you are looking for a luxurious and relaxing stay.
You'll enjoy unparalleled views of the Pacific from this waterfront property from the comfort of your luxurious rooms and suites. The rooms are elegantly decorated, featuring plush bedding, flat-screen TVs, and mini-fridges.
The best part of the hotel is the choice of fantastic on-site restaurants and world-class amenities like a full-service spa and a rooftop hot tub with panoramic views.
Explore the entertaining nightlife in Las Vegas
Located halfway between the Grand Canyon and Death Valley National Park on the Northern Route, Las Vegas is an excellent option for your overnight stay. Known for its world-famous casinos, entertainment, and nightlife, it lets you experience the city's exciting vibe.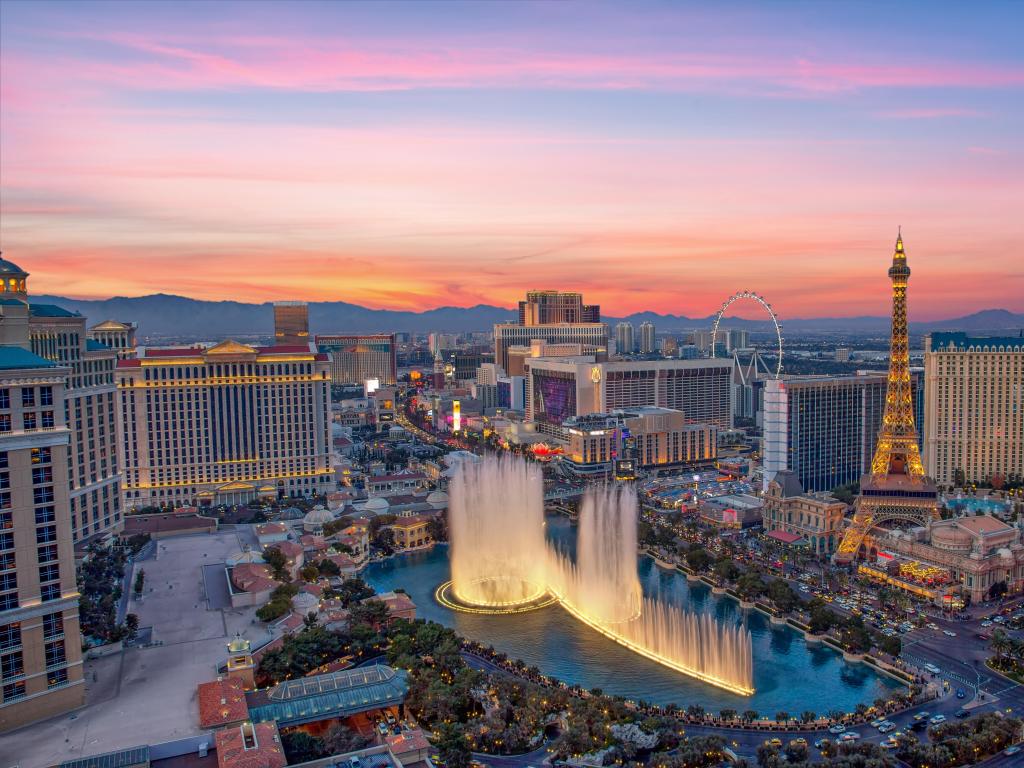 When in Las Vegas, you must enjoy the iconic Las Vegas Strip featuring a variety of world-famous hotels, casinos, and entertainment venues. You will be fascinated by the glitz and glam of the luxury shopping centers and fine dining restaurants.
The famous Cirque du Soleil Shows are one of the must-see entertainment shows in Vegas. Performed in various theaters throughout the city, including at the Bellagio, Mirage, and MGM Grand, you can enjoy the breathtaking acrobatics, stunning visuals, and mesmerizing music.
Situated right on the Las Vegas Strip, The Venetian Resort offers easy access to many of the city's top points of interest and is one of our all-time favorites. You can walk from the hotel to many top attractions like the Bellagio Fountains and the High Roller Observation Wheel.
After a long day of driving, you can unwind in one of the hotel's multiple pools or enjoy a refreshing dip in the state-of-the-art spa. What we love the most about this hotel are its spacious suites and the elegant décor. The hotel boasts modern amenities that ensure a comfortable and enjoyable stay.
When you're ready to hit the road, hop on to the nearest highway in no time. This convenience is truly every road-tripper's dream.
Where to stay when you reach San Francisco
Once you reach San Francisco, we suggest you check in at the conveniently located The Ritz-Carlton, San Francisco. Because it is in the heart of the city, you can explore the downtown area, Union Square, and the Ferry Building on foot.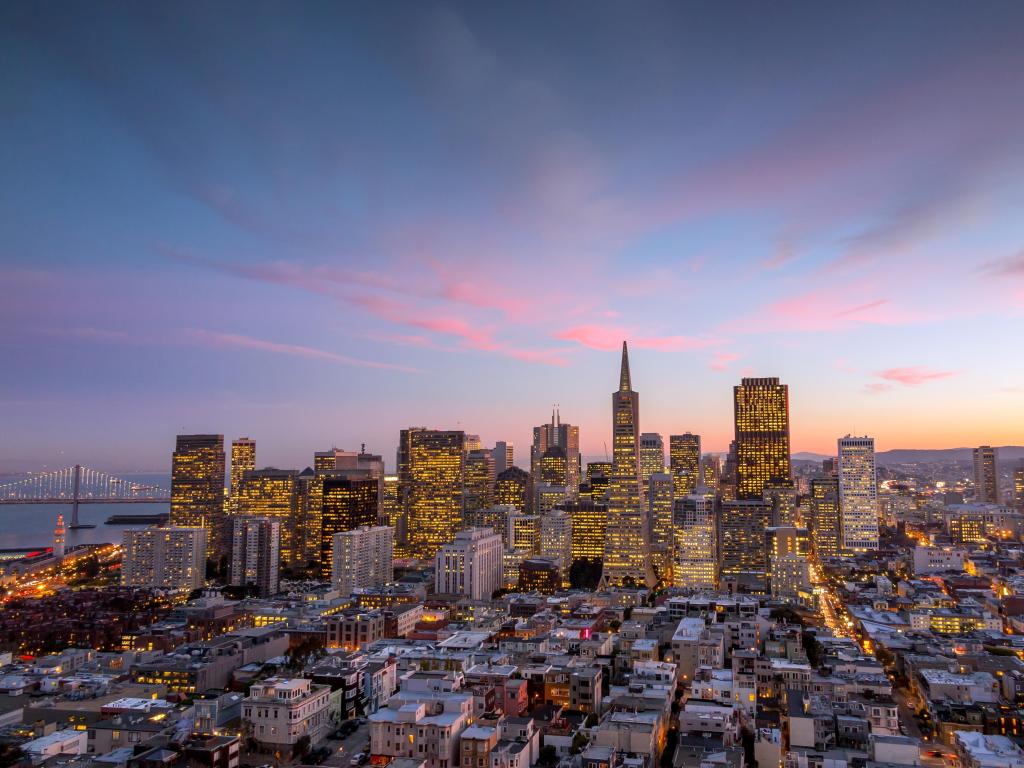 The hotel rooms are decorated with plush bedding, marble bathrooms, and high-end toiletries. The excellent amenities, like a full-service spa and a fitness center, make this stay more enjoyable.
While you can explore the food joints in the city, you can also indulge in delicious food at an on-site restaurant. The hotel is known for its exceptional service, with staff members who are attentive and professional.
Things to see on a road trip from Austin to San Francisco
During this incredible southwestern journey, there are limitless natural wonders, historic sites, coastal cities, and quirky cities to discover. We have put together a list of our top picks along the way, allowing you to enjoy this extraordinary road trip fully.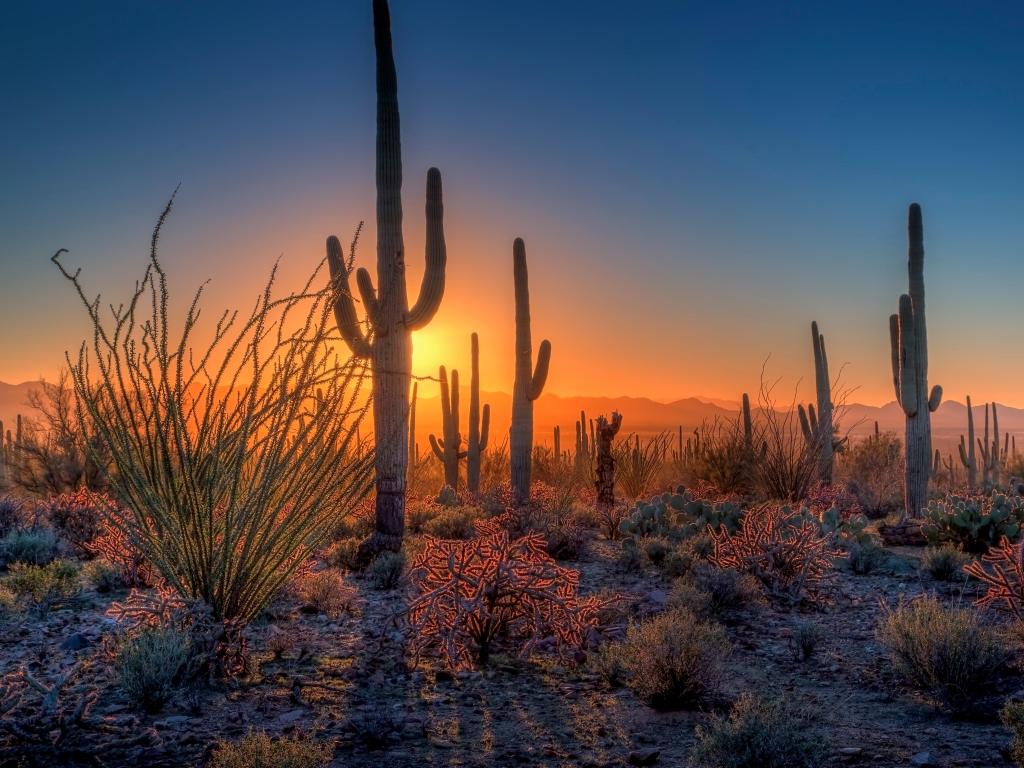 The Southern Route
Franklin Mountains State Park, El Paso – Indulge in nature's beauty at the Franklin Mountains State Park and immerse yourself in the picturesque views of the surrounding majestic mountains as you explore the many hiking trails.
Saguaro National Park, Tucson – Experience the rugged beauty of the desert as you hike along scenic trails of the Saguaro National Park, which is home to thousands of Saguaro cacti.
Desert Botanical Garden, Phoenix – Step into the enchanting desert botanical garden featuring a wide variety of desert plants. It truly is a must-visit for nature lovers.
Joshua Tree National Park, Twentynine Palms – Known for its unique rock formations and Joshua trees, the park offers excellent outdoors for hiking, rock climbing, and stargazing.
Big Sur, Central Coast – Soak in the picturesque views of the Pacific Ocean and the stunning California landscape on this unforgettable drive along the Big Sur.
Griffith Observatory, Los Angeles – Head to this iconic LA observatory for unparalleled views of the city below and the stars above.
Monterey Bay Aquarium, Monterey – A must-visit attraction for the young and the old, this world-class aquarium features various aquatic life, including sea otters, penguins, and sharks.
The Northern Route
Santa Fe Plaza, Santa Fe – Experience the vibrant energy and culture of this exciting hub at the Santa Fe Plaza. Brimming with the rich history and traditions of Santa Fe, this is a popular gathering place and features a variety of shops, restaurants, and art galleries.
Sandia Peak Tramway, Albuquerque – Embark on a scenic journey and witness the awe-inspiring views of the Sandia Mountains and the surrounding desert on this memorable ride.
Lowell Observatory, Flagstaff – Enjoy an immersive experience of stargazing and space exploration at the Lowell observatory. The interactive exhibits offer a great learning experience for budding astronomers.
Grand Canyon National Park, Grand Canyon Village – Lose yourself to the Grand Canyon's spectacular views and explore countless hiking and outdoor recreation opportunities at this iconic park.
Hoover Dam, Boulder City – Marvel at the engineering spectacle that Hoover Dam is and enjoy tours and stunning views of the Colorado River.
Death Valley National Park, Death Valley Junction – Brace yourself for otherworldly landscapes and extreme temperatures the Death Valley National Park offers while exploring hiking and scenic driving opportunities.
Mammoth Lakes, Mammoth Lakes – Indulge in your favorite outdoor activities like skiing and snowboarding in winter and hiking, fishing, and mountain biking in the summer at this stunning mountain town.
Yosemite National Park, Yosemite Valley – This iconic park is nature's wonderland. Offering stunning views of granite cliffs, waterfalls, and Yosemite Valley, it is a must-visit for nature lovers.
Las Vegas Strip, Las Vegas – Brace yourself for unlimited fun and endless entertainment at this famous stretch of hotels and casinos, offering everything from gambling to world-class shows and dining.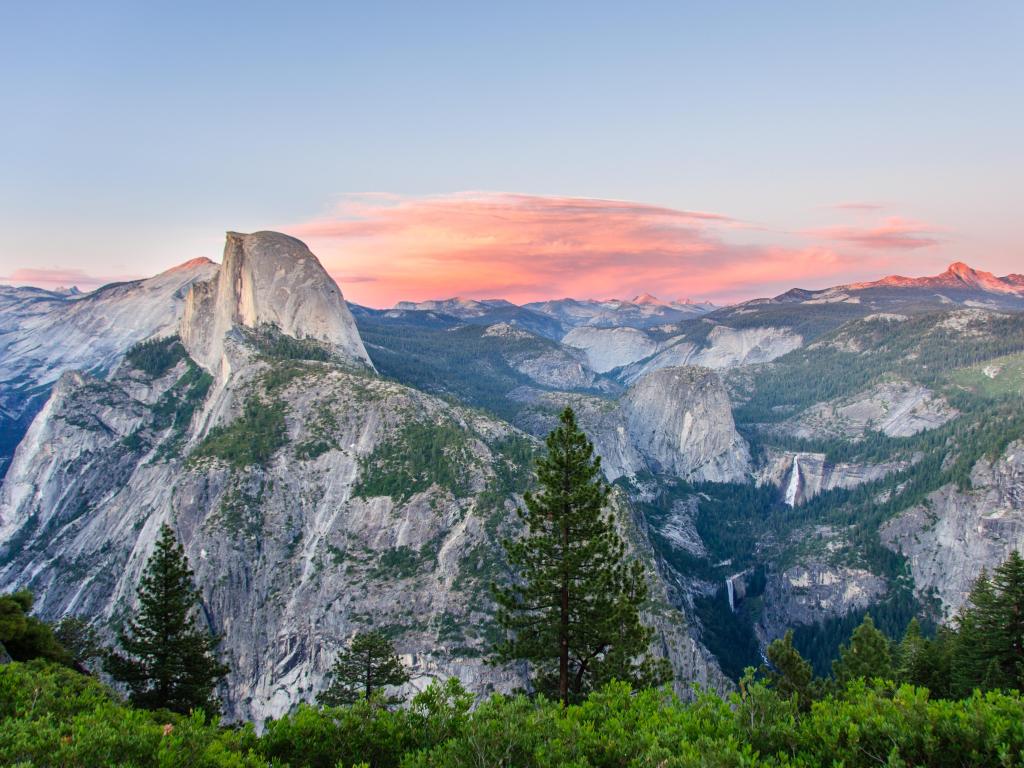 Best time to go on a road trip from Austin to San Francisco
San Francisco is known for its mild and often unpredictable weather patterns, with temperatures that typically range from the mid-40s to the mid-60s Fahrenheit. It is a year-round destination, with many top attractions located indoors or offering indoor options.
San Francisco in the summer is generally pleasant, with temperatures averaging in the mid-60s to low 70 degrees Fahrenheit. While the city can experience some warm and sunny days, it is also known for its cool mornings and evenings.
San Francisco in the winter can be cool and rainy, with temperatures averaging in the mid-50s Fahrenheit. Winter is typically the low season for tourism in San Francisco, meaning the city is generally less crowded, and hotel rates may be lower. Also, some famous attractions and events may be closed or have limited hours during the winter months.
In the spring, San Francisco typically experiences mild and sunny temperatures ranging from the mid-50s to the mid-60s Fahrenheit, whereas, during fall, the temperatures vary between mid-50s and mid-70s Fahrenheit.
Spring and fall are considered shoulder seasons in San Francisco, which means that they are often less crowded and more affordable than the peak summer and winter seasons. The city's top attractions and museums offer discounted admission rates or special events during these shoulder seasons.
San Francisco is known for various events and festivals throughout the year, attracting many visitors and impacting hotel rates and availability.
Some include the Chinese New Year Parade in February/March, where you'll see colorful lions, floats, fireworks, and dragon dances. The Hardly Strictly Bluegrass Festival and Outside Lands Music Festival that take place in Golden Gate Park are quite the treat for music lovers.