Road Trip from Baltimore to Niagara Falls
This relatively short but nonetheless epic road trip from Baltimore to Niagara Falls takes you through some fascinating towns and cities before you arrive at one of the world's most awesome natural landmarks.
The 380-mile road trip from Baltimore to Niagara Falls will take around 7 hours to drive. Key stops include Buffalo, Rochester and Harrisburg, as well as Allegheny National Forest, Gettysburg, Kinzua Bridge Skywalk and Susquehannock State Forest.
There are lots of great towns and cities to visit en route - as well as beautiful forests, parks and other scenic delights - so please keep reading until the end to learn about them all. We'll also share our top tips on where to stay and the best time of year to visit Niagara Falls.
How far is Niagara Falls from Baltimore, and how long will the road trip take?
Comparison of road trip routes between Baltimore and Niagara Falls

| Route | Distance | Driving Time |
| --- | --- | --- |
| The Eastern Route | 425 miles | 7 hours |
| The Western Route | 380 miles | 6 hours 45 minutes |
There are a number of ways that you can drive between Baltimore and Niagara Falls. The quickest route spans a distance of 380 miles and takes 6 hours and 30 minutes to drive.
That said, with such a relatively short drive, a much better option would be to incorporate a few additional places of interest along the way. Our two recommenced routes are similar in distance and time on the road but add more enjoyment to the drive.
The Eastern Route takes 7 hours of non-stop driving and covers a distance of 425 miles, while our Western Route is slightly shorter at 380 miles and takes 6 hours and 45 minutes to drive.
While you could complete this road trip in a single day, a much better option would be to spread it out over at least two days and include an overnight stop - that way you can enjoy the views and explore the great cities and towns you'll pass.
If you have more time at your disposal, you could add Pittsburgh and Erie to your city visits and stretch the journey further, but for this road trip we will focus on the Eastern and Western routes as they both offer fantastic views in their own right.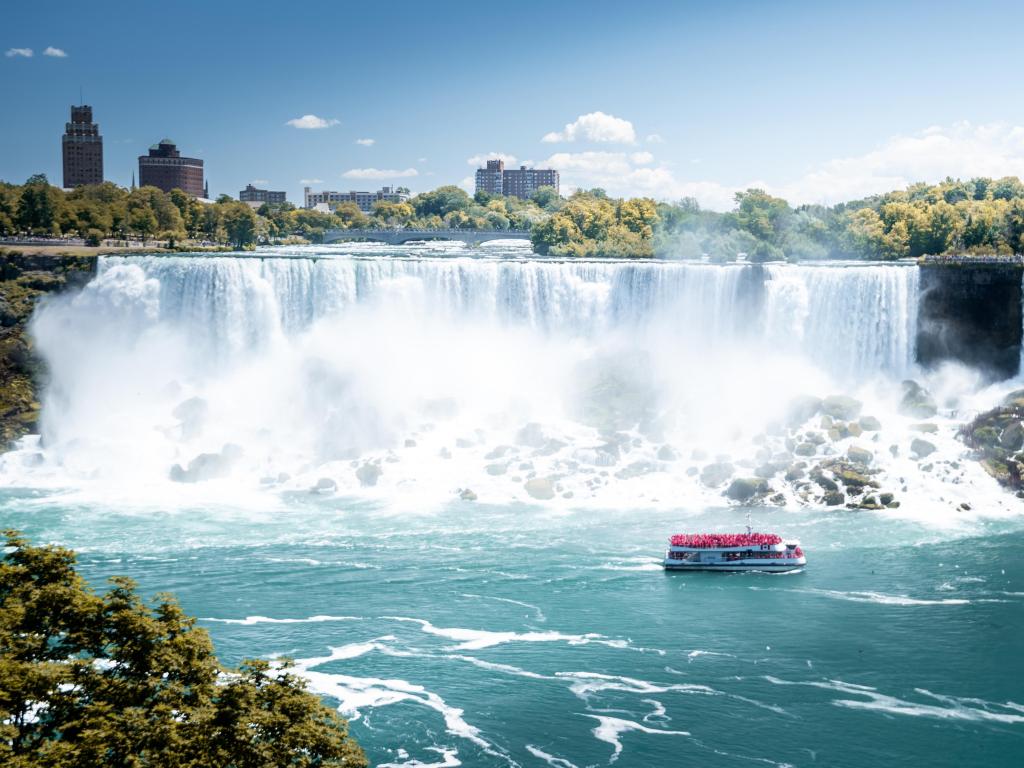 Best road trip route from Baltimore to Niagara Falls
While there are several options for this road trip, our recommendation is to take either The Western Route or The Eastern Route. Both are fairly similar in distance but offer different views along the way.
The Eastern Route will take you via Rochester before heading west towards Niagara Falls. Following this option gives you the flexibility to visit Syracuse if you'd like to stretch your journey further.
Alternatively, our slightly quicker Western Route will take between Allegheny National Forest and Susquehannock State Forest, ideal for those looking to include a couple of hikes or nature walks into their road trip. This route also takes you through the fantastic city of Buffalo.
Both options offer fantastic views as well as passing less well known towns and cities that are definitely worth exploring. If you can't decide between them, why follow one to Niagara Falls and then the other back to Baltimore?
How to drive from Baltimore to Niagara Falls
The map above shows our suggestions for the best road trip routes between Baltimore and Niagara Falls. Keep reading for detailed descriptions of both routes, where to stay on either, and the best things to do on the way.
The Eastern Route
Leave Baltimore on Interstate 83 and follow the road past York until you reach Harrisburg. From here you can take a short detour to Tuscarora State Forest or Bald Eagle State Forest.
Cross the Susquehanna River and drive alongside it for 15 miles following the US-22, before crossing the Clarks Ferry Bridge and follow the US-15 past Selinsgrove, alongside Little Mountain and then through Williamsport.
Follow US-15 north and consider stopping to visit Susquehannock State Forest for its fantastic hikes and scenic views, before finally merging with I-99 and crossing into New York State.
Continue on this road as far as Gang Mills, where you'll take the exit and join I-86 before changing to I-390 to Rochester. You could easily spend a night in this city to really make the most of the attractions it has to offer, but if you are pressed for time, continue west on I-90.
As you approach Buffalo, turn onto I-290 through this fantastic city and join I-190 north to cross Grand Island. Leave to take US-62 which will take you all the way to your destination - Niagara Falls.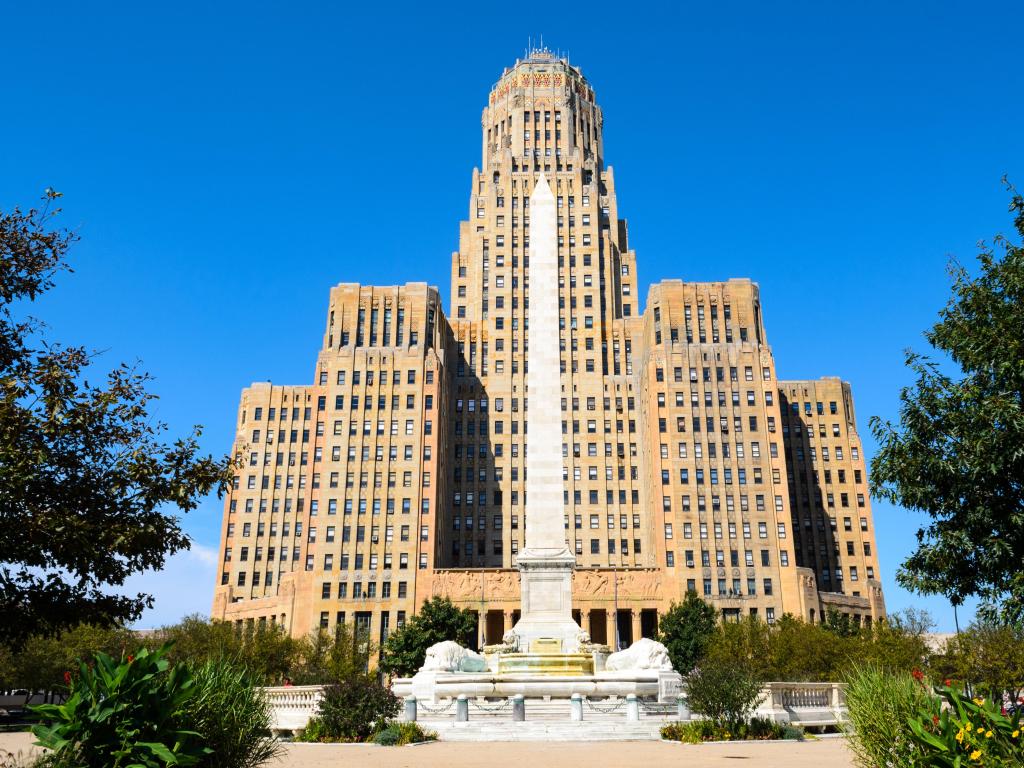 The Western Route
Our Western Route begins much the same as the route above. Leave Baltimore via I-83 heading north, through Harrison before joining US-22 as far as Clarks Ferry Bridge in Duncannon.
At this point the two routes split and instead of following US-15, you will continue along US-22/US-322, passing between Bald Eagle State Forest and Rothrock State Forest - both stunning natural areas that would make a great stop.
Merge with I-99 heading west as you pass by Penn State University, before continuing on US-322 north, where the road splits again. Continue along US-322 past the small towns of Bigler and Woodlands, before joining I-80 west and then US-219 heading north.
After a short drive, you will pass through Ridgway and alongside the stunning Allegheny National Forest, before crossing into New York state and the popular city of Buffalo.
Follow I-190 north across Grand Island, before leaving the interstate to join US-62 which will take you into Niagara Falls and complete your trip.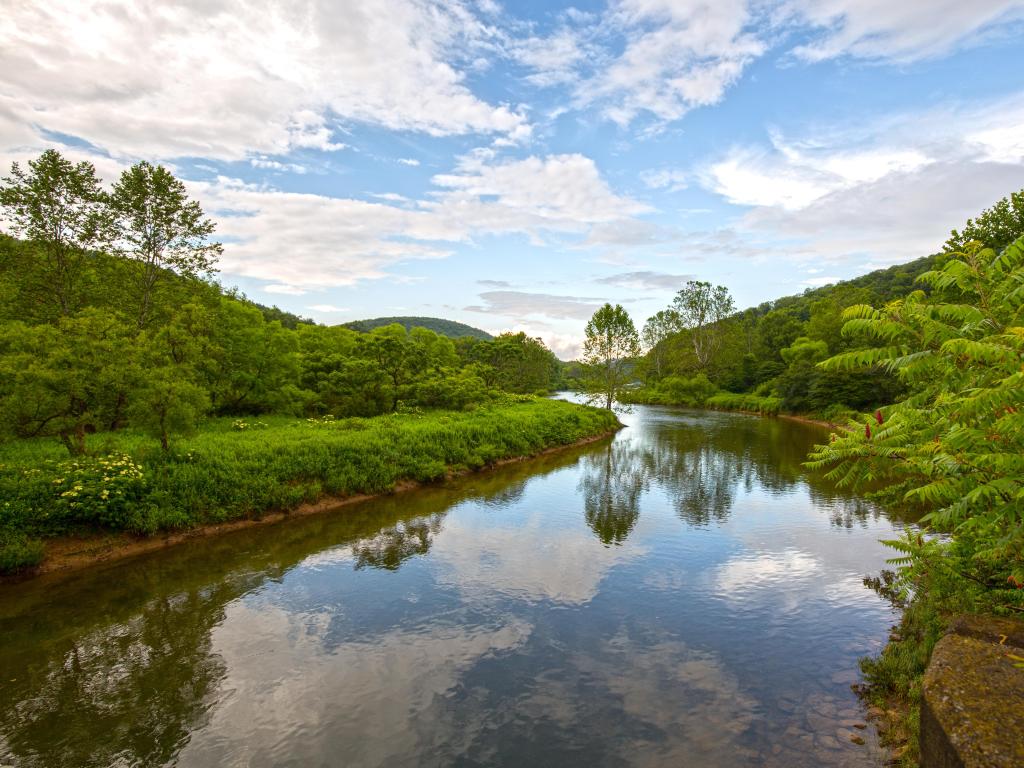 Best places to stop between Baltimore and Niagara Falls
There are a number of fantastic overnight stops you can make on the road trip from Baltimore to Niagara Falls, depending on which route you take and how many days you plan to drive.
If you are pressed for time, here are a couple of less known but equally wonderful places to visit and spend the night.
Stop in "America's most fun small town", Corning
If you've chosen to follow The Eastern Route, then ideally situated at halfway through your trip and 4 hours into your drive, is the pretty town of Corning. Known as "America's most fun small town", this stop is close to the main route and yet provides a fantastic spot for sightseeing.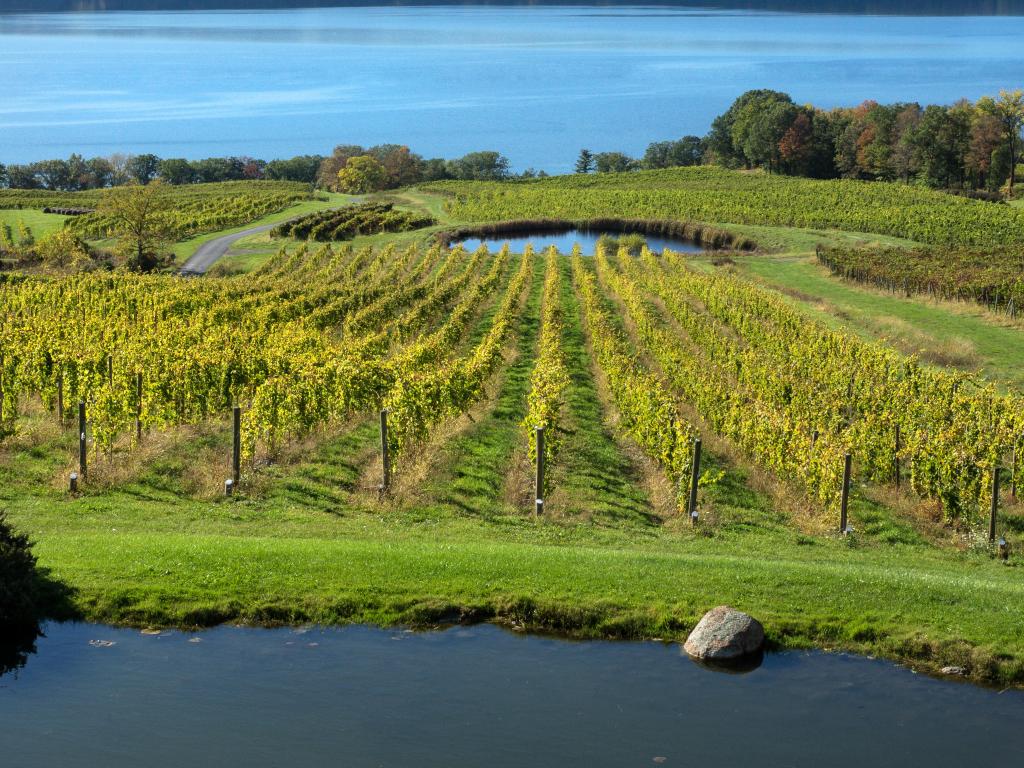 The town's historic downtown, the Gaffer district, is a colorful and vibrant place to wile away a few hours visiting the independent shops and eateries you'll find here. There's also Corning Glass Museum and Rockwell Museum that are well worth a visit.
If you have the time, Corning is also a great gateway point to visit to Finger Lakes Wine Country - a stunning location of glacially-designed lakes and hills that are popular with growing grapes.
For a hotel with a great location and amenities, you can't go wrong with a stay at the Hampton Inn Corning/Painted Post. Situated close to the main route and only 2.7 miles from Erwin Hollow State Forest, this hotel is perfectly placed to go sightseeing.
Rooms at the Hampton Inn Corning are comfortable and modern, there's even a fantastic indoor pool which is an ideal way to relax after a busy day. With free parking and mountain views, this hotel is a great base before embarking on the final stretch of your trip.
Head back to school at State College
Situated just 3 hours from Baltimore, State College is a great place to stop if you have followed The Western Route. This Pennsylvanian town is not only a great place to rest up between two full days of exploring the sights, but it's a great place to visit in its own right.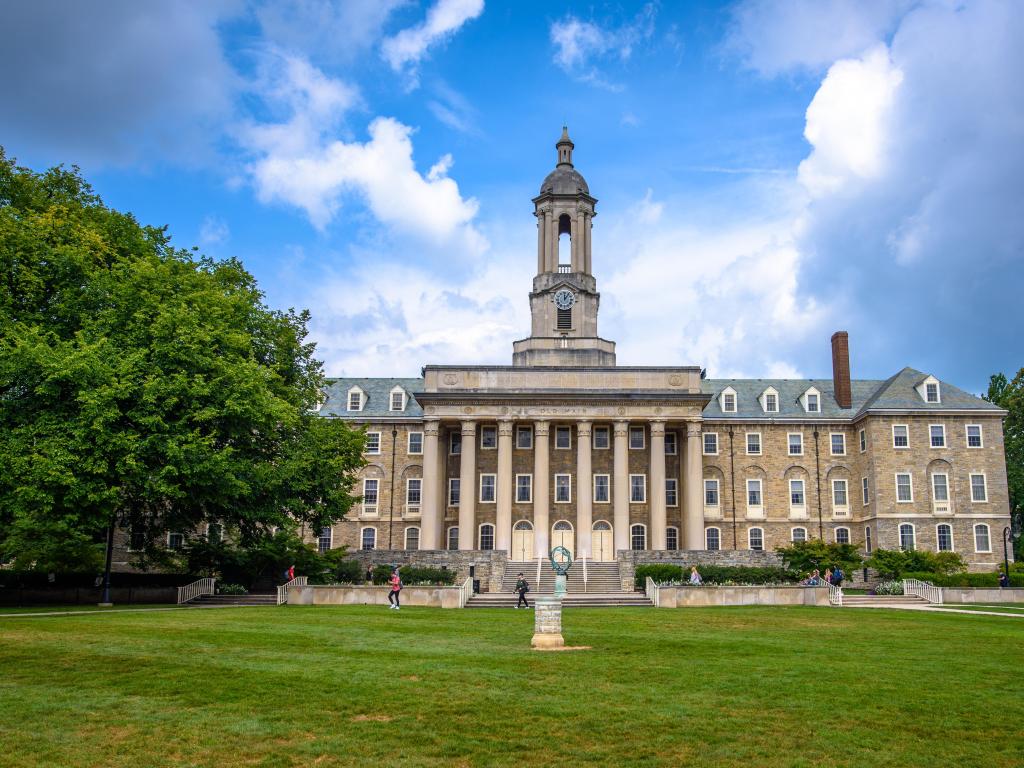 The town of State College grew up around what's now Penn State University. You can spend some time visiting this historic campus, as well as enjoy the Arboretum at Penn State if you're after some peace and relaxation.
State College also offers a good selection of restaurants and bars in the center of town, or if you're after something a bit more rugged, just 45 minutes by car you'll find Allegheny State Forest, a great place for outdoor adventuring.
For an overnight stop, a stay at the Graduate State College couldn't be more appropriate. This 4-star hotel is decked out in a quirky yet comfortable style with a nod to its home town's most famous institution.
Centrally located so you can explore State College, the accommodation also has parking on site making it a stress-free stop. For a memorable evening, why not eat in the Trophy Room, which serves breakfast and dinner, and enjoy some specialty cocktails?
Things to see on a road trip from Baltimore to Niagara Falls
There are some fascinating cities and towns, as well as beautiful scenery on this road trip from Baltimore to Niagara Falls. You could easily spend a week visiting them all.
If you are pressed for time, here are our top things to see along the way: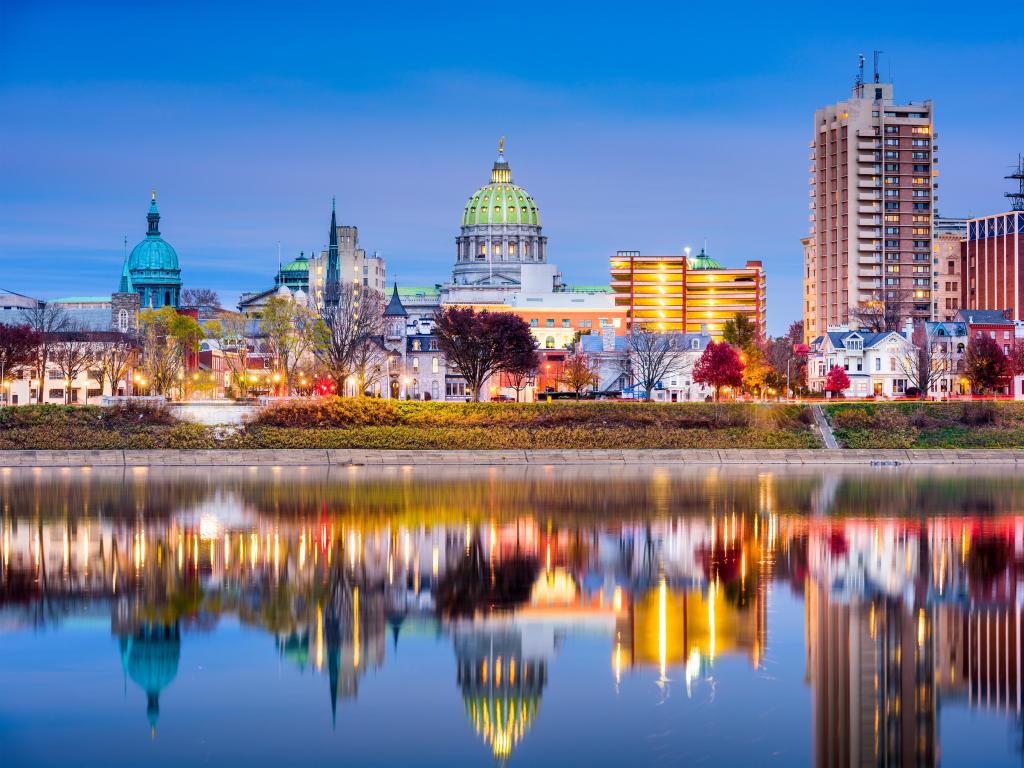 Both routes
Heritage Rail Trail, York - Explore this 21-mile heritage trail as you pass through town, country and riverside landscapes on the cycle path outside York.
Hershey - The home of all things chocolate, take a tour around Hershey's Chocolate World, Hersheypark amusement park or the Hershey Story Museum – but don't skip the Hershey's historic downtown area when you're passing through.
Harrisburg - Pennsylvania's state capital hosts regular exhibitions courtesy of the Art Association of Harrisburg, and is home to a number of historic mansions that tell the story of the city during America's Gilded Era.
Fort Hunter Mansion & Park - Take a tour of the historic mansion then enjoy a walk along the Susquehanna River and the old Pennsylvania Canal Trail.
Stargazing at Cherry Springs State Park - A short detour accessible from either the Eastern or Western Route, this state park in Coudersport was the first International Dark Sky Park in the region so it's a fantastic spot to see the stars.
Buffalo - New York state's second largest city isn't just a waypoint as your approach nearby Niagara Falls. Enjoy watersports at Canalside, take a stroll along the Riverwalk, or visit the architectural must-see that is Frank Lloyd Wright's Martin House Complex.
Gettysburg - The 1863 Civil War Battle of Gettysburg changed the course of US history. Visit the interactive Museum of the Civil War or the National Military Park Museum & Visitor Center to learn more.
Niagara Falls - Take in the stunning views at your destination that hardly needs an introduction – take a boat or helicopter tour for while you're in town, or visit the Cave of the Winds to get right up close to the Falls.
Niagara Falls Underground Railroad Heritage Center - Learn about the stories of people who passed through the town on their route to freedom.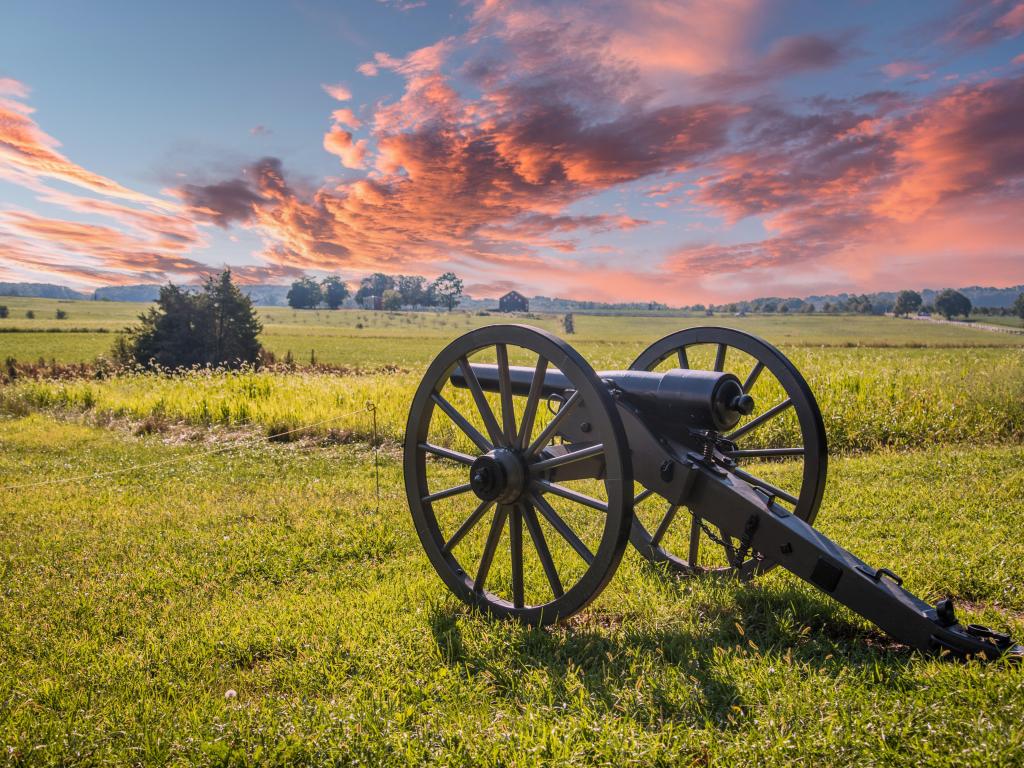 Eastern Route
The Rockwell Museum - Located in Corning's historic town hall building, explore this elegant museum to discover works by American artists.
Seneca Lake Wine Trail - Take a short detour from the main route to tour some of the 27 cool climate wineries that you'll find close to Seneca Lake.

Rochester - Visit the oldest photography collection in the world at the George Eastman Museum, or time your trip to take in the city's popular Jazz Festival or Fringe Festival.
Western Route
Wineries - Find yourself a designated driver and visit Bear Creek Wines, Flickerwood Win Cellars or the Winery at Wilcox to taste a selection of locally produced wines
Allegheny National Forest - Ideal for nature lovers, enjoy a hike or picnic in this vast national forest, or head to the Allegheny Reservoir for swimming or boating.
Kinzua Bridge Skywalk - This elevated walkway - built on the remains of what was once the world's longest rail viaduct – offers fantastic panoramic views across the stunning Kinzua Bridge State Park.
Smethport - Take a tour of the Gilded Era mansions of this charming village built around the lovely Hamlin Lake.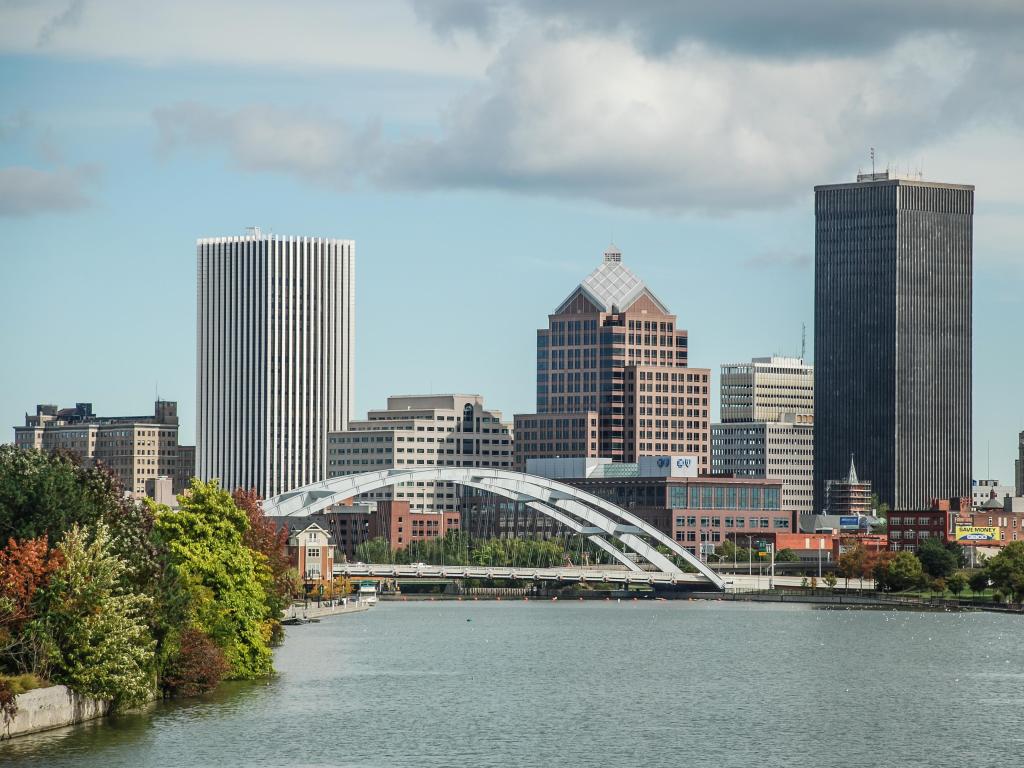 Best time to go on a road trip from Baltimore to Niagara Falls
The road trip from Baltimore to Niagara Falls is one that could be enjoyed all year round, although that does very much depend on what you want to get out of it.
There are lots of places along this route that can be enjoyed despite the weather, such as the museums and indoor attractions and winter can be a spectacular time to visit if you're hoping to see a frozen waterfall.
However, with temperatures at Niagara Falls getting as low as 14 degrees Fahrenheit, coupled with the fact that traveling in winter is likely to mean you miss out on the many outdoor attractions you'll pass along the way, you might opt out of visiting between December and February.
Summer can be a great time to visit as you'll be guaranteed of the hottest weather, while the falls is likely to be busy all year, you should expect the biggest crowds to peak during July and August, and in line with Labor Day and Independence Day holidays.
That said, because the road trip route passes through some relatively quiet towns and outdoor attractions, you'll still be able to find some space to relax even if you take this trip in peak season.
Late spring or early fall are both good times to take this route, with temperatures hitting the mid 60s and above from May to September. You'll be able to enjoy hikes through Allegheny State Forest or tour the Finger Lakes wineries in the sunshine if you visit at this time of year.