Road Trip From Boston To Portland, Maine
If you don't think a short drive could match up to a cross-county adventure, the road trip from Boston to Portland is bound to change your mind - featuring some of the East Coast's most beautiful beaches and cities, this is a trip you're bound to remember for a long time.
The 110-mile road trip from Boston to Portland takes 1 hour 45 minutes to drive. Stops along 2 different routes include Bear Brook and Hampton Beach State Parks, Old Orchard Beach Pier, Canobie Lake Park, Salisbury Beach State Reservation, and Salem.
Be sure to keep on reading to learn all the details regarding this beautiful itinerary.
How far is Portland from Boston and how long will the road trip take?
| Route | Distance | Driving Time |
| --- | --- | --- |
| The Coastal Route | 110 miles | 1 hours 45 minutes |
| The Inland Route | 140 miles | 2 hours 10 minutes |
The road trip from Boston to Portland covers 110 miles of ground along the quicker route and takes around 1 hour 45 minutes to drive. With a drive this short, you can take off at virtually any hour and make it to Portland in time to do something fun in Portland.
With that said, a better way to enjoy this route is to make as many stops as possible along the way - the route is packed with Atlantic Coast attractions for you to check out, and there are plenty of inland detours you may want to consider too.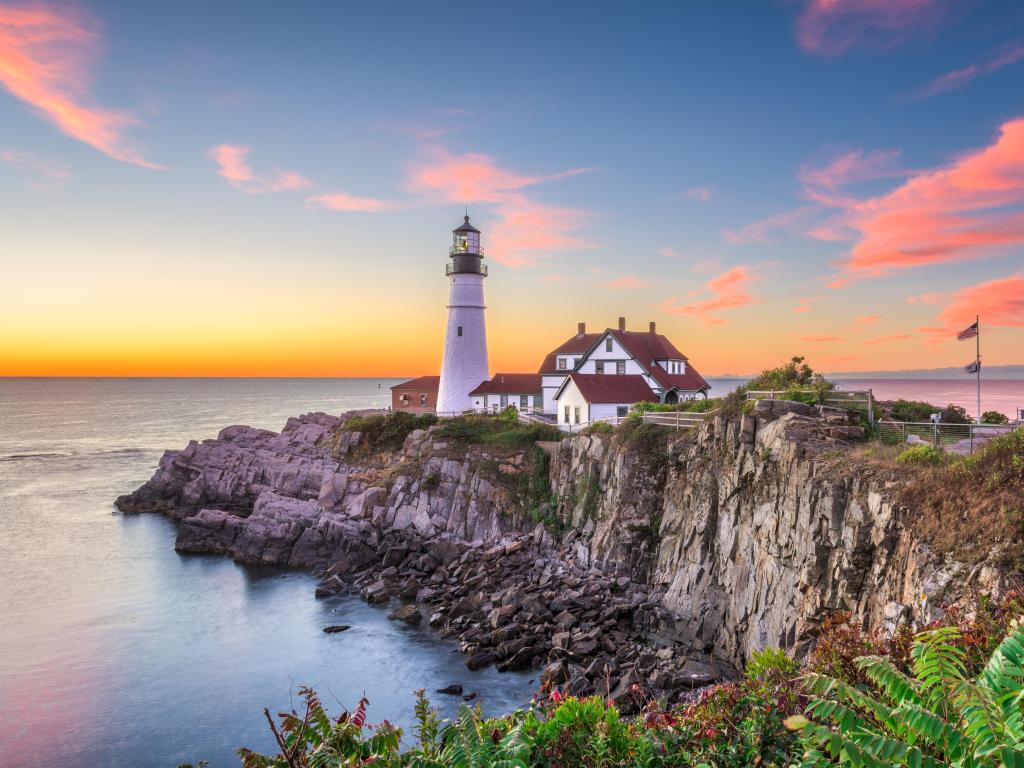 Another way of approaching the drive is to start off your adventure inland, driving to Manchester in New Hampshire before returning to the coast for the other half of the journey. This route takes a bit longer to drive, coming in at 140 miles and taking 2 hours 10 minutes to drive.
Whichever route you choose, you can expect a fair bit of traffic on your way out of Boston and into Portland - if you happen to get caught up in congestion, you can always slow down and check out some of the gorgeous beaches and resort towns on the Atlantic Coast.
If you are looking to extend your road trip, here is our guide for the ultimate Maine road trip itinerary:
READ MORE - Ultimate Maine Road Trip Itinerary
Best road trip route from Boston to Portland
There is no best route for the road trip from Boston to Portland - the main difference is that the longer route goes a bit inland, passing cities and parks that, if you're short on time, might be too out of the way for a detour when taking the coastal route.
Whichever way you spin it, it won't take more than four hours to drive to Portland and back, so consider taking one route on the way there and the other during the return trip.
The Coastal Route
Leave Boston via Interstate 93, cutting through Middlesex Fells Reservation before hopping onto Route 95. Pass Breakheart Reservation and Lynn Woods, and take the time to drive to Salem and check out the Salem Witch Museum.
Back on the interstate, pass Bradley Palmer State Park before cutting through Georgetown-Rowley State Forest and crossing the Merrimack River. Then, be sure to visit Salisbury Beach State Reservation, North Beach, and Hampton Beach State Park before reaching Portsmouth.
Cross the Piscataqua River to enter Maine, then stop by Rachel Carson National Wildlife Refuge before taking a break in Biddeford. Finally, stop by Scarborough Fair State Park before getting onto Interstate 295 and reaching Portland.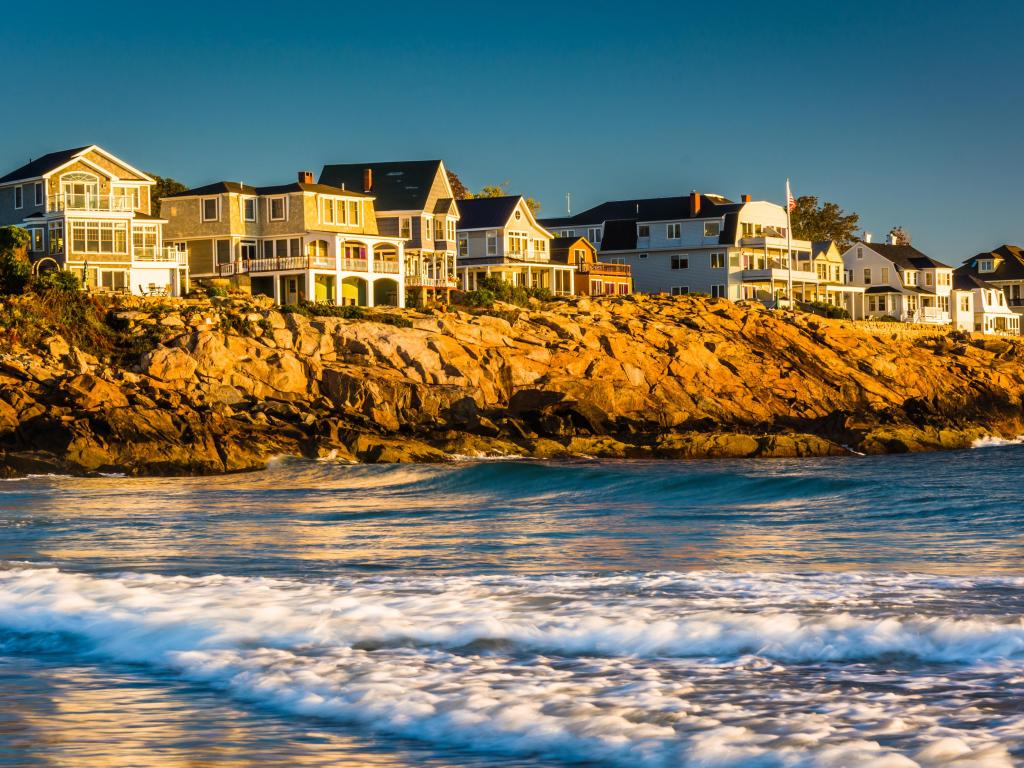 The Inland Route
Once again, take Interstate 93 out of Boston, but after cutting through Middlesex Fells Reservation, stay on this interstate and pass Harold Parker State Forest and the town of Andover.
From Lawrence, you can do some optional detours to Haverhill or Lowell, then pass by Canobie Lake Park and detour to America's Stonehenge before taking a break in Derry.
Next up is Manchester - explore the city and get on Route 101, passing Bear Brook and Pawtuckaway State Parks. From Exeter, simply follow the route to Interstate 95 - the two routes converge just south of Portsmouth.
Looking to stay longer in Maine? Here is our guide to the ultimate road trip itinerary in Maine.
Best places to stop between Boston and Portland
The road trip from Boston to Portland is filled with amazing hotels, and although there's not a lot of driving, many of the beaches and towns along the way deserve at least a full day's attention. These are some of the hotels you'll want to book before taking off:
Admire the riverside view in Portsmouth
Home to some of the most gorgeous architecture along the East Coast, Portsmouth is a city brimming with charm and personality. The best resort in town is The Hotel Portsmouth, whose elegant rooms will leave you feeling like 17th-century royalty.
Nothing can beat a cozy weekend morning by the fireplace with a good book, and for good measure, the hotel also throws in some amazing window views of the exterior, which is as lovely as they come.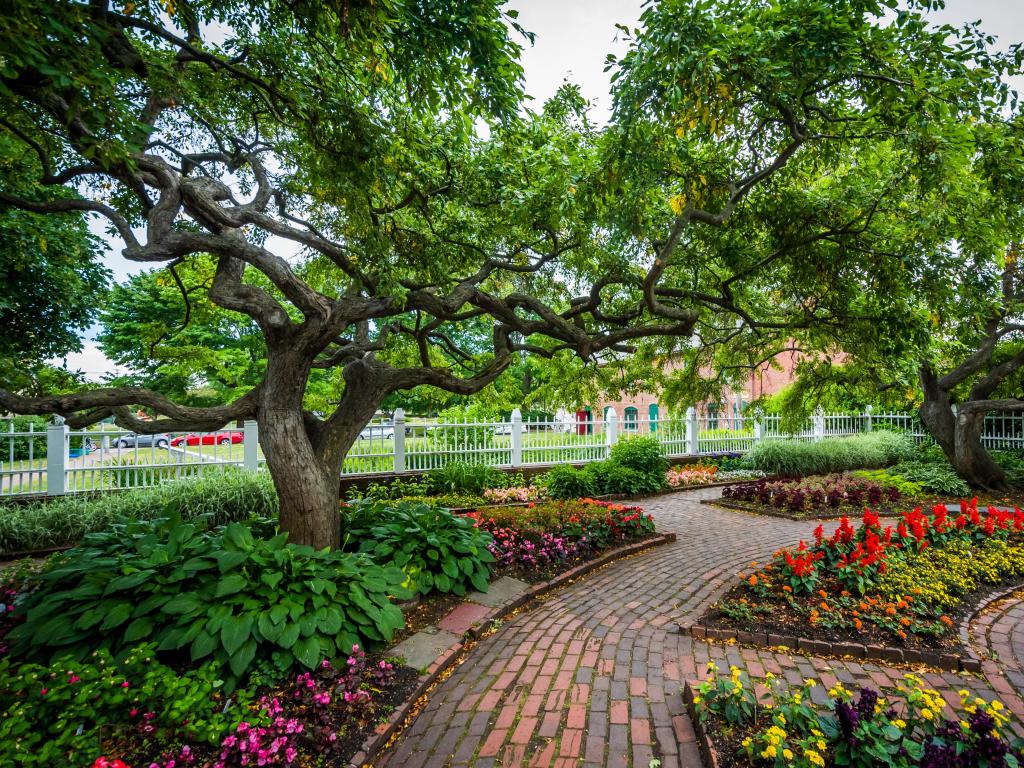 The real draw of this resort is the location, though - situated in Haymarket Square, this place is a stone's throw from many of Portsmouth's finest attractions, including The Strawberry Banke Museum and Prescott Park.
Best of all, the Piscataque River is mere minutes away on foot, so if you want to make the most of the city, take a leisurely stroll along the riverbank and enjoy the view of a lifetime.
The price is extremely fair for hotel in a major tourist thoroughfare, and taken together with the elegance of the interior and the resort's proximity to all things Portsmouth, you have an offer that can't be beat.
Take in the beauty of The Portland Waterfront
As one of the swankiest cities in all of Maine, Portland is the kind of place that keeps you coming back for more every tourist season. You'll want to spend a long time here, ideally in Portland Harbor Hotel, the epitome of style, comfort, and oceanside luxury.
After a few minutes of relaxing in your cozy room or in the tastefully decorated lobby, you're guaranteed to fall in love with every nook and cranny of this fabulous resort.
For a meal that can't be beat, head out to the hotel's very own BlueFin North Atlantic Seafood Restaurant to enjoy some of the finest seafood you're likely to try.
Once you're done, you can hit the fitness center before retreating to the comfort of your suite's spa bath for that final touch of elegance before going to bed.
Portland is one of the most historically significant cities in all of Maine, and luckily, the Portland Harbor Hotel is mere minutes from various historic districts and monuments.
Things to see on a road trip from Boston to Portland
As short as the drive is, the road trip from Boston to Portland can keep you occupied for days on end. If you have the time, try to devote at least a week to this trip to see as much as you possibly can.
The route is more diverse than the short mileage might have you believe, so it's hard to list every attraction on the way, but these are some of the absolute highlights:
Salem Witch Museum - Located in Salem, this museum lets you see historically accurate reenactments of 17th-century witch trials.
The Witch House - Although it doesn't delve in reenactments, this house is claimed to be an actual site for witchcraft over 300 years ago.
The House of the Seven Gables - New England's oldest wooden mansion that also served as inspiration for a chilling Hawthorne novel.
Singing Beach - Located in Manchester-by-the-Sea, this beach is one of the best places to experience an East Coast summer.
7 Seas Whale Watch - Located just a short distance away from the Singing Beach, this place offers a surreal whale and dolphin-watching experience.
Castle Hill on the Crane Estate - Palatial English-style mansion that is perfect for a photo session.
Salisbury Beach State Reservation - For an unparalleled beach experience, enjoy the crashing of the waves at Salisbury Beach as you take a stroll along the boardwalk.
Hampton Beach State Park - Undoubtedly one of the best beaches in the northeast, Hampton Beach State Park deserves as much attention during this trip as Portland itself.
Odiorne Point State Park - Well over 100 acres of trails with amazing ocean views along the rocky Atlantic shoreline.
Strawbery Banke Museum - This iconic outdoor museum will give you a clear perspective on old-time living in New Hampshire.
Funtown Splashtown USA - You can unleash your inner child in Maine's largest water and amusement park - your kids are guaranteed to get a kick out of this place too!
Canobie Lake Park - An iconic theme park housing some of the most thrilling rides in all of the States.
America's Stonehenge - This beautiful archaeological site is surrounded by incredibly scenic hiking trails shrouded in greenery.
Manchester (New Hampshire) - Art lovers will get a kick out of the innumerable museums and art exhibits that call this place home.
Bear Brook and Pawtuckaway State Parks - Taken together, these two parks offer some of the most unforgettable vistas and hiking trails in New Hampshire.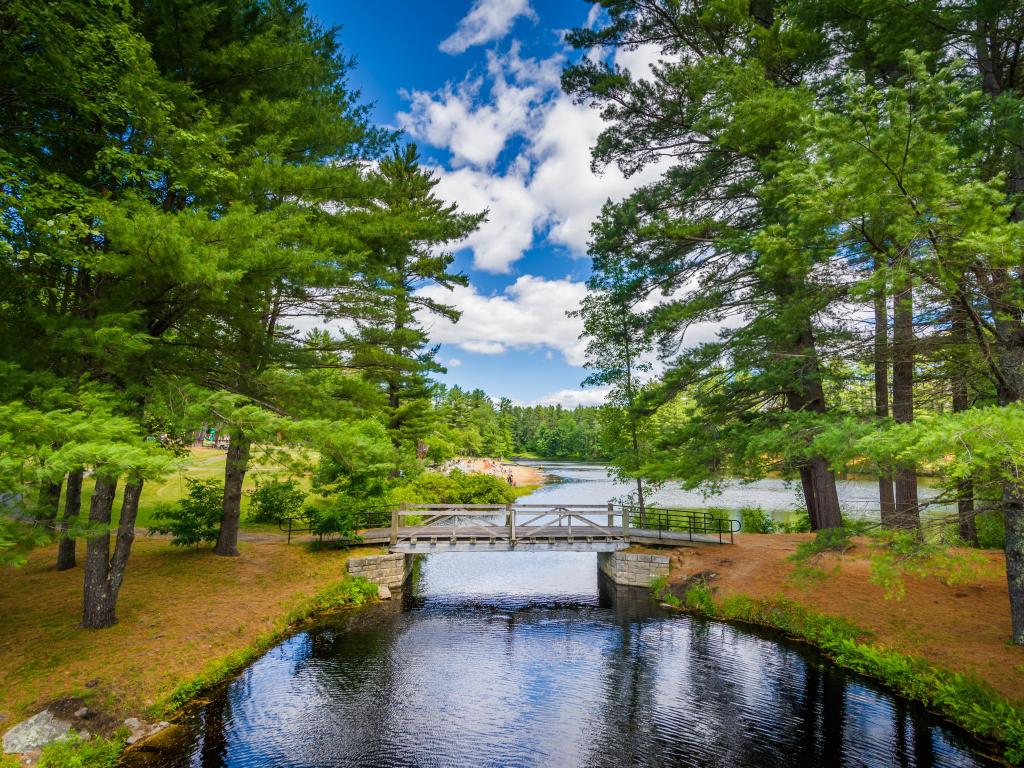 Best time to go on a road trip from Boston to Portland
There really is no wrong time to do the road trip from Boston to Portland, although as you might expect from a coastal trip, the warmer seasons are generally the safest options.
Since you'll be passing many parks and beaches on the way, you'll want to take full advantage of the East Coast sunshine by traveling in the summertime - places like Hampton Beach State Park really come alive this time of year.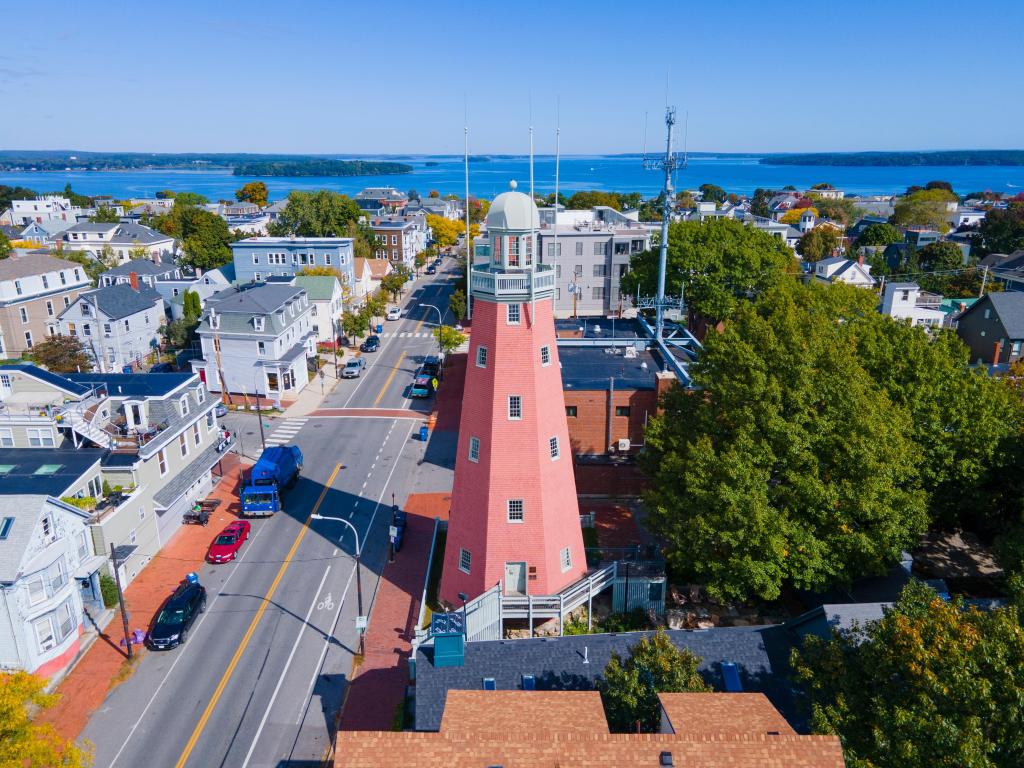 The same is true for Portland itself, whose peak tourist season is around July and August. With temperatures peaking at around the mid-to-high 70s, Portland is extremely pleasant in the summer if you don't mind the crowds.
The city's temperatures take a bit of a hit in the fall, which can be good news if you're traveling on a budget - the only visitors you can find here in October and November are food festival attendees, so you can get an amazing deal on a hotel room around this time.
Winters in Portland can be harsh if you're not accustomed to temperatures in the 30s, and it takes a while for spring to actually kick in. With that said, the city looks divine once the snow has melted and the greenery starts to bloom again.