Road Trip from Sydney to Brisbane
A road trip from Sydney to Brisbane is one of Australia's quintessential driving experiences. Providing a great way to explore the beautiful coastline of the eastern seaboard, you get to enjoy areas of outstanding natural beauty, and could also visit some delightful rural towns and coastal cities as well.
There are a few prominent routes you can take for such a jaunt, with the most direct 915-km journey taking around 9 hours and 30 minutes of pure driving time. Places to visit include Palm Beach, Hunter Valley, Byron Bay and Surfer's Paradise.
These are just a few of the many terrific landmarks and points of interest you can see on this fantastic excursion. So you'll want to read on until the end to find out more about them.
How far is Brisbane from Sydney and how long will the road trip take?
Table comparing route options between Sydney and Brisbane

| Route | Distance | Driving Time |
| --- | --- | --- |
| Pacific Highway & M1 Route | 915 km | 9 hours 30 minutes |
| New England Highway & A15 Route | 935 km | 11 hours |
| Thunderbolts Way Route | 975 km | 11 hours 20 minutes |
The most direct route between Sydney and Brisbane is via the Pacific Highway. All up it should take about 9 hours and 30 minutes to drive the 915 km distance.
If you love coastlines this is a fabulous route for you, as you will have the opportunity to visit a number of excellent beaches, and beautiful waterways, that you will probably want to spend a bit of time at. Don't forget to take your paddleboards, jet skis or kayaks if you plan to go this way.
An alternative drive will take you through the magnificent countryside along the New England Highway. You will join this route from just after Seahampton in New South Wales and take it all the way through the beautiful regions of the Hunter Valley, Goondiwindi and Darling Downs, until you reach Brisbane.
This route should appeal to oenophiles, as you will pass through a number of number of fantastic wineries. It also showcases some of the most historic buildings in Queensland too.
A third route can take you on a detour through Thunderbolts Way. Following a similar path to the New England Highway route, you will veer off at Willow Tree, and then head to Brisbane via Stanthorpe and Warwick.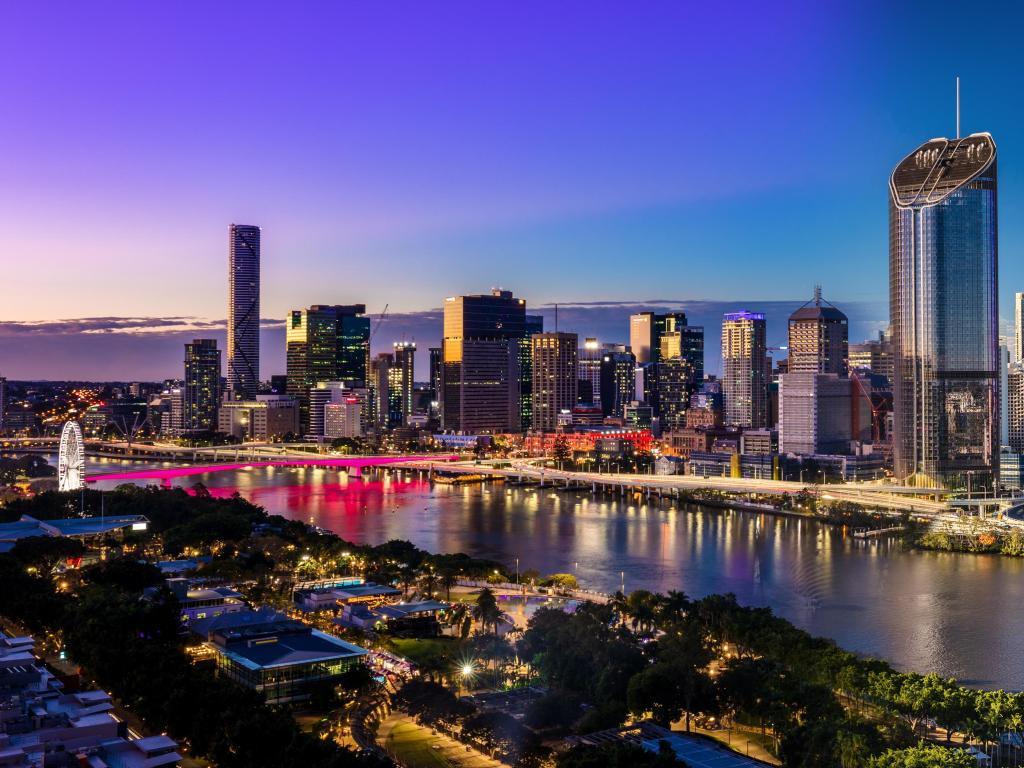 Best road trip route from Sydney to Brisbane
A road trip from Sydney to Brisbane is a long drive, so the route you take will depend on where you want to stop off and what type of scenic views you want to take in.
All three of the routes below are fairly straightforward journeys. They provide different experiences and will regularly take you through towns with plenty of shops and petrol stations.
The Pacific Highway Route
Also known as The Pacific Highway, the M1 and A1 is essentially the same road. So from downtown Sydney, you can take it up all the way to Brisbane.
If you love the sand and surf this route will give you the opportunity to visit some of Australia's most famous beaches including Palm Beach (which is where the popular TV show Home & Away is filmed), as well as Terrigal, Coffs Harbour, Byron Bay and Surfer's Paradise.
En route to Brisbane, you'll definitely want to stop off at the latter two, to soak in their iconic laid back nature, and party vibe, respectively.
The New England Highway Route
The Hunter Valley is known throughout Australia for its fantastic wineries, incredible food and racing stud farms. It is also home to incredibly picturesque scenery which will take your breath away.
Taking the M1 from Sydney you will join the M15 just after Seahampton. Once you have done this the road will take you all the way towards Pokolbin and Musselbrook, passing by a number of famous wineries including the Wynwood Estate, Waverley Estate and Ivanhoe Wines, which all offer wonderful cellar tours, tastings and charcuterie boards.
Just after Willow Tree you will take the B51 and A39 roads to Goondiwindi where you will be able to swim, canoe, paddle boat or kayak along the magnificent Macintyre River and the Natural Heritage Water Park.
From here you will take the road to the historic town of Toowoomba, which is a good base to visit the stunning Crows Nest National Park. If you can, try and come here in September for the wonderful Carnival of Flowers festival.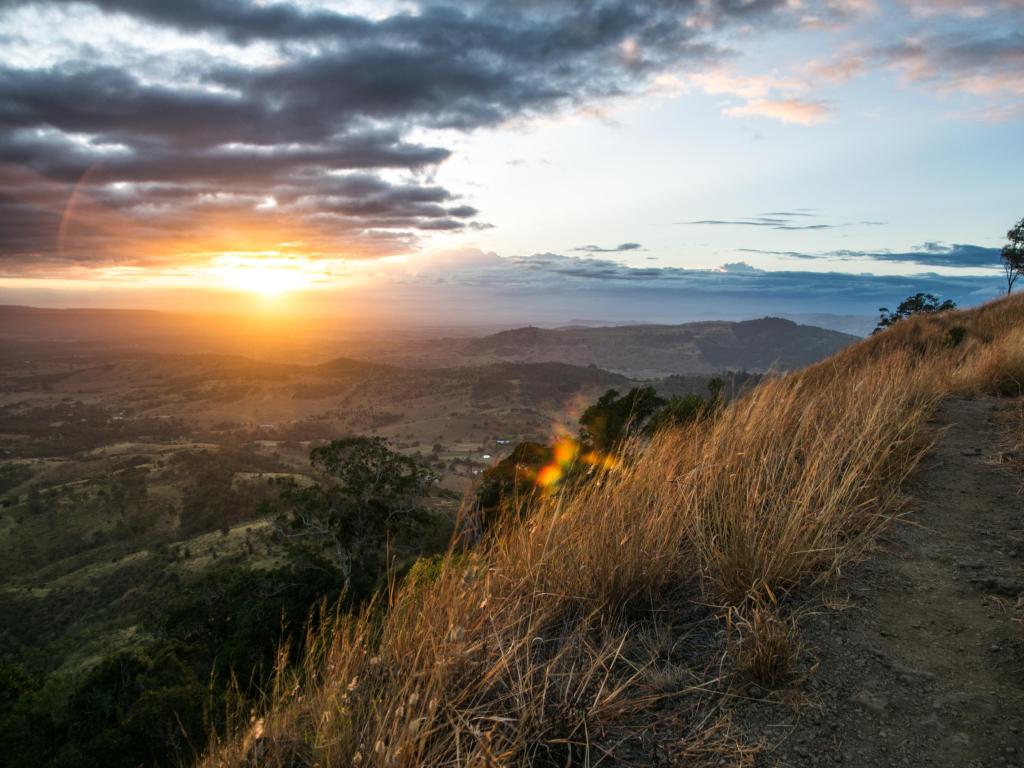 The Thunderbolts Way Detour
This route follows the same as the New England Highway, until you get to Willow Tree, where you will remain on the A15.
It will take you through a number of charming regional cities including Armidale, which is known as the Cathedral City, and Tenterfield which is widely accepted as being 'the birthplace of Australia' - where Sir Henry Parkes made his iconic speech in 1889 calling for Australia to become a federation.
This route will also lead you to Warwick which is the birthplace of the author PL Travers. If you love her works, including that of Mary Poppins, you may well want to undertake a tour of her childhood home.
Best places to stop between Sydney and Brisbane
Irrespective of which route you take, we highly recommend you make at least one, if not two overnight stops.
There are a host of wonderful places you can stay at, but a couple we recommend are as follows:
Chill out in Byron Bay
Byron Bay is one of the world's most famous coastal towns, so you'll definitely want to stop here to experience its unique laid back nature, spectacular beaches and lush hinterland.
If you fancy staying overnight, one of the best places you can book is The Villas of Byron, which just screams luxury and style. Conveniently situated near the iconic Main Beach, it is also a stone's throw away from the central drag of bars and cafes in the area.
The famous Byron Bay Lighthouse, which is the first place in Australia to see the sunrise every morning, is also just round the corner. So you'll be able to catch the magnificence of it, should you get up early enough.
Equipped with a private pool and hot tub, as an extra nice touch these luxury, 5 star villas also have an on-site chef who can prepare fantastic 3-course meals for you, as well as top notch seafood and Japanese sushi platters.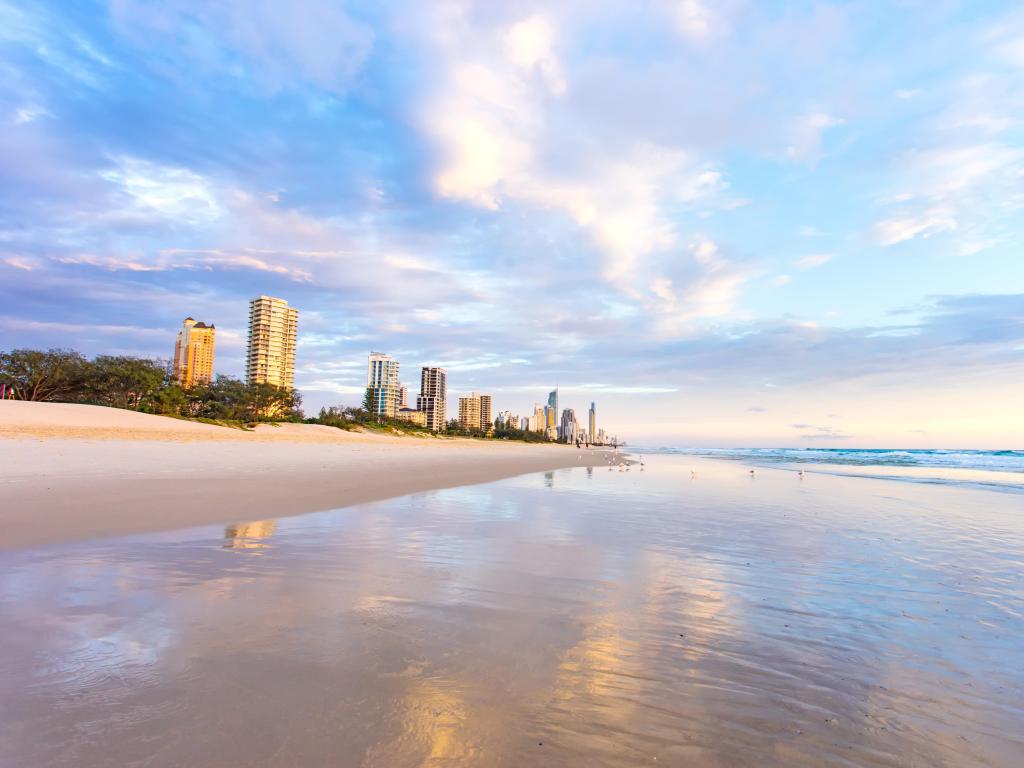 Feel the rush of Surfer's Paradise
Although it's only an hour from Brisbane, The Gold Coast is arguably the main highlight of this road trip.
Known for its evocative high-rise skyline and world famous beach, Surfer's Paradise is one of the first destinations you will want to check out here.
Full of world class shops, restaurants, tourist attractions and nightclubs, the Q1 Resort & Spa puts you right in the heart of the action.
Their apartments come with a fully equipped kitchen and spa bath, while the building also features 4 terrific restaurants. In addition it houses the magnificent SkyPoint observation deck, which showcases sensational 360° views, from 230 metres up, of the Gold Coast hinterland, Byron Bay and the Pacific Ocean.
Take a detour through the Hunter Valley
If you love wine, you should consider taking a detour through the Hunter Valley as there are a number of exceptional wineries you can visit including Tyrell's, Hope Estate and Keith Tulloch.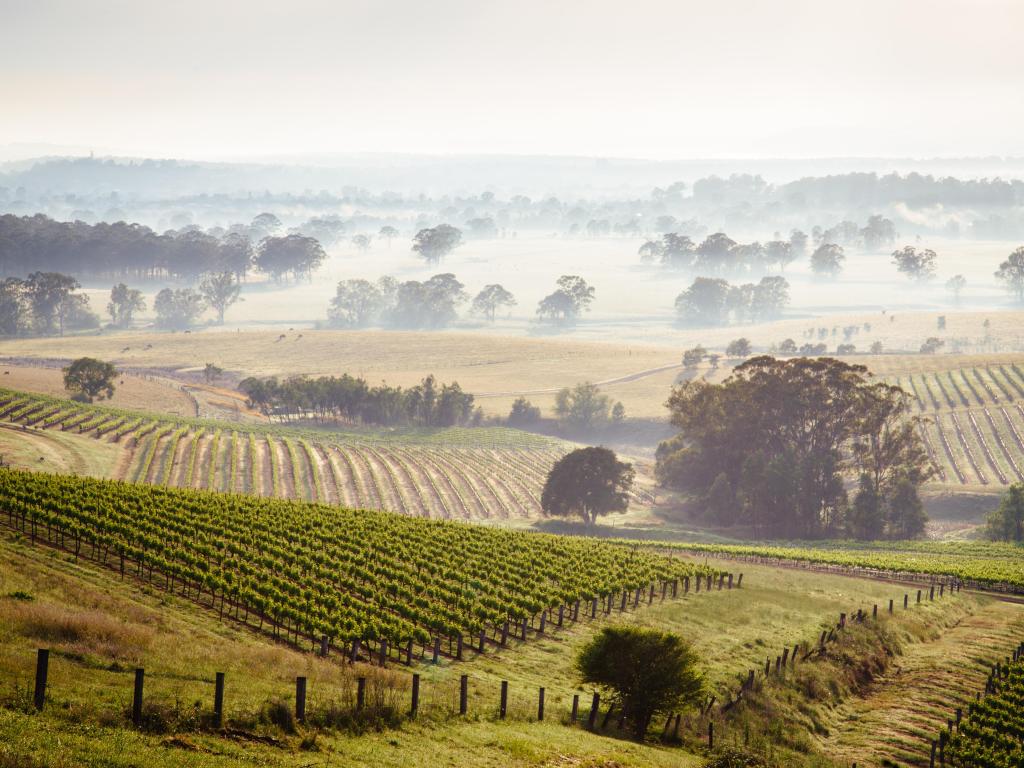 Many of them are based around the locality of Pokolbin and Harrigan's Irish Pub & Accommodation is an excellent place to stay when you are there.
Surrounded by picturesque vineyards and the stunning Hunter Valley Gardens, as well as lush mountains that hover in the distance, the best place to take in these impressive views is from their wonderful outdoor swimming pool.
All rooms have a fireplace and spa bath, while the property also boasts a restaurant and fantastic Irish pub. It is also very near the A15, which will get you back on the road to Brisbane very quickly.
Things to see on a road trip from Sydney to Brisbane
When planning out all the places you can visit on a road trip from Sydney to Brisbane, you'll soon discover there are plenty of options available to you.
Outlined below is a list we have put together of some of the main highlights. Granted you won't have time to check them all out, but we do recommend you see as many of them as you can.
Palm Beach - Visit the iconic beachside setting of the TV show Home and Away and create some holiday drama of your own!
Terrigal - Charming coastal town with a long, broad, golden sandy beach and a wonderful esplanade lined with Norfolk pines
Lake Macquarie - Enjoy swimming, fishing and kayaking at the largest coastal saltwater lake in the Southern Hemisphere
Newcastle - Explore this lovely harbour city in the central-eastern part of the Sydney Basin. Check out Nobbys Beach and take a walk along the breakwater
Barrington Tops National Park - Enjoy bushwalking, kayaking, abseiling and mountain biking in this fabulous Australia World Heritage Area
Hunter Valley - Check out some of Australia's most pre-eminent cellar doors in the heart of wine country. A personal favourite of ours is Pepper Tree Wines, not far from Pokolbin
Goondiwindi - Fascinating rural town near the Macintyre River that is known for its history, culture and art
Toowoomba – Enjoy the gorgeous flowers and flora displays of the 'Garden City'
PL Travers Home - Visit the childhood home of the famous Mary Poppins author
Crowdy Bay National Park - Take the opportunity to see kangaroos who regularly swim in the surf at daybreak
Coffs Harbour – Grab a photo at the iconic Big Banana and pay a visit to the Dolphin Marine Conservation Park
Byron Bay – Chilled out coastal town with a great beach and art scene, fabulous cafes and bars, and the first glimpse every day of the sunrise in Australia
Surfer's Paradise – Enjoy the beach, cafes, attractions and nightclubs of this world famous coastal city. Be sure to take in the sensational 360° views from the impressive SkyPoint observation deck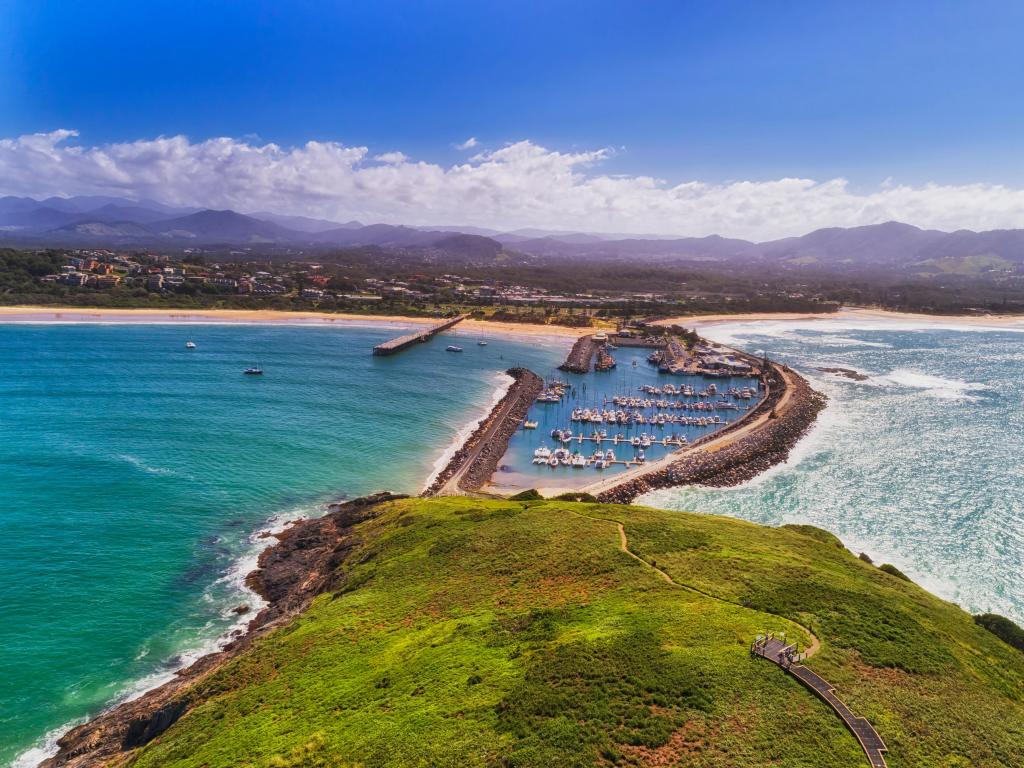 Best time to go on a road trip from Sydney to Brisbane
To put it simply, you can easily undertake your road trip from Sydney to Brisbane at any time of the year. You'll find that temperatures are beautiful all year round.
During the weekends, school holidays and summer months, however, you will find that hotel prices and traffic congestion will be much higher than other times of the year: especially around Sydney, Byron Bay, the Gold Coast and Brisbane.
If you are planning to visit lots of different beaches, the best time to go is between February and April or September to November, outside of winter and the storm season.
If the wineries of Hunter Valley are a particular draw for you, then it makes sense to plan your trip for April or May which is autumn time in Australia.
Autumn is said by many to be the best time to see the Hunter Valley - just after the harvest - with the changing leaves creating a stunning patchwork of yellow, green, orange, brown and red. Cameras at the ready!