Road trip from Brisbane to Dubbo
Pack your luggage, your sunscreen, and your hiking boots, and get ready for the ultimate Eastern Australian road trip! The epic road trip from Brisbane to Dubbo will take you through some of the most beautiful coastal scenery in the country, beautiful national parks and historic cities.
The 870 km road trip from Brisbane to Dubbo will take 10 hours and 20 minutes to drive nonstop. Highlights are Gold Coast, Byron Bay, Coffs Harbour, Newcastle, Moree, Timmallallie National Park, Lockyer National Park, Jacobs Well and Minyon Falls.
This incredible drive from Brisbane to Dubbo will be packed with lifelong memories and plenty of fun. Read on below to learn more about our recommended routes, top highlights, the best places to stay, and the best seasons to travel to help your planning.
How far is Dubbo from Brisbane, and how long will the road trip take?
Comparison of road trip routes between Brisbane and Dubbo

| Route | Distance | Driving Time |
| --- | --- | --- |
| The Inland Route | 870 km | 10 hours 20 minutes |
| The Coastal Route | 1,160 km | 13 hours |
The Inland Route on this road trip from Brisbane to Dubbo takes approximately 10 hours and 20 minutes to complete, spanning 870 km without detours.
Opting for the alternative Coastal Route isn't very different in terms of time but does stretch the journey's length to 1,160 km with a drive time of around 13 hours before reaching Dubbo.
Though you could technically complete either route in a day, there's a wealth of sights and experiences awaiting you. That's why we recommend at least 2-3 days to complete this memorable drive.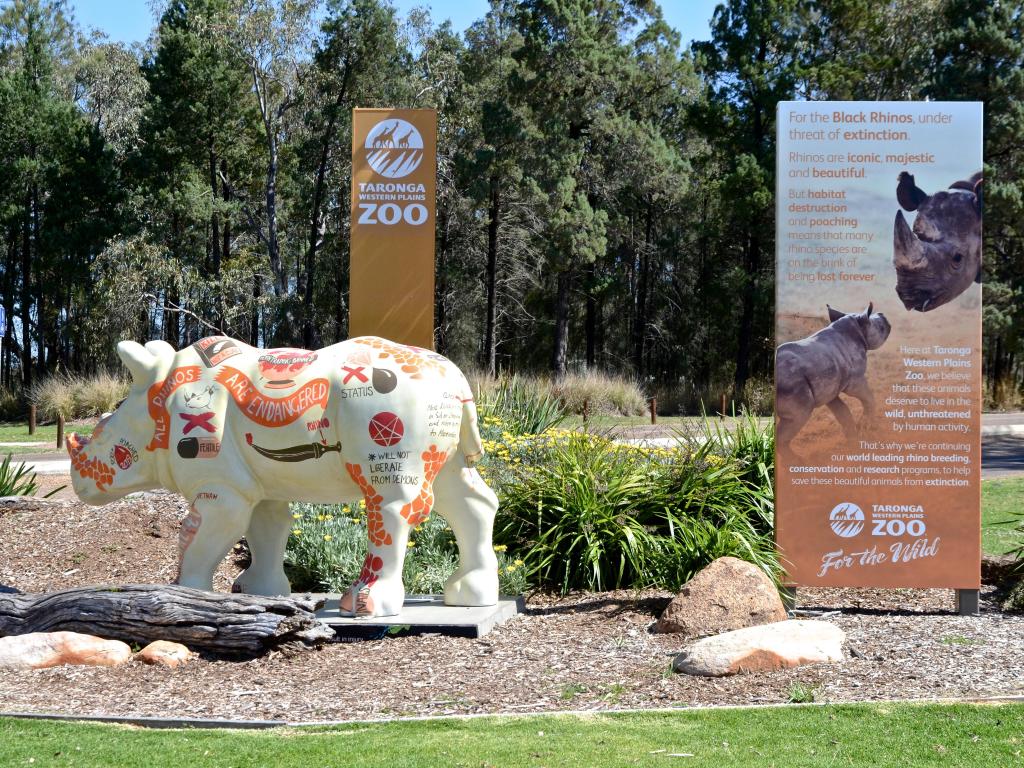 Best road trip route from Brisbane to Dubbo
While both the Inland and Coastal routes have their own unique set of attractions and experiences, the landscapes and ambiance they offer are notably different. Which one you choose depends on what you want to see the most.
If you want more ocean views and wine tasting, the Coastal Route is your ticket to fun. Though longer than the Inland Route, it compensates by taking you through pristine beaches and beautiful coastal towns on the Coral and Tasman Seas.
A major highlight on this route is Byron Bay, famous for its beaches, clear waters, plush hotels, and non-stop nightlife. As you continue on, every twist and turn reveals another stretch of pristine coastline.
You will also get to visit Coffs Harbor and Newcastle on this route, as well as have the opportunity to make a detour to Sydney.
The Inland Route brings you through the scenic heart of New South Wales. Along this route, you'll have the chance to explore the region's renowned forests, including the expansive Whetstone State Forest. You will also get to make a detour to Mount Kaputar National Park.
Another great place to visit on this route, especially if you love nature, is Timmallallie National Park. Though this route might have fewer stops, it takes you through the wilderness of Australia's interior.
How to drive from Brisbane to Dubbo
The map above shows our suggestions for the best road trip routes between Brisbane and Dubbo. Keep reading for detailed descriptions of both routes, where to stay on either, and the best things to do on the way.
The Inland Route
Starting from Brisbane, head southwestward on M5 and then quickly onto M2. On the way, you can stop at the Lone Pine Koala Sanctuary and Laidley Pioneer Village and Museum.
Further south, take a short detour to Lockyer National Park. As you approach Toowoomba, check out the Cobb+Co Museum and the beautiful Newtown Park.
Continuing on the route in the northwest direction, you'll arrive at Goondiwindi. Here, you can hike and take a break at the Whetstone State Forest. If you have more time, Bringalily and Bendidee State Forests are nearby as well.
After passing Goondiwindi, cross into New South Wales and continue to Moree. This stretch is also dotted with attractions like Mount Kaputar National Park and the Narrabri Old Gaol & Museum.
Timmallallie National Park is the next stop on your itinerary, along with a detour to Warrumbungle National Park with its picturesque Burbie Canyon Walking Track.
Driving further south, you can make a detour to see the artwork of Silo Art Dunedoo before reaching Breelong National Park. From here, it's a straightforward drive down to your destination in Dubbo.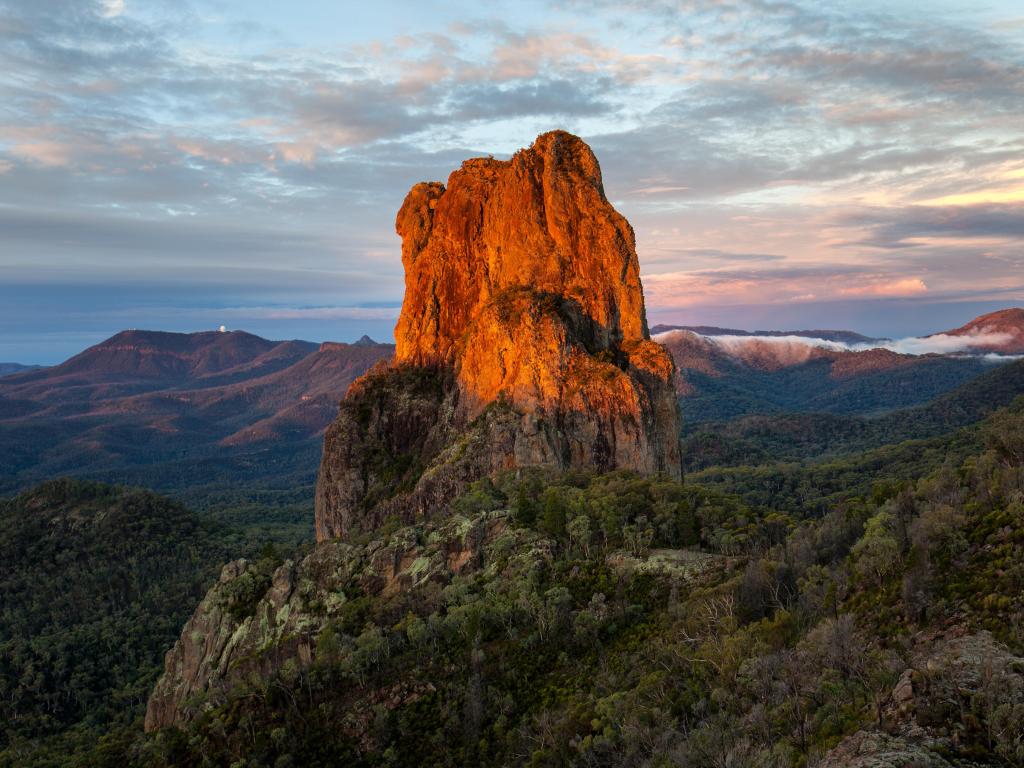 The Coastal Route
Kick off your journey in Brisbane, going southeast on the Pacific Motorway (M1) toward the Gold Coast. Along this stretch, you might want to consider a brief stop at the Beenleigh Artisan Distillery to sample some local spirits.
Continue your drive down to Jacobs Well, a serene coastal village known for its fishing and boating excursions. After your visit, press on through the bustling heart of the Gold Coast, where Surfer's Paradise Beach awaits you for the ultimate fun in the sun.
Before leaving the Gold Coast behind, a visit to the Currumbin Wildlife Sanctuary will bring you face-to-face with Australia's unique wildlife.
Proceed south towards New South Wales, making your next major stop at Byron Bay. Here, you can explore the scenic Minyon Falls and The Farm Byron Bay.
Don't leave without visiting the Cape Byron Lighthouse, the easternmost point of mainland Australia. Here, you'll see panoramic views of the Pacific.
Drive south on the coast to Coffs Harbour. Along this stretch, visit Woolgoolga Beach's seaside escape. Then, make your way to the Forest Sky Pier for sweeping views of the region.
Further south, you will reach the beautiful city of Newcastle. This coastal city offers attractions like the Hunter Botanic Gardens. From Newcastle, head inland and continue on through some of Australia's best wine country towards Dubbo.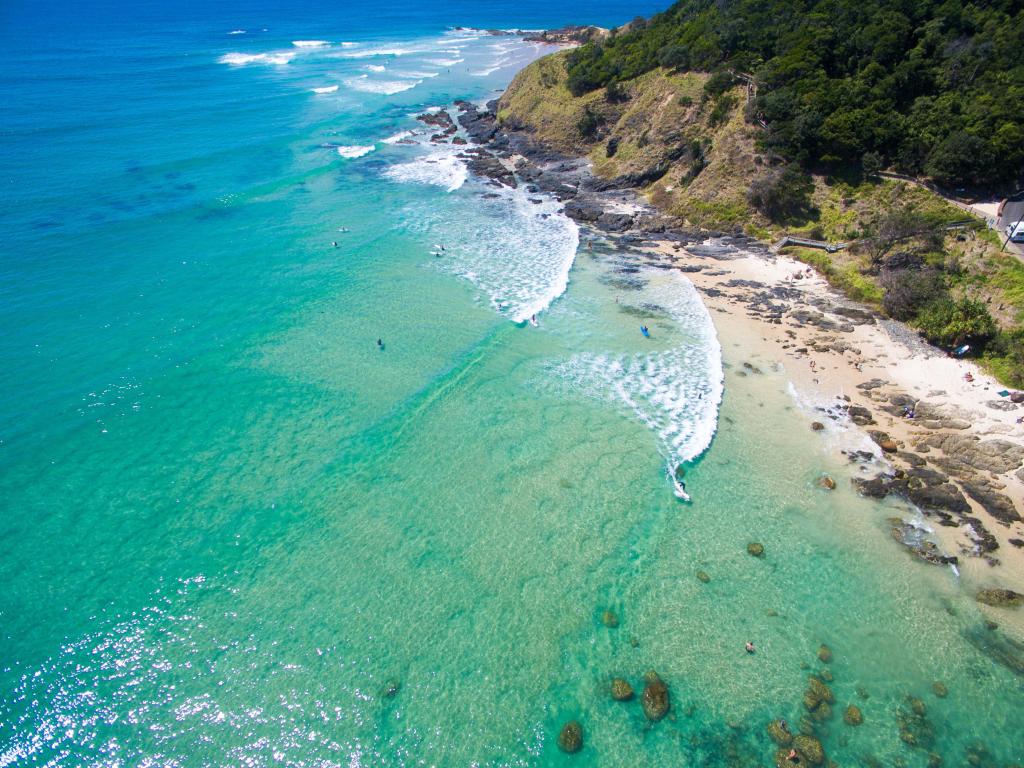 Best places to stop between Brisbane and Dubbo
With so much to see and do on your way from Brisbane to Dubbo, you're going to want to stop and rest at one of our top destinations below.
A historic stay in Moree
Moree is a wonderful place to take a breather on The Inland Route, positioned at about 5 hours and 30 minutes into the journey. This larger city, known for its rich agricultural past, is full of wonderful things to see and experience.
Moree was Australia's cotton-growing epicentre in the early 20th century. The city's charming streets and architecture tell tales of this part of history.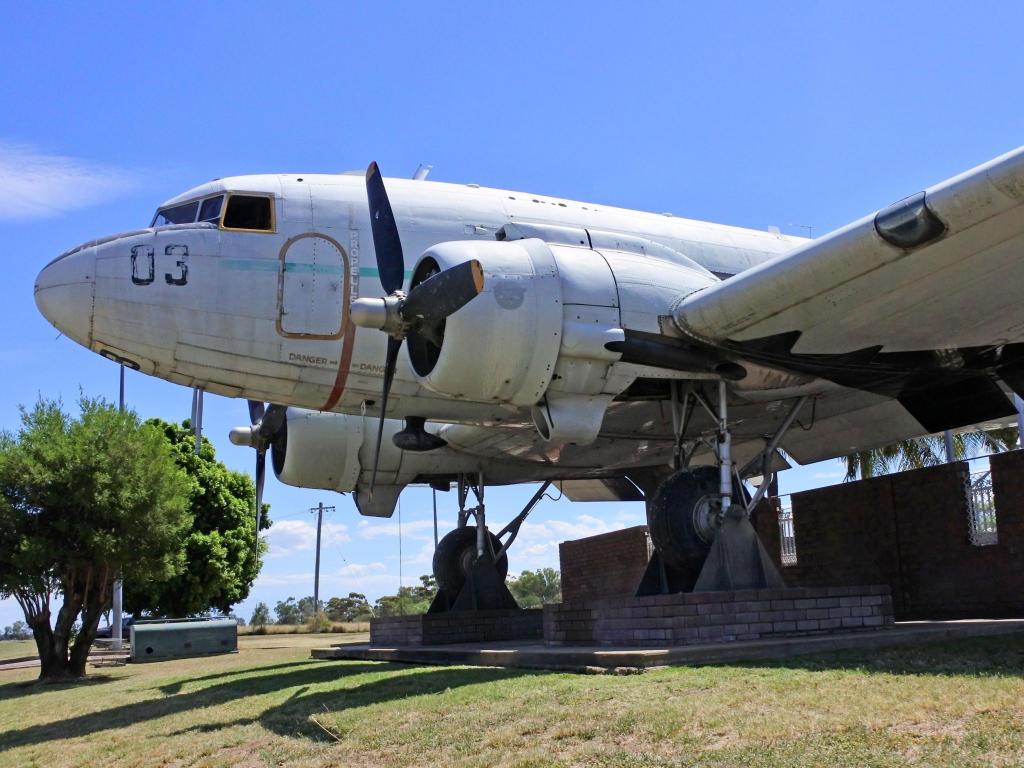 The highlight of this location is the Moree Artesian Aquatic Center, the perfect place to experience the city's artesian water baths. Here, you can dive into the therapeutic natural artesian waters. The centre is currently closed but will reopen on the 6th of November, 2023, so plan accordingly.
Another standout attraction is The Big Plane, a historic plane that has been converted and given to Papua New Guinea by the Australian government in the name of Foreign Aid. It is now a tourist attraction and part of a tavern.
While stopping over in Moree, we recommend staying at the Albert Motel. Situated conveniently close to the heart of the city, this motel offers not only comfort but also great amenities.
The swimming pool on the property will be a welcome sight after the long drive. You can then treat yourself and your fellow travelers to a well-deserved meal using the complimentary BBQ facilities. If you don't fancy cooking, you can also dine at the motel's restaurant.
If you're looking to explore a bit more, the Moree Showground is just a 5-minute stroll away, perfect for an evening walk. Alternatively, if golfing is more your style, a quick 5-minute drive will take you to the Moree Golf Club.
Coastal bliss in Coffs Harbour
Coffs Harbour is the perfect place to make a pit stop on The Coastal Route, about 400 km into the journey. This coastal city, renowned for its pristine beaches and amusement park, perfectly sums up the beauty and fun of Australia's East Coast.
While here, make sure to check out the Big Banana Amusement Park. This attraction is not just endlessly fun, it also houses the famous Big Banana sculpture, which has been a famous landmark in the city since the 1960s.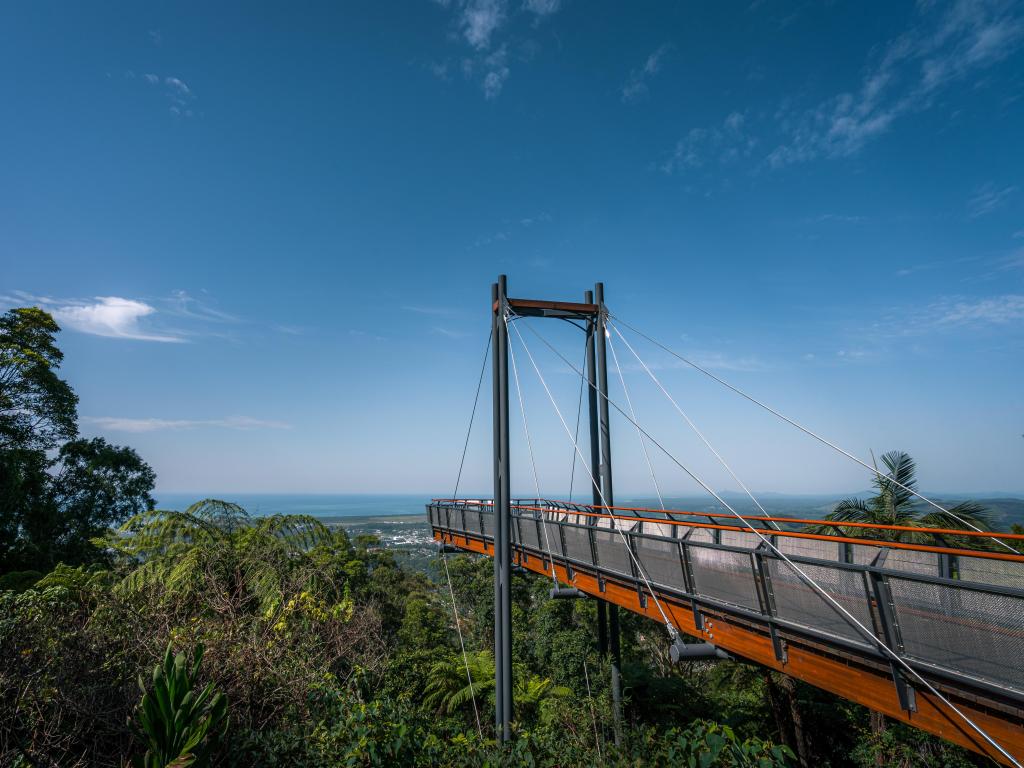 Another must-see attraction is the Forest Sky Pier, with its incredible panoramic views from up above.
If you're looking for upscale comfort, we recommend staying at the Sensom Luxury Boutique Bed and Breakfast. Overlooking the vast Australian tropical landscape, this B&B offers an experience like no other.
Lose yourself in the tropical gardens or lily-filled lagoons. Then, take a rejuvenating dip in the expansive saltwater pool. In the morning, enjoy a delicious free breakfast served on the B&B's deck with the garden in full view.
The tranquil Split Solitary Island Nature Reserve is just a short drive away. A mere 10-minute drive from the property is the Big Banana Amusement Park.
Where to stay when you reach Dubbo
Dubbo is famous for its blend of history and wildlife. The city's claim to fame is the award-winning Taronga Western Plains Zoo, an open-range sanctuary, home to animals from all corners of the world.
Here, you can experience close encounters with some of the planet's most rare and mesmerising creatures, all within a setting that mimics their natural habitats.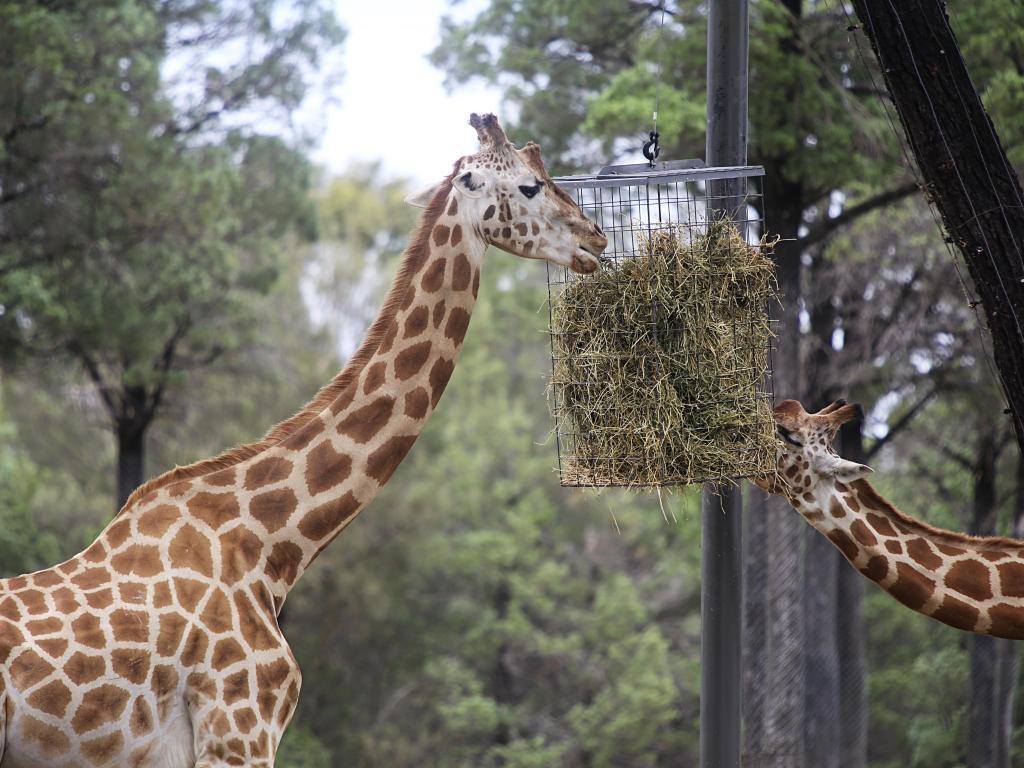 But that's not all Dubbo has to offer. Step back in time with a visit to the Old Dubbo Gaol, a historic prison that offers a look into the penal history of the region.
Nestled in the heart of this city is the highly-rated Bluegum Dubbo Motel. A 4.5-star establishment, the boutique motel is surrounded by a variety of restaurants and cafes, it's the perfect launchpad for an evening of culinary exploration in Dubbo.
The motel also offers many amenities, including a refreshing saltwater pool, room service, and a complimentary BBQ area. Step into your room, and enjoy the chic decor, high-end furnishings, and modern touches that elevate a stay from good to great.
Things to see on a road trip from Brisbane to Dubbo
This is one of the most exciting parts of Australia, with plenty to see and do around every corner. Below, we've compiled a list of our favourite highlights so you can plan a little easier.
Inland Route
Laidley Pioneer Village and Museum - A historic attraction that captures Queensland's pioneering days, the Laidley Pioneer Village and Museum showcases the rural history and heritage of the Laidley district. You can step back in time and explore preserved buildings, artefacts, and memorabilia.
Lockyer National Park - This pristine park has diverse ecosystems and native Australian wildlife. It's a haven for bushwalkers and nature lovers, with trails through eucalyptus woodlands and past rugged ridges.
Cobb+Co Museum - Located in Toowoomba, the Cobb+Co Museum celebrates the era of horse-drawn vehicles and offers a vivid look into Australia's pioneering past. It features an impressive collection of wagons and coaches, interactive displays, and blacksmithing demonstrations.
Newtown Park - This expansive park in Toowoomba offers beautifully maintained gardens, a children's playground, and a historic State Rose Garden.
Whetstone State Forest - A lush expanse of greenery, Whetstone State Forest is known for its rich biodiversity and offers a variety of outdoor activities including hiking, bird-watching, and camping.
Mount Kaputar National Park - This park offers awe-inspiring views from the summit of Mount Kaputar, dramatic landscapes formed by ancient volcanoes, and a diverse range of flora and fauna, making it a must-visit for nature enthusiasts.
Narrabri Old Gaol & Museum - Steeped in history, this museum offers a glimpse into the life of inmates in the 1900s and showcases various artefacts, photographs, and exhibits related to the region's history.
Timmallallie National Park - This protected area is home to diverse ecosystems, from woodlands to heathlands, and provides habitats for various native species. Here, you can explore the park's trails, enjoy bird-watching, or simply revel in its natural beauty.
Burbie Canyon Walking Track - This picturesque trail offers a moderate walk through the scenic Burbie Canyon, treating hikers to spectacular views, abundant birdlife, and unique rock formations.
Breelong National Park - Known for its rugged landscapes, Breelong National Park offers bushwalking, camping, and bird-watching opportunities amidst its serene natural beauty.
Silo Art Dunedoo - The Silo Art in Dunedoo features magnificent murals painted on towering grain silos, turning them into iconic landmarks of the region.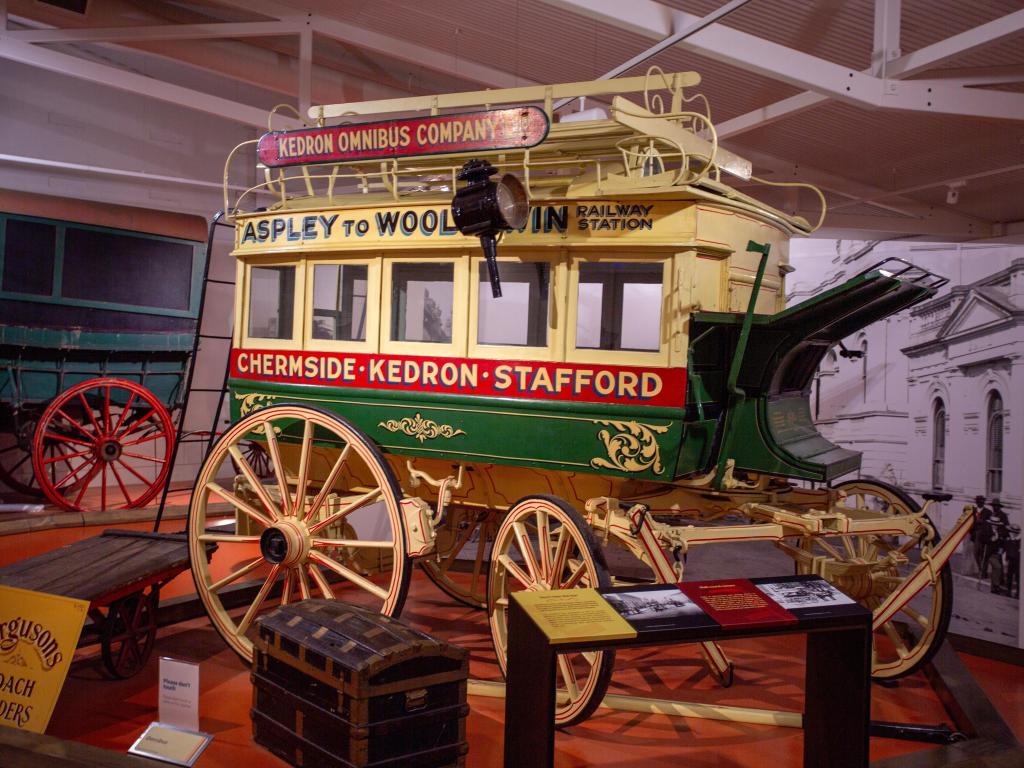 Coastal Route
Beenleigh Artisan Distillery - As Australia's oldest registered distillery, Beenleigh offers guided tours where visitors can learn about the art of rum-making, witness the distillation process, and enjoy tastings of their handcrafted spirits.
Jacobs Well - A picturesque coastal village known for its serene waters and recreational boating opportunities, Jacobs Well serves as a gateway to the Northern Gold Coast's hinterland and marine parks.
Surfer's Paradise Beach - This iconic Gold Coast beach boasts golden sands, shimmering waters, and a vibrant beachfront precinct filled with shops, eateries, and entertainment options.
Hinterland Regional Park - A sprawling green haven, Hinterland Regional Park offers various recreational facilities, scenic walking trails, and spaces for picnics, making it a favourite spot for families and nature enthusiasts.
Currumbin Wildlife Sanctuary - This renowned sanctuary offers a chance to get up close with Australian wildlife, from cuddling koalas to feeding kangaroos, amidst lush natural settings.
Minyon Falls - A breathtaking waterfall located within the Nightcap National Park, Minyon Falls cascades over 100 metres into a deep palm-shaded gorge, offering stunning views from its lookout.
The Farm Byron Bay - A unique agricultural experience, The Farm offers visitors a chance to explore working farms, enjoy farm-to-table dining, and learn about sustainable agriculture.
Cape Byron Lighthouse - Perched on the easternmost point of Australia, this iconic lighthouse offers panoramic views of the Pacific Ocean and surrounding landscapes, making it a must-visit in Byron Bay.
Woolgoolga Beach - A tranquil coastal retreat, Woolgoolga Beach is known for its pristine shores, gentle waves, and a backdrop of lush greenery, making it perfect for relaxation and water activities.
The Forest Sky Pier - Located within the Orara East State Forest, this elevated pier offers breathtaking views of the coastline, mountains, and forests, serving as a popular vantage point for visitors.
The Big Banana Fun Park - More than just an iconic big banana structure, this fun park offers a range of attractions from water slides and mini-golf to a candy kitchen and ice skating rink.
Coffs Harbour Butterfly House - A tropical paradise, this butterfly house lets visitors walk amongst hundreds of live butterflies, offering an enchanting and educational experience.
Hunter Botanic Gardens - A tranquil retreat, these gardens showcase a diverse collection of plants, from rainforests to succulent gardens, offering a serene environment for leisurely strolls and relaxation.
Muswellbrook Regional Arts Centre - Celebrating the arts, this centre hosts various exhibitions, workshops, and events, showcasing works from local and renowned artists alike.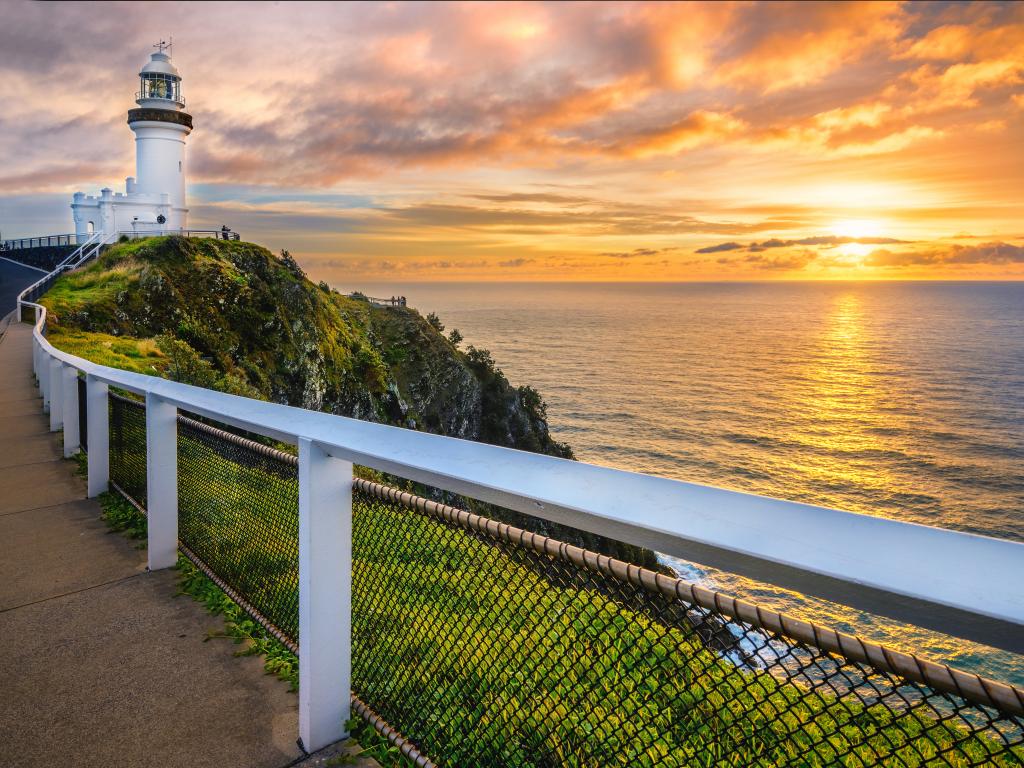 Best time to go on a road trip from Brisbane to Dubbo
When planning a road trip from Brisbane to Dubbo, you'll likely have excellent weather but with different highlights and experiences depending on the season.
Spring is a popular season, especially along the Inland Route. With temperatures in Dubbo typically ranging from 10-25 degrees Celsius, it's pleasantly warm, making it ideal for hiking.
If travelling on the Inland Route during this season, the Toowoomba Carnival of Flowers in September makes for the perfect stop. The mild spring temperatures are also perfect for attractions like the Taronga Western Plains Zoo in Dubbo.
Summers in Dubbo can be quite warm, with temperatures soaring between 17-32 degrees Celsius. While this is the hottest season, it's also lively and vibrant, with plenty of fun, including New Year's celebrations well worth experiencing.
Fall sees temperatures in Dubbo ranging from 8-23 degrees Celsius. The cool, crisp air and fewer crowds make this an excellent time if you're looking for peace and relaxation.
The Taste Tamworth Festival in March is the perfect fall event to experience on the Inland Route, while the Coastal Route features the Byron Bay Bluesfest, also in March.
Winter temperatures in Dubbo hover between 10-15 degrees Celsius. It's cooler, but the absence of the summer crowds can be a huge plus, meaning lower accommodation prices.
If you come here during the winter, check out the Dubbo Stampede or the Dubbo Jazz Fest, both held in August. Or, if you're taking the Coastal Route, you can visit the Newcastle Jazz Festival, also in August.