Road Trip from Calgary to Banff
Discover picturesque Alberta on an incredibly scenic road trip from Calgary to Banff. You'll experience a world-renowned Canadian town known for its stunning natural landscapes and tons of year-round indoor and outdoor activities.
The 280 km road trip from Calgary to Banff will take you around 4 hours and 30 minutes to complete. Notable stops are Okotoks Erratic, Black Diamond, Little Chicago, Kananaskis Lakes, Gopher Hole Museum, Fort Normandeau, and Rocky Mountain Museum.
Read on to get the information you need to make this road trip of a lifetime a reality. We've included the best routes, places to rest, and exciting things to see along the way.
How far is Banff from Calgary, and how long will the road trip take?
Comparison of road trip route options between Calgary and Banff

| Route | Distance | Driving Time |
| --- | --- | --- |
| Direct Route | 130 km | 1 hour 20 minutes |
| The Kananaskis Country Route | 280 km | 4 hours 30 minutes |
| The Red Deer Route | 540 km | 5 hours 50 minutes |
Driving directly from Calgary to Banff will take you 1 hour and 20 minutes, covering 130 km. However, this is more of a commute than a road trip and you won't pass through some of the amazing sights this area is famous for.
As a scenic alternative, the Kananaskis Country Route covers 280 km and takes around 4 hours and 30 minutes of driving. You'll experience provincial parks, lakes and reserves before approaching Banff from the South by the Smith Dorrien Trail.
Or take the more leisurely Red Deer Route, which takes you through the city of Red Deer and on a stunning drive along the Icefields Parkway before approaching Banff from the North. This route is roughly 540 km and takes 5 hours and 50 minutes.
There are two incredible routes to choose from, depending on what you want to see. We recommend taking 3-4 days to experience all the amazing nature, hiking, and activities this road trip offers.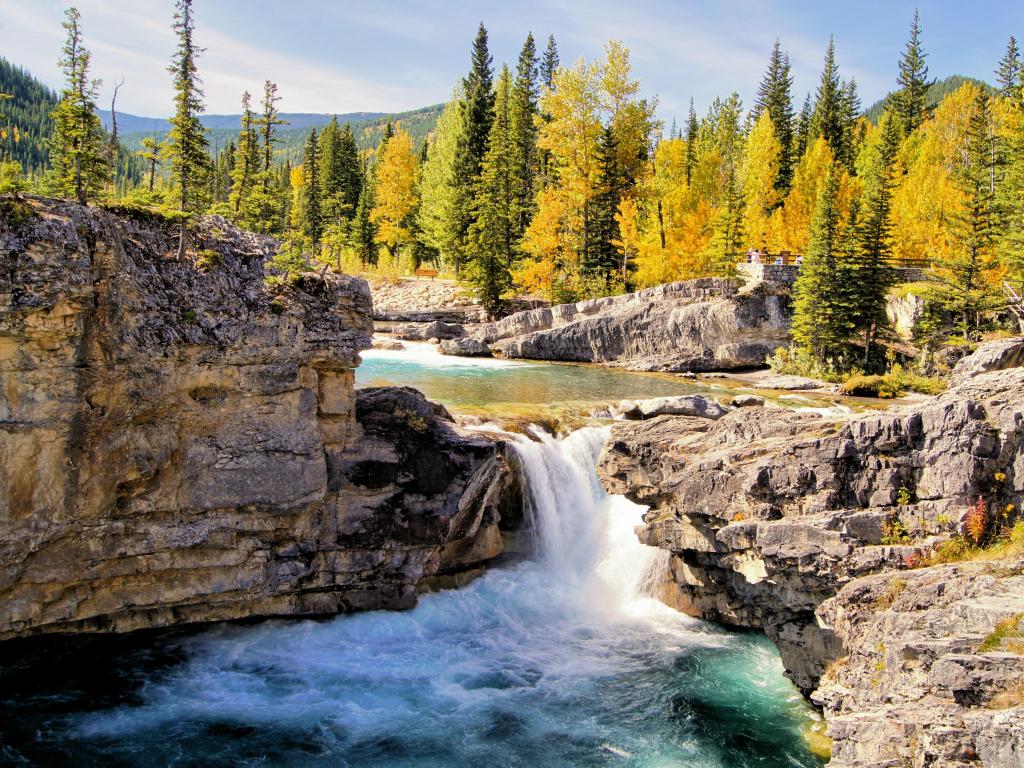 Best road trip route from Calgary to Banff
Both routes take you through unbeatable mountainous scenery, historical sights, and exciting towns. The Kananaskis Route is considerably shorter and more direct than the more rugged detour of the Red Deer Route.
The Kananaskis Route takes you on a detour through the Kananaskis Country, which includes five provincial parks, four wildland provincial parks, one ecological reserve, and several provincial recreation areas.
You'll stop in Longview, a small and quaint village in the Canadian Rockies foothills and the Scenic stretch along the Smith Dorrien Trail, surrounded by forests and passing Spray Lakes Reservoir.
On the Red Deer Route, you'll explore northern Alberta, including Red Deer, one of the province's larger cities. From here you'll enjoy a stunning drive down the Icefields Parkway into Banff, rated one of the top drives in the world by Conde Nast Traveler.
The Kananaskis Country Route
Starting in Calgary, head south on AB 2. In the town of Okotoks, you can see the world's largest rock deposited by a glacier. Afterwards, head west to the lovely town of Black Diamond to experience its rich cowboy culture.
From Black Diamond, head south to Longview. From here, head west on AB 541 into the towering Rocky Mountains.
Take the beautiful AB 40 through the verdant valleys and vistas around the Lower and Upper Kananaskis Lakes. After swimming or canoeing, continue north to Spray Valley Provincial Park.
After enjoying the scenery, continue on AB 742. Meander past the stunning Spray Lakes Reservoir and into the gorgeous mountain town of Banff.
The Red Deer Route
From Calgary, head north on AB 2 until you hit the town of Red Deer. Take AB 11 west towards the great Rocky Mountains and into the town of Rocky Mountain House to visit its popular museum.
Continue west on AB 11 into the mountains until you reach Cline River. Here, take in the gorgeous vistas, mountains, and giant Douglas Furs.
From here, head to Saskatchewan and enjoy the breathtaking scenery. Continue on AB 93 south through some of Canada's most awe-inspiring scenery.
At Lake Louise take the scenic Trans-Canada highway south. Experience the wonderful panoramic scenery and endless ski resorts on your way into Banff.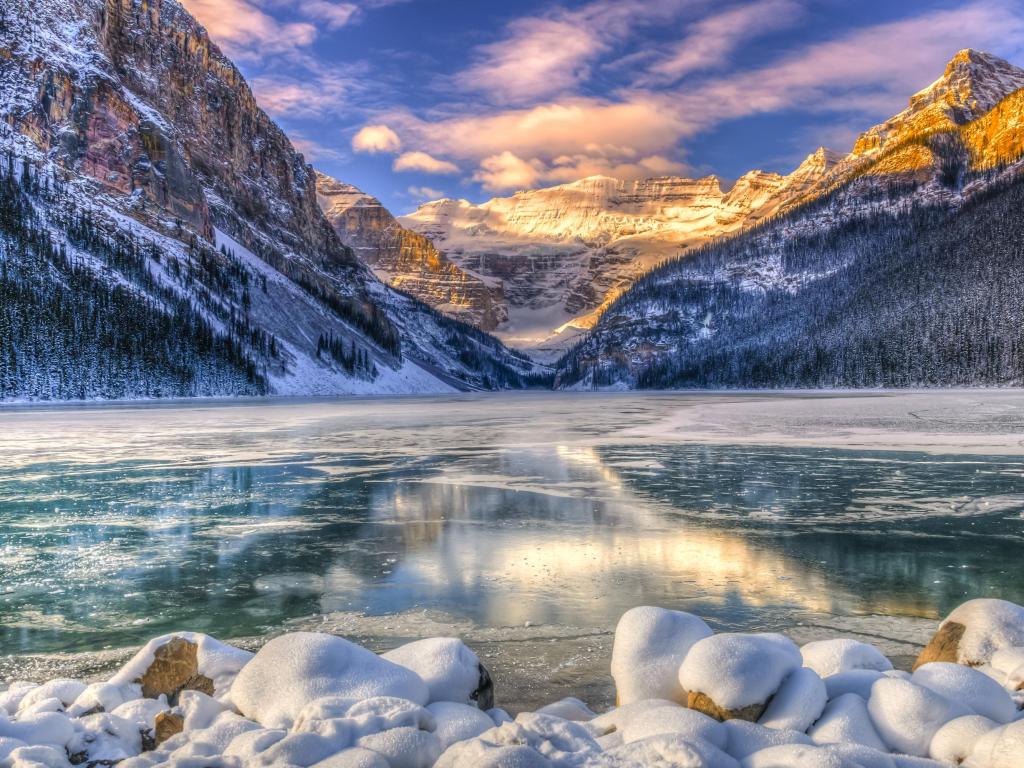 Best places to stop between Calgary and Banff
Although you're not driving too far, we recommend taking an overnight stop along the way. We've picked two exceptional places to rest where you can explore this beautiful section of Canada to the fullest.
Immerse yourself in nature in Kananaskis Village
Just under an hour's drive from Banff, you'll find Kananaskis Village, the central hub of the larger Kananaskis Country. Surrounded by nature, this small village is the perfect place to stop overnight and enjoy the many things this area of Alberta offers.
We should note that this village involves a slight detour along the Eastern side of Mount Bogart and Mount Galatea.
Kananaskis Village is most known for being the central activity hub for the Kananaskis Country, boasting tons of dining and lodging options. This is where skiers, snowboarders, bikers and hikers gather for a drink and a bite after a long day of exploring this beautiful area.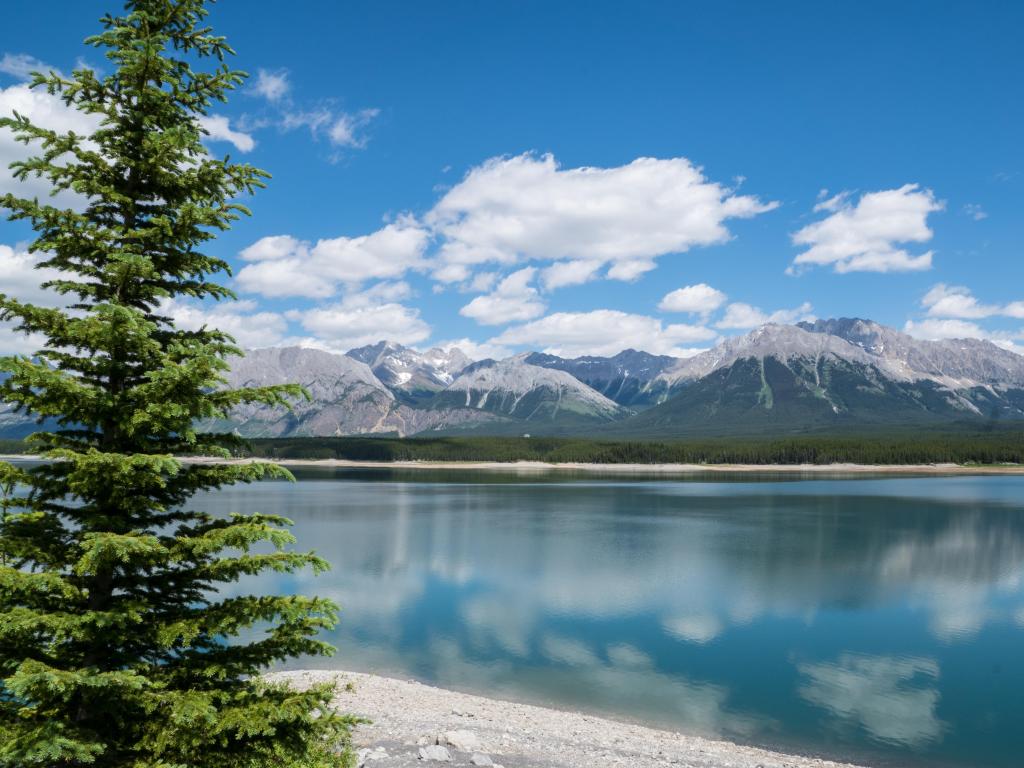 While in Kananaskis Village, we recommend staying at the Crosswaters Resort. Located in the heart of Kananaskis Village, it has a tennis court, fitness center, an outdoor hot tub, and a steam room. Rooms have stunning mountain views and balconies.
Hop over to the Pomeroy Kananaskis Mountain Lodge, which boasts an indoor water park. On top of that, you can easily walk to the restaurants and bars in the area for a bite or to unwind with a drink.
The hotel is also near the Kananaskis Trail. From here, you can reach the Trans-Canada Highway to complete your trip, or explore the Smith Dorrien Trail, which takes you past Spray Lakes Reservoir and ends in Banff as well.
Explore the outdoors in Red Deer, Alberta
Red Deer is about one-third of the way to Banff and offers tons of outdoor and indoor activities. It's a great spot to stop for those looking to get acquainted with Alberta's smaller cities.
A small but mighty city, Red Deer is most known for being a major entrepreneurial hub in Western Canada. Like many towns and cities in this area, it's also quite famous for its outdoor offerings, including opportunities for fishing, hiking, swimming and more.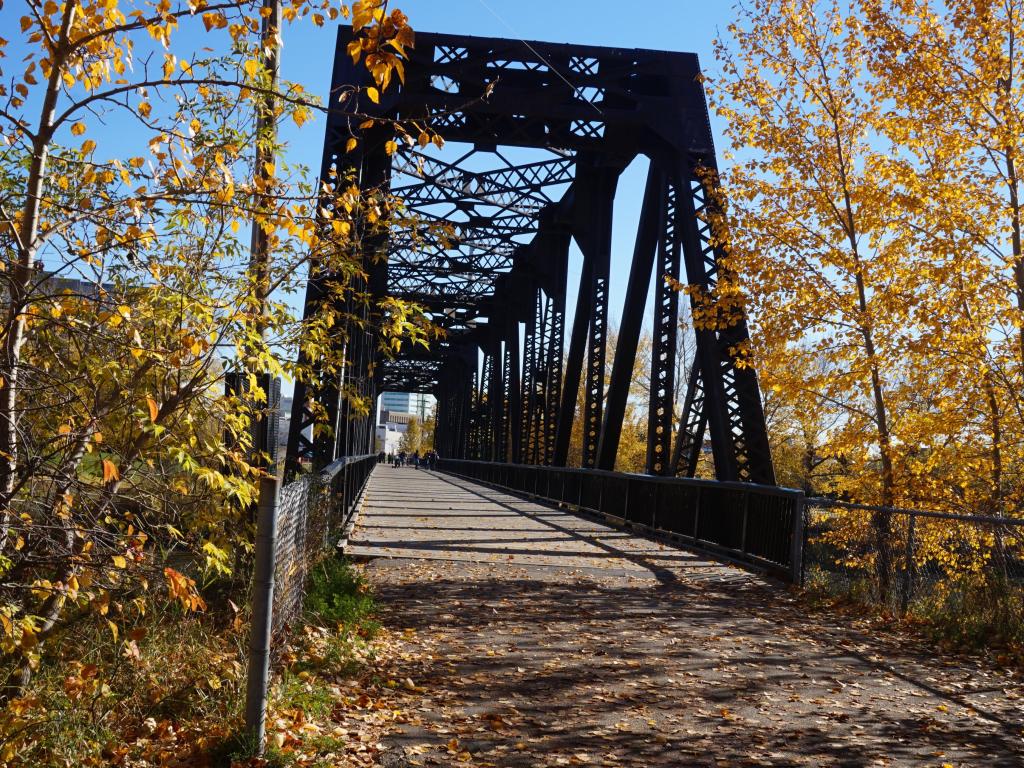 We recommend staying at the beautiful Red Deer Resort & Casino while you're in Red Deer. This centrally located and highly-rated hotel offers a variety of on-site restaurants and lounges.
You will also find a fabulous indoor heated pool, and a hot tub, which will be the perfect remedy after your drive, so you won't even need to venture far to have a relaxing day.
However, if you feel energetic, you can head to Bower Ponds to enjoy a paddle boat ride or canoe ride along these ponds' calming waters or visit in the winter for the opportunity to go skating along their smooth surfaces.
Nearby, check out the Kerry Wood Nature Center. On the south bank of the Red Deer River, this nature center is the perfect place to explore Alberta's natural world. The center also offers educational exhibits and nature talks.
Where to stay when you reach Banff
Once you reach Banff, our top lodging choice is the luxurious and historic Fairmont Banff Springs. The stunning hotel offers beautiful views of the surrounding mountains and many on-site restaurants and shops.
The hotel was styled after a Scottish Baronial castle and named a Canadian National Historic Site. Here, you'll be close to tons of activities like bowling, tennis, horseback riding and golfing. Make sure to take advantage of the hotel's full-service spa afterwards.
Things to see on a road trip from Calgary to Banff
This is truly one of the best places in Canada for a memorable nature-filled road trip. Gorgeous mountain scenery, cool towns, and exciting stops make this a trip to remember.
The Kananaskis Country Route
Okotoks Erratic - Visit the world's largest glacial erratic or rock deposited by a glacier. This 18,200-ton quartzite formation ranges from light gray to pink and purple and is known commonly as Big Rock.
Black Diamond, AB - This small and quaint town was once a hub of the coal industry and boasts a rich history, beautiful natural surroundings and a lively traditional cowboy culture.
Little Chicago—Royalties Monument - A small but charming monument off the west side of the highway that commemorates the discovery of oil in this region.
Bar U Ranch National Historic Site - Bar U Ranch is a national historic site and "living museum" that offers hands-on ranching skills, horse-drawn wagon rides and heritage building walks.
Lower and Upper Kananaskis Lakes - Enjoy a swim or canoe ride in one of these beautiful lakes, located on-route and surrounded by stunning mountains.
Prairie Tractor and Engine Museum - Curious museum is surrounded by historic buildings that feature vintage farm machinery and tools. The museum will add about 90 minutes to the route.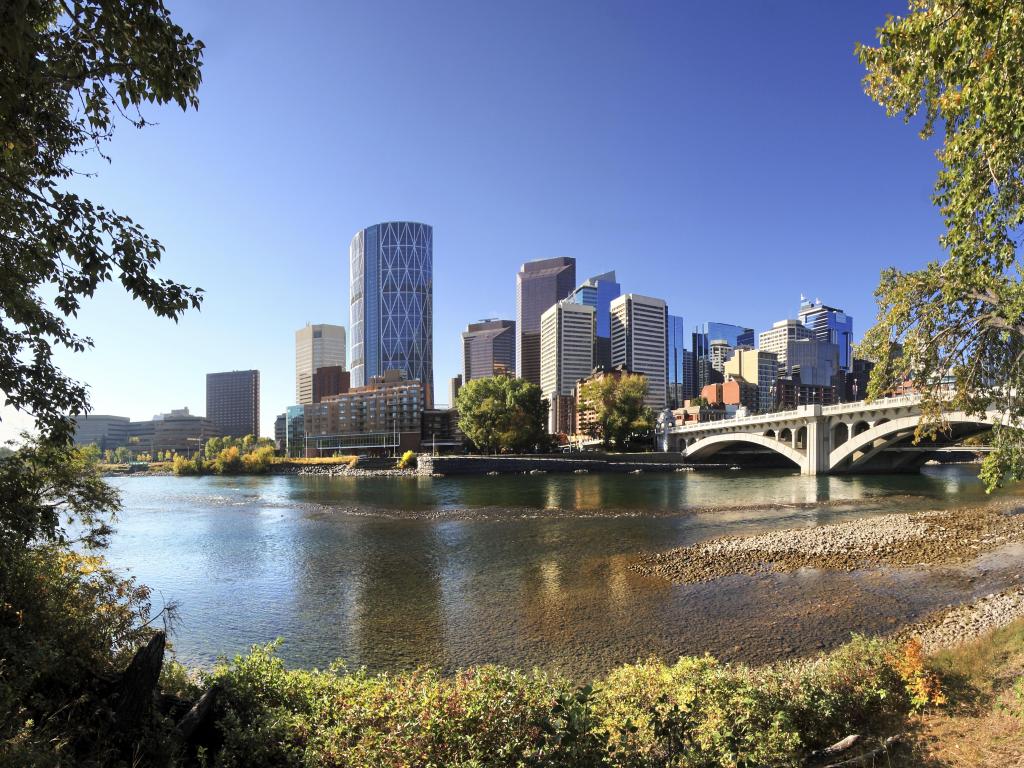 The Red Deer Route
The Grain Academy & Museum - Established in 1981, this agricultural museum explores the evolution of the grain industry. Located just 15 minutes off-route.
World Famous Gopher Hole Museum - The World Famous Gopher Hole Museum, found just 15 minutes off-route, is the perfect combination of cute and quirky. Admission to see their fury exhibits is by donation only.
Ellis Bird Farm - Just outside of Red Deer, you'll find this aviary sanctuary and working farm that also boasts a teahouse and picturesque gardens
Fort Normandeau - Though the fort itself is a replica, this living historic site is considered the birthplace of Red Deer and is where the Native Americans, English and French, once met to trade.
The Danish-Canadian National Museum - This museum has exhibits dedicated to the rich history of Danish immigration in Canada, dating back over 1000 years. This museum also offers tours and great food.
Alberta Sports Hall of Fame - For sports enthusiasts, this museum explores Albertan sports history, offering hands-on exhibits and a Hall of Fame gallery.
Sylvan Lake - This small town is on the shores of a 15km freshwater lake, perfect for a walk to stretch the legs or to grab a bite to eat.
Rocky Mountain Museum - With a focus on showcasing the history of Canadian pioneers who worked in lumber camps and sawmills, this museum also boasts a store featuring products by local artisans.
Lake Louise - Between Banff National Park and Jasper National Park, you'll find this iconic turquoise and glacier-fed lake overlooked by a stunning chateau. One of, if not the most, well-known lakes in this part of Canada!
Both Routes
Yamnuska Wolfdog Sanctuary - Great stop offering interactive tours and sanctuary walks. This recently established 160-acre Wolf-dog haven is a slight detour for both routes and well worth it.
Best time to go on a road trip from Calgary to Banff
Banff is a great place to visit any time of year, and indeed this popular destination sees tourists from Canada and abroad year-round. There are endless outdoor activities to engage in regardless of the season, ranging from skiing and snowboarding to canoeing, hiking, biking and more.
Average summer temperatures in Banff range between 4 and 22 degrees Celsius, so it's recommended to pack a sweater or dress in layers even when visiting during the hotter months.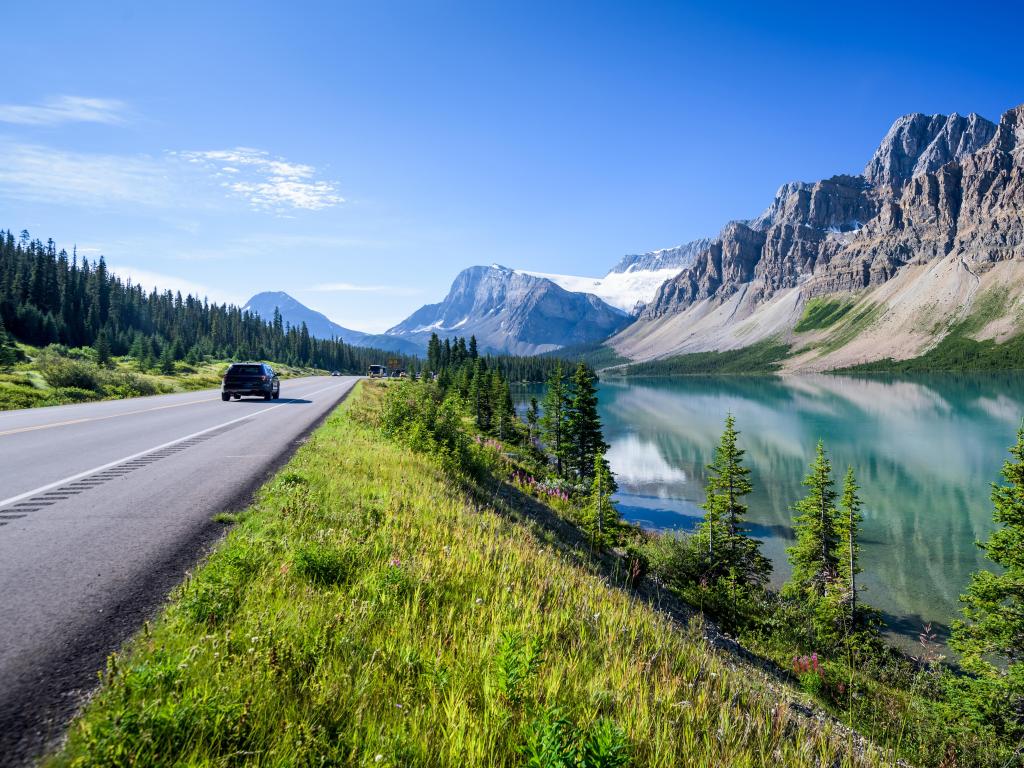 Summer is Banff's busiest tourism season, so accommodation and activity prices may be slightly higher. While early summer sees a bit of rain, travelers can expect mostly clear skies and dry weather around this time.
Average winter temperatures in Banff range between 0- and -15 degrees Celsius, though it's not uncommon for temperatures to drop as low as -40 degrees Celsius. While not as busy as summer, winter sees a fair amount of tourism, particularly from snowboarders and skiers who frequent Banff's many ski and snowboarding resorts.
Banff is also a popular winter vacation destination because of Banff Village, which looks picturesque when covered in a layer of snow. Another draw is the chance to see the Aurora Borealis (Northern Lights) during this period. Dress in layers and pack lots of warm clothing and water/snow-proof shoes.
Average spring and fall temperatures in Banff range between -12 and 17 degrees Celsius, occasionally dipping lower depending on the severity of the winter.
Spring and fall are tourism off-seasons in Banff, meaning that accommodation prices are lower, and there are fewer crowds. Precipitation is at its highest in late spring, while the fall is drier.
There are tons of festivals and events in Banff year-round. The Banff Centre for Arts and Creativity hosts lots of concerts, exhibits, and other performances. Annual festivals and events include the Banff Pride, the Banff Craft Beer Week, Banff Summer Arts Festival, and the festive Canada Day in July.