Road Trip from Calgary to Kelowna
If you're looking to escape the city for a stunning outdoor adventure, the road trip from Calgary to Kelowna is a great back-to-nature drive. Along the way, you'll get deep into the Canadian Rockies with its snow-capped mountains and pristine lakes and pass epic national parks.
The 610 km road trip from Calgary to Kelowna takes over 7 hours to drive. Key stops include Golden, Vernon, Windermere and Nelson as well as Banff National Park, Kootenay National Park, Glacier National Park, Johnston Canyon and The Enchanted Forest.
To help you plan your trip, we've set out the best routes and places to stop overnight, as well as our favorite things to see and the best time of year to make the drive from Calgary to Kelowna.
How far is Kelowna from Calgary, and how long will the road trip take?
Comparison of road trip routes between Calgary and Kelowna

| Route | Distance | Driving Time |
| --- | --- | --- |
| The Trans-Canada Route | 610 km | 7 hours 20 minutes |
| The Nelson Route | 1,020 km | 12 hours 20 minutes |
Depending on which route you decide to follow, the road trip from Calgary to Kelowna can be completed as quickly as 7 hours and 20 minutes without stopping. Spanning a distance of 610 km, this route is the most direct while still passing through several great points of interest.
An alternative option which takes you further south into Canada, is further at 1,020 km and will take closer to 12 hours and 20 minutes to drive without stopping.
While you could possibly drive the Trans-Canada Route in a single day, our recommendation would be to take between three and four days to complete either distance.
The extra time will allow you to split your journey into manageable chunks and make the most of the stunning scenery you'll pass along the way.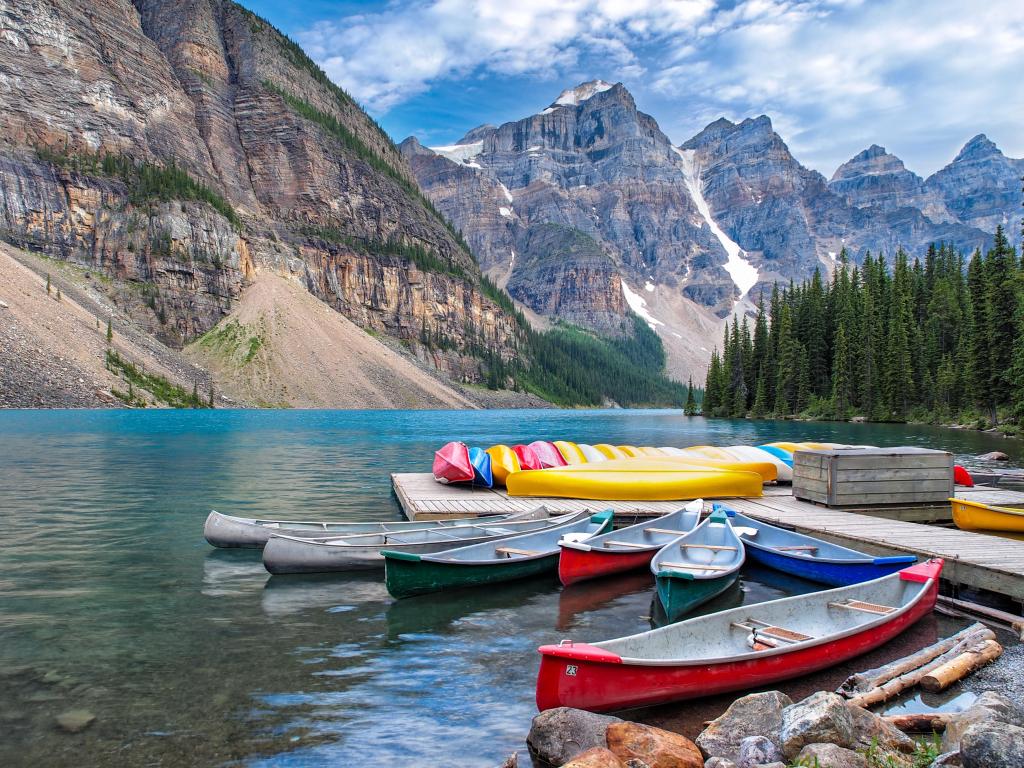 Best road trip route from Calgary to Kelowna
If you are limited on time, you could complete our Trans-Canada Route in a long weekend. But don't worry, you won't be short of great views and attractions along the way. You'll discover areas of outstanding natural beauty with towering mountains and crystal-clear lakes.
On this route, you'll see Canadian scenery in full glory as you pass through well-known National Parks, including Banff National Park, Glacier National Park of Canada and Mount Revelstoke National Park.
While the Trans-Canada Route is much more direct, the Nelson Route has many benefits. It's likely to be much quieter and you'll visit places off the beaten track.
You'll pass through small towns and cities such as Windermere and Nelson, while there are still plenty of national parks to explore, like Kootenay and the iconic Banff National Park. The trip even includes a ferry trip - so if you have the time, this is a great option.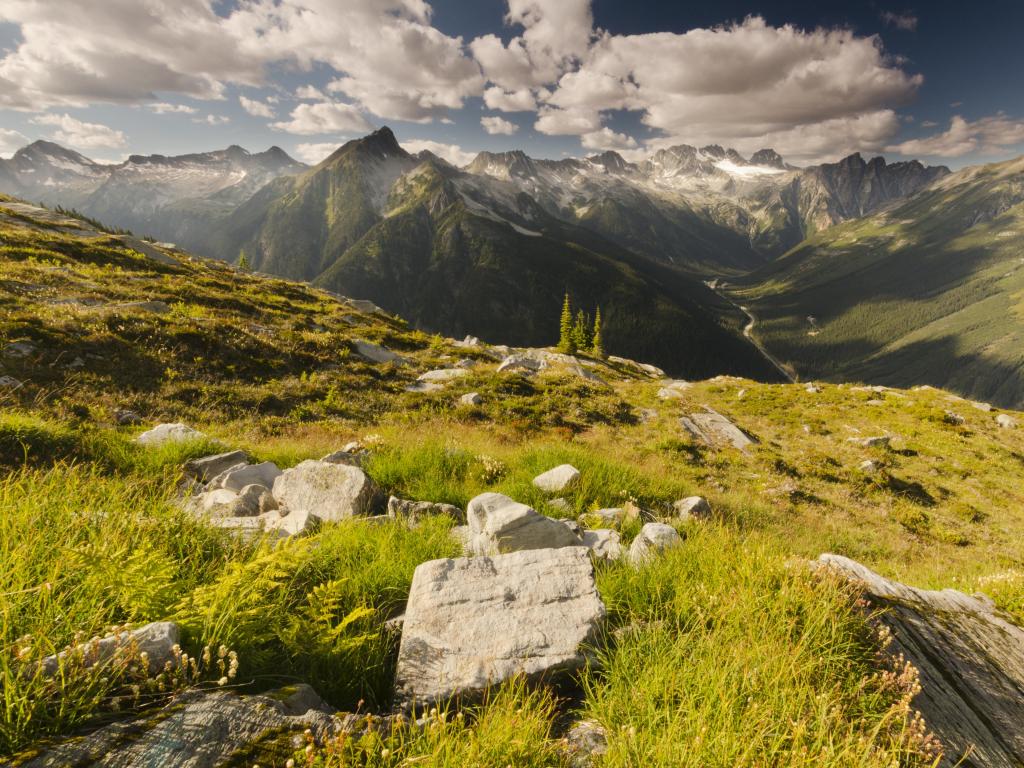 The Trans-Canada Route
Begin by taking the Trans-Canada Highway (AB-1) west, passing through Canmore by arriving at Banff, a stunning town where you can stop to visit the incredible views at Banff National Park.
Continue west as you pass alongside Cascade Mountain and through the town of Eldon. Make a stop at Lake Louise, before continuing on the Trans-Canada Highway (BC-1).
As you cross into British Columbia, you can make a detour to visit Yoho National Park of Canada, before following the road past Leanchoil and arriving at Golden - a great base for an overnight rest.
Take BC-95 not through several more towns before reaching Glacier National Park of Canada. Another great place for a hike and to admire the incredible views.
Leave Glacier and drive through Mt Revelstoke National Park, before reaching the town of Revelstoke. At Sicamous, take BC-97A south. You will pass several more towns before reaching your destination in Kelowna.
The Nelson Route
The Nelson Route begins much the same way as the one above. You'll leave Calgary on the Trans-Canada Highway (AB-1) west, passing through Canmore and Banff and stopping at Banff National Park.
Take exit 50 to leave the Trans-Canada Highway and join AB-93 south. Stop at Kootenay National Park, before following the road through a few towns before reaching Windermere.
Continue heading south, following the river through several more towns and alongside Mt Harrison, before switching to BC-95 past Fort Steele.
Follow this road before turning right onto BC-3, which you'll need to follow west through Kootenay Mountain. Follow BC-6 north to Nelson, a great place on this route for an overnight stop where you can explore nearby West Arm Provincial Park.
Continue on BC-6 north as you drive between Kokanee Glacier Provincial Park and Valhalla Provincial Park to New Denver. Still on BC-6, follow the road through several more towns, passing near Pinnacle Peak.
Take the left turn for BC-97, which you'll then follow the rest of the way south to your destination of Kelowna.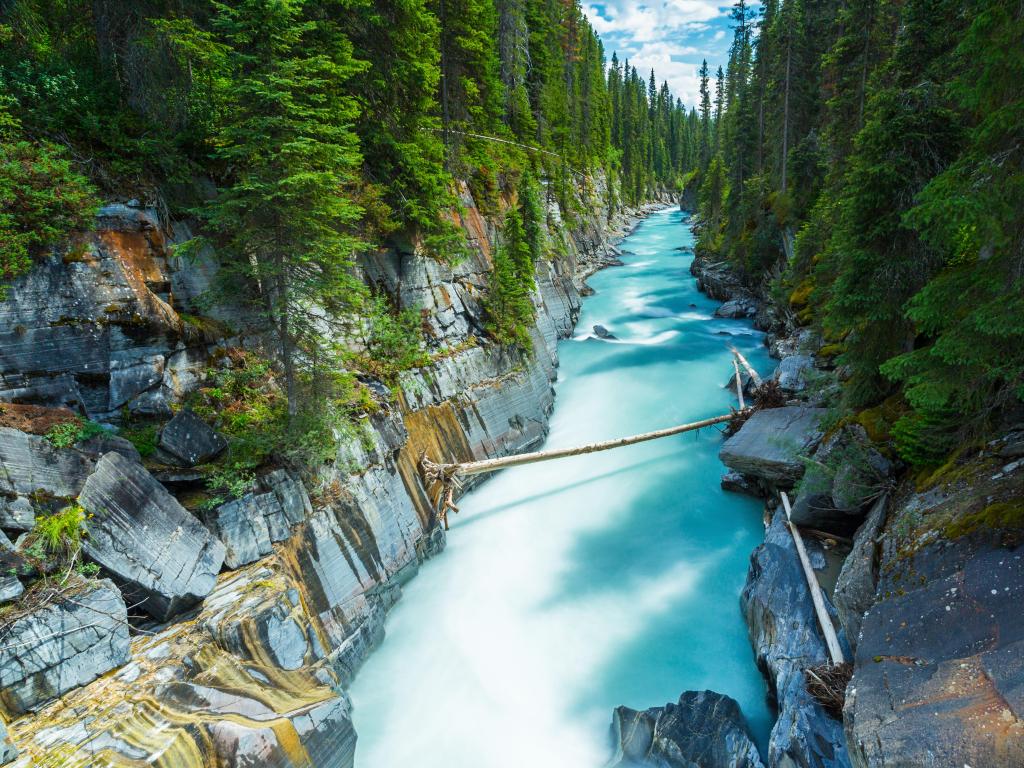 Best places to stop between Calgary and Kelowna
This is the kind of road trip that's best enjoyed over several days since it involves a lot of outdoor exploring (and hiking, if you're feeling adventurous).
Luckily there are some great hotels to stop at along the way, here are just a few of our favorites:
Stunning mountain views in Golden
Ideally located halfway on the Trans-Canada Route, Golden is a great option for an overnight stop. In addition to its great location, it's also a stunning region in the Canadian Rockies. You'll find natural beauty in any direction since six national parks surround the area.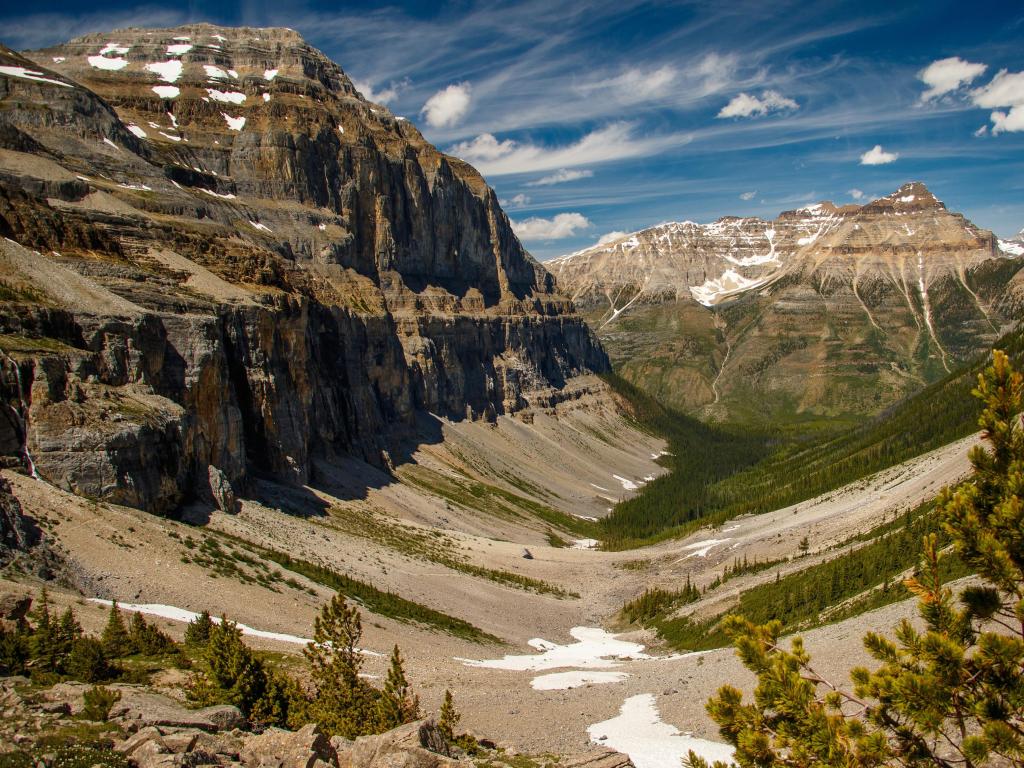 Renowned for its skiing in the winter months, in summer the hiking trails of Golden will lead you to spectacular viewpoints. For something a bit different, you could try horseback riding or visiting the local wildlife refuge.
As well as hiking trails, you can also try your hand at snowmobile riding at Rocky Mountain Riders. If you're looking for an indoor activity, you can visit Downtown Golden with its historic-looking buildings, restaurants, cafes and shop, as well as see The Kicking Horse Pedestrian Bridge.
A great place to stop and rest before your next day of driving is the Basecamp Lodge. Offering beautiful views of the Purcell Mountains, this stunning log lodge is just a short drive away from The Kicking Horse Mountain Resort, making it ideally placed to explore your surroundings.
Expect cozy rooms in a stunning timber-framed building, and stunning grounds to explore. You'll be guaranteed a great night's sleep at this fabulous resort, with just the peaceful mountains around you.
A skiing paradise in Nelson
A third of the way to Kelowna and just over 7 hours from Calgary, Nelson makes a great stop if you're planning on splitting the Nelson Route over several days.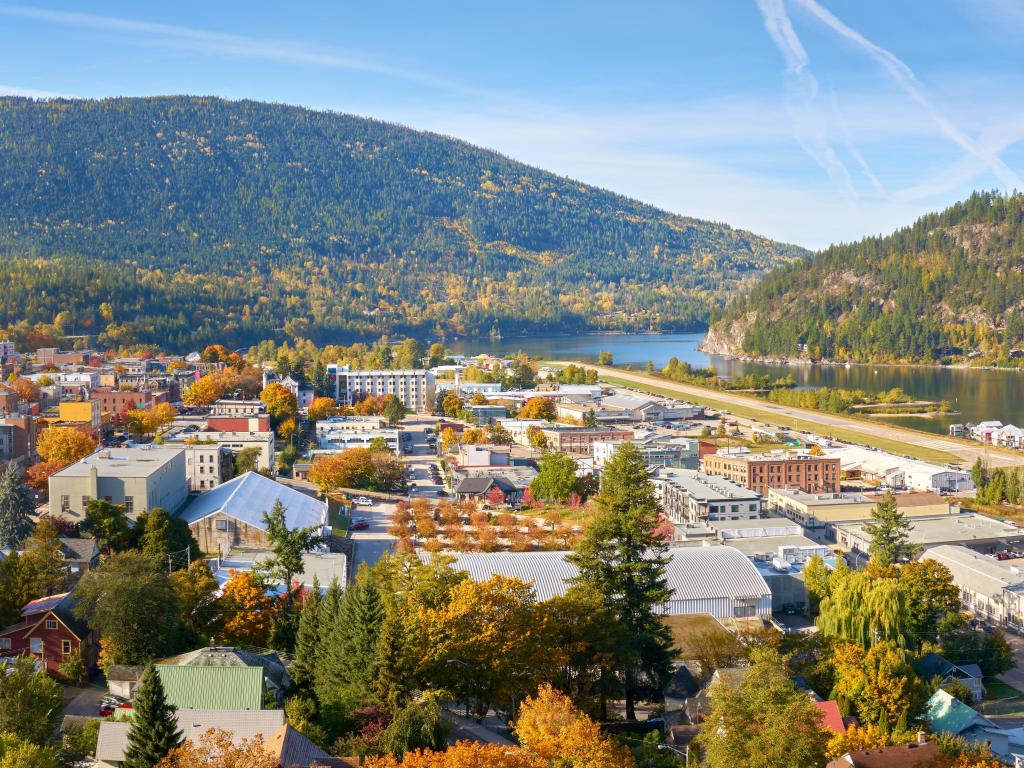 A hidden gem, Nelson sits at the foot of the Selkirk Mountains and on the shore of Kootenay Lake, so there's no shortage of beautiful scenery around. Although a small town, it's a vibrant place with shops and art galleries to explore.
Famous for its skiing, there's something for everyone in this great town. The streets are lined with incredible restaurants, micro-breweries and cafes.
Nelson is also home to a free ferry that's the longest in the world! On the Kootenay Lake Ferry, you can ride all the way up Kootenay Lake to Belfour - and all for free.
If you've spent your day exploring, you'll want a hotel where you can relax and unwind. And that's exactly what you'll find at Hume Hotel & Spa. This incredible 5-star hotel has its own spa and wellness center where you can pamper yourself with a massage.
The restored heritage property also boasts onsite dining, fresh-to-order breakfasts and a bar and lounge area to relax in. You're also located in the heart of downtown and just a short walk from the lake. With a mountain backdrop, this is a stylish and convenient hotel.
Lake views in Kelowna
The city of Kelowna is in the Okanagan Valley, surrounded by stunning parks, forests, vineyards and mountains. If that's not enough, it's also on the eastern shore of Okanagan Lake. It's not hard to see why it's such a favorite vacation spot all year round.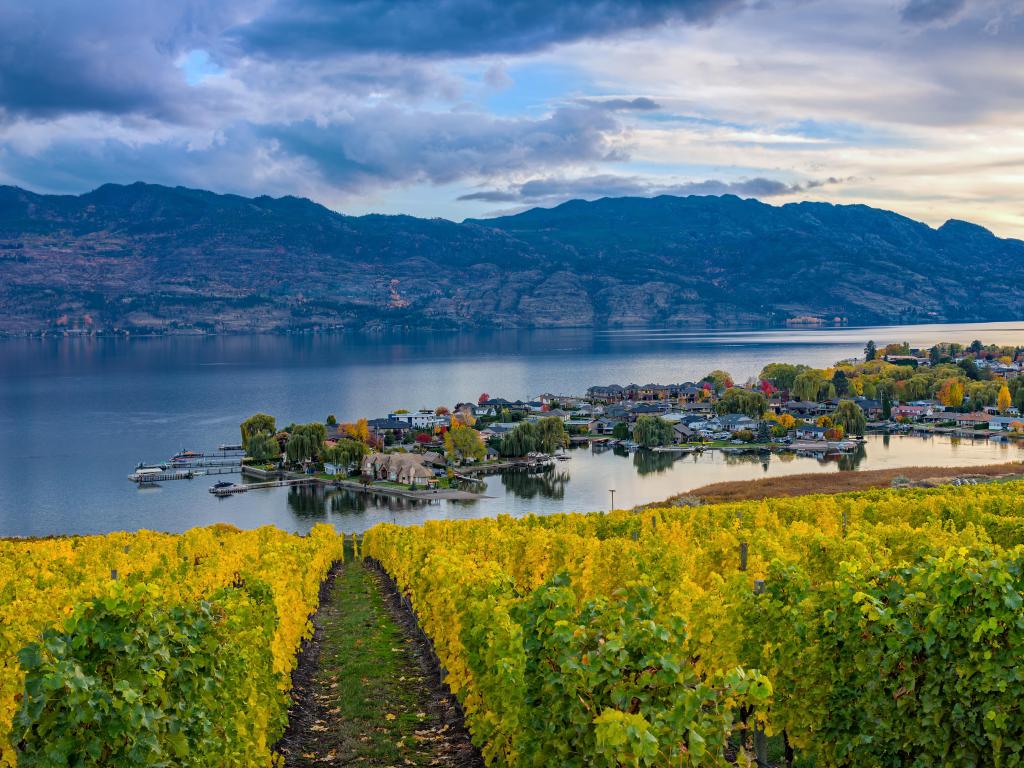 You could easily spend several weeks exploring its many vineyards, great weather, food scene, beaches and ski hills. There are plenty of great resorts you can pick from in Kelowna, but a great option is the Delta Hotels by Marriott Grand Okanagan Resort.
After arriving at Kelowna, what better way to finish your trip than with a spot of luxury? This hotel has it all - hot tubs, swimming pools and even a fitness center. There's even a wine bar and a casino nearby, plus the beaches, parks and museums are all within walking distance.
The 5-star hotel itself is stylish, modern and has been beautifully designed. Comfortable rooms matched with a fantastic onsite restaurant and bar which serves a regionally inspired menu, craft cocktails and the largest exclusively Okanagan Wine List.
But the best bit about this resort is its view and location. Located on Okanagan Lake, you'll wake up to views of the water with mountains surrounding you. It's the perfect way to end a road trip.
Things to see on a road trip from Calgary to Kelowna
This stunning road trip from Calgary to Kelowna is packed full of fantastic views, parks, mountains and lakes. You could easily spend a month visiting them all, but if you are pressed for time, here are some of the best bits you'll pass along the way:
Both Routes
Calway Park, Calgary - Drop into Calway Amusement Park for family-friendly fun. There are 32 rides and a campsite nearby if you wanted to make a night of it.
Banff National Park, Banff - Banff is a famous resort town. In Banff National Park, the Rocky Mountains will surround you everywhere you look. Visit Lake Minnewanka with its turquoise water and ice-capped mountains.
Buffalo Nations Museum, Banff - The Buffalo Nations Luxton Museum educates on the cultures of indigenous Canadian people. It's an interesting stop-off to learn the way of life before European influences.
Johnston Canyon, Lower Falls - This is a popular hiking trail thanks to its many waterfalls. For a scenic route, take the Bow Valley Parkway after Banff. You can rejoin the Highway further along.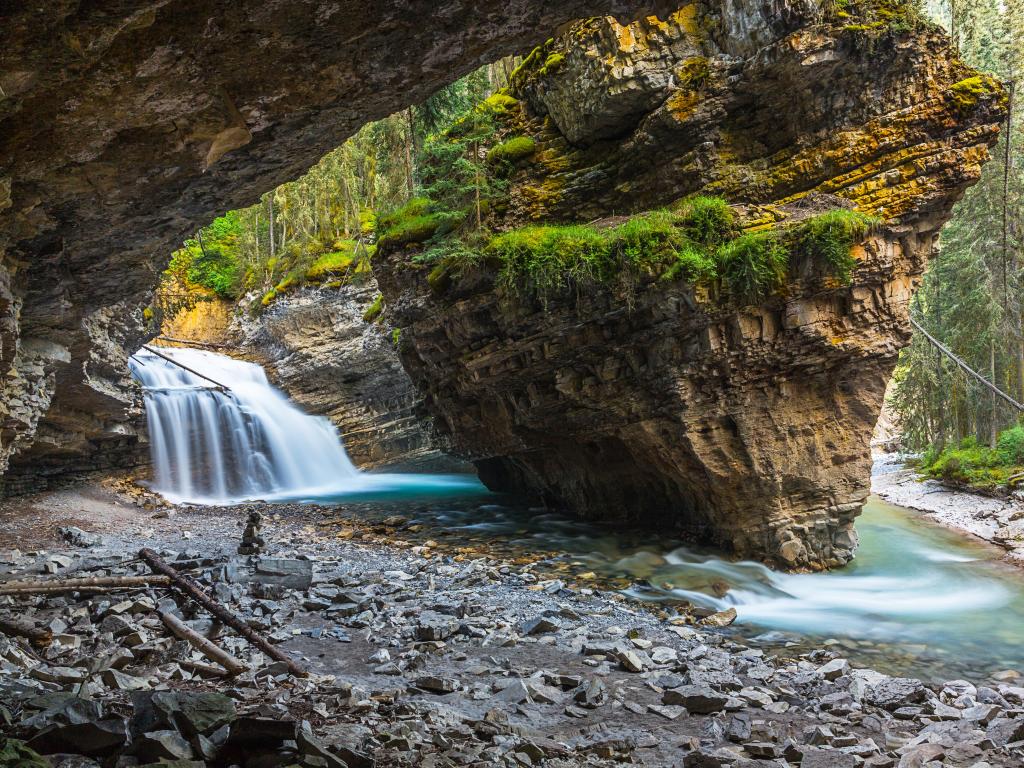 The Trans-Canada Route
Yoho National Park of Canada - Exploring Yoho National Park, you'll come across rock walls and waterfalls. For straightforward viewing, follow the Yoho Valley Road. There's a parking lot at the end to take it all in.
Golden Skybridge, Golden - At Golden visit the Golden Skybridge. It's a pedestrian suspension bridge. You can walk above a wide canyon for awe-inspiring mountain views and once-in-a-lifetime photo opportunities.
Glacier National Park - The Glacier National Park is another area of outstanding beauty. There are well-managed hiking trails for all abilities that'll lead you deep into the woods and alpine plains.
Mt Revelstoke National Park - One of the easiest trails at Mount Revelstoke National Park is the Heather Lake Trail. It's 400m all the way round, so won't tire you out.
Revelstoke Railway Museum, Revelstoke - At the Revelstoke Railway museum, there are vintage train cars, engines, and other artifacts for you to admire.
The Enchanted Forest, Revelstoke - The Enchanted Forest is an off-beat experience to please your inner child. While there, the SkyTrek Adventure Park is on the same site, for you to zip and climb through the trees.
The Last Spike, Malakwa - The Last Spike commemorates the completion of the Canadian Pacific Railway in 1885. It's a nice quiet stop to break up your journey.
Vernon, British Columbia - Vernon is home to a Public Art Gallery and the Museum of Vernon. If you're a fan of whisky, the Okanagan Spirits tour is a must, where they brew the winner of the 2022 Canadian Whisky Awards.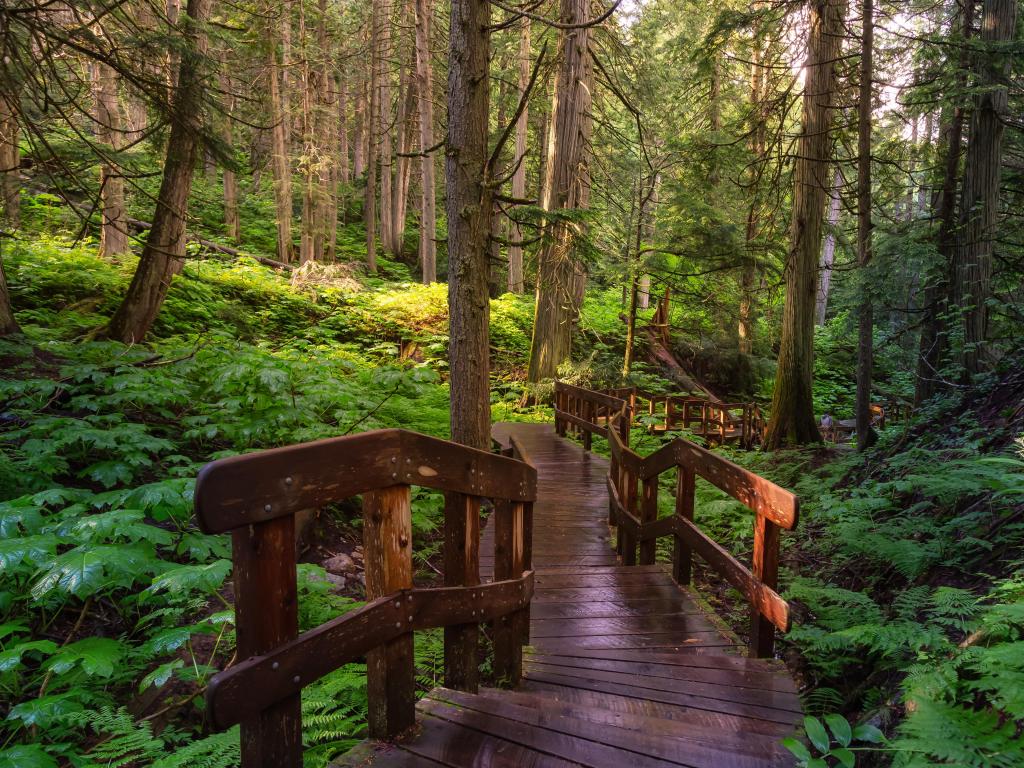 The Nelson Route
Kootenay National Park, Vermilion Crossing - You'll pass through the Kootenay National Park. Here you'll find mountain rivers and even hot springs. Try the Radium Hot Springs just past Vermilion Crossing to dip in a hot spring.
Mineral Mountain Ziplines, Fairmont Hot Springs - See Fairmont Creek from a new perspective by riding on the Mineral Mountain Ziplines. Open between May and October, it's a fun activity to include in your journey.
Columbia Lake View Point, Fairmont Hot Springs - Take a quick pit stop at Columbia Lake View Point. Admire spectacular views over Columbia Lake and stretch your legs ready for the next part of your drive.
Fort Steele Heritage Town, Fort Steele - Fort Steele Heritage Town will take you back in time to the gold rush era. You can ride a steam train and enjoy the street and theater performances.
Nelson, British Columbia - Fall in love with Nelson. A true hidden gem. It's rich in art, culture, and natural beauty.
Bear Spring Eco Retreat, Beasley - Sleep in a Stargazer Tent at Bear Spring Eco Retreat. Enjoy a solar-powered shower and pick food from the edible food garden. When bedtime comes, you'll have remarkable views of the stars.
Needles, BC to Fauquier, BC Ferry - On this route, you'll hop on the ferry to cross Upper Arrow Lake. They run every 30 minutes between 5:00 AM and 10:00 PM. It's only 5 minutes, so get your camera ready.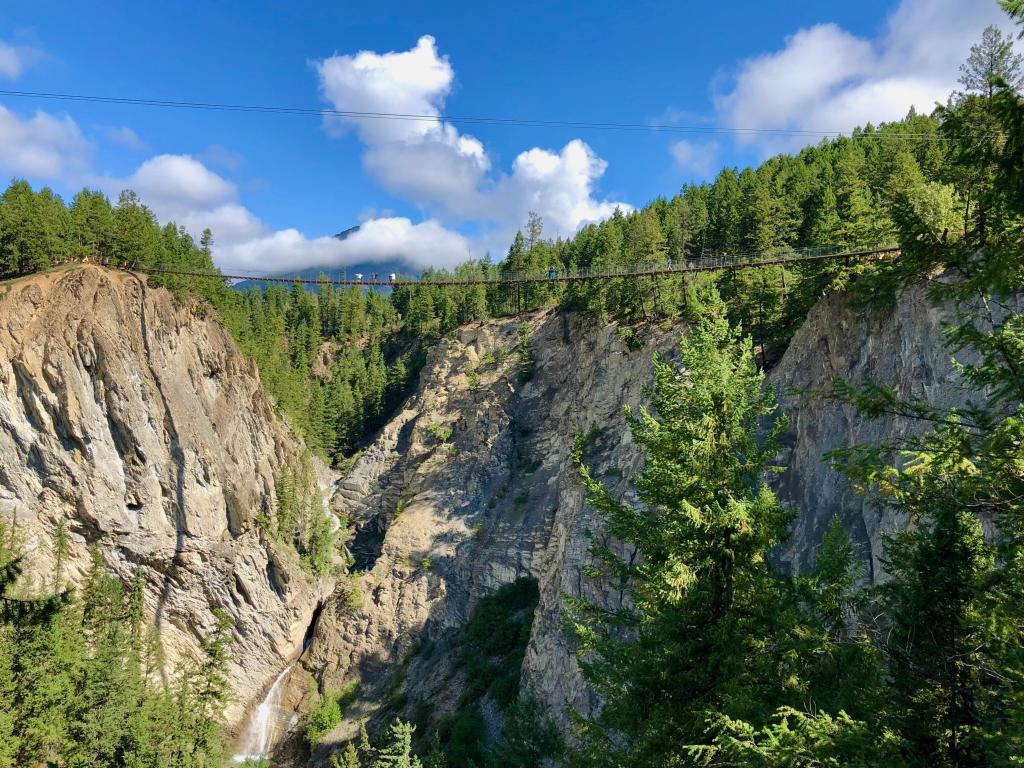 Best time to go on a road trip from Calgary to Kelowna
Kelowna is popular all year round, but for different reasons. In winter, the snowfall makes it a popular skiing destination. Whereas in summer, as temperatures rise, hiking and water activity around Lake Okanagan becomes prominent.
The average temperature in June is 55 degrees Fahrenheit, while July and August are a touch warmer averaging at 62 degrees. These are comfortable conditions for outdoor activities, such as hiking. Though be warned, the hot, dry summers make this region busy with tourists.
Winter brings cold weather to this region with lows of 21 degrees in December. If you're planning to visit in winter, you'll need to take warm clothes. The heavy snowfall can cause havoc on the roads, so it might be wise to avoid road-tripping here in winter unless you're visiting for skiing or snowboarding.
For the best of the spring weather, you'll want to time your visit around May which sees the average temperature jump to 50 degrees, though you might experience some of the rainy season.
Meanwhile, with September averaging a pleasant 52 degrees, if you want mild weather and fewer crowds, early fall is a great time to visit. You'll also get to see the forests and parks in their stunning autumn colors.
If large crowds don't put you off, you could plan your visit around an event or two. A great festival held between July and August is Parks Alive which features 50 live events throughout the city. New Year's Eve is also big in Kelowna, where you'll get to experience free live music.