Road Trip from Charlotte, NC to Atlanta
This southern road trip from Charlotte, NC to Atlanta packs in a mix of metropolitan attractions alongside some of the most breathtaking natural scenery in the US, including the stunning Blue Ridge Parkway and the Great Smoky Mountains.
The 380-mile road trip from Charlotte to Atlanta takes about 8 hours to drive. Highlights are Blowing Rock, Black Mountain, the Blue Ridge Parkway and the Great Smoky Mountains, or take the city route via Rock Hill, Columbia, Lexington and Augusta.
You can swim in waterfalls, hike through national forests and see the beautiful cityscapes en route. Keep reading to plan your trip via one of these exciting routes, that will take you all the way from the charming city of Charlotte to the glittering skyline of Atlanta.
How far is Atlanta from Charlotte, NC, and how long will the road trip take?
Comparison of road trip routes between Charlotte, NC and Atlanta

| Route | Distance | Driving Time |
| --- | --- | --- |
| The Columbia Route | 320 miles | 5 hours |
| The Blue Ridge Parkway Route | 380 miles | 7 hours 50 minutes |
The Blue Ridge Parkway Route spans a distance of 380 miles and takes 7 hours 50 minutes of direct driving time. This is the longer of the two routes, as it winds via the scenic two-lane Blue Ridge Parkway.
It's worth keeping in mind that this route can be impacted by adverse weather conditions, so check ahead. There is also the option to add on a detour via the Great Smoky Mountains National Park.
The Columbia Route offers the opportunity to travel through South Carolina and visit the state capital. At a distance of 320 miles, this route takes around 5 hours to drive.
This route is shorter and is very straightforward, as the driving is primarily on interstates, so it is unlikely to be affected by bad weather.
With fantastic hiking, wildlife and great hospitality along both routes, we'd recommend allowing yourself at least two days to do this trip justice.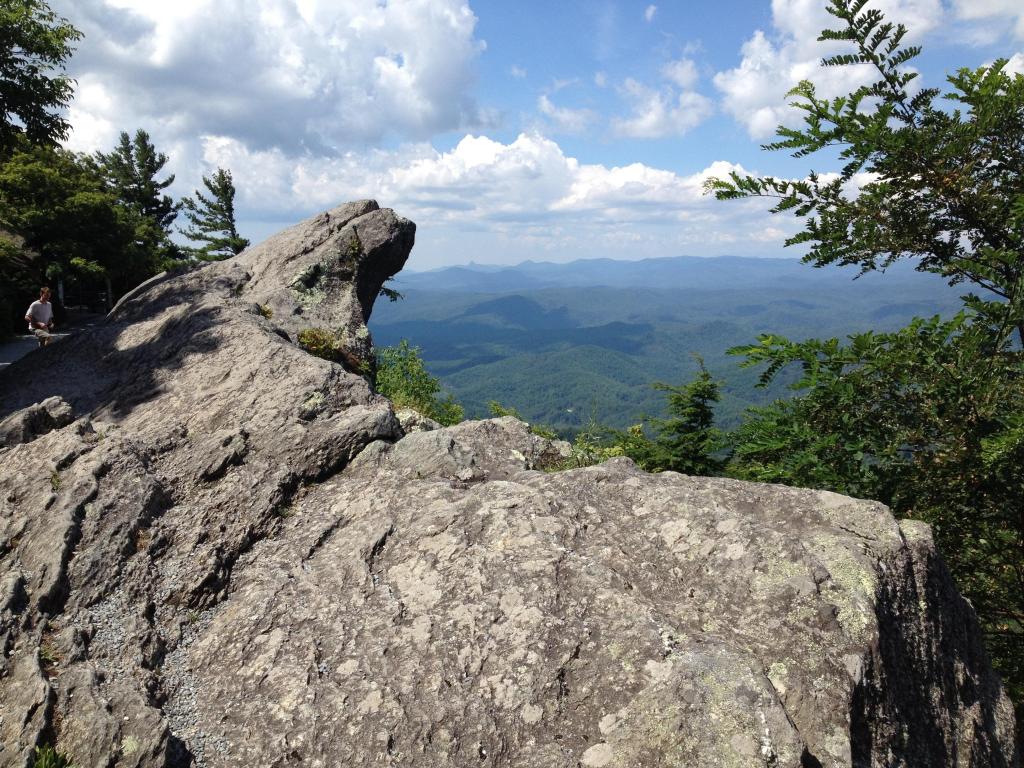 Best road trip route from Charlotte, NC to Atlanta
We've set out two route options to drive from Charlotte, NC to Atlanta. Both take in a distinctive balance of nature and culture, though the first is focused on showing you the best scenery, and the second on showing you some fantastic cities.
The longer Blue Ridge Parkway Route takes in the beautiful Blue Ridge Mountains which you can view in all their glory via a scenic drive across Blue Ridge Parkway.
By heading this way, you can also hike through the Great Smoky Mountains National Park with its diverse plant and animal life, and take a dip in the crystal waters of Tallulah Falls. You'll stop at smaller cities like Blowing Rock and Asheville en route to Atlanta.
The shorter Columbia Route takes you down through all South Carolina and Georgia have to offer, with its world renowned southern charm, hospitality and entertainment.
You'll make city stops in Rock Hill, Columbia and Augusta, and pass through impressive natural landmarks like the Great Falls and Oconee National Forest.
The Blue Ridge Parkway Route
Head south on Interstate 85 (I-85), then take US-321 going north at Gastonia. Follow this road up to Blowing Rock, gateway to the Blue Ridge Mountains.
Follow signs for the Blue Ridge Parkway and wind slowly through the stunning vistas, with plenty of opportunities to stop for hiking or picnics. Turn off the parkway to follow signs for Asheville, a hub for art and music in South Carolina.
Take I-40 going west, and follow US-74 to drive alongside to the Great Smoky Mountains National Park. Take a detour here to go and explore the Southern Appalachian culture in one of America's oldest mountain ranges.
Take US-23 south and continue onto I-895 as you pass Lake Lanier. Merge onto I-85 S and take exit 248A to arrive in Atlanta.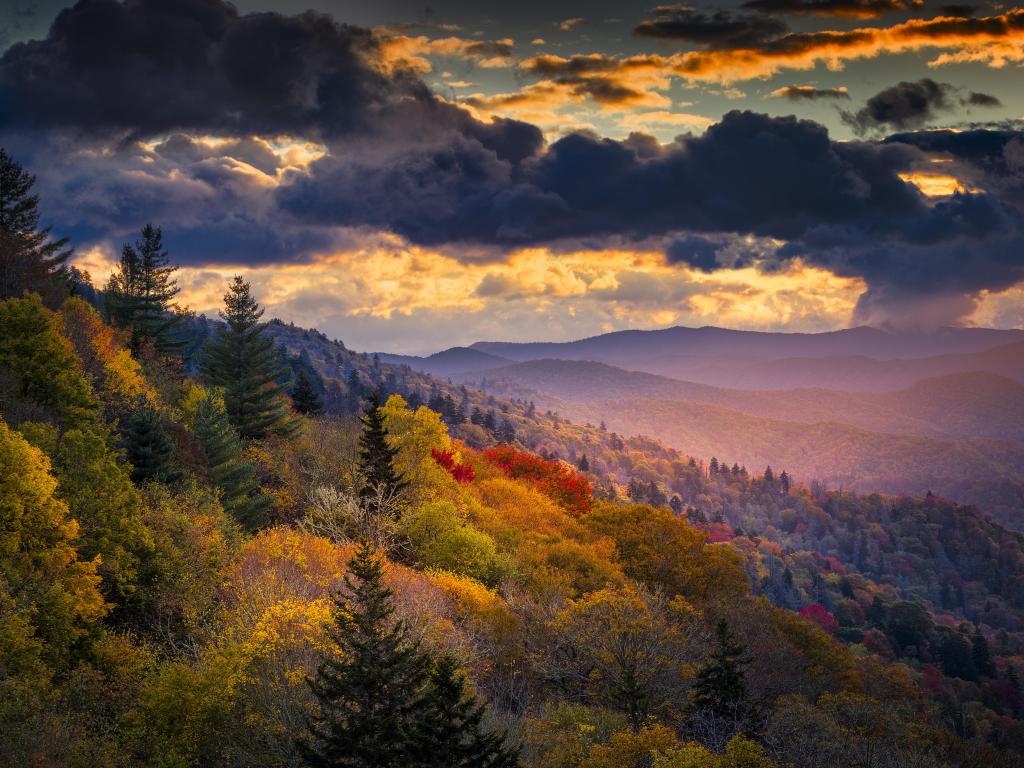 The Columbia Route
Follow I-77 south out of Charlotte and make a pitstop in Rock Hill to visit the Museum of York County. Rejoin I-77 to reach Columbia.
Take some time to enjoy the southern charm and wide avenues of this very walkable city, then follow I-20 west. Make a pitstop on Lexington to relax on the shores of Lake Murray.
Cross the Savannah River to enter Georgia and take the exit for Augusta. Known as home of The Masters golf tournament, there is plenty to do year round with shops, restaurants and museums set along the riverfront.
Follow I-20 west, with the option to stop and take a stroll in Oconee National Forest. Continue on this road to arrive at your final destination, Atlanta.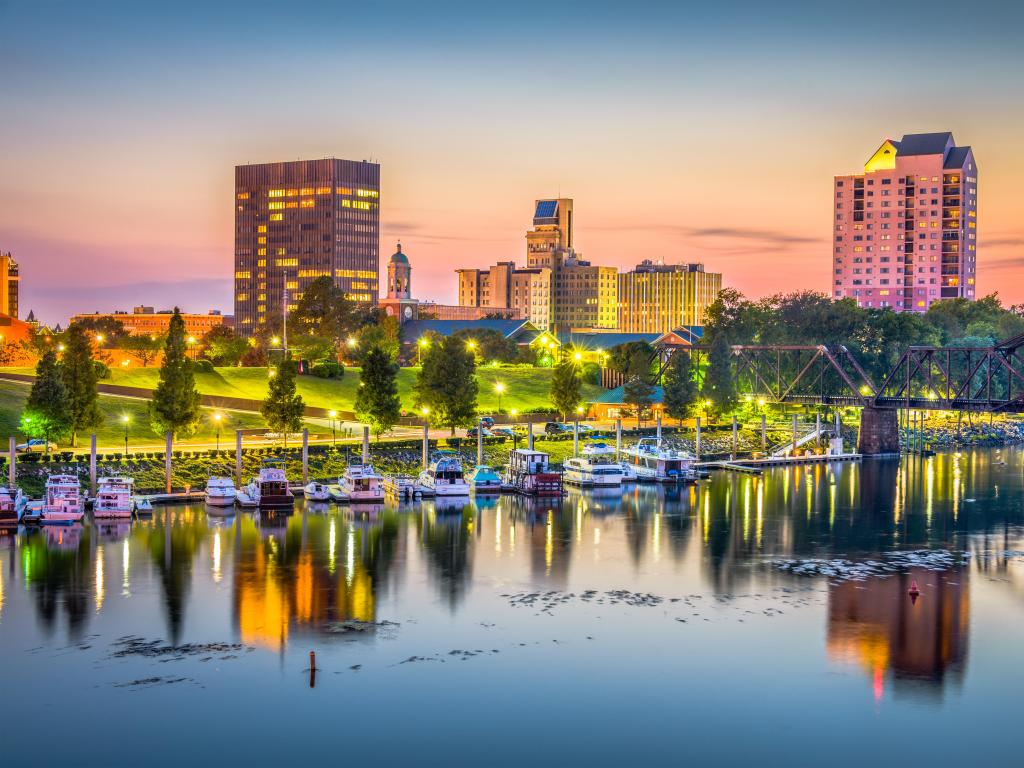 Best places to stop between Charlotte, NC and Atlanta
If you have the time, we really recommend breaking up the driving with an overnight stop, so you can experience that southern hospitality firsthand. We've pulled out a few ideas for places to park up and explore.
Relax and unwind at Lake Lanier
About three-quarters along the Blue Ridge Parkway Route lies the beautiful Lake Lanier, a stunning man-made reservoir. Relax by the calm of the water before completing your trip by heading off to the busy sights of Atlanta.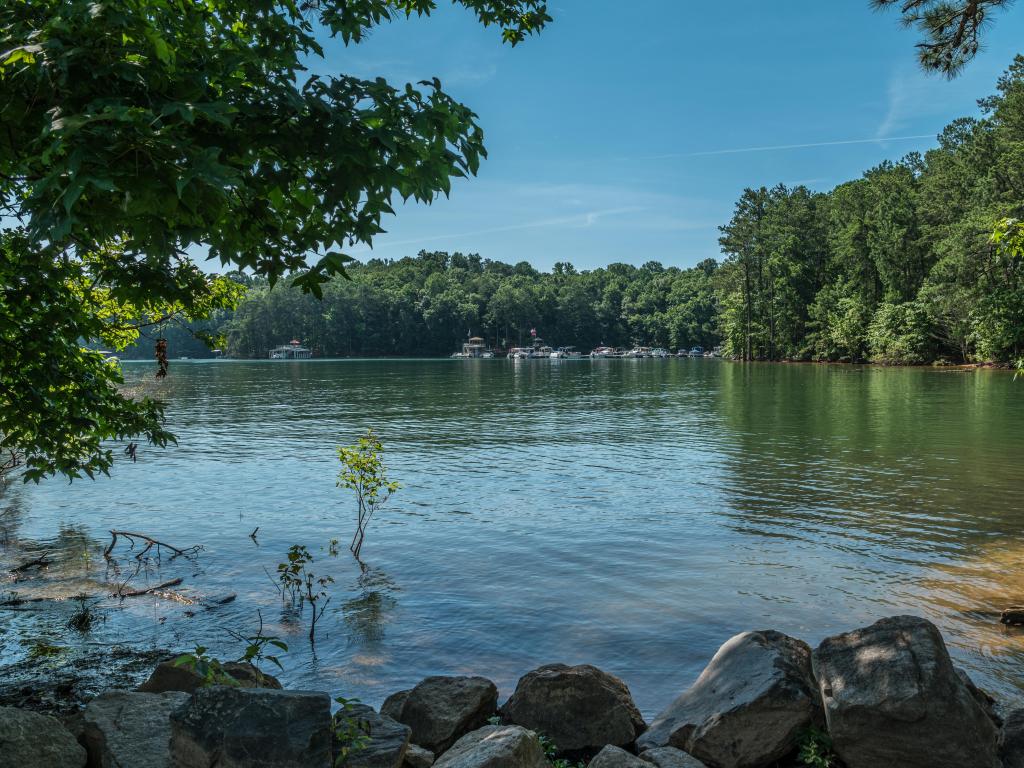 The Lake Lanier reservoir was constructed in 1956 and is the largest lake in Georgia. Over 11 million people visit every year, so pack your swimsuit and join their ranks!
A great spot for sunbathing, Lanier Park Beach is a secluded beach with enclosed waters that are calm and perfect for paddle boarding. Take the walking trail to build up an appetite before sitting down on the sandy shore for a picnic from the grill.
If you don't fancy getting wet, hop on a leisure cruise aboard a yacht for a three hour cruise around the reservoir. Take to the upper deck for the best views of the water, before being seated for some refreshments as the sun sets.
The Lanier Islands Legacy Lodge is the perfect hotel to round out your stay, with traditional decor and an unbeatable lakeside location. You can take advantage of the lush gardens and sun deck during summer months while sitting back with a book or aperitif.
The hotel offers fitness and wellness classes for those wanting to keep on the move whilst taking in stunning surroundings. You barely have to leave the site if you don't want to - there are restaurants on site, a private beach and even a seasonal waterpark!
A warm welcome in Columbia
A third of the way into the Columbia Route you'll arrive at the city that gives this route its namesake – the charming state capital of South Carolina. Columbia is known for its hospitality and welcoming culture, so is definitely worth an overnight stop to leave you refreshed.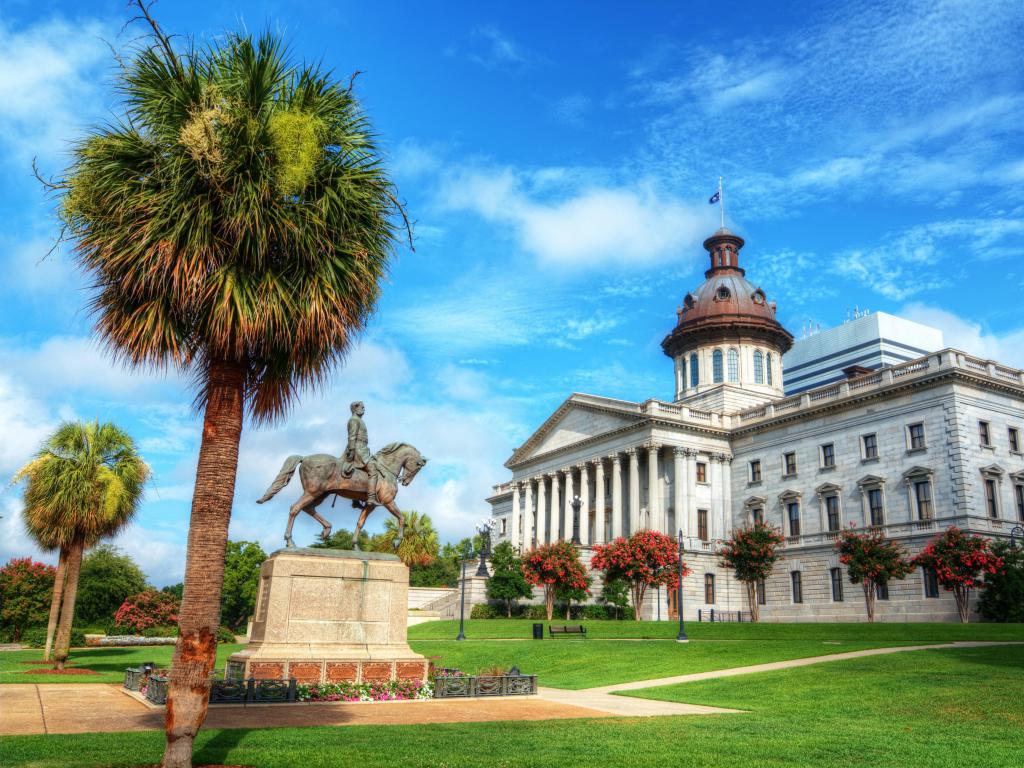 While in town, you can visit the largest zoo in South Carolina. Riverbanks Zoo and Gardens is home to more than 2000 animals living alongside a lush botanical garden. Why not jump on the 'Zip the Zoo' and get an aerial view of the enclosures from the treetops?
To stretch your legs after all that driving, visit Columbia Canal and Riverfront Park. Set over 160 acres, this parkland has trails where you can enjoy the beautiful view, or take a seat at the amphitheater on site. They also hold some great annual events like Greekfest and Riverfest.
To learn more about the land you're driving through, the South Carolina State Museum brings to life South Carolina history, with four floors of art, science and technology. Afterwards you can enjoy a walk along the Congaree River which runs alongside it.
For a relaxing stay, try the Hilton Garden Inn Columbia/Harbison. The indoor pool is great for a dip post-sightseeing, and they have a state-of-the-art fitness center on-site.
The location is super convenient, close to popular attractions including Palmetto Park and with plenty of local steakhouses and bars within walking distance. There is free parking on-site, and it's just off I-26 so you can jump back onto the route to continue your journey the next day.
Where to stay when you reach Atlanta
Atlanta is a dazzling metropolis that has something going on for it any time of the day and you can match that energy with a stay at St. Regis Atlanta.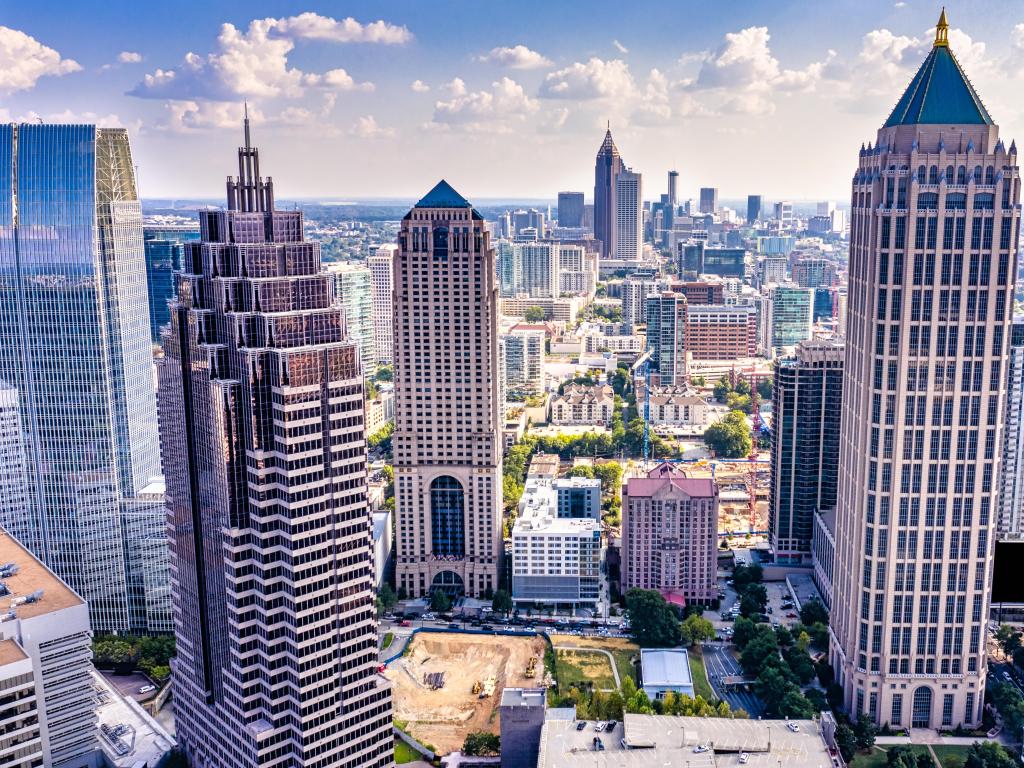 The stylish hotel is designed to wow on all fronts, with a 40,000 square foot Pool Piazza, spa and jacuzzi. Don't want to lift a finger? You can hire an optional butler for your stay to look after your every whim.
The hotel is located in Buckhead so you'll be right in the heart of the city, and parking is available at the hotel. If you want to head out any further, the complimentary car service will drive you anywhere within a 2 mile radius.
Things to see on a road trip from Charlotte, NC to Atlanta
This trip takes you through the stunning landscapes and natural phenomena of the southern states, so you won't be short of places to stretch your legs.
We've picked out some of the best viewpoints, peppered with a few stops of cultural and historical interest to help plan your itinerary.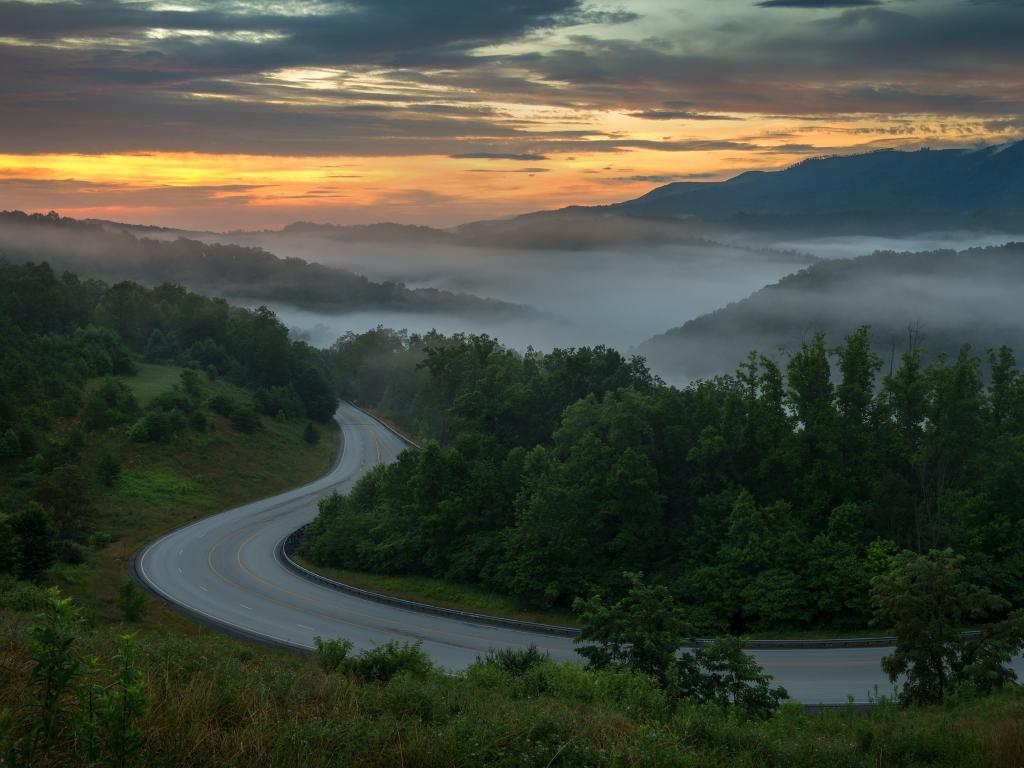 The Blue Ridge Parkway Route
Hickory Aviation Museum - Located at Hickory Regional Airport, this museum is a must for any aviation fans. Learn all about local aviation history with veteran volunteers showing you around, and even inside, some of the planes displayed.
Blowing Rock - While away a weekend skiing in the Appalachian Mountains, or head to The Blowing Rock, the oldest attraction in the town. Set 4,000 feet above sea level, take a scenic walk around here to admire the sheer scale of this famous landmark.
Black Mountain - Surrounded by beautiful mountain ranges, this town is full of quirky, independent shops to have a browse. Fancy a sit down? Rocking chairs are dotted around the town, so take a pew and enjoy the view.
Blue Ridge Mountains - Head to Asheville to take in the incredible views of the Blue Ridge Mountains. Either drive the scenic route or take one of the many trails on the Parkway for an up-close view.
Great Smoky Mountains National Park - To get the best panoramic views of the National Park, head to the observation tower. The hike is a little steep, but well worth it for the 6,643 feet view across the landscape below, particularly in the fall.
Occoneechee State Park - Set in Clarksville, this year-round destination is popular with anglers and boaters given that it has the largest lake in Virginia. A scenic stop, bring a picnic and enjoy it along the lake shore before stretching your legs around one of the many trails.
Aurora Theatre Lawrenceville - There are over 700 performances held at Aurora Theatre each year, so it's a great place to grab an evening of entertainment before finishing off your journey to Atlanta.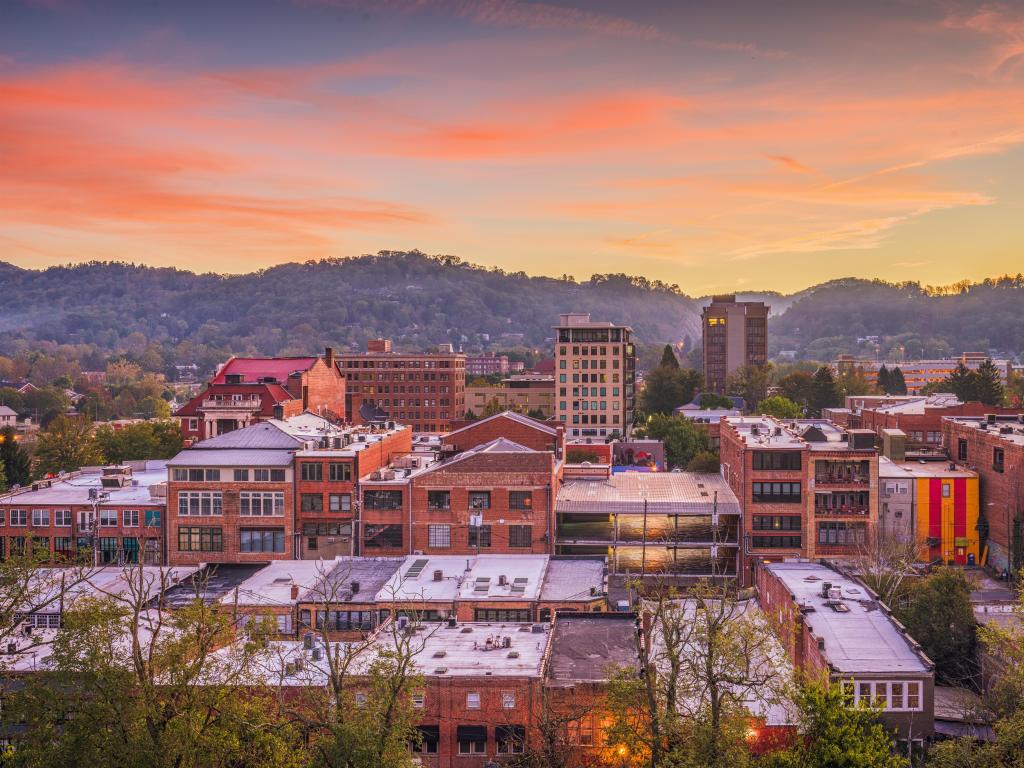 The Columbia Route
Glencairn Gardens - Set in Rock Hill, this 11-acre year-round destination has plenty of flora to see, with well-paved walkways to stretch your legs for an hour or two en-route. Head here in spring when the gardens are particularly beautiful.
Great Falls - This natural feature of the Catawba River has impressive rapids. The length of falls has reduced in recent years due to a dam being constructed, however it is still worth a visit to admire the waterways.
Columbia - Visit the Columbia Canal and Riverfront Park which is set over 160 acres. This parkland has several trails where you can enjoy the beautiful view, or take a seat at the amphitheater on site.
Augusta - If you are a history fan then you'll find the Augusta Museum of History an interesting journey 12,000 years into the past.
Oconee National Forest - Set over 80,000 acres there are plenty of walkways to take in the natural beauty here – with over 850 miles of trails.
Delta Flight Museum - Located in East Point, this museum is dedicated to the history of Delta Airlines, and is a must for any aviation fans.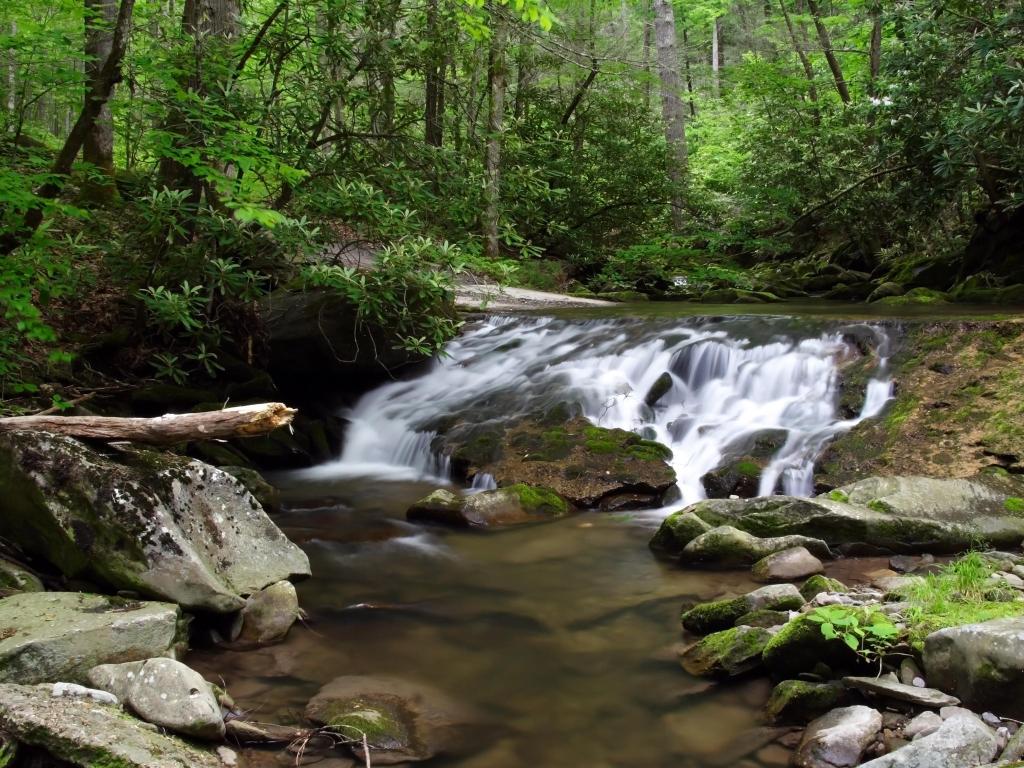 Best time to go on a road trip from Charlotte, NC to Atlanta
Atlanta is a great year-round destination, with plenty to do in every season. However, it's worth keeping in mind that parts of the Blue Ridge Parkway may be affected by adverse weather conditions during the winter.
The most popular time to visit is from March to November when the weather is most reliably dry and warm, but keep in mind that this might mean the attractions will be crowded.
Expect sunny skies and warm days in Atlanta during the summer. Temperatures hover around 80 degrees Fahrenheit during the day and stay warm into the evening.
March to May is a pleasant time to visit before the heat peaks and is less busy with tourists so you might not pay premium prices for attractions and accommodation. Spring temperatures range between 60-70 degrees Fahrenheit on most days.
In summer, the Atlanta Dogwood Festival showcases a range of art, photography and crafts, while music-lovers can head to the Imagine Music Festival.
Atlanta remains mild in the winter, so you can still take advantage of both indoor and outdoor activities. The days can still be around 50-60 degrees, so it's definitely worth wrapping up to explore!
Atlanta doesn't usually get snow, so roads and attractions are generally unaffected by winter weather, but this is not true for parts of the route.
The weather in Atlanta remains pleasant in the spring and fall, and both are popular times to visit. Accommodation rates outside of peak summer are also typically less expensive, with fewer crowds visiting attractions. In spring, you can also visit the Atlanta Caribbean Carnival which celebrates Caribbean culture, or Atlanta Jazz Festival.