Road Trip from Dallas to Kansas City
Follow the sound of strumming banjos - or the wind that whispers through the trees of Ozark National Forest - on a road trip from Dallas to Kansas City. This journey will take you through some of the Midwest's favorite cities or, alternatively, give you a real taste of small-town charm. Either way, this is a perfect long weekend road trip, full of cultural delights and beautiful views.
The 570-mile road trip from Dallas to Kansas City takes 8 hours and 30 minutes to drive. Highlights on the way include Oklahoma City, Wichita and Topeka, or Historic McKinney, Lake Eufaula, Joplin, Grand Falls and Fort Smith on our more rural route.
So buckle up and set out on our guide to the road trip from Dallas to Kansas City. As you read on, you'll find our favorite routes between the two cities, plus recommendations for where to stop overnight, the best things to do and see en route, and the best time of year to make this journey.
How far is Kansas City from Dallas, and how long will the road trip take?
Comparison of road trip routes between Dallas and Kansas City

| Route | Distance | Driving Time |
| --- | --- | --- |
| The Ozark Route | 580 miles | 9 hours |
| The Oklahoma City Route | 565 miles | 8 hours 20 minutes |
The Ozark Route from Dallas to Kansas City takes you on a 580-mile road trip through picturesque small towns, with a drive time of around 9 hours.
If you decide to opt for the Oklahoma City Route instead, your adventure will be slightly shorter at 565 miles, taking 8 hours and 20 minutes. This route has more of an urban feel to it, with Oklahoma City, Wichita, and Topeka all on your way to Kansas City.
Though both trips can be done in a single day, there's a lot to see and do along either route, so we'd suggest taking a more relaxed approach and taking at 2-3 days for your journey.
For those who crave even more exploration, both routes offer intriguing detours and extensions, leading to hidden pockets of beauty and rich history, which are sure to make your road trip from Dallas to Kansas City unforgettable.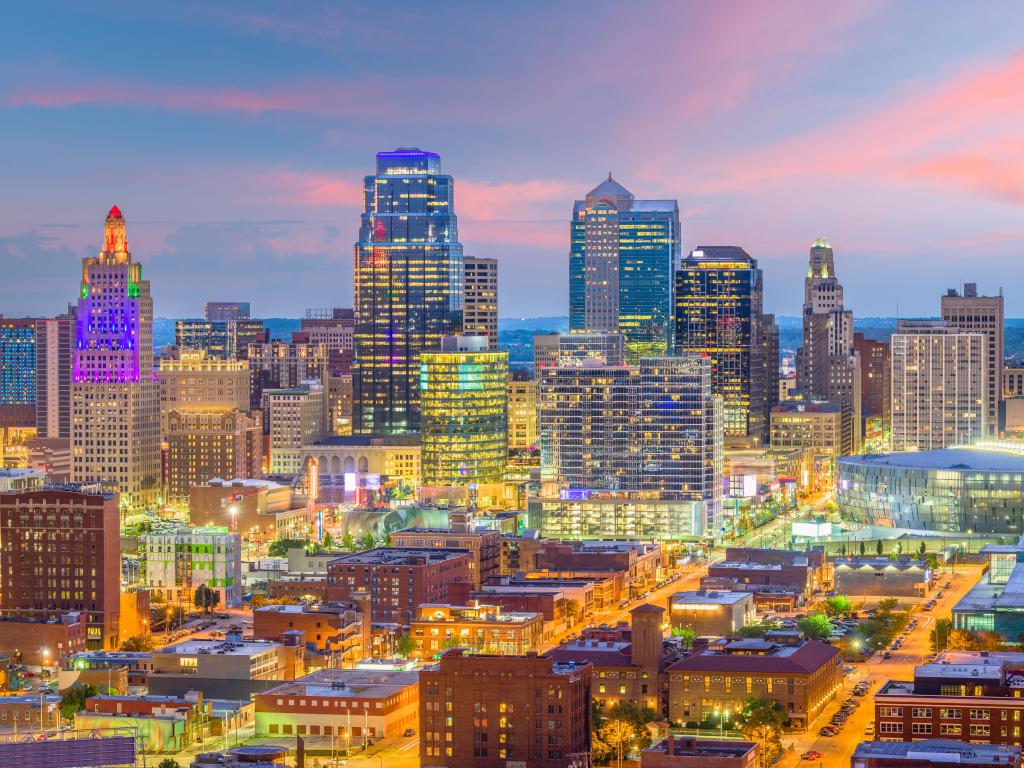 Best road trip route from Dallas to Kansas City
While both of our routes from Dallas to Kansas City offer a great blend of attractions (more on that in "Things to See", below), the scenery and experiences are surprisingly contrasting. So, your choice of route will depend on the vibe you are after.
The Ozark Route - our more rural option - meanders through landscapes where nature and relaxation are at the forefront. Along the way, you will have the chance to enjoy the resort experience around Eufaula, complete with lake swimming, exquisite restaurants, and tranquility.
Wildlife refuges offer an opportunity to connect with nature's diversity, and a portion of the historic old Route 66 at Joplin, MO adds a nostalgic touch. However, this route is less urban and may not suit those looking for the buzz of the city and plenty of entertainment options.
If you are more inclined towards a blend of urban exploration and scenic plains, take the Oklahoma City Route. This journey leads you through the rich cultural heritage of the Chickasaw Nation and across the expansive plains, providing a sense of boundless freedom.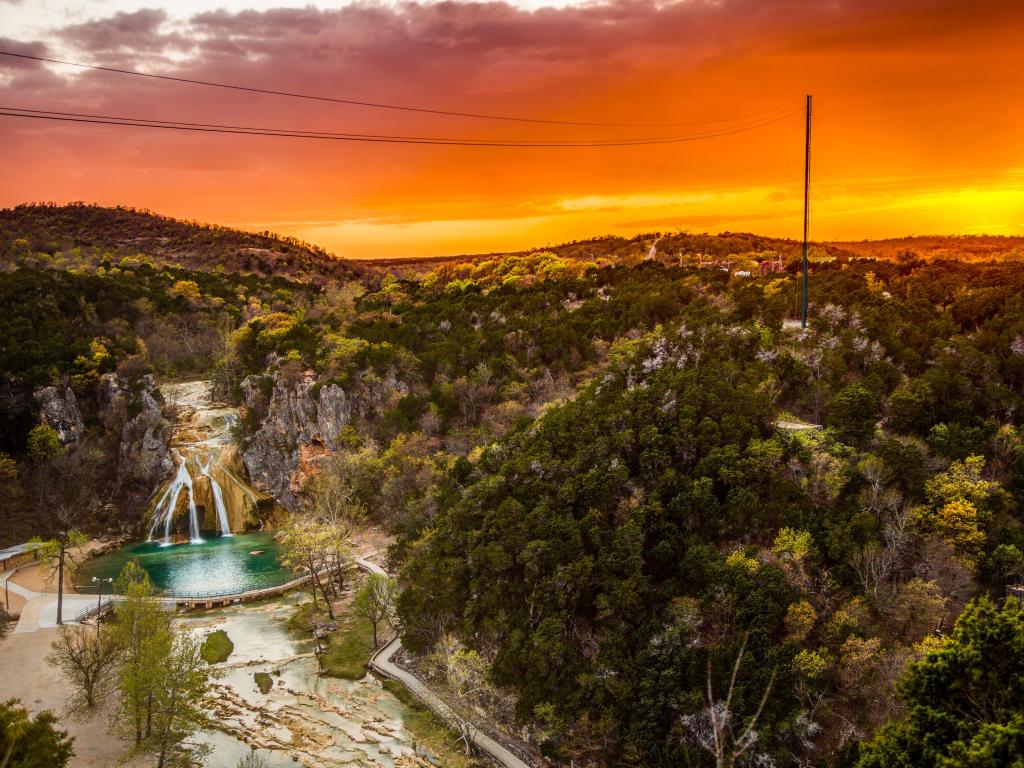 As its name suggests, this second route features more cities, such as vibrant Oklahoma City and Topeka, the state's capital. Take in museums, monuments, parks and much more if you choose this route. There are plenty of attractions on offer.
In essence, the choice between the Ozark Route, with its wildlife, lakeside resorts, and historic touches, and the Oklahoma City Route, with its blend of urban charm and plain landscapes, will be guided by your preference for nature's tranquility or urban excitement.
How to drive from Dallas to Kansas City
The map above shows our suggestions for the best road trip routes between Dallas and Kansas City. Keep reading for detailed descriptions of both routes, where to stay on either, and the best things to do on the way.
The Ozark Route
Start your journey on the Ozark Route in Dallas, heading north on US-75 to discover the charming Downtown McKinney. Continue north to Denison, where you can explore the Grayson County Frontier Village and Red River Railroad Museum.
From Denison, travel north along US-69 to Durant, taking a moment to delve into history at Fort Washita Historic Site, before exploring the Boggy Depot State Park and Atoka Museum and Civil War Cemetery. Stay on US-69 as you make your way to McAlester, stopping at the majestic McAlester Scottish Rite Masonic Center.
Venture further north to Eufaula, where the beautiful Lake Eufaula awaits. As you continue north on US-69 and then I-40, make sure to visit Honor Heights Park and Bernice Nature Center.
Proceed north on US-71 towards the George Washington Carver National Monument and onto Grand Falls in Joplin, a true spectacle of natural beauty. From there, head east on I-44 to Carthage to enjoy a film at the nostalgic Route 66 Drive-In.
Conclude your unforgettable journey by making your way north to Kansas City. Whether it's the serene lakes, captivating historic sites, or the allure of nature, the Ozark Route offers an enriching blend of experiences, all woven along the scenic roads of Texas, Oklahoma, Arkansas, and Missouri.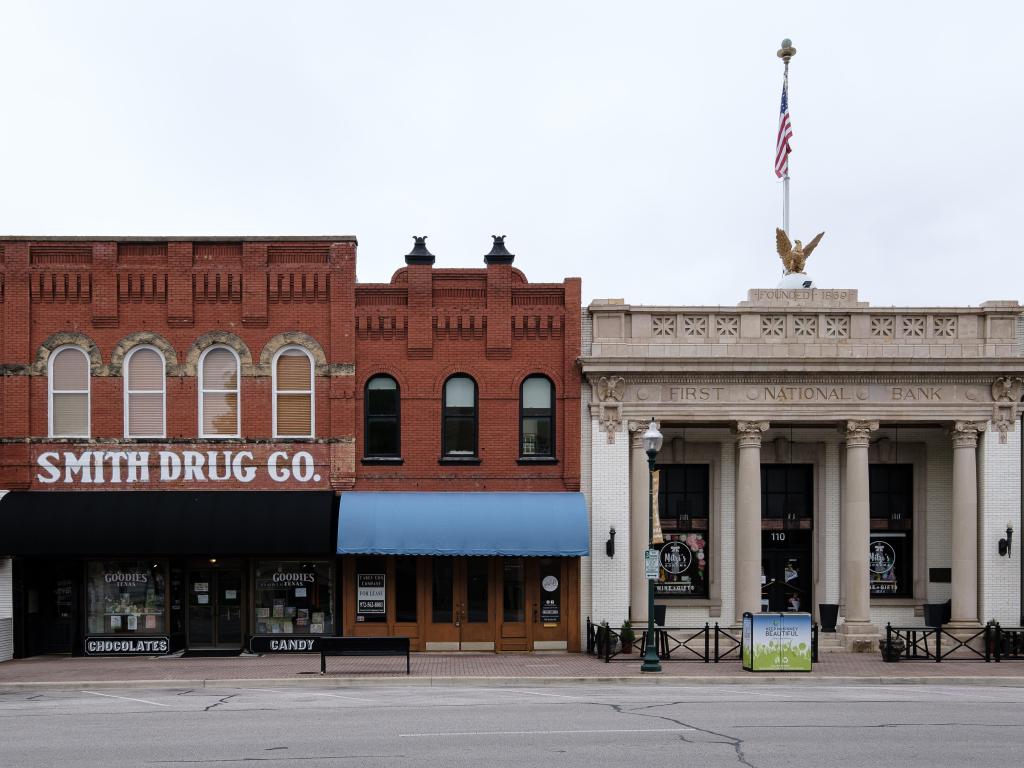 The Oklahoma City Route
Begin your adventure on the Oklahoma City Route in Dallas, venturing north on I-35 towards Denton, where you can visit the Bayless Selby House Museum. Continue north to Gainesville to see the Frank Buck Zoo and maybe try your luck at the Winstar World Casino and Resort.
Stay on I-35 as you make your way to Ardmore, where Tucker Tower Nature Center and the serene Lake Murray State Park await. Further north in Davis, you can explore the beautiful Turner Falls Park.
Your journey then takes you through the culturally rich Chickasaw Nation and into Pauls Valley, home to The Toy and Action Figure Museum. Keep heading north on I-35 to Oklahoma City, where urban delights such as Bricktown, the American Banjo Museum, and the Oklahoma State Capitol are sure to enchant you.
Leaving Oklahoma City, continue north to Wichita, stopping at attractions like Exploration Place and the mesmerizing Keeper of the Plains Statue. A visit to the Wichita Botanical Gardens and Museum of World Treasures adds further charm to this stretch.
Follow I-35 north to El Dorado, where El Dorado Lake offers relaxation, before continuing to Topeka. Here, the Combat Air Museum and Evel Knievel Museum offer excitement for thrill-seekers, and The Lessman Farm & Truckhenge adds a quirky touch.
Complete your journey by traveling to Kansas City, reflecting on a road trip filled with unique attractions and experiences.
From urban excitement to cultural gems, natural beauty, and whimsical attractions, the Oklahoma City Route provides an unforgettable journey through the plains and vibrant cities of Oklahoma, Texas, and Kansas.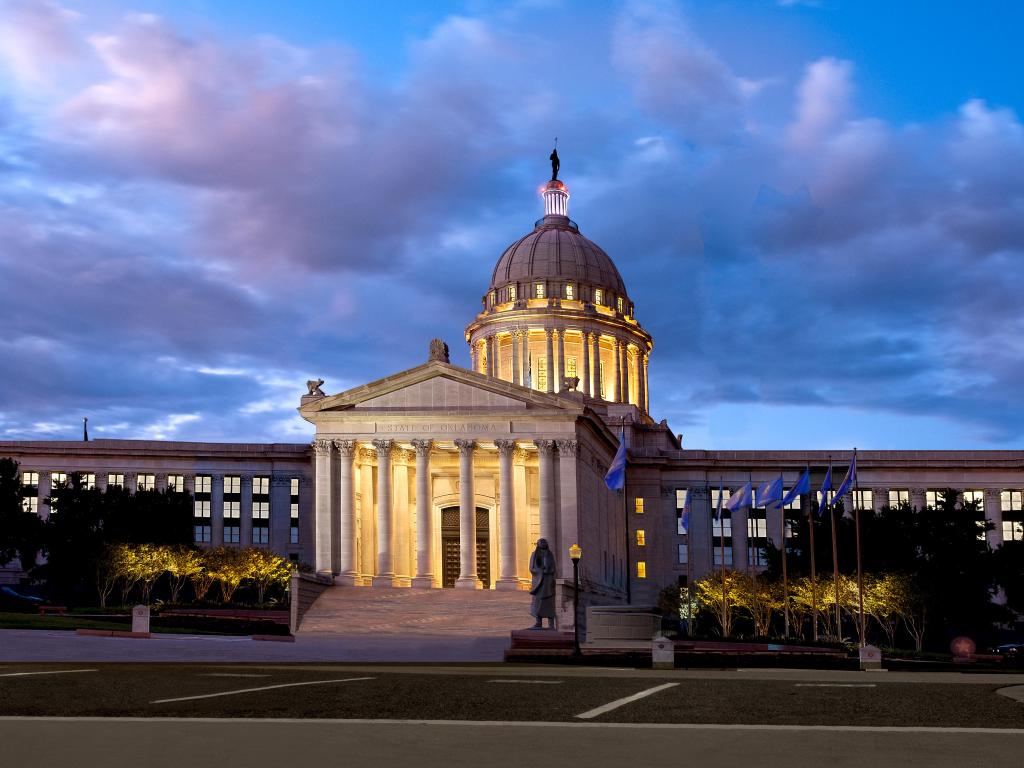 Best places to stop between Dallas and Kansas City
Although these routes could technically be completed in a day, it would be a shame to miss out on an evening meal and a slice of luxury as you make your way to Kansas City.
We know that choosing where to stay on your road trip can be pretty overwhelming. Don't worry though: we've chosen two of our favorite stopover locations - one on either route - to help you kick-start your planning.
Relax in small-town solitude at Chester, Arkansas
Chester, AR is the perfect place to pause on The Ozark Route from Dallas to Kansas City, situated just over half way with a drive time of 4 hours 30 minutes. Nestled in the heart of the Ozarks, Chester is surrounded by Ozark National Forest and rugged mountain landscapes that will surely captivate your senses.
The gem of this stopover is the breathtaking Ozark National Forest, offering an escape into nature's embrace. Here, you can explore the scenic Daniel Falls Park or enjoy a peaceful stroll in Chester City Park. The forested surroundings and calming mountain views make Chester a true oasis of tranquility.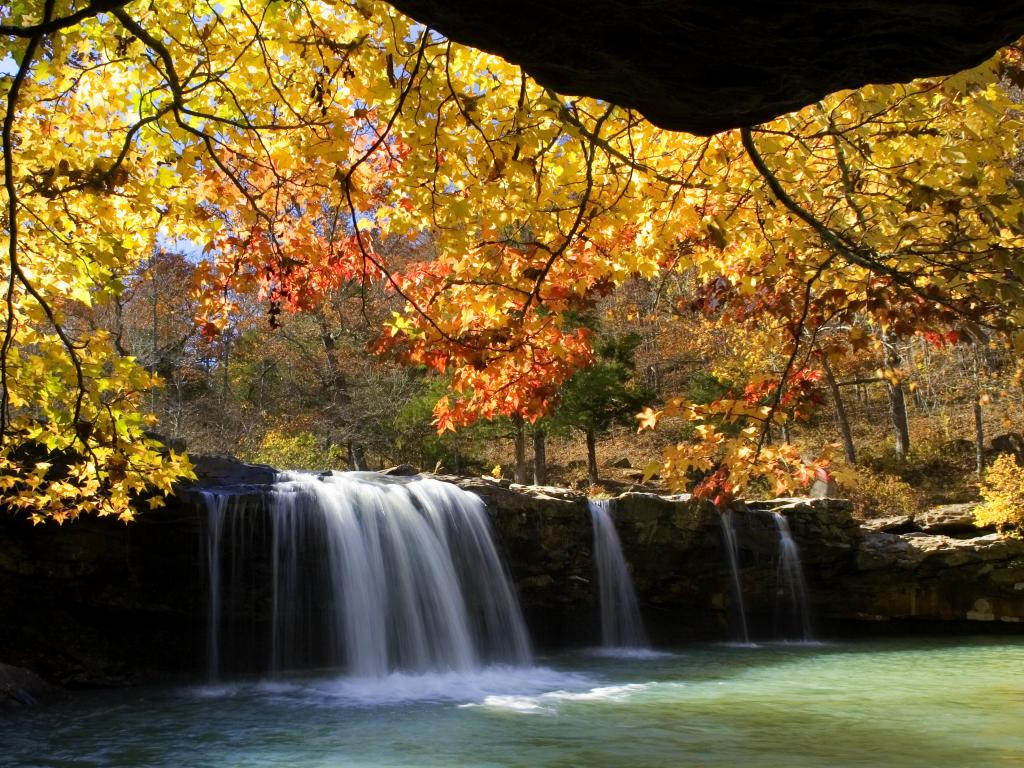 With a population of only 144 people (as of 2020), you could say that Chester is small - but perfectly formed. This small population fosters a sense of intimacy and offers a rare opportunity to truly unplug from the hustle and bustle.
While in Chester, we suggest staying at the beautiful Beard and Lady Inn. Housed in a historic building and surrounded by nature, this charming hotel is less than an hour's drive from Fayetteville Town Center and Arkansas Air Museum, and less than 30 minutes to Fort Smith.
Enjoy free private parking, relax in the garden or the shared lounge, and dine on delicious American cuisine at the on-site restaurant. And if you're looking to explore further, Devil's Den State Park, with its intriguing Moonshiners Cave, is just a 20-minute drive away. Lake Fort Smith State Park, another local gem, is only 12 minutes by car.
Embrace cowboy culture in Oklahoma City
As you might have guessed, Oklahoma City our top choice location for an overnight stop along The Oklahoma City Route. At just over 3 hours into the journey, it's almost halfway to your destination, which is always a great rule of thumb for planning a trip.
Known for its rich cowboy culture and the working oil well in its ground, Oklahoma City offers a glimpse into the unique heritage of the state. As such, we urge you not to miss the National Cowboy & Western Heritage Museum, a tribute to Oklahoma's cowboy roots. For music enthusiasts, the American Banjo Museum is a must-visit, celebrating the banjo's impact on American music culture.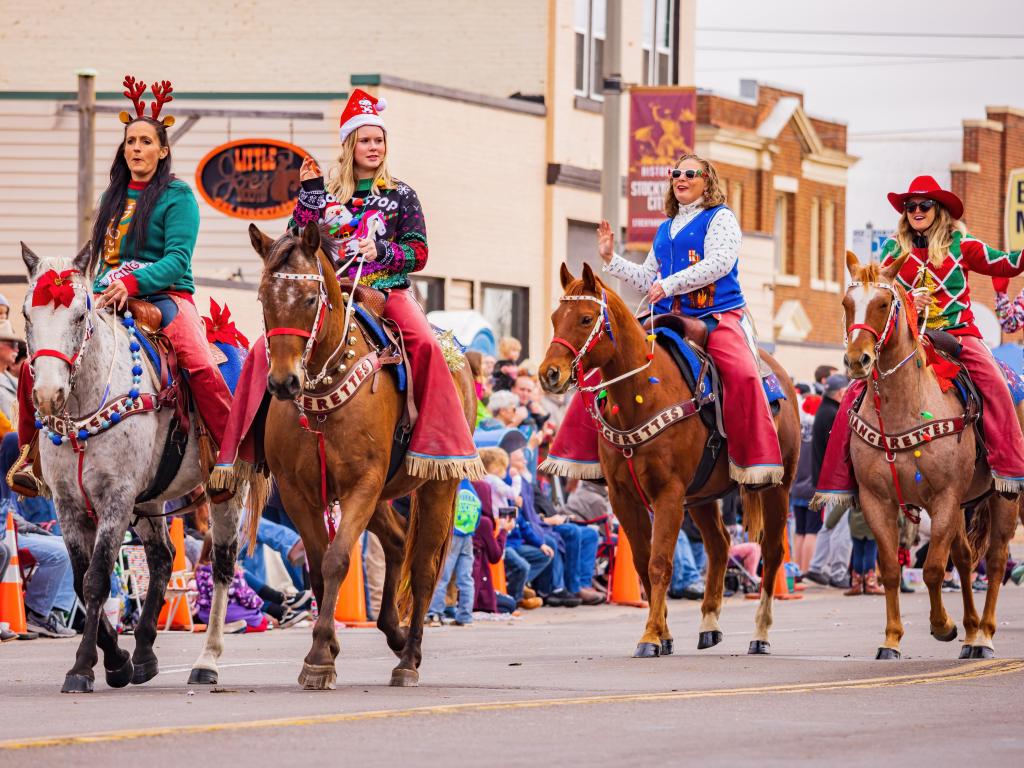 For your stay in Oklahoma City, we highly recommend the Omni Oklahoma City Hotel. This new hotel, situated in the heart of the city's entertainment district, boasts large and luxurious, stylish rooms.
Whether you're enjoying amazing views from the pool on the 3rd-floor roof or relaxing at the awesome bar, this hotel promises a polished and sophisticated experience. Overlooking the 70-acre Scissortail Park, you'll have that urban oasis feel, not far from downtown, with breathtaking views of the cityscape.
If you're in the mood to explore, Bricktown, the city's lively entertainment district, is just a 10-minute walk away. For a more reflective experience, the Oklahoma City National Memorial & Museum is only a 4-minute drive or under a 20-minute walk from the hotel.
Where to stay when you reach Kansas City
Kansas City, fondly known as the City of Fountains, boasts more fountains than any city except Rome. Home to Walt Disney's first animation studio, this cultured city practically vibrates to the rhythm of its famous jazz clubs
Just a heartbeat away from all these cultural attractions, Crossroads Hotel is a beautiful hotel housed in an old, historic building. The industrial touches in the décor are a graceful nod to the building's past, and the great rooftop bar and restaurant promise culinary delights and fantastic views.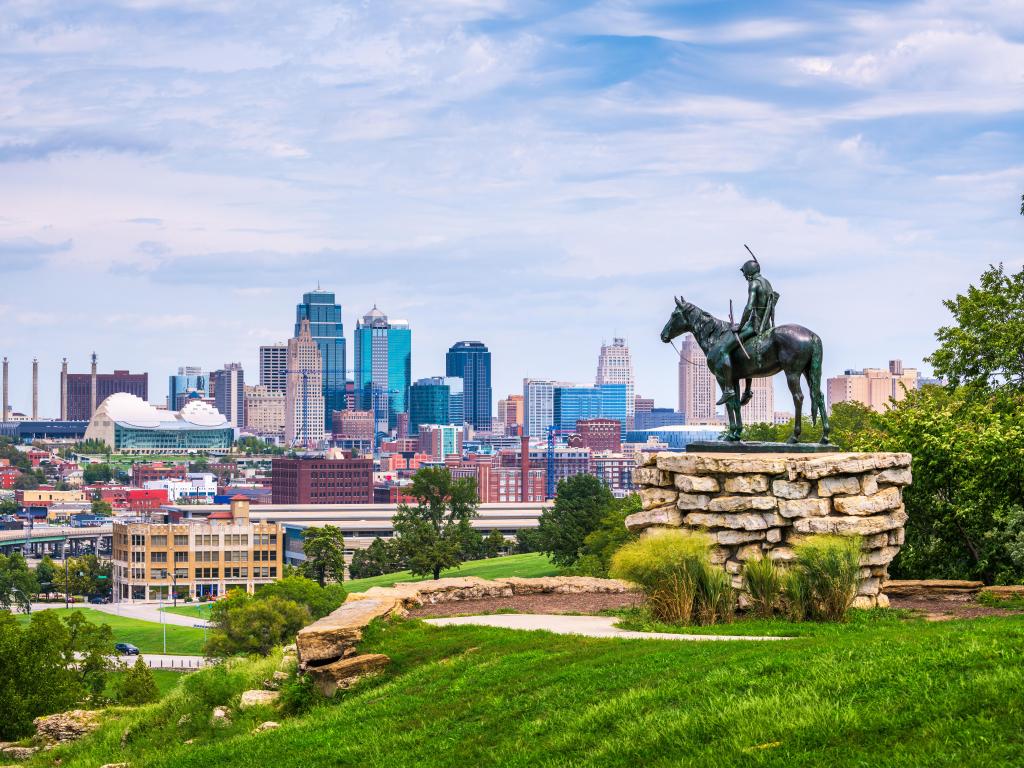 The modern, stylish rooms manage to exude a homely feel, ensuring a comfortable stay. After a day exploring the city, unwind with a game of billiards in the hotel's dedicated space.
The Crossroads Hotel not only offers luxurious accommodations but also a prime location to explore Kansas City's treasures. Whether you're enthralled by art, history, or simply the sounds of jazz, Kansas City provides a rich cultural experience.
Your stay at the Crossroads Hotel will ensure that you enjoy the best of what the City of Fountains has to offer, from stunning rooftop views to homely comforts, all within an elegant industrial-chic setting.
To explore the city's rich history, don't miss the National WWI Museum and Memorial, and make time to admire the art collections at The Nelson-Atkins Museum of Art. The Arabia Steamboat Museum offers a glimpse into the past, displaying cargo from an 1856 shipwreck.
Things to see on a road trip from Dallas to Kansas City
There's no shortage of things to see and do on a road trip from Dallas to Kansas City, whichever route you take. To help you decide on the best fit for you, however, we've listed some our favorite attractions on either route below.
The Ozark Route
Downtown McKinney - A charming historical district with boutique shopping, dining, and a lively arts scene that encapsulates small-town Texas charm.
Grayson County Frontier Village - A fascinating glimpse into early Texan life, featuring preserved log cabins, historical artifacts, and educational exhibits.
Red River Railroad Museum - Explore the rich railroad history through vintage equipment, interactive displays, and memorabilia in a museum dedicated to the Red River Valley rail heritage.
Fort Washita Historic Site - Walk through the ruins of a pre-Civil War era military post, which offers a snapshot of frontier life during the 1800s.
Boggy Depot State Park - An outdoor haven for nature lovers, this park offers hiking trails, fishing, and camping within the historically significant former town site.
Atoka Museum and Civil War Cemetery - Dive into the local history with exhibits on Civil War, Native American culture, and pioneer life, combined with a poignant cemetery.
McAlester Scottish Rite Masonic Center - An architectural marvel, this Masonic center is known for its neo-classical design and serves as a hub for local Freemasonry.
Lake Eufaula - Oklahoma's largest lake, offering a vast playground for boating, fishing, and hiking, with beautiful views and abundant wildlife.
Honor Heights Park - Famous for its stunning azalea blooms, this park in Muskogee boasts gardens, ponds, and a seasonal butterfly house.
Bernice Nature Center - A wildlife oasis offering hiking trails and educational exhibits, perfect for bird watching and immersing in nature at Grand Lake.
George Washington Carver National Monument - Celebrate the life of a renowned scientist with interactive exhibits, a statue, and the preserved childhood home of George Washington Carver.
Grand Falls, Joplin - Missouri's largest continuously flowing natural waterfall, Grand Falls offers a picturesque spot for picnicking and exploring the surrounding terrain.
Route 66 Drive-In, Carthage - Experience a blast from the past at this iconic drive-in theater on the historic Route 66, showing classic and contemporary films.
The Oklahoma City Route
Bayless Selby House Museum - Explore Victorian-era life through well-preserved artifacts and interior design in this historic house-turned-museum in Denton, Texas.
Frank Buck Zoo - A family-friendly zoo in Gainesville, Texas, known for its interactive experiences with exotic and domestic animals and educational programs.
Lake Murray State Park - Oklahoma's first and largest state park, ideal for camping, hiking, boating, and golfing, all set around the beautiful Lake Murray. Visit the Tucker Tower Nature Center while you're here.
Turner Falls Park - Home to Oklahoma's largest waterfall, this park features natural swimming areas, hiking trails, and picturesque landscapes perfect for outdoor adventures.
Chickasaw Nation - Immerse in Native American culture through interactive exhibits, cultural centers, and historical sites within the sovereign tribal territory of the Chickasaw Nation.
The Toy and Action Figure Museum - A playful destination in Pauls Valley, showcasing an extensive collection of action figures and toys that ignite nostalgia and creativity.
Sam Noble Oklahoma Museum of Natural History - Discover Oklahoma's natural wonders, from prehistoric fossils to Native American artifacts, at this comprehensive and engaging museum in Norman.
American Banjo Museum - Celebrate the unique musical heritage of the banjo with instruments, performances, and exhibits at this museum in Oklahoma City.
Bricktown, Oklahoma City - A vibrant entertainment district known for its brick architecture, offering dining, shopping, and nightlife along the charming canal walk.
Oklahoma State Capitol - Admire the blend of Neoclassical and native styles at the seat of Oklahoma's government, including murals and the working oil well on its grounds.
Frontier City Theme Park - Embrace your inner cowboy at Oklahoma City's Western-themed amusement park, filled with thrilling rides, live shows, and family fun.
Exploration Place, Wichita - Ignite curiosity at this hands-on science center in Wichita, featuring interactive exhibits for all ages, from aviation to medieval life.
Wichita Botanical Gardens - Stroll through themed gardens, water features, and art installations at this tranquil escape celebrating horticulture in Wichita.
Museum of World Treasures - Explore history's treasures, from dinosaur bones to ancient artifacts, in this eclectic museum located in Wichita's Old Town district.
Combat Air Museum, Topeka - Aviation enthusiasts will love this museum's collection of military aircraft and memorabilia, chronicling a century of flight history in Topeka.
Evel Knievel Museum - Pay homage to the legendary daredevil at this Topeka museum showcasing Evel Knievel's motorcycles, costumes, and death-defying stunts.
The Lessman Farm & Truckhenge - Experience offbeat folk art at this quirky farm in Topeka, featuring sculptures made from vintage trucks and eclectic recycled materials.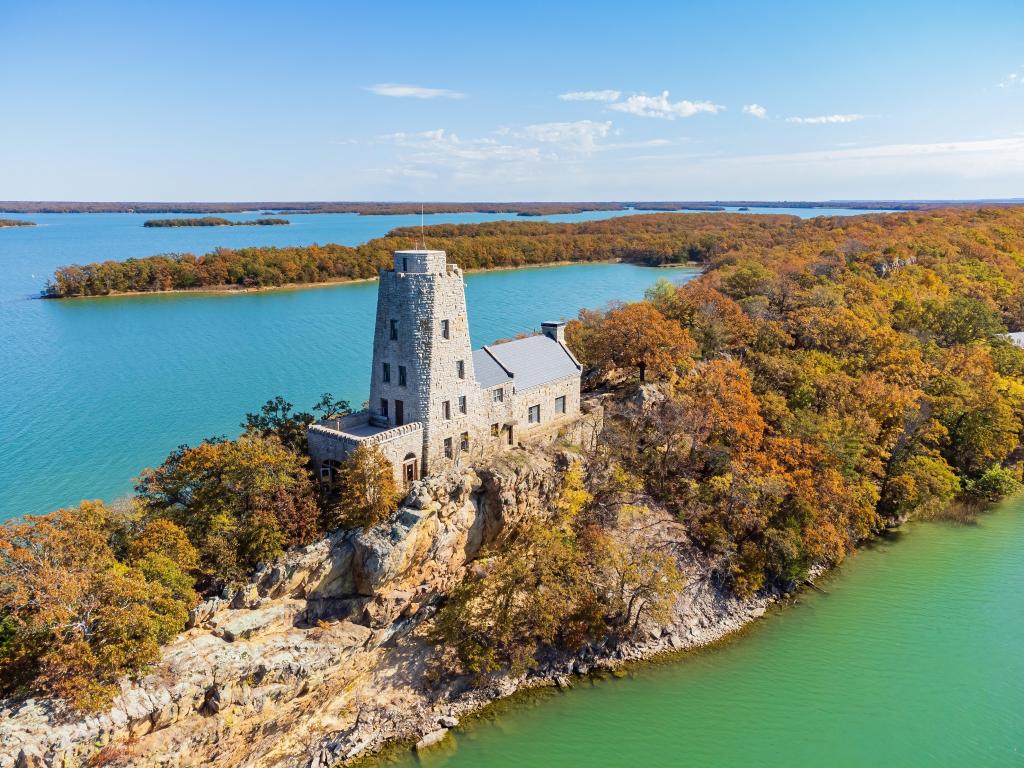 Best time to go on a road trip from Dallas to Kansas City
Kansas City, famously known as the City of Fountains, is an inviting destination with a rich cultural heritage that can be enjoyed year-round. But the season in which you decide to embark on your road trip from Dallas to Kansas City can influence your experience.
Winter in Kansas City sees average temperatures ranging from the mid-20s to the mid-40s Fahrenheit. Road conditions on The Ozark Route are generally manageable, though caution should be exercised during early morning and late evening hours when ice patches are common, especially in January when temperatures can drop below freezing.
If you opt for The Oklahoma City Route, expect some traffic around Oklahoma City and Wichita, but you won't have to worry about terrain and winding roads as you're crossing the plains.
Summer, on the other hand, sees temperatures that can soar into the upper 80s and sometimes 90s. This season offers an easy drive but sees increased traffic around the peak of July 4th when the warm weather is in full swing.
For a warm and lively atmosphere, the most popular time to visit Kansas City is from June to September, which is typically warm with temperatures ranging from the mid-70s to upper 80s.
It's perfect for attending events such as the Oklahoma State Fair in September if you're taking The Oklahoma City Route. If you choose The Ozark Route, you might catch the Old Fort Days Rodeo in Fort Smith in late May.
However, if you're looking for value and fewer crowds, the best value time to visit is between November and March. This period sees cooler temperatures ranging from the low 30s to mid-50s. Just be mindful of potential icy conditions, particularly on The Ozark Route.
Don't forget to time your arrival in Kansas City to coincide with the Kansas City Irish Fest during Labor Day Weekend, a vibrant celebration that will be a spirited way to end your drive.
With so much to explore and enjoy on this road trip, Kansas City and its surroundings offer a delightful adventure with options to suit every preference, from the cowboy culture of Oklahoma City to the jazz and art of your final destination.