Road Trip from Des Moines, Iowa to Yellowstone
Get ready to discover the awesome sights and scenery of the American West on this epic road trip from Des Moines, Iowa to Yellowstone National Park. The journey will take you across an unforgettable landscape of the open country, national parks and forests, and historical sites.
The 1,260-mile road trip takes over 20 hours to drive. Highlights in the north include Sioux City, Badlands National Park, and Mount Rushmore, with Denver, Rocky Mountains National Park, and Salt Lake City among the notable stops in the south.
We have found the best routes and attractions between Des Moines and Yellowstone. So, read on to discover our recommendations for getting the most out of this wonderful adventure, which will take you from the state capital of Iowa to one of the country's most magnificent national parks.
How far is Yellowstone from Des Moines, and how long will the road trip take?
Comparison of road trip route options between Des Moines and Yellowstone

| Route | Distance | Driving Time |
| --- | --- | --- |
| The Northern Route | 1,260 miles | 20 hours 20 minutes |
| The Southern Route | 1,680 miles | 29 hours |
This is one of our epic road trips, in terms of mileage and scenery. Whichever of our routes you choose, expect plenty of contrasts that highlight the best of the American West.
The shorter option is the Northern Route, which covers 1,260 miles and takes around 20 hours and 20 minutes to drive directly. This route takes you through magnificent state parks and interesting small towns.
Our Southern Route covers 1,680 miles and will take approximately 29 hours to drive, non-stop. This route takes in several large cities, as well as plenty of open country.
The shortest amount of time needed to drive the Northern Route is about three days, and four for the Southern Route. However, we would suggest setting aside between five and 10 days for this trip, as there is lots to see and lots of miles to cover.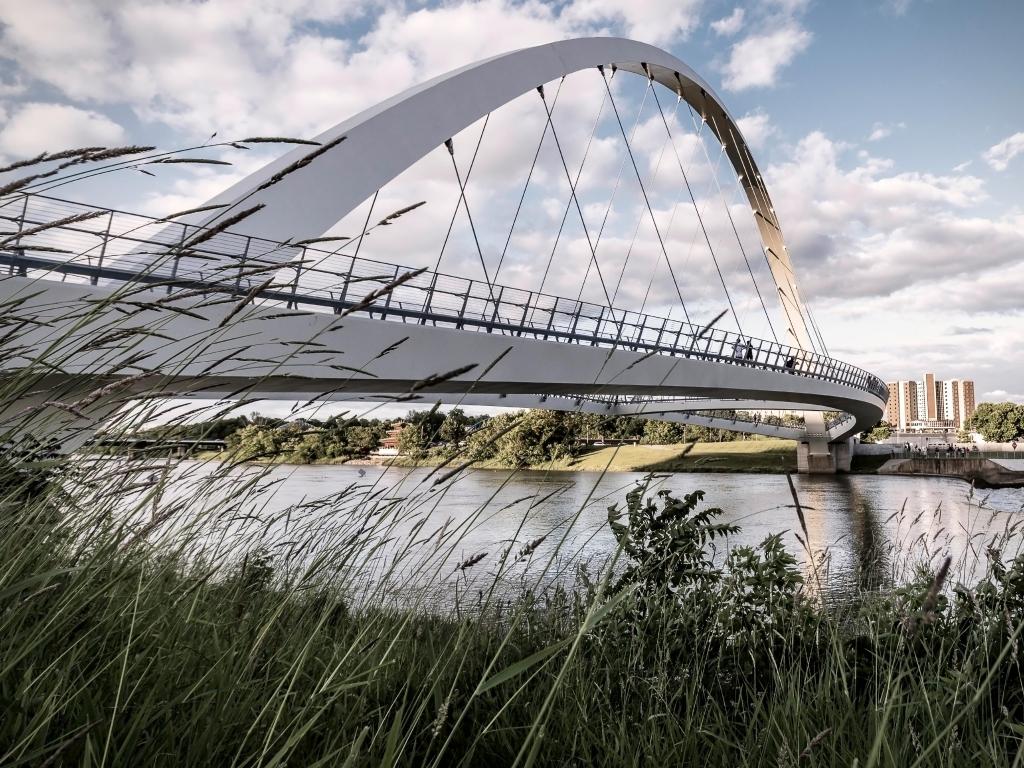 Best road trip route from Des Moines to Yellowstone
Which of our routes you choose will likely depend on your preference for city or country, as well as the amount of time you have for your trip.
Our Northern Route takes in Badlands National Park and Mount Rushmore, as well as Black Hills National Forest and Custer State Park. As such, it's a wonderful opportunity to explore some beautiful scenery and discover the expansive landscape of South Dakota and Wyoming.
Alternatively, our Southern Route includes the cities of Lincoln and Omaha in Nebraska, as well as Denver, Colorado and Salt Lake City, Utah. Natural highlights of this route include Rocky Mountain National Park. Overall, this route offers more of a contrast in terms of cityscapes and country.
Both these routes mean lots of driving, with the Southern Route encompassing a lengthy stretch on the interstate. However, you can break up the driving time with plenty of interesting stops along the way.
The Northern Route
Leave Des Moines via Interstate-80 (I-80) West, passing near Omaha on the Iowa/Nebraska border. Follow the Missouri River as you make your way to Sioux City.
After spending time in Sioux City, head towards Sioux Falls, crossing from Iowa into South Dakota along the way. From Sioux Falls, continue west, crossing the Missouri River and maybe stopping at the riverside town of Chamberlain on your way to Badlands National Park.
From the Badlands, pick up I-90 West again as you journey towards Rapid City. When you're ready to leave Rapid City, continue south on US-16 to Mount Rushmore and Black Hills National Forest. US-16 will then wind through the town of Custer and on to Custer State Park.
From here, continue on as you make your way to Hot Springs and Wind Cave National Park. Leave Wind Cave, heading west, and cross the state line into Wyoming. Take I-25 North, heading for the town of Casper on the North Platte River.
From Casper, continue west on US-26, all the way to Grand Teton National Park and Bridger-Teton National Forest. When you've finished exploring, continue north to your destination at Yellowstone National Park.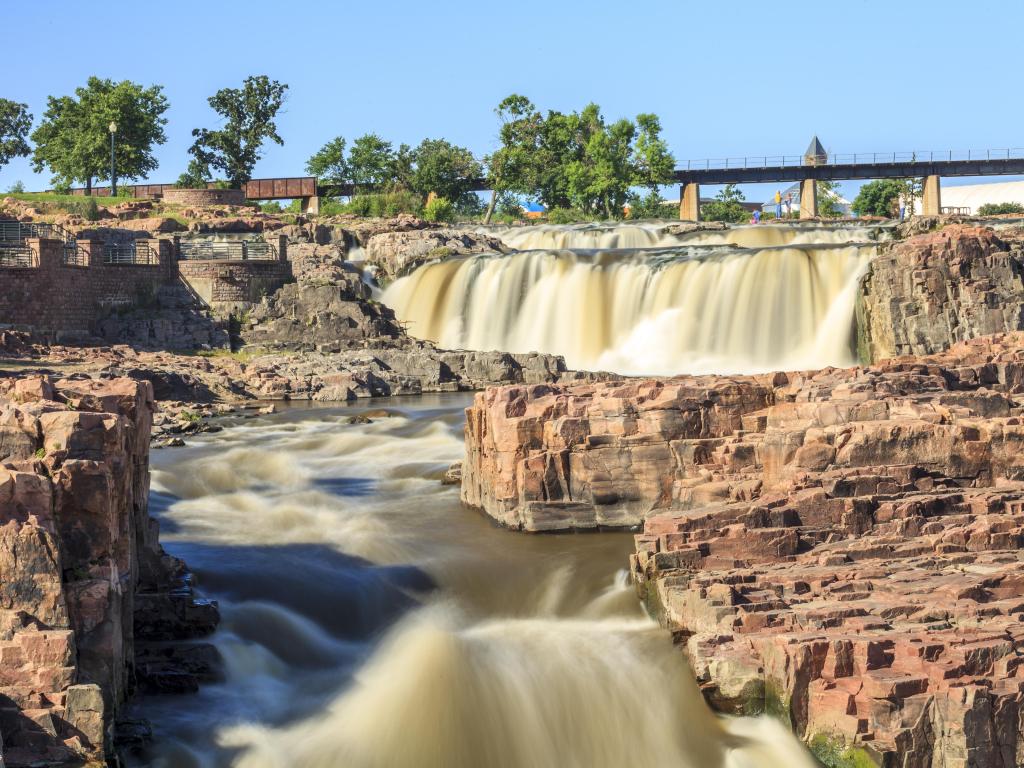 The Southern Route
For this route, you again leave Des Moines via I-80 West, this time heading for downtown Omaha, which takes you out of Iowa and into the state of Nebraska.
Continue west for the short drive to Lincoln, crossing the Platte River on the way. Get back on the interstate and safely enjoy the open farmland vistas as you cross into Colorado and journey on to Denver.
From Denver, pick up US-36 West for Boulder and continue on this road all the way to Rocky Mountains National Park. This portion of the trip takes you to some high altitudes with stunning long-range views.
The road through the Rocky Mountains will then wind south. Just past lovely Lake Granby, continue on to White River National Forest.
Once you've finished exploring White River, head towards the town of Rifle, and head north. Cross into Utah and continue on to Dinosaur National Monument. From here, head west, following the signs for Salt Lake City.
Leave Salt Lake City via I-15 North and cross the Idaho state line as you make your way to Idaho Falls. Continue north, passing Caribou-Targhee National Forest and crossing the state line into Wyoming for your destination, Yellowstone National Park.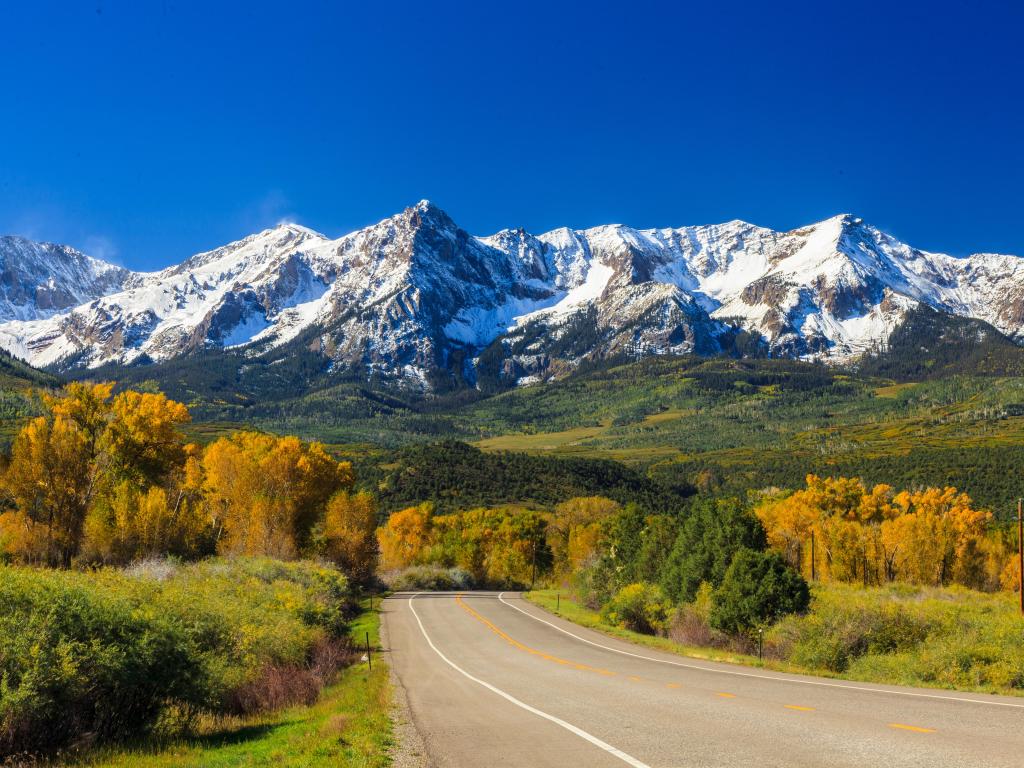 Best places to stop between Des Moines and Yellowstone
Both our routes offer some great options for taking a welcome overnight break from the road. We've picked out just two that we think make great stops on this epic adventure, as well as a suggestion for a stay once you reach Yellowstone National Park.
Modern convenience in the heart of Rapid City
On the Northern Route, our recommendation for an overnight stop is Rapid City, located around halfway through the trip. Rapid City is a gateway for exploring many of the area's highlights, including Mount Rushmore, the Black Hills, Wind Cave National Park and Custer State Park.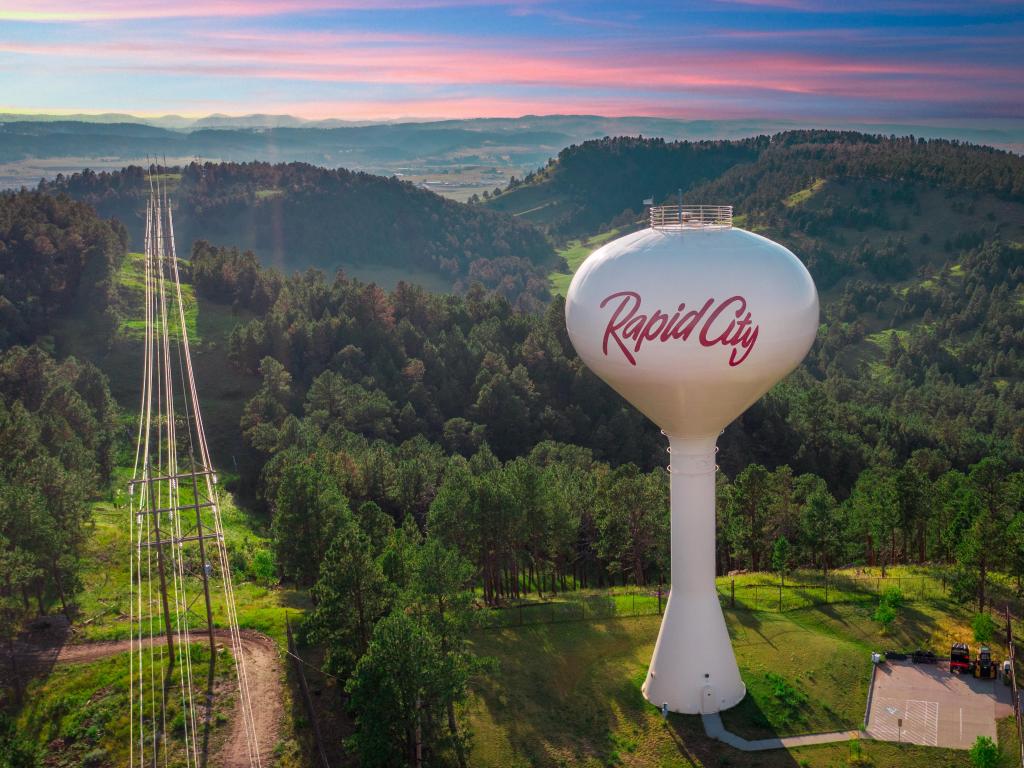 In Rapid City itself, you can visit the Journey Museum & Learning Center, which celebrates South Dakota's rich history, and the Suzie Cappa Art Center. Also, be sure to enjoy a stroll through the characterful downtown area to see the vibrant street art.
For an exceptional overnight stay, we recommend The Rushmore Hotel & Suites, part of the BW Premier Collection. The hotel boasts a fantastic central location that brings many of the city's attractions within easy walking distance.
You can take advantage of the hotel's free parking and explore on foot. As the hotel boasts a stellar location, most attractions and the dining and shopping options of Main Street Square are just 10 minutes away.
Back at the hotel, you can relax in your modern, spacious and eclectic guestroom or enjoy a meal at the superb restaurant. There is also a classy martini bar, which features live music at the weekends, plus a fitness suite, in case you want to get in some cardio after all those miles on the road!
A stylish stay in downtown Denver
Our choice on the Southern Route is the bustling city of Denver, which you'll reach about 10 hours into your trip, without stops.
Known as the "Mile High City" due to its lofty elevation, Denver offers plenty of dining, shopping and attractions. It also serves as a gateway to the Rocky Mountains, so a night or two here is well worthwhile.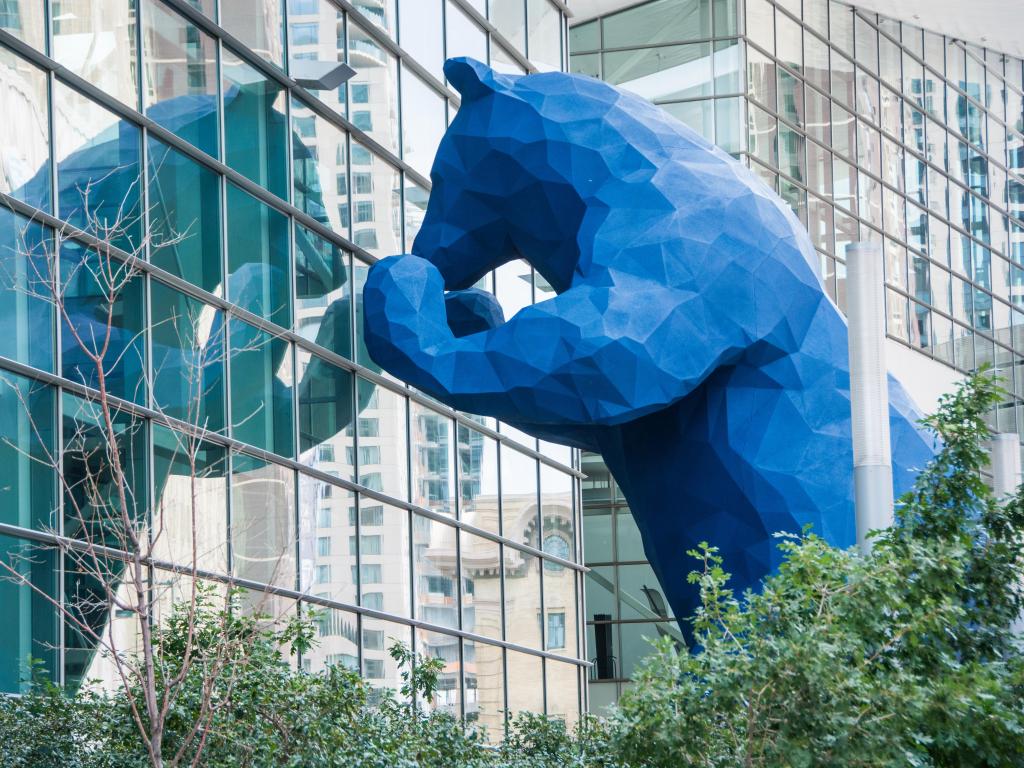 While you're here, you might like to visit the Museo de las Americas, which is dedicated to the city's Hispanic culture, while the tranquil Botanic Gardens offer a wonderful way to stretch your legs after that long drive.
For an overnight stay, it is hard to parallel the chic Kimpton Hotel Born, an IHG Hotel. Ideally located in the heart of Denver, you can enjoy a real break from the road and go exploring on foot. Alternatively, the hotel offers free bike hire.
The Museum of Contemporary Art, Denver Art Museum and Colorado History Museum are all within easy reach, as are a wide choice of restaurants and bars.
Look forward to a restful night in one of the well-appointed guestrooms, some of which have city or mountain views. You can also sit down to dine in the excellent on-site restaurant and unwind over a drink at the elegant bar before calling it a night.
Comfort and luxury in Cody
Other than camping, accommodation options are limited in Yellowstone National Park. The town of Cody, Wyoming is therefore a great choice for a nearby base.
There's also lots to see in Cody itself, including Whitney Gallery of Western Art, Cody Old Trail Town and Cody Rodeo Ground. You will find plenty of food and drink options in town.
Our choice for a comfortable and welcoming stay is The Cody, a lodge-style hotel located about an hour's drive along Yellowstone Highway to the park's East Entrance. Here, you can relax in the luxurious guestrooms, enjoy a dip in the lovely indoor pool, or unwind in the informal communal areas.
You can also take advantage of the free on-site parking and look forward to a complimentary hot breakfast each morning to set you up for a day's exploring.
Things to see on a road trip from Des Moines to Yellowstone
To help you choose your route and plan the perfect itinerary, we've picked out some of the highlights of this diverse road trip.
Both routes
John Wayne Birthplace Museum - Located just outside Des Moines, this interesting museum is dedicated to the life and legacy of the film star.
De Soto National Wildlife Refuge - Enjoy a stop at this peaceful wetland wilderness on the banks of the Missouri River, where you can view the wildlife and migrating birds.
Loess Hills National Scenic Byway - Both our routes allow a detour to enjoy a stretch of this stunning scenic drive, before rejoining the main route to Sioux Falls or Omaha.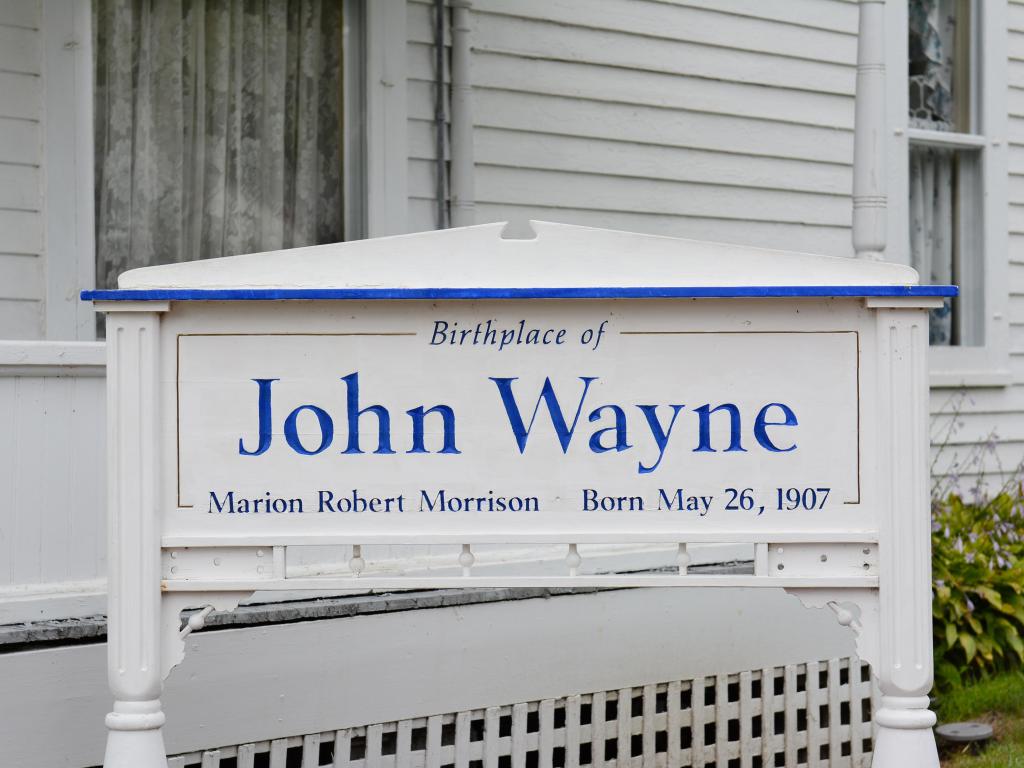 The Northern Route
Sioux Falls, South Dakota - Here, you can explore Falls Park and the Big Sioux River, while the peaceful Japanese Gardens offer a welcome break from the road.
Badlands National Park -Cross the wide grass prairie to view stunning rock formations, steep canyons and towering spires, and maybe spot a prairie dog or two.
Minuteman Missile National Historic Site - Learn about the time when 1,000 nuclear missiles were ready to launch from the Great Plains. You can book a tour of the launch facility, control center, bunker and missile silo.
Mount Rushmore - One of the US' most popular tourist sites, Mount Rushmore features the 60-foot high faces of presidents Washington, Jefferson, Roosevelt and Lincoln carved into the rock face.
Black Hills National Forest -You can hike, climb, mountain bike or simply take a gentle stroll in this stunning national forest, which features lakes and soaring mountain peaks.
Custer State Park - Great for wildlife spotting, the park is home to elk, antelope, prairie dogs and coyotes, as well as a large herd of free-roaming bison. Meanwhile, water sports fans can enjoy the park's five lakes.
Hot Springs, South Dakota - Here, you can visit the Mammoth Site, which features more mammoth bones per square meter than anywhere else in the world.
Wind Cave National Park - One of the world's longest caves, Wind Cave features some unique rock formations (we recommend arriving early to secure a place on one of the ranger tours). Above ground, there's a large grass prairie which is home to abundant wildlife.
Bridger Teton National Forest - On the border of Yellowstone National Park, this 3.4 million acre forest is worth a visit in its own right, offering stunning lake and mountain landscapes.
Grand Teton National Park - Surrounding Grand Teton Mountain, a magnet for experienced climbers, you can also kayak or sail on the park's lakes or the Snake River.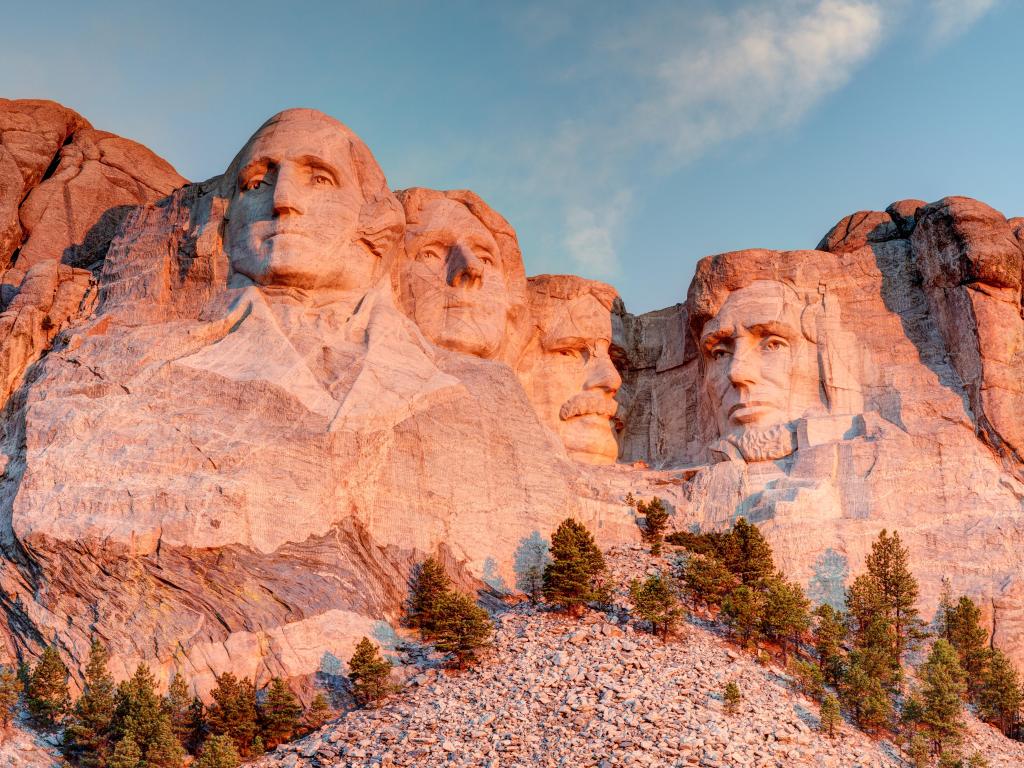 The Southern Route
Omaha, Nebraska - The state's largest city, you can visit Joslyn Art Museum, Durham Museum and the Henry Doorly Zoo & Aquarium. You can also enjoy a walk by the Missouri River.
Strategic Air Command and Aerospace Museum - Located near Ashland on Interstate 80, this Smithsonian-affiliated museum is dedicated to America's Cold War air defences.
Lincoln, Nebraska - We recommend a stop at the state capital city, where you can visit the Sheldon Museum of Art and the renowned 1.5-acre Sunken Gardens.
Homestead National Historical Park - This site features reconstructed buildings from the 1860s, when the Homestead Act allowed pioneers to claim federal land as their own.
Kearney, Nebraska - One of the attractions here is the Classic Car Collection, which contains over 200 automobiles, as well as a 1950s gas station and memorabilia.
Colorado Model Railroad Museum - Located in Greeley, this interesting museum is certainly worth the short detour from Denver.
Rocky Mountain National Park - Here, you can enjoy a scenic drive through the mountains or hike one of the many trails to enjoy unforgettable views of the Rockies. Keep in mind that the national park uses a timed entry permit system. Please check the national park's website to see if you need to make a reservation before your visit.
White River National Forest - Worth a visit to see the dinosaur fossils in the rocks and the ancient petroglyphs.
Salt Lake City, Utah - The state capital offers plenty to enjoy. You can stroll through Temple Square, visit Salt Lake Tabernacle, and enjoy the view across the Great Salt Lake.
Antelope Island State Park - While this 42 square mile park, located within the Great Salt Lake, is named for the resident antelope, you're also likely to see some of the free-ranging bison and maybe a bighorn sheep or two.
Lava Hot Springs, Idaho - Enjoy a stop at this charming town, famed for its indoor and outdoor natural hot springs.
Idaho Falls, Idaho - Take a walk through the historic downtown district or stroll by the banks of the Snake River. Learn more about the state at the Museum of Idaho or pay a visit to nearby Craters of the Moon National Park.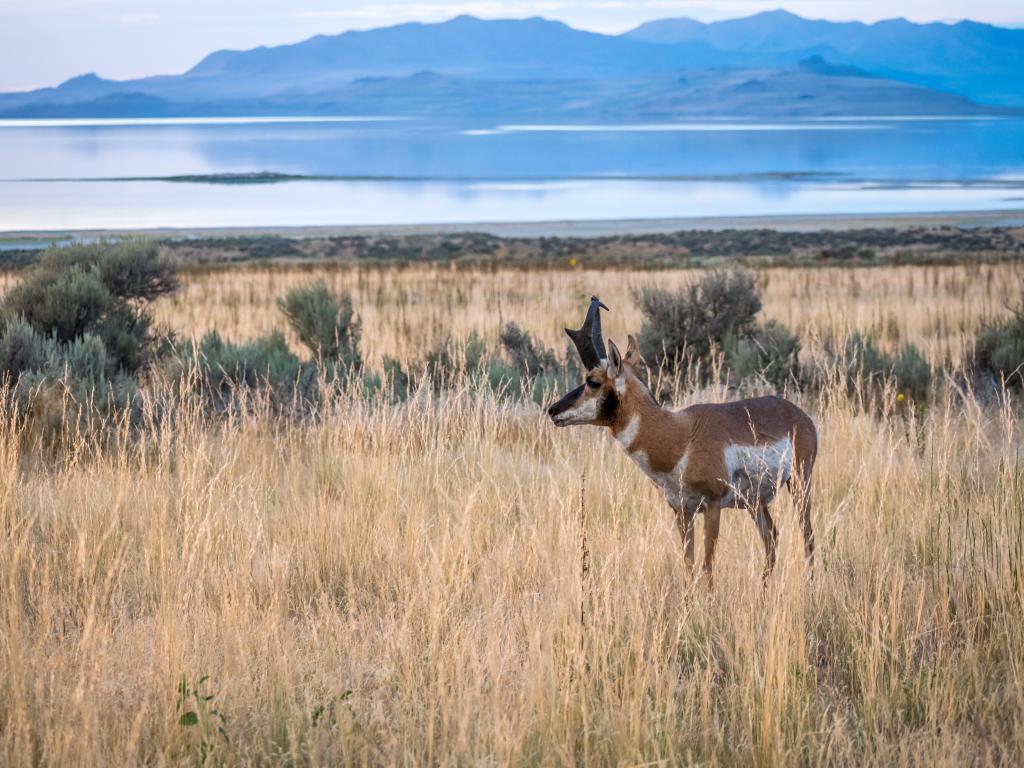 Best time to go on a road trip from Des Moines to Yellowstone
This epic trip can be undertaken all year round because there are plenty of attractions both indoors and outdoors. However, it is good to keep in mind that given the diversity of this road trip, it's not surprising that you will experience significant variation in temperatures.
Winter is great for skiing in the Rockies or to witness the beautiful snowy landscape. However, parts of both routes might experience reduced accessibility, including roads through Yellowstone. Expect snow and rain along the routes.
April brings temperatures of around 40 degrees Fahrenheit to Yellowstone, extending to near 70 degrees along parts of our routes in May. Expect significant rain in Denver during these months.
During the summer, you (and the crowds!) will enjoy temperatures of 70+ degrees in Yellowstone, rising close to 90 degrees in Denver and Rapid City. Early fall is one of the best times to enjoy this road trip, with fewer visitors at Yellowstone, temperatures of between 60 and 80 degrees, and relatively low rainfall.
On the Northern Route, October brings the three-day Black Hills Powwow in Rapid City, which is one of the US' biggest celebrations of Native American culture. This month also hosts the spectacular Custer State Park Buffalo Roundup.
On the Southern Route, January in Denver brings the National Western Stock Show, one of the country's biggest rodeos and horse fairs. You can also celebrate the city's Hispanic heritage at May's colorful Cinco de Mayo festival.