25 Best Road Trips from Minneapolis
Minneapolis is deservingly famous for its sleek skyline and beautiful scenic surroundings. From the Mall of America to the shimmering Chain of Lakes and the largest sculpture garden in the country, Minneapolis has plenty to discover within its city limits. For those willing to venture beyond the city's urban edge, however, the opportunities for fun and adventure only multiply.
Take a road trip from Minneapolis and explore quaint towns on the mighty Mississippi River, cruise the vast forests and glacial lakes to the north, marvel at the sculpted shores of the Great Lakes, and drive through America's heartland to some lively cities and stunning National Parks.
If you're ready for a quick weekend getaway or the trip of a lifetime, read on to discover all the amazing journeys you can take from Minneapolis, including day trips, weekend getaways and longer vacation trips. For a quick sample of our top picks in each category - and links to each section - this table below should be helpful:
Best road trips from Minneapolis: a quick overview
Day trips from Minneapolis (under 3 hours each way)
The following trips can be done in less than three hours - perfect for a sunny day with nothing on the schedule.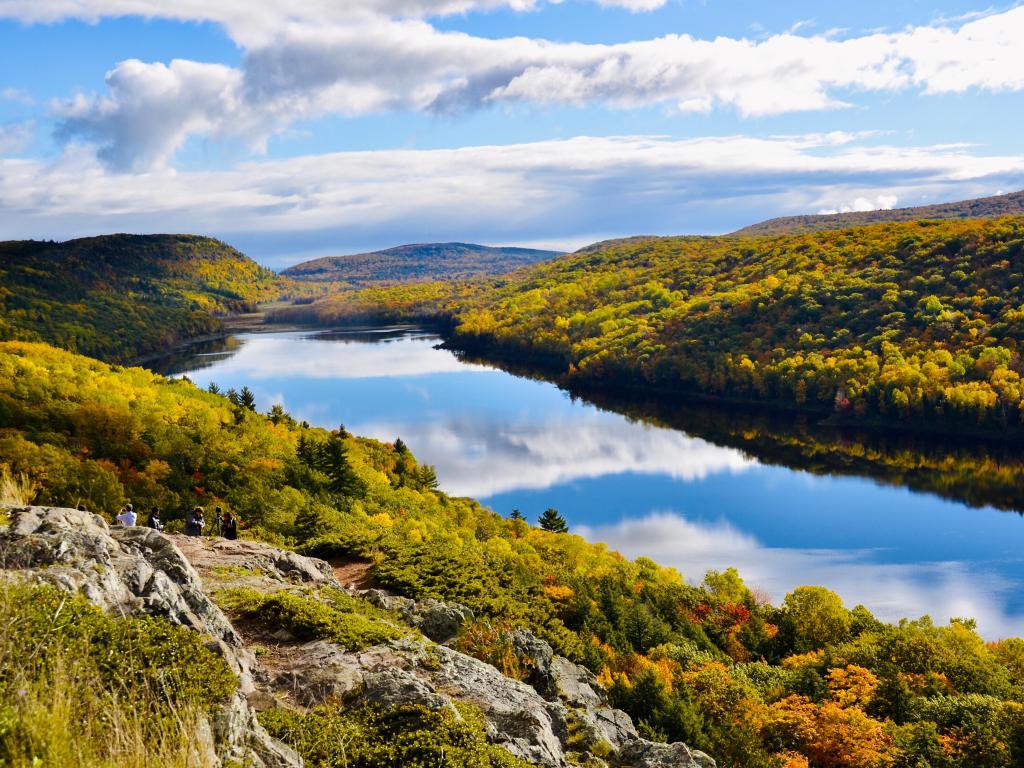 1. Stillwater, MN
30 minutes from Minneapolis (26 miles)
Why you should visit: A gem located on the St. Croix River, Stillwater is known as the "Birthplace of Minnesota" and sits on the state line with Wisconsin. This beautiful but underrated city with a vibrant Main Street featuring stunning early 20th-century architecture and over 100 miles of biking trails.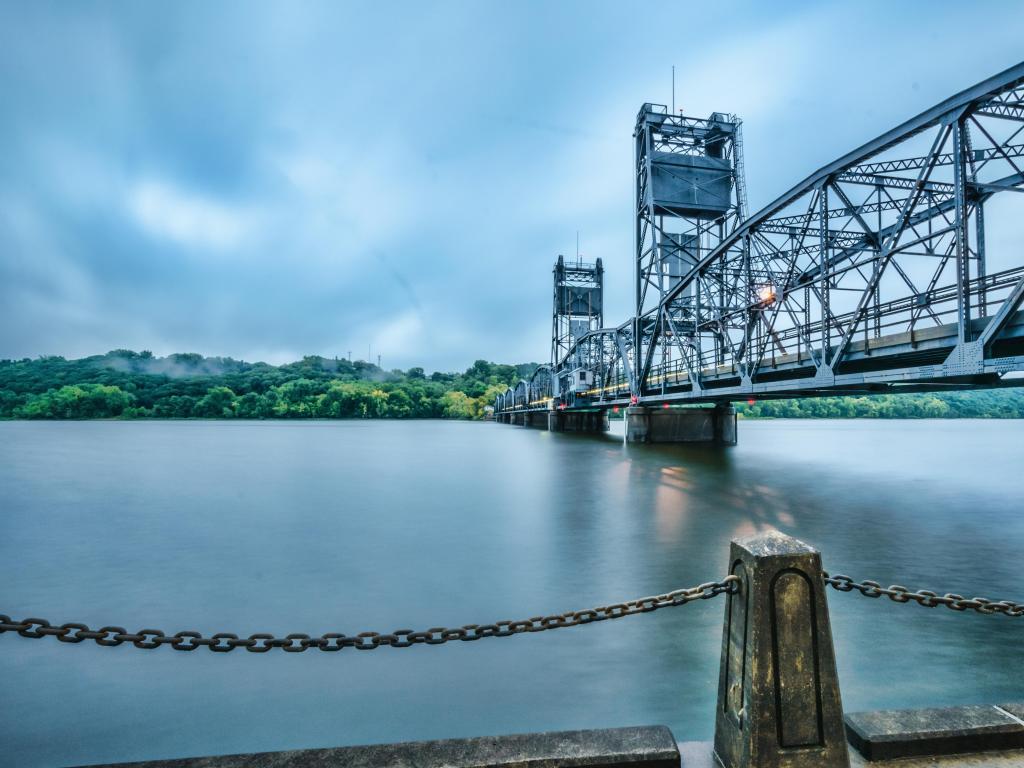 How to get there: Go north on Interstate 35 (I-35) W to get to Minnesota Route 36 E (MN-35 E). Drive on MN-36 E until you get to the Stillwater Blvd exit, then head towards Country Rd 5. In less than 3 miles you reach Stillwater via Myrtle St.
Our highlights: The town of Stillwater is older than the state of Minnesota. At the intersection of Main St. &Myrtle St., a convention was held that marked the birthing of Minnesota as a state.
Once you arrive, walk along the historic Stillwater Lift Bridge, built in 1931, that connects Minnesota with Houlton, Wisconsin. While wandering downtown, be sure to see the Washington County Historic Courthouse, which dates to 1870 and is the oldest one still standing in all of Minnesota.
After some daytime exploration, go for an evening riverboat cruise as the sun sets on the Mississippi.
Stillwater is also a low-key foodie paradise. Locals and tourists alike flock to downtown restaurants like Lolo American Kitchen to satisfy their inner gourmand.
If you come to Stillwater in the fall, have fun picking apples at Aamodt's Apple Orchard and don't forget to try some of their award-winning cider!
Our travel tips: You can visit here year-round, but the winters are harsh. If you do come during the winter, Afton is a winter destination not too far away. During the fall there are lots of harvest festivities and bountiful orchards.
2. Hastings, MN
37 minutes from Minneapolis (30 miles)
Why you should visit: This is one of the shortest trips from Minneapolis on this list and a charming destination in its own right with picturesque waterfalls and beautiful parks to explore.
This small town with a rich agricultural history is also situated along the confluence of the St. Croix, Vermillion, and the great Mississippi River, making it a very scenic destination that is only a day trip away.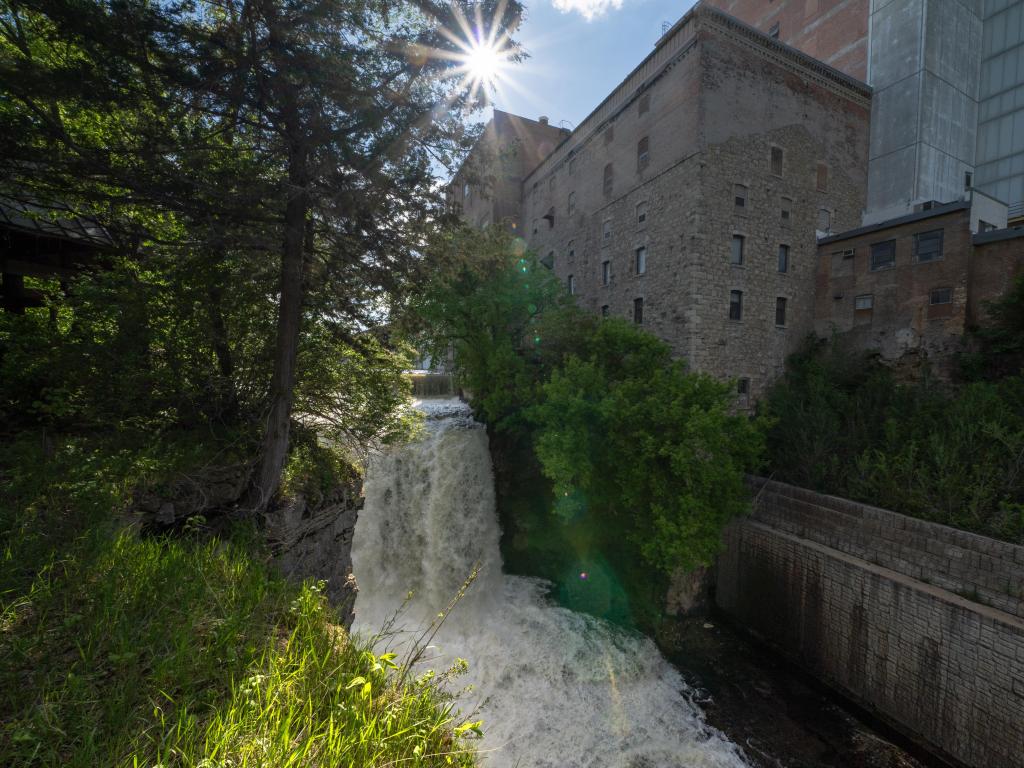 How to get there: From Downtown Minneapolis, get on the I-94 East from South 6th St and follow it and US-61 until you cross the Hastings Bridge. The popular Levee Park will be just on your left as you cross the bridge, accessible via Sibley off 2nd St if you'd like to stop there first.
Our highlights: One of the most popular attractions in Hastings is a leisurely walk up to Vermillion Falls with a rewarding view of this waterfall and an old mill nearby. Levee Park is a great place to stroll along the Mississippi and take in sweeping views of the bridges going into Hastings.
If you'd like to spend more time in nature on this trip, the verdant Afton State Park is only a 10-mile drive away from Hastings and you can take the St. Croix Scenic Byway to get there.
Be sure to stop by the Spiral Brewery as you explore the quaint downtown area. It is an increasingly popular Hastings highlight that is also family and dog friendly. Spiral Brewery doesn't take reservations and is closed on Mondays.
As a bonus, you can also go wine tasting in Hastings! The Alexis Bailly Vineyard, the first winery in Minnesota, is just 5 miles south of the downtown area.
Our travel tips: The most pleasant time to visit Hastings is in June-September. If you come in the winter, you can ski in the nearby Afton Alps.
3. Red Wing, MN
1 hour from Minneapolis (55 miles)
Why you should visit: This is another riverside town that packs in history, natural beauty, a quaint downtown, art, and industrial heritage.
Known for its towering bluffs and a great selection of 19th-century architecture, Red Wing is a popular weekend getaway. Its offerings are so impressive that in 2008 the National Trust for Historic Preservation put Red Wing on its "distinctive destination" list.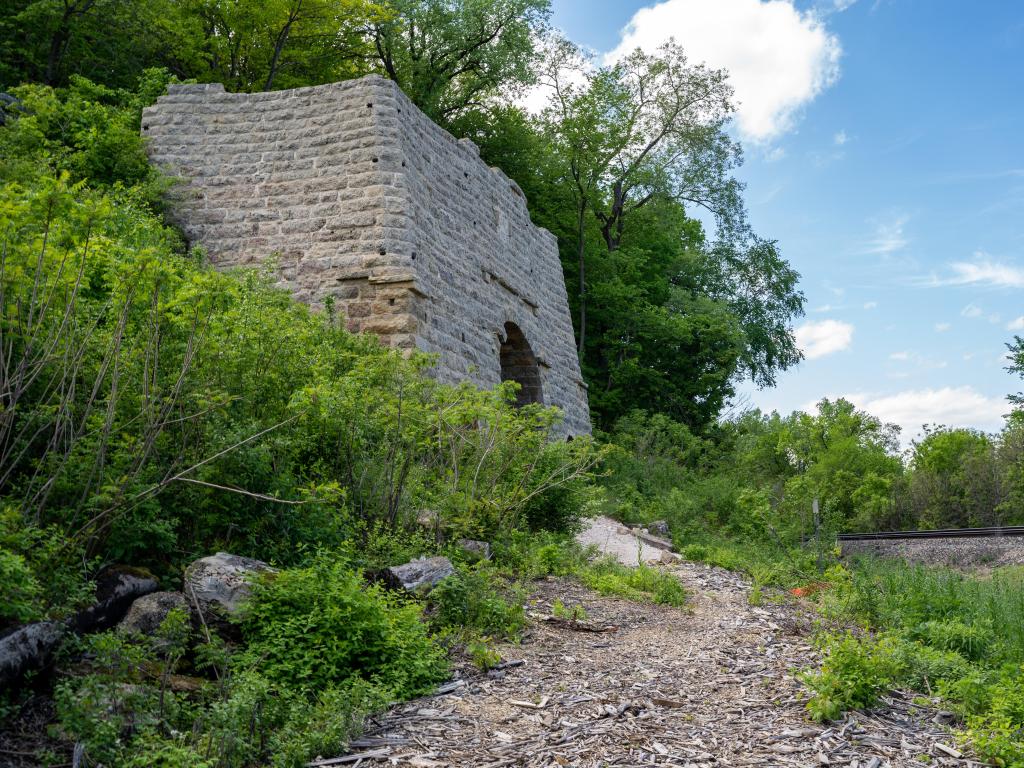 How to get there: Take I-94 E to US-10 E and head south. Get on WI-35 S in Prescott and continue until you get to Highway 63 in Hager City which will take you across the river to Red Wing.
Our highlights: A quiet walk up the distinctive Barn Bluff or Soren's Bluff will offer stunning views of Red Wing and the Mississippi. If you want to get a sense of the "sole" of Red Wing and visit their Shoe Store and Museum right on the historic Main Street. For any crafters, there's also a Pottery Museum right downtown.
Locals enjoy the extensive trails and numerous parks that allow you to see the many beautiful facets of Red Wing.
If you'd like to spend even more time in nature, Lake Pepin is a 20-minute drive from Red Wing. It is a naturally wide and scenic section of the Mississippi where you can go hiking, biking, golfing, or even sailing and admire more beautiful bluffs from the water.
If you come to Red Wing in February, be sure to bundle up and catch the Big Turn Music Festival, which features over 200 bands and is an increasingly popular regional music event.
Our travel tips: For a pretty drive, try to take a small scenic stretch of Highway 61 from Red Wing to Pepin Lake. You can also go on a guided tour with a naturalist to learn more about the local ecosystems, see their website for more information about this local government initiative.
4. Northfield and Faribault, MN
1 hour 5 minutes from Minneapolis (60 miles)
Why you should visit: Travel from the Twin Cities to the Twin Towns of Northfield and Faribault for a trip filled with local history, outdoor exploration, arts, and crafts.
The slightly larger town of Northfield has a well-curated museum and Art Center while nearby Faribault boasts an extensive Nature Center and fully operational wool mill.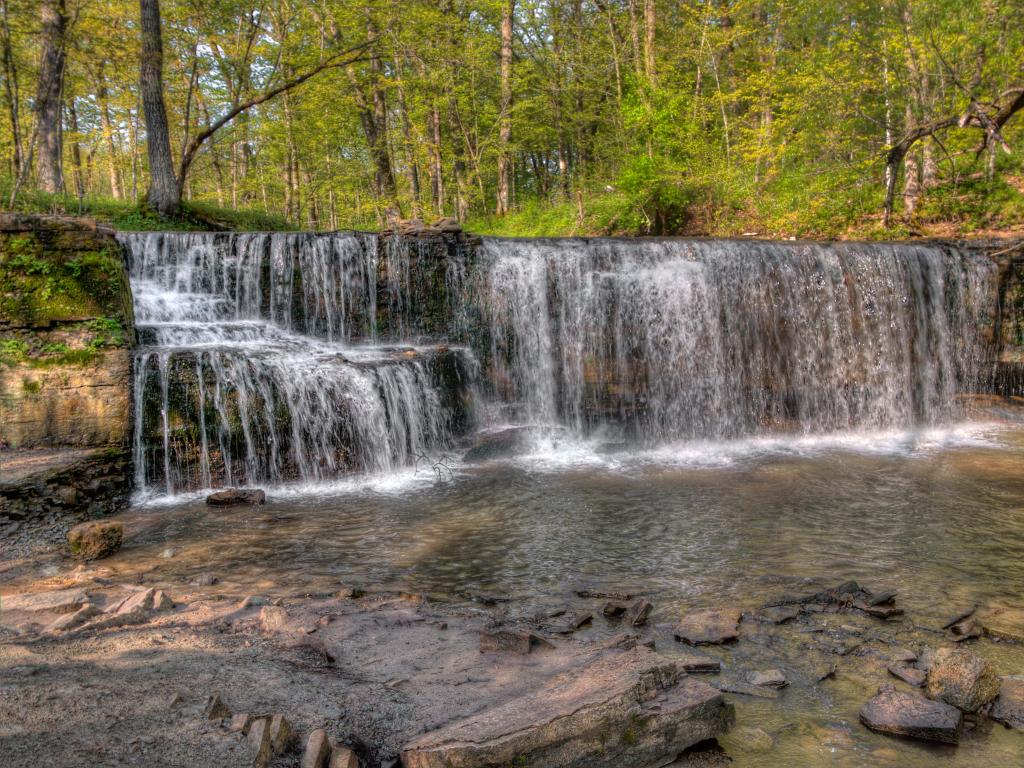 How to get there: Start heading south on I-35 W and follow it as it becomes I-35 S. Follow Colvill Memorial Hwy to Dahomey Ave to reach Northfield. From there, take MN N-3 S/ Hiawatha Pioneer Trail to get to Faribault.
Our highlights: At the Northfield Historical Society Museum, housed in an old First National Bank building, learn about the area's rich history. Just down the street, the Northfield Arts Guild is a vital community hub for local creatives and visitors alike.
Come to enjoy works on display, watch a performance, or take a class. A little outside of town, the Fireside Orchard Gardens is a fun place to pick and taste seasonal fruit and indulge in fudge and warm apple pie.
In Faribault, fabric connoisseurs will delight in the Faribault Woolen Mill, where you can learn about the 22 steps raw wool goes through to become a final product and shop for some warm winter wear.
For outdoor enthusiasts, be sure to visit the River Bend Nature Center, which has an extensive trail system along the river and through forests.
The First National Bank in Northfield was the site of an attempted robbery by Jesse James and his gang in 1876, but the locals fought back. Every year they celebrate The Defeat of Jesse James Days over Labor Day weekend. This makes for a particularly festive time to visit the town.
Our travel tips: To tour the Faribault Woolen Mill you need to make an appointment in advance and the best time to visit the Fireside Orchard is in the fall for the apple harvest.
5. Alexandria, MN
2 hours 5 minutes from Minneapolis (135 miles)
Why you should visit: Surrounded by hundreds of lakes, this vacation hotspot is perfect to fish for Walleye and have plenty of aquatic fun in the sun.
Perhaps not quite as ancient as its Egyptian namesake, Alexandria boasts historical charm and regularly makes it on lists of the best small towns in America. So, it's not just us who think it's worth a visit.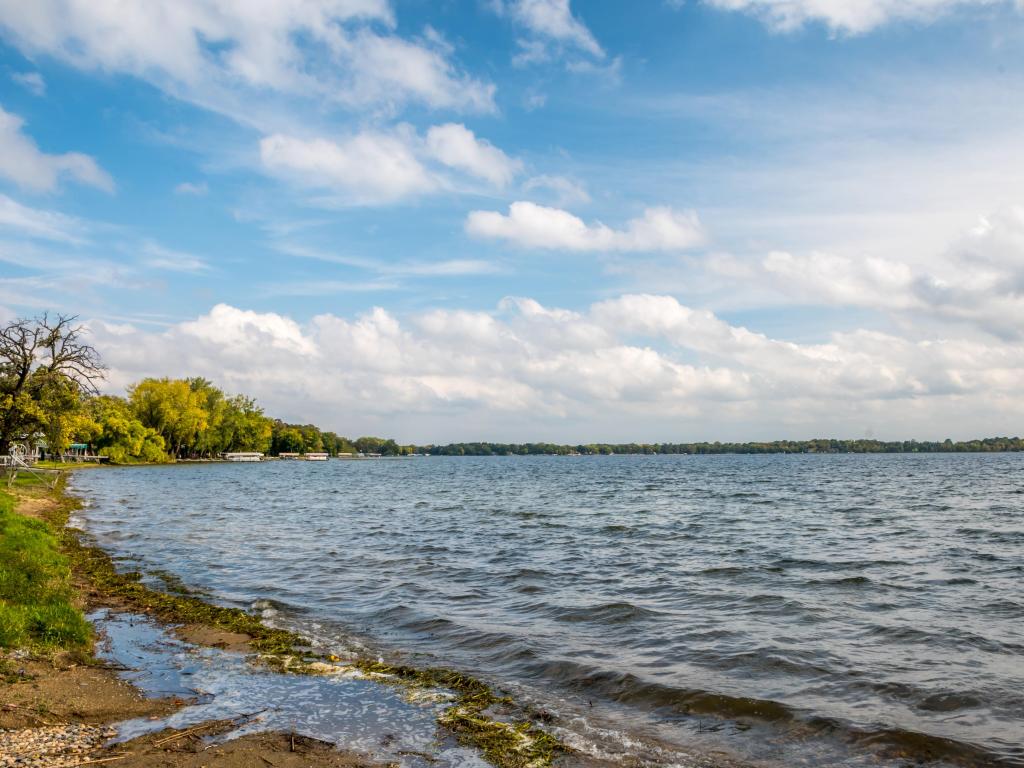 How to get there: From downtown Minneapolis, head west on I-94 for 130 miles directly to Alexandria. Take the Broadway/ MN-29 N exit.
Our highlights: A great trip for avid outdoors people, be sure to explore some of the 55-mile long Central Lakes Trail which runs through Alexandria and the surrounding lakes.
If you prefer to be more leisurely in the great outdoors Carlos Creek Winery has beautiful grounds, entertainment, and an adjacent brewery for those who prefer a cold one over wine. They have a grape stomp every September if you'd like to live your own version of that classic scene from "I Love Lucy."
For those hungry for local knowledge, The Legacy of the Lakes Museum has an impressive collection of vintage nautical equipment- from boats to fishing gear. If you'd just like to have a great time mingling and stretching your creative problem-solving abilities, Escape Room Alexandria is wildly popular with tourists and locals alike.
And who doesn't love local kitsch and mystery? The Kensington Runestone was found by a Swedish farmer in 1898 and is purported to be a 14th-century inscription left by Scandinavian explorers.
Even though some have questioned its authenticity, it makes for an interesting piece of local history which you can see along with other artefacts at the Runestone Museum. Be sure to get a picture with the 25 ft. Big Ole Viking statue in front of the museum.
Our travel tips: The Glacial Ridge Trail Scenic Byway meanders for over 200 miles around Alexandria and through three state parks, in case you'd like to go for a leisurely drive with plenty of lake views.
6. Brainerd and Nisswa, MN
2 hours 30 minutes from Minneapolis (145 miles)
Why you should visit: For a breath of fresh air and endless possibilities for outdoor adventure and water sports, a trip to Brainerd and nearby Nisswa will be sure to revitalize your connection with mother nature.
Surrounded by lakes and streams, this area likes to boast of itself as "Minnesota's Playground." Come and see for yourself the outstanding beauty and activities for every season.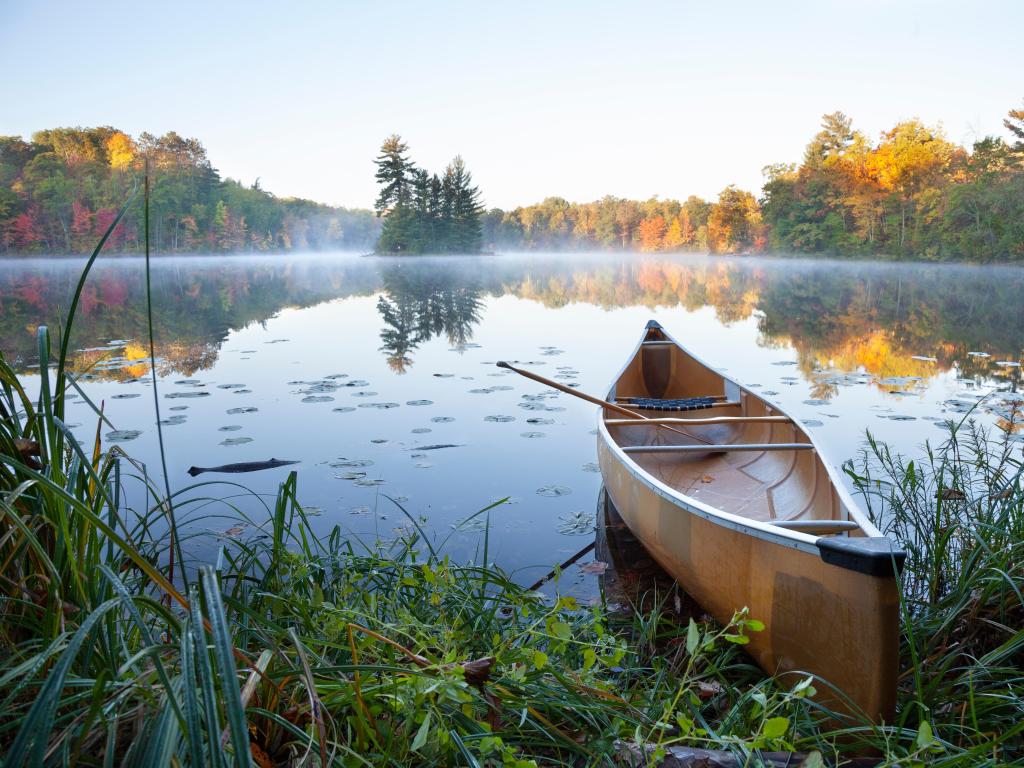 How to get there: It's a very straightforward drive from Minneapolis. Follow I-94 W for 124 miles and take Highland Scenic Dr. to Brainerd. From there, take MN-210 and 371 for a 20-minute drive to Nisswa.
Our highlights: Pillsbury State Forest is roughly between Brainerd and Nisswa, along the west side of Gull Lake, and offers over 25,000 acres of protected habitat to hike, bike, or even snowshoe. It also has plenty of windy roads for a scenic spring or fall drive.
The greater Brainerd area has hundreds of lakes to go tubing, jet skiing, wakeboarding, fishing, or boating. You can also find smaller lakes suitable for a more reflective walk along a quiet shore.
For the bold, there's also Brainerd Zip Line Tour-an adrenaline-fueled way to explore the canopy. Cyclists can enjoy the paved, 120-mile-long Paul Bunyan Trail. There are places to rent cycles if you don't feel like bringing your own.
In case you've worked up an appetite from all this activity, grab a tasty lakeside lunch at Ernie's on Gull. If you're in Nisswa and feel like a fun, community-filled atmosphere, check out Big Axe Brewing Co.
And did you know that Brainerd is the Paul Bunyan capital of the world? You can see a giant likeness of the lumberjack and Babe, his big blue ox, at Paul Bunyan Land which has been operational since 1950.
Our travel tips: This is also a popular "winter wonderland" destination for people who like the festive atmosphere of a small woodland town around the holidays.
7. Winona, MN and La Crosse, WI
2 hours 50 minutes from Minneapolis (147 miles)
Why you should visit: This interstate trip features two beautiful and historic river towns in Minnesota and Wisconsin.
In addition to charming downtown shopping areas and plentiful parks along the river, Winona has a unique Polish heritage, and La Crosse boasts a massive bluff cliff that gives unparalleled views of this scenic region.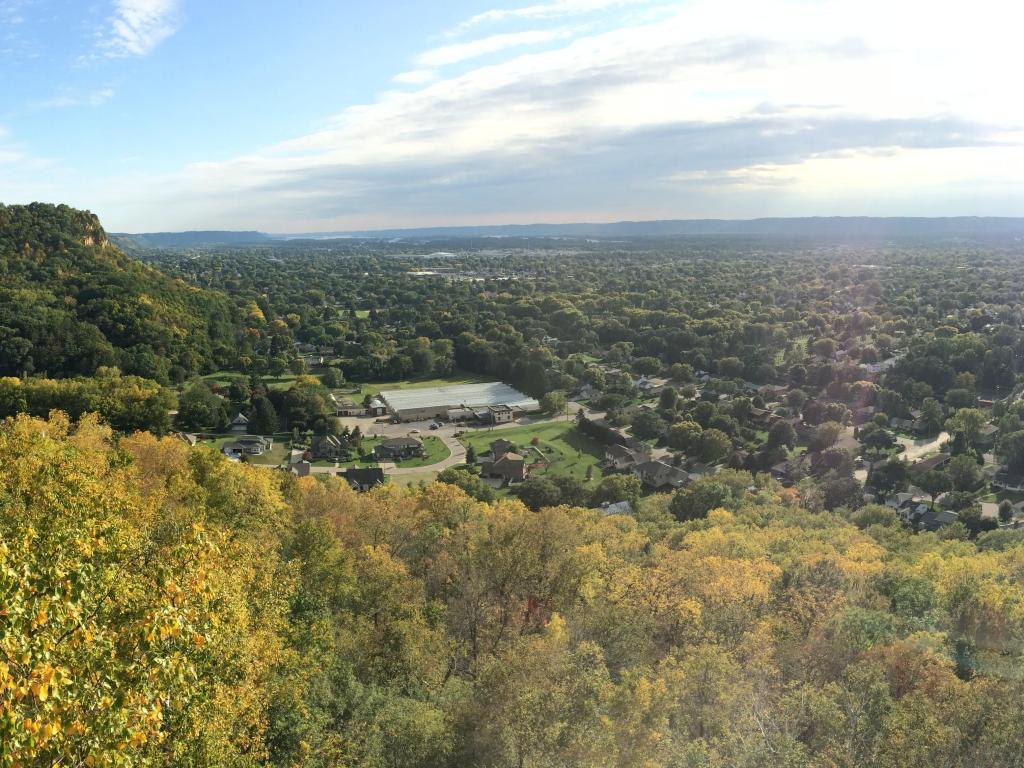 How to get there: Follow I-94 E to Wisconsin Route 35 S in Prescott and cross the river to US-61 S. Stay on this highway until you reach Winona. To get to La Crosse, take I-90 Alt for 30 miles.
Our highlights: A visitor favorite in Winona is the Minnesota Marine Art Museum, with an impressive collection of paintings and tapestries with watery themes. Another major draw is the Pickwick Mill, a National Historic Landmark in Winona.
Dating back to the 1850s, it is one of Minnesota's oldest flour mills. Winona was home to Kashubian Polish settlers and there you can see this heritage in the Polish Museum as well as at the Basilica of St. Stanislaus Kostka.
If you venture a little further on to La Crosse, Wisconsin you can visit several unique, niche museums, including the Dahl Auto Museum in the historic city center and stroll the heart-warming International Friendship Garden by the river.
There are great parks at both destinations. Winona contains the Great River Bluffs State Park, Sugar Loaf outcrop, and Garvin Heights City Park. In La Crosse, you can climb up Grandad Bluff for incredible views or meander along the Mississippi at Riverside Park.
From either town, you can also book a riverboat tour and Winona Boat Tours boasts captains who offer entertainment and education in equal measures. Tours can be booked ahead of time online.
Fun fact: "Winona" means "Firstborn daughter" in the Dakota language and actor Winona Ryder was named after this town.
Our travel tips: Highway 61 from Red Wing to Winona and La Crosse is considered one of Minnesota's most beautiful drives in the fall.
8. Lanesboro, MN and Decora, IA
2 hours 50 minutes from Minneapolis (160 miles)
Why you should visit: This is another relatively short interstate trip which takes you through the gorgeous countryside into Hawkeye State and includes two welcoming towns with strong Scandinavian roots.
Scenic trails, well-curated museums, vibrant art centers, and some formidable micro-breweries await you in Lanesboro and Decora. What's holding you back from a little weekend road trip?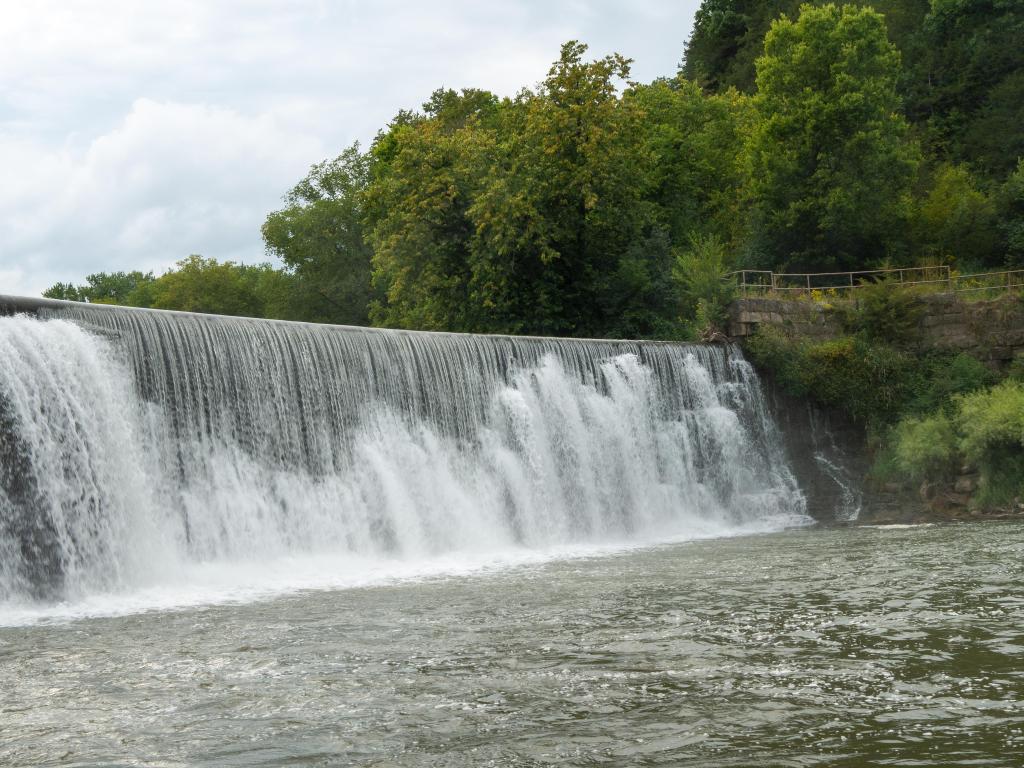 How to get there: Take I-35W to Highway 55 via MN-62 E. After 10 miles, merge with Highway 52 for most of the journey until you reach Highway 8, which will take you to Lanesboro.
From there, take Country Road 21 back to US Route 52 and travel on that for 18 miles until you get to Pole Line Rd, which will take you into Decorah.
Our highlights: The arts are alive in Lanesboro! Check ahead of time to see if you can catch a performance at the regionally acclaimed Commonweal Theatre Company. After that, visit Lanesboro Arts to see a colorful collection featuring over 90 local artists.
Self-portraiture is quite popular at Root River Waterfall in Lanesboro. Be sure to explore the cute downtown area for a dose of classic Americana set against a beautiful bluff.
Just outside of Lanesboro, there are plenty of working Amish farms with opportunities for tours with knowledgeable guides and bringing home some traditionally produced goods.
As you venture into Decorah, be sure to stop by the Vesterheim, a National Norwegian American Museum and Folk Art School. They have a very impressive collection of contemporary Norwegian and American folk art from the 20th- century numbering over 1,600 pieces and over 7,000 furnishings from tables to tapestries.
The Vesterheim is thought to be the largest museum dedicated to a single immigrant group and heritage in the whole country. If you'd like to stretch your legs, take a hike in the verdant Dunnings Spring Park and wonder at the burbling waterfalls.
After a full day of touring, treat yourself to exquisite food and a flight at Toppling Goliath Brewing Company and rub elbows with the friendly people of Decorah.
Lanesboro has an annual Bluegrass gathering (May) and a rhubarb festival (June), so you can plan your trip to coincide with the festivities and snag a blue-ribbon pie.
Click here to go back to the top.
Weekend trips from Minneapolis (3-5 hours each way)
Need a refreshing getaway, but can't take any more time off work? The following trips are perfect for an overnight or weekend outing. Whether you feel like a little time on a lake or a night at the theater, you're sure to find a satisfying sojourn on this list.
9. Wisconsin Dells, WI
3 hours 16 minutes from Minneapolis (216 miles)
Why you should visit: Famous for its gorges and family fun, this self-proclaimed water park capital of the world in the Badger State has plenty of entertainment and adventure opportunities for people of all ages.
This is a destination with a plethora of stunning natural features and a local government that has worked hard to put Wisconsin Dells on many road trippers' bucket lists.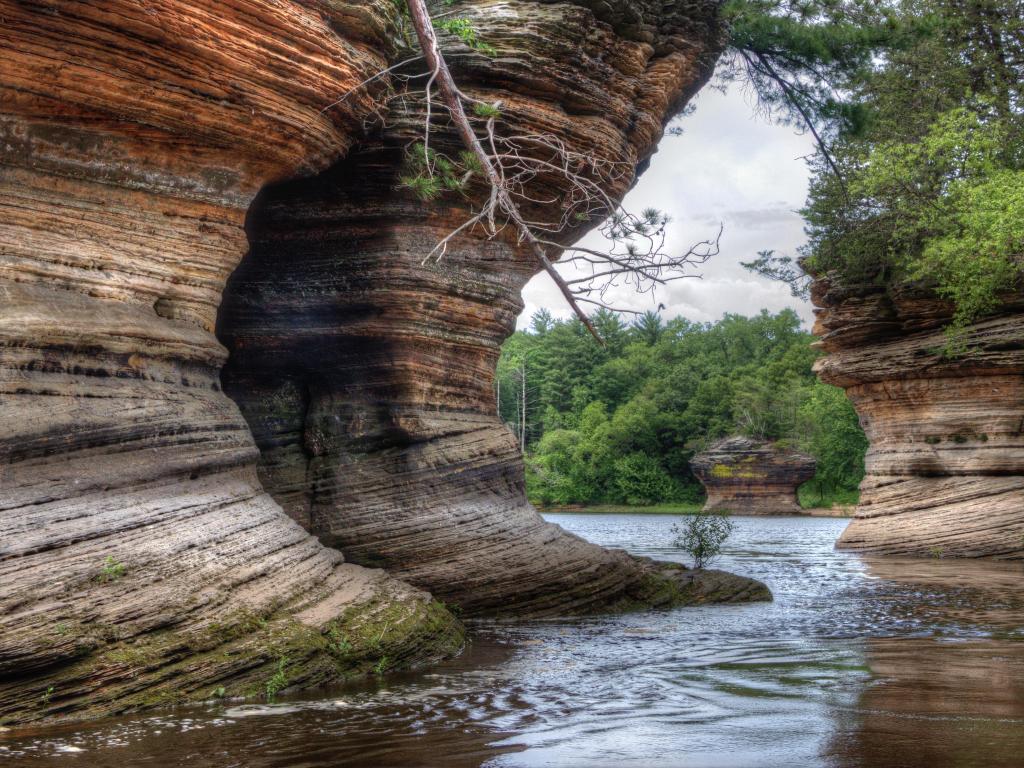 How to get there: The most direct route is via I-94, which you will take from Minneapolis for 211 miles until you reach the outskirts of the Dells at the State Highway 12/I-90 ALT junction. Take I-90 to US-23 across the river into Wisconsin Dells.
Our highlights: The Wisconsin Dells got its name from the slab-like rocks which compose the surrounding gorges, like Witches Gulch, and are known as "dalles" in French. These unique formations made the Dells a popular tourist attraction back during the 1800s.
If a movie hasn't already been shot in the Witches Gulch, then it feels like one should be. This eerily impressive canyon-like structure has a wooden walkway and plenty of photo ops. There are boat tours available from the Dells to this spooky, yet photogenic Gulch and you can buy day-off tickets at Dells Boat Tour in town.
Aside from too many indoor water parks to name, the Dells also has several indoor entertainment options from the Rick Wilcox Magic Theater to the Palace Theater, in case you make this trip during one of the colder months.
For a leisurely stroll on a temperate day, do the Dells Riverwalk and learn more about how the region developed as a must-see tourist stop. To get more of a local feel, and perhaps defuse any tension that built up over the car ride here, head to Asgard Axe Throwing- you will have an unexpectedly great time.
At the Wisconsin Deer Park, you won't be able to resist those doe eyes. Immerse yourself in a herd of gentle, tame deer which you can feed and pet while they put your every worry to rest.
There is so much more to the Dells than the waterparks, so don't write it off as a destination only for families with kids.
10. Duluth, MN & Banning State Park
3 hours 5 minutes from Minneapolis (217 miles)
Why you should visit: This is the first city and port destination on our list so far. Sitting on the banks of Lake Superior, Duluth is also full of iconic buildings and landmarks, including a 19th-century lighthouse.
In addition to Duluth's Great Lake views which sparkle like an ocean, easily seen from one of the many city parks, this route passes through the gorgeous Banning State Park.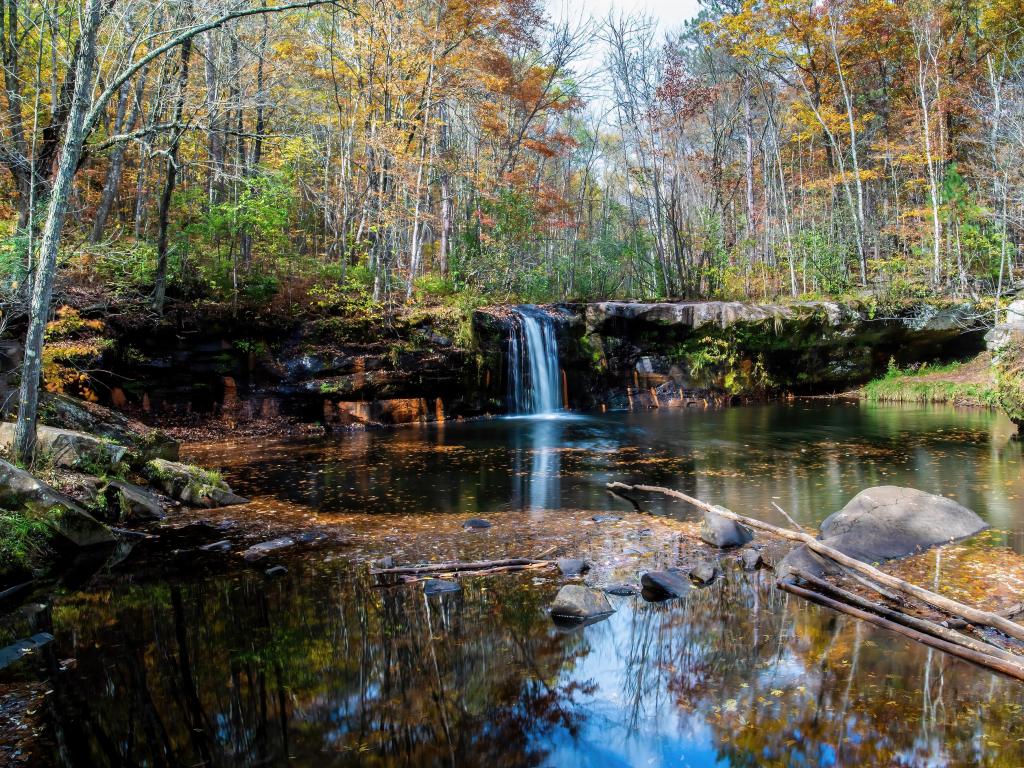 How to get there: You can get to Duluth from Minneapolis via I-35N, taking the 256B exit after approximately 153 miles.
Our highlights: On your way, take time to explore the accessible trails and waterfalls of Banning State Park, which is a cornucopia of colors in the fall.
Once you arrive in Duluth, taking a picture with the iconic Aerial Lift Bridge is a must. After that, walk around the Canal Park area of town, which is quite a throwback, particularly the DeWitt-Seitz Marketplace.
Also, near the Downtown Waterfront, you can find the Duluth Depot, a train museum that also offers scenic train rides along the lake.
If you want to see an Old-World style estate conveniently in the Midwest, head to the well-preserved 39-room Historic Congdon Estate, named Glensheen, built by one of the many millionaire families who used to call Duluth home. Make sure to book a tour ahead online at the Estate, it gets really busy on the weekends.
On the other end of the architectural spectrum is Duluth's UFO-like public library, designed by architect Gunnar Birkerts, which is also worth a gander and even a visit inside if you would like to peruse some local archives.
This is the birthplace of Bob Dylan and where the great singer-songwriter spent the first six years of his life. His childhood home is still standing, and people come from literally all over the world to celebrate his birthday here each year.
Our travel tips: Arguably one of the top attractions of Duluth is simply driving around it along MN North Shore Scenic Drive (Highway 61) – there are oodles of attractions and a local guidebook could prove helpful.
11. Great River Road (Multi-State)
With a stop in Lansing, IA
3 hours 14 minutes from Minneapolis (177 miles)
Why you should visit: This trip is a case of the journey being the destination. Though Lansing is surely worth a visit as well, the drive is strikingly beautiful, especially during the fall.
The Great River Road has been called one of the most scenic drives in America. The road actually extends all the way south to the Gulf, but here we'll just describe the route up to Lansing, which would be great for a Sunday drive or overnight trip.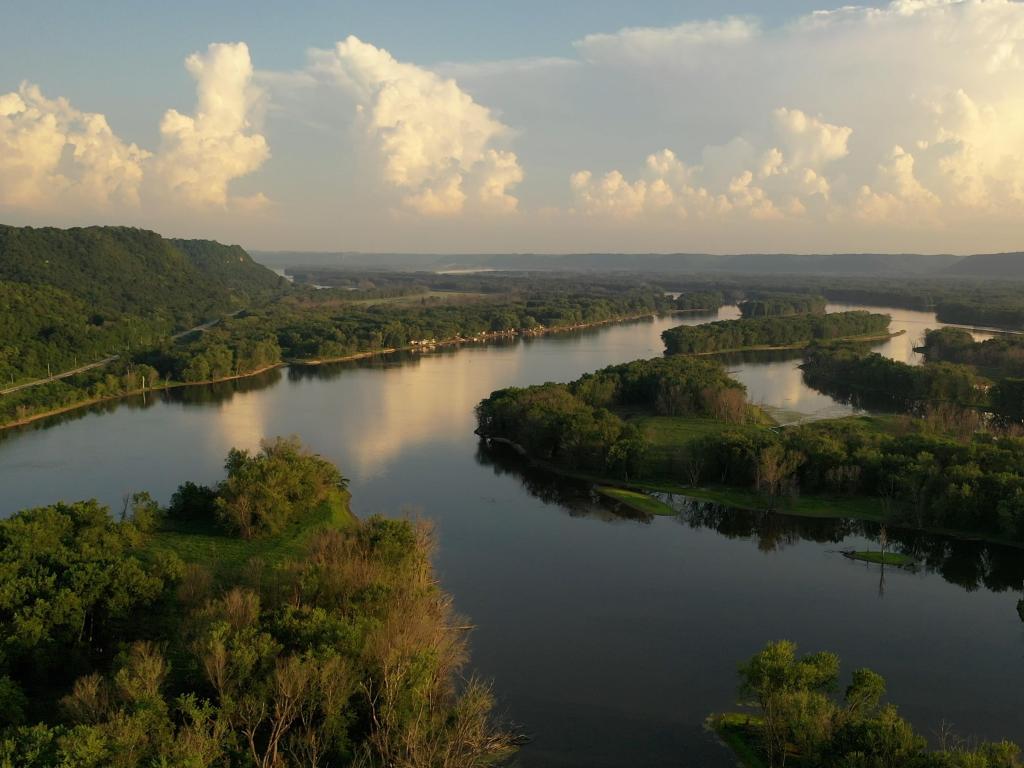 How to get there: Once again, start by taking I-94 E and follow the same route as described above to get to Winona, mostly along US-61. From there, continue along US Route 14/I-90 until it merges with Minnesota Route 16. T
Turn left onto Minnesota Route 26/Great River Rd. shortly after La Crescent and follow this all the way to Lansing or beyond.
Our highlights: A great pit-stop and way to make this a tristate road trip, is to take Highway 25 from Wabasha, MN over to Nelson, WI. There is the beautiful Nelson-Trevino Bottoms State Natural Area on the river as well as the appetizing Nelson Cheese Factory.
The main attraction in Lansing is Mount Hosmer Park. You can hike or drive all the way up for breathtaking views of the winding Mississippi River or to get some birding in. Another great place for hikes, especially to see various wildflowers in spring, is across the river at Rush Creek State Natural Area in Wisconsin.
Since you have surely taken in countless river views throughout your trip, why not learn more about the river and its human and natural history? For this, visit the Driftless Area Education and Visitor Center, just south of Lansing.
For the uninitiated, "drift" refers to rock and sediments left behind by glaciers. Much of the upper Mississippi River and surrounding lakes were formed by glaciers during the last ice age around 12,000-45,000 years ago. The "driftless" area is believed to be the edge of where those glaciers had their impact.
Remember the days before Amazon and Walmart, when local purveyors strove to guess, and then supply, locals with everything they could possibly need? The Horsfall's Lansing Variety Store is a testament to the good old days of mom-and-pop consumerism with narrow aisles and a healthy dose of kitsch.
Our travel tips: This road trip can be shortened or extended as needed. Two of the previous destinations, Red Wing and Winona, are also along the Great River Road, so you could also incorporate those stops into this trip. Alternatively, you could go with the flow all the way to NOLA and the Gulf.
12. Apostle Islands National Lakeshore, WI
3 hours 47 minutes from Minneapolis (230 miles)
Why you should visit: This destination might make you think you're in the Mediterranean for a minute with its sapphire waters and striated sandstone cliffs carved into spectacular arches.
Come take a boat tour of the 22-island archipelago or hike along the many trails in this underrated National Park. Many Wisconsin residents are amazed when they first visit the park, not having realized that such a gem was in their very backyard.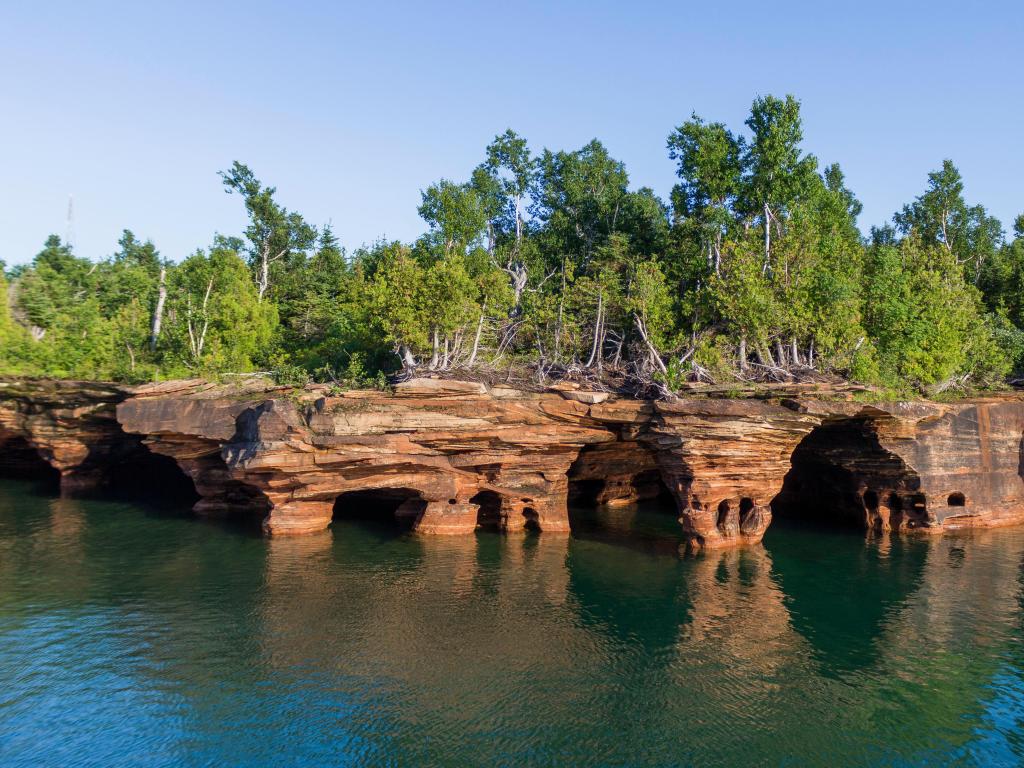 How to get there: Take I-35 N for almost 150 miles from Minneapolis to the Bong Memorial Bridge in Duluth, then follow US-2 E and WI-13 to the Old Country Highway to the Town of Russell.
Our highlights: The Apostle Islands are a kayaker's paradise with the opportunity to explore at your own pace, hopping from island to island and traversing the trails as you please. You can even camp on some of the islands but be sure to get a permit and make a reservation beforehand.
There are plenty of places to rent kayaks or just bring your own. Another adventurous option is to take a three-hour cruise of the islands on a glass-bottom boat. There are several boat tour operators to choose from.
Adorable lighthouses are on six of the islands throughout the park, one of the most interesting being the Sand Island Lighthouse which stands at 44 ft. tall and was first lit in 1881.
If you don't have time for visiting the islands, or just don't trust boats, enjoy the glorious views along the Lakeshore Trail which starts near Bayfield. The first mile is accessible to all levels of hikers and includes a boardwalk, but the further you go, the more challenging terrain you'll encounter.
Nearby the lakeshore is Frog Bay Tribal National Park, the first national park managed by a Native American tribe, the Chippewa. It is rich in wildlife and open to visitors.
Apostle Islands National Lakeshore is the National Park with the most lighthouses within its service area, counting eight in total. See if you can manage to see them all on your trip.
Our travel tips: This route includes a section of Wisconsin's Lake Superior Scenic Byway from Port Wing to the Town of Russel which looks out over the islands. If you wanted to make a memorable stop along the way, this route also passes through Duluth, MN.
13. Des Moines, IA
3 hours 36 minutes from Minneapolis (244 miles)
Why you should visit: As the first capital city on this trip list, Des Moines, Iowa offers a sprawling and colorful cityscape surrounded by beautiful greenery.
Proving, hands-down that there's a lot more to Iowa than the corn fields, Des Moines is culturally vibrant, with a fabulous foodie scene. Farm-to-table dining is a way of life here, and the state's rich agricultural variety is celebrated in Des Moines with a plethora of amazing restaurants on offer.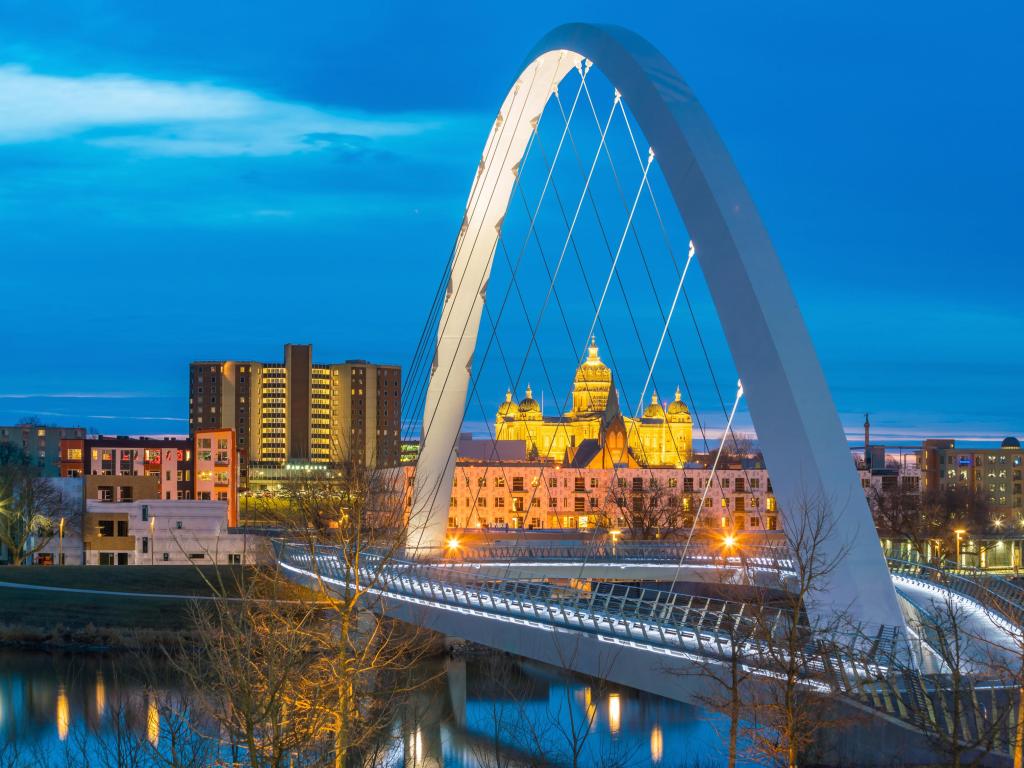 How to get there: Despite the distance, it is a very straightforward drive. Take I-35 S all the way from Minneapolis to the 7th Street exit in Des Moines.
Our highlights: Being a state capital, the State Capitol building in Des Moines is a natural stop on the sightseeing circuit. Impressive and ornate, it was originally constructed in the 1880s with five domes, including a golden one in the center.
Another popular attraction is the Des Moines Art Center, which was first opened in its striking building in 1948 and over the years has added pieces by Edward Hopper, Jasper Johns, Andy Warhol, Georgia O'Keeffe, and even the likes of Matisse and Monet to their permanent collection.
Outdoors, the Pappajohn Sculpture Park was opened relatively recently in 2009 and features sculptures from world-renowned artists like Ai Wei Wei and Jaume Plensa.
Given the agricultural engine of Iowa's economy, you can expect the Downtown Farmers Market in Des Moines to be a smorgasbord of produce and prepared food. It is particularly bright and lively in the summer months.
The farmer's market is every Saturday from May-October and it's open for a few featured winter weekends, see their website for details.
Something we bet you didn't expect to see in Des Moines is a Tudor mansion. The Salisbury House was built in the 1920s by the Weeks family and was modeled after Kings House in Salisbury, England. Salisbury house is open from Wednesday to Sunday for visits and there are guided tours twice daily.
It's worth knowing that a bizarre city ordinance in effect from 1942-2009, proclaimed dancing between 2-6 a.m. illegal. So just in case you find yourself wandering the streets in the middle of the night, feel free to bust a move sans citation.
14. Grand Marais, MN
4 hours 19 minutes from Minneapolis (265 miles)
Why you should visit: The trip to Grand Marais follows one of the most picturesque stretches of road in Minnesota and can't be beat for a stunning autumn adventure.
Dense and varied foliage, majestic waterfalls, and coastal vistas are all highlights of this rejuvenating drive to the furthest regions of the North Star State and there are plenty of charming towns to explore, including Grand Marais.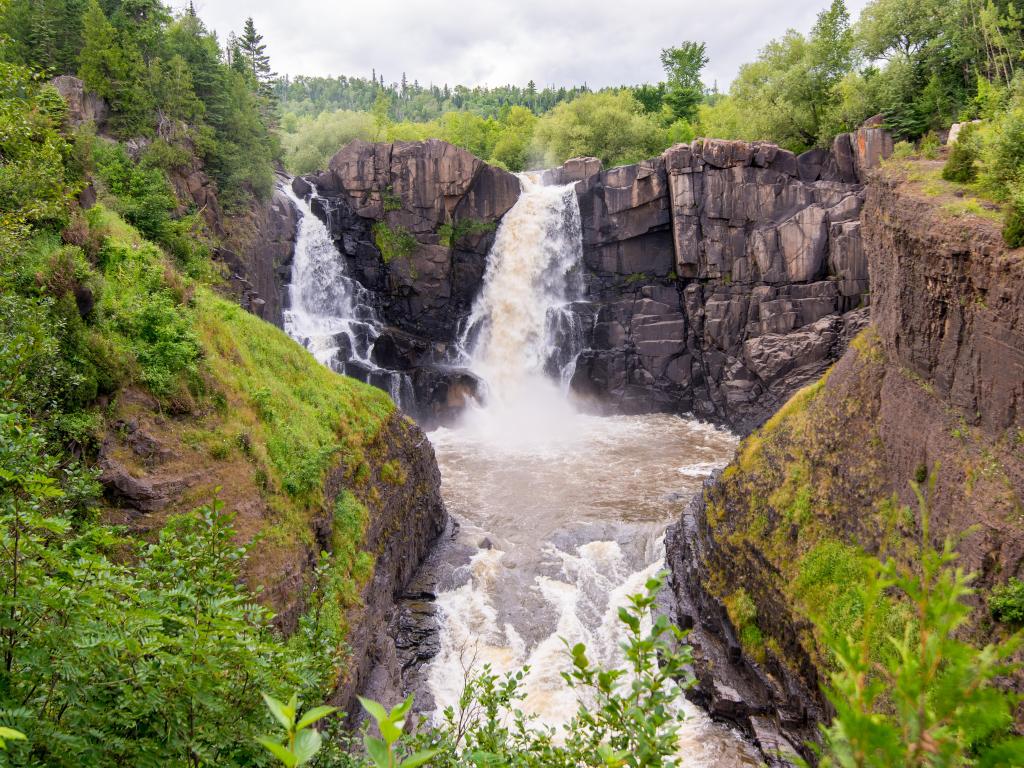 How to get there: Take I-35 N for 156 miles to Scenic Highway 61 and continue north of Duluth. The beautiful town of Two Harbors is directly along this route, so feel free to stop there at your leisure.
Our highlights: In Two Harbors you can tour parts of Minnesota's oldest Lighthouse, including the 78 ft. tower which was finished in 1892. Take an easy hike with spectacular views of the High Falls of Grand Portage State Forest.
Near the town center, Harbor Park is a lovely place to stroll, relax, dine and take in everything this relaxing and quirky lakeside community has to offer.
Just a little north of Grand Marais there's the beautiful Judge C.R. Magney State Park where you can hike to the dramatic Devil's Kettle Waterfall.
Along with the abundance of natural beauty to be found on this trip, there is also plenty of inspired artwork and even an Art Colony in Grand Marais where you can see a great selection of locally produced pieces and even take classes. This Art Colony is the oldest one in Minnesota.
Our travel tips: This route goes via Two Harbors, MN and also passes through Duluth, MN in case you wanted to make this a multi-city trip. It is also along the scenic Highway 61 which hugs Lake Superior and passes through multiple State Parks and quaint coastal communities.
15. Madison, WI
4 hours 6 minutes from Minneapolis (269 miles)
Why you should visit: Madison is both Wisconsin's capital as well as home to a world-class research University, which attracts people from all over the world. Hence this trip has a more cosmopolitan feel than the other Midwestern stops.
There is a plethora of great dining options, trails, museums, thoughtful civic spaces, and of course micro-breweries, so you might feel like staying even longer than a weekend in Madison.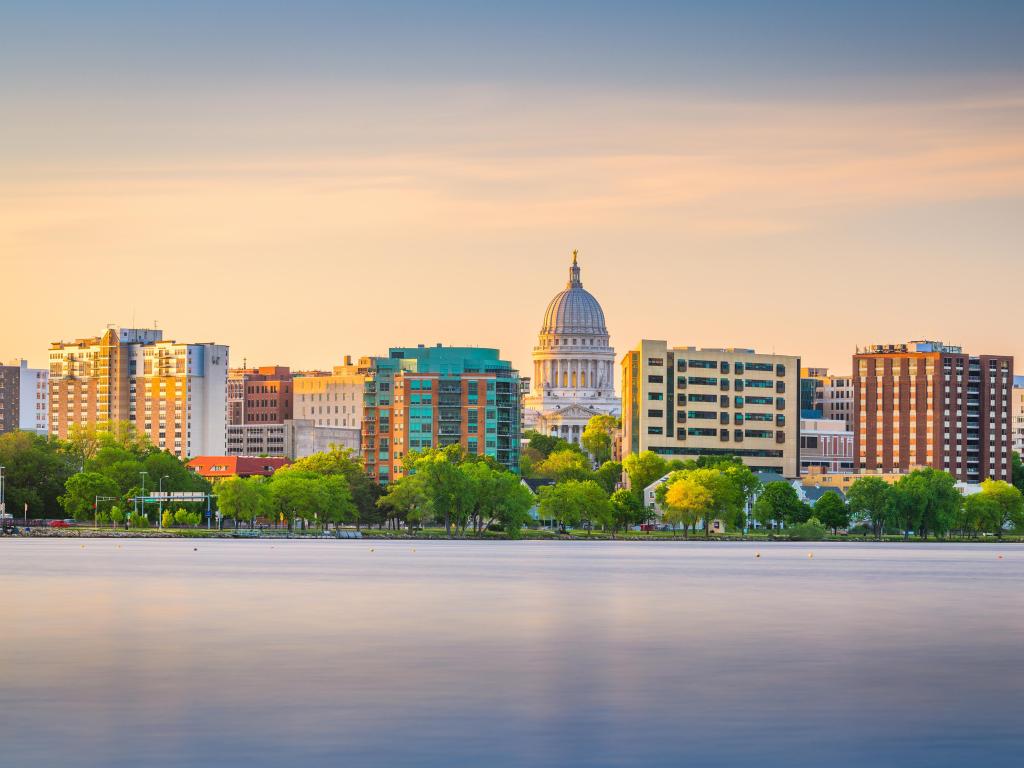 How to get there: Take I-94 E and continue along Highway 51/I-90 after the merger near Tomah and continue south until you hit County Highway. This road will take you to Madison.
Our highlights: A sight you can't miss in Madison is the Capitol Building and Square. They are both so grand that some people compare them to the National Capitol in D.C. From the Capitol area you can walk to State Street and the bustling downtown area.
Dotted with cafés and world-class restaurants, there are also great local and boutique shops, this street is kept vibrant by the nearby university. Then there's the University of Wisconsin itself which is home to Camp Randall Stadium as well as the impressive Chazen Museum of Art.
Despite the freezing winters, Olbrich Botanical Gardens offer a spectacular variety of gardens carefully curated to be of interest year-round. There are plenty of trails with bridges and gates and any plant-lover will have to be pried away.
The Memorial Union Terrace is a great place for a sunset stroll along Lake Mendota. Before you go, be sure to check the performance schedule at the Overture Center for the Arts, which is worth visiting simply to marvel at the elegant building.
If you are a contemplative couple, consider doing a personal retreat at the breathtakingly beautiful Holy Wisdom Monastery on the other side of Lake Mendota from downtown Madison.
Did you know that Madison has been named one of the best cities to cycle? With over 260 parks and 200 miles of trails, consider bringing your cycle, or renting one here, if you'd like to explore Madison on two wheels as well.
Our travel tips: With so many parks and trails, Madison makes for a particularly beautiful fall trip. Though the route given above is the closest, you could also travel along scenic Highway 61 via Winona and cross over into Wisconsin at La Crosse, taking I-90 to where it merges with I-94 and heads south into Madison.
Click here to go back to the top.
Long weekends from Minneapolis (5-8 hours each way)
So, you've seen all the nearby sights and are itching for more? The following road trips are a little lengthier, but still perfect for a day or two away from the routine. On these trips, you can explore a nearby state capital or put on your favorite playlist to serenade unbeatable scenery. Read on to find your next relaxing mini-break.
16. Door County, WI
5 hours 51 minutes from Minneapolis (364 miles)
Why you should visit: This journey takes you through the delightful Door County, nestled between Green Bay and Lake Michigan, passing through the eponymous cheese head city along the way.
Enjoy a picturesque drive along the peninsula, winding through forests, along the shimmering lakeshores, and past several fascinating towns which boast lighthouses and even shipwrecks offshore.
How to get there: Just hop on I-94 E for the majority of the journey until Highway 29, and take that Highway until you hit WI-57 in Green Bay. Follow that all the way north through Door County until the north tip of the peninsula at Northport.
Our highlights: The postcard-perfect 19th-century Cana Island Lighthouse is a major tourist attraction in Door County just past Bailey's Harbor. On your way there it might be nice to check out Moonlight Bay.
You can't go wrong by roaming Cave Point County Park, with its limestone cliffs and underwater caves, which can also be explored via kayak. Beyond beautiful coasts and trails, Peninsula State Park also features a lighthouse, golf course, and open-air theater performances during the summer.
Even though California wine country is far away, you can still feel like you're in Napa at Stone's Throw Winery, which was opened in 1997 and planted with vines from the Golden State. They offer tastings and also have wonderful food for pairings.
To glimpse a bit of fascinating local culture, visit Washington Island Stavkirke. It is a modern wooden recreation of the Borgund Stave Church in Norway, which was built in 1150, and a unique reflection of Washington Island's Scandinavian heritage.
Door County produces between 8-15 million pounds of cherries per year, so you can expect plenty of delicious cherry pie on your trip. Be sure to pack some for the trip home!
Our travel tips: Due to its many charms, Door County attracts nearly 2 million tourists a year, so weekends during the peak summer and fall seasons can be very crowded. Even though the winter is particularly harsh, it could be great for ice fishing, snowshoeing, and exploring frozen lakes.
17. Upper Peninsula, MI
6 hours 47 minutes from Minneapolis (372 miles)
Why you should visit: Michigan's Upper Peninsula is not only the highest landmass in the state but is also surrounded by three of the Great Lakes, which makes for particularly dramatic and striking natural scenery.
This is a trip to get away from it all and come closer to yourself in the rejuvenating presence of forests, waterfalls, lakes, and wildlife. You'll also have a chance to interact with locals, known as Yoopers, who have a distinct regional identity and heritage.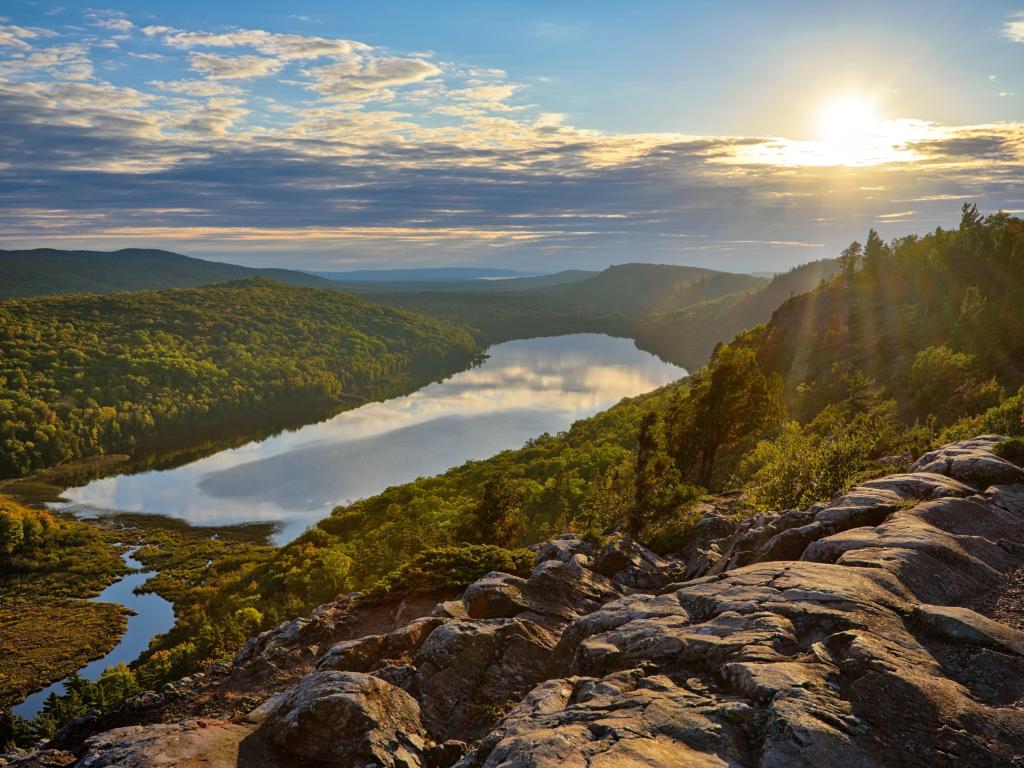 How to get there: Take I-35W N to Highway 70, then US-63 N and Highway 77 to County Highway in Calm Lake. Continue on County Hwy to Mellen, then take I-77 E and MI-28 to Highway 41 until Marquette.
Our highlights: On the Upper Peninsula, you can trek to the highest point in Michigan, Mt Arvon. At 1,979 ft., it's no Everest, but it still offers inspiring views of the surrounding hills carpeted in thick forests.
On the north of the peninsula near Munising, you'll be spoiled for hiking options with stunning views of multicoloured cliffs over the aquamarine lake, hence the name of the Painted Rocks National Lakeshore.
On the northwestern edge of the peninsula, you can explore Michigan's largest state park, the Porcupine Mountains, with countless lakes, trails, and opportunities to view wild moose, foxes, deer, wolves, bears, and of course, porcupines.
If you feel like driving a bit further east on the peninsula, check out Mackinac Island and the surrounding area, which includes an impressive Mackinac Suspension Bridge, once the longest in the world. The island is also home to the massive Arch Rock, great for a naturally framed pic, and Mackinac State Park.
Treat your taste buds to some traditional Yooper fare, like a pasty- a meat-filled pastry originally brought to the region by Cornish settlers.
Curious about all those white and blue flags? The Upper Peninsula is home to the largest concentration of ethnic Finns outside of Finland and traces of their language and culture can still be seen in the region today.
You can visit the Finnish American Heritage Center and even the Finlandia University in Hancock to learn more about this unique diaspora.
Our travel tips: The best time to visit the Upper Peninsula is quite limited, primarily July and August are recommended to avoid extreme weather and swarms of mosquitos.
18. Chicago, IL and Milwaukee, WI
6 hours 33 minutes from Minneapolis (429 miles)
Why you should visit: This is another tristate trip with a metropolitan flair and opportunities to explore two great cities on Lake Michigan.
The windy city has long been a center of power, culture, and influence, which is palpable along the Magnificent Mile with its towering skyscrapers. On the way, a stop by the panoramic Milwaukee waterfront is a must.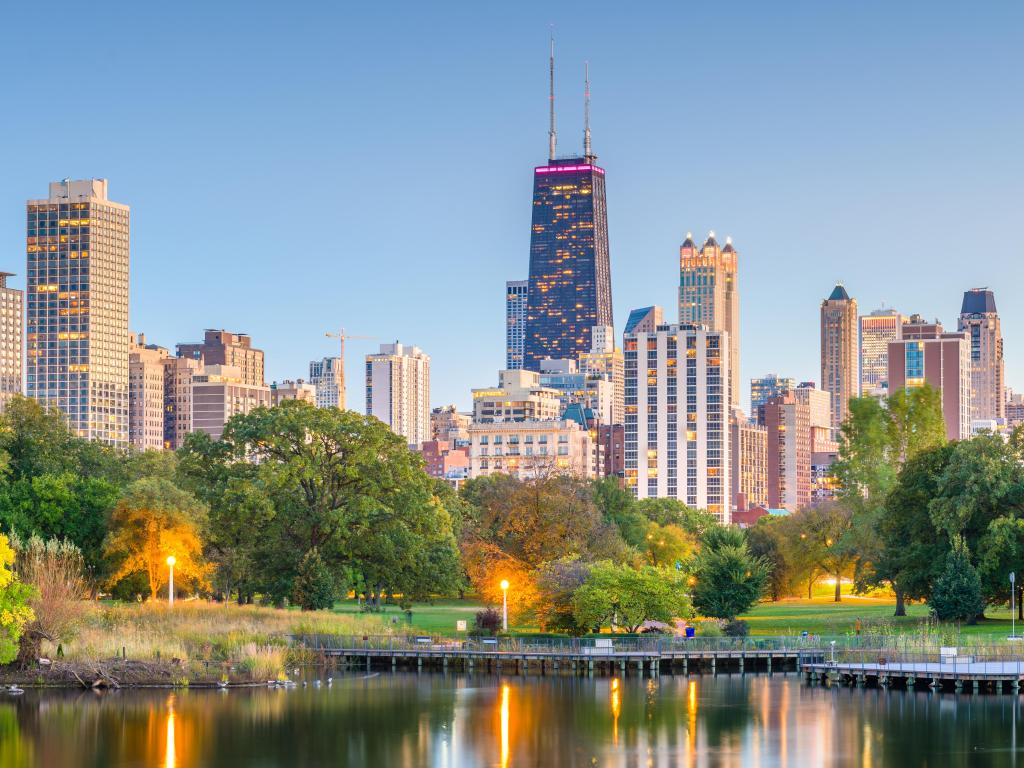 How to get there: Get on the I-94 E for 335 miles to Milwaukee, then head south on I-94 all the way to Chicago.
Our highlights: Even if you don't have time to go inside, the Milwaukee Art Museum is worth a stop for a peek at the fantastic building on a lakefront location. You can also see City Hall and recreate that adorable opening scene from "Laverne & Shirley."
As you drive into Chicago, be sure to drive past the historic Wrigley Field on W Addison Street. Opened in 1914, is one of the most important shrines to the great American pastime and the current stadium of the Chicago Cubs.
A trip to the world-class Art Institute of Chicago is a great place to continue your sightseeing in Chicago, but it might keep you for a while with its 300,000-piece collection! Ardent art lovers might need a few days at this museum and all visitors need to purchase tickets ahead of time.
When the weather is fine, a walk around Millennium Park and the otherworldly Cloud Gate is a wonderful way to feel the beating heart of the city. It's also just a few blocks from Grant Park and the lake shore which are great places to get those steps in and see why so many people love this city.
If you would like to learn more about how Chicago came into wealth and prominence around the turn of the century, stop by the Museum of Science and Industry, currently housed in a converted building from the 1893 World's Fair.
Milwaukee is also the birthplace of Harley-Davidson, and you can explore the 100+ years of this iconic company at the Harley-Davidson Museum.
Our travel tips: Even though both cities have the infrastructure to guard against the harsh winters, this is a trip best taken between April and October.
19. Badlands National Park, SD
7 hours 20 minutes from Minneapolis (502 miles)
Why you should visit: Home to bison and bighorn sheep, as well as many ancient fossil beds containing traces of rhinos and sabertooth cats, this vast National Park has been home to fascinating wildlife for millions of years.
With landscapes varying from typical Western to extraterrestrial, the scenery here is aptly described as dramatic with countless granite spires. The Badlands makes for an exhilarating trip by car, foot, or bike.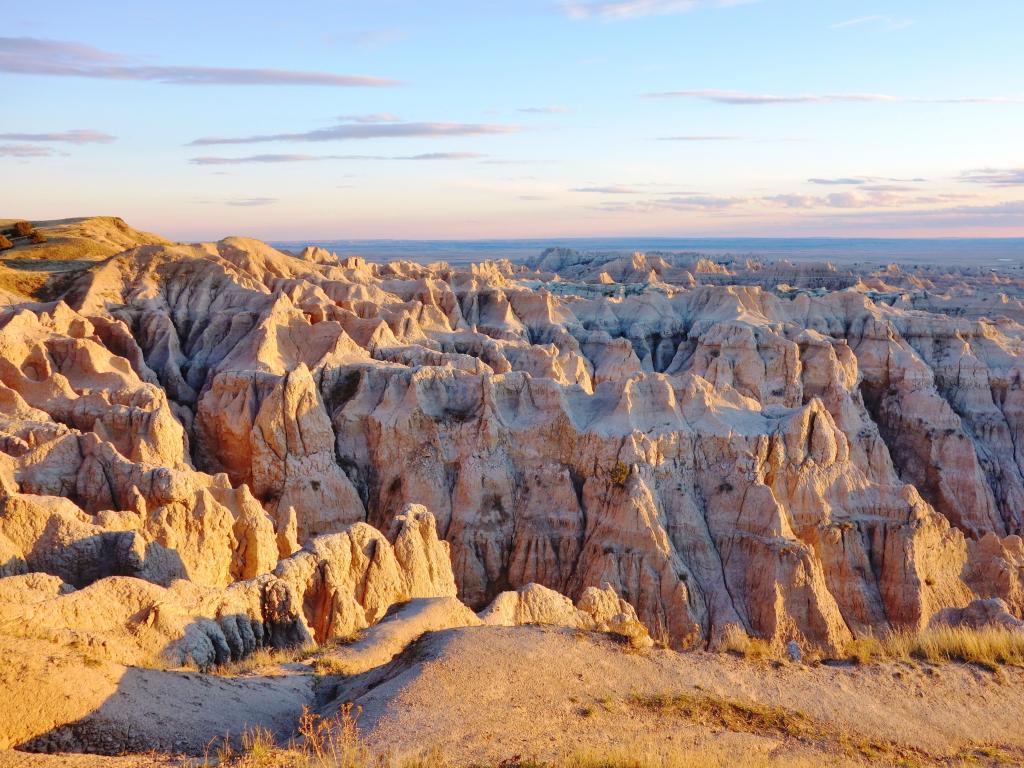 How to get there: This route primarily follows I-90 westward, which can be reached via I-35W S and US-169 heading south from Minneapolis. From I-90, hop on Highway 240 to reach the northeast entrance to the park.
Our highlights: The most accessible way to explore the park is via the 30-mile Loop Rd which still offers breathtaking views and chances to spot a bison or two. There are countless vista points, such as the Pinnacles and Yellow Mounds Overlook, as well as Panorama Point.
As far as hiking goes, you will simply be spoiled for choice. For a short, yet intense and rewarding hike, try the Notch Trail through a scenic canyon with a stunning vista at the end.
In case you'd like to learn more about all the amazing wildlife, geology, and archaeological history of the Badlands, be sure to stop by the Ben Reifel Visitor Center. In the past, casual visitors to the Badlands have discovered priceless fossils, such as a complete skull of a sabertooth cat.
In case you see anything that looks archaic, be sure to leave it where it is and report the location to the scientists at the Ben Reifel Center so they can discover even more about this hotbed of natural history.
For a cute aside along Sage Creek Road, you'll find a little spot known as Roberts Prairie Dog Town, where you can see these adorable critters converse and go about their lives. Just resist the urge to feed them, as they will come up to say hello.
This area has been home to people of the Oglala Sioux Tribe for thousands of years. You can learn more about notable ancestors, like Crazy Horse, and contemporary culture at the White River Visitor Center.
Our travel tips: Though the park is open year-round, there may be road closures due to extreme weather or road maintenance. Check the website ahead of time.
No permit is needed for backcountry camping, though there are a few rules like no camping in parking lots or within visibility of any road. It is good to notify rangers that you'll be staying in the park overnight.
Click here to go back to the top.
Longer trips from Minneapolis (8+ hours each way)
You've banked up your vacation hours, decided to work remotely, or just have a week to spare- these trips will take a few more hours on the road and are best spread out over a few days with ample time to discover the hidden natural and cultural gems to be found along these next trips.
20. Mount Rushmore, SD
9 hours 8 minutes from Minneapolis (569 miles)
Why you should visit: Just 75 miles to the west of Badlands, you can visit the iconic Mt. Rushmore and wander the Black Hills National Forest on this trip combining national history and natural splendor.
Originally revered by the Lakota people as the "Six Grandfathers", these peaks were sculpted into the "Shrine of Democracy" with the famous likenesses of Washington, Jefferson, T. Roosevelt, and Lincoln by sculptor Gutzon Borglum. Over 2 million people come here to appreciate this mammoth work and reflect on democratic values every year.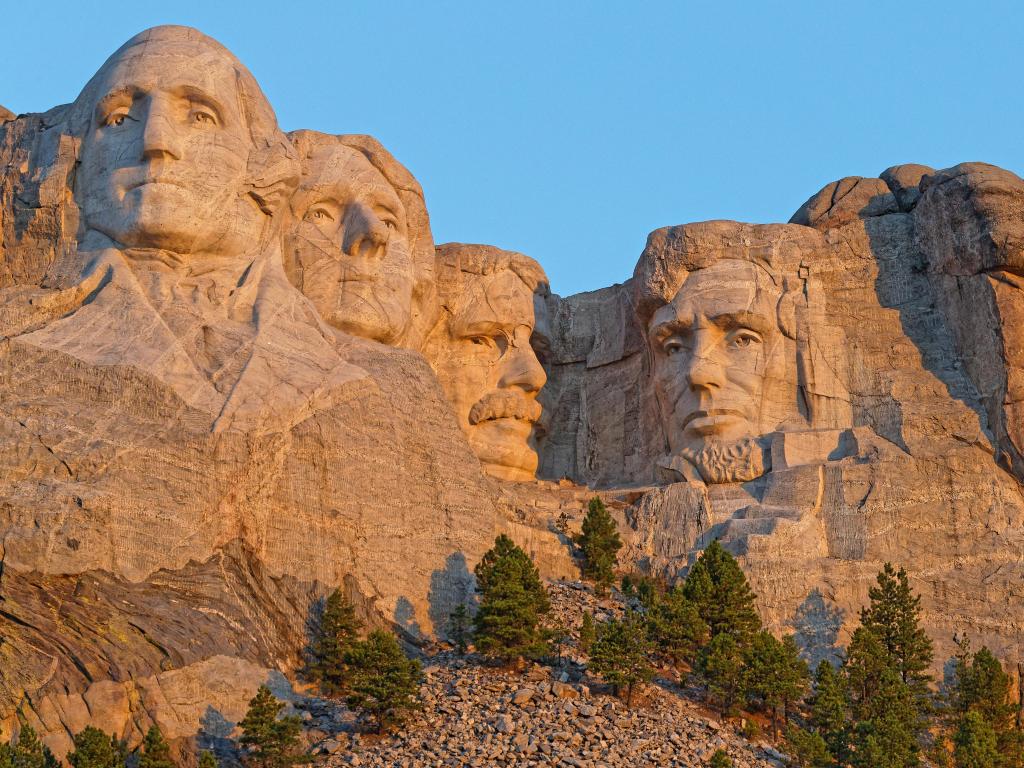 How to get there: This route is essentially the same as the way as the Badland one, just continue west on I-90 until you reach Rapid City. From there head south on US-16 until you reach SD-244 which takes you a little ways away from US-16 to the park entrance.
Our highlights: Of course, the main attraction on this trip is the 60 ft. monument. At the entrance, you can learn more about the former presidents and the arduous construction of the monument itself at the Visitor Center and Lincoln Borglum Museum.
For a dose of funky roadside attraction to balance the gravitas of standing before American legends, check out the Cosmos Mystery Area, just a few miles before the park entrance. Be prepared to question everything you know (or didn't know) about the laws of physics.
Along Main St, in nearby Rapid City, you can see bronze sculptures of various US presidents and Native American leaders like Hunkayapi and try some of the tasty local fare.
You can turn this road trip into a more extensive backpacking or hiking trip by exploring the nearby Black Hills National Forest, which has over 700 miles of hiking trails and 3,600 miles of roads through dense pine forests and granite mountains.
A lesser known fact is that Mt. Rushmore was originally supposed to depict the full bodies of the four presidents, but due to a lack of funding the sculpture of just the faces was deemed complete in 1941.
Our travel tips: The best times to visit Mt. Rushmore are the spring and fall, during the latter you can catch some dazzling colors. For a scenic drive in the area, follow Iron Mountain Rd which is part of a scenic byway connecting Mt. Rushmore with Custer State Park and contains two unique tunnels with great photo ops.
21. Niagara Falls, NY
14 hours 30 minutes from Minneapolis (835 miles)
Why you should visit: This group of impressive falls straddles the US-Canada border and has been inspiring generations of people who have come to view them with wonder.
There are very few waterfalls in the world that match Niagara Falls in terms of the combined height and volume of water flowing over them. Unlike Victoria Falls in Arica or Iguazu Falls in South America, this natural wonder is just a drive away.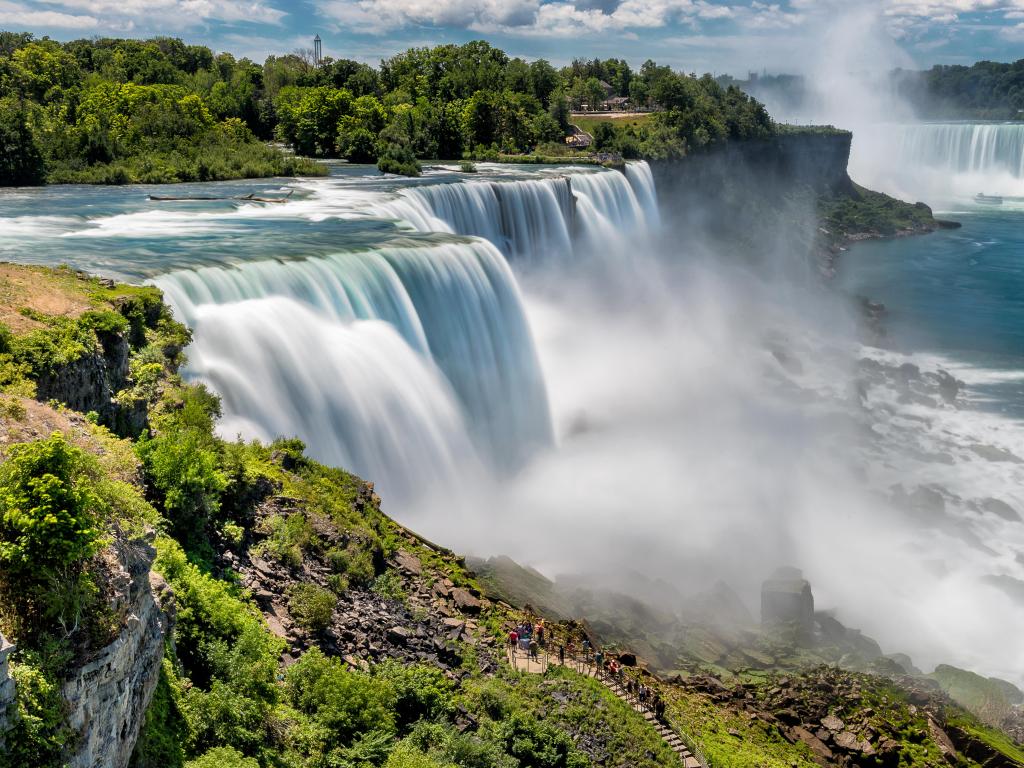 How to get there: There are several routes, including ones that stay within the US border, but this international route has the bonus of a glimpse at Canada and a ferry ride. Follow I-94 E to Milwaukee, and from there take the ferry to Muskegon, MI.
Continue to I-96 E to the border with Ontario. Take Ontario Routes 402, 401, and 405 (ON-405) to I-90 back at the US border. Drive through the city of Niagara Falls via New York Route 31, 61, and 62 to the famed waterfalls.
Our highlights: Prior to coming, many people don't know that there's a whole State Park around Niagara Falls, which is also America's oldest. Here you can explore the area at the top of the falls and get some amazing views of the surrounding area as well.
One of the most intimate ways to explore the falls is via the Cave of the Winds, which takes you into the mountain and then over a catwalk alongside the falls.
Keep that poncho handy and see the falls from another vantage point via boat with the Maid of the Mist, which you might recognize from that long-awaited episode of "The Office" (US version) when Pam and Jim finally tied the knot.
Given the immense draw of the area, it is also fraught with history. Visit the Old Fort Niagara, a 17th- century building that was functional during the American Revolution and French and Indian War. For a more peaceful experience of international relations, walk the Rainbow Bridge Connecting New York and Ontario.
The upper and lower Niagara River are both great places for fishing trout, salmon, and bass. Some fish actually travel downstream over the falls and have evolved to survive the pressure and impact . . . or at least 90% of them effectively have.
Our travel tips: Many people say the views of the falls are better from the Canadian, side, so consider taking the Queen Elizabeth Way off the ON-405 south to the Canadian Niagara Falls while you're still in Ontario.
You will very likely get wet, so try to plan your trip during the warmer months and bring plenty of extra clothes and shoes.
22. Denver, CO
13 hours 26 minutes from Minneapolis (842 miles)
Why you should visit: Being surrounded by the majestic Rockies and home to great museums, venues, and cuisine for every palate, this Mile High City combines the very best of the natural world and city life.
It is great to see a city hitting its stride and that is what you will feel when you come to Denver; breathing the fresh mountain air in a vibrant urban environment, buzzing with energy.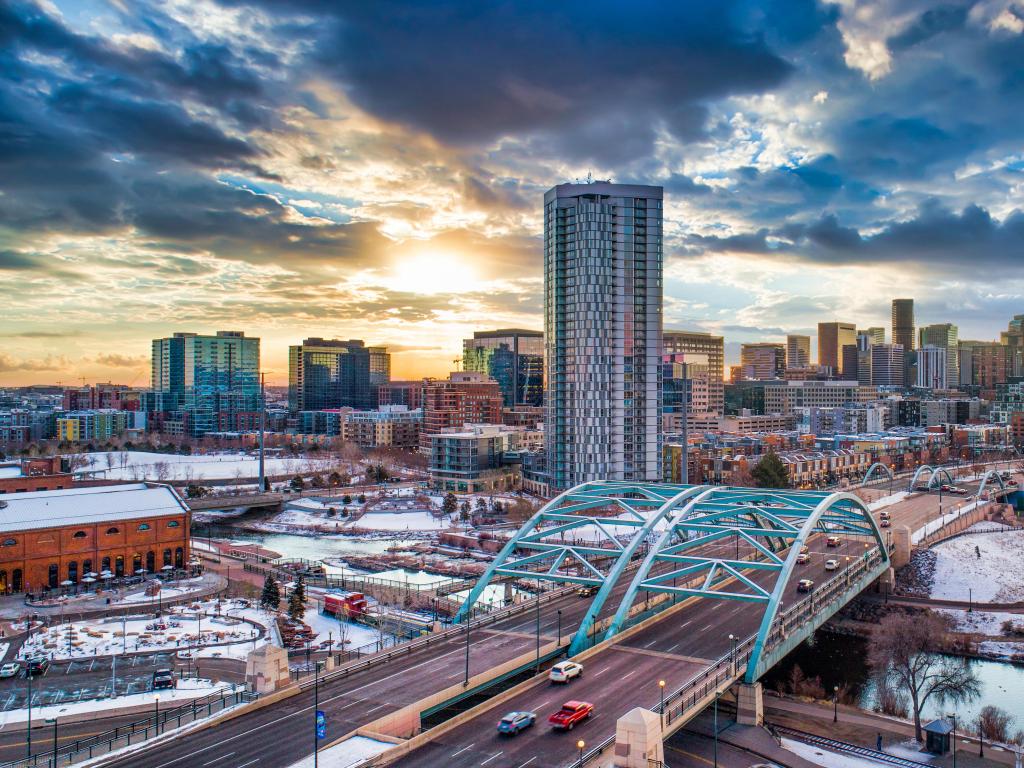 How to get there: Take I-169 south, then connect to US-281 and take NE-91 and 92 southwest through Nebraska. Once you hit I-80, continue until you arrive in Denver.
Our highlights: Once you acclimate in Denver, check out the decked-out transit hub at Denver Union Train Station. The next day you can walk around Larimer Square to get a sense of Denver's history and grab a delicious bite to eat.
The stunning Denver Botanic Gardens and extensive Museum of Contemporary Art are two major draws in Denver that will both calm and inspire.
Of course, for any baseball fan, catching a game at Coors Field is a great way to enjoy your time here and the surrounding neighborhood is worthwhile exploring and a fitting place to try some local craft beers.
The revitalization of Denver is in full swing around the River North Arts District, known locally as RiNo. The industrial landscape has been transformed into a trendy creative community complete with murals,
First Friday Art Walks, and even more micro-breweries. Whether the beer helps with the altitude or not, it's a refreshing aspect of the city.
Fun fact: some claim the cheeseburger was invented in Denver. The proprietor of the local Humpty Dumpty Drive-In applied for a patent for the American stable food in 1935.
Our travel tips: If you are visiting Rocky Mountain National Park, keep in mind that the national park uses a timed entry permit system. Please check the national park's website to see if you need to make a reservation before your visit.
Remember that Denver is situated at over 5,000 ft., so stay hydrated and dress in layers to stay healthy and comfortable. That said, the mountains themselves are quite far away, so if you want hiking, biking, skiing, etc. prepare to drive a bit outside the city. Rocky Mountain National Park is 66 miles from Denver.
23. Nashville, TN
13 hours 11 minutes from Minneapolis (882 miles)
Why you should visit: Who doesn't get giddy thinking about a trip to Music City? Nashville has been the beating heart of Country and Blues for generations and makes for an epically fun road trip.
Aside from the music and various shrines to legends, Nashville has great food, vibrant nightlife, and important historical sites from the Civil Rights Era. Don't hesitate to get a taste of that Southern hospitality and pair it with a Nashville Bushwacker or two.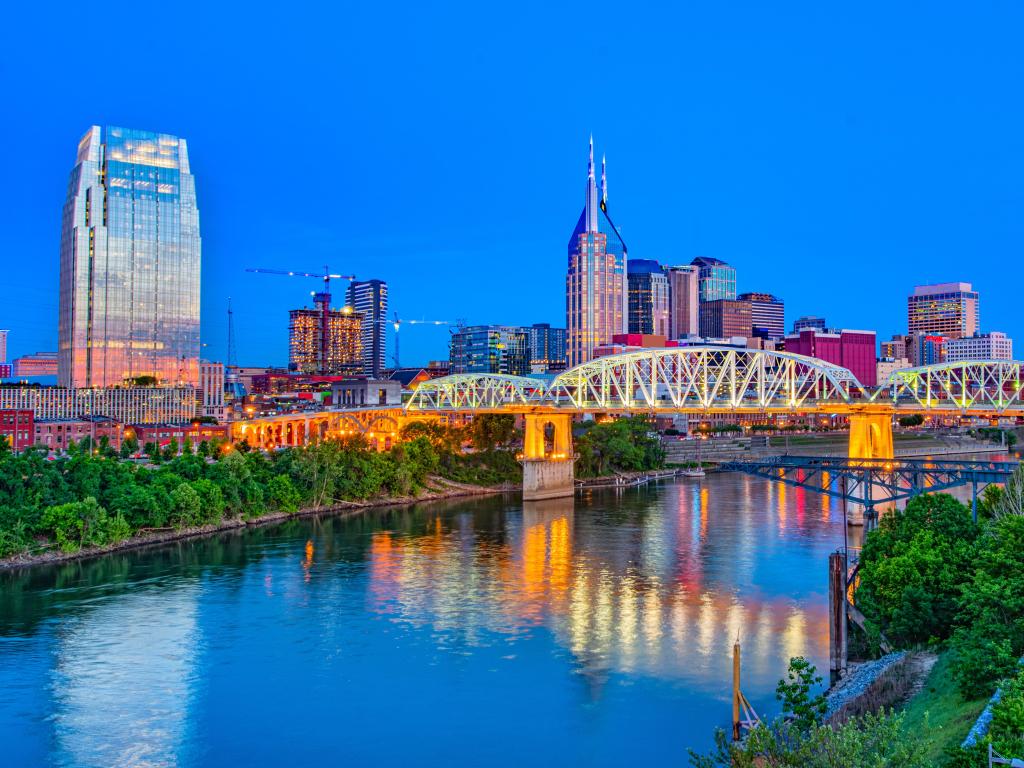 How to get there: This route primarily follows I-94 E, I-39, and I-57 south until you hit the I-24 in southern Illinois, which will take you directly to Nashville.
Our highlights: No trip to Nashville is complete without seeing the Grand Ole Opry, the stage and studio, graced by too many greats to name, that has been broadcasting every Saturday night since 1925. It hosts the longest-running FM radio show in the US.
Similarly impressive is the Country Music Hall of Fame and Museum. With a collection that numbers in the millions, it can be interesting and edifying even if Country isn't your favorite genre.
For a sense of southern charm and modern adaptation, visit Belle Meade Historic Site & Winery just outside the city. Back in Nashville, take a gander at the Parthenon in Centennial Park and get a sense of the classical world in an unexpected setting.
While you're here be sure to try one of Nashville's most popular dishes, Hot Chicken, if you dare. Some great joints that locals enjoy are Prince's and Hattie B's.
When you tour RCA Studio B, look out for some Christmas lights that were strung up to get Elvis in a holiday groove as he was singing one of the 200 tracks, he recorded there throughout his career.
Our travel tips: You can pre-book a tour of Studio B at the Country Music Hall of Fame.
24. Glacier National Park, MT
16 hours 45 minutes from Minneapolis (1,107 miles)
Why you should visit: The exquisitely carved glacial valleys and tree-lined lakes will put to rest any doubt that nature is an artist. This 1,583 sq. mile park in the Rocky Mountain range is nothing short of spectacular.
If a place has the nickname "the Crown of the Continent", it's probably worth a visit, right?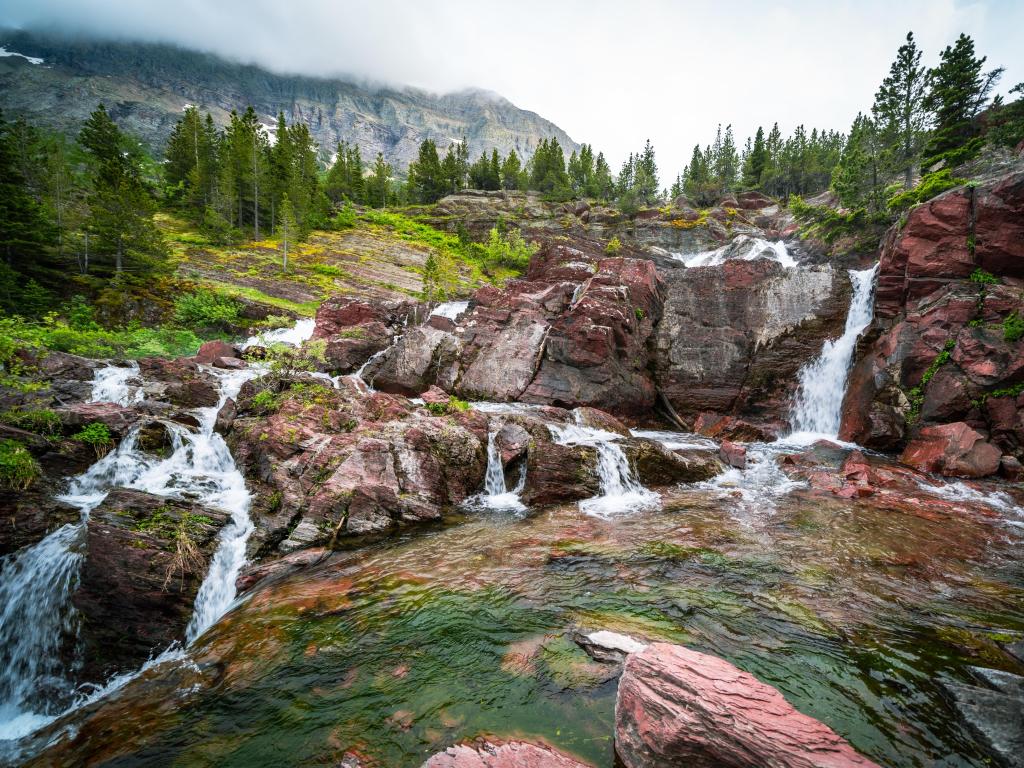 How to get there: For the first half of this journey, follow I-94 West, then take exit 211 and follow Montana Route 200 S W, 13 N and US Route 2 W to the heart of Glacier National Park.
Our highlights: If you want to keep the adventure on four wheels, drive along the Going-to-the-Sun Road which crosses the Continental Divide at Logan Pass. At an elevation of 6,646 ft. it is the highest pass you can drive to in the park and offers awe-inspiring mountain views. This road is so beautiful it was registered as a National Historic Landmark.
The next day, see a rainbow in a lake at Lake MacDonald, which is filled with colorful pebbles and is also the biggest lake in the park. It is accessible via US-2 near the park's west.
For an all-in-one hike, try the 10-mile trail to Grinnell Glacier for alpine scenery, waterfalls, wildflowers, wildlife, and of course the lake at the base of the glacier. This hike is a bit strenuous, but amply rewarding for the outdoor enthusiast.
Another option is the Iceberg Lake Trail, which is well maintained and has a moderate ascent of 1,200 ft. that brings you to yet another gorgeous glacial lake.
Glacier National Park might also be interesting for fans of Stanley Kubrick as the opening credits for "The Shining" were filmed along Going-to-the-Sun Road.
Our travel tips: Due to overcrowding during the summer, the park sometimes requires reservations to drive the Going-to-the-Sun Road between May and September. Check the website for the most up-to-date information.
While visiting, keep in mind that Glacier National Park implements a vehicle reservation system from May 26th to September 10th, from 6am to 3pm (at the time of writing). Before visiting, please check online to see whether you might need a reservation.
Finally, see this park while there are still glaciers! There were about a hundred glaciers when the park first opened in 1910 and now it has less than 25.
25. Seattle, WA
23 hours 55 minutes from Minneapolis (1,656 miles)
Why you should visit: This is a trip that takes you across the prairies, over the Rockies, through the east Washington rain shadow, and into the verdant Puget Sound to the shimmering city.
The birthplace of Boeing, Starbucks, and grunge music, Seattle is also known as the Emerald City for its beautiful environs. Come and see for yourself the great variety of activities, food, moods, and museums that are awaiting exploration.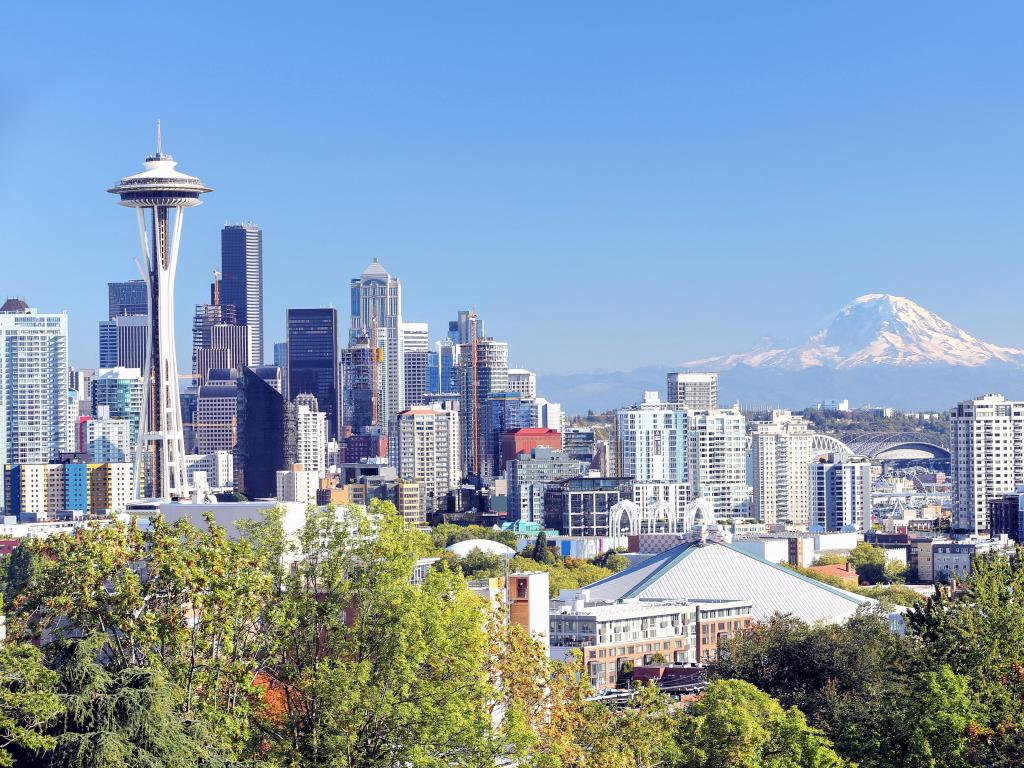 How to get there: Follow I-94 W and I-90 W all the way from Minneapolis to Seattle.
Our highlights: Once you've settled in, meander a maze of wondrous color and form, like a Dali painting come to life, at the Chihuly Garden and Glass and be dazzled by the variety and scale of this Washington native's artistic output.
What would a trip to Seattle be without a walk along Pike's Place Market? Be sure to bring a healthy appetite and be mentally prepared for a tourist markup.
Boeing is one of the region's major employers, so it's not a surprise that Seattle also boasts an impressive Museum of Flight with extensive exhibits of airplanes, rockets, and even lunar modules.
For an experience of the Pacific Northwest's fantastic nature close to the city, go to Kerry Park where you can walk ample trails and get an amazing glimpse of the skyline with majestic Mt. Rainier in the background.
Last but not least, make sure to explore the vast array of Seattle's cuisine which benefits from the multi-ethnic communities here. One local favorite is a Vietnamese rice noodle soup called Pho and many agree that Pho Than Brothers serves the best.
Opened in 1907, Pikes Place is America's oldest continuously operating farmers' market, which was founded as a place to get cheaper produce directly from farmers when onion prices skyrocketed in 1906.
Our travel tips: Though Seattle is surrounded by temperate rainforests, it tends to drizzle more than a downpour, so light rain protection and an outgoing attitude are handy.
In an effort to stay green, Seattle banned single-use plastic bags in 2021 so bring some reusable bags for any souvenirs – or pick up some locally produced ones in Seattle.