Road Trip from Iowa to Orlando, Florida
Are you looking for a road trip that will allow you to immerse yourself in the rich cultures of the Midwest and the South, as well as enjoy the unique wonders of nature and urban entertainment? Then the road trip from Des Moines, Iowa, to Orlando, Florida is just the adventure for you.
The 1,450-mile road trip from Iowa to Orland, Florida takes 23 hours to drive. You'll travel via Kansas City, Memphis, Holly Springs National Forest and Montgomery, or alternatively through St. Louis, Nashville, Atlanta and Osceola National Forest.
Read on to find out our recommendations as to the best routes to take, awe-inspiring things to see and do, and some of the best places to stay overnight.
How far is Orlando, Florida from Iowa, and how long will the road trip take?
Comparison of road trip routes between Iowa and Orlando, Florida

| Route | Distance | Driving Time |
| --- | --- | --- |
| The Eastern Route | 1,400 miles | 21 hours 30 minutes |
| The Western Route | 1,450 miles | 23 hours |
The road trip from Des Moines, Iowa to Orlando, Florida is 1,450 miles long and takes 23 hours to drive non-stop via the Western Route. This does not take any stops you might want to take into account.
Alternatively, the Eastern Route is slightly shorter at 1,400 miles long and will take 21 hours and 30 minutes to drive without any stops or detours.
To allow enough time to take in what wonders the many culturally rich cities hold, and to enjoy the stunning natural scenery and other landmarks along the way, we recommend taking 4-6 days for this road trip.
READ MORE - Ultimate Florida Road Trip Itinerary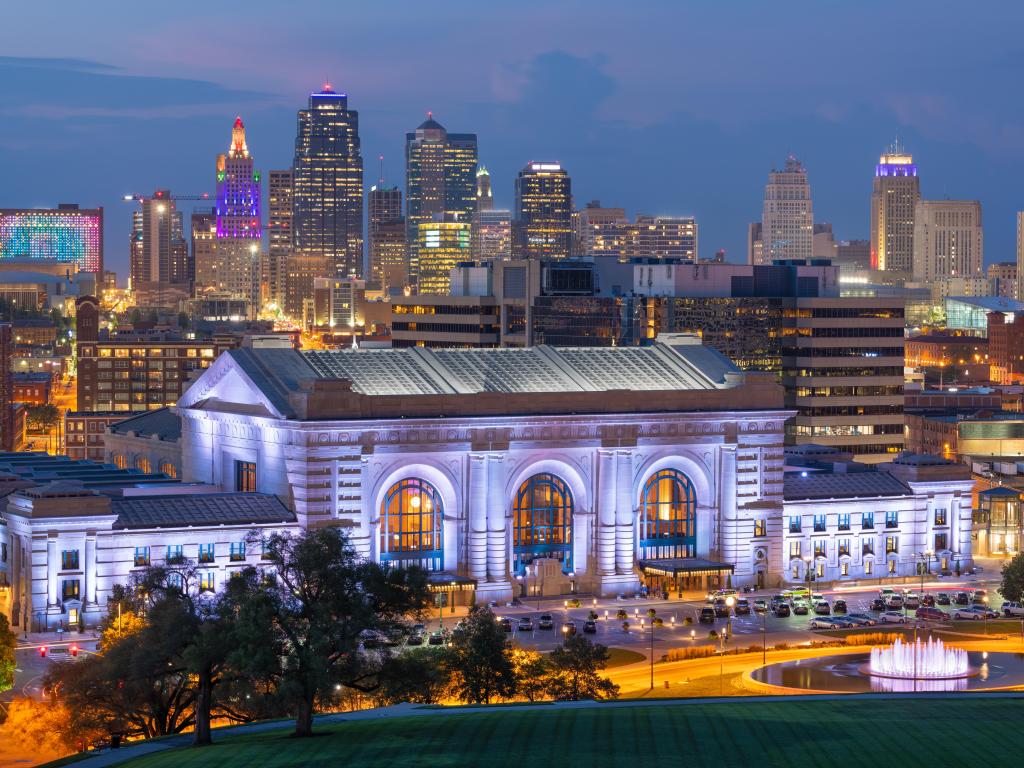 Best road trip route from Iowa to Orlando, Florida
Both of our suggested routes will take you through the beautiful prairie landscapes of the Midwest, the mountains, forests and river valleys of Tennessee, and into the diverse, subtropical Florida, and allow you to visit cities full of rich culture and history.
Your choice of route really depends on which particular cities, landmarks and landscapes you wish to visit.
The Western Route guides you from Iowa into Missouri and the city of jazz, Kansas City. You'll get to visit Memphis, the home city of Elvis Presley, and Montgomery, an architecturally interesting city that had an important role in the Civil Rights Movement.
On the way, you can also stop at some beautiful natural areas, such as Holly Springs National Forest, or the serene Osceola National Forest.
The alternative Eastern Route also takes you through Missouri and the city of St. Louis, a place of blues music and rich Western history. You can then stop at the Land Between the Lakes National Recreation Area in Kentucky, before taking in the ultimate city of country and bluegrass music, Nashville, in Tennessee.
After Nashville, you have a chance to visit the scenic city of Chattanooga in Tennessee and vibrant Atlanta in Georgia, before reaching Florida on this route.
How to drive from Iowa to Orlando, Florida
The map above shows our suggestions for the best road trip routes between Iowa and Orlando, Florida. Keep reading for detailed descriptions of both routes, where to stay on either, and the best things to do on the way.
The Western Route
To start the road trip along this route, you'll leave Des Moines along Interstate 35 (I-35). You'll arrive in Kansas City, nicknamed as "The Heart of America", from where you may drive southeast towards Springfield.
Take US Route 60 to carry on southeast from Springfield direction Memphis, Tennessee. After exploring this city known for its rich music scene, make a stop at Holly Springs National Forest, before continuing on I-22 to Birmingham, Alabama.
I-65 will then take you further into the forest regions of Alabama and you'll reach the historically significant city full of fascinating buildings and landmarks, Montgomery.
From there, US Route 231 takes you further southeast, and eventually into Florida. You may stop at the hilliest place in Florida, Tallahassee, before following I-10 and I-75 past Gainesville to Orlando.
To extend your trip, make sure to check out our ultimate Florida road trip itinerary.
The Eastern Route
This Route option takes you first east of Des Moines, Iowa, to Mt Pleasant. Take a south turn there in the direction of St. Louis.
After visiting this "Gateway to the West", follow I-64 and I-24 past the Land Between the Lakes nature area into Nashville, Tennessee, and after that, Chattanooga, at the foot of the Appalachian Mountains.
You may then drive along I-75 into Atlanta, Georgia, and enjoy visiting this attractive, modern city with rich culture. I-75 will take you further on your road trip and into Florida.
Before Lake City, turn onto I-10 to head towards the coast of the Atlantic and the city of Jacksonville. From there, I-95 takes you to St. Augustine, a city that is known for its stunning beaches and Spanish colonial architecture. From St. Augustine, it is just a short drive left to reach Orlando.
Check out our ultimate Florida road trip itinerary to extend your road trip.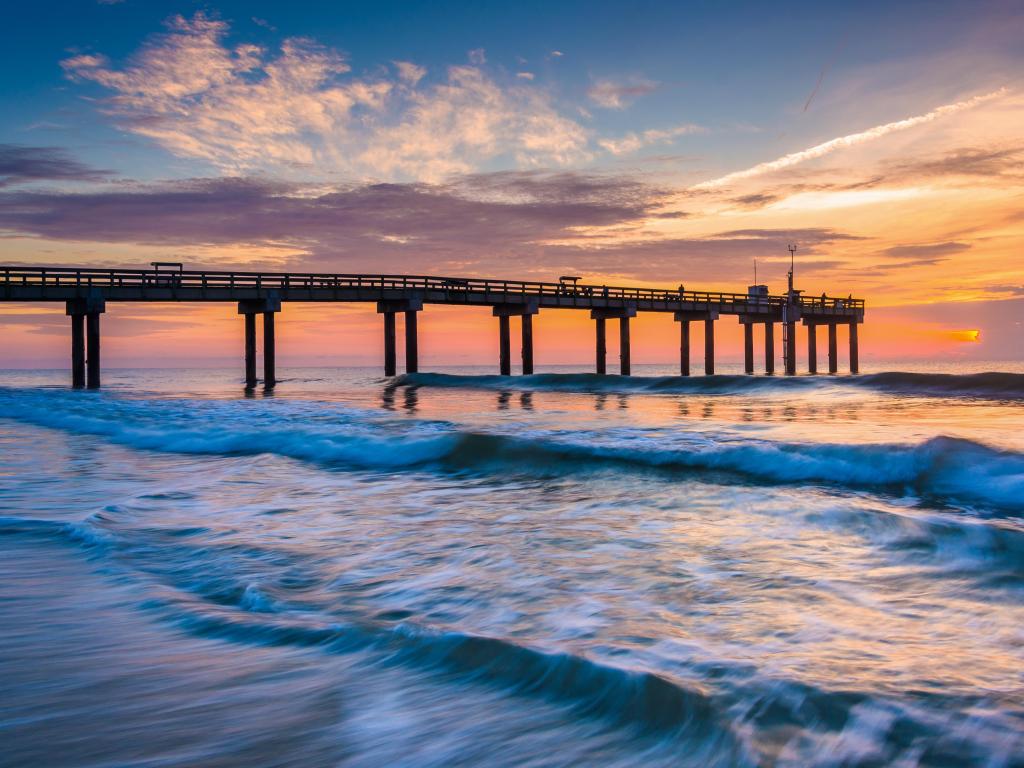 Best places to stop between Des Moines, Iowa, and Orlando, Florida
There are wonderful, culturally rich cities and beautiful landscapes to visit and explore along your road trip, whichever route you choose.
With much to see and do, you'll probably want to find some truly comfortable yet interesting places to stay overnight. Read on to discover our favorite places to stay on this amazing road trip from Iowa to Florida.
A room with a view in Memphis
Memphis is located about halfway along the road trip on the Western Route. Set along the Mississippi River, this charming city is full of rich musical history and is especially known as the home of Elvis Presley.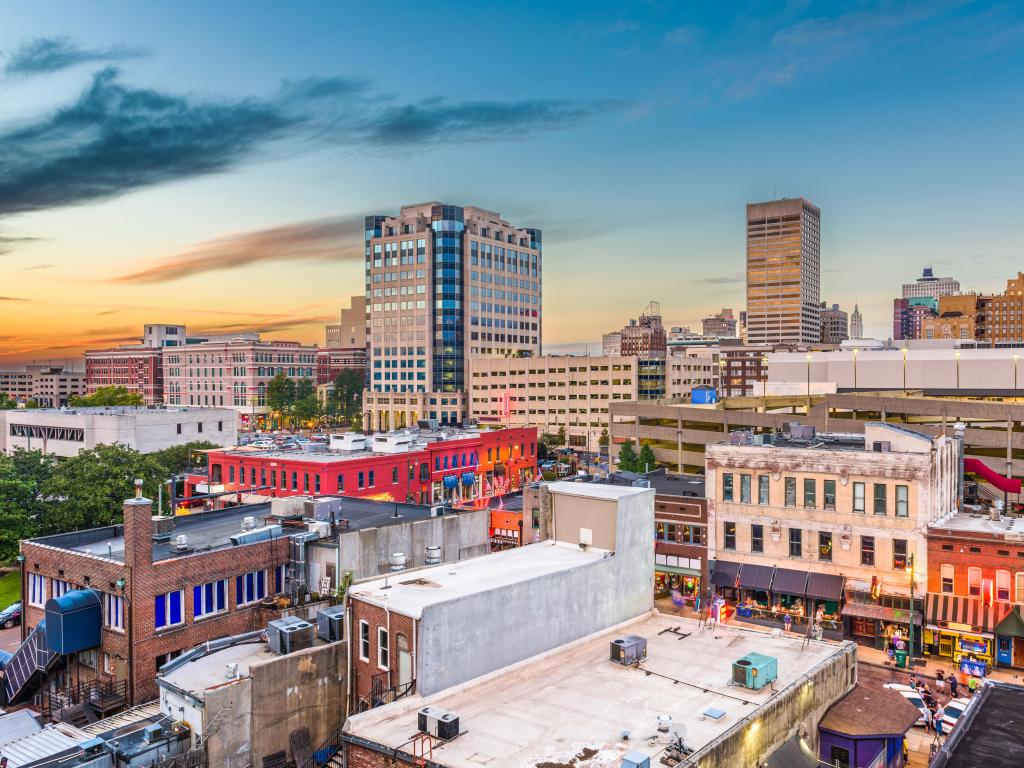 Some of the must-see attractions in Memphis include the Memphis Music Hall of Fame, honoring famous musicians and their achievements, and Graceland, the former home of the King. You might also enjoy a visit to Sun Studio, nicknamed "The birthplace of rock and roll".
Furthermore, the National Civil Rights Museum explores the Civil Rights Movement from the 17th century until today and is worth a visit for all history buffs.
Of the many wonderful places to stay in Memphis, we highly recommend Big Cypress Lodge. This stunning hotel is located right on the highway bringing you into Memphis, and it overlooks the Mississippi River. It is stylishly decorated and offers luxurious rooms that guarantee you a relaxing stay.
There are two restaurant options to choose from as well as a bar to enjoy your favorite cocktail at. There is even a bowling alley on the property, a perfect way to spend some time relaxing with your travel companions.
The hotel is in the Memphis Downtown area, and thus it is within easy walking distance to several parks, museums and other landmarks, such as Mud Island Park and the Memphis Music Hall of Fame. You'll also find a range of lovely restaurants nearby.
Enjoy a visit to Nashville, "The Mecca of Music"
Located about halfway along the Eastern Route option, Nashville is another city full of musical history. This buzzing city is well known as an important hub for country music, blues and bluegrass.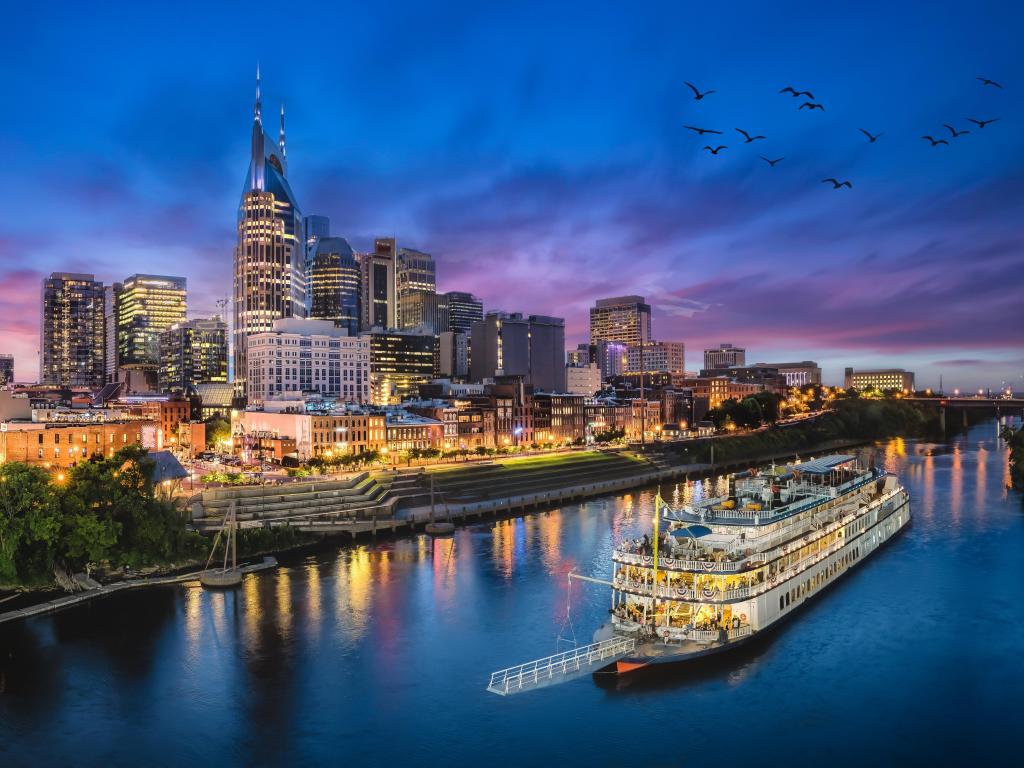 While in Nashville, visit the Country Music Hall of Fame and Museum which has extensive collections highlighting the traditions and history of country music. Also, The Grand Ole Opry is another important venue for country music where shows are still organized.
There are also wonderful museums worth a visit. At Johnny Cash Museum, you'll find the world's largest collection of artifacts and material related to the life and works of Johnny Cash, whereas the Frist Art Museum exhibits local, national, and international collections related to arts of all kinds.
For a rejuvenating overnight stay in Nashville, our top choice is SpringHill Suites by Marriott Nashville Downtown/Convention Center. This elegant hotel ensures a comfortable stay, right in central Nashville and just two blocks away from the highway that brings you into the city.
The hotel offers a superb fitness center and an outdoor swimming pool at the hotel to get your body moving after being in the car for a while. Since there is parking available on the property, you can explore the city on foot and get your steps in for the day that way as well.
It is within walking distance of several major attractions, such as the Country Music Hall of Fame and Museum, the Johnny Cash Museum, and the Frist Art Museum. You can also find wonderful cafés, restaurants, breweries and bars a short walk away from the hotel.
Where to stay when you reach Orlando, Florida
Orlando is especially known for its many theme parks and cultural attractions. We recommend Grand Bohemian Hotel Orlando, Autograph Collection as a stunning place to stay while visiting this city.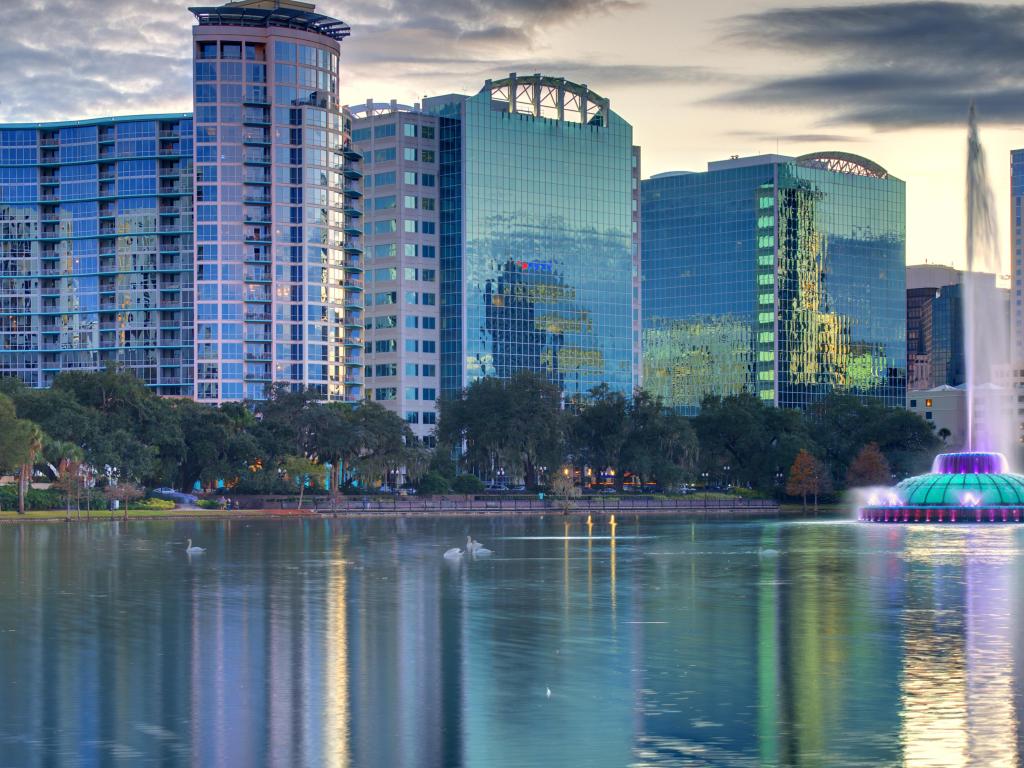 It is located in central Orlando, making it easy to enjoy the various attractions, restaurants, cafés, bars and nightclubs of the vibrant city center.
The hotel has spacious, comfortable rooms, a lovely restaurant, and parking available for guests. You may easily walk to many of the main attractions, including Orange County Regional History Center which presents local and regional history starting from 12000 years ago, Orlando Museum of Art, or SAK Comedy Lab.
The various theme parks are a short drive from the hotel, including Walt Disney World Resort and Universal Orlando Resort. You can easily spend several days exploring all the exciting parks and attractions that are found in and around Orlando.
Things to see on a road trip from Iowa to Orlando, Florida
The road trip from Iowa to Florida offers you maximum chances to explore the rich, colorful histories of the American Midwest and Southern culture. There are also amazing nature areas to visit and appreciate along the route.
Here are some of our top recommendations for things to see and do during this road trip.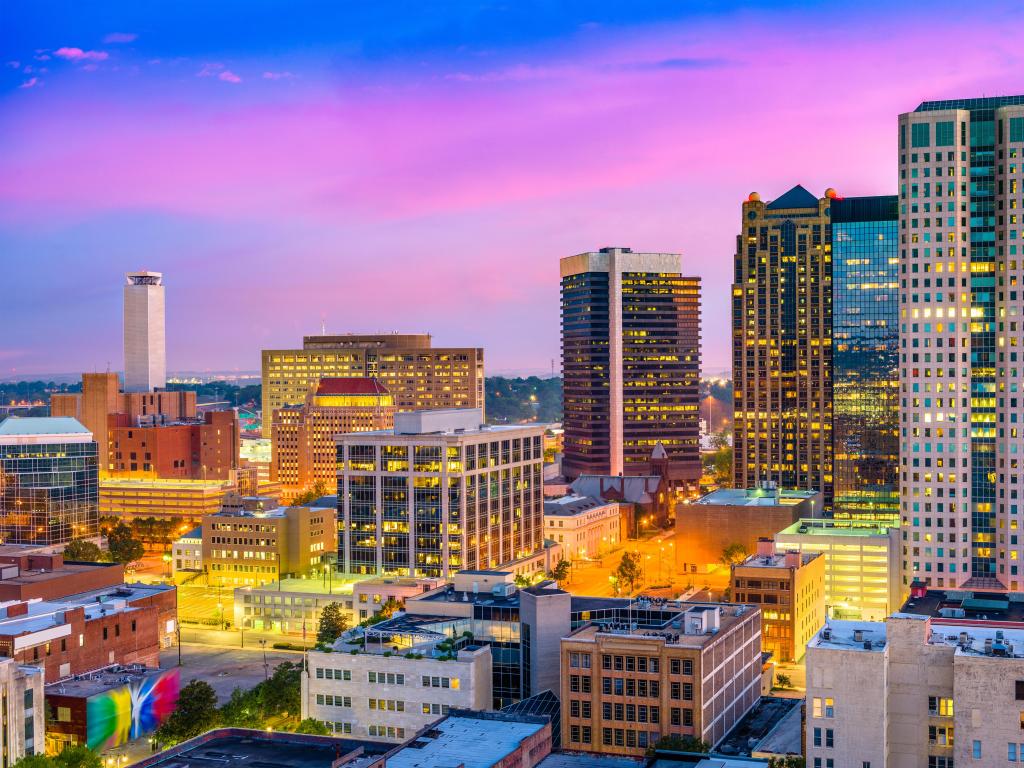 The Western Route
Kansas City, Missouri - Kansas City is famous for its performing arts and jazz scene, as well as the special Kansas-City style barbecue and the hundreds of fountains found in the city.
Springfield, Missouri - Springfield, close to the Ozark Mountains, is known for stunning hiking, cycling, caving, and other outdoor recreation opportunities. It also harbors the world's largest wildlife attraction, Wonders of Wildlife Museum & Aquarium.
Memphis, Tennessee - Memphis is worth visiting particularly for its rich musical history and traditions; it was the birthplace of many types of blues, soul and rock 'n' roll music, and many musicians have recorded here at the well-known Sun Studio.
Holly Springs National Forest, Mississippi - Holly Springs National Forest is a lovely place to stop for a picnic or a walk around the lake through beautiful pine forests.
Birmingham, Alabama - In Birmingham, you may visit several interesting art galleries and museums. The city is known as the only place in the world where all materials for making iron are present within a 10-mile radius.
Montgomery, Alabama - Montgomery is the capital city of the state of Alabama. It has a rich history, especially with regard to the Civil Rights Movement. You may also view beautiful architecture in this city.
Tallahassee, Florida - Tallahassee is the hilliest place in Florida. There are plenty of lovely outdoor recreation opportunities in Tallahassee, and you can also find interesting museums here, including the Museum of Florida History.
Aucilla Wildlife Management Area, Florida - You can enjoy paddling on the rivers or taking a hike in this stunning nature area with a rich diversity of wildlife, from Florida black bears to many birds and reptiles. It is also one of the oldest sites of human habitation in the US.
Gainesville, Florida - Gainesville harbors beautiful parks and wonderful museums, such as the Florida Museum of Natural History, and it also has a rich music scene.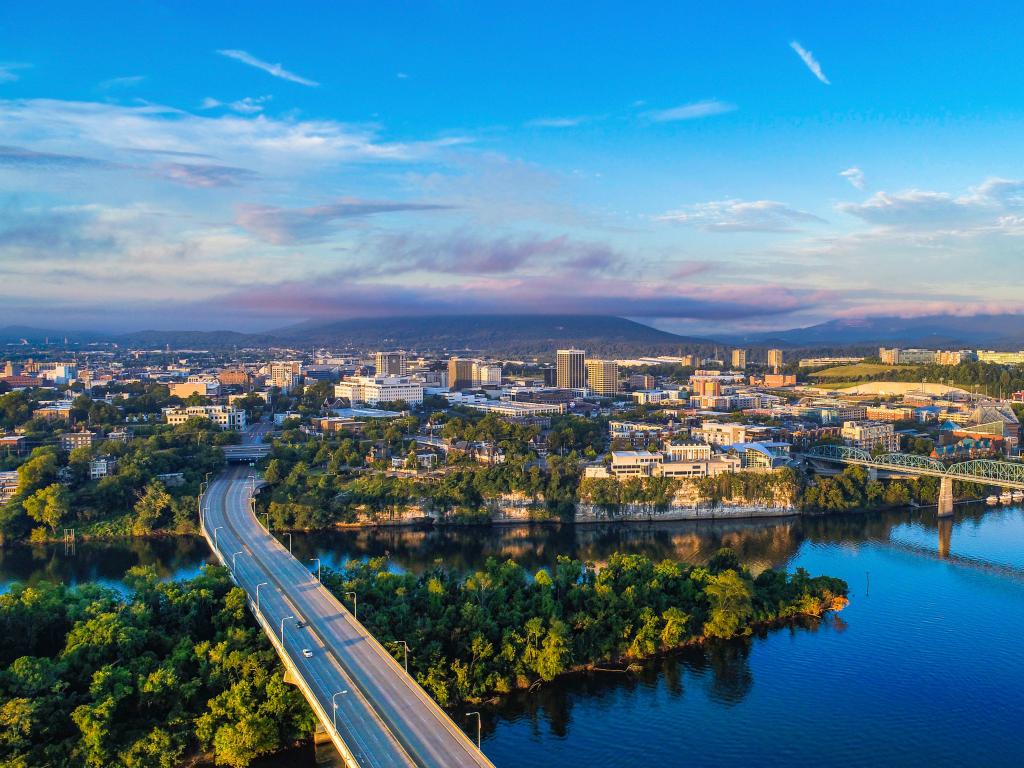 The Eastern Route
St. Louis, Missouri - Set along the Mississippi River, St. Louis is called the "Gateway to the West". You may visit the iconic Gateway Arch, and the city has a rich history of the Midwest as well as of blues music.
Land Between the Lakes National Recreation Area, Kentucky - You can enjoy various activities such as picnicking, hiking, fishing and bird watching at this stunning nature area consisting of wetlands and forests.
Nashville, Tennessee - Nashville is a must-see place to visit, certainly for the sake of its many cultural landmarks and amazing food, but of course especially due to it being a mecca of music; bluegrass was born here, and Nashville is known as the hub for country and blues music.
Chattanooga, Tennessee - Set along the Tennessee River and at the foot of the Appalachian Mountains, Chattanooga is called "The Scenic City" and offers much to the visitor, in terms of its stunning landscapes as well as its cultural offerings.
Atlanta, Georgia - Atlanta today is fast-paced though a friendly, and progressive, city, and its past is filled with rich history. It was the birthplace of Martin Luther King Jr., and you can discover about the Civil Rights Movement and delve deeper into history by visiting the many museums and landmarks.
Jacksonville, Florida - Jacksonville is known for amazing beaches, breweries, its music scene and art events, such as the Art Walk that takes place outdoors on the first Wednesday of every month.
Guana River Preserve - This stunning estuary is home to diverse wildlife, and there are amazing white beaches here as well.
St. Augustine, Florida - St. Augustine on the Atlantic Coast may be the oldest European-established settlement in the US. It displays Spanish colonial architecture, as well as wonderful beaches, parks, and museums.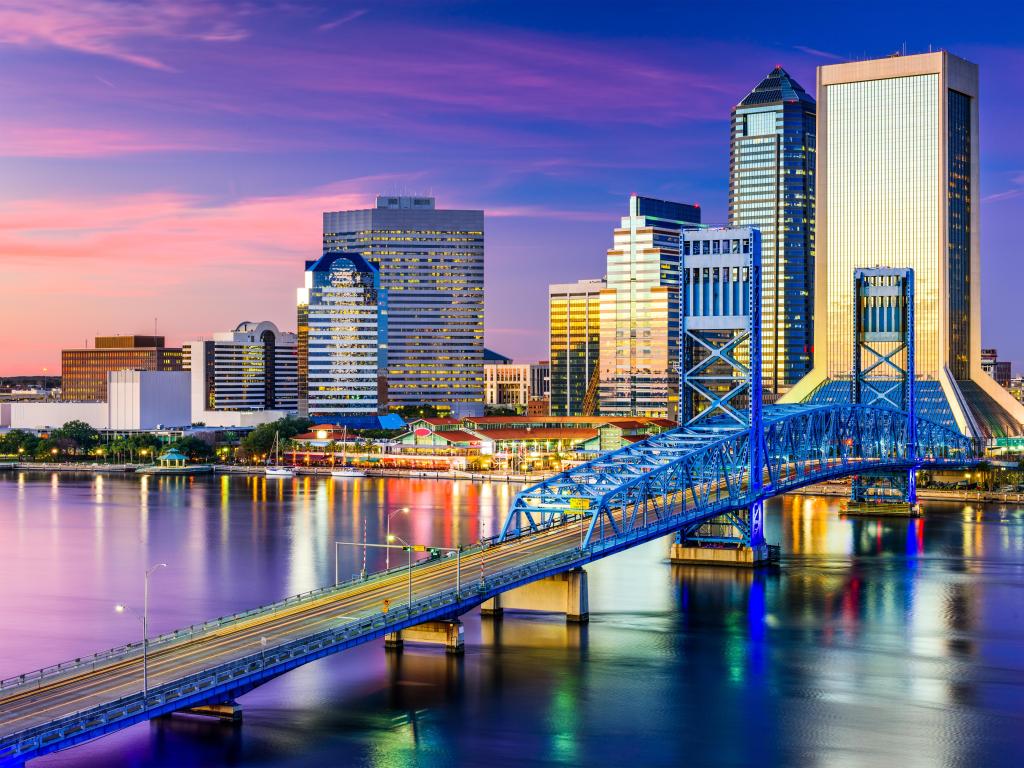 Both Routes
Osceola National Forest, Florida - Forested woodlands, fascinating swamps, and a great diversity of wildlife can be enjoyed in this peaceful nature area.
Best time to go on a road trip from Iowa to Orlando, Florida
Orlando is a year-round destination all in all, though March, April and May could be the most pleasant times to visit, due to moderate temperatures and fewer crowds than in the summertime.
Temperatures in the summer months range from 70 to 90 degrees Fahrenheit. The hot summer season also coincides with the hurricane season, which is something to take note of.
Summer months are the peak season for Orlando, which means you will see many crowds and the accommodation prices will be at their premium.
On the other hand, you can find flight and hotel prices somewhat cheaper between February and April. Temperatures range between 40 and 70 degrees Fahrenheit, so it is good to be prepared for cooler evenings at least. The theme parks and attractions do get crowded during the holiday season, December-January.
October-November or March-April are probably the best times to visit Orlando. Temperatures then are usually between 50 and 75 degrees Fahrenheit, and you'll avoid the biggest crowds and highest prices of the summer months or the holiday period in December.
Of the many amazing events and festivals that take place in Orlando throughout the year, we mention a few here for you to consider when planning the timing of your road trip.
In April, Florida Film Festival is a well-known event that celebrates cinema. If you visit during this time, make sure to also experience Universal's Mardi Gras, which showcases Orlando's take on the carnival tradition.
The Orlando International Fringe Theater Festival in May is a wonderful cultural experience, whereas Bite30 highlights the work of Florida's best local chefs and restaurants and takes place in June-July.