Road Trip from Iowa to Los Angeles, California
If you're looking for a road trip of contrasts, this epic journey from Des Moines, Iowa to Los Angeles, California certainly ticks all the boxes. Whichever route you choose, you can look forward to beautiful scenery, charismatic cities, and historic sites.
The 1,900-mile road trip from Iowa to Los Angeles takes around 30 hours to drive. Highlights include Lincoln, Denver, Zion National Park, and Las Vegas. Kansas City, Santa Fe, Albuquerque, and the Grand Canyon are key stops on the alternative route.
To help you get the most out of your time on the road, we've selected the best routes, things to see, places to stop overnight, and times to travel. So, let's take a closer look at this wonderful and memorable road trip from Iowa to Los Angeles.
How far is Los Angeles, California from Iowa and how long will the road trip take?
Comparison of road trip routes between Iowa and Los Angeles

| Route | Distance | Driving Time |
| --- | --- | --- |
| The Zion Route | 1.900 miles | 29 hours |
| The Grand Canyon Route | 1,930 miles | 30 hours |
There are two great routes on this road trip, both of which are of similar length and include plenty of diverse highlights and contrasting landscapes.
The Zion Route is around 1,900 miles, with a non-stop driving time of 29 hours. This route is the most direct, extending through Nebraska, Colorado, and Utah on the way to Los Angeles.
The Grand Canyon Route is slightly longer, at 1,930 miles and with a driving time of 30 hours, without stops. This route takes you through Kansas, New Mexico, and Arizona.
The minimum amount of time needed to complete these routes is four days, but there is so much to see along each one that we suggest making this a five-day (or more) road trip.
Best road trip route from Iowa to Los Angeles, California
It's difficult to choose the best route on a road trip of this scale, as both offer so much to enjoy, with a mix of cities, national parks, and scenic driving.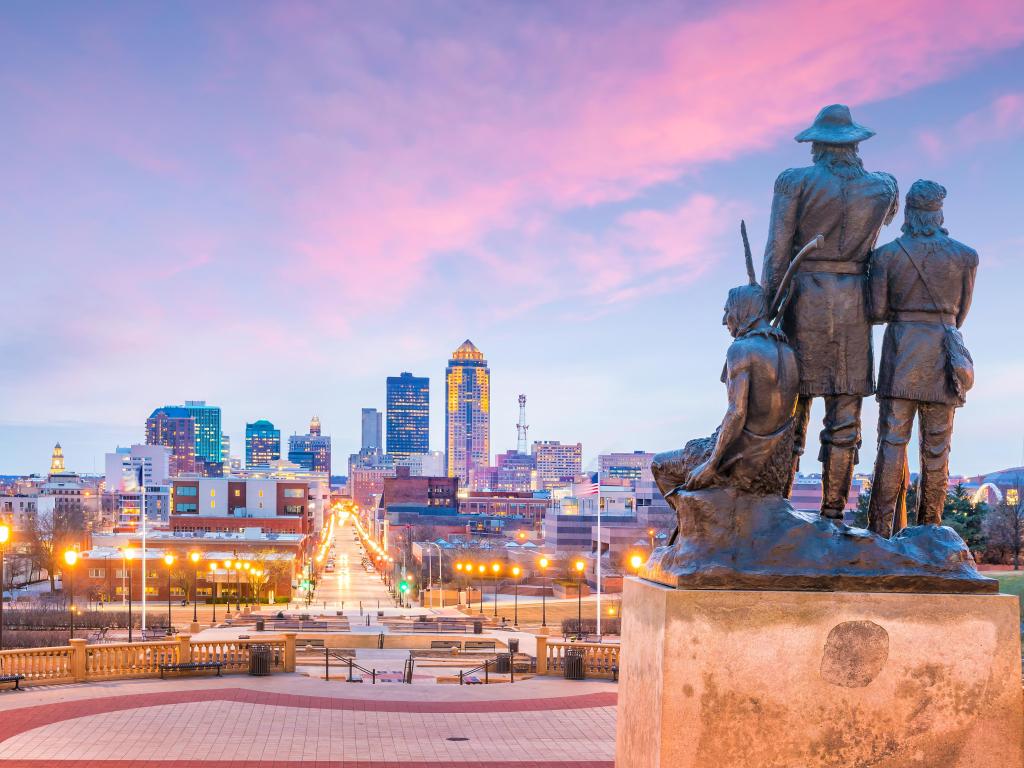 If Las Vegas is on your travel "to do" list, you might like to opt for the Zion Route, which takes you directly through "Sin City". Additional city highlights on this route include Lincoln and Denver. Zion National Park, Arches National Park, and the Rockies are the main natural sights on this route.
Alternatively, choose the Grand Canyon Route to explore this iconic natural attraction, as well as Petrified Forest National Park. You also enjoy Kansas City and Wichita, with ample time to immerse yourself in the unique culture of New Mexico, including the vibrant cities of Santa Fe and Albuquerque.
The Zion Route
Leave Des Moines, heading west via Interstate 80 (I-80). Cross the state line into Nebraska as you reach Omaha and stay on I-80 West for Lincoln. Continue on the interstate through the wide open landscape of Nebraska and into Colorado, heading for the city of Denver, gateway to the Rocky Mountains.
From here, journey south on US Highway 285 and US-50 West and enjoy a scenic, mountainous drive as you head towards Black Canyon of the Gunnison National Park.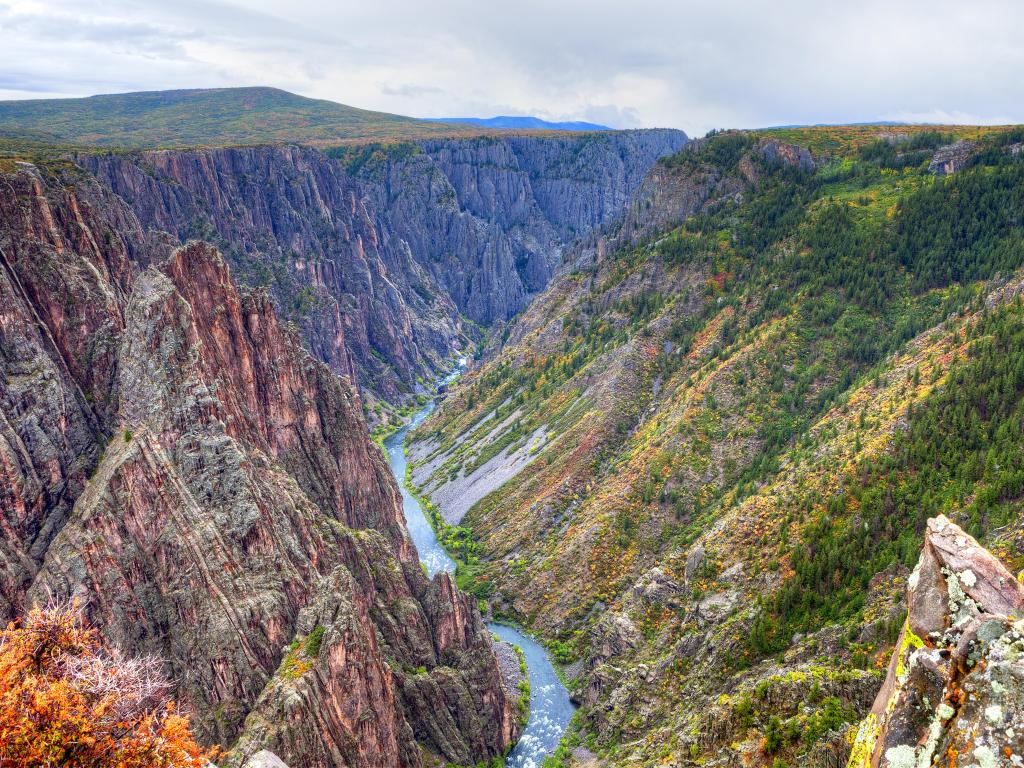 Continue on US-50 West, I-70 West and US-191 South, crossing the state line into Utah as you make your way to Arches National Park. Pick up I-15 South for the drive to Zion National Park.
Once you've explored the park, continue on I-15 South, crossing into Arizona and then Nevada as you head for Las Vegas.
Leave Las Vegas on I-15 South. Cross into California and enjoy a desert drive through Mojave National Preserve. Pass through the town of Barstow and stay on the interstate, which will take you towards your destination, Los Angeles.
The Grand Canyon Route
For this route, leave Des Moines via I-35 South. Pass into Missouri and stay on the interstate to Kansas City. Enter the state of Kansas as you leave the city and continue on the interstate for the drive to Wichita.
Continue west through Kansas and cross briefly into Oklahoma before entering New Mexico. At the town of Springer, pick up I-25 South and enjoy a stretch of scenic driving before arriving at Santa Fe in the Sangre de Cristo foothills.
Leave Santa Fe via I-25 South for the short drive to Albuquerque, then pick up I-40 West. Cross the Arizona state line as you make your way to Petrified Forest National Park and then on to Grand Canyon National Park.
From here, take I-40 West once more and cross into California. Pass through Mojave National Preserve, where you leave the interstate and head south to Joshua Tree National Park. Then, take I-10 West for the final leg of the journey to Los Angeles.
Best places to stop between Iowa and Los Angeles
There are some great options for overnight stops on this road trip. Here is just one suggestion for each route, plus a recommendation for a great hotel once you reach Los Angeles.
Luxury in the heart of Denver
On the Zion Route, we recommend a stop at the "Mile High City", Denver. Known as the gateway to the Rockies, the city boasts a spectacular mountainous backdrop and has plenty for visitors to enjoy year-round. You will reach the city about a third of the way into the route.
Popular attractions include Denver Art Museum, which was founded in 1893 and features exhibits across seven floors, while the historic Larimer Square is a hub of restaurants and culture.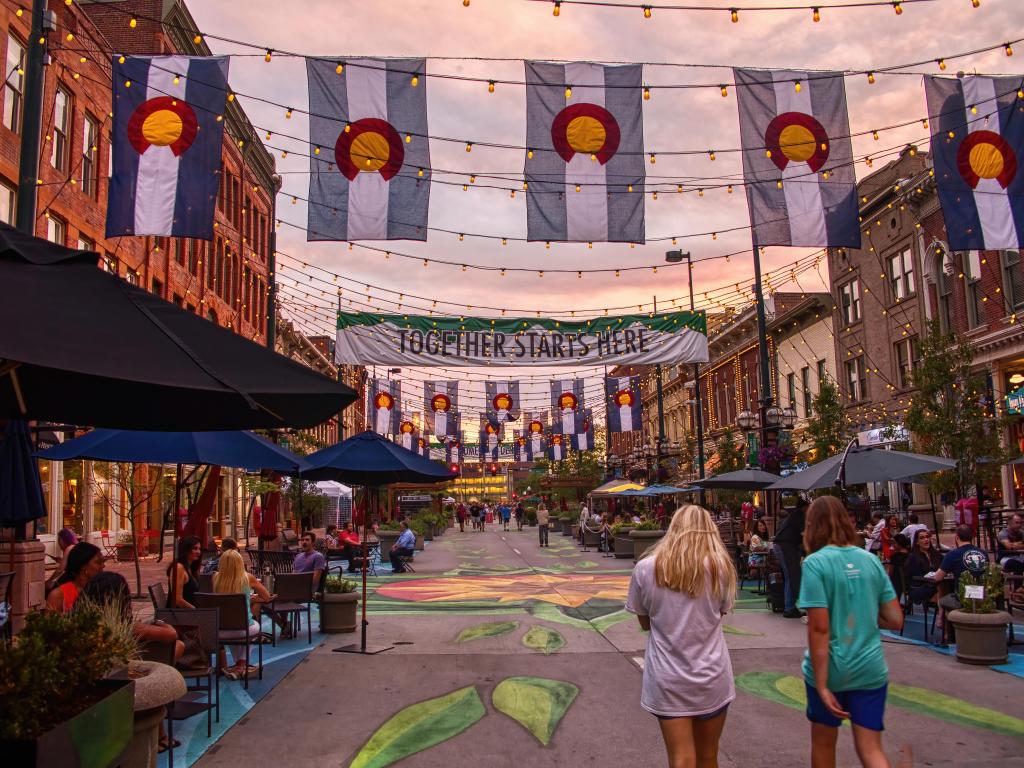 Also worth a visit is Molly Brown House Museum, which is dedicated to the philanthropist, activist, and survivor of the Titanic.
Our choice for an overnight stay in Denver is The Rally Hotel at McGregor Square, a luxury hotel that benefits from an excellent downtown location.
Larimer Square is about a 15-minute walk, while Coors Field is opposite the hotel. Denver Zoo and City Park are a short drive or bike-ride away. There is also plenty of great shopping, dining, and entertainment on your doorstep.
You can relax in your stylish guestroom or in the shared lounge or make use of one of the free-to-hire bikes for some sightseeing. The hotel also benefits from on-site parking, a bar and restaurant, and a rooftop swimming pool, making it a great choice for taking a well-earned break from the road.
Culture and style in Santa Fe
Our choice for an overnight stop on the Grand Canyon Route is the colorful city of Santa Fe, which you will reach about halfway through the trip.
Steeped in New Mexico's Native American culture, Santa Fe is a wonderful and compact city to explore on foot. It is also a real draw for art-lovers. Highlights include the Georgia O'Keeffe Museum, which displays over 3,000 artworks, the New Mexico Museum of Art, and the interactive Meow Wolf attraction.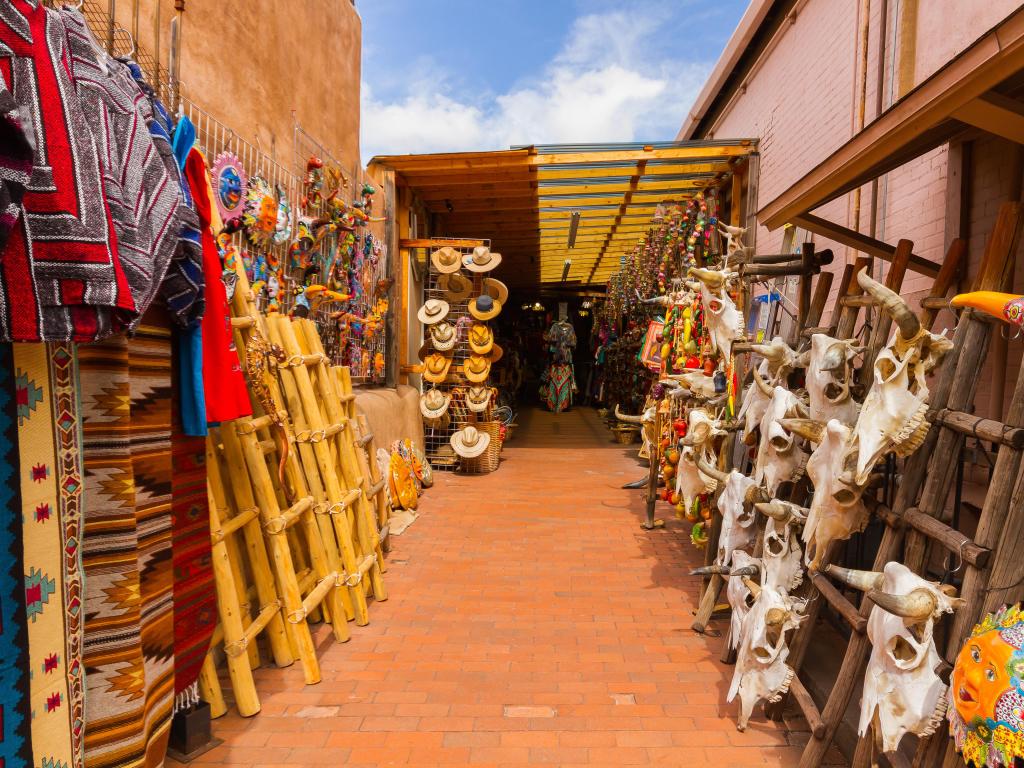 Discover the city's history at San Miguel Chapel, which was built in 1610, and be sure to visit Santa Fe Plaza, a public square that hosts markets and festivals.
A great hotel in Santa Fe is the Rosewood Inn of the Anasazi, which promises great service in upscale surroundings. The hotel is conveniently located within walking distance of attractions including the Georgia O'Keefe Museum, Santa Fe Opera, and the Cross of the Martyrs.
The rooms and communal areas are comfortable and decorated to a high standard, in keeping with traditional Santa Fe style.
You can enjoy a meal or a drink at the Anasazi Restaurant and Bar, while The Patio serves appetizers and cocktails seasonally. The hotel also benefits from a fitness center and on-site parking.
Where to stay when you reach Los Angeles
If you want elegance combined with convenience, a great option for a hotel in Los Angeles is The Prospect Hollywood. The charming hotel features a lovely garden, courtyard, and terrace. It also benefits from a bar and private parking. Breakfast is served each morning.
Located in the heart of Hollywood, the property is close to attractions including Universal Studios, Los Angeles County Museum Of Art, and the Hollywood Bowl.
Things to see on a road trip from Iowa to Los Angeles
There are many things to see and do on both of our suggested routes, so making decisions can be daunting. To help you plan your road trip itinerary, we've picked out a selection of the best things to see and do along both routes.
The Zion Route
The Old Market, Nebraska: This preserved section of Omaha is lined with cobbled streets and historic buildings.
Denver Botanic Gardens, Colorado: Spend a peaceful few hours at this 23-acre park, which features a conservatory, theme gardens, and a sunken amphitheater.
Hanging Lake, Colorado: Enjoy a break at this lovely lake nestled into Glenwood Canyon. You can also explore the scenic hiking trails that offer views of the magnificent waterfalls that feed into the lake.
US Olympic & Paralympic Museum, Colorado: Visit this interesting museum in Colorado Springs to learn more about the country's inspiring Olympians and Paralympians.
Black Canyon of the Gunnison National Park, Colorado: One of the lesser visited national parks, here you can experience North America's steepest and oldest cliffs. The park is subject to seasonal closures due to inclement weather.
Arches National Park, Utah: Home to more than 2,000 natural sandstone arches, this park is a wonderful place to explore and maybe take some stunning pictures. You might need to make a reservation for a timed-entry permit while visiting Arches National Park. Please check the national park's website for up-to-date information.
Bryce Canyon National Park, Utah: Visit this spectacular national park to see beautiful red rocks, pink cliffs, and the rocky structures known as "hoodoos".
Zion National Park, Utah: Another of the region's stunning national parks, here you can marvel at the sandstone cliffs and explore the forest trails that run alongside the Virgin River. If you'd like to hike up to Angels Landing, you will need a permit and will need to make a reservation. Check the Zion National Park's website for more details.
Las Vegas Strip, Nevada: Take a walk down this iconic stretch of South Las Vegas Boulevard, which is lined with neon-soaked themed hotel casinos, and maybe drop in to hear the slot machines ringing and to enjoy world-class dining and entertainment.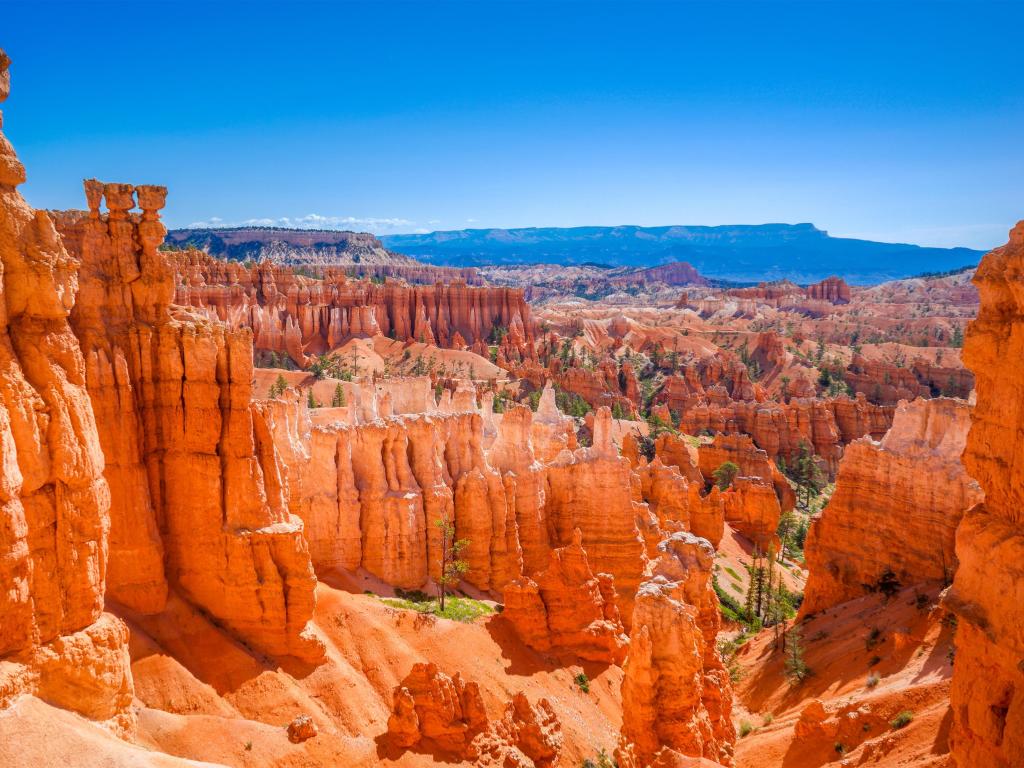 The Grand Canyon Route
Arabia Steamboat Museum, Missouri: This interesting museum in Kansas City features artifacts from the Arabia steamboat, which sank in the Missouri River in 1856.
Museum of World Treasures, Kansas: Pay a visit to this eclectic museum in Wichita to see everything from a Tyrannosaurus skeleton to a section of the Berlin Wall.
Sandia Peak Tramway, New Mexico: Near Albuquerque, you can ride this aerial tramway to enjoy the impressive views from Sandia Peak. Not recommended for those afraid of heights!
Petrified Forest National Park, Arizona: Visit this 346-square mile park to see the large and colorful deposits of petrified wood.
Grand Canyon National Park, Arizona: One of the notable stops of the journey, our route takes you to the South Rim of this iconic site, as well as through the adjacent Kaibab National Forest.
Joshua Tree National Park, California: Explore this striking national park, with its rugged rock formations and stark desert landscape.
VillageFest, California: Time your arrival for a Thursday to enjoy this lively night street fair. It is held in upscale Palm Springs, which is worth a visit anytime.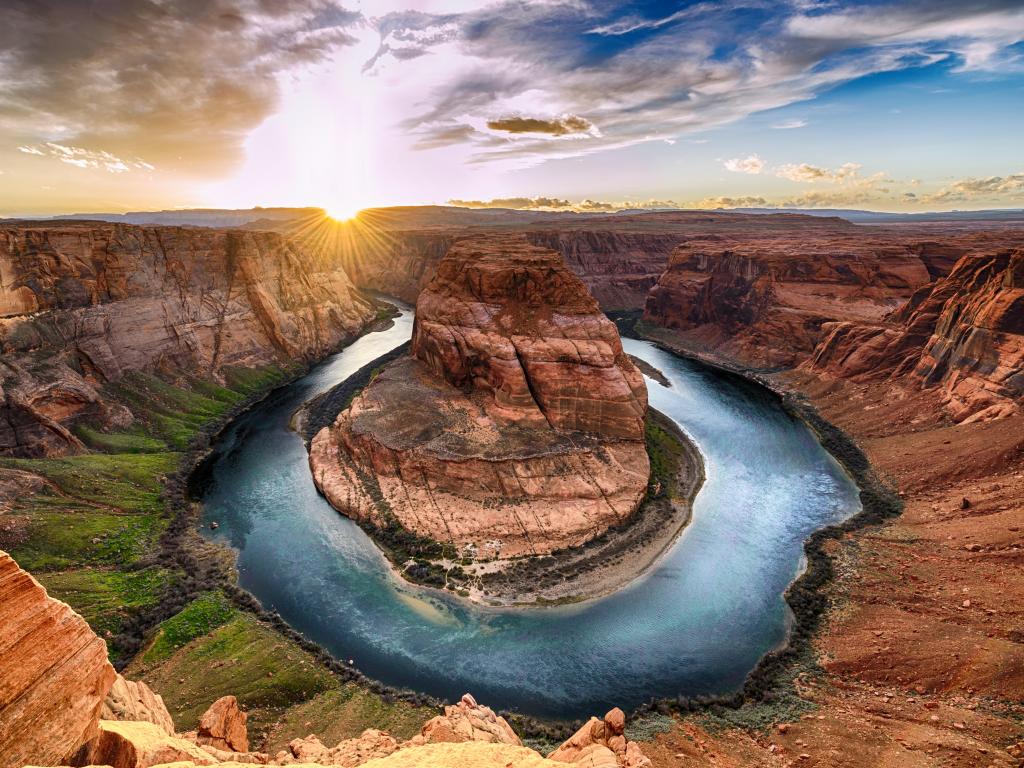 Both Routes
Deep Creek Hot Springs, California: Hike the 3.6-mile trail to see these natural hot springs located in the northern Mojave Desert.
Disneyland, California: Around 30 miles from Los Angeles in Anaheim, you can find this branch of the world-famous theme park.
Long Beach, California: After the long road trip, enjoy a visit to this beautiful coastal city, which is home to the RMS Queen Mary and a stunning sandy beach.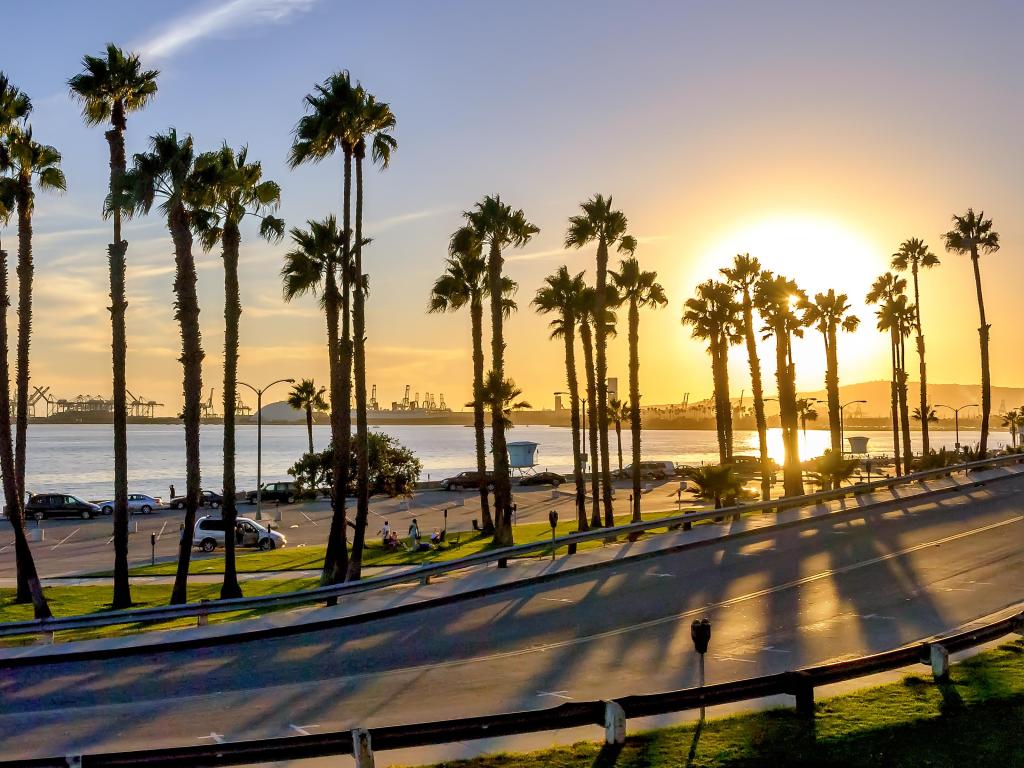 Best time to go on a road trip from Iowa to Los Angeles
While you can take this trip year-round, you will experience variations in temperature and weather conditions along both routes across the seasons. This might impact your plans and influence your choice of when to travel.
During summer, the temperature in New Mexico, Arizona, Nevada, and California can reach 113 degrees Fahrenheit. The national parks are likely to be busy and the extreme heat might affect outdoor activities.
In winter, Colorado, Kansas, and Iowa experience cold weather and snow. The area around Denver is great for winter sports but driving conditions might be more treacherous. Los Angeles has nice weather all year round, though winter sees more rainfall.
Overall, the best times to take this trip are between May and June or during the fall when you can avoid the extreme temperatures along the routes and enjoy sightseeing in a more pleasant climate.
Key events in Los Angeles include the Golden Globes in January and the Academy Awards in March, while the popular Coachella Valley Music and Arts Festival is held in nearby Indio in April. While events like these create a buzz, drawing media, celebrities, and tourists to the city, they also impact crowd sizes and hotel prices.