Road Trip from El Paso to Las Vegas
Are you in the mood for exploring jaw-dropping natural beauty and cultural heritage on your way to the glittering neon lights of Sin City? This amazing road trip from El Paso to Las Vegas through the Chihuahuan Desert, mountain vistas in New Mexico, and sections of Route 66 is just what you are looking for!
The 950-mile road trip from El Paso to Las Vegas takes around 15 hours to drive weaving through Truth or Consequences, Albuquerque, New Mexico, Flagstaff, Arizona, Route 66 Auto Museum, Lava River Cave, Grand Canyon, Moqui Cave and Hoover Dam.
If you are ready to take the trip of a lifetime from El Paso to Las Vegas going through America's stunning southern states, then continue reading for the best routes, places to stay overnight, hotel recommendations, and the best times to embark on this journey.
How far is Las Vegas from El Paso, and how long will the road trip take?
Comparison of road trip routes between El Paso and Las Vegas

| Route | Distance | Driving Time |
| --- | --- | --- |
| The Phoenix Route | 730 miles | 11 hours 20 minutes |
| The Grand Canyon Route | 950 miles | 14 hours 50 minutes |
The Grand Canyon Route is 950 miles long and takes almost 15 hours to cover, meandering through the iconic landmark which is the namesake of this route, and the majestic mountains of Albuquerque.
The Phoenix Route is shorter and more direct, covering 730 miles. It takes 11 hours and 20 minutes to go through Tucson, Phoenix and Hoover Dam.
We recommend setting aside 5 to 6 days to thoroughly enjoy the places along both the routes, have a relaxing overnight stay, and enjoy all the thrilling activities that Las Vegas has to offer.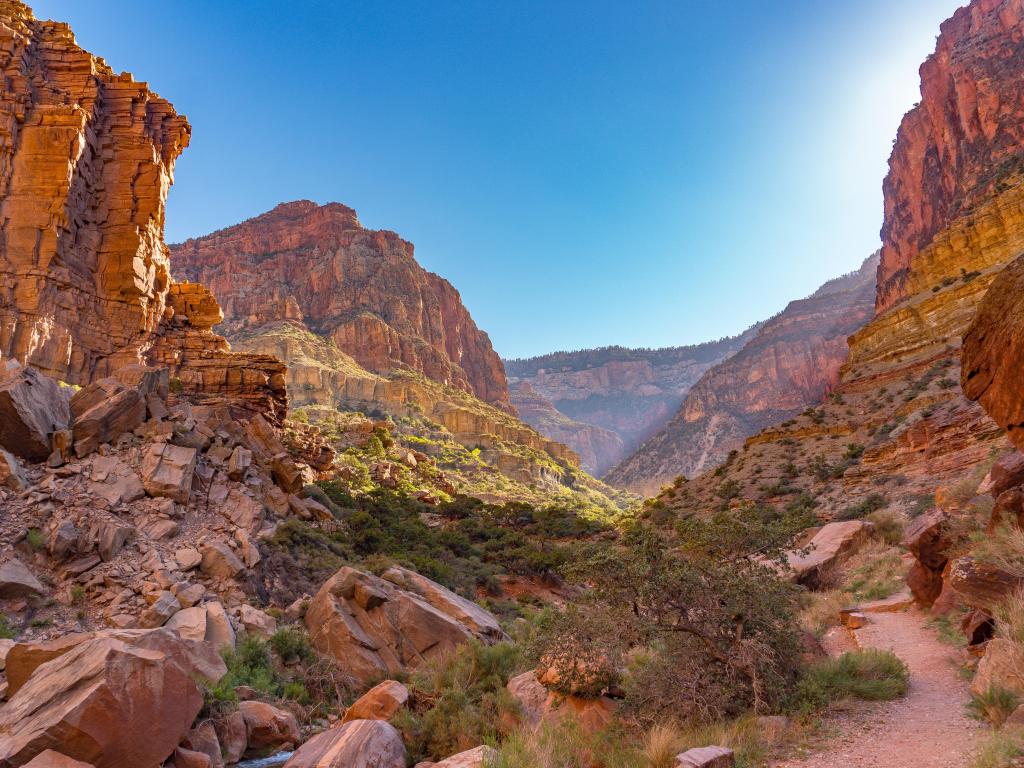 Best road trip route from El Paso to Las Vegas
The best route from El Paso to Las Vegas will ultimately depend on how much time you have and what you'd like to see.
The Grand Canyon Route is a comprehensive route that takes you through tons of attractions in New Mexico, Arizona and Hoover Dam. It offers you a chance to visit the iconic Grand Canyon, one of the most beautiful and celebrated national parks in the United States.
Depending on whether you want to get a more city vibe or nature vibe, you can stay overnight in the vibrant city of Albuquerque or Flagstaff (perfect gateway to the Grand Canyon) on this longer route of the road trip from El Paso to Las Vegas.
The Phoenix Route is shorter and more direct, taking you through Arizona and the beautiful state of Nevada. It is generally more relaxed than the Grand Canyon Route, with tons of options to add stops, such as Tucson, if you'd like.
The Grand Canyon Route
Leave El Paso on Interstate 10 (I-10) W from N Campbell St and Yandell Dr. Then keep following it to Broadway in Williamsburg. This will take you to Truth or Consequences. From there, get on I-25 N and follow it to Oak St SE in Albuquerque.
This is the perfect place to stay overnight and regain your energy for the rest of the journey. Explore the numerous attractions and vibrant nightlife before heading to the road again. Get on I-40 W from 4TH St NW and follow it to Butler Ave in Flagstaff.
Then continue on Route 66 and follow US-180 W and AZ-64 to Center Rd. Take the Market Plaza Rd to Grand Canyon Village. Continue to Tusayan. Get on I-40 W in Williams to reach Hoover Dam. Then get on I-11 in Clark County from Hoover Dam Access Rd and follow it to Las Vegas Blvd N in Las Vegas.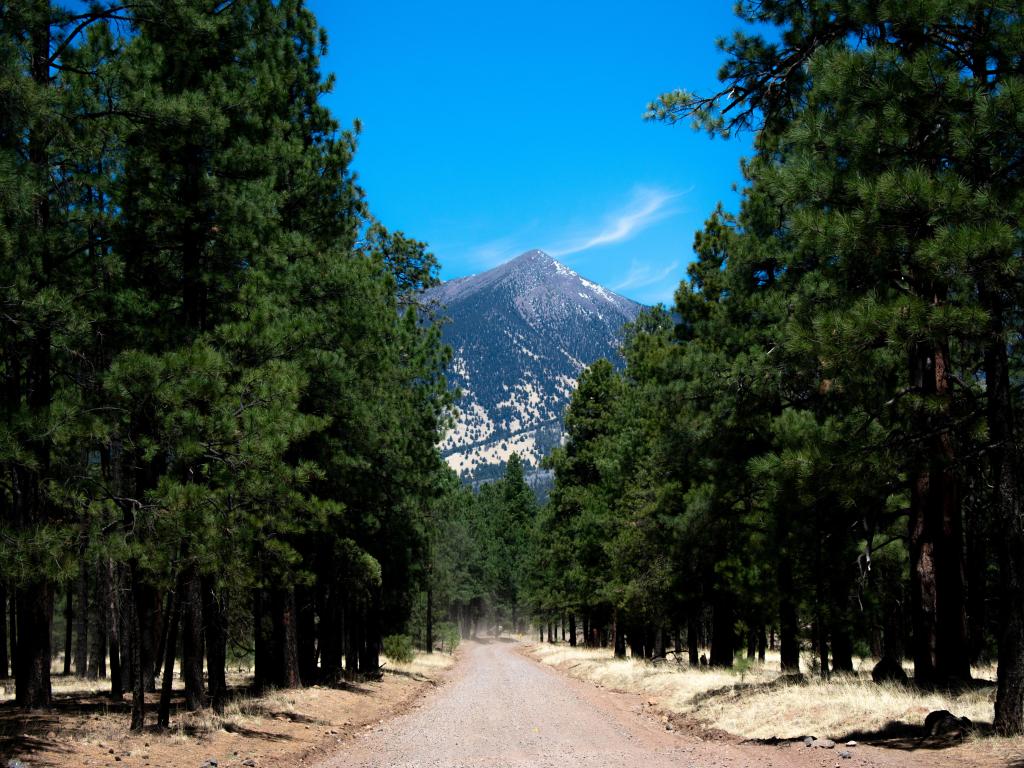 The Phoenix Route
Get on I-10 W from N Campbell St and Yandell Dr. Follow it to N Freeway St in Tucson. Get on I-10 W from W Grant Rd then follow it to W Maricopa Fwy in Phoenix.
Stay here overnight for a fresh start the next day for the rest of the journey. Once you're done, continue on I-10 W from W Washington St to Kingman Wash Access Rd in Willow Beach. Keep driving on this route to reach Hoover Dam.
You can opt to get out of the car and explore this architectural miracle before getting on I-11 in Clar County from Hoover Dam Access Rd. Follow this interstate to Las Vegas Blvd N in Las Vegas.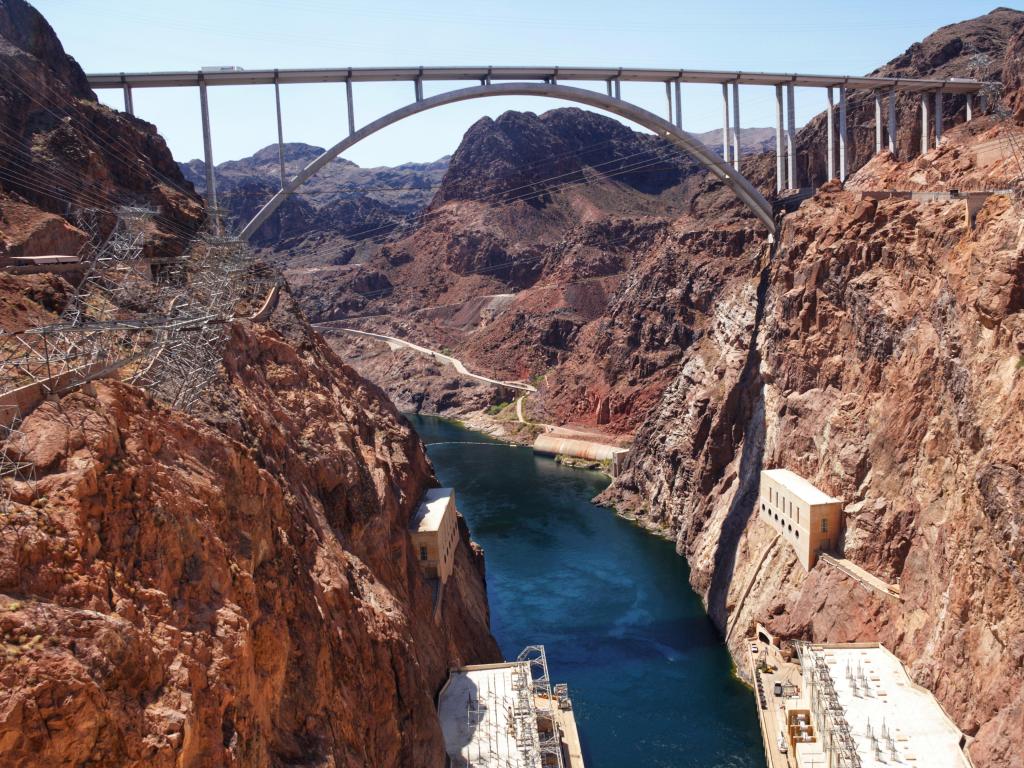 Best places to stop between El Paso and Las Vegas
They say, "What happens in Vegas, stays in Vegas," but that saying does not apply to this road trip from El Paso to Las Vegas. You'll come back with a stack of pictures and memories that will be the talk of your dinners for a long time.
So read on to discover where to stay overnight for the best way to make these memories.
Hike to the stunning Sandia Peak in Albuquerque
Albuquerque is the only large city that sits less than halfway on the Grand Canyon Route of this road trip from El Paso to Las Vegas. It is the perfect place for an overnight stay with an abundance of attractions and vibrant nightlife.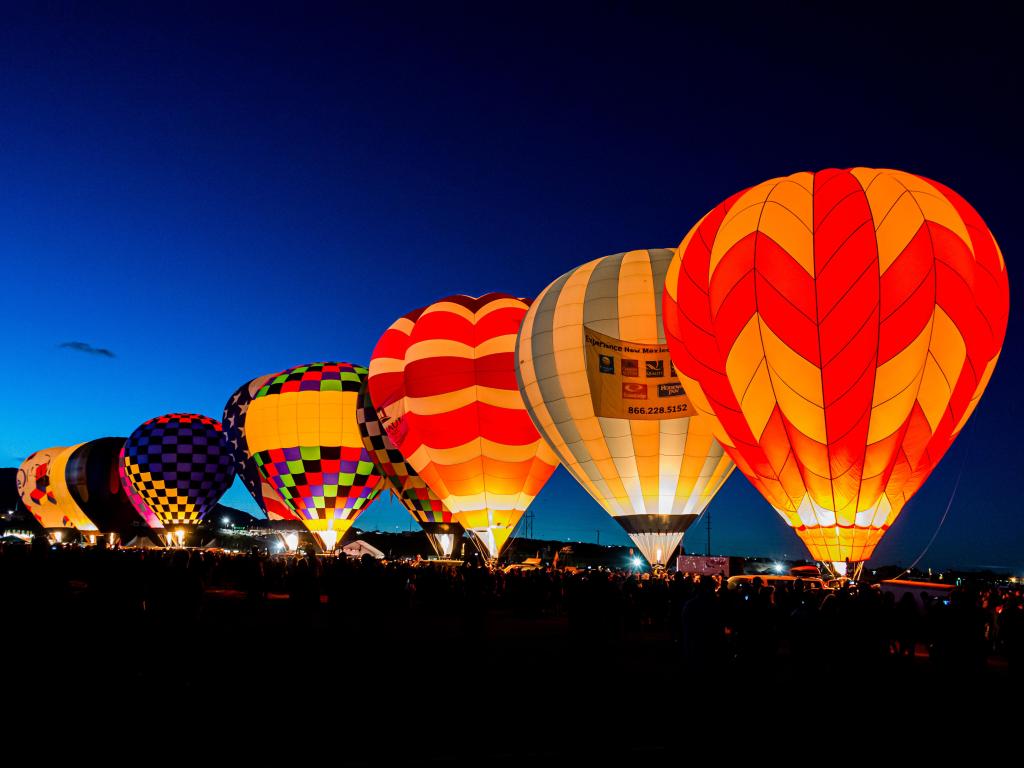 During your stay in Albuquerque, visit the New Mexico Museum of Natural History and Science. It is an extensive museum that showcases a variety of fascinating exhibits, including rare and impressive dinosaur skeletons.
Albuquerque hosts the International Balloon Fiesta where you can witness hundreds of hot air balloons taking to the skies, so if you are visiting the city in October, you are in for a treat.
If visiting during the other months, the city has perfect outdoor activities year-round. From the towering Sandia Mountains to the winding Rio Grande, you will have many opportunities to hike, camp, and enjoy water activities.
Our vote for accommodation in Albuquerque goes to the highly-rated Isleta Resort & Casino. This hotel features tastefully decorated rooms that exude elegance and beauty. It gives you a glimpse into your destination, Las Vegas with a casino and bowling alley on the premises.
The hotel offers a variety of dining options on-site, including a high-end steakhouse. You can easily reach downtown from the property, which is just a 15-minute drive away. You will also be located close to the highway meaning you can easily get back on the route the next day.
Explore the urban heart of Arizona in Phoenix
About halfway on the Phoenix Route of this road trip from El Paso to Las Vegas, you will find yourself in the capital of Arizona, Phoenix. This is a colorful city to stop overnight on this route with a plethora of attractions including entertainment, dining, and exploration.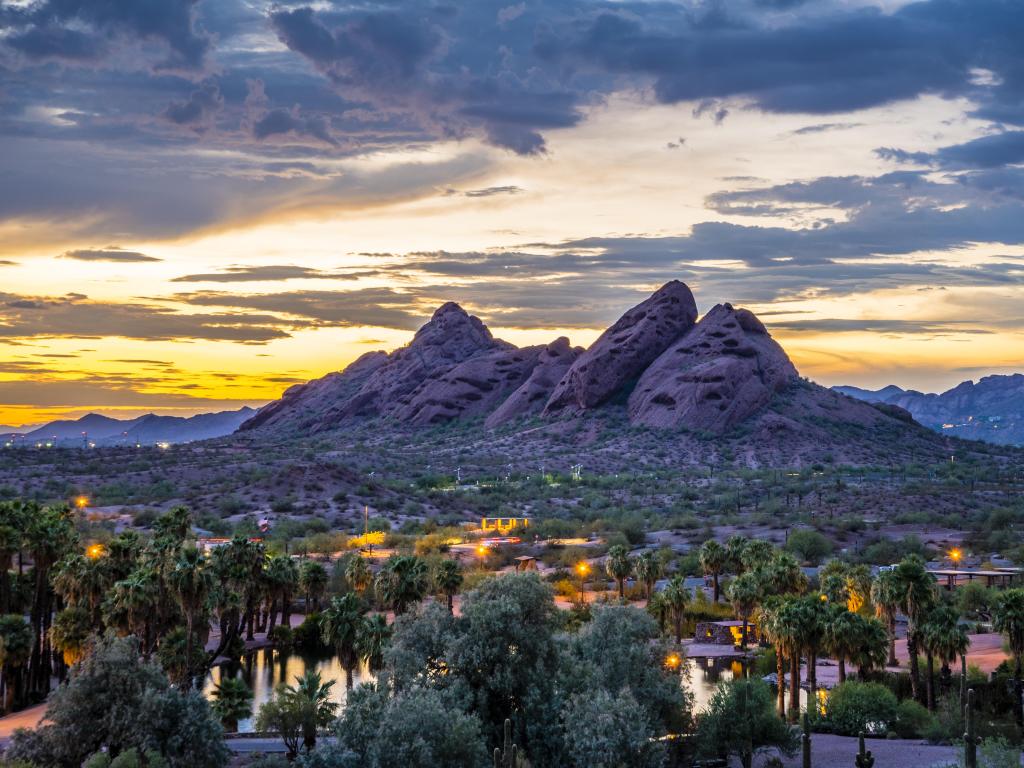 With a perfect balance between outdoor and indoor activities, you can enjoy scenic natural landscapes or experience cultural highlights, with many Native American tribes calling the region home.
Offering sunny weather and desert landscapes, nature lovers will love spending time at Papago Park and Camelback Mountain. You can also visit the Desert Botanical Garden to explore the diverse beauty of desert plants across 140 acres of exhibits, trails, and events.
Architecture enthusiasts should not miss out on visiting Taliesin West, the former home and studio of renowned architect Frank Lloyd Wright. Alternatively, for a deep dive into the art, culture, and history of Native American tribes in the Southwest, head to the Heard Museum.
During your stay, we recommend staying at Renaissance Phoenix Downtown. It offers incredible views of the city skyline in addition to a splashing adventure in the rooftop pool and bar area. Indulge in cardio, weight training, and yoga in the 24-hour fitness center.
The fantastic hotel offers several on-site restaurants. It also boasts a convenient location with close proximity to several shops, restaurants, and entertainment options as well as public transportation like the light trail and bus stops.
Where to stay when you reach Las Vegas
Before you start exploring the festivities and vibrancy of Las Vegas, we recommend unwinding in ARIA Resort & Casino which is located right on the Las Vegas Strip. The rooms boast incredible city views through the floor-to-ceiling windows with amenities like plush robes and soaking tubs.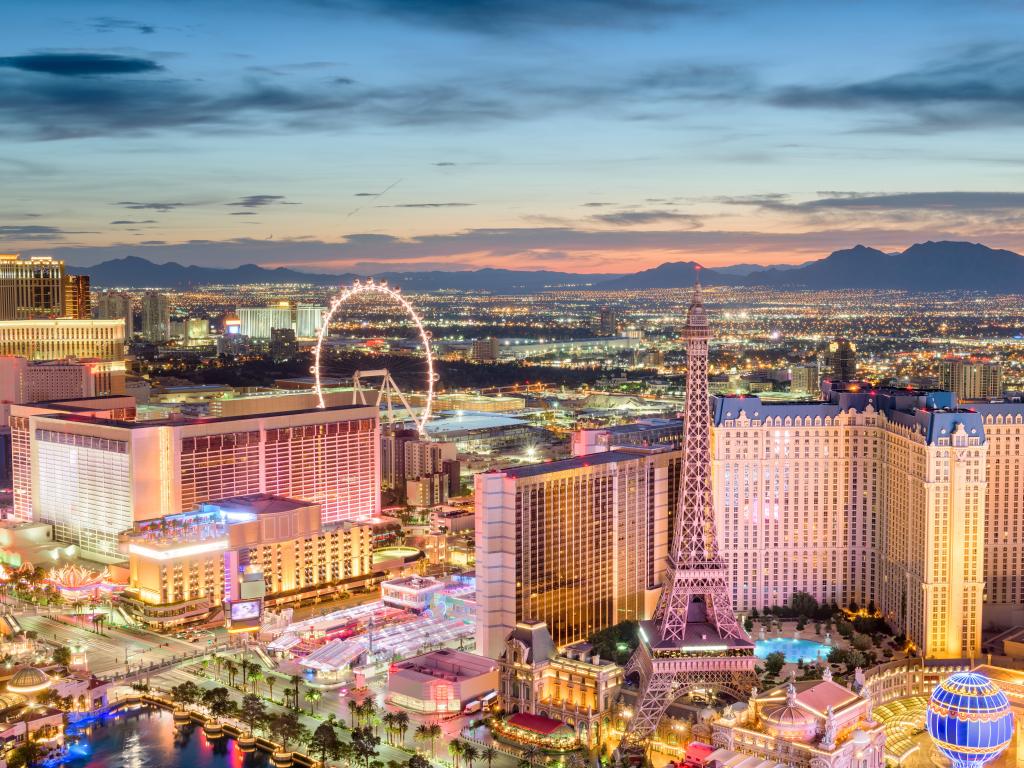 This hotel offers a 150,000- square foot casino with poker, table games, slot machines, food, music, recreation and entertainment to make your stay enjoyable.
With numerous on-site restaurants, your dining needs will be nicely taken care of. Offering a full-service spa with a range of treatments including massages and facials, it gives you a chance to truly relax and unwind.
Things to see on a road trip from El Paso to Las Vegas
From historic museums to breathtaking scenery, there are many activities to do on both the routes of this road trip from El Paso to Las Vegas. You might even be tempted to stay a day or two more than your initial target so here are our favorite highlights to help you get you started.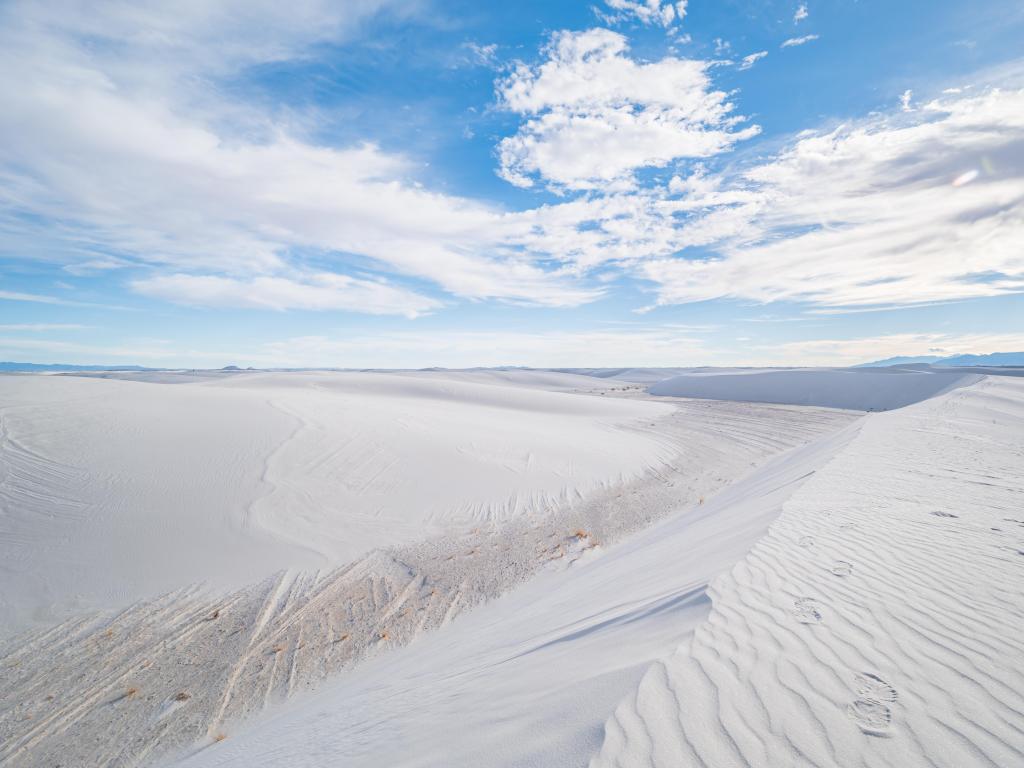 The Grand Canyon Route
White Sands National Park – Immerse yourself in the picturesque rolling white sand dunes in this magnificent park, located just an hour outside of El Paso.
National Museum of Nuclear Science – Take a thought-provoking tour in this educational center that is focused on tracing the history and progress of nuclear science.
Santa Fe National Forest – Witness human settlements dating back over 11,000 years in the canyon and mesa country spanning over 33,000 acres.
Route 66 Auto Museum – Discover a plethora of classic and vintage cars, along with memorabilia from Route 66 in this family-owned museum, worth a 30-minute stop.
Museum of Northern Arizona – Delve into the fascinating history of Arizona through numerous exhibits in this museum featuring artifacts that date back to 15,000 B.C.
Lava River Cave – Explore this mile-long subterranean tunnel formed by a lava river over 700,000 years ago, located an hour away from the Grand Canyon.
Montezuma Castle National Monument – Add 90 minutes to the drive and explore the life of the Sinagua people in this castle carved directly into the limestone cliffs within Arizona's desert terrain.
Moqui Cave – Catch a glimpse of history in Moqui Cave which has been transformed from a speakeasy to a natural history museum featuring an impressive rock collection and gift shop.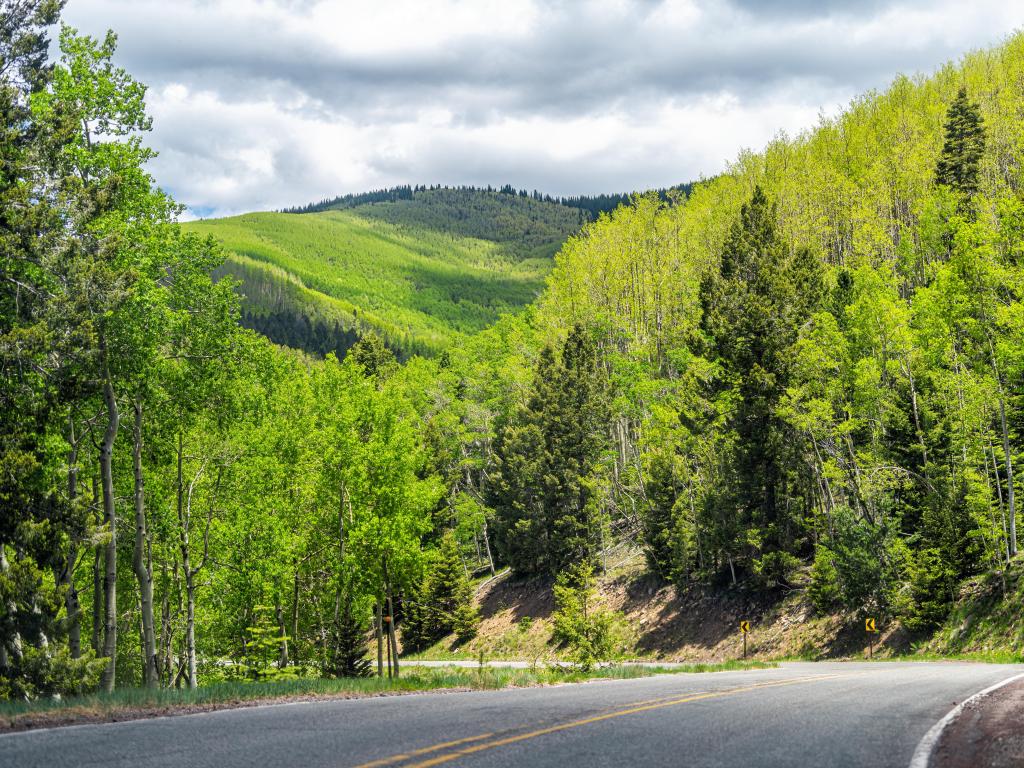 The Phoenix Route
Coronado National Forest – Visit the majestic rock formations in this natural park with a sprawling expanse of almost 12,000 acres and can be traversed on foot or by car.
Tucson – Discover this vibrant city located in the Sonoran Desert of southern Arizona, perfect for those looking to enjoy outdoor activities such as hiking and biking.
Butterfly Wonderland – Feel like a part of a fairytale in this interactive indoor rainforest habitat with thousands of butterflies, in addition to a gift shop and café.
Phoenix Art Museum – Boasting over 18,000 works from around the globe, this 285,000-sq-foot museum stands as the largest museum of visual arts in the southwestern United States.
Estrella Star Tower – Located on the outskirts of Phoenix, this is an astronomy-themed tower standing at 50-feet tall offering a spectacular view of Arizona night sky.
Skyline Regional Park – Encompassing 8,700 acres of mountains, this park offers hiking trails and campsites with a chance to enjoy a scenic walk or drive through its breathtaking expanse.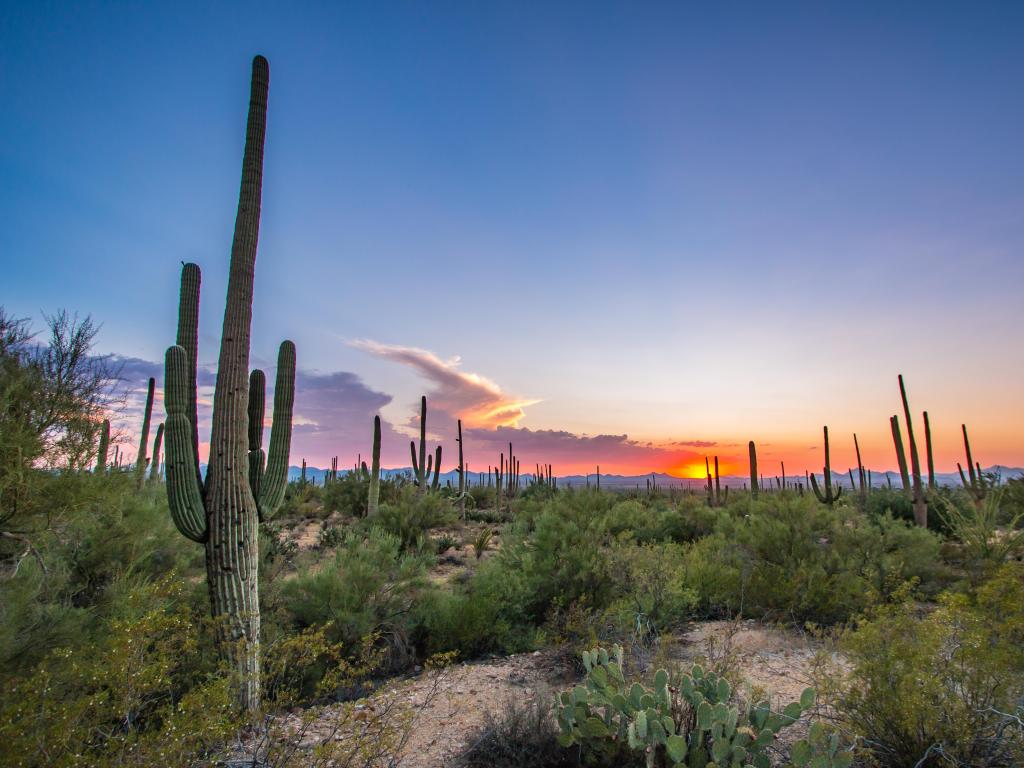 Both Routes
Hoover Dam – Take a guided tour of this iconic engineering marvel providing hydroelectric power and water to millions of people in the region, and learn about its history and construction.
Best time to go on a road trip from El Paso to Las Vegas
Visiting Las Vegas undoubtedly offers many indoor activities such as delicious dining experiences, celebrated casinos and entertainment venues, making this road trip the perfect adventure year-round.
Summers in Las Vegas can be hot with temperatures ranging from 70 degrees Fahrenheit to 105 degrees Fahrenheit. The heat makes this season ideal for indoor activities or lounging by the pool. However, steady tourism rates during summer may lead to slightly higher hotel rates.
Las Vegas winters are perfect for exploring the neighboring desert landscapes including the Mojave Desert. The temperature averages from high-30 degrees Fahrenheit to mid-60 degrees Fahrenheit. Keep in mind to book in advance as tourism is still high during the vacation periods.
Spring and fall are arguably the best times to visit Las Vegas as they offer a pleasant climate to explore the city, with reduced crowds and more affordable hotel rates. Temperatures during this time are mild and fall within the range of 45 degrees Fahrenheit to 85 degrees Fahrenheit.
Las Vegas is a hub for events all year round, with numerous concerts, shows, and festivals to enjoy. If you are an epicurean, the Las Vegas Foodie Festival in spring brings in the best food trucks and chef demonstrations. San Gennaro Feast in spring is an annual celebration of food and drink.
Viva Las Vegas in spring features bands, DJs, car shows, tiki pool parties and more while summer brings in the world-famous Electric Daisy Carnival Las Vegas.