Road Trip from Jacksonville, FL to Asheville, NC
Discover this lively corner of the United States on this memorable road trip, which takes you from the buzzing waterways of Jacksonville in Florida to the mountain paradise of Asheville, North Carolina. Along the way, you'll have the opportunity to enjoy coastal drives, historic architecture and national forests, served with a generous helping of Southern charm.
The 520-mile road trip from Jacksonville to Asheville takes 8 hours 10 minutes to drive. Highlights include Savannah, Charleston, Francis Marion National Forest and Columbia, or swing inland to go via Lake City, Macon, Atlanta and the Blue Ridge Mountains.
With plenty of museums and inspirational landmarks along the way, this trip has something for everybody. Read on for the best routes, top attractions and places to see along the way from Jacksonville to Asheville, North Carolina.
How far is Asheville, North Carolina from Jacksonville, Florida, and how long will the road trip take?
Comparison of road trip routes between Jacksonville, FL and Asheville, NC

| Route | Distance | Driving Time |
| --- | --- | --- |
| Coastal Route | 515 miles | 8 hours 15 minutes |
| The Inland Route | 575 miles | 9 hours |
There are two fantastic routes that we recommend for your trip from Jacksonville to Asheville: one of which hugs the beautiful East Coast, while the other is outdoors-focused with plenty of forests and lakes.
The Coastal Route is 515 miles long and takes 8 hours 15 minutes of direct driving time. This route is about an hour quicker than the longer Inland Route, so it's perfect if you're looking to minimize your driving time, while still soaking in beautiful views.
Keep in mind, however, that during summertime the Coastal Route route might be a bit busier, as people flock to the beachfronts.
The Inland Route is slightly longer at a distance of 575 miles, which takes 9 hours to drive. The scenery is less varied than the shorter Coastal Route, but it offers plenty of lakefront beaches, hiking and picnic spots.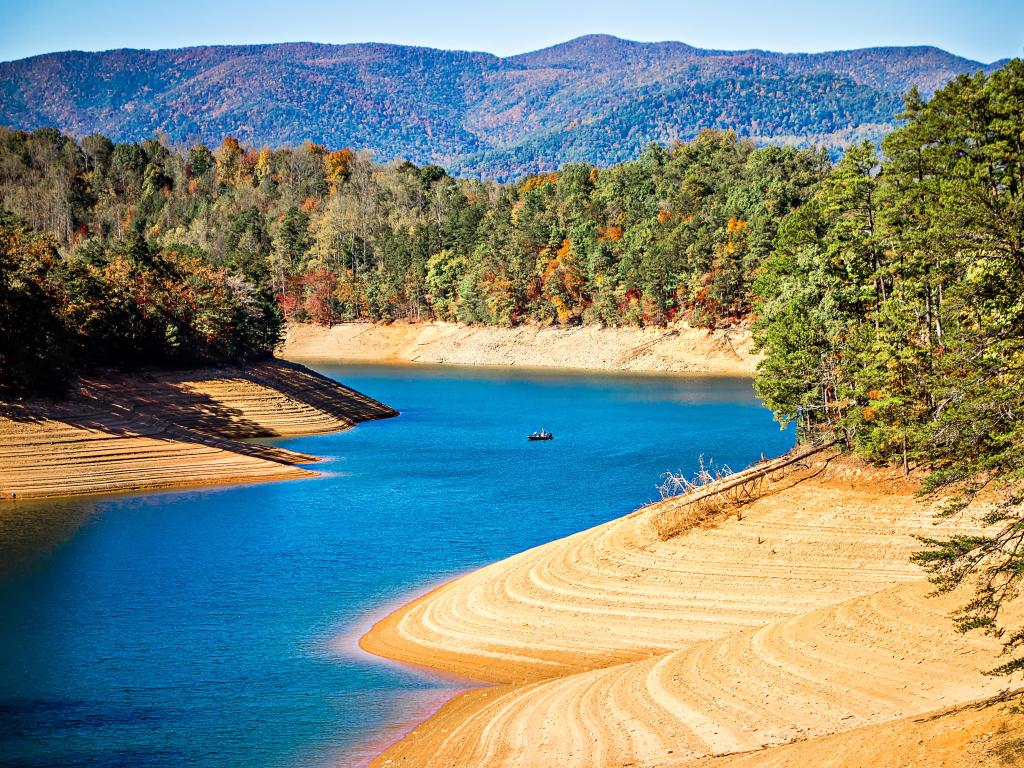 If you have more time, there is the opportunity on the Inland Route to make a scenic detour via the Great Smoky Mountains National Park, using quaint Bryson City as a base.
With a distance of over 500 miles to cover on both routes, we'd recommend allowing yourself 2 to 3 days to complete this trip. You'll want to allocate some time for relaxing on the coastal and lakefront beaches, some forest hikes, and a few overnight stops to get a real sense of the amazing places along the way.
Best road trip route from Jacksonville, Florida to Asheville, North Carolina
Both route options offer myriad opportunities to immerse yourself in nature, enjoy a range of outdoor activities and discover some vibrant urban centers.
The Coastal Route winds along the oceanfront to take in a variety of urban culture, sandy beaches and lush national parks. It stops at historic cities with fantastic museums and lively entertainment, like Savannah, Charleston and Columbia. As a bonus, you'll find that driving on the East Coast makes for beautiful sunrises, so it's well worth getting an early start to catch the view!
The Inland Route travels up through national forests and crystal lakes, with plenty of opportunities for swimming, hiking and relaxing. The cities along this route are varied and buzzing: from the charm of Valdosta to Atlanta's thriving music scene.
You'll also be able to catch some amazing panoramic views driving through the Blue Ridge Mountains, or discover Appalachian culture in the Great Smoky Mountains.
How to drive from Jacksonville, Florida to Asheville, North Carolina
The map above shows our suggestions for the best road trip routes between Jacksonville, Florida and Asheville, North Carolina. Keep reading for detailed descriptions of both routes, where to stay on either, and the best things to do on the way.
The Coastal Route
Head north from Jacksonville on Interstate 95 (I-95), with the chance to stop at any of the beautiful East Coast beaches en route. Arrive in Savannah and take a trolley bus tour around the historic architecture.
Rejoin I-95 and merge onto Highway 17 to reach Charleston, which is about halfway along the route. Spend some time touring the unique waterways and laid-back energy of this port city, then follow I-26 west.
You'll soon hit Columbia, where you can see centuries-worth of creativity at Columbia Museum of Art. Get back on I-26 and drive through Francis Marion & Sumter National Forests, offering a chance to stop and stretch your legs.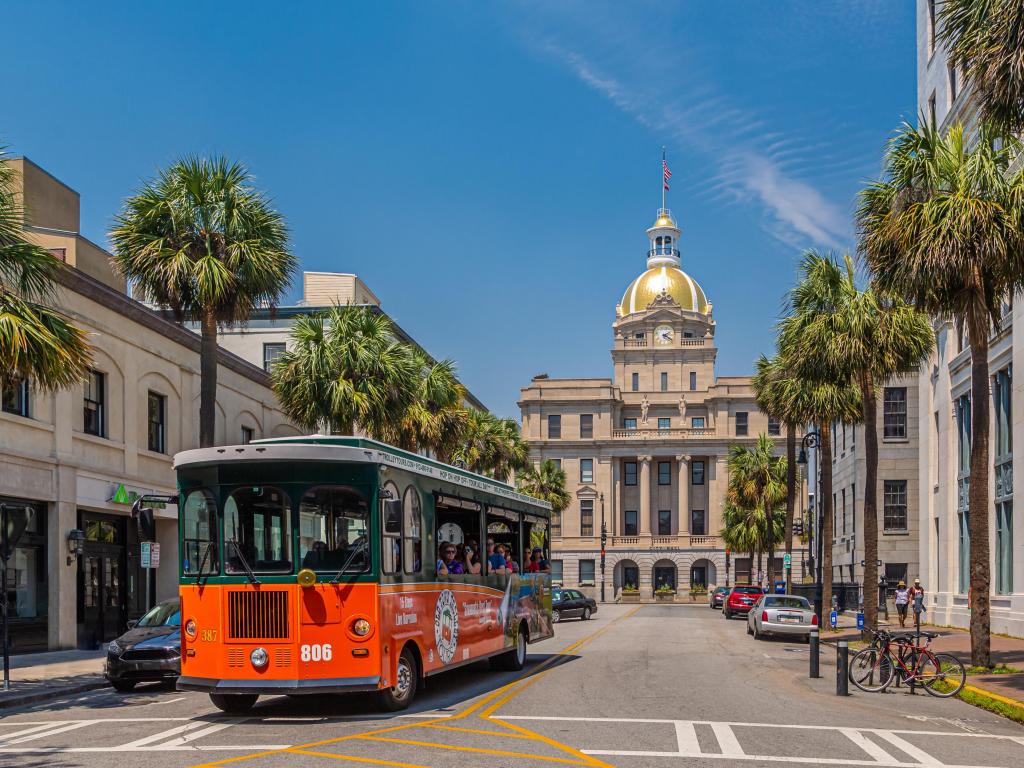 Continue on I-26 to cross into North Carolina and wind up through the foothills of the Blue Ridge Mountains before you reach your beautiful final destination of Asheville.
The Inland Route
Head west out of Jacksonville on I-10, with the option for an early picnic lunch in Osceola National Forest. Take exit 296B to join I-75 going north. You'll pass through Valdosta and arrive in Macon, where you can discover a wealth of Native American archaeology and artifacts.
Rejoin I-75 to head north to Atlanta. Atlanta hosted the 1996 Olympics, and you can still visit the Centennial Olympic Park which houses the Georgia Aquarium.
Take I-75 out of Atlanta and keep right to join I-575. Continue onto GA-515, as you enter the dense greenery of Chattahoochee-Oconee National Forest. You'll soon arrive in the quaint mountain town of Blue Ridge, which is a great jumping off point to explore the other mountain villages nearby.
Take US-74 east to wind up through the mountains, with the option to spend some time in Great Smoky Mountains National Park. Take the exit onto I-40 to arrive in Asheville, NC.
Best places to stop between Jacksonville, Florida and Asheville, North Carolina
This road trip is all about the places you discover en route: from rugged forest trails to famous national landmarks.
To get the most out of your time away, we suggest that you break up the driving with some memorable stops to refresh the senses. We've picked out some highlights to inspire your planning.
Explore Southern culture in Charleston
Located halfway along the Coastal Route is the city of Charleston, known for its spire-filled skyline that pays testament to its tolerance for all kinds of religions. "The Chuck", nicknamed as a reference to King Charles, is also renowned for its seafood cuisine, harbor sights and beachfront strolls.
Soak up some sun on the Isle of Palms Beach: this 7-mile stretch of beach offers family-friendly fun and a variety of waterfront activities including a kids' playground, golfing and beach clubs.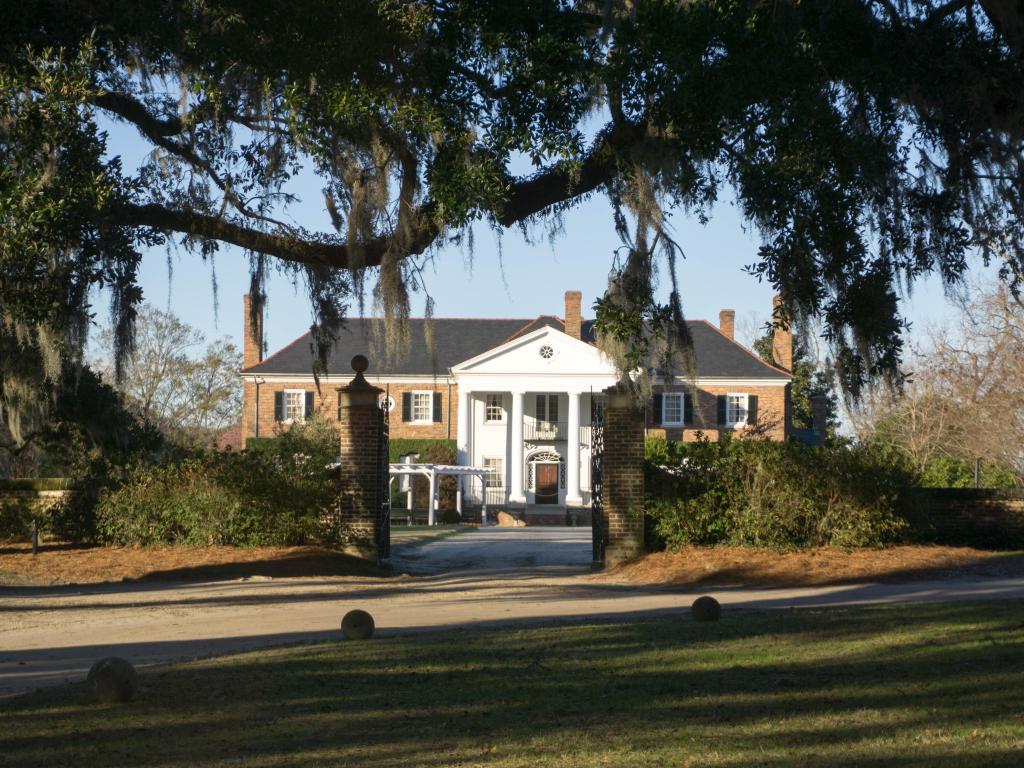 The Holy City is home to many religious buildings of different origin - take a tour of the African Methodist Church, Cathedral of St. Luke and St. Paul, and Kahal Kadosh Beth Elohim Synagogue, the country's second oldest synagogue.
If you want to unwind after a long drive, visit Deep Water Vineyard for delicious wine tastings from Tuesday to Saturday. And if you happen to be there on a Saturday, join the Weekend Wine-Down and sip your wine while listening to some local musicians. To spice things up a little, try their special Palmetto Pepper fermented Jalapeño wine!
Charleston has a complicated history, which you can learn about at Boone Hall Plantation. With 783 acres of plantation, African Culture tours and mansion tours, this place offers something for everyone. You can learn about the history, visit the butterfly pavilion or stroll through the gardens to see the antique roses.
A stay at Inn at I'On, Ascend Hotel Collection places you slightly outside of the hustle of the city, which gives you lots of options to explore. From here, you can enjoy the sandy beaches at the Isle of Palms, visit Patriots Point Naval & Maritime Museum or head into the city center for a nice meal at some of the charming establishments Charleston has to offer.
The hotel has superb facilities, such as free use of the adjacent pool and fitness center. They offer a continental breakfast, free parking for all road trippers and the chance to relax into the holiday in rocking chairs on the porch.
With most highlights being within a 6 miles radius from the hotel and restaurant and bar facilities across the street, you won't need to venture far to see everything Charleston has to offer.
Visit the birthplace of civil rights in Atlanta
The capital of Georgia is a mid-point along the Inland Route, and it's a great stop for its lively arts and music scene. The city gets its name from the Western to Atlantic railroad, and is full of history and attractions.
You can't miss a visit to Martin Luther King, Jr. National Historic Site to see where Martin Luther King Jr. grew up. Learn about the history of the Civil Rights movement while strolling through this iconic place, and book ranger-led tour tickets for the King Birth home in advance.
For something a bit lighter, take a tour of the World of Coca-Cola. Here you can see the factory and learn how the world famous drink is made!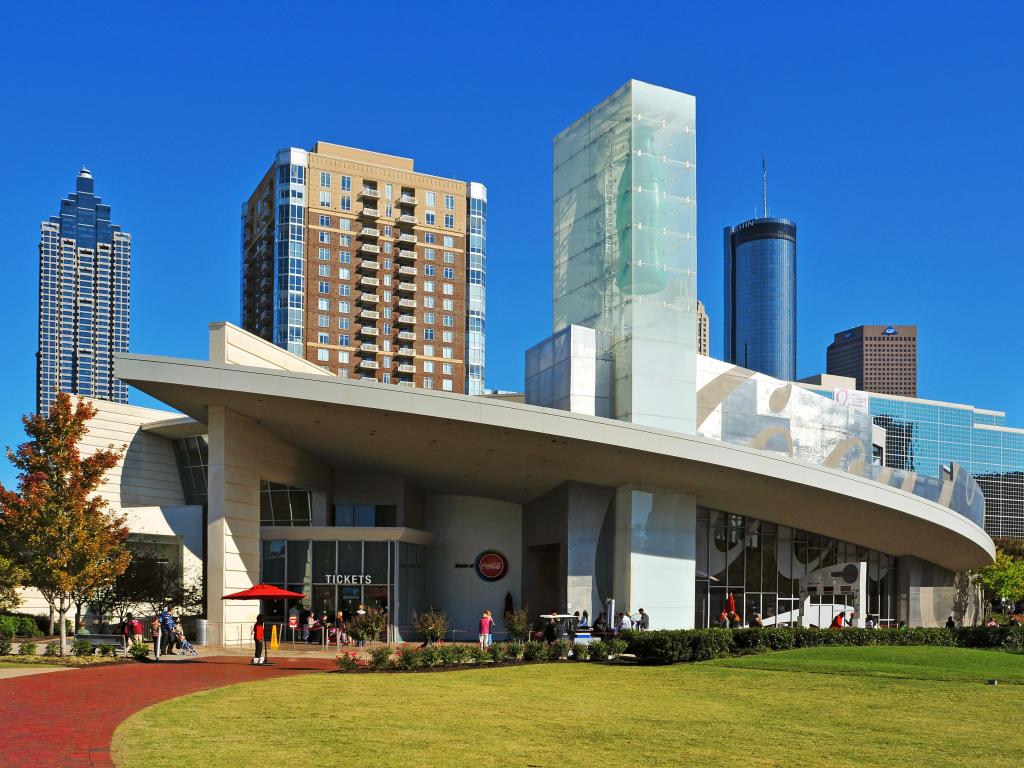 To stretch your legs after all that driving, take a walk in Atlanta Botanical Garden, home to 30 acres of outdoor gardens with life-sized plant sculptures and exquisite orchid species.
Housed in a historic building, The Candler is a luxurious hotel that features an upscale restaurant, bar and concierge service that will make you feel like a local. You can sample traditional English or Irish cuisine at the restaurant on-site, and relax in the comfortable seating areas after a day of walking.
The cozy hotel is located near the Centennial Olympic Park as well as the famous World of Coca-Cola and Georgia Aquarium, and it's close to the Interstate so you can hop back on the following day.
Where to stay when you reach Asheville, North Carolina
Once you arrive in Asheville, you'll want a comfortable base from which to explore all that this mountain city has to offer.
The Renaissance Asheville Downtown Hotel is conveniently located in central Asheville, close to major attractions such as Martin Luther King Jr. Park. It's also only a 3-minute drive away from the award-winning Biltmore Estate and Winery.
The hotel offers a gym with a view and a relaxing pool. There is free Wi-Fi and they offer a delicious breakfast, so you can fuel up before heading out onto the trails in the nearby Great Smoky Mountains!
Things to see on a road trip from Jacksonville, Florida to Asheville, North Carolina
This compact adventure packs in plenty of standout landmarks, museums and natural wonders. Here are some of our favorite highlights.
On the Coastal Route
St. Simons Island Lighthouse Museum - This cute lighthouse museum is perfect for a short break. Learn how the keeper's family used to live in this lighthouse and take in the coastal views.
Forsyth Park - Located in Savannah, Forsyth Park has become a symbol of the city with its beautiful landscaping and famous fountain. It's the perfect place to visit to get away from the hustle and bustle of the city.
Fort Pulaski National Monument - This National Monument in Georgia tells a variety of stories from the Civil War and the people of this small island. Learn what it takes to become a Junior Ranger and see the impressive cannons up close.
Port Royal Sound Foundation Maritime Center - This educational and research center offers a wide range of activities. Visit the Maritime center and see the kids become a junior naturalist for the day or sign up for a guided canoe trip through this lush green sound.
Coastal Discovery Museum - Beautiful Hilton Head Island is worth a visit on its own, and while here, make sure to visit this museum to learn about the natural wonders of the South Carolina Lowcountry.
Charleston Zipline Adventures - If you're up for an hour detour and some serious adrenaline, go visit the Charleston Zipline Adventures. This thrilling 2-hour experience has you zipping from tower up to 65-foot. There is also a Kids Zip and a variety of climbing walls.
Santee State Park Day Use Area - Add 20 minutes to your trip and spend your lunch break watching over Lake Marion. This area is perfect for a quick break and offers a quiet place for an outdoor meal.
Congaree National Park - Only a 30-minute detour from the route lies Congaree National Park, a big forest with a variety of hiking trails and the option to canoe and fish.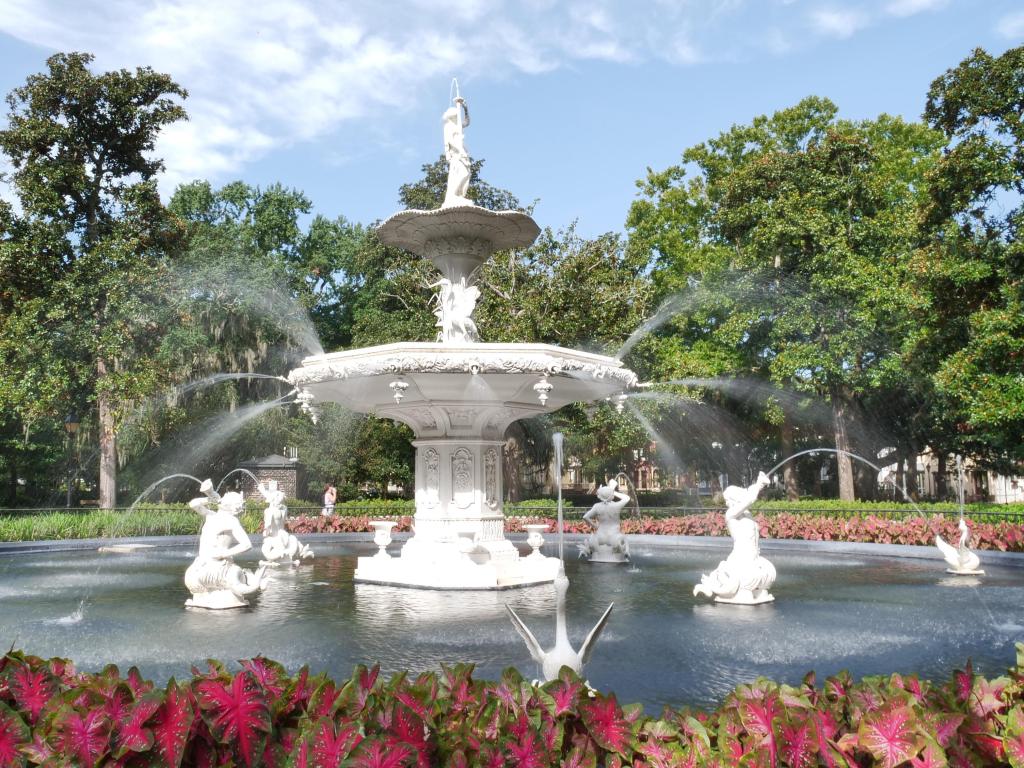 On The Inland Route
Osceola National Forest - The smallest of Florida's National Parks still provides some great scenery, with lakeside picnic spots and a chance to cool off in the refreshing lake water.
Museum of Aviation - This free museum was named the Best of Middle Georgia 2022 in the category Museum and Family Attraction. It spans 51 acres and houses 85 historic aircrafts - buckle up for the ride on their Virtual Reality Simulator!
MAS (Museum of Arts and Sciences) Macon - Dig into the archaeology site, visit the mini zoo, marvel at the universe in the planetarium sphere or immerse yourself in the fine arts.
Andersonville National Historic Site - This historic site is a memorial to all American prisoners of war. Learn about the experiences of a prisoner of war and pay your respects at this site.
Chattahoochee-Oconee National Forests - With miles of clear streams and 867,000 acres to explore, this National Forest would be worthy of a trip in itself. We suggest enjoying the beauty from the road and maybe stopping for a short walk to breathe in the fresh forest air.
Nantahala National Forest - The largest National Forest of North Carolina, spreading over 513,148 acres. The name of this place is translated as the "land of the noonday sun" and is a stunning place for a lunch break stop.
Museum of the Cherokee Indian - Voted Top Ten Best Native American Experiences by USA TODAY, this museum is a great place to learn more about the culture and history of the Cherokee people. See the Native American village, visit the theater and read up in one of the books from the gift store.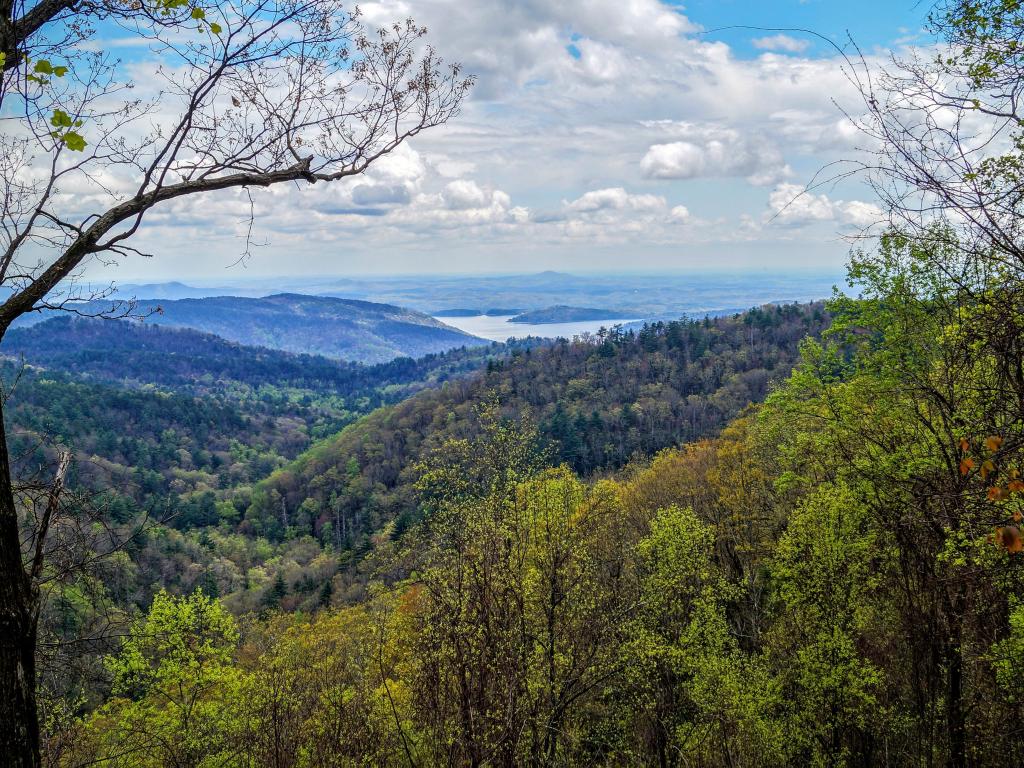 On both routes
Jump Off Rock - Marvel at the landscapes you just passed through from this scenic overlook.
Biltmore Estate - Visit this historic castle of George W. Vanderbilt, built between 1889 and 1895. Explore the gardens and take in the beauty of the in- and exterior of this France renaissance castle.
Best time to go on a road trip from Jacksonville, Florida to Asheville, North Carolina
Asheville can be visited all year round, but keep in mind that most of the activities and attractions are outdoors. Due to its scenic surroundings, spring or fall can be the best times to make this road trip, so you can experience the beautiful blooms or changing foliage.
Summer can be a crowded time to visit, with temperatures reaching an average of 73 degrees Fahrenheit. If you want to make the most out of the beaches and lakes along the way, you're guaranteed the best weather, though visiting in the other seasons might be preferable if you enjoy a quieter scene.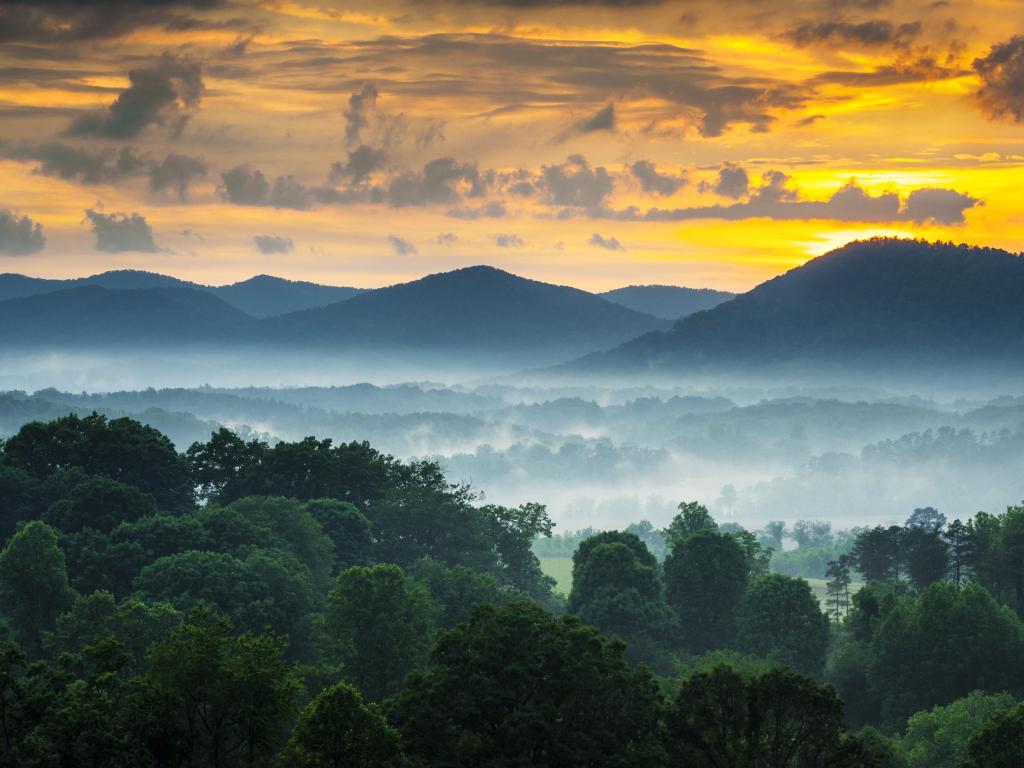 Asheville has a definite winter, with January being the coldest month. Temperatures hover around 38 degrees Fahrenheit at this time, which isn't particularly harsh, but might be more suitable for enjoying indoor activities.
If traveling in winter, keep an eye out for the roads around Asheville, especially in the northern region. While you'll have to add a couple layers (and take care if you're driving in the mountains), you'll be rewarded with super festive vibes: if visit Asheville in December, you can catch The Warren Haynes Christmas Jam!
The shoulder seasons are likely to be a little less crowded compared to the summer season, while still providing you with some sunny beach hours. Hotel prices may also drop due to the lower tourist influx.
Temperatures range between 40-70 degrees Fahrenheit during both springtime and fall. The best time to view the wildflowers is in spring, while in fall the red foliage provides some stunning vistas. April also sees the Twin Rivers Media Festival come to town.