Road Trip From Las Vegas To Denver
For a legendary adventure spanning skyscraping mountain tops and arid deserts alike, consider doing a road trip from Las Vegas to Denver. Thanks to the beautiful Rockies and the varied terrain in Utah, this road trip is bound to be among the most scenic you've ever done.
The 750-mile road trip from Las Vegas to Denver takes 11 hours to drive. You can visit Zion, Bryce Canyon, Arches and Canyonlands National Parks, check out Monument Valley, and explore White River National Forest, Vale and Aspen in the Rockies.
If this sounds like the best road trip you've ever taken, continue reading for some help in mapping out the beautiful itinerary.
How far is Denver from Las Vegas and how long will the road trip take?
Comparison of road trip routes between Las Vegas and Denver

| Route | Distance | Driving Time |
| --- | --- | --- |
| The Direct Route | 750 miles | 11 hours |
| The Grand Canyon Route | 960 miles | 15 hours 20 minutes |
The road trip from Las Vegas to Denver takes around 11 hours and covers about 750 miles of ground on the Direct Route. Add to that the obligatory gas and food breaks, and it's extremely unlikely that you'd make the drive in a single day.
Another option would be to drive south to visit the Grand Canyon, dipping into Arizona and New Mexico before ending up in Colorado. This will add around 4 hours of driving to your travel time, not accounting for the obligatory stops you'll be making along the way.
This is for the best, however – instead of rushing or taking a flight from Las Vegas to Denver, you should consider slowing down and taking two weeks to fully explore what this route has to offer.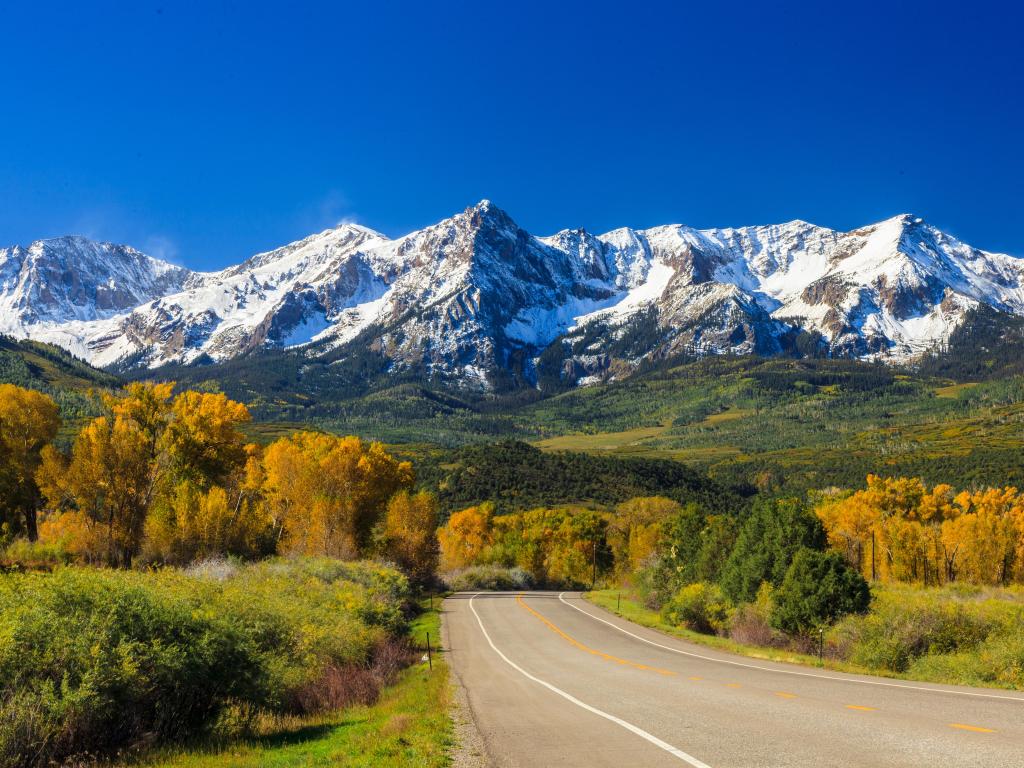 Best road trip route from Las Vegas to Denver
There is no best route for the road trip from Las Vegas to Denver. While the Grand Canyon Route gives you some of the States' most iconic landmarks, you can save time by taking a faster, more direct route if you're in a pinch. Both routes have plenty to see along the way.
By taking it slow, you get a chance to truly check out the Utah and Colorado stretches of the Rockies, flanked from all sides by beautiful parks and forests.
One good thing about this trip is that Denver doesn't get nearly as much traffic as some of the other major cities in this part of the States – you can expect the interstate leading into the city to be congested at peak times from Monday to Friday, but this is nothing you can't plan around.
To make the very most of your trip, you may decide to take one of these routes on the way to Denver and the other on your way back.
If you are visiting Rocky Mountain National Park, keep in mind that the national park uses a timed entry permit system. Please check the national park's website to see if you need to make a reservation before your visit.
How to drive from Las Vegas to Denver
The map above shows our suggestions for the best road trip routes between Las Vegas and Denver. Keep reading for detailed descriptions of both routes, where to stay on either, and the best things to do on the way.
The Direct Route
Take Interstate 15 north out of Las Vegas, past Lake Mead, Valley of Fire State Park, and Grand Canyon-Parashant National Monument. Quickly pass through Arizona, and once in Utah, drive along Zion National Park and Dixie National Forest.
At Cove Fort, get onto Interstate 70 and drive past Fishlake National Forest. Driving between Manti-La Sal National Forest and Capitol Reef National Park, you'll soon pass Arches National Park, McInnes Canyons, and Colorado National Monument before reaching Grand Junction.
Go south to Uncompaghre National Forest if you want, or continue along the interstate along White River and Arapho and Roosevelt National Forests. Soon after, with Rocky Mountain National Park to the north and San Isabel National Forest to the south, you'll make your way to Denver.
The Grand Canyon Route
Take Interstates 515 and 11 out of Las Vegas, passing Hoover Dam, then take Route 93 and Interstate 40 and pass Prescott National Forest. Pull into Flagstaff and The Grand Canyon, then detour to Sedona if you have the time.
On the main route, continue along the interstate out of Flagstaff and past Apache-Sitgreaves National Forest, then stop at Bluewater State Park before pulling into Albuquerque. Get your bearings here, then hop onto Interstate 25, taking it north past Carson National Forest.
Once you're in Colorado Springs, take the time to do some westward detours to Gunnison and Rio Grande National Forests. Once you've had your fill of exploring, continue north along the interstate to reach Denver.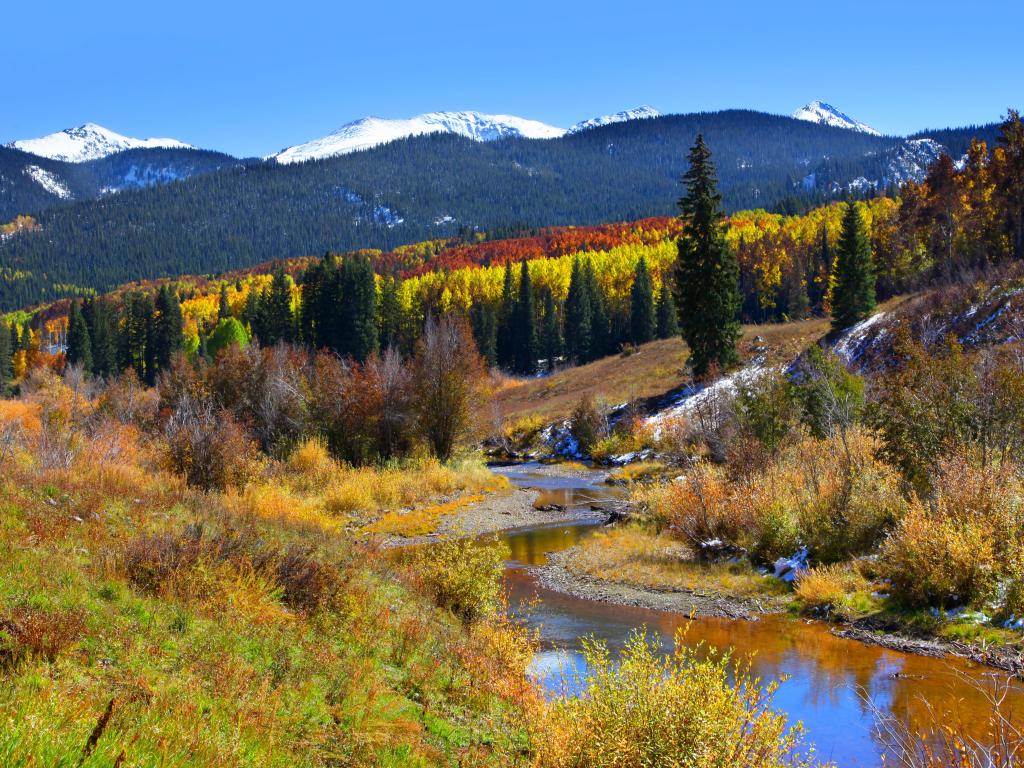 Best places to stop between Las Vegas and Denver
The number of stopover options between Las Vegas and Denver is nothing short of staggering – catering to travelers no matter the time of year, this itinerary is as accommodating as it is scenic. These are some of the best hotels you can expect to find along the way:
Explore your beautiful surroundings in Moab
Moab is a great place to stop as it's roughly at the midpoint of the route, as well as being surrounded by various parks that would take at least a couple of days to fully explore. Although there are several great options in the area, a clear standout would have to be Red Cliffs Lodge.
Featuring the most beautiful views of the Colorado River you're ever likely to see, Red Cliffs Lodge makes for an incredibly scenic experience. Relaxing in the outdoor swimming pool, you can marvel at the beauty of the red sandstone formations that give Moab its unique flair.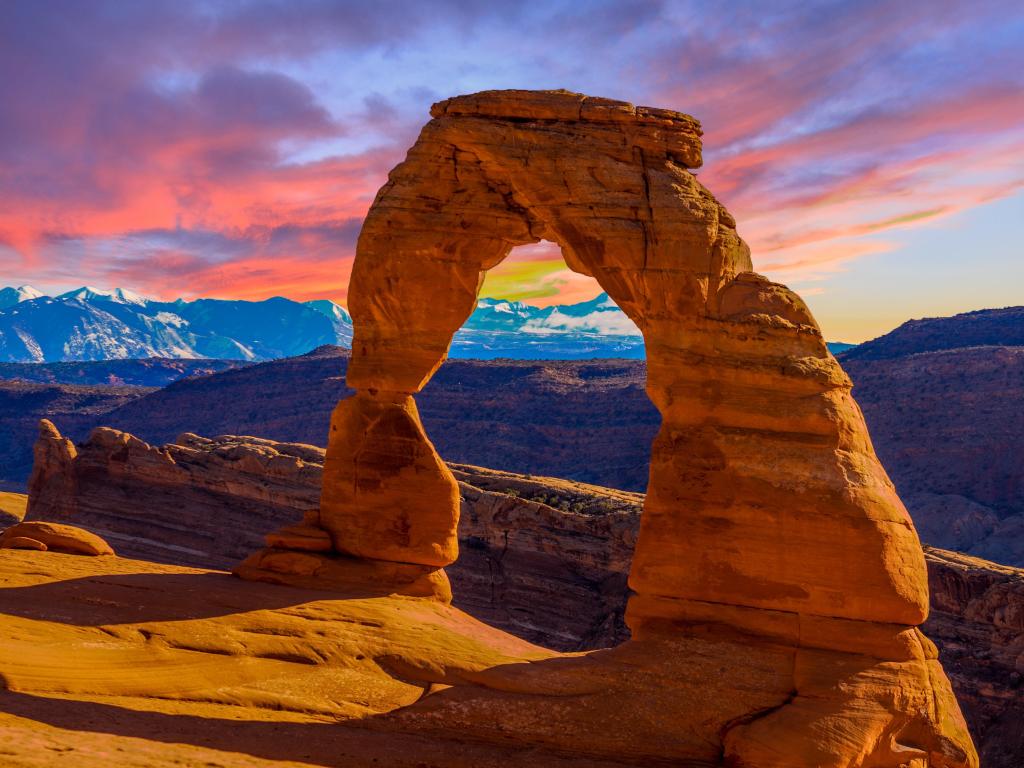 Besides that, the overall list of amenities here is very impressive –from museums and heritage houses to traditional American food and quality wine, there's no itch this amazing resort can't scratch.
No ranch-style resort would be complete without comfy rooms and a horse corral, and this homely resort delivers on those fronts too.
Considering what a hotspot the area is for year-round tourism and outdoor activities, the hotel is very fairly priced – on top of an amazing place to rest, you'll have the beautiful Arches and Canyonlands National Parks only a short drive away.
Go sightseeing near St George
Although it's relatively close to Las Vegas (around 120 miles, to be exact), St George makes for an amazing place to stop since it's so close to Zion and Bryce Canyon National Park, on top of being the pivot into Grand Canyon if you want to detour.
Out of all the resorts here, the best would have to be Red Mountain Resort, courtesy of its gorgeous design and unparalleled service.
As beautiful and stylish as the interior of this hotel is, the highlight is the beautiful scenery just outside – stepping out into the huge garden area, you get to see an impossibly scenic red rock backdrop, miles behind a sea of lush, green shrubbery.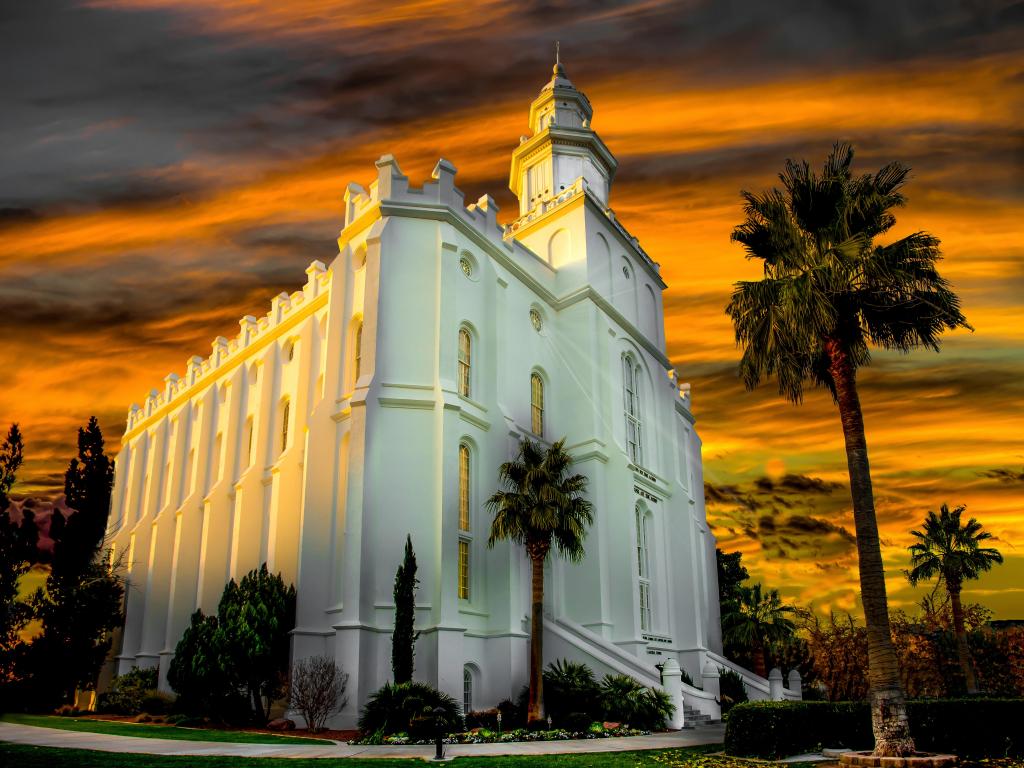 Then there's the large outdoor swimming pool, a perfect spot to relax after a long day of exploring, as well as the spa and salon, where you can enjoy a relaxing massage. Once the day is done, light up the fireplace in your cozy room and call it a night.
All this, in conjunction with the aerobics classes, golf course, and countless hiking and biking tours makes this resort the best in the area. On top of all that, the place is extremely affordable, to the point where it renders most of its competition in the area completely obsolete.
Things to see on a road trip from Las Vegas to Denver
The road trip from Las Vegas to Denver is one of the most scenic inland drives you can make in this part of the States. The full list of places worth checking out is endless, but here are some of the spots you absolutely have to check out:
Valley of Fire State Park – If you're lucky enough to pass through this park the right time of day, you'll get to experience the beautiful 'burning sandstone' phenomenon.
Grand Canyon National Park – Although it's a bit of a detour, Grand Canyon in conjunction with Vermilion Cliffs is an amazing stopover of you have the time.
Zion National Park – One of the most scenic spots in all of Utah (and that's saying a lot), this park features. If you'd like to hike up to Angels Landing, you will need a permit and will need to make a reservation. Check the Zion National Park's website for more details.
Bryce Canyon National Park – The all-natural amphitheaters at this park are among the most captivating natural curiosities in the States.
Dixie, Fishlake, and Monti-La Sal National Forests – A series of scenic forests that seamlessly blend the reds of the desert with mellowing shades of green.
Mystic Hot Springs – A renowned resort with a lot of history, few places can relax you the way its waters can.
Canyonlands National Park – With epic desert landscapes that rival Grand Canyon and co., this park is an absolute must-see.
Arches National Park –This park gets its name from the hundreds upon hundreds of red sandstone arches that cover its territory. You might need to make a reservation for a timed-entry permit while visiting Arches National Park. Please check the national park's website for up-to-date information.
McInnis Canyons National Conservation Area – A beautiful expanse of desert wilderness that features a decently long stretch of the Colorado River.
Glenwood Springs – As the name suggests, the city features an abundance of hot springs that are as spectacular as they come.
White River National Forest – On top of dramatic mountain landscapes and a kaleidoscope of gorgeous floral colors, the White River running through this forest attracts heaps of incredible wildlife.
Aspen – One of Colorado's quintessential ski resort towns features an amazing list of locales and countless ways to spend the time.
Vail - Another world-famous ski resort that is just as good in the summer if you're looking to enjoy some fresh mountain air.
Arapaho and Roosevelt National Forests – A duo of forests nestled in the Rocky Mountains with nearly 2 million acres of beautiful terrain to explore.
Rocky Mountain National Park – An ever-impressive blend of gargantuan peaks, green forests, and impossibly scenic hiking trails.
San Isabel National Forest – This breath-taking forest features some of the tallest peaks in the state of Colorado, including Mount Elbert, the very tallest.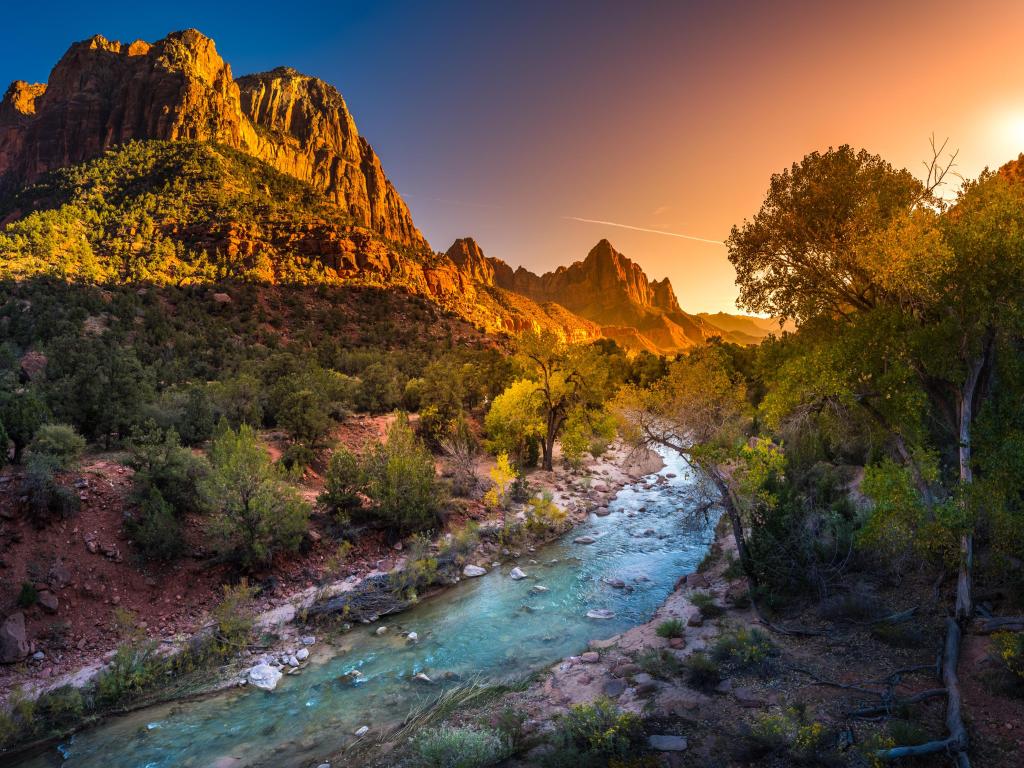 Best time to go on a road trip from Las Vegas to Denver
With so much to see and do on the way, there's really no wrong time to do the road trip from Las Vegas to Denver. Visits during different parts of the year do come with unique sets of perks, however.
You'll want to avoid extremes in terms of weather as far as the drive is concerned – for instance, it's not uncommon to encounter triple-digit temperatures at Zion National Park when visiting in the summer, so you may want to hold off on the trip if this doesn't sound appealing to you.
Both Utah and Colorado are well-known for their amazing wintertime conditions, owing largely to the Rockies – in fact, nearly four fifths of all the Rockies' highest peaks are located in Colorado. Consider stopping by Aspen or any of the other innumerable wintertime havens en route.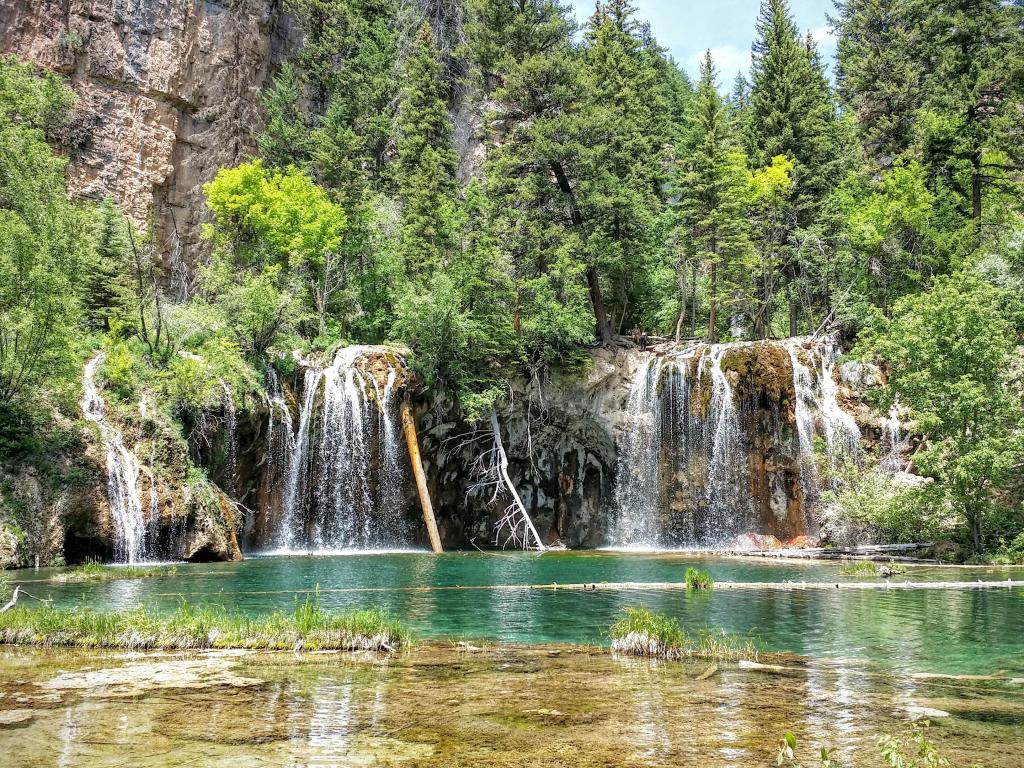 As for Denver itself, July is the hottest month in the city, with temperatures reaching as high as 90 degrees. Despite the heat, July is also one of the rainier months in Denver, so the unpredictability factor might be enough to dissuade people from visiting around this time.
You can expect temperatures to be significantly lower if you're visiting in spring (with about 70 degrees on average in May), but late spring is also the rainiest time of year in Colorado. Nevertheless, this is a great time to visit if you want to snag some cheap accommodation in Denver.
Obviously, winter makes for an amazing time to visit thanks to the Rockies – the low temperatures are a small price to pay for the best skiing and snowboarding spots in all of the States. If skiing isn't your scene, you can tour of the city or check out some of the museums in Denver.