Road Trip from Las Vegas to Grand Canyon South Rim
It's time to take on the beautiful and iconic American desert on this road trip from Las Vegas to the Grand Canyon. This journey will be full of unforgettable experiences, postcard-worthy scenery, and plenty of exciting destinations to see along the way.
The 410-mile road trip from Las Vegas to Grand Canyon South Rim takes 6 hours and 45 minutes to drive. On the way, you can visit Clark Mountain, Route 66, Joshua Tree National Park, El Dorado Hot Springs, Red Rock Scenic Byway, Sedona, and Flagstaff.
With all the beautiful desert landscapes and charming cultural landmarks to explore, you'll have a road trip of a lifetime. Read on below to learn more about the best routes, places to stop along the way, top highlights, and best seasons to take on the highways of the American desert.
How far is Grand Canyon South Rim from Las Vegas, and how long will the road trip take?
Comparison of road trip routes between Las Vegas and Grand Canyon South Rim

| Route | Distance | Driving Time |
| --- | --- | --- |
| The Route 66 Route | 410 miles | 6 hours 45 minutes |
| The Phoenix Route | 690 miles | 11 hours 30 minutes |
There are two amazing routes that will bring you from Las Vegas to the Grand Canyon's South Rim. The Route 66 Route takes roughly 6 hours and 45 minutes to complete and spans about 410 miles.
The alternative Phoenix Route stretches 690 miles with about 11 hours and 30 minutes of driving.
Though you can drive either route within a day, with so much natural beauty and iconic locations to experience, we recommend taking 2-3 days to get the most out of this incredible journey.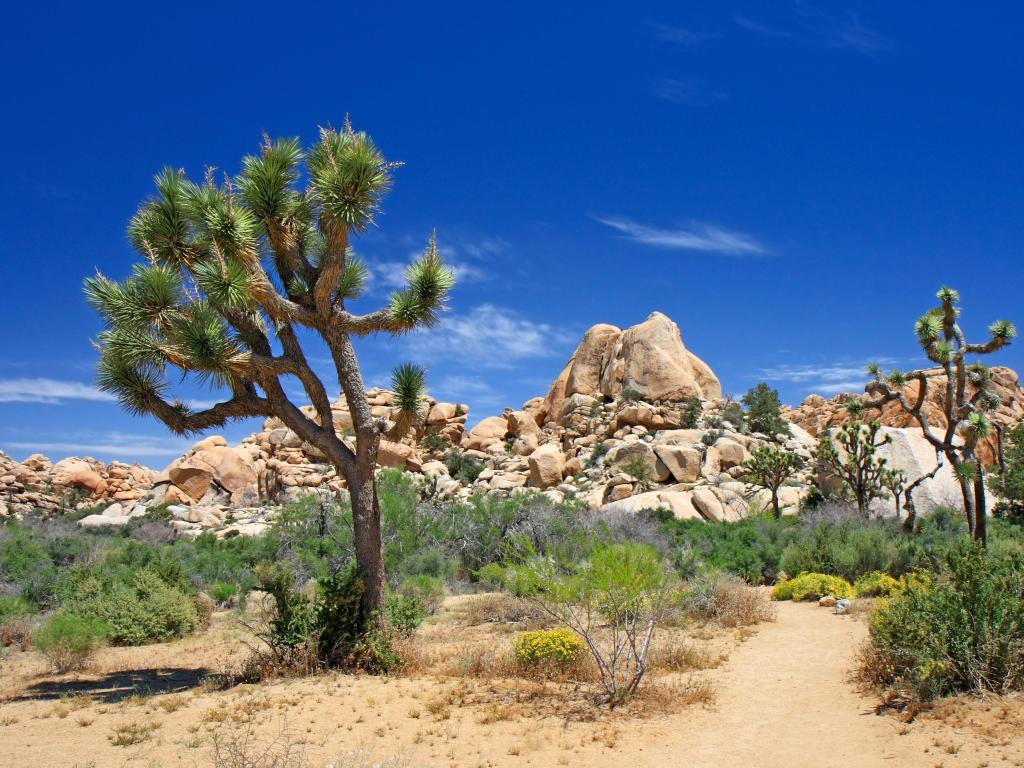 Best road trip route from Las Vegas to Grand Canyon South Rim
Both routes are filled with exciting adventures and amazing scenery. Which route you take will depend on what you want to see and experience the most.
The iconic Route 66 Route is full of history, transporting you from Las Vegas through historic landmarks like Primm, Kelso, Fort Mohave, Kingman, and Ash Fork.
You'll drive through jagged desert landscapes and ever-changing vistas depending on the time of day. Plus, you'll get to experience some of the most charming communities in the American southwest.
As the Grand Canyon South Rim appears, you'll traverse the Kaibab National Forest, a sight that's incredibly captivating during the spring bloom.
The Phoenix Route will take you through even more natural wonders. With endless desert and striking mountains surrounding you, you'll feel like you're in a movie.
As you drive through Joshua Tree National Park, you'll see the gnarled, iconic trees that lend the park its name. If you love hiking, rock-climbing, biking, or the wild outdoors, this section will become a memory of a lifetime.
After the exciting city of Phoenix, you'll head north, through the Coconino and Kaibab National Forests. This last stretch is filled with lush greenery and vibrant life.
How to drive from Las Vegas to Grand Canyon South Rim
The map above shows our suggestions for the best road trip routes between Las Vegas and Grand Canyon South Rim. Keep reading for detailed descriptions of both routes, where to stay on either, and the best things to do on the way.
The Route 66 Route
Starting from Las Vegas, head southwest on I-15 through the beautiful Sloan Canyon National Conservation Area and the totems of Seven Magic Mountains.
Continue on I-15, through the rugged Clark Mountain range and the vast expanses of the Mojave National Preserve. Loop around the preserve and take a detour to Fort Mohave.
From there, head to the border of Arizona and the town of Kingman to see the Arizona Route 66 Museum and the Mojave Museum of History and Arts to revel in local history.
Drive on I-40 eastward to Seligman and then stop at Pete's Route 66 Gas Station Museum in Williams.
Finally, merge back onto Interstate I-40 east and then Highway 89 and then to Highway 64 north to the Grand Canyon's South Rim.
The Phoenix Route
Starting in Las Vegas, head south on I-15. You'll see Bonnie and Clyde's Death Car at Whiskey Pete's in Primm, a relic of criminal history worth visiting.
Continuing south through the desert paradise of the Mojave National Preserve. You'll pass landmarks like the Kelso Dunes.
Continue on to the iconic ghost town of Amboy, where Roy's Motel and Cafe stands as a beacon of Route 66's heyday.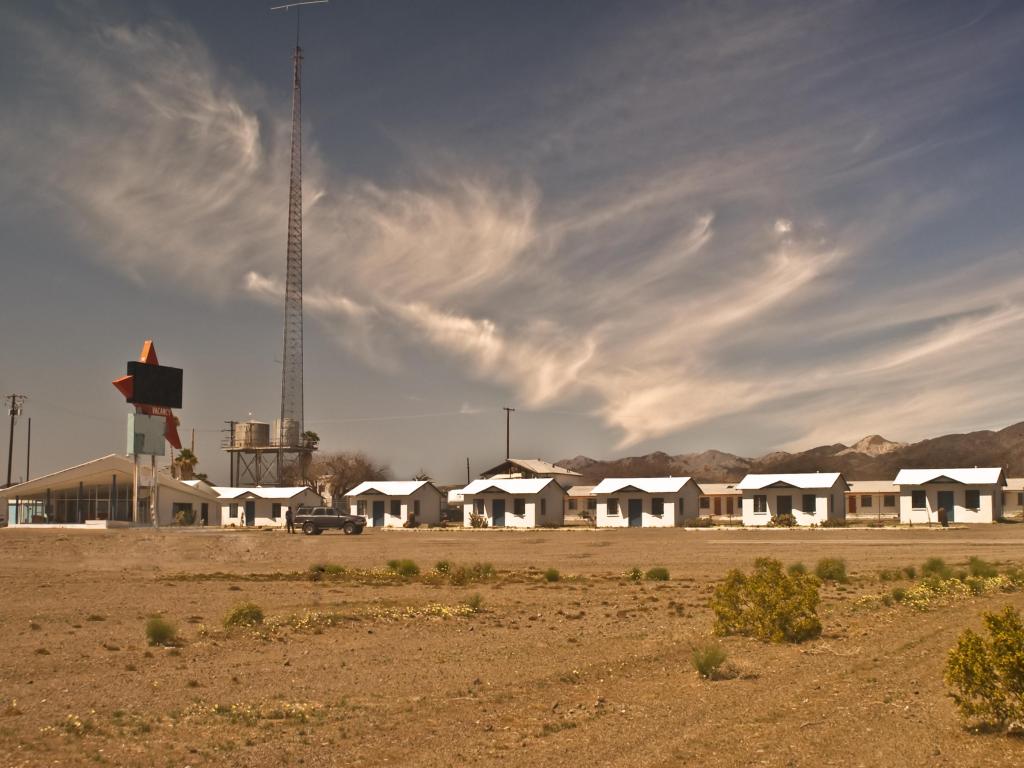 Head south and veer off onto Highway 62, which leads you directly to the gates of Joshua Tree National Park to see the park's otherworldly Joshua Trees and desert landscapes.
After soaking in the magic of Joshua Tree, continue southeast. Take a historical detour at the General Patton Memorial Museum and then head west on I-10.
Continue west to Phoenix. After enjoying the fun desert city, head north on Interstate I-17 to Sedona and its famous Red Rock Scenic Byway.
Head further along I-17 to Flagstaff and check out the Oak Creek Vista Overlook on the way for panoramic views of the region's dramatic canyons.
In Flagstaff, check out the famous Lowell Observatory, head north and finally, join US Highway 64 westward, leading you straight into the heart of the Grand Canyon.
Best places to stop between Las Vegas and Grand Canyon South Rim
With so much to see and do, you're going to want to stay in one of the iconic destinations along the way. Below are our favorite stop-overs, so you can rest in comfort and make the most out of this wonderful journey.
Pay homage to Route 66 in Kingman
Kingman is the quintessential place to take a break along the iconic Route 66, situated about 4 hours from the glitz of Las Vegas. As you venture through this city, you'll enjoy its fantastic restaurants and beautiful downtown steeped in vintage charm.
Here, you can enjoy many attractions, such as the Mohave Museum of History and Arts, or the Arizona Route 66 Museum, which chronicles the highway's profound impact on American culture.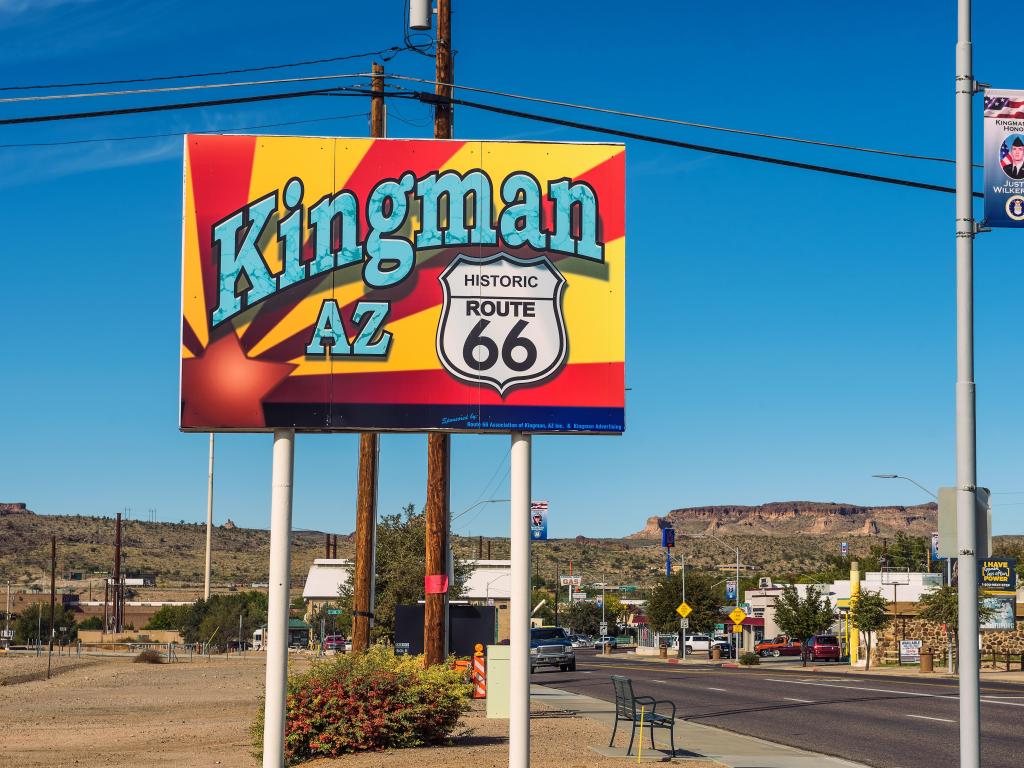 Another standout feature is its railroad legacy. Relive the tales of the rails, by exploring downtown's locomotive park.
While in Kingman, we recommend staying at the comfortable and highly rated Best Western Plus A Wayfarer's Inn & Suites. This contemporary hotel sits near the historic Route 66.
It includes wonderful amenities like a refreshing seasonal outdoor pool and a delicious breakfast spread each morning. You'll also be able to enjoy free Wi-Fi and parking for ultimate convenience.
And if you're eager to stretch your legs, the iconic Route 66 is just a minute's walk from the hotel, while the picturesque Lake Mohave is about an hour's drive away.
Enjoy the desert wonderland of Joshua Tree National Park
Just 3 hours from the dazzling lights of Las Vegas lies the world-famous landscapes of Joshua Tree National Park. A haven for travelers on the Phoenix Route, this iconic desert destination has unique natural wonders, profound historical significance, and unparalleled stargazing.
Nestled between the Mojave and Colorado Deserts, Joshua Tree National Park is a testament to nature. If you love hiking, you can walk through some of the country's most picturesque trails.
Here, you can wander through the spellbinding Cholla Cactus Garden, a showcase of nature's prickly beauties, or delve into the history of the region with a visit to the Lost Horse Mine.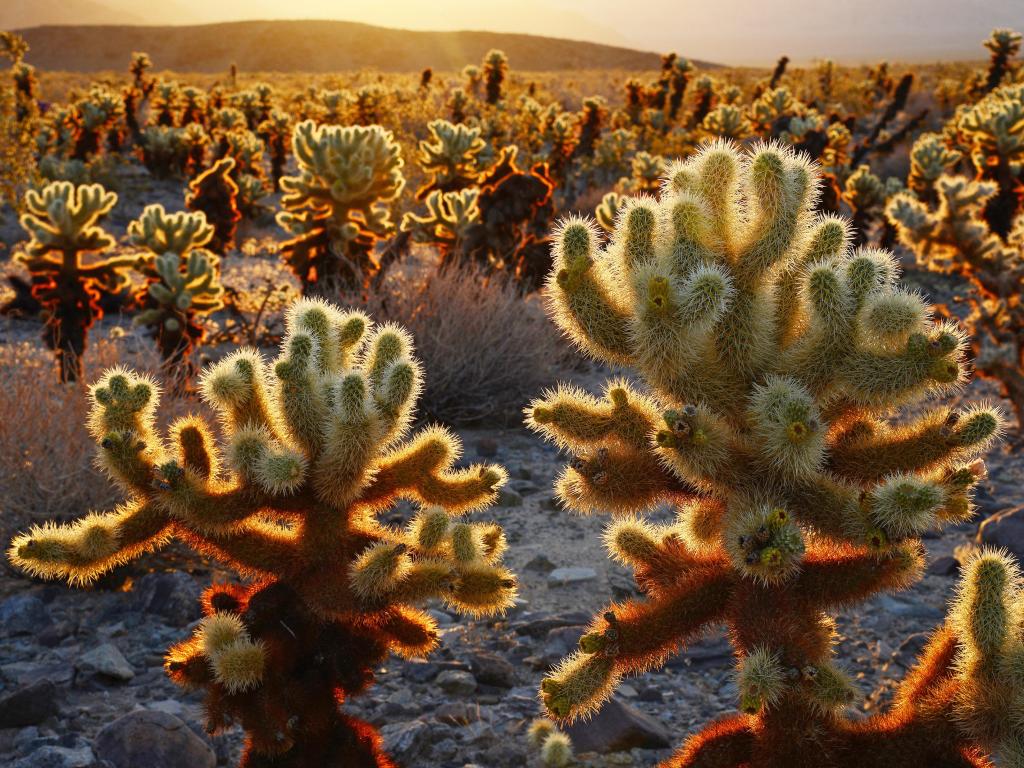 To really enjoy this region in style, we recommend staying at The Bungalows by Homestead Modern. Situated on the fringes of Joshua Tree town, this oasis offers great desert panoramas for you to enjoy from your room.
Every bungalow is a blend of authentic mid-century architecture, rustic charm, and modern comfort. And with free bikes on offer, exploring the park is a breeze. As evening descends, gather around the fire pit or simply unwind in the on-site hot tub under a blanket of stars.
Make sure to explore the charms of the nearby Yucca Valley, a short 9-minute drive away, or challenge yourself with a hike starting from the Hidden Valley Nature Trail Trailhead, located a mere 28 minutes from the hotel.
Where to stay when you reach Grand Canyon South Rim
The Grand Canyon South Rim is one of the most beloved and photographed parts of America. This natural wonder is a mile deep and surrounded by incredible nature.
Here, you'll get to explore renowned spots like the South Rim Trail that offer panoramic views at every turn.
Beyond its scenic offerings, the Grand Canyon has deep-rooted cultural significance, particularly for the indigenous tribes of the region. Get to know the beliefs of the Hopi Tribe, who hold the Grand Canyon in sacred reverence as a portal to the afterlife.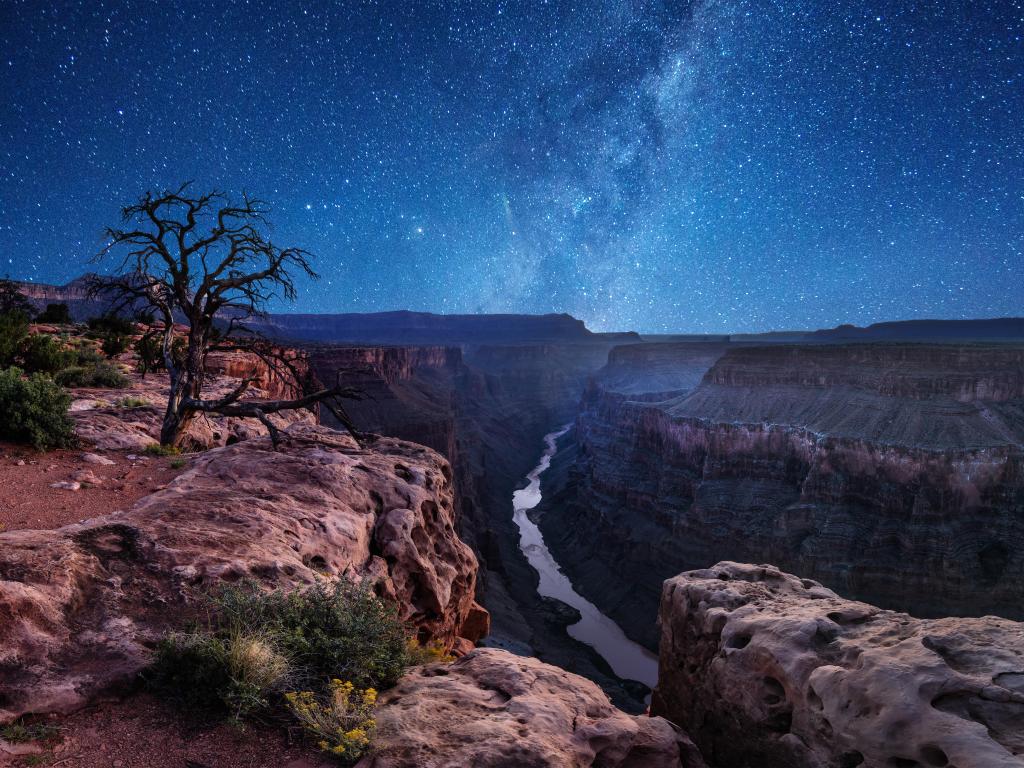 If you want an unparalleled lodging experience, we recommend staying at the Clear Sky Resorts - Grand Canyon. These striking Sky Domes, reminiscent of glass igloos, are nestled seamlessly into the desert landscape.
From the comfort of your cozy bed, gaze upwards and lose yourself in the vast expanse of the cosmos. Then, indulge in delicious meals served from the popular on-site food truck.
This highly rated retreat is just a mere 5-minute drive from the South Rim. Surrounding the sky domes are hiking trails and plenty of nature activities to keep you having fun.
On top of all this are the Clear Sky Resort's amenities. From free Wi-Fi to free parking, you'll have everything you need to relax in style.
Things to see on a road trip from Las Vegas to Grand Canyon South Rim
The amount of highlights and must-see destinations on this road trip are almost infinite. To help you plan for your perfect road trip, we've included our top highlights below‌.
The Route 66 Route
Sloan Canyon National Conservation Area - A natural haven, this area is renowned for its petroglyphs, highlighting ancient rock art amidst rugged landscapes.
Seven Magic Mountains - An art installation near Las Vegas it showcases colorful, stacked boulders, creating a stark contrast against the desert backdrop.
Clark Mountain - The highest mountain in the Mojave National Preserve, it offers challenging hikes and panoramic views.
Mojave Museum of History and Arts - A museum in Barstow that features the rich history, art, and culture of the Mojave Desert.
Dead Mountains Wilderness Area - A rugged terrain marked by its mountain ranges, canyons, and unique desert flora and fauna.
Arizona Route 66 Museum - Located in Kingman, this museum celebrates the historical and cultural significance of the famous highway.
The Historic Seligman Sundries - A vintage-style store in Seligman, Arizona, reflecting the nostalgic charm of Route 66.
Delgadillo's Snow Cap - You'll love this iconic and whimsical drive-in eatery in Seligman, known for its quirky decorations and classic American bites.
Pete's Route 66 Gas Station Museum - Situated in Williams, Arizona, this is a tribute to the bygone era of Route 66, displaying antique cars and memorabilia.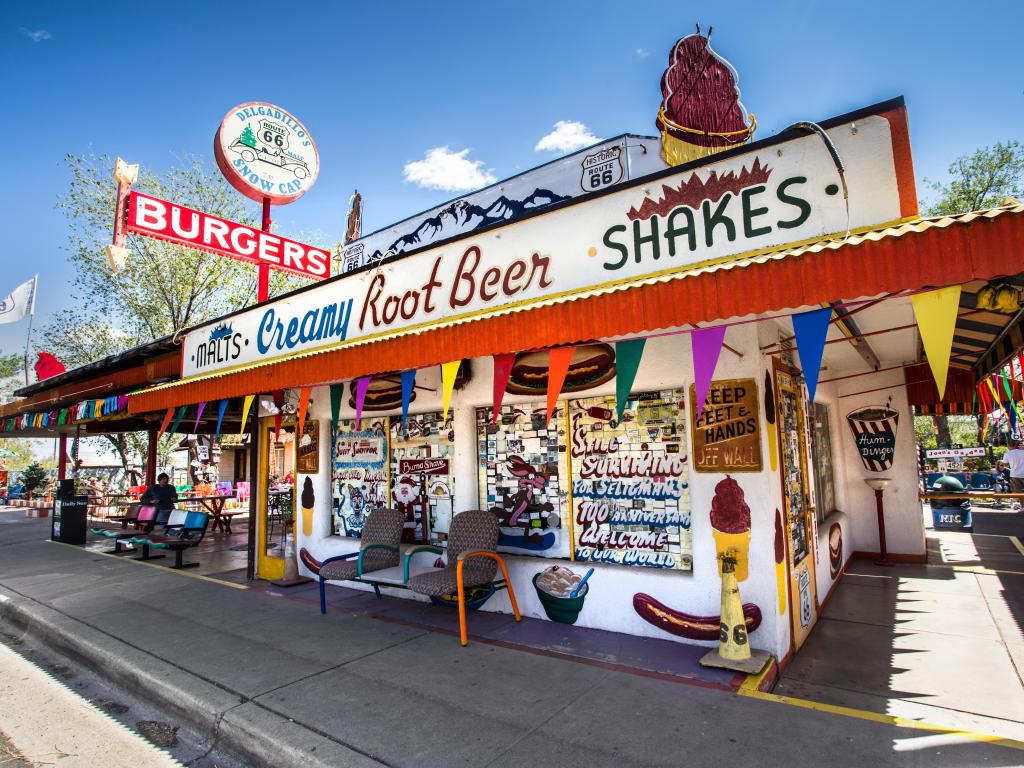 The Phoenix Route
Roy's Motel and Cafe, Amboy - A historic and iconic landmark on Route 66, Roy's is known for its vintage motel, cafe, and the famous "Googie" sign.
Skull Rock - Located in Joshua Tree National Park, this naturally eroded rock formation resembles a skull, making it a popular photo spot.
Joshua Tree National Park - Famed for its twisted Joshua trees, this national park showcases striking geologic features and starry night skies.
General Patton Memorial Museum - Dedicated to the life and legacy of General Patton, this museum is located in Chiriaco Summit, California.
El Dorado Hot Springs - A therapeutic destination in Tonopah, Arizona, offering natural hot spring baths amidst desert landscapes.
First Friday Roosevelt Row - A monthly art walk in Phoenix, it showcases local art, food trucks, and street performers.
V-Bar-V Heritage Site - Located near Sedona, it's home to one of the largest petroglyph sites in the Verde Valley.
Red Rock Scenic Byway - A picturesque drive offering breathtaking views of Sedona's iconic red rock formations.
Sedona - Renowned for its stunning red rock landscapes, spiritual vortexes, and a vibrant arts scene.
Oak Creek Vista Overlook - A popular viewpoint offering panoramic views of Oak Creek Canyon's red rock cliffs.
Lowell Observatory - Located in Flagstaff, this observatory is where Pluto was discovered; it offers telescope viewings and astronomy exhibits.
Museum of Northern Arizona - Situated in Flagstaff, it showcases the history, culture, and art of the Colorado Plateau.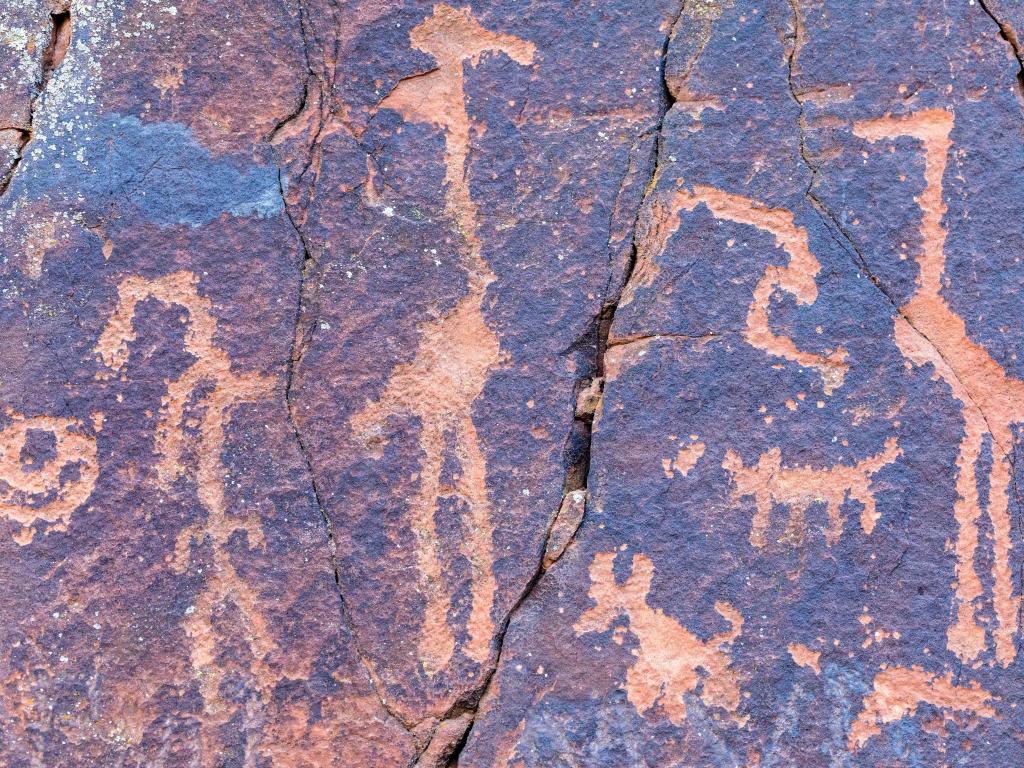 On both routes
Bonnie and Clyde's Death Car - Displayed in Primm, Nevada, this is the actual car the notorious criminals were ambushed and killed in 1934.
Kelso Dunes - These shifting sand dunes in the Mojave Desert create a mesmerizing sonic phenomenon known as "singing sand" when disturbed.
Mojave National Preserve - A vast expanse of desert landscapes, featuring canyons, mountains, and sand dunes, it's a haven for outdoor enthusiasts.
Mitchell Caverns, Mojave National Preserve - Limestone caves offering guided tours that reveal fascinating formations and underground wonders.
Best time to go on a road trip from Las Vegas to Grand Canyon South Rim
Grand Canyon South Rim, with its majestic landscapes and clear, starry skies, is a destination that beckons travelers all year round. However, the area does have seasonal differences.
Winter is cold at the higher elevations, with occasional snowfall in Flagstaff and the Grand Canyon. However, the lower elevations will remain mild, with clear weather and temperatures ranging from 40 to 70 degrees Fahrenheit.
Springtime on both routes will give you temperatures ranging from 50 to 80 degrees Fahrenheit. You'll experience the vibrant wildflower blooms that make this region come alive in color.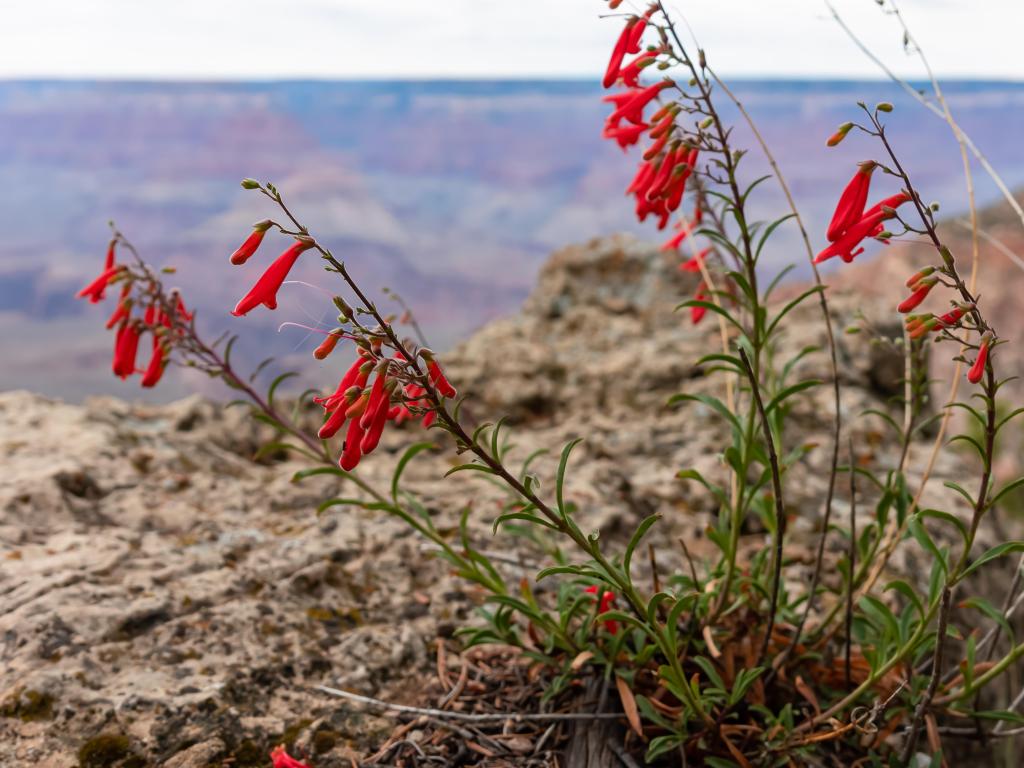 Spring is also the perfect time to enjoy star-studded events such as the Coachella Valley Music and Arts Festival in April.
Summer, with its temperatures often soaring above 100 degrees, can be scorching. For adventurers leaning towards the Route 66 Route, it's crucial to be aware that this desert trail carries a heightened risk of summer fires. Regular checks on travel advisories and a backup plan are important.
If you choose to drive in summer, try aligning your visit with events like the Grand Canyon Music Festival in late summer, the Grand Canyon Star Party in June, and the Bullhead Foodie Truck Fest in August.
Fall is a wonderful time to take on this road trip with pleasant temperatures and clear weather. Make sure to check out the Sedona Arts Festival and the Kingman Route 66 Fest in October.
The routes and the destinations along them are filled with spellbinding canyon vistas, cultural gems, and unparalleled stargazing sessions. You will enjoy every minute of this incredible road trip.