Road Trip from Las Vegas to Hoover Dam and Lake Mead
Looking for an exciting adventure close to Sin City? The short but epic road trip from Las Vegas to Hoover Dam and Lake Mead will take you past stunning scenery, through some of the best gems of Nevada's iconic landscape and fantastic small towns, to an oasis in the desert.
The 90-mile road trip from Las Vegas to Hoover Dam and Lake Mead will take 2 hours to drive. Highlights include Red Rock Canyon Overlook, Boulder City and Blue Diamond plus Valley of Fire State Park, Sunset View Scenic Overlook and Sloan Canyon.
This might be a short drive but it's packed full of fantastic attractions and stunning views along the way. Keep reading to find out the best routes and time to make the trip from Las Vegas to Hoover Dam and Lake Mead, as well as our favorite places to stop along the way.
How far is Hoover Dam and Lake Mead from Las Vegas, and how long will the road trip take?
Comparison of road trip routes between Las Vegas and Hoover Dam and Lake Mead

| Route | Distance | Driving Time |
| --- | --- | --- |
| The Canyons Route | 90 miles | 2 hours 20 minutes |
| The Moapa Valley Route | 130 miles | 2 hours 40 minutes |
The quickest of our two recommended routes isn't much longer that the direct option. Taking you alongside Nevada's stunning canyons, this route spans a distance of just 90 miles and will take 2 hours and 20 minutes to drive if you don't stop along the way.
An alternative and slightly longer option takes you further north and past the Valley of Fire State Park towards Moapa Valley. Covering a distance of 130 miles, this route should take you 2 hours and 40 minutes of non-stop driving.
Even though this could be a day trip, to really explore the incredible Nevada desert, and all its fantastic canyons, towns and attractions, we'd recommend spending two days, which will allow you to stop overnight en route.
Best road trip route from Las Vegas to Hoover Dam and Lake Mead
The choice between the two routes will entirely depend on your own personal preference. Are you looking for a quick drive to Hoover Dam and Lake Mead? Have you always wanted to explore the Valley of Fire State Park or the Sloan Canyon National Conservation Area?
The quickest of the two options, The Canyon Route, offers up stunning rugged scenery of Red Rock Canyon and Sloan Canyon. Here you'll get a great contrast from the bright lights of Las Vegas, without having to drive too many miles.
You'll also get to pass through Boulder City and Blue Diamond, for some urban vibes. Though it's worth noting that this is a really short route, so it might not feel like a true road trip if you're looking for a more adventurous journey.
If that's the case, you could choose the Moapa Valley Route. Taking you to some fantastic natural landscapes, this option then takes you back down the interstate to spend some time closer to Lake Mead.
If you do brave the longer drive, you'll be rewarded with the iconic Valley of Fire State Park and Sunset View Scenic Overlook. Do check for local advice and information before planning hikes through Valley of Fire State Park though, as heat warnings have closed some trails in the area.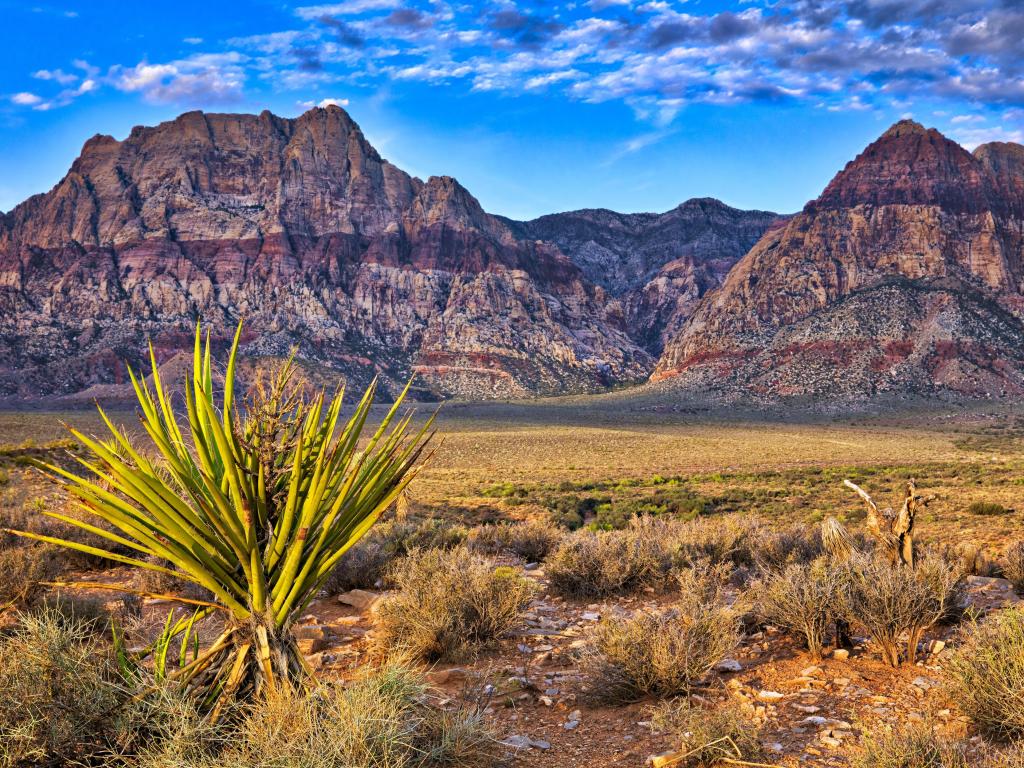 The Canyons Route
The quickest of our two recommended routes will take you from Las Vegas on Interstate 515 (I-515). Take Summerlin Parkway and Continue onto Bruce Woodbury Beltway south before taking Exit 26 for NV-159 West out of the city.
Follow NV-159 for a short stretch before reaching Red Rock Canyon Visitor Center where you can stop and explore the stunning Red Rock National Park.
Afterwards, you'll continue on the same road, passing by Rainbow Mountain Wilderness before stopping at Blue Diamond, a small town with fantastic views.
Head back east and towards Sin City. Pass Mountain's Edge Regional Park and Exploration Peak Park and follow Jones Parkway to I-15.
Follow the interstate south for a short stretch before heading towards Sloan Canyon National Conservation Area. You can stop here for the night, which is a fantastic way to see more of this stunning landscape.
Afterwards, join Anthem Highland Parkway which will take you past Madeira Canyon Park and through Anthem Hills Park and Anthem East Trailhead.
Pass Veterans' Memorial Park and stop at Boulder City for a rest and refresh. Afterwards continue on US-93 and NV-172, following signs for Hoover Dam where you'll reach your final destination.
The Moapa Valley Route
Our Moapa Valley Route will take you out of the city further north/northeast. Get on I-515 as you leave the city an at Crystal, leave the interstate and join the Valley of Fire Highway, leaving it to visit the Valley of Fire State Park.
Afterwards, continue on the highway, passing Elephant's Rock, before joining NV-167.
Heading further south, you'll pass Rogers Spring before taking a left to join Lakeshore Road. Stop along this road to visit Sunset View Scenic Overlook for incredible views, or Boulder Beach to relax by the shore.
Follow Lakeshore Road before joining US-93 briefly to Hoover Dam Access Road which you'll follow to Hoover Dam and the mighty Lake Mead.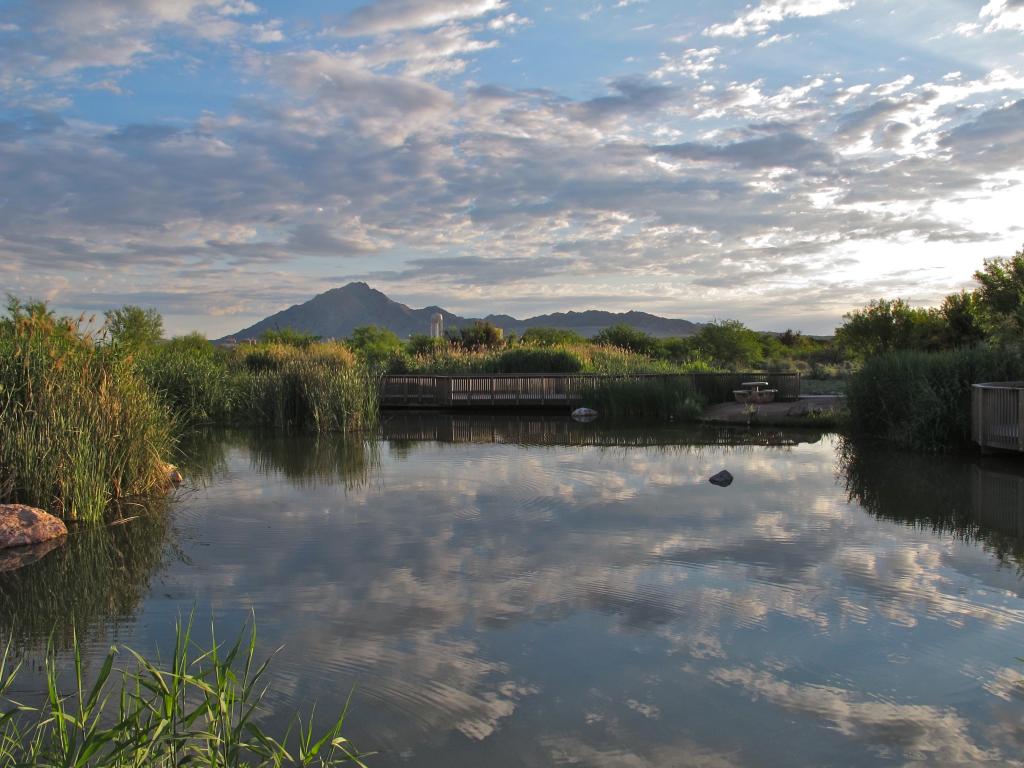 Best places to stop between Las Vegas and Hoover Dam
You could complete this short trip in a day, but you'll be less likely to enjoy the spectacular views, attractions and activities that Nevada has to offer. Given that there are some stunning places to stop the night on both routes, the hardest part might be deciding which one to choose!
Surround yourself with mountains at Sloan Canyon National Conservation Area
One of the best places you can stop on our Canyons Route is Sloan Canyon National Conservation Area. Not only is it well positioned at just 30 minutes from Lake Mead, but it offers sensational scenic views and outdoor recreation opportunities.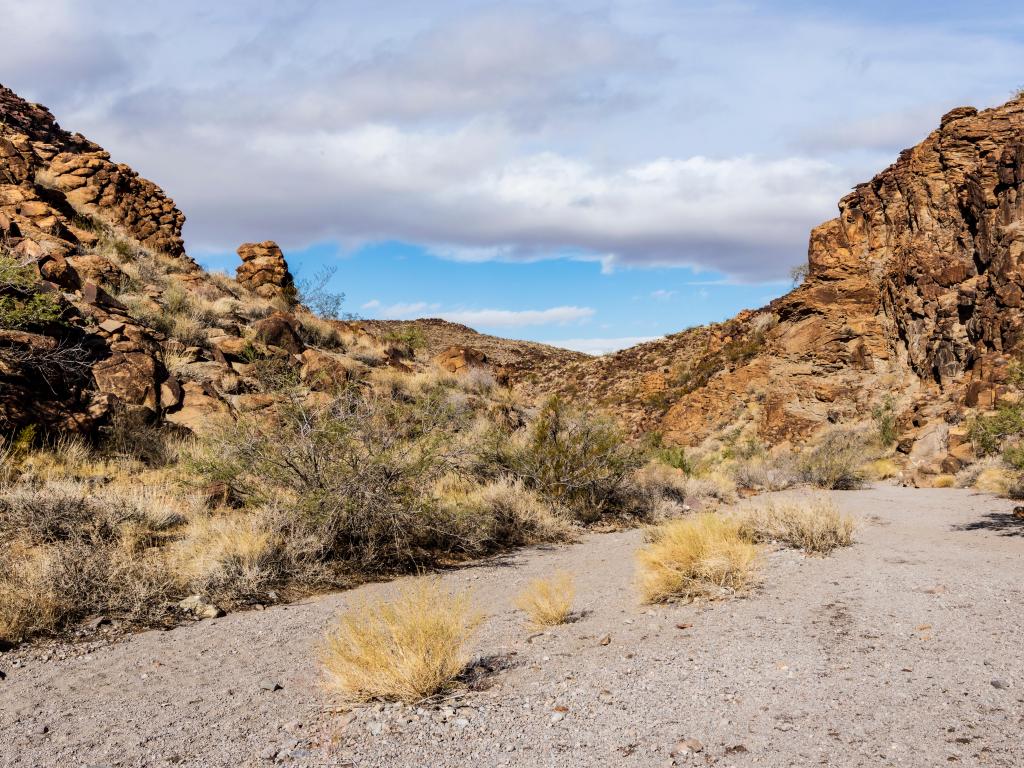 Part of the Nevada desert, just outside Las Vegas, the mountains at Sloan Canyon National Conservation Area are the ones you can see from the city itself. You can enjoy various hiking trails, suitable for all levels, or watch the local wildlife in this fascinating landscape.
For history enthusiasts, a must-see attraction is the Petroglyphs which are ancient rock art that can be seen along hiking trails. Head to the Visitor Contact Center for directions (note that visitor numbers at Petroglyph Canyon are restricted).
If you are visiting in peak season and looking to avoid crowds, you could always head to North McCullough Wilderness. Formed by volcanic activity, this is another fascinating and beautiful landscape to explore.
Unless you want to head back into Vegas for the night, there aren't many accommodation choices on the outskirts of the city. Homewood Suites by Hilton South Las Vegas offers comfortable rooms and is only a short drive from Sloan Canyon National Conservation Area.
Its fantastic location means you can head back for a second day of hiking if you want to. After your time outdoors, you will be welcomed by a fantastic pool where you can relax. The hotel is also within easy driving distance of a number of golf courses for a great day out.
Gateway to Valley of Fire at Moapa Valley
For the road trippers who have opted for the slightly longer route, Moapa Valley is an ideal overnight destination. Around an hour from Las Vegas, this is the perfect location to base yourself as you discover the natural wonders of the Valley of Fire State Park.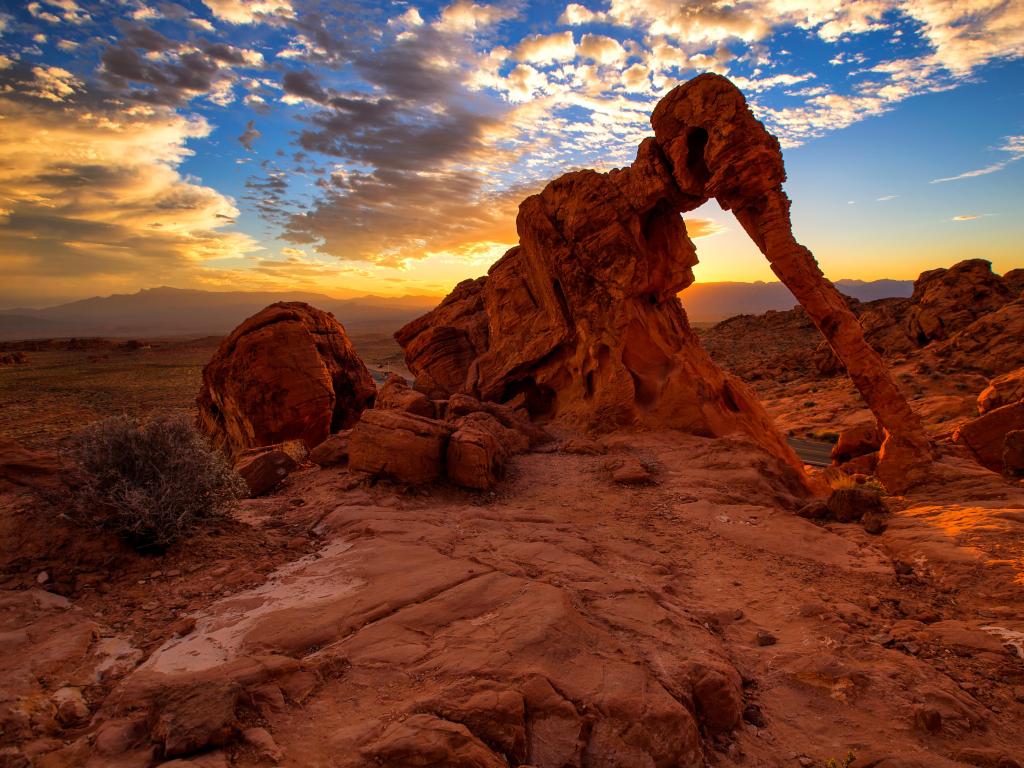 Just a short drive from the Valley of Fire State Park is North Shore Inn at Lake Mead. Offering guests an outdoor pool and hot tub to relax in, this great hotel also has comfortable rooms that offer that "home away from home" feeling.
Of course, the star of this location is the Valley of Fire State Park. This beautiful red geological wonderland has petroglyphs carved into its massive sandstone formations that are thousands of years old. To do this park justice, you'll need at least a day to take it all in.
Not only does the hotel provide the gateway to the park, but from here, you'll also be able to explore Moapa Valley National Wildlife Refuge, as well as Warm Springs Natural Area which is the ideal spot to escape the city and relax in beautiful surroundings.
If you have a little extra time, you could always stop an extra night here and explore Zion National Park, another stunning attraction, which is only two hours away.
Where to stay when you reach Lake Mead
Given that Hoover Dam and Lake Mead are two separate attractions (Hoover Dam is located in Black Canyon and sits on Lake Mead, which occupies a larger area than just around the dam), you're going to want to spend some time exploring both sites.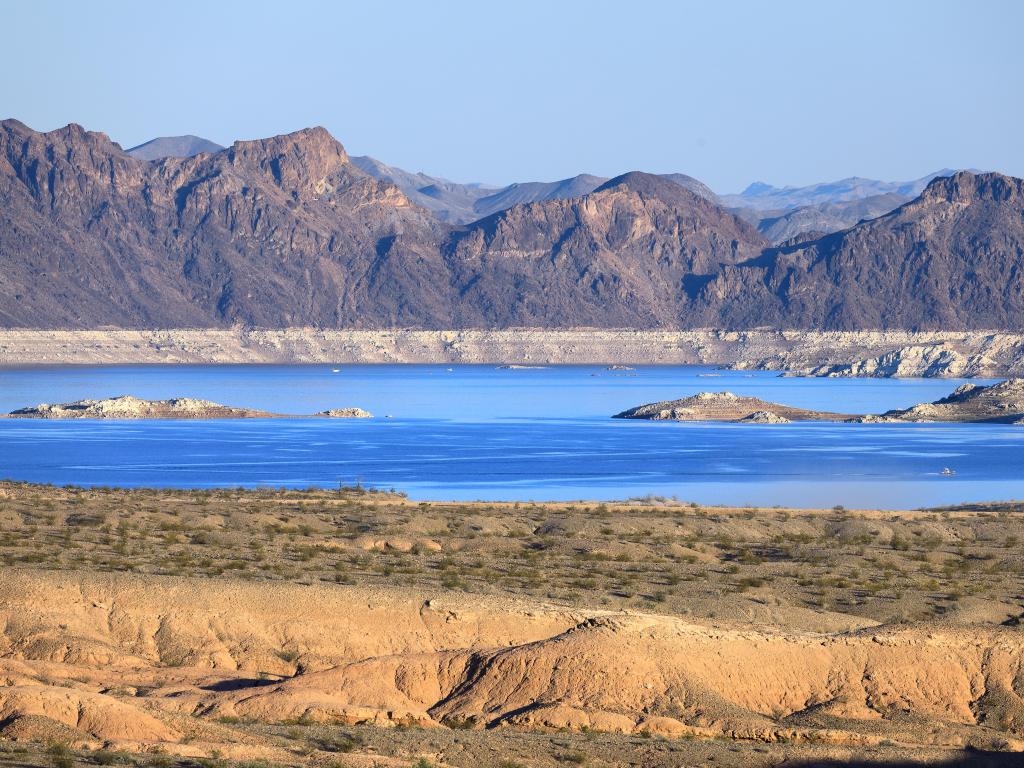 An ideal hotel to base yourself before exploring these great attractions is the Best Western Hoover Dam Hotel, Boulder City. Not only is it one of the closest resorts to Hoover Dam, just eight miles away, but it's modern, comfortable and has both a welcome pool and hot tub for guests to enjoy.
With free parking, you can turn up and head straight out. Nearby you'll find plenty of great diners all within walking distance, or simply enjoy a great meal at the hotel's onsite restaurant.
Its location also means you can explore nearby Boulder City, including hiking trails at Bootleg Canyon and River Mountain. Though if you're tired from the drive, you can simply relax in one of the city's parks which are right around the corner from the hotel.
Things to see on a road trip from Las Vegas to Hoover Dam and Lake Mead
This might be a short road trip, relatively speaking, but there are a plethora of fantastic attractions that you'll pass between Las Vegas and Hoover Dam and Lake Mead. To make sure you don't miss anything, we've compiled a list of some of the best bits below:
The Canyons Route
Red Rock Canyon - The clue is in the name here! You can choose from 26 marked trails to hike through this spectacular canyon in the Mojave Desert, and there are also places to climb. For a less active trip, take the 13-mile scenic drive, but note that reservations are required for this at busy times.
Spring Mountain Ranch State Park - This state park includes some of the oldest buildings in Nevada – it's centered around a historic ranch – and you can sometimes see living history displays when you visit. There are a number of trails, places to enjoy a picnic, and ad hoc events like yoga and outdoor theater.
Blue Diamond - This tiny town has been a trading post and a mining community, but now it's better known as the starting point for the 6-mile Old Spanish Trail. You can also get a great meal in the town before carrying on along the route.
Sloan County National Conservation Area - Hike up to discover the ancient petroglyphs which are dotted around this beautiful wilderness area only a few miles out of Las Vegas.
Clark County Museum, Henderson - This fascinating museum made up of reconstructed historic buildings tells the history of Clark County, Nevada, including a focus on the Native American people who have called this region home for many centuries.
Boulder City - You can get active in Boulder City – How about a skydiving trip, or even a helicopter tour all the way to the Grand Canyon, the quickest and most spectacular way to see the monument from here?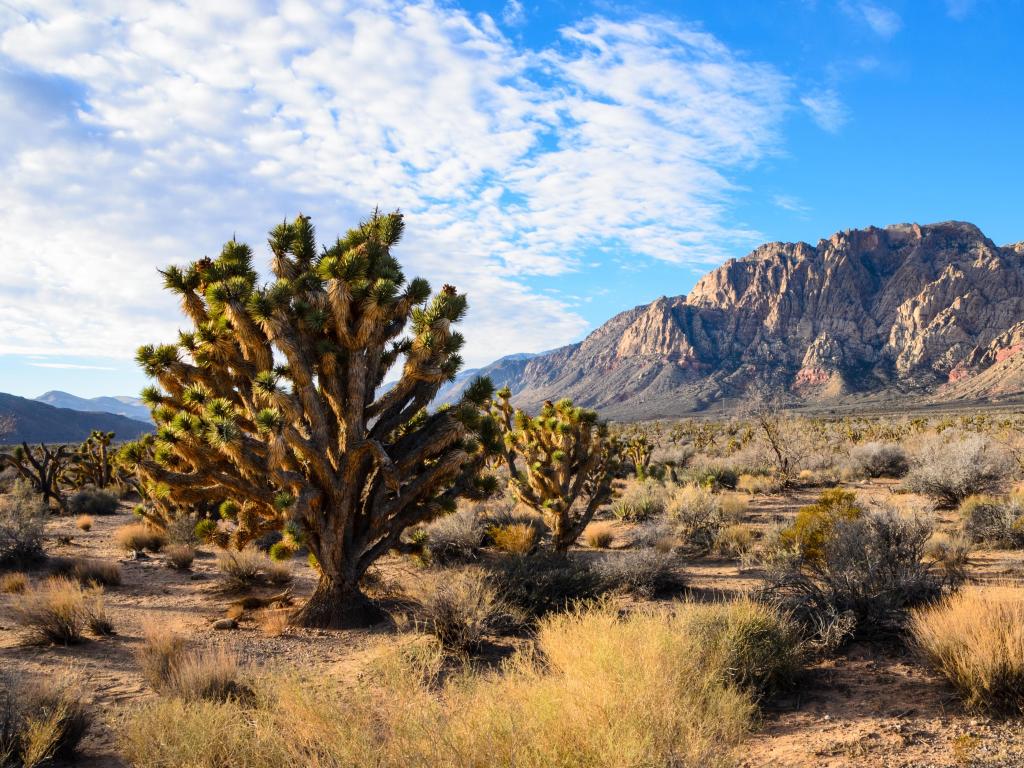 The Moapa Valley Route
Clark County Wetlands Park - This free park is a great place to escape into nature and is only a few miles away from the bustle of Las Vegas. Follow trails through the cottonwood trees to spot all kinds of wildlife, including turtles, herons, and maybe even beavers.
Valley of Fire State Park - Across this state park, vibrant Aztec sandstone emerges from pale limestone, creating a stunning landscape that's great for hiking. You can also find petroglyphs here – the Visitor Center can advise on the best ways to reach them. Even if you just drive along the Valley of Fire Highway (officially designated a scenic byway) without stopping, you'll get fabulous views.
Sunset View Scenic Overlook - If you enjoy watching the sun go down in beautiful places, make sure you time your trip to arrive here toward the end of the day – with a fantastic view across Lake Mead, this is one you'll never forget.
Boulder Beach - This popular, mile-long beach is a great place to cool down after your long drive, and you'll also find places nearby to launch kayaks or boats. Be aware that most of the beaches on Lake Mead are rocky rather than sandy – take a detour south to Katherine Beach or Cottonwood Cove on Lake Mohave if you're looking for sand.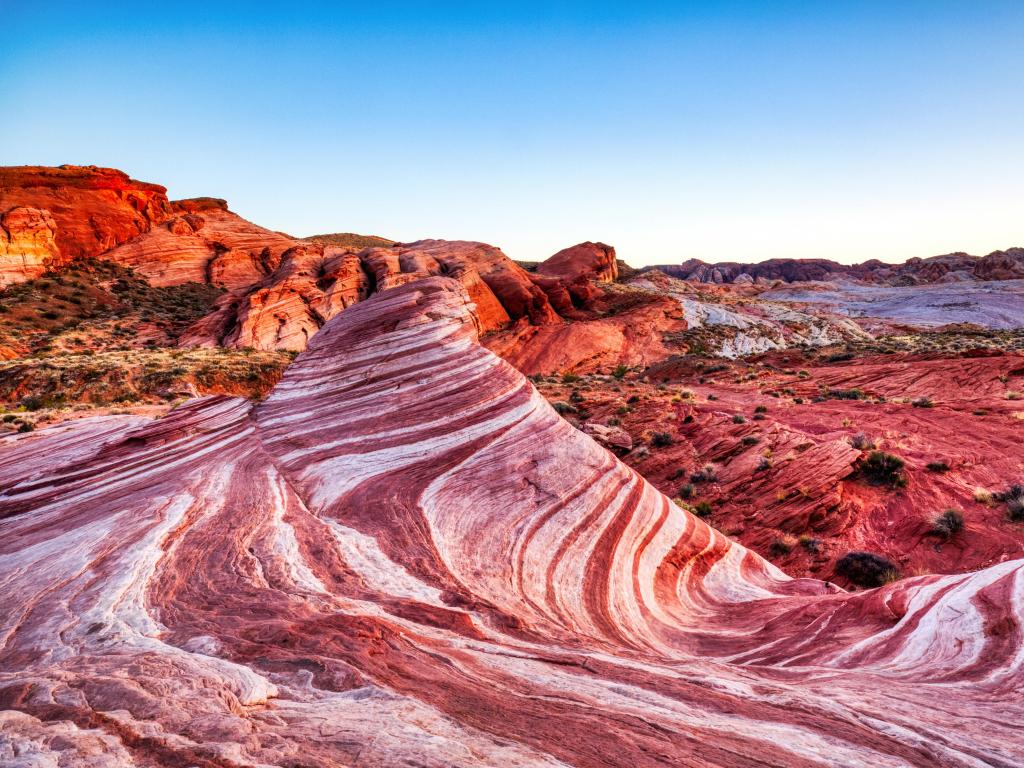 Things to see further afield
Zion National Park - Spend more time in the great outdoors here, with fabulous hiking, riding and biking opportunities through the greener landscape of Utah. If you'd like to hike up to Angels Landing, you will need a permit and will need to make a reservation. Check the Zion National Park's website for more details.
Dixie National Forest - A detour from the route takes you to Utah's biggest national forest, where you'll find more beautiful sandstone landscapes and vibrant green forests to explore.
Cedar Breaks National Monument - Another detour from the route, this massive natural amphitheater is an amazing sight, and you can walk around the rim for even more views.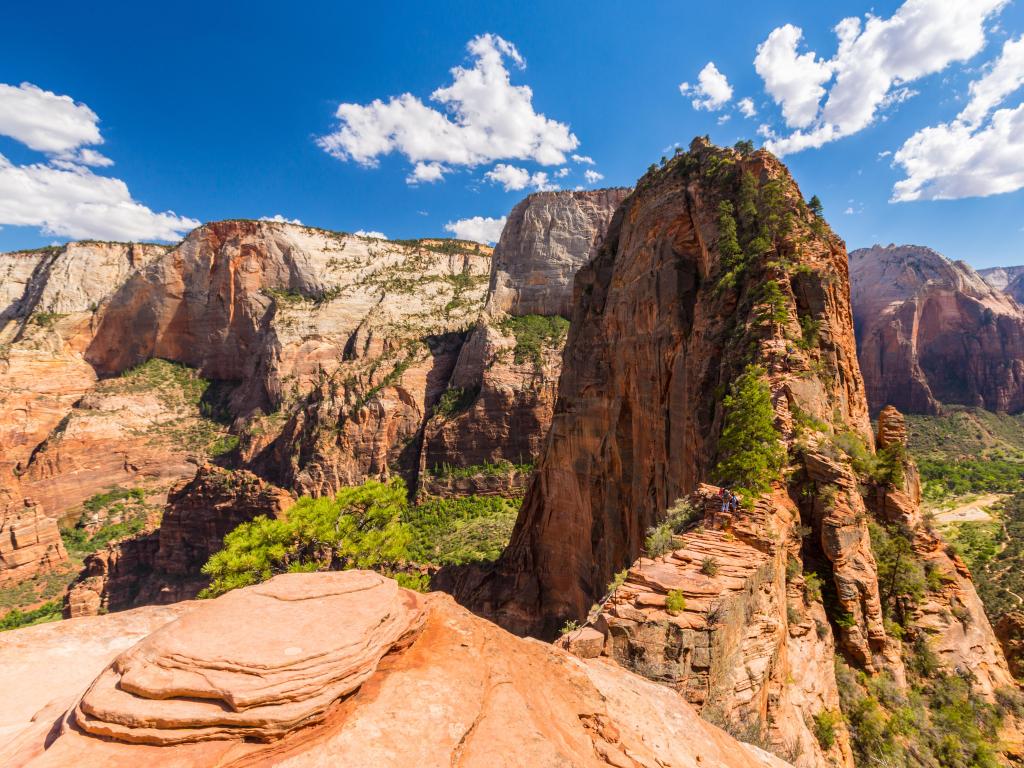 Best time to go on a road trip from Las Vegas to Hoover Dam and Lake Mead
The road trip from Las Vegas to Hoover Dam and Lake Mead could be completed year round, however, this very much depends on how you like your summers. This part of Nevada gets extremely hot, which can make driving and hiking rather challenging.
Average temperatures at Lake Mead are close to 100 degrees Fahrenheit from June to August. If you're not used to the heat, you might find that this is too hot to enjoy the trip unless you've planned your time to avoid the hottest part of the day.
You might also find that some trails on our routes are closed to keep people safe through the hottest part of the year, so if you have a particular trail in mind, please do check ahead for information locally or from the National Parks Service.
Meanwhile winter temperatures usually sit in the high 50 degrees, with it rarely dipping below 35 even at night. So as long as you pack appropriately, it's possible to enjoy much of the trip even in winter, though be prepared for chilly water if you fancy a swim!
Spring warms up fast, approaching 70 degrees in the daytime by the end of March and the high 80s in May. You might see a small amount of rain in March, but you'll also get to see wildflowers in bloom. All this makes spring a popular time to travel, so be prepared for some crowds.
September is another hot month, with temperatures into the 90s (which might be too hot for some), and October seeing temperatures around 80. It's not until November that you'll start to see things cool down into the 60s.
There are several events that you could plan your trip around, including April's National Parks Week and the Lake Mead Ironman attracts 2,500 competitors in October. One annual highlight is the Parade of Lights festival in December where you can see decorated boats take to the water.