Road trip from Las Vegas to Los Angeles
If you've been hitting the slots in Nevada and want to spice up your week with a new flavor of urban, you should definitely do a road trip from Las Vegas to Los Angeles. Cutting through the Mojave Desert, the epic itinerary will take you past the most scenic parts of Southern California.
The 270-mile road trip from Las Vegas to Los Angeles takes 4 hours 15 minutes to drive. Key landmarks include Death Valley, Mojave National Preserve, and Joshua Tree National Park, as well as the cities of Palm Springs, Riverside, and Temecula.
Don't be fooled by the relatively short drive - this is one of the most scenic short trips you can do in the States, so read on to learn all about it.
How far is Los Angeles from Las Vegas and how long will the road trip take?
Best routes from Las Vegas to Los Angeles
Route
Distance
Driving Time
Quick Route


(via Interstate 15)

270 miles
4 hours 15 minutes
Scenic route


(via Mojave National Preserve)

320 miles
5 hours 30 minutes
Taking the quickest possible route, the road trip from Las Vegas to Los Angeles takes 4 hours 15 minutes and covers 270 miles. If you're mainly just doing this trip to see Los Angeles, you can take off at virtually any time and make it that same day.
The issue with following this particular route, however, is that there isn't all that much incentive to stop on the way – unless you're set on spending a fair amount of time at Death Valley, the few landscapes exclusive to this route probably won't even extend your trip to 2 days.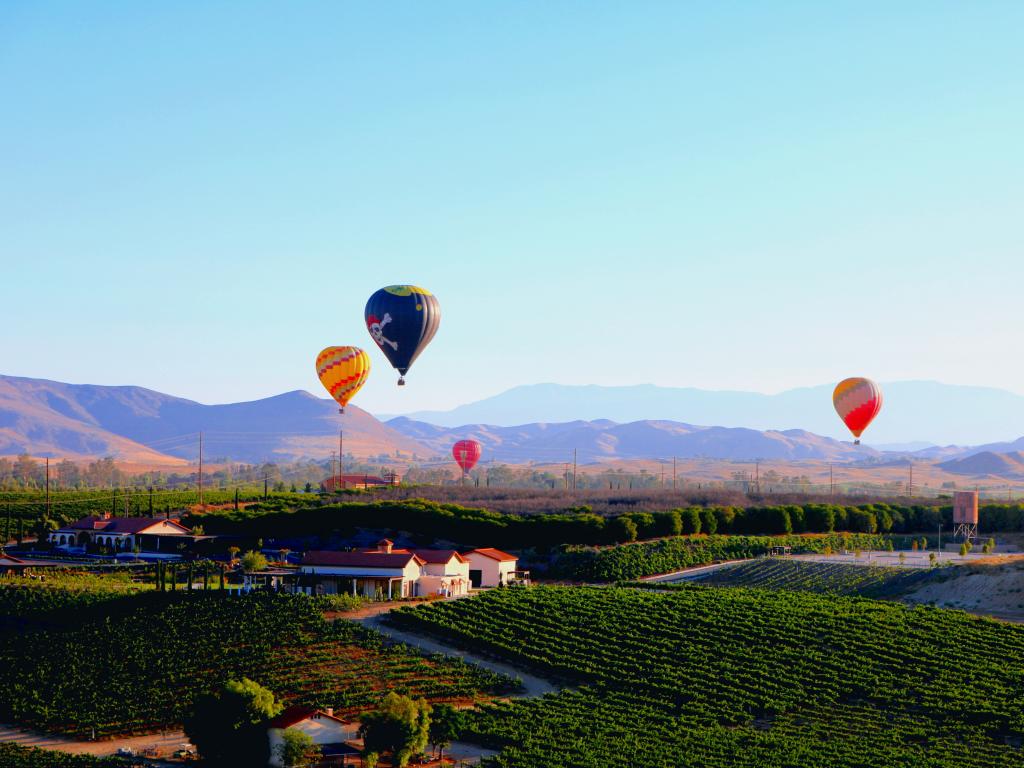 For something a little bit more interesting, consider driving straight through Mojave National Preserve and along Joshua Tree National Park, then making an overnight stop in Palm Springs - on top of there being more to see, this adds another urban metropolis to your itinerary.
Understandably, this route takes longer to drive since you'll barely get to drive on an interstate until you're past Palm Springs. On the other hand, the quicker route never strays from the freeway, nor does it pass through any huge cities that might slow down your drive.
Best road trip route from Las Vegas to Los Angeles
If you have the time, choosing the best route from Las Vegas to Los Angeles is easy – the drive through Mojave National Preserve has more places to check out. If you want to check out Death Valley, however, that can be reason enough to consider the quicker route too.
The quick route (via I-15)
Take Interstate 15 south out of Las Vegas, just past Sloan Canyon National Conservation Area. Follow the interstate along Mojave National Preserve through Baker, and detour to Death Valley if you feel like it.
Otherwise, continue through Barstow (checking out Calico on the way) before driving through Victorville and between Angeles and San Bernardino National Forests. Right after that, take State Route & Interstate 210, then Interstate 10 to Los Angeles.
The scenic route (via Mojave National Preserve and Palm Springs)
Once again, leave Las Vegas along Interstate 15, but instead of going around Mojave National Preserve, cut through it via Nipton, Ivanpah, Morning Star Mine, and Kelso Cima Roads, then stop at Kelso. From there, take Kelbaker Road and the National Trans Highway to Amboy.
Follow Amboy Road to State Route 62 and pass Joshua Tree National Park before ending up at Palm Springs. Take as much time here as you can, then pass Mt San Jacinto and San Bernardino National Forests. From Beaumont, follow Interstate 10 west the rest of the way to LA.
Best places to stop between Las Vegas and Los Angeles
The road trip from Las Vegas to Los Angeles features some of the best resorts in California's repertoire. Although you have no shortage of options, consider booking a room at one of these hotels if you can:
Experience the Hollywood lifestyle in Death Valley
To enjoy Death Valley to the fullest, you basically have to visit when the weather is mild, but when it's viable, the park is an absolute must-see. Famous for being a favorite among Hollywood's finest actors, the beautiful Inn at Death Valley is one of California's best resorts.
It's not hard to see why the rich and famous tend to flock to this place – from the gorgeous flora in the middle of an otherwise arid desert, to the grandiose and welcoming interior, calling this place an oasis would be underselling it.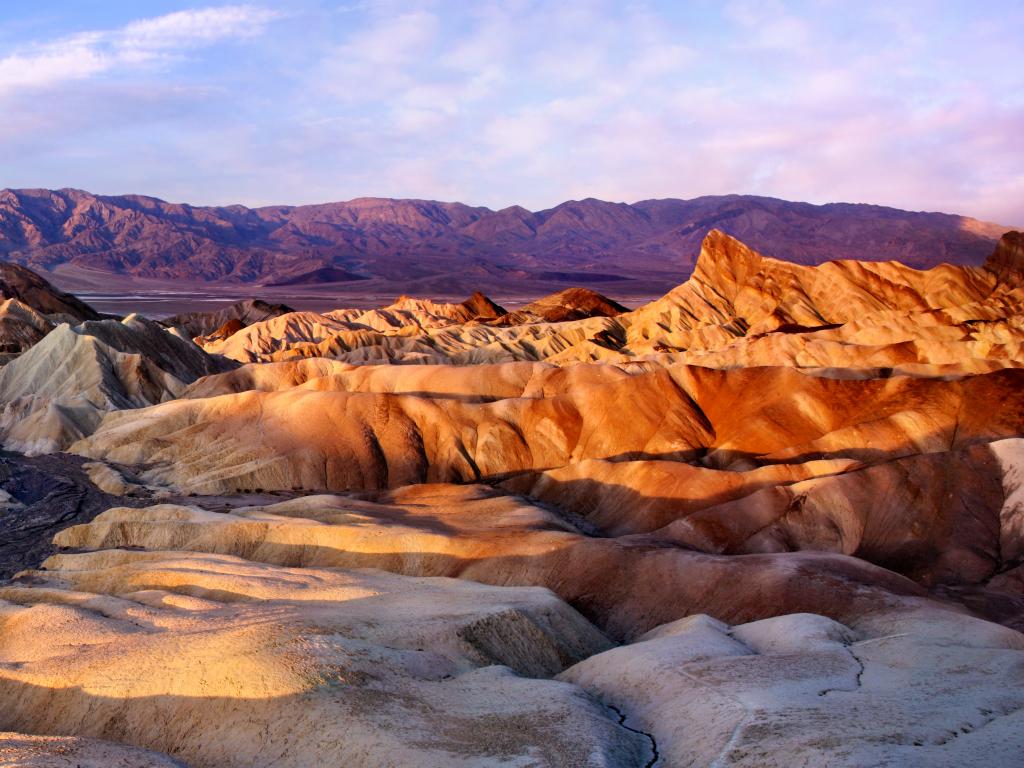 After basking in the sun by the large swimming pool and enjoying a drink by the outdoor fireplace, you can walk around the property and get absorbed in the beautiful greenery, relax in the spa and get a soothing massage, or take a short stroll to the nearby golf course.
Although this is a costly resort, it's not as expensive as you might expect it to be, all things considered. Besides, imagine seeing Martin Sheen pulling up to your hotel and booking the room next door!
Enjoy the beautiful aesthetic of Palm Springs
Palm Springs is an essential stopover if you're traveling the longer route, and much like Death Valley, it is frequently visited by the world's biggest stars. Combining an ideal location downtown and a flawless Mediterranean style, La Serena Villas is by far the best resort in town.
La Serena's presentation is unlike that of any other resort in the area – the beautiful rooms will make you feel like there's a sea and beach right around the corner. Stepping outside, you get to soak in the beautiful swimming pool or sunbathe with a gorgeous mountain backdrop.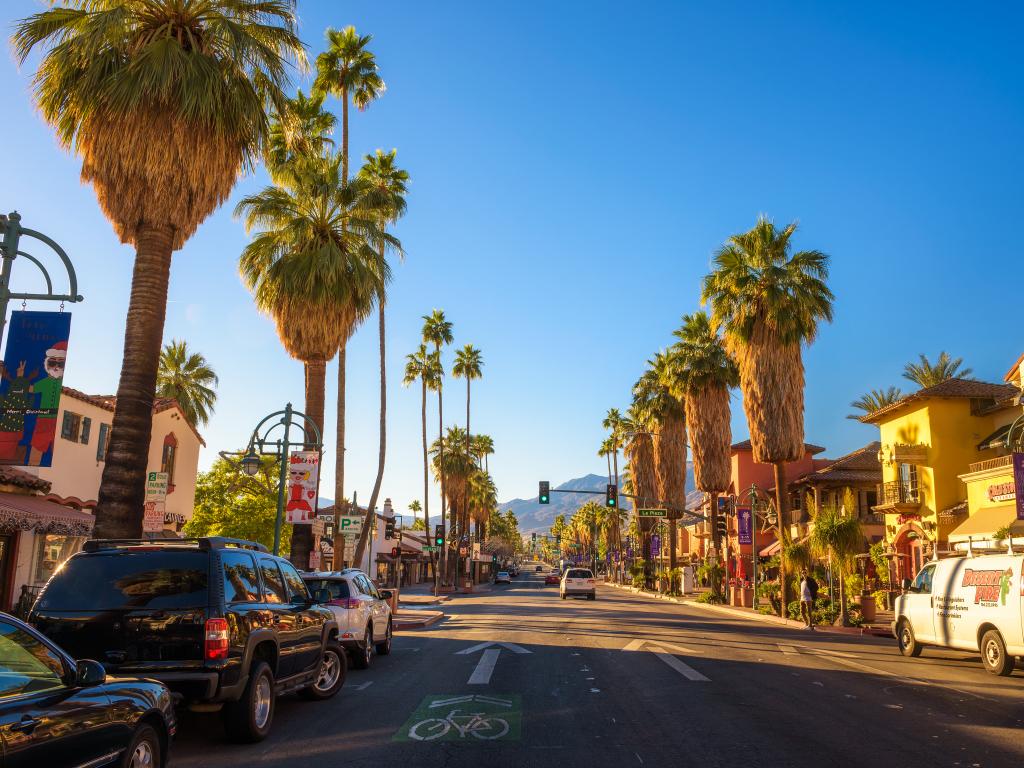 Afterwards, you can dry off at the outdoor fireplace, enjoy a Spanish or Mediterranean lunch, visit the spa and wellness center, or relax in your suite's private hot tub. If you explore Palm Springs in detail, forget about your car and rent one of the hotel's bicycles instead.
The only catch here is the high price, but Palm Springs' pride and joy is one of the best resorts along either route, so the investment is more than worthwhile.
Things to see on a road trip from Las Vegas to Los Angeles
With the road trip from Las Vegas to Los Angeles being relatively short, you can come up with a pretty definitive list of must-see places. You should definitely take a week or two to truly make the most of the trip by visiting all of the following places:
Sloan Canyon National Conservation Area – this area's Native American petroglyphs and abundant hiking trails are its most notable features
Mojave National Preserve – a highlight of the rugged Mojave Desert featuring beautiful terrain and the abandoned town of Kelso
Death Valley National Park – the park's often-astronomic temperatures tend to overshadow just how scenic it actually is
Calico – once a thriving mining town, Calico is now a well-preserved ghost town and esteemed tourist attraction
Angeles & San Bernardino National Forests – a gorgeous duo of forests that feature epic mountains and stunning old and new growth
Riverside – home to the University of California and some of the most attractive constructions in the entire state, this beautiful city is always alive and bustling with activity
Glen Ivy Hot Springs – an amazing place to enjoy healthy food and enjoy a relaxing spa treatment
Temecula – this city is best known for its top-notch wineries and the historic Old Town Temecula
Salton Sea – a large saline lake that features some beautiful landscapes and bird-watching spots
Topanga State Park – home to some incredible flora and the Backbone Trail System, this is also the largest within-city park in the States
Palm Springs – this amazing city's gorgeous mid-century architecture and abundance of activities have made it an attractive vacation spot for the rich and famous
Cabazon Dinosaurs – first popularized by Pee-wee's Big Adventure, these gigantic dinosaurs have long been a popular roadside attraction for anyone passing through Palm Springs
Mt San Jacinto State Park – the park is home to the titular San Jacinto Mountain and is renowned for its spectacular nature vistas
Joshua Tree National Park – an incredibly unique park at the juncture of two deserts, distinguished by its signature Joshua trees
As amazing as these landmarks are, you could and should off-road to discover some of the route's hidden gems if you have the time. Alternatively, you can drive along the coast from LA and visit some more spectacular vacation cities like Huntington Beach or Malibu.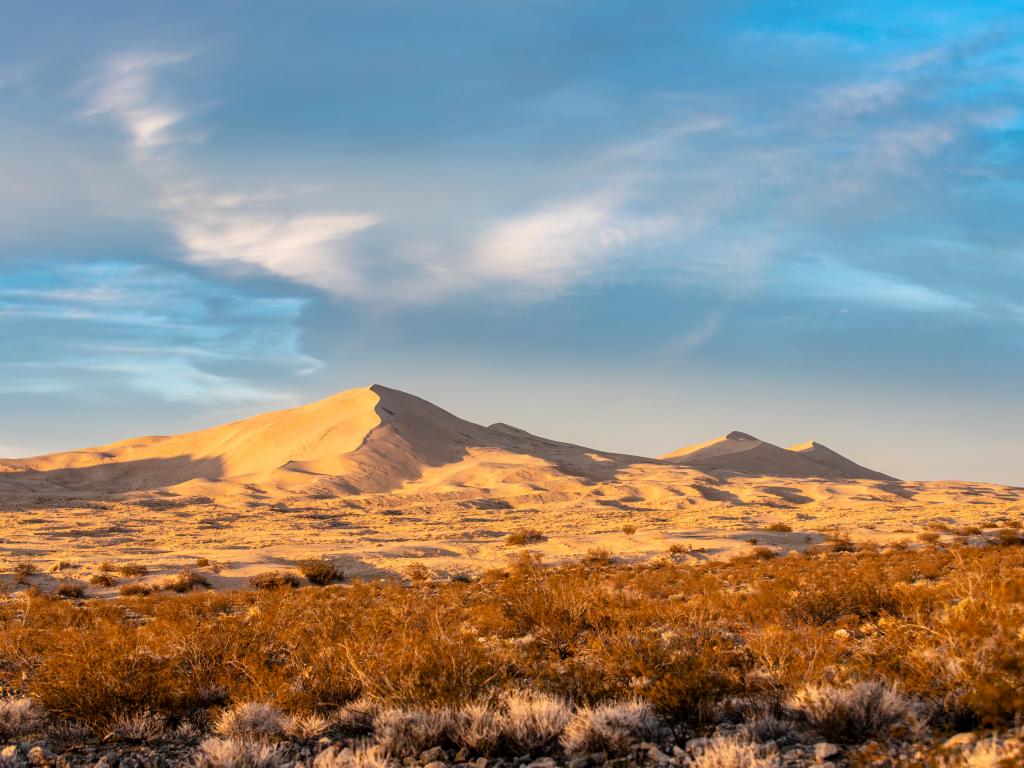 Best time to go on a road trip from Las Vegas to Los Angeles
There's a fair bit to consider before deciding when to do the road trip from Las Vegas to Los Angeles – like with any major city, the abundance of seasonal events draws in plenty of tourists year-round, and the weather conditions can make or break your trip too.
Driving through the Mojave Desert in the summer (particularly in July, when the temperatures in the center of the desert average at around 95 degrees) can be rather difficult. This also makes Death Valley a no-go area, as the temperatures there can reach over 100 degrees.
Although a summer visit can be attractive thanks to various epic events like the massive July 4th festivities and various film festivals, the temperatures hover around the mid-80s on average, and it's not uncommon for it to get hotter than that.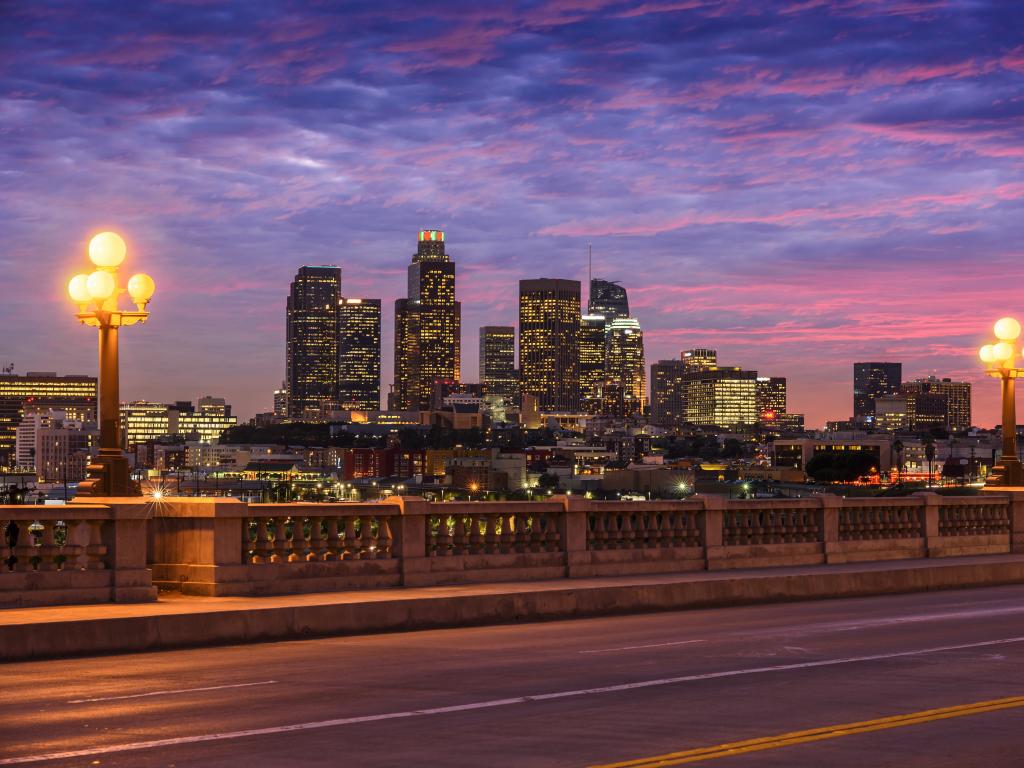 Another issue around this time is the smog – you could try to get around this by staying closer to the shore (say, near the Santa Monica area), but chances are heaps of other tourists will have had the same idea.
Spring is Los Angeles' rainiest season, which is why the city gets the fewest visitors this time of year, except during spring break. Winter is obviously when the city's temperatures are at their lowest, and February is when the rain showers start to get a bit more frequent.
For the best possible experience, consider doing this road trip in the fall, preferably in October – temperatures are a tad more tolerable this time of year, and whereas June-August hotel prices range from steep to outrageous, you can expect to find some amazing deals in the fall.