Road Trip from Las Vegas to Moab
This relatively short road trip packs in mile after mile of stunning views, and whichever route you take it's a hiker's dream. You'll find dozens of places to stop and explore amazing and varied landscapes on foot.
The 520-mile road trip from Las Vegas to Moab will take 6 hours and 40 minutes via Zion, Bryce Canyon, Capitol Reef, Arches and Canyonlands National Parks. Or head through Arizona on Route 66 to visit Kingman, Flagstaff and the Grand Canyon.
Whether you travel through Utah or Arizona, both routes take you through national parks on your way to Moab – the wilderness and deserts will be a huge contrast to the bright lights of Las Vegas that you've left behind.
How far is Moab from Las Vegas, and how long will the road trip take?
Comparison of road trip routes between Las Vegas and Moab

| Route | Distance | Driving Time |
| --- | --- | --- |
| Direct Route | 460 miles | 6 hours 40 minutes |
| Zion Route | 520 miles | 9 hours 50 minutes |
| Grand Canyon Route | 700 miles | 12 hours 30 minutes |
If you stick to the interstate then the drive from Las Vegas to Moab is an easy day's driving, taking less than 7 hours if the traffic is in your favor. But if you have time to stop and explore along the way then why not turn this long drive into a short but special road trip?
The shorter of our two road trip routes is a 520-mile drive through Utah that takes you to Zion National Park and Bryce Canyon along the way. It will take around 9 hours 45 minutes to drive, not accounting for any stops you make.
If you've never seen the Grand Canyon then our alternative route might be appealing. It's a longer route, coming in at 700 miles, and will take almost 3 hours longer to drive.
Whichever route you choose, we'd recommend making sure you have plenty of time to appreciate the stunning sites you'll visit en route. Even so, you can easily make this trip in a long weekend, with a 4-day trip letting you keep the driving to a manageable 2 to 3 hours each day.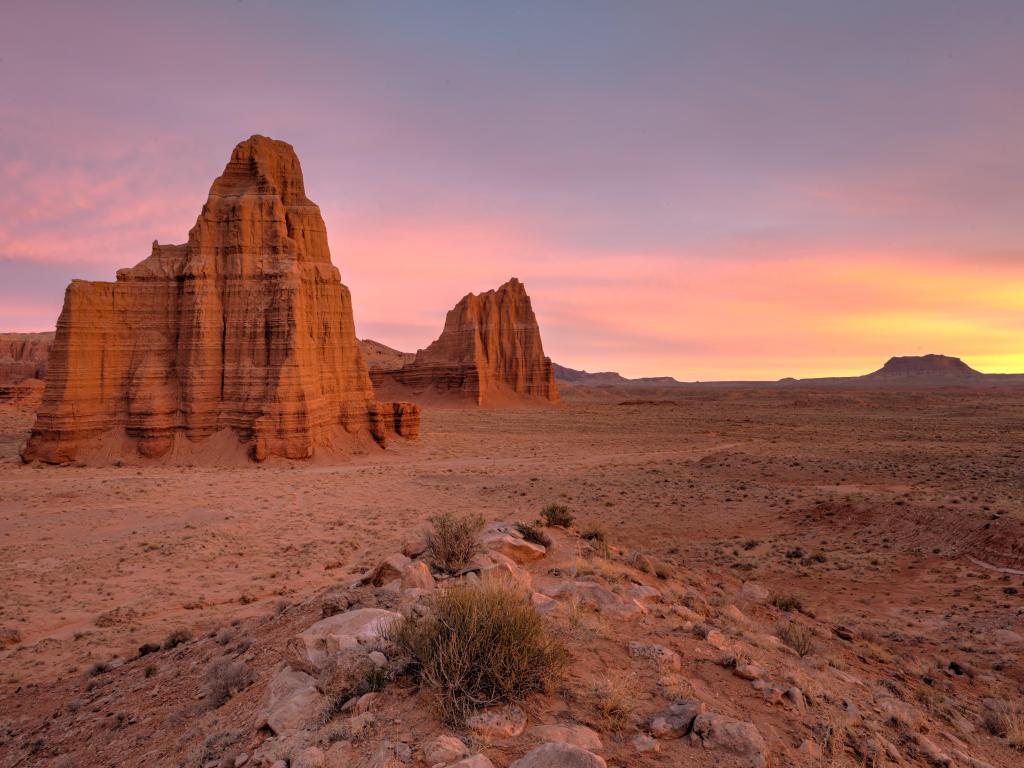 Best road trip route from Las Vegas to Moab
Whichever route you take between Las Vegas to Moab, you have an unforgettable road trip to look forward to.
The Zion Route is all about the scenery, from the scorching desert of Valley of Fire State Park through the vibrant green slopes of Zion National Park and Dixie National Forest. It will feel like a real adventure as you leave the interstate and make your way across the Utah's stunning red rock landscape.
In fact, add on a day trip to Canyonlands National Park once you reach Moab and this route will take you to all of Utah's Mighty Five National Parks. You'll visit the otherworldly landscapes of Bryce Canyon and Capitol Reef National Parks along the way.
This route is perfect for travelers who love to spend time outdoors, but if you'd rather include some cities in your itinerary then the Grand Canyon Route is a great alternative, and you'll still have plenty of opportunity to enjoy the desert landscape and spectacular natural monuments.
Swinging south across the Hoover Dam, you'll travel across Arizona through the Route 66 towns of Kingman and Williams before getting the chance to visit the magnificent Grand Canyon National Park.
You might need to make a reservation for a timed-entry permit while visiting Arches National Park. Please check the national park's website for up-to-date information.
The Zion Route
Your route starts out on Interstate 15 (I-15), heading north out of Las Vegas and running alongside Valley of Fire State Park as you head through Crystal and Moapa.
You'll leave Nevada just outside Mesquite then cut through the northwest corner of Arizona for a few miles before approaching St George in Utah, where you'll spend majority of your time on this route.
St George is the gateway to Snow Canyon State Park and Red Cliffs National Conservation Area, which are both great places to explore, so it's worth taking a break here to explore one or both of these natural attractions.
When you're ready to move on, turn onto UT-9 which takes you on a dazzlingly scenic ride past Zion National Park all the way to Mt Carmel Junction. Here, turn left onto the highway heading towards Alton. Dixie National Forest and Cedar Breaks National Monument are both just a short drive off the highway as you travel north.
When the road forks, follow signs towards Bryce Canyon and you'll find yourself traveling east on Scenic Byway 12. You'll pass Red Canyon and Thunder Mountain before reaching Bryce Canyon itself.
Next, head to Capitol Reef National Park through more stunning canyons before heading up to the interstate, which you'll follow for just a few miles before taking the turn to Moab.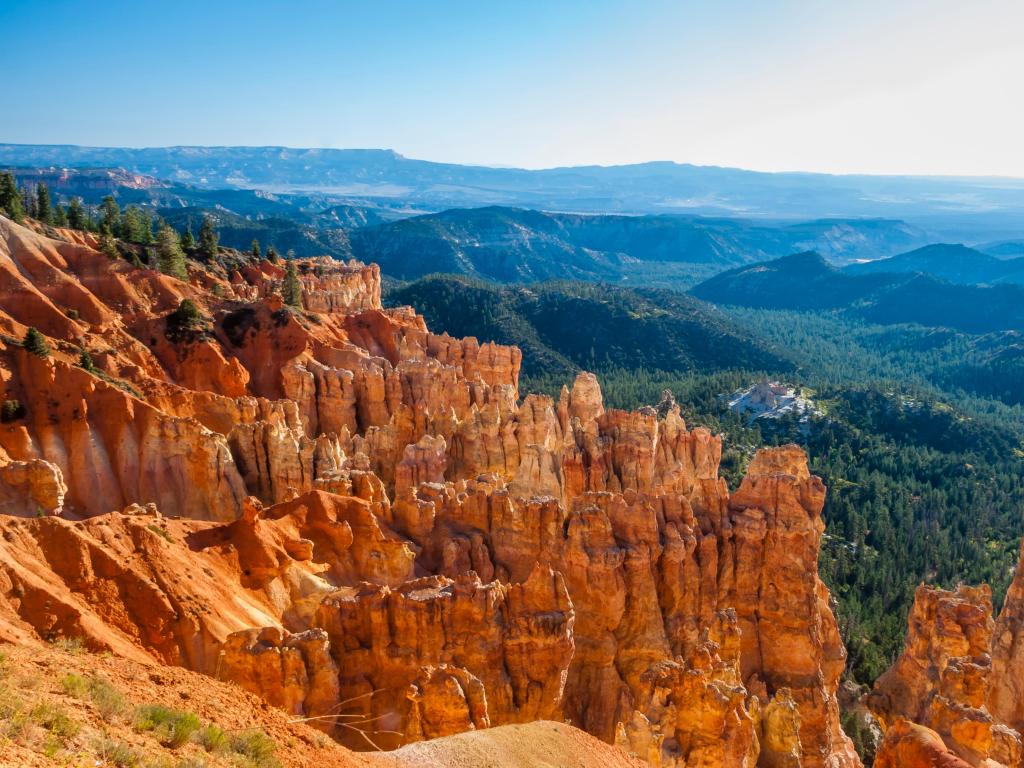 The Grand Canyon Route
Follow the interstate south out of Las Vegas, making your way through Henderson and Boulder City before pausing to spend a little time by the shore of Lake Mead. From here it's just a short distance to the Hoover Dam, which crosses the border between Nevada and Arizona.
Follow the highway south through the desert and you'll soon reach Kingman. You can join I-40 here to reduce your journey time by an hour or so, but it's also a chance to follow in the footsteps of thousands of road trippers over the decades by joining historic Route 66 to travel through the Arizona desert.
Route 66 merges with the interstate a few miles past Seligman, and you'll continue on I-40 now as far as Flagstaff before turning north to make your way through Cameron and on to the Grand Canyon.
The highway ends your road trip in style as it takes you past Monument Valley, Mexican Hat and Valley of the Gods. From here simply follow the road from Bluff up through Monticello and Spanish Valley before arriving in your destination, Moab.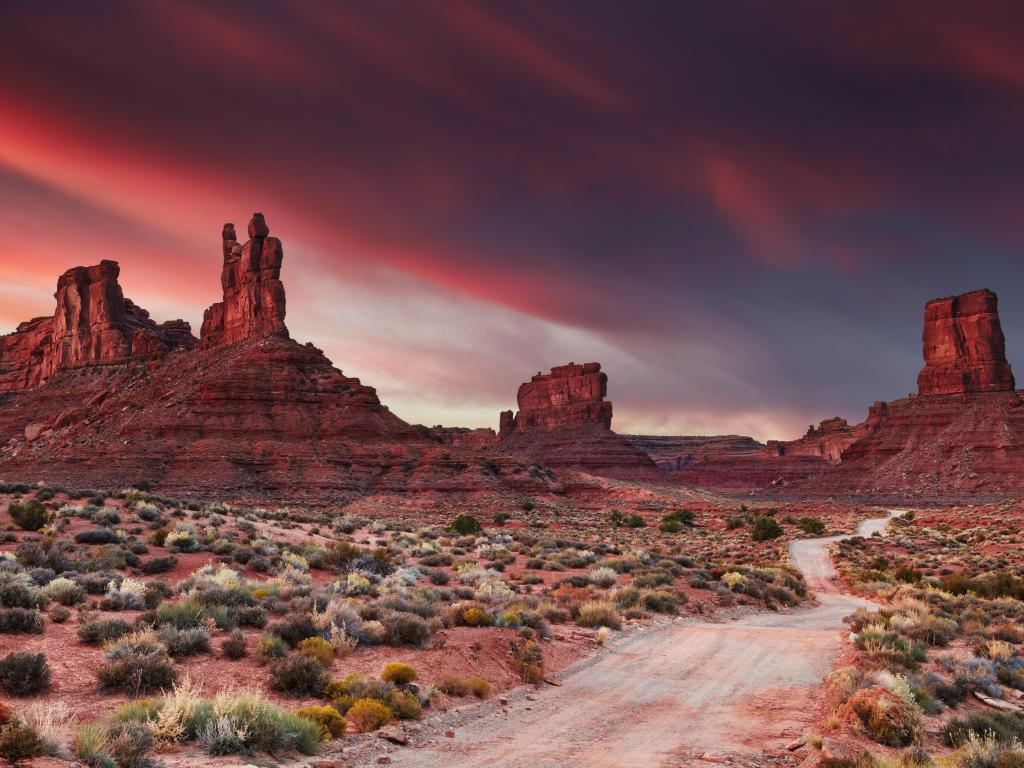 Best places to stop between Las Vegas and Moab
You'll need some comfortable places to rest your tired legs after all the outdoor exploration that this road trip offers. Here are some of our top picks to help you get started with your planning:
See the stars at Zion National Park
Zion National Park is the ideal place to spend the first night of your road trip if you're taking this route. It's around 160 miles from Las Vegas along the interstate, making it a simple and relatively short day's driving.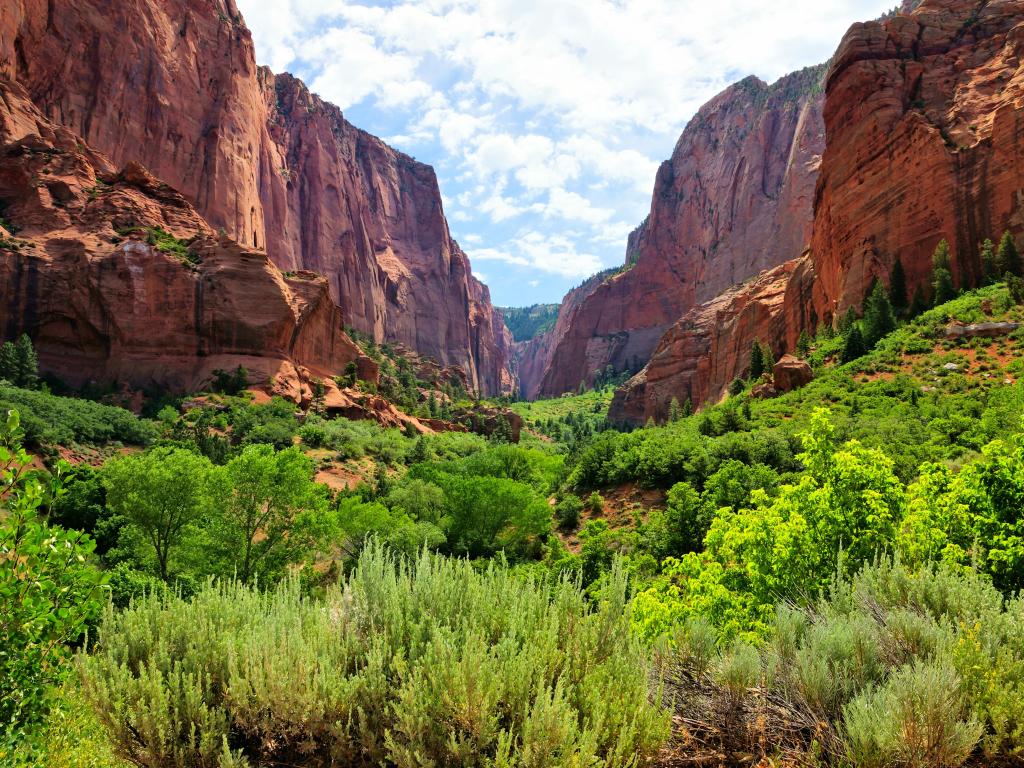 Where the Mojave Desert meets the Colorado Plateau, Zion National Park is famous for its vast canyon and rugged natural landscapes. An overnight stay here allows time to explore the national park for longer – essential if you're planning on taking more than just a short hike - as well as to watch the sun go down in style over the hills.
To see the famous view along Zion Canyon, head up to Angels Landing. It's particularly popular to watch the sun go down.
With its amazing views out across the mountain, Hampton Inn & Suites Springdale/Zion National Park is the ideal place to stay close to Zion National Park. It's also very reasonably priced considering its great location in the national park.
Once you've checked in you can relax by the outdoor pool in the summer months while you look out across the red rock cliffs, and if you're hiking again the next day you can stock up on any snacks you need at the hotel's mini market.
The spacious rooms here have extremely comfortable beds, which is sure to be a bonus if you're feeling a little stiff after a long day outdoors. The excellent breakfast gets rave reviews from guests and will set you up perfectly for another day in the park.
Marvel at the Grand Canyon
The Grand Canyon is one of the must-see sites on your road trip if you're taking the route that it gives its name to. It's just under halfway along the route from Las Vegas, so you can easily get here within a day from Las Vegas (or two days if you want to stop en route).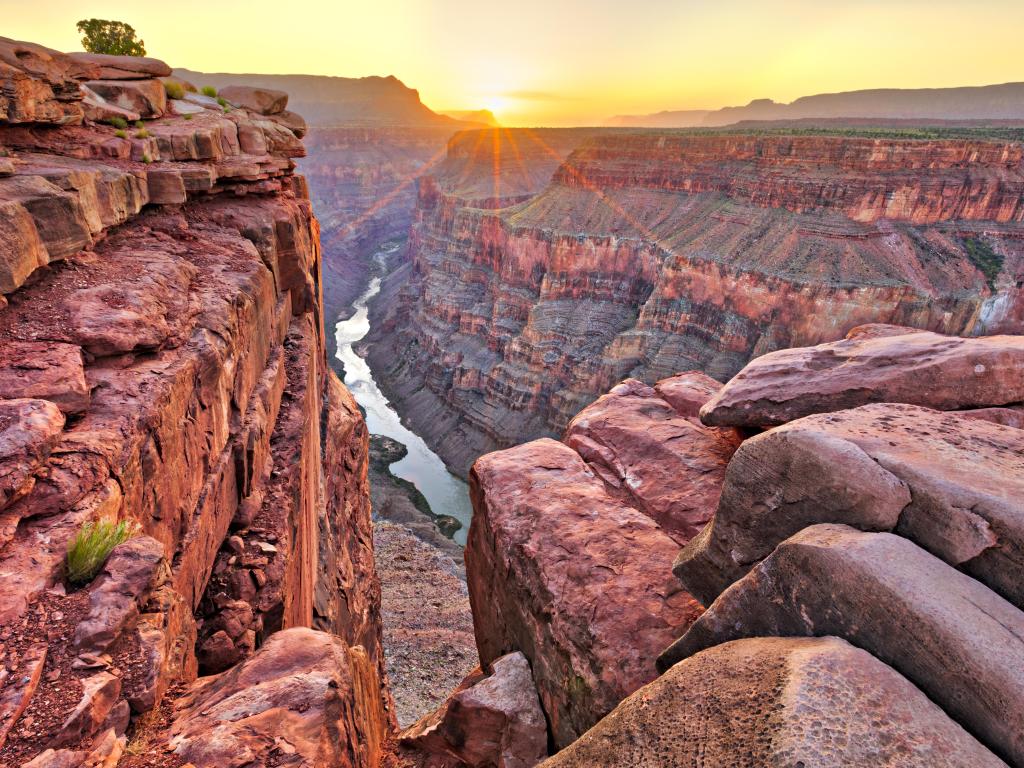 There are dozens of trails running through Grand Canyon National Park. Some are much longer and harder than others so head to the South Rim Visitor Center to get detailed route information which will help decide which is the best hike for your group. The Canyon Rim Trail is relatively flat and easy going and offers stunning views plus some shade.
You can also raft or kayak down the Colorado River to see the landscape from a different perspective. Full white-water expeditions take you on a journey of at least 3 days through the canyon and are hugely popular so book as far ahead as possible.
Back up at the South Rim, visit Yavapai Geology Museum to find out more about how this unforgettable landscape was formed. It has an amazing lookout point too.
You'll receive a warm welcome from staff when you arrive at The Grand Hotel at the Grand Canyon, where the rooms are spacious and comfortable.
It's one of the closest hotels to the south side of the Grand Canyon so you'll have plenty of time to explore the area, then head back to spend your evening relaxing by the hotels' indoor pool or enjoying the colorful bar.
You can get a good evening meal at the hotel's Canyon Star restaurant or make the short drive to Grand Canyon Village for other choices.
Where to stay when you reach Moab
Checking in at Element Moab at the end of your road trip from Las Vegas you'll probably be ready to spend some time relaxing by the outdoor pool and hot tub while you enjoy the stunning mountain view. Later in the evening you can keep warm by the fire pit too.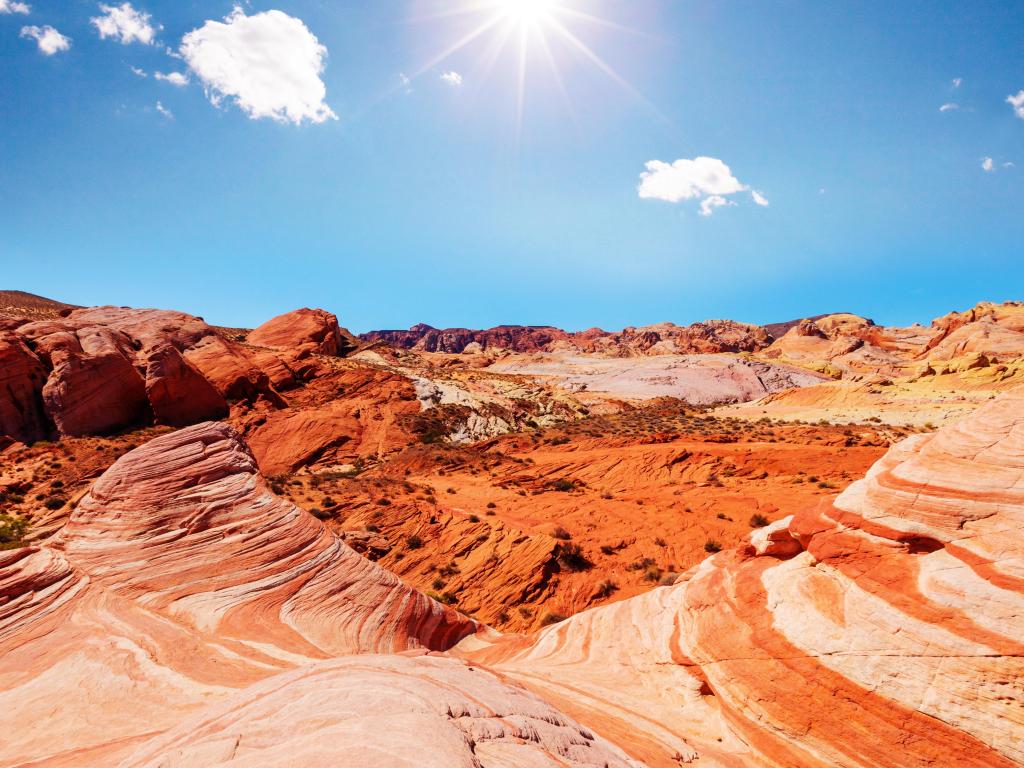 Close to the entrance to Arches National Park, this is the ideal place to stay if you want to spend a little longer exploring the area around Moab.
Rooms here are spacious and well equipped, and you can book a studio with a kitchenette if you'd like to cook for yourself. If you're feeling adventurous, guests can use the BBQ facilities on site as well.
Things to see on a road trip from Las Vegas to Moab
Whether you have 4 days or a fortnight for your road trip, you'll be able to create a fabulous itinerary for your trip.
With each of the amazing natural attractions that you'll pass along the way you can follow scenic drives, detour to find unforgettable views, and hike stunning trails for days.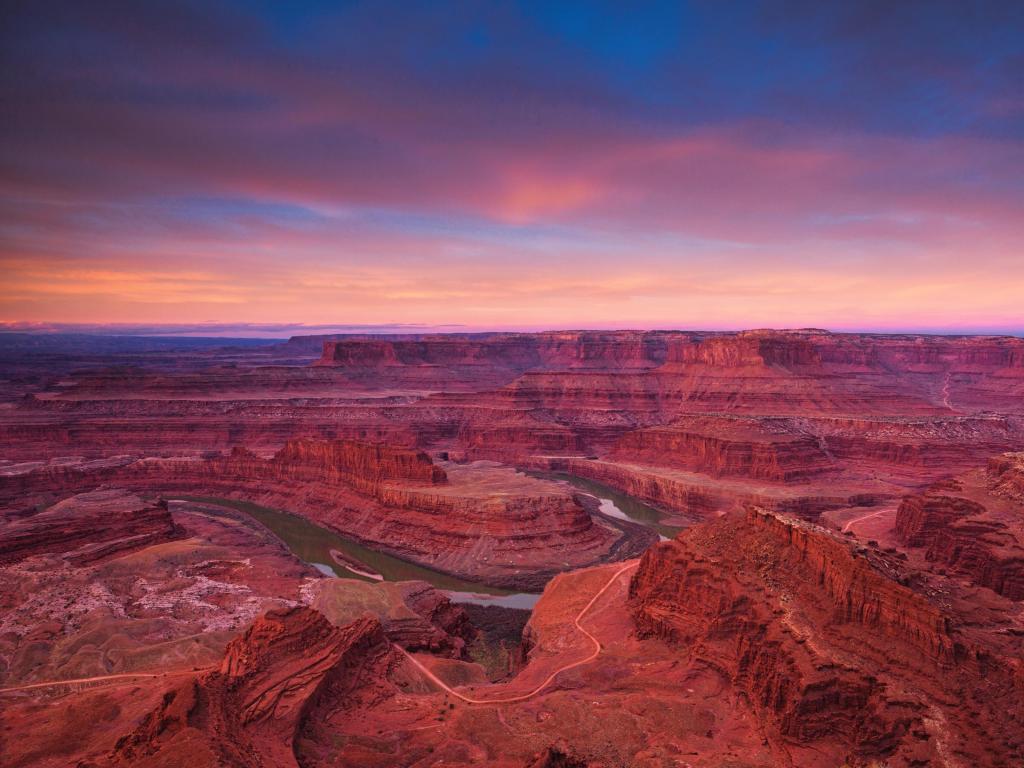 Zion Route
Valley of Fire State Park - You can find ancient petroglyphs among this scorching desert landscape, where popular landmarks include Fire Cave and Windstone Arch. The summer heat is particularly intense here so travel safely especially if you plan on hiking.
Red Cliffs National Conservation Area - Enjoy views out across the edge of the Mojave Desert and hike along the beautiful Virgin River before heading for a refreshing drink in nearby St George.
Mt Carmel Junction - Visit the home of painter Maynard Dixon, famous for his views of the region. Now run as a Living History Museum you can discover how he lived and worked as well as finding out more about his art.
Cedar Breaks National Monument - This natural rocky amphitheater offers more stunning hiking opportunities just outside Zion National Park.
Dixie National Forest - Follow scenic drives through this beautiful forest, where you can also stop to explore along the trailheads.
Bryce Canyon - Admire the spires of this hugely popular natural landmark – make sure to pack your camera for some stunning shots.
Capitol Reef National Park - Go stargazing at this International Dark Sky Park which stretches out across another impressive red rock landscape.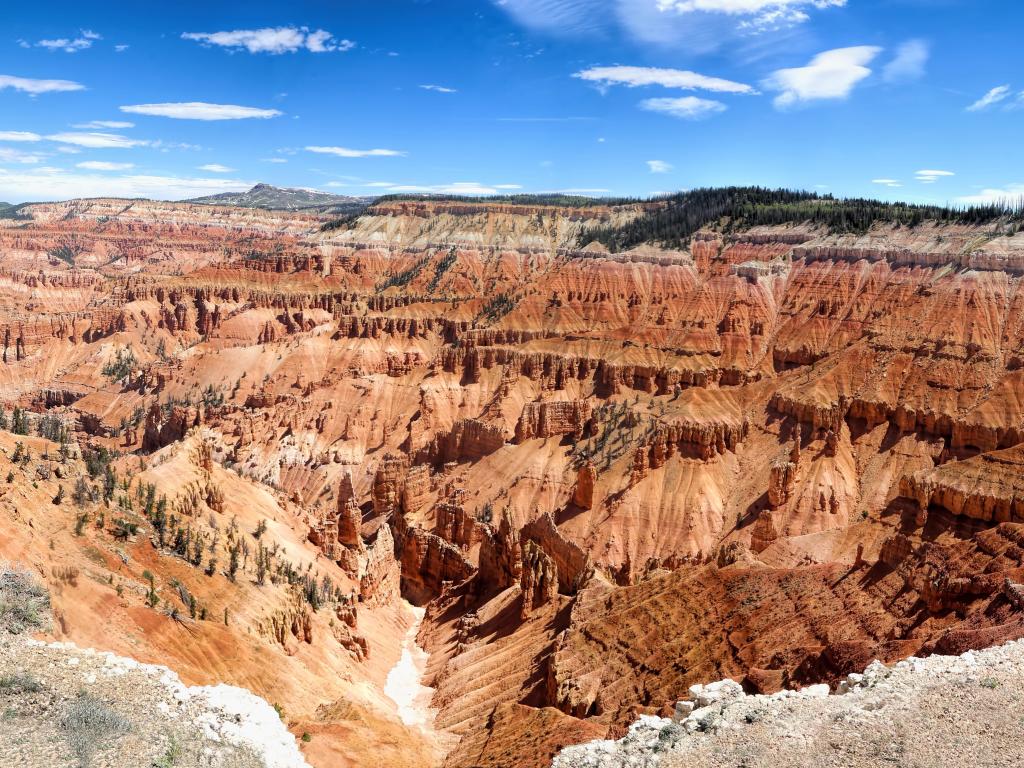 Grand Canyon Route
Boulder City - For an exhilarating break from the road, stop off as you leave Las Vegas to skydive or even take a helicopter ride towards the Grand Canyon.
Lake Mead - If water levels allow you can enjoy watersports on Lake Mead, a welcome break from the Las Vegas heat.
Hoover Dam - Take a tour around this impressive dam, which separates Lake Mead from the Colorado River, to find out more about its history and creation.
Santa Claus - Look carefully as you drive towards Kingman and you might spot the ruins of this 1940s tourist destination which once included festive buildings and a year-round Santa.
Kingman - Head to Arizona Route 66 Museum in the Historic Powerhouse to find out more about the travelers who drove this way in the past.
Williams - Hop on board the Grand Canyon Railway for a super-scenic ride to the canyon and back, or visit Bearizona to see bears as well as more exotic wildlife in vast forest enclosures.
Monument Valley - Take a guided tour through this stunning part of the Colorado Plateau to experience the sun rising or setting behind the rocky monuments, and to spot blockbuster filming locations too.
Mexican Hat - Named after the nearby sombrero-shaped rock, hop on board a sightseeing flight here which takes you over nearby Monument Valley and Valley of the Gods.
Valley of the Gods - Head off-road to tour this impressive sandstone landscape – 4WD vehicles are recommended, or join a tour to let someone else navigate the desert roads for a while.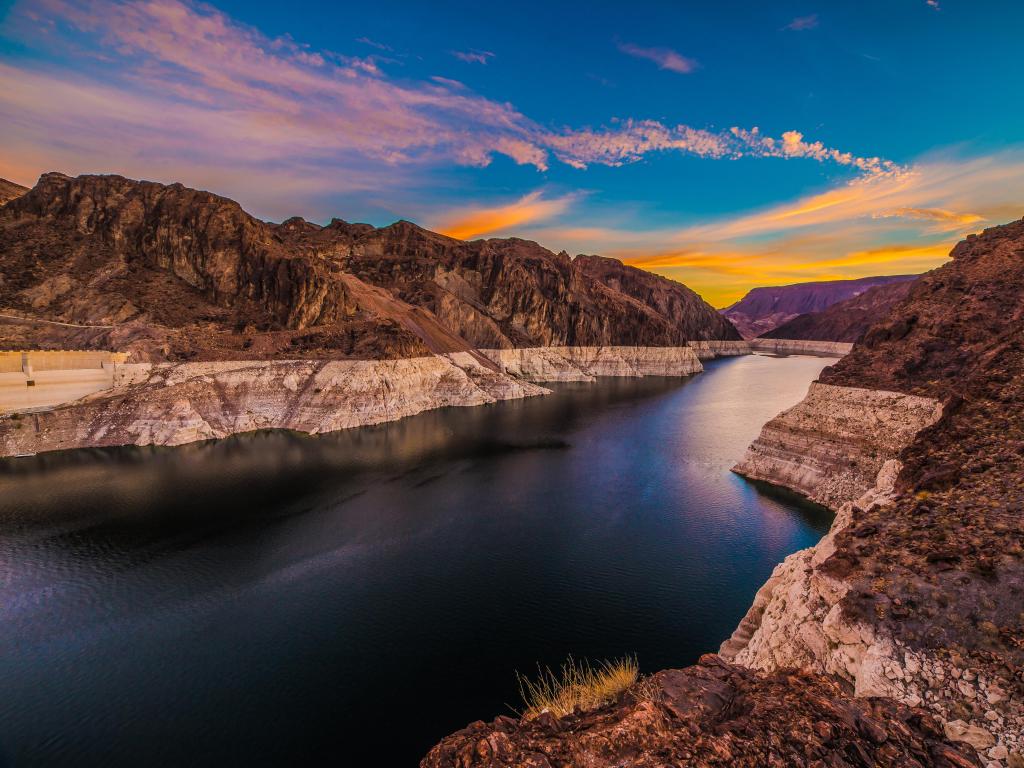 Best time to go on a road trip from Las Vegas to Moab
Most people visit Moab to explore its stunning landscapes, and with so many other outdoor attractions along the route it's important to choose a time of year that lets you enjoy these to the full.
Despite the intense heat, which often exceeds 100 degrees Fahrenheit, summer is the busiest time to visit Moab. Make an early start if you're visiting Arches National Park to avoid both the heat and the crowds, and book accommodation in advance. For slightly cooler conditions head to the La Sal Mountains.
Snow is likely in Moab over the winter months, although daytime temperatures usually sit in the low 40 degrees Fahrenheit. As an added bonus you can also ski in the mountains nearby.
It's possible to visit the area's natural landmarks even when there's snow on the ground, and the contrast of the snow against the red earth is really striking. You'll need to take care on the roads if you visit in winter though – use a 4WD vehicle if possible.
Spring and fall bring great conditions for spending time outdoors, with temperature sitting around a very pleasant 70 degrees. In spring, wildflowers bloom in the desert around Moab and along the route, so it's one of the most colorful times to visit.
Cyclists will enjoy the Skinny Tire Festival, a 4-day cycling event held in March. You might find accommodation a little busier and watch out while you're driving as the routes follow the roads around Moab in places.
A few weeks later Moab Jeep Safari comes to town at Easter. 4WD enthusiasts flock to Moab for this week-long event, so expect the roads to be busier than usual.
If you want to spend time by the water, the Colorado River will be at its warmest in early fall. You can also catch pop up galleries and art sales at the popular Red Rock Arts Festival in October or enjoy a lively end to your visit with the Moab Folk Festival and Moab Celtic Festival which are both held in November.