Road trip from Las Vegas to San Diego
The combination of rugged deserts and the States' fanciest cities never fails to impress, so consider doing a road trip from Las Vegas to San Diego. Aside from the destination, the drive itself will leave you with lasting memories of beautiful South California.
Along the scenic route, the road trip from Las Vegas to San Diego spans 360 miles and takes around 6 hours. You can stop by Mojave National Preserve, visit Palm Springs and Los Angeles, and see Joshua Tree National Park and Cleveland National Forest.
The drive gets progressively more scenic as you go on, so continue reading to familiarize yourself with the itineraries.
How far is San Diego from Las Vegas and how long will the road trip take?
Best routes from Las Vegas to San Francisco
Route
Distance
Driving Time
Quick Route


(via Interstate 15)

330 miles
5 hours 30 minutes
Scenic Route


(via Mojave National Preserve)

360 miles
6 hours 15 minutes
Taking the interstate route, the road trip from Las Vegas to San Diego spans around 330 miles and clocks in at about 5 hours 30 minutes without breaks. If you're in a hurry, you could easily make the drive in a single morning and do something in San Diego that same day.
With that said, the downside is that the quicker route is notably less scenic – following Interstate 15 all the way to San Diego makes for an easy, but mundane drive through less-than-exciting terrain all the way to the Los Angeles area.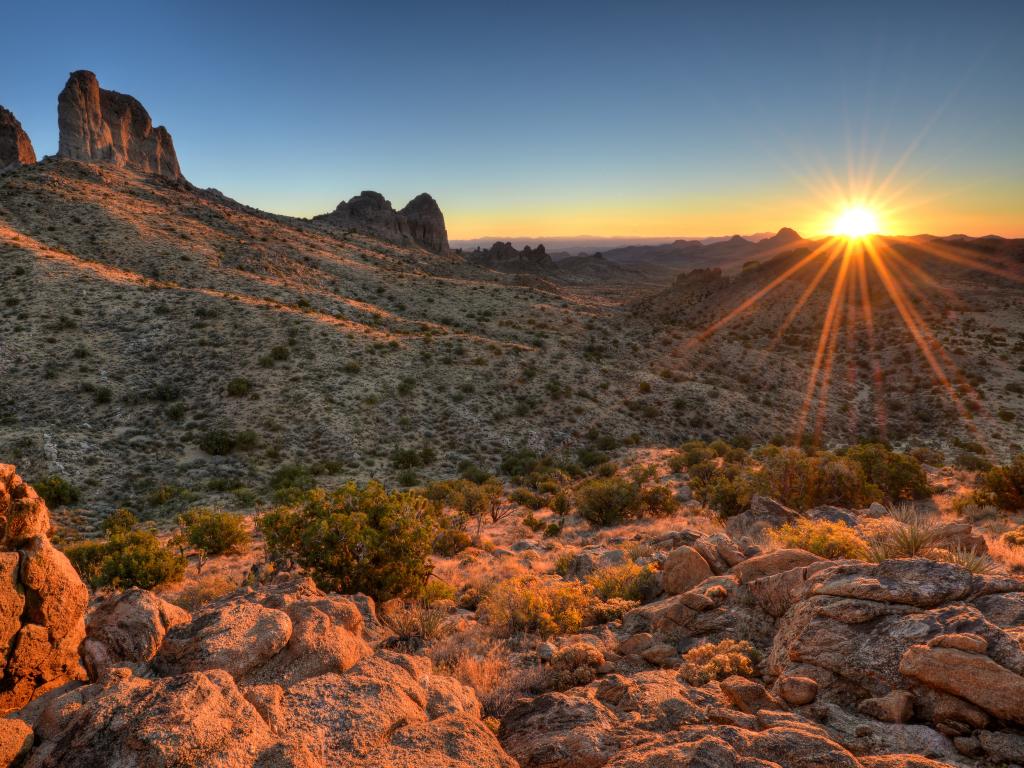 However, by extending the drive by an hour, you can make the experience much more scenic and drive through Mojave National Preserve and Palm Springs, all while passing a number of other interesting places.
You don't really have to enter Los Angeles while traveling either route unless you want to, but either way, you can expect a fair bit of traffic around the city suburbs, especially if you're traveling on the weekend.
Best road trip route from Las Vegas to San Diego
Ultimately, the best road trip route from Las Vegas to San Diego depends on what you're after. The shorter route will have you driving on the interstate the entire way to San Diego, guaranteeing a smooth ride. Then there's the alternative, which involves a lot more great stops, including an obligatory stay in beautiful Palm Springs.
The Quick Route (via I-15)
Take Interstate 15 out of Las Vegas, driving past Sloan Canyon National Conservation Area and along Mojave National Preserve. Detour into Death Valley from Baker if you want to, or continue through Barstow and Victorville before driving between Angeles and San Bernardino National Forests.
From here, either detour into Los Angles or cut through San Bernardino and Moreno Valley via Interstate 215 before rejoining I-15 near Temecula. Driving past Cleveland National Forest and Cuyamaca Rancho State Park, it won't be long before you've reached San Diego.
The Scenic Route (via Mojave National Preserve)
Once again, take Interstate 15 south until you've reached Mojave National Preserve – enter it via Nipton Road and cut straight across the preserve (driving right through the town of Kelso). Once you're out, follow Kelbaker Road to the settlement of Amboy.
From here, follow Amboy Road all the way to State Route 62, right alongside Joshua Tree National Park. Follow the state route to the city of Palm Springs, and when you're done there, drive between Mt San Jacinto and San Bernardino National Forests all the way to Moreno Valley, where the two routes converge.
Best places to stop between Las Vegas and San Diego
Although you won't find luxurious accommodation between Las Vegas and San Diego until you're well into California, you're in for a treat once you make it to the major cities. You'll absolutely want to book a room in these hotels:
Admire the architecture in Palm Springs
After a grueling desert drive, Palm Springs acts as a much-needed gateway into the greener parts of California. Any city known as the Playground of the Stars is bound to have some amazing resorts, and La Serena Villas is one of the very best.
Sporting a stylish and attractive aesthetic puts most 5-star hotels to shame, La Serena Villas is one of the quintessential California experiences. Whether you're relaxing in your stylish room or enjoying a drink at the bar, this resort will relax you the way few others can.
Stepping out onto the gorgeous swimming pool area, you'll experience the perfect blend of desert browns and meadow greens as you relax by the outdoor fireplace or enjoy a tasty meal at the on-site restaurant.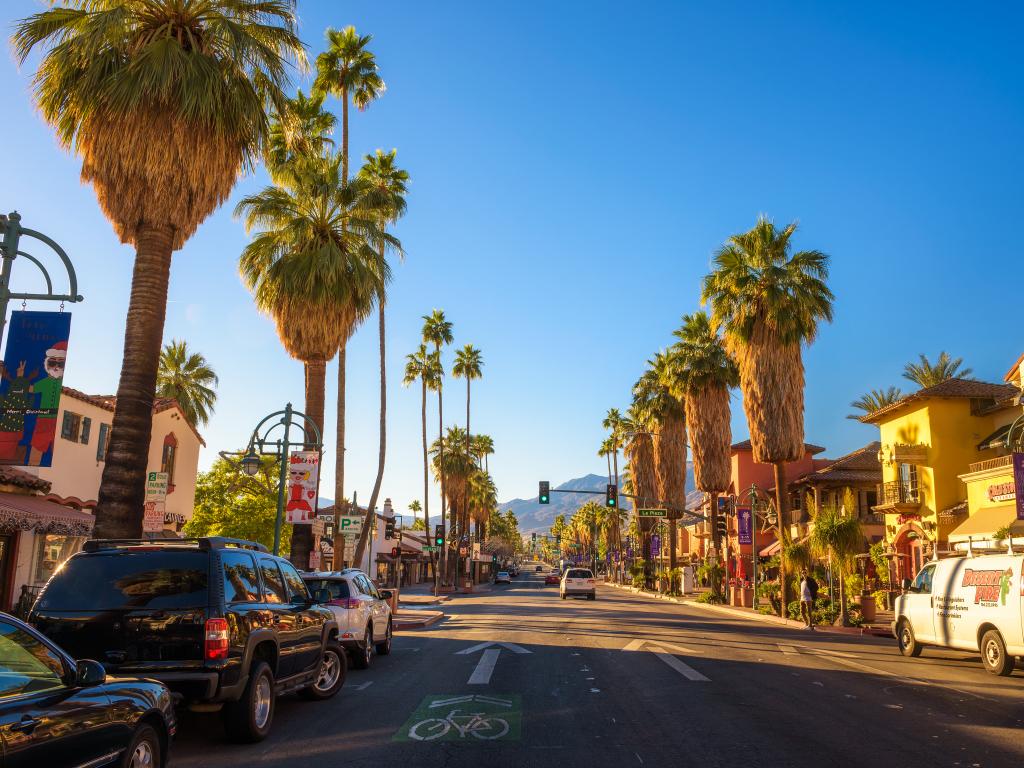 Certain suites come equipped with a private jacuzzi, and there's also the amazing Whispers Spa to help you unwind after a long day of exploring the city. On that note, you'll be less than a mile from the center!
While this is definitely an expensive resort, there's a fair bit of wiggle room with regards to the price since there's a wide variety of rooms to choose from.
Enjoy the nightlife in Los Angeles
You could avoid Los Angeles altogether on your drive to San Diego, but no other city better exemplifies what California is all about. If you're looking for the fanciest and best-situated hotel in LA, Millennium Biltmore ticks all the boxes.
The elegant bedrooms offer dramatic views of Los Angeles, the night views being particularly breathtaking. If you want to get an idea of what you're in for, look no further than the extremely extravagant lounge area, which is equipped with gorgeous chandeliers and a grand piano.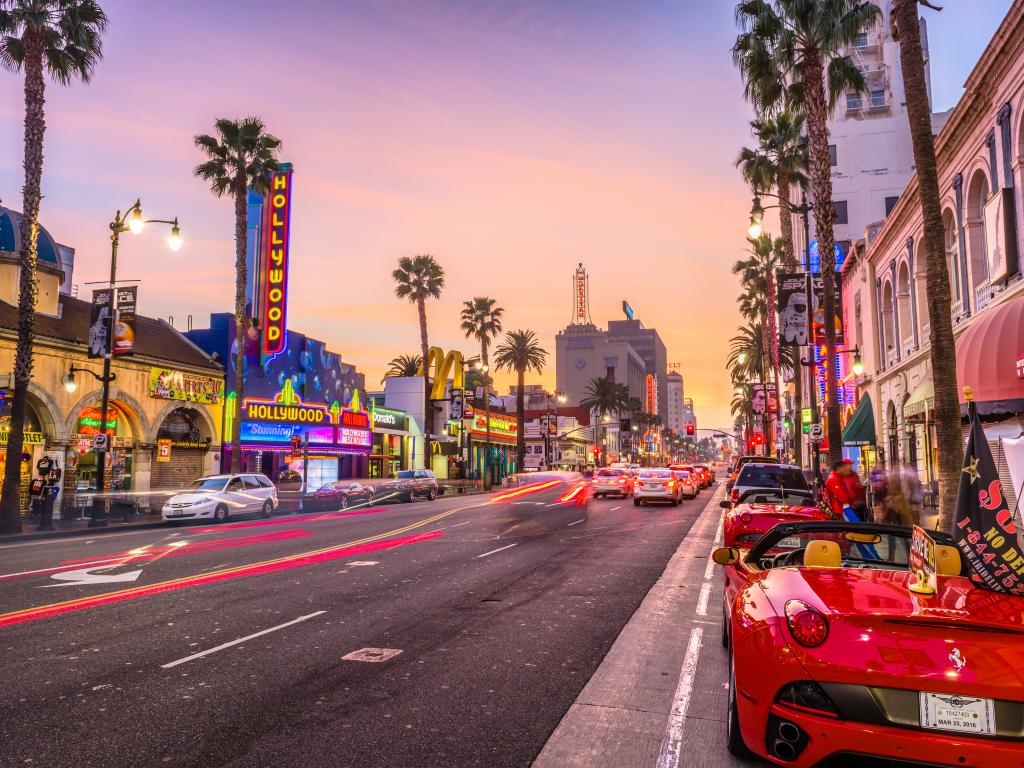 You can get to California Plaza and Perishing Square Station in a matter of minutes on foot, so on top of being luxurious, the hotel is also beautifully positioned. After a day out in Los Angeles, you can spend an evening at the beautiful on-site bar or Italian restaurant, or take a swim in the huge indoor swimming pool.
Considering the level of service you get, the hotel is an outright bargain – you'd be hard-pressed to find another resort of this quality in Los Angeles with such a competitive price.
Things to see on a road trip from Las Vegas to San Diego
There's plenty to see during your road trip from Las Vegas to San Diego, especially along the more scenic route. Here is a relatively comprehensive list of all the places to keep an eye out for:
Sloan Canyon National Conservation Area – an iconic petroglyph site just outside of Las Vegas, this area was built for hiking and outdoor activities
Mojave National Preserve – home to loads of Joshua trees and the ghost town of Kelso, an obligatory visit if you're passing through the preserve
Death Valley National Park – if you're doing the trip when the weather is milder, you absolutely have to check out this iconic park
Calico – this former mining town is now an abandoned tourist attraction that has preserved much of its original architecture through good maintenance
Angeles & San Bernardino National Forests –two incredibly scenic forests that act as the northern "entrance" to the Los Angeles area
Glen Ivy Hot Springs – boasting top-of-the-line spa treatments and close to 20 pools, this is one of the most relaxing stops you can make on the way
Los Angeles – with its unrivaled aesthetic and incredible nightlife, the City of Angels certainly needs no introduction
Temecula – this beautiful city will show you some of the best wineries you're ever likely to visit
Cleveland National Forest – the largely shrubby terrain at this lovely forest makes it a great spot for camping and picnicking
La Jolla Shores Park –this San Diego stretch of coastland is one of the most scenic beaches the city has to offer
Joshua Tree National Park – the meeting point between the Mojave and Colorado desert is best known for its abundance of Joshua trees
Salton Sea – California's very own "inland sea" is actually the state's largest lake
Palm Springs – being one of the most beautiful stops on this road trip, it should come as no surprise that celebrities absolutely love this city
Mt San Jacinto State Park – home to the titular Mt San Jacinto, one of the tallest peaks in all the States, this park offers some of the most epic landscapes California has to offer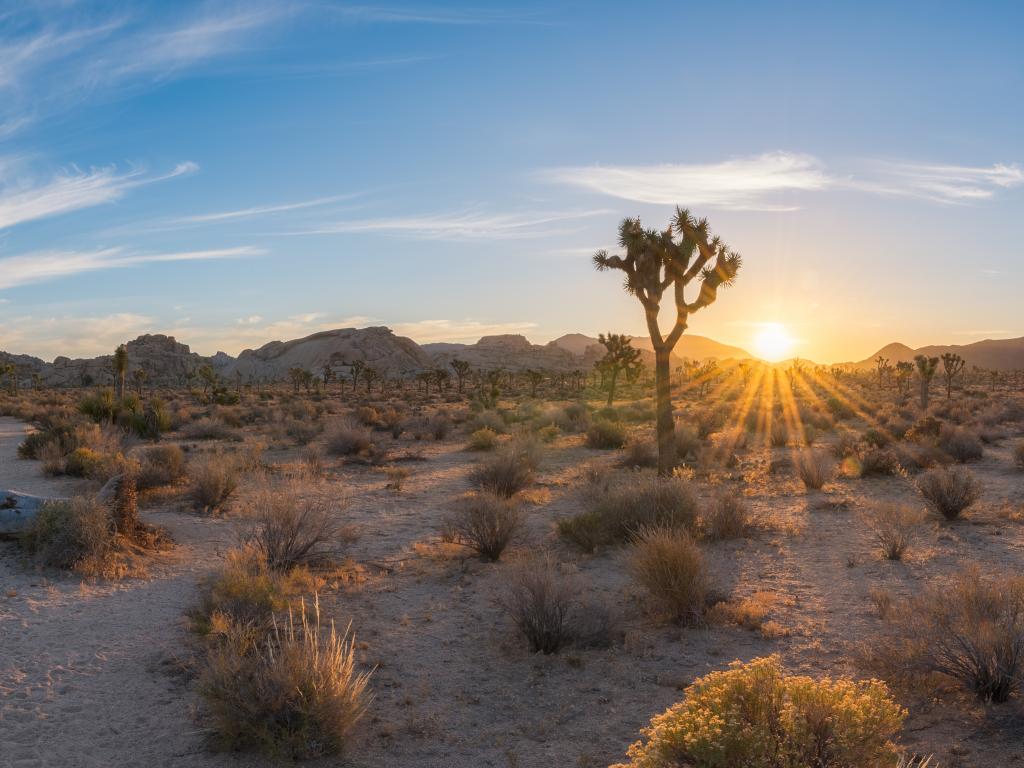 Best time to go on a road trip from Las Vegas to San Diego
As far as the city itself is concerned, there really is no wrong time to do a road trip from Las Vegas to San Diego. There are, however, some climate-related factors worth considering when planning the trip.
For starters, you'll be driving through the Mojave Desert until you reach Los Angeles, meaning a drive in the summer might not be pleasant. If you can brave it out, though, you'll be rewarded with a beautiful 80 degrees during the day and minimal marine fog past June.
This is also the time of year when most of the city's major events take place – from the San Diego County Fair, which draws over a million visitors each year, to Comic-Con, the world's largest comic book convention, San Fran summers have something for everyone.
Although the mid-60s temperatures and blooming flowers are great, you should pay close attention to the weather if you plan on visiting in the spring. May in San Diego is known as "May Gray" because of its overcast afternoons with relatively frequent rain showers.
Although you obviously can't take full advantage of the ocean in the winter, daytime temperatures hover at around 60, and if you don't mind the inevitable rain here and there, you can expect a quiet stay with cheap accommodation.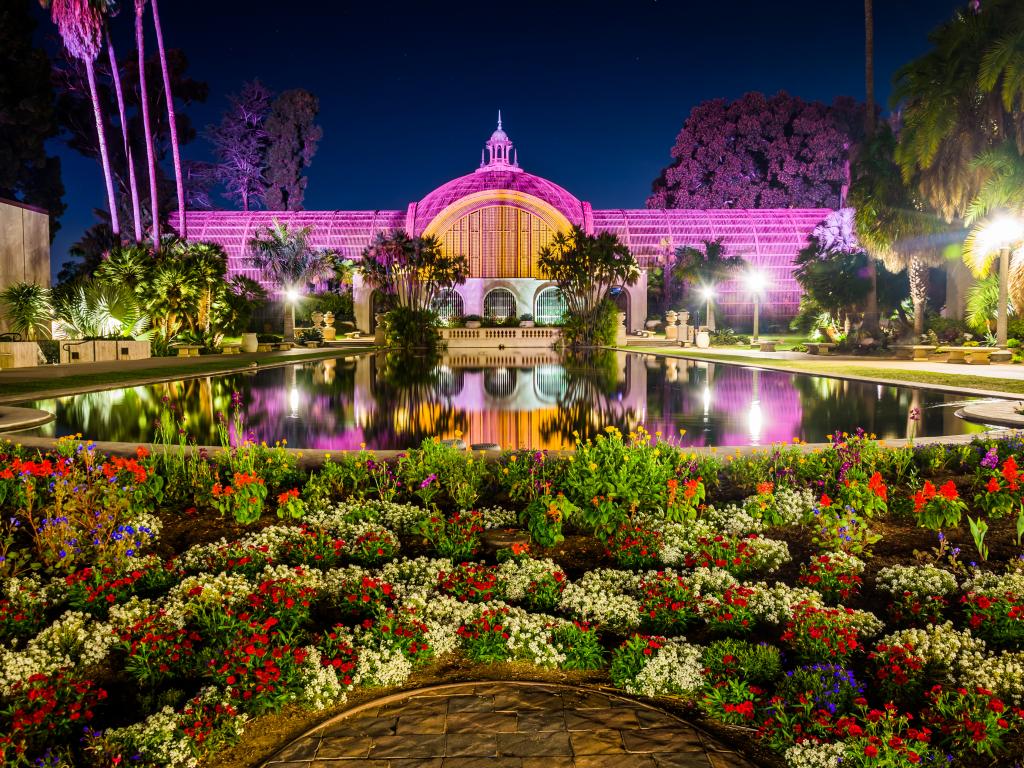 If you want to strike the perfect balance between good weather and fair prices, fall offers the best of both worlds. Crowds start to thin out a little in September, temperatures settle at around 70, and the city's gorgeous attractions like Balboa Park are at their most beautiful.
Fall also happens to be great if you're traveling with your children, as Kids Free San Diego and countless Halloween-themed events are held every year.