Road Trip from Las Vegas to Utah
After the bright lights of Las Vegas, a road trip around Utah is a real contrast. Famous for its national parks, dubbed the Mighty Five, you'll enjoy outstanding scenic vistas as you travel between some of the country's most spectacular natural landmarks.
The 1,400-mile road trip from Las Vegas around Utah takes 24 hours to drive all-in, passing Valley of Fire State Park, Red Cliffs National Conservation Area, Salt Lake City, Moab and Dixie National Forest, plus Utah's 'Mighty Five' National Parks.
We've come up with the perfect road trip which takes you across the Nevada desert, then makes a loop through all five of the state's national parks, with plenty more to see and do in between. This road trip is a must-do for lovers of the great outdoors or anyone who's looking for an action-packed driving adventure.
How far is Utah from Las Vegas, and how long will the road trip take?
Comparison of road trip routes between Las Vegas and Utah

| Place | Distance | Driving Time |
| --- | --- | --- |
| Red Cliffs National Conservation Area | 130 miles | 2 hours |
| Salt Lake City | 435 miles | 6 hours 30 minutes |
| Kamas | 475 miles | 7 hours 20 minutes |
| Moab | 735 miles | 11 hours 30 minutes |
| Halls Crossing | 900 miles | 14 hours 30 minutes |
| Bryce Canyon National Park | 1,125 miles | 19 hours 30 minutes |
| Dixie National Forest | 1,150 miles | 20 hours |
| Zion National Park | 1,240 miles | 21 hours 50 minutes |
| St. George | 1,285 miles | 22 hours 45 minutes |
We recommend using the entry point of Red Cliffs National Conservation Area because it's the nearest landmark on the Utah border if you're travelling from Las Vegas.
The 130-mile journey across Nevada and Arizona into Utah is a relatively short drive which will take around 2 hours, mostly on Interstate 15. That said, there are some amazing optional detours along the way, including Valley of Fire State Park.
Once at Red Cliffs National Conservation Area, to cover all the best attractions Utah has to offer, it'll take 20 hours and 50 minutes. The 1,150-mile drive takes you to the state capital Salt Lake City and famous national parks such as Zion and Bryce Canyon.
To see all the attractions with travel between, we recommend at least 5 days. If you're starting and ending your trip in Las Vegas that takes you up to 24 hours of driving, covering 1,400 miles, which works out as nearly 5 hours of driving per day.
You could easily extend the trip to 10 days so that you can spend more time at the places you'll pass along the way. A 10-day trip means you'd only be driving for 2 or 3 hours per day to see the top attractions, making the drive much more laid back.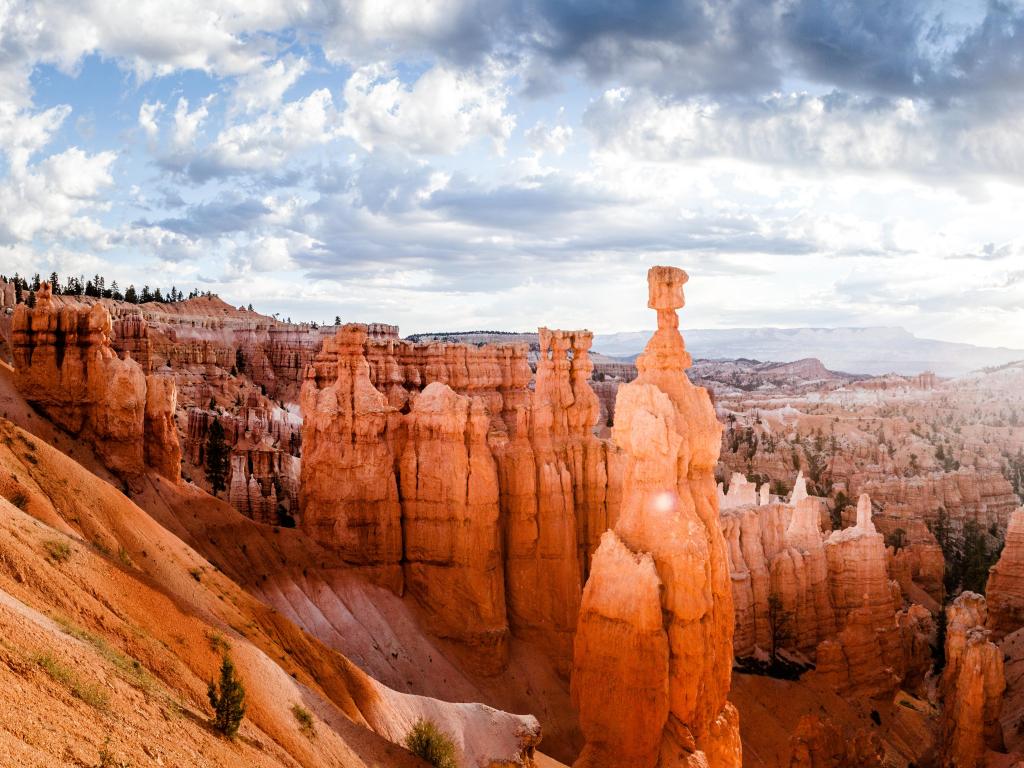 Best trip route from Las Vegas to Utah
We've divided the road trip from Las Vegas to Utah into two sections to help you with your planning.
The first is a relatively brief interstate drive which takes you across the Nevada desert before arriving in Utah at St George, near Red Cliffs National Conservation Area.
From here, we've plotted the best route around Utah, which lets you travel around the state's most popular landmarks and cities. There's a huge amount to see on your trip, so you're in for a real adventure.
Round road trip route from Las Vegas to Utah
Head north out of Las Vegas, taking Interstate 15 (I-15) north to St George. Along the way, you can take a detour on the Valley of Fire Highway, a scenic drive which has amazing trails and canyons to explore.
To continue on your route towards Utah, turn left onto Northshore Road and follow it through Moapa Valley until you meet I-15.
Just after Mesquite, the interstate crosses into Arizona. The interstate here runs through the spectacular Virgin River Gorge, before taking you from Arizona into Utah a few miles later.
Just past St George, turn left onto Cottonwood Springs Road, which will take you to Red Cliffs National Conservation Area, your first stopping off point in Utah.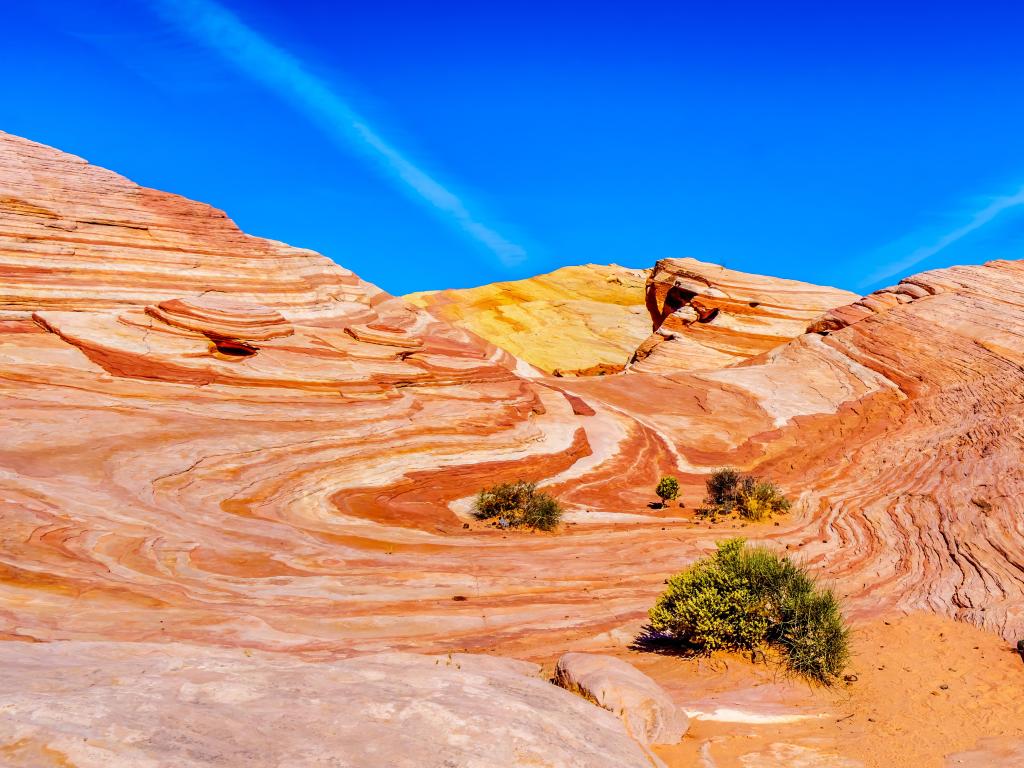 Road trip route around Utah
After spending some time exploring Red Cliffs National Conservation Area, rejoin I-15 and continue heading north. You'll skirt around some of the state's most impressive natural monuments, including Zion National Park and Dixie National Forest.
We've added some extra driving time to visit these landmarks towards the end of your trip around Utah, but if you're not planning on driving the whole loop, we'd definitely recommend heading to see these first so you don't miss out.
After around 300 miles on the interstate, you'll arrive in Salt Lake City. Spend some time getting to know Utah's state capital, then leave the city heading east on I-80 towards Summit County.
Your next stop is Kamas. To get there, exit onto US-189, then turn off towards Deer Mountain, keeping Jordanelle Reservoir on your right-hand side.
From Kamas, you'll make the 250-mile drive south to Moab. From Francis follow State Road 32 until you reach the Victory Highway, which you'll follow south past Strawberry Reservoir. At Duchesne, join US-191 and follow it all the way to Moab, passing Arches National Park along the way.
After Moab, carry on south along US-191 before turning onto State Road 95 and heading towards Halls Crossing. Then, to add a little variety to your epic adventure, take the Charles Hall Ferry across Bullfrog Bay, to Lake Powell.
Once you reach the other side of the water, there's only one road to take you out of Bullfrog, so follow UT-276 through Ticaboo to join UT-295, which you'll follow north to Hanksville.
From here, take a left onto UT-24 which takes you through the amazing landscapes of Capitol Reef National Park. Then, at Koosharem, turn onto UT-62 for a while, before carrying on south through Antimony and Widtsoe.
You'll soon arrive at your next monumental stopping point, Bryce Canyon National Park. This stunning natural area is just waiting to be explored, so take plenty of time to enjoy the views and trails here before making your way west onto Route 89 and following it south a few miles. Then turn off towards Ducks Creek Village and stop to explore Dixie National Forest and Cedar Breaks National Monument.
Return to Route 89 and head south through Glendale then at Mt Carmel Junction turn onto UT-9 towards Zion National Park. Take your time to enjoy the incredible views you'll get from this fabulous highway.
As you leave Zion National Park, you'll be on the home leg of your road trip. Carry on along UT-9 past Hurricane then turn onto UT-7 - if you're feeling adventurous, head out down the smaller roads which lead off it to enjoy fabulous desert views and dinosaur tracks.
Soon, you'll find yourself back on I-15 heading south, and from here it's a simple drive back to Las Vegas to complete this amazing road trip.
Best places to stop between Las Vegas and Utah
This route is going to take at least 5 days to enjoy in full with so many majestic national parks, forests and attractions, so here are some of our top picks for places to stay along the way.
Get closer to nature in St George
With a plethora of outdoor and historic attractions to explore, St George is the perfect place to spend the first night of your road trip. It's around 2 hours and 20 minutes from Las Vegas.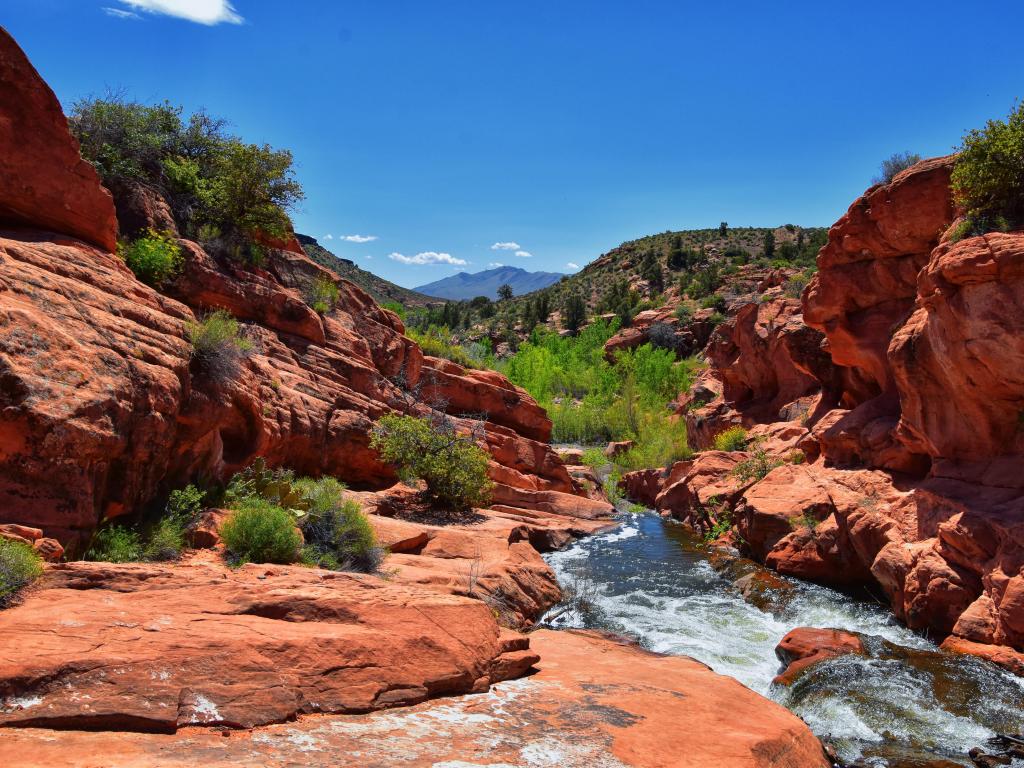 Once you're here, you're just yards away from local parks and restaurants, while the Red Cliffs National Conservation Area is just a short drive away. Outdoor fans should also head to Pioneer Park, 52 acres of red-rock landscapes where the star attraction is the St George Narrows.
There's plenty to see in St George even if you're not a keen hiker. Missionaries show you around the Brigham Young Winter Home, where the religious leader and politician spent winters between 1870 and 1877.
Also nearby, Hamblin Home is a historic stone house with 1860s-style furnishings, and you can learn about Jacob Hamblin and his dedication to native American Indians in the region.
Start your trip in comfort and style with a stay at the Advenire, Autograph Collection, where the rooms combine both vintage grandeur and contemporary design. Rooms have extra-large beds for a good night's sleep - perfect to prepare you for a day of outdoor exploration.
Yoga classes are available, and the rooftop sun terrace is relaxing in the sunshine. The on-site restaurant is a high-class dining experience serving breakfast, lunch and dinner, but as the hotel is located in the center of town you can also take your pick of nearby restaurants.
See the State Capital, Salt Lake City
Salt Lake City is Utah's state capital, and it's around 6 hour and 30 minutes' drive from your starting point in Las Vegas. The city is the religious center of the Church of Jesus Christ of Latter-Day Saints, the Mormons, and also hosted the Olympic Winter Games in 2002.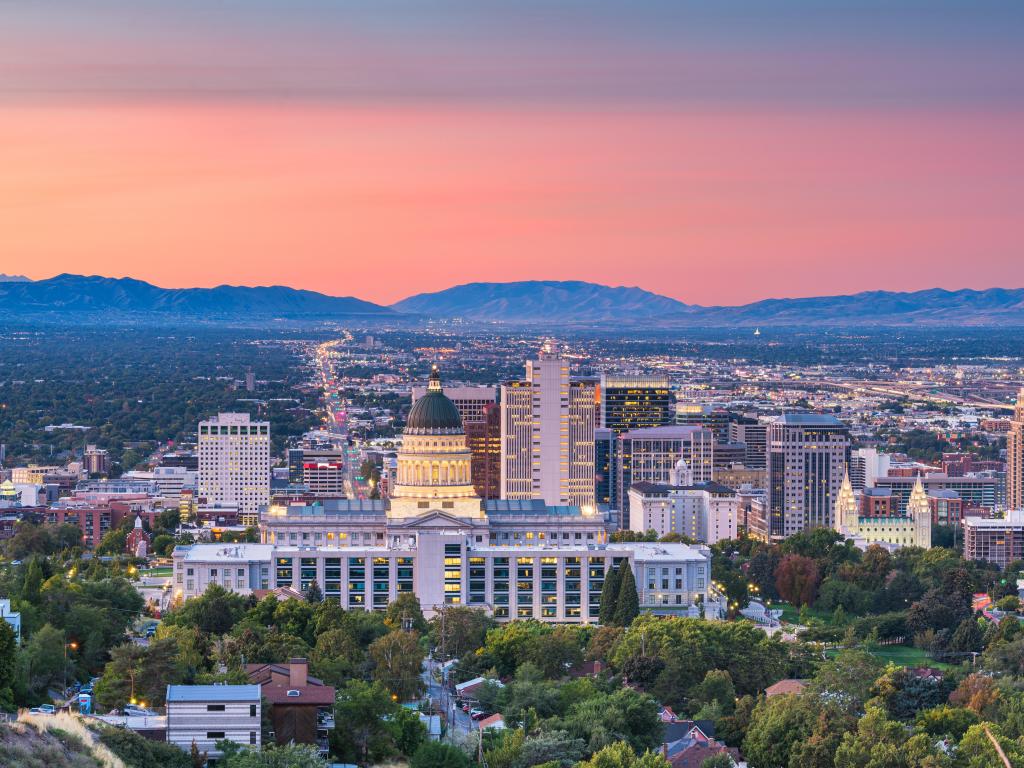 The Natural History Museum of Utah is a go-to attraction, where you can find out about the dinosaurs that roamed the state millions of years ago.
Or jump forward in time and head to The Leonardo, an immersive art gallery. The Flight exhibit is a popular attraction where you can try your hand at flying in a flight simulator and jump aboard a plane.
Temple Square is home to the Salt Lake Temple, an impressive building which dominates the city. Nearby, the Family History Library is the largest collection of records in the world, profiling over three billion people, so if you've ever wanted to track down your ancestors or long-lost relatives, this is the place to do so.
The Grand America Hotel adds vintage 5-star luxury to your road trip and is a favorite Salt Lake City hotel for its regal design. There are two pools here, one outdoor and the other indoor, and the wellness center has spa packages, including everything from a relaxation area to body treatments.
Once you've checked in, head over to the lakeshore to admire the stunning sunset at the biggest saltwater lake in the Western Hemisphere. If you're here earlier in the day, you can also hire a pedal or a boat tour at the Great Salt Lake Marina.
Stargaze at Zion National Park
After nearly 22 hours on the road since leaving Las Vegas, spend the last night of your road trip in the stunning Zion National Park. Famous for its red rock landscapes and amazing trails, and you can take your pick from accessible 2-mile walks here to more challenging hikes through the wilderness.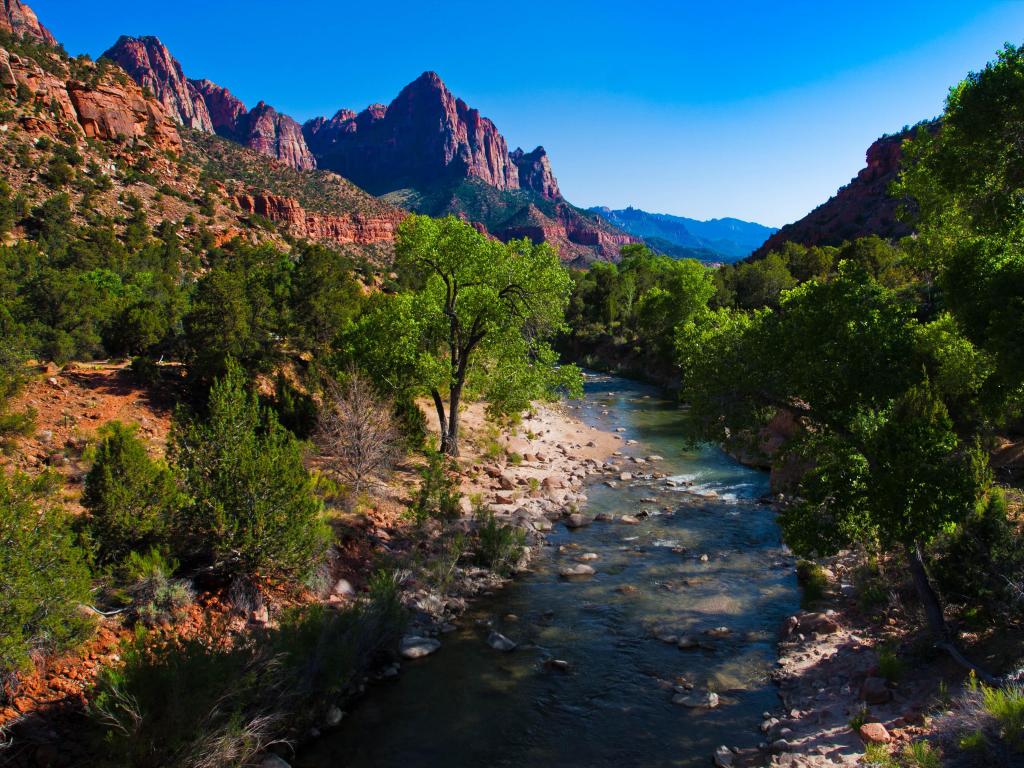 For another way to explore this beautiful landscape, you can arrange to trek through the canyon on horseback. If you're feeling really active, you can even join a group canyoning trip.
As it's so far out of the city, Zion is an amazing place for stargazing. It's an International Dark Sky Park, and you can join a guided astronomy tour if you want to learn more about the stellar night sky views.
For an amazing view out across the mountains, Bumbleberry Inn is the perfect hotel choice while you're in Zion National Park. After a day exploring the great outdoors, you can soak in the view of the national park while you relax in the outdoor hot tub or end the day with a few laps of the outdoor swimming pool.
The hotel is right in the center of Springdale, the main jumping off point to explore Zion National Park, and you can pick up the free visitor shuttle into the park from here.
Things to see on a road trip from Las Vegas to Utah
This road trip takes you through mountains, canyons, forests and deserts so there's plenty to enjoy along the way. Pack your hiking boots and backpack as they're sure to see some use.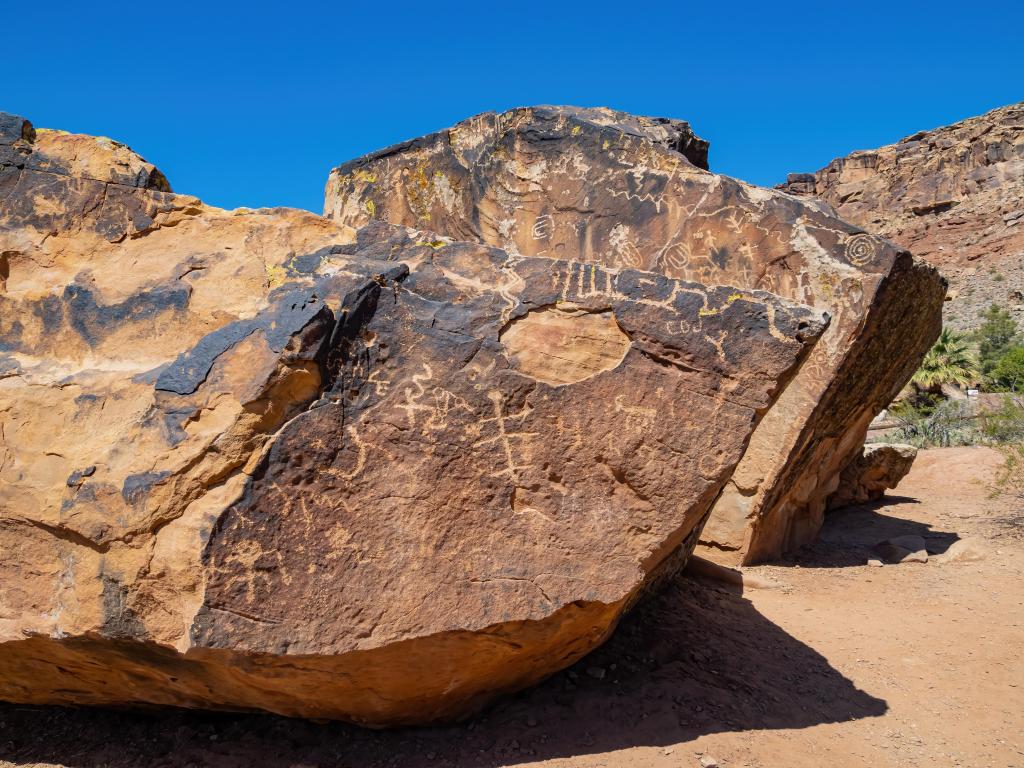 Things to see on the way to Utah
Valley of Fire State Park - The Valley of Fire State Park has red rock formations in a desert landscape. Take a detour through Valley of Fire Highway to see Fire Cave, Balanced Rock, and walk trails like Elephant Rock.
Lost City Museum - If you take the detour through the Valley of Fire, you'll find the Lost City Museum in Overton when returning to I-15. The museum showcases artifacts that archaeologists discovered from nearby prehistoric sites.
Bloomington Petroglyph Park - Before arriving in St. George, look at the petroglyphs. It's a brief stop to look at ancient drawings carved into rock.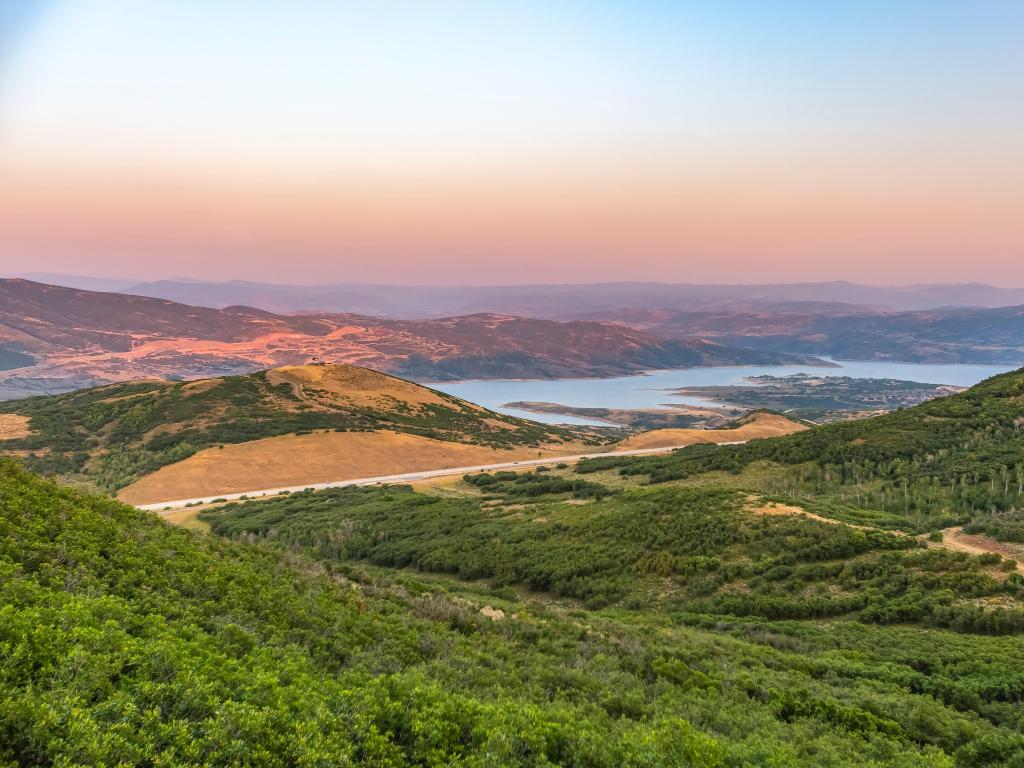 Things to see around Utah
Red Cliffs National Conservation Area - North of St. George is the 60,000-acre Red Cliffs Desert Reserve. The Red Cliffs Nature Trail is a popular hiking spot with canyons and waterfalls for swimming.
Cedar City - The Frontier Homestead State Park Museum, with an extensive collection of waggons and other intriguing items, helps you learn of Cedar City's pioneering past.
Yuba State Park - If you're in Utah for the summer, stop at Yuba Lake where the water is warm. It's popular for swimming, boating, fishing or enjoying a picnic.
Provo - Provo, is the 3rd-largest city in Utah. Visit downtown where the snow-capped peaks are the backdrop and enjoy vintage shops, karaoke, theater, comedy, restaurants and bars.
Kamas - From Kamas, you can explore the Uinta-Wasatch-Cache and Ashley National Forests. There are roads through the forests, the 150 is a pleasant drive taking you to Upper Provo Falls. However, it's closed in winter.
Jordanelle State Park - Take the time to stop at the Jordanelle State Park Overlook. It's en route and by pulling over you can take the time to admire the Jordanelle Reservoir without any detours.
Heber City - See the Utah scenery from a new perspective and climb aboard a steam train at Heber Valley Railroad. There are different routes. Check the website to find one for you.
Moab - Moab is a gateway to Arches National Park and Canyonlands National Park. The Arches are a must-see with natural stone arches.
Blanding - If you've ever wanted to stand in four states at once. Go to the visitor center and they'll direct you to a detour where you stand in Utah, Colorado, New Mexico and Arizona at the same time.
National Bridges Monument - The National Bridges Monument requires a detour onto 275. But you'll meet 3 enormous natural sandstone bridges.
Halls Crossing - Glen Canyon National Recreation Area is near Halls Crossing. There are over 1.25 million acres to explore. Scenic drives, kayaking, hiking and fishing are popular in this area.
Leprechaun Canyon - Near Hanksville, hike to the Leprechaun Canyon. It's a moderate hike and one of the most accessible slot canyons. Beware of rattlesnakes.
Bryce Canyon - This popular spot receives upwards of 2 million visitors each year. The most iconic natural attraction is the Bryce Amphitheater, with its rock spires.
Dixie National Forest - There's camping throughout Dixie Forest and small scenic roadways allow you to drive close to the red canyons and nature trails.
Zion National Park - The best way to explore this area is the Zion Canyon Scenic Drive. Shuttles buses stop so you can hop off to hike and get a closer look at scenic sites.
La Verkin - For the true thrill seeker, stop at La Verkin and pop into the Zion Amazing Adventures. It's a local adventure company that runs guided canyoneering and climbing expeditions.
Sand Hollow State Park - Sand Hollow State Park has stunning contrasting colors between the deep blue waters and vibrant sandstone formations. On a sunny day, enjoy sandy beaches here.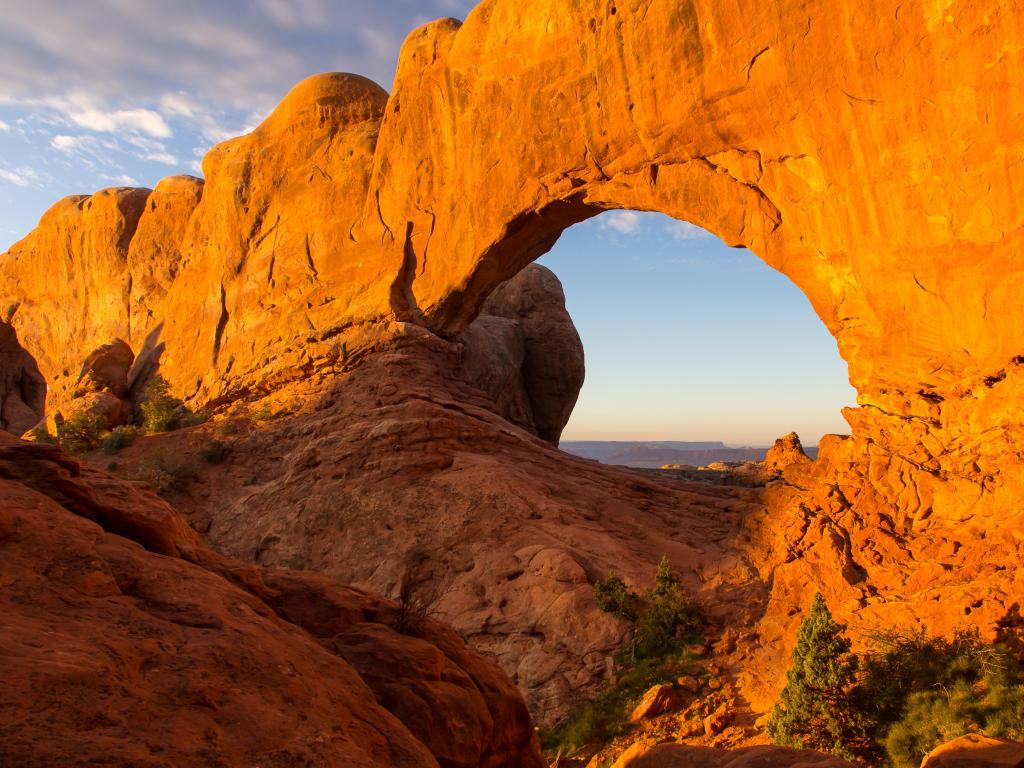 Best time to go on a road trip from Las Vegas to Utah
Utah has hot, dry summers while the winters are cold. Given that Utah is a great place to explore outdoors, the winter months may restrict your opportunities to explore nature spots.
Late June through to August is when you'll experience the hot weather, with an average high in Salt Lake City of 92 degrees Fahrenheit in July, the hottest month of the summer.
We consider June to August as the high season, this is when hiking trails are most popular. However, for outdoor exploration, keep in mind the humidity will make it difficult. September is milder and makes for easier hiking, albeit there's still nice weather.
January, February and December are when Utah is at its coldest. The Utah mountains are prone to heavy snowfall, and as such, the area is a top skiing destination. However, it's worth considering that driving in the winter months might be challenging and smaller roads may close.
March is still cold, but temperatures start to rise come April. The snow melts from the ski resorts and May brings pleasant weather. Highs average 72 degrees Fahrenheit so this is a good time for outdoor exploration.
September is when temperatures start to drop. However, you can still get sunny days with temperatures reaching average highs of 79 degrees Fahrenheit.
The snow starts to fall in Utah in October, and as it builds around the mountain, the ski resorts start to open for business. The Snowbird OktoberFest, which attracts 60,000 visitors, is one of the standout festivals of the year.
Likewise, the Sundance Film Festival is a large independent film festival in Park City, usually held in January. Expect hotel prices to rise for these events because of demand.