Road Trip from Las Vegas to Vancouver
A road trip from Las Vegas to Vancouver requires a fair amount of planning and quite a bit of driving. With that said, don't make the mistake of going to Vancouver by plane as this epic drive will be an unforgettable travel experience and the adventure of a lifetime.
The 1,326 mile-road trip from Las Vegas to Vancouver takes about 22 hours and 30 minutes. Key stops include Reno, Bend, Portland, Seattle, Death Valley and Yosemite National Parks, Lake Tahoe, Crater Lake National Park and Mt. Hood National Forest.
There are many landmarks and attractions to see on the way, so keep reading to get a good idea of what this route has in store for you.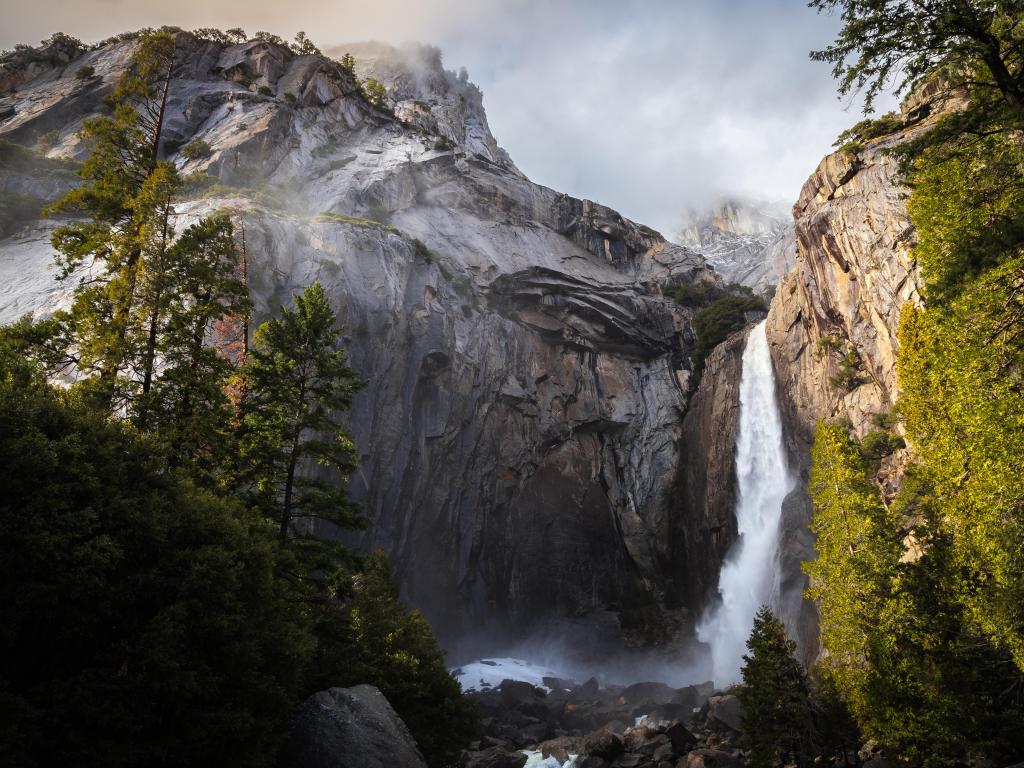 How far is Vancouver from Las Vegas and how long will the road trip take?
If you cut straight through Nevada, the road trip from Las Vegas to Vancouver can theoretically be done in about 19 hours and 30 minutes, without accounting for breaks or overnight stops.
With that said, a more scenic alternative passes through the Sierra Nevada mountains instead – you'll only be adding a little more than two hours to your trip, and the first half of the drive will be infinitely more exciting in exchange.
The more scenic route covers around 1,326 miles and takes about 22 hours and 30 minutes to complete. You'll be driving through the most awe-inspiring parts of California, Nevada, Oregon, and Washington before concluding your epic journey in Canada.
Driving through the Sierra Nevada in suboptimal weather might wind up slowing down your trip a fair amount, considering that US-395 is known for its occasional winter closures. If you're traveling in the winter, check road warnings and drive carefully.
Another factor is traffic, which doesn't really become a problem until the final stretches of the trip. If you wish to check out the best of Portland and Seattle on the way, chances are you'll get caught up in some traffic, so keep an eye out and try to time your stops accordingly.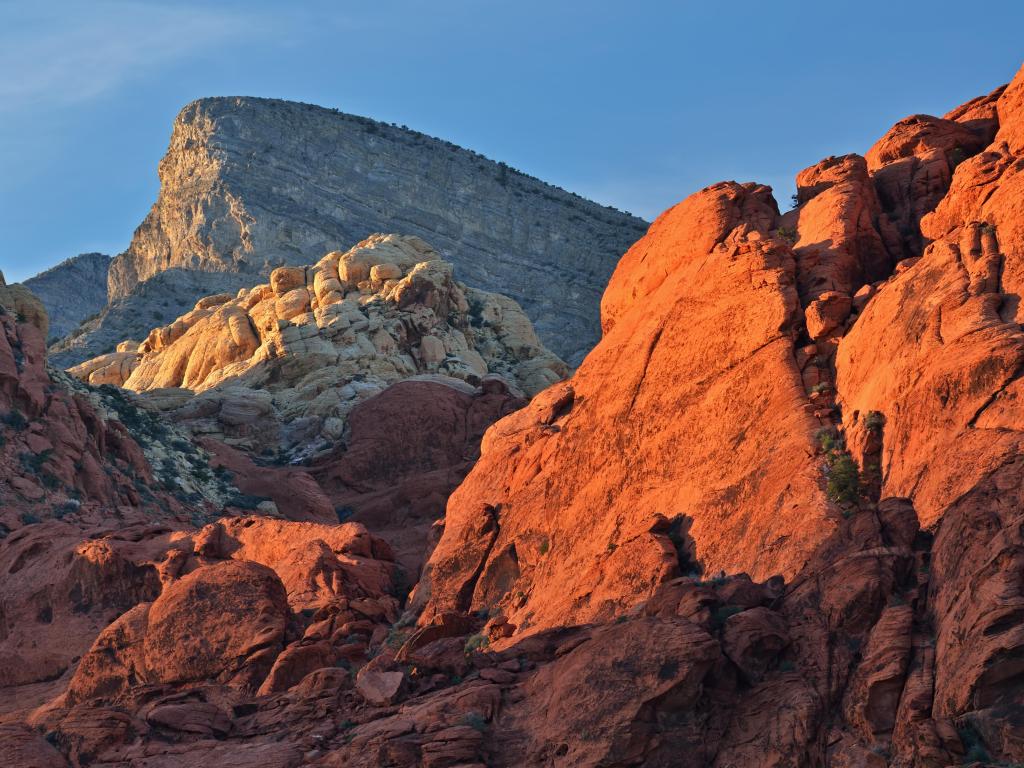 Best road trip route from Las Vegas to Vancouver
The best road trip route from Las Vegas to Vancouver is undoubtedly along the mountains in California, followed by the lush forests of Oregon. This route features a slew of scenic landscapes and provides some fantastic stopovers in the larger cities on the way.
Road trip route from Las Vegas to Vancouver
Leave Las Vegas by taking US-95 North and drive past the Red Rock Canyon National Conservation Area and Death Valley National Park. Get on US-395 N via NV-266 W and CA-168 W and continue north through Bishop and Inyo National Forest.
Past Yosemite National Park and Stanislaus National Forest, rest up at Carson City and check out Lake Tahoe. Follow this route to drive through Reno and turn right onto CA-139 N at Susanville after passing by Tahoe and Plumas National Forests.
This highway will take you past Shasta-Trinity and Lassen National Forests and into Oregon.
In Oregon, turn left onto OR-140 W and take another left to merge onto US-97 N in Fairhaven. Drive past Crater Lake National Park and Umpqua National Forest, keeping towards Bend, just east of Deschutes and Williamette National Forests.
You can spend the night and rest up in Bend. After your visit, keep following US-97 and continue onto US-26 W in Madras, driving along Mt. Hood National Forest before reaching Portland.
Once you're done exploring the city, hop on Interstate 5 (I-5) and drive past Gifford Pinchot National Forest and Mt. Rainier National Park – not long after that, you'll be in Seattle.
Stay on the interstate and drive along Okanogan-Wenatchee National Forest and North Cascades National Park to get into Canada and onto BC-99 N. From here, only a short drive over the Fraser River separates you from Vancouver.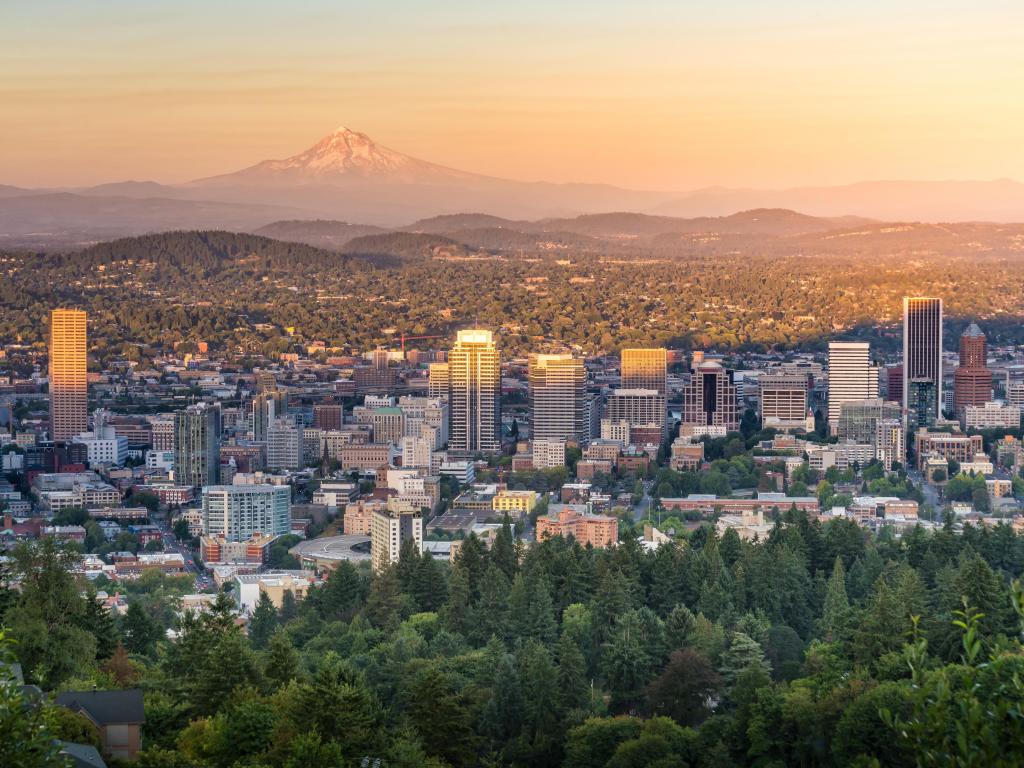 Best places to stop between Las Vegas and Vancouver
The epic road trip from Las Vegas to Vancouver is brimming with amazing places to spend the night. The more stops you make along the way, the easier it'll be to check everything out – these are some of the itinerary's very best resorts:
Marvel at the vibrant urban life in Reno
Located about 7 hours from Las Vegas, Reno is situated close to many beautiful parks and forests nestled in the Sierra Nevada (and especially close to Lake Tahoe and Carson City). This city is the perfect stopover for a night or two on your journey.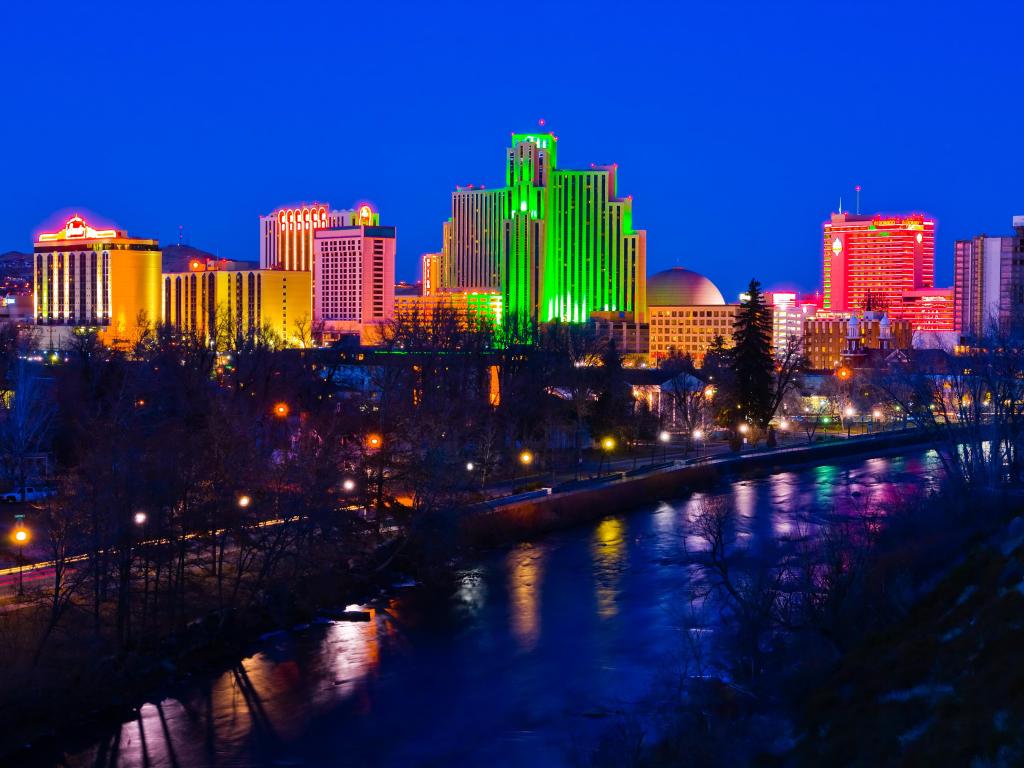 Among many great hotels in Reno, the Atlantis Casino Resort Spa is a definite winner. This resort boasts beautiful rooms you'd expect from a luxurious 5-star Nevada hotel and features several upscale restaurants, a spa, several swimming pools, and a fantastic casino.
You don't need to step outside with so many entertainment opportunities and amenities at hand in the resort, but if you want to experience Reno to the fullest, there are many attractions nearby.
Nevada Museum of Art, The National Automobile Museum and Terry Lee Wells Nevada Discovery Museum are only a short drive away from the hotel in the Midtown area.
You can head to the hotel for an upscale meal after a long day out exploring or enjoying a round or two at the tables in the casino onsite. If you play your cards right, you can enjoy this high-end hotel without feeling like you've overpaid.
Soak in the natural beauty of Bend
Bend in Oregon is an idyllic travel destination that is about 8 hours and 30 minutes from Vancouver, Canada, which makes it a great option for an overnight stay before the last bit of your journey.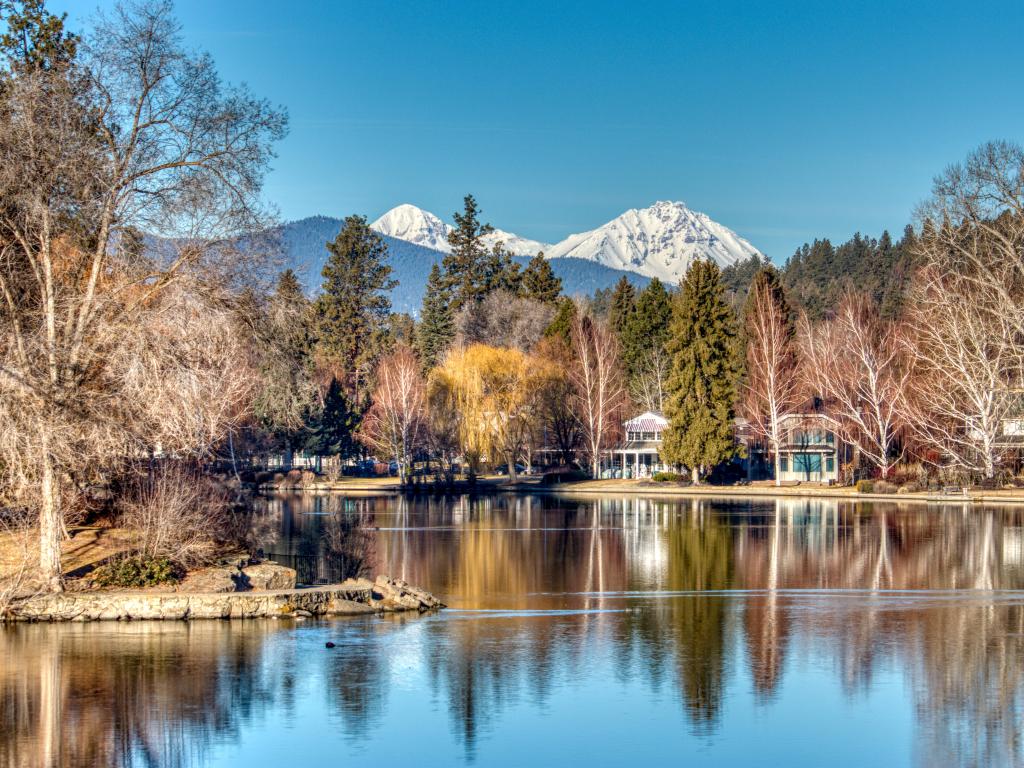 There are some fabulous accommodation options in the area, which is known for its unparalleled scenic beauty. We suggest staying at the beautiful Tetherow Hotel which borders the awe-inspiring scenery of the Deschutes National Forest that you can enjoy from your own room.
You might want to enjoy the stunning golf course the hotel is located in during your stay, but if you wish to explore the city instead, The Old Mill District is a short drive away. This area is home to Bend's fabulous shops, outdoor entertainment areas, restaurants, and bars.
If you are visiting during the colder months, you can take a 20-minute drive and hit the slopes of Mt. Bachelor, where you can enjoy world-class skiing, snowboarding, mountain biking, and dining with the breathtaking backdrop of snowy mountain peaks.
Whichever adventure you choose to take, don't miss out on the amazing sunset views by the firepit on the hotel's patio. There are several restaurant options in the hotel, which all boast stunning views of the surrounding forest.
Enjoy a luxurious stay in Vancouver
You will want to relax and unwind in a comfortable hotel that won't break the bank once you reach your final destination in Vancouver, Canada. The competition for great hotels in this iconic city is quite steep, but the luxury of Hyatt Regency Vancouver stands out from the rest.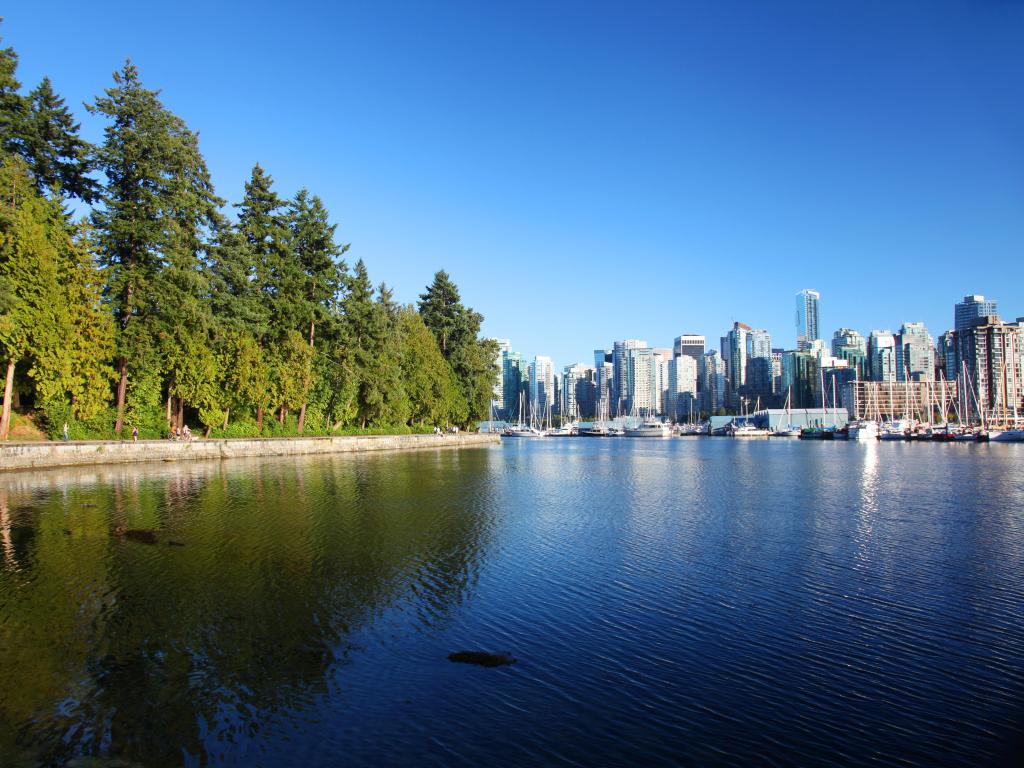 Having a spectacular location downtown, the hotel is walking distance away from the renowned Stanley Park. You can explore beautiful trails, relaxing beaches, local wildlife, great eats, and amazing landmarks in this green oasis amidst the urban landscape of the city.
Vancouver Aquarium is located in Stanley Park, and you will have the opportunity to learn about the fascinating lives of marine creatures through immersive experiences.
If you would rather spend your day in the cultural heart of the city, you can head to Vancouver Art Gallery and Bill Reid Gallery, which are both located across from the hotel.
When you feel tired, you can head back to the hotel to enjoy the stunning cityscape on your own room's balcony, grab a glass of wine and you'll be good to go. The hotel's Mosaic Bar and Grill offers a delicious menu of items, along with (you guessed it) beautiful views of the city.
Things to see on a road trip from Las Vegas to Vancouver
The sheer amount of things to see on a road trip from Las Vegas to Vancouver is staggering. Driving through sweeping landscapes in 6 American states and beautiful Canada means there's a little something for everyone along this drive.
Take at least a week to explore everything this road trip has to offer, and check out as many of the following stops as you can: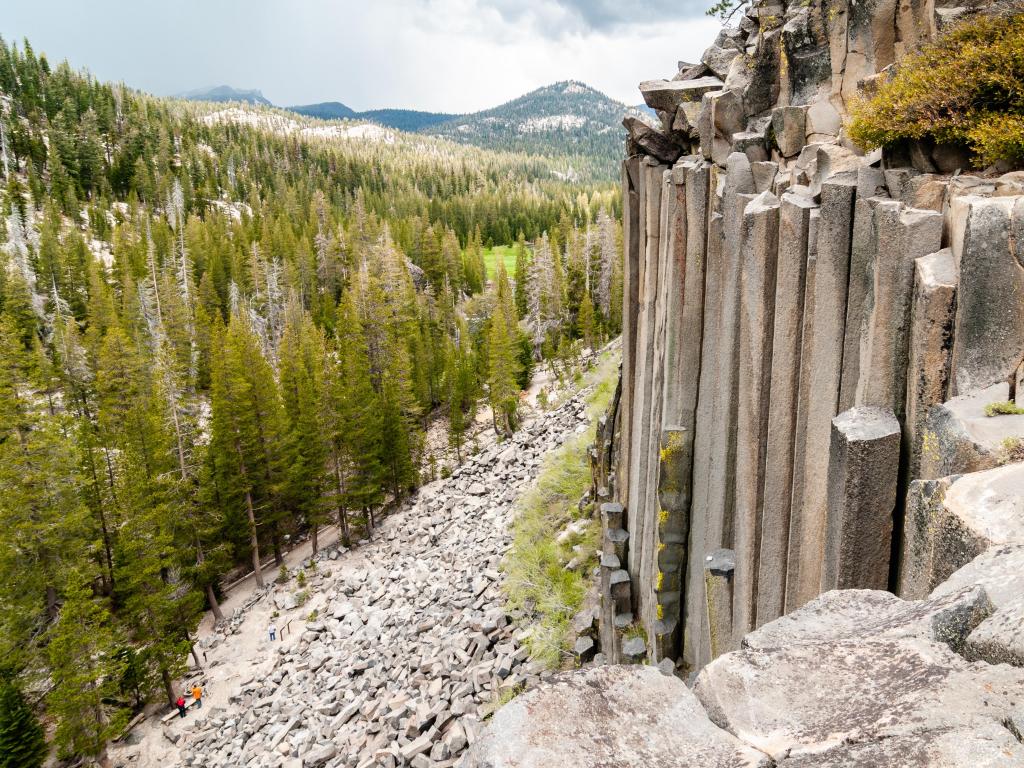 Red Rock Canyon National Conservation Area, Las Vegas - This beautiful red rock-laden area near Las Vegas creates the city's iconic backdrop, where you can enjoy hiking and outdoor activities here. You might need to make a reservation for a timed-entry slot, so check the official website before traveling.
Death Valley National Park, California and Nevada - Death Valley might be America's lowest, hottest, and driest national park but it is also one of the most scenic. There are many recreational activities you can enjoy here, including touring and camping.
Sierra National Forest, California - This gorgeous forest is a standout thanks to its beautiful lake and mountain views. You won't be short of things to do here with opportunities for horseback riding, swimming, picnicking, biking and hiking.
Mammoth Lakes, California - One of the most stunning towns in California, Mammoth Lakes is surrounded by snow-capped mountains and dotted with crystal-clear lakes, perfect as both a summertime hub and a winter sports haven.
Inyo National Forest, Bishop - This stunning forest covers parts of the eastern Sierra Nevada and the White Mountains of California and is the perfect place to take a tranquil hike.
Yosemite National Park, California - Thanks to Yosemite Valley and the park's innumerable breathtaking landscapes, this world-famous park is an obligatory visit for anyone passing through California.
Lake Tahoe, California and Nevada - Featuring sandy beaches and unforgettable vistas, Lake Tahoe is world-renowned for its beauty and is also the largest alpine lake in the United States.
Nevada Museum of Art, Reno - Guests of all ages can encounter, engage and enjoy a diversity of art experiences in the museum, which is the only one accredited in the state of Nevada.
National Automobile Museum, Reno - If you are looking for that "Wow!" factor, look no more because this museum houses 200 incredible and unique cars with authentic street scenes.
North California Forests (Shasta-Trinity, Plumas, Tahoe and Modoc) - A long chain of forested terrain leading you into the equally scenic Oregon.
Crater Lake National Park, Crater Lake - This is the deepest lake in the States, and it owes its unique geological features to the collapse of Mount Mazama.
Oregon Forest Stretch (Deschutes, Williamette, and Mt. Hood) – Featuring breathtaking flora and mountains and waterfalls for days, you could make a case for each of these forests being among Oregon's very best.
Mt. Bachelor Ski Resort, Bend - A world-class mountain resort where you can enjoy world-class skiing, snowboarding, mountain biking, and dining with the breathtaking backdrop of snowy mountain peaks.
The Old Mill District, Bend - This entertainment district houses some of Bend's best shops, outdoor entertainment areas, restaurants and bars.
Castletown D-Day Center, Portland - An immersive experience of a wartime dockyard in Portland, where you can interact with vehicles and learn about history through interactive experiences.
Olympic National Park, Port Angeles - Encompassing nearly a million acres, the park offers outdoor adventures, cultural experiences and the tranquil beauty of nature.
Mt. Rainier National Park, Washington - This park is a melting pot of everything that makes Washington beautiful – amazing mountains, green meadows, and more springs and waterfalls than you can count.
Space Needle, Seattle - This tower has become a symbol for Seattle and for good reason; there is no better place to take in the famous skyline of the city than on the panoramic deck of the Space Needle.
Okanogan-Wenatchee National Forest, Wenatchee - This beautiful, expansive forest features an incredible stretch of the Cascade Range and the beautiful Wenatchee River.
North Cascades National Park, Washington - In typical Washington fashion, this park combines crystal-clear bodies of water with mountainous landscapes to create the ultimate backpacking experience.
Stanley Park, Vancouver - Once you're in Vancouver, this incredibly scenic park by the English Bay is among the first places you'll want to check out.
Vancouver Aquarium, Vancouver - Located in Stanley Park, you can experience the Great Salmon Run here or visit their Marine Mammal Rescue Exhibit to meet their rescued seals and sea lions.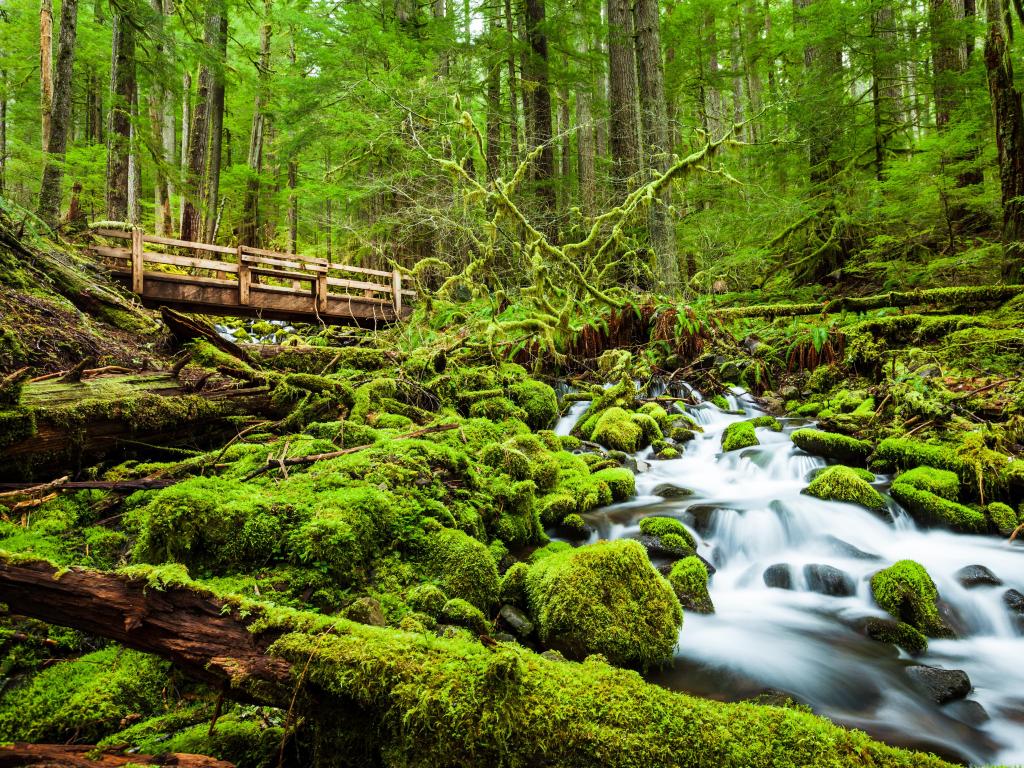 Best time to go on a road trip from Las Vegas to Vancouver
There's a lot to be considered when planning a road trip from Las Vegas to Vancouver as there will be plenty of attractions on the way no matter the season, but the trip can be a bit intimidating due to its length.
Although Vegas is known for its high temperatures that can reach above 100 degrees Fahrenheit in summer, the trip gets exponentially colder as you continue further north.
If you're traveling in the winter, remember that certain parks and forests may not be accessible, and you'll want to keep close tabs on the weather conditions for the coming days. The average winter temperature is about 45 degrees Fahrenheit.
Although the weather in Vancouver is very different from what a Nevada native might be used to, the city is extremely accommodating whenever you choose to visit. Grouse Mountain and countless other ski resorts make winter visits a very alluring prospect,
Summers most closely resemble what a West Coast American would expect from spring with temperatures around 70 degrees Fahrenheit. This is also when some of the city's biggest events, such as the International Jazz Festival, take place.
If you want to visit the city in April or May, when the average temperature reaches 55 degrees Fahrenheit, you will also have the opportunity to enjoy a variety of amazing annual events such as the Cherry Blossom Festival.
This is also when you're most likely to get a good deal on a hotel room, as most visitors are either trying to capitalize on the relatively mild summers or are looking to hit the slopes in the winter.