Road Trip From Los Angeles to Big Sur
A road trip from Los Angeles to Big Sur takes in some of the most beautiful stretches of coastline in the whole of the USA, so if you're looking for a quick but unforgettable adventure, this is the drive for you.
The 295-mile road trip from Los Angeles to Big Sur takes 5 hours and 40 minutes of driving to complete. Stops include the cities of Malibu, Santa Barbara, and San Luis Obispo, as well as Los Padres National Forest, Morro Bay, and Hearst Castle.
With a wide range of detours and stop-off choices along the route, you can turn this journey into your dream road trip, so keep on reading until the end to check out all the fantastic places you can visit.
How far is Los Angeles to Big Sur and how long will the road trip take?
The road trip from Los Angeles to Big Sur covers 300 miles. There are several ways you can drive to Big Sur from Los Angeles. Depending on how many detours you choose to take, the transit time could be around 5 hours and 40 minutes.
This journey is easily achievable in a day. So you could leave Los Angeles at breakfast time and get to Big Sur in good time for a late lunch. But with such a fantastic range of sights to take in along the way, you should break this trip up into a few days at the very least.
Taking you past some of the most iconic oceanside attractions California has to offer, the route mostly sticks to Route 1 and Highway 101. While the view will be scenic, be warned that traffic along this route can get nasty, especially around popular tourist towns.
Best road trip route from Los Angeles to Big Sur
The best way to do the road trip from Los Angeles to Big Sur is to stick to Highway 101 and Route 1 whenever possible - not only does this take you past the most scenic parts of California, but it also gives you an unbelievable view of the ocean.
Road trip route from Los Angeles to Big Sur
Take Interstate 10 west to get out of Los Angeles, passing through Santa Monica before hopping onto Route 1. Take it through Malibu and past Topanga and Point Mugu State Parks before pulling into Oxnard.
From here, take Highway 101 and cut through Santa Barbara, then briefly hop onto Route 154 to see Cachuma Lake and Los Padres National Forest. Rejoin Highway 101 at Los Alamos, then drive through Santa Maria and Pismo Beach before stopping at San Luis Obispo.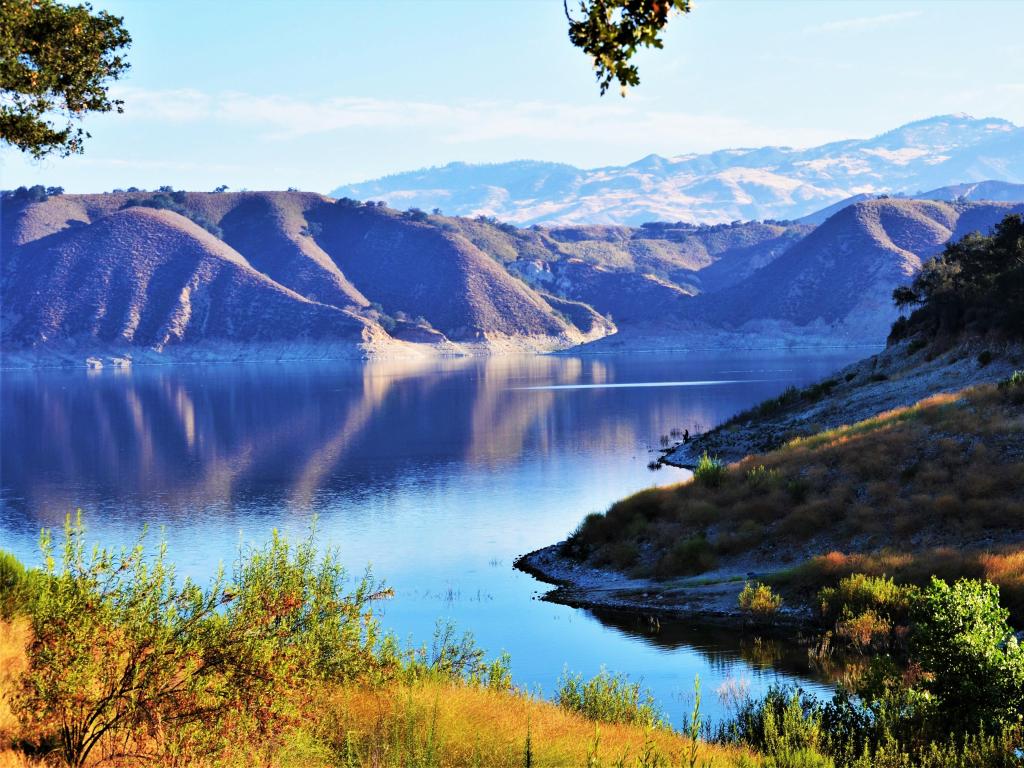 From here, get back onto Route 1 and hug the coast again, passing through Morro Bay. Stop at Hearst Castle and Elephant Seal Vista Point, then continue onward through Limekiln State Park and into Big Sur.
Best places to stop between Los Angeles and Big Sur
There are a number of fabulous places you can visit during your road trip from Los Angeles to Big Sur. If you're looking to get the most out of this amazing trip, you'll definitely want to stop at the following:
Enjoy the beaches in Malibu
Ritzy Malibu is a fabulous place to drop anchor for a day or two. Just about every major hotel here sports an amazing ocean view, but none of them can match the elegance and luxury of Malibu Beach Inn and its jaw-dropping rooms and balconies.
Located right on the beach, the hotel will leave you feeling extremely comfortable, and you'll be falling asleep to the sounds of the ocean within minutes of your head hitting the pillow.
Whether you want to enjoy your seafood meal indoors or on the beach, The Malibu Inn has you completely covered. Also, if you're feeling a bit cramped from the drive, you can unwind like never before with a massage at Veronica's Skin and Body Care Spa.
All that, plus a location right next to Malibu Pier and a stone's throw from Malibu Beach, makes this the place to be in this city. Price-wise, the resort is high-end, but the level of service is beyond what most of its competitors in town can offer.
Please check our comprehensive guide out to learn more bout Huntington State Beach:
READ MORE - Our Guide to Malibu Beach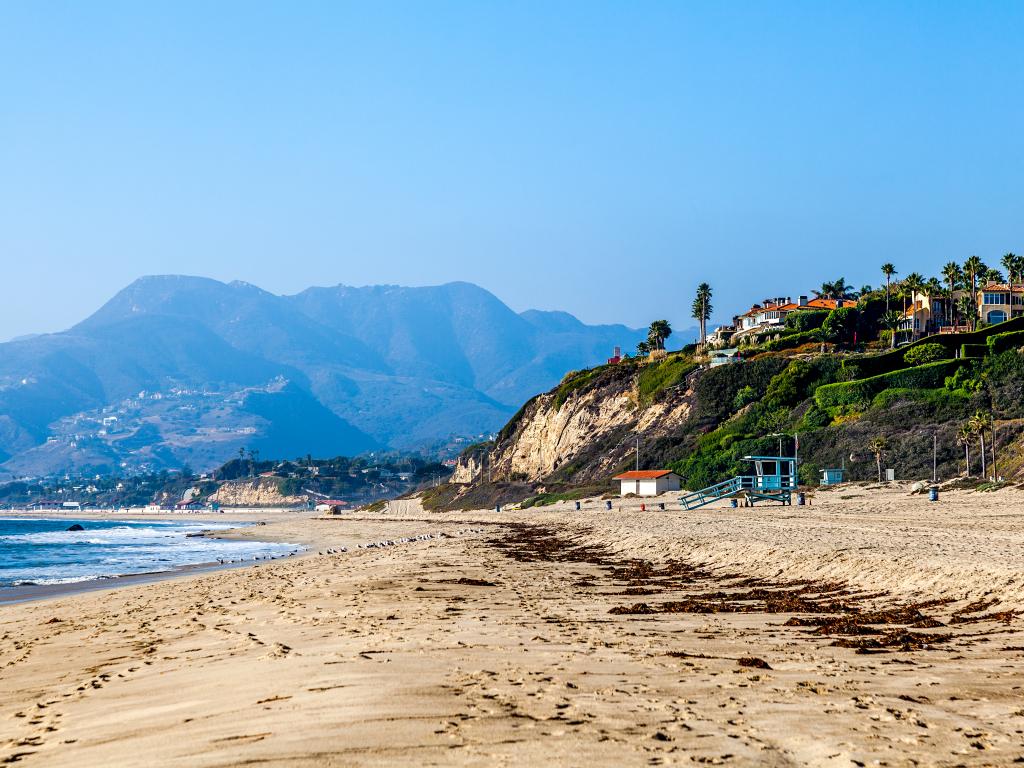 Gaze at the beautiful ocean from Big Sur
Big Sur has a reputation for having some of the most beautiful vistas in all of California and beyond. If you want a resort that matches your beautiful surroundings, Alila Ventana Big Sur combines the best rooms with the most scenic location in the area.
The level of comfort in this hotel is incredible - whether you're stargazing on the balcony, listening to the rustling wind from the comfort of your bed, or relaxing by the fireplace in the lobby, you're guaranteed to feel right at home here.
The Sur House and The Sur House Terrace and Bar will cover all your dining and wining needs, all while providing you with a jaw-dropping view of the ocean. Once you're full, you can enjoy a heated pool, work out in the fitness area, or even enjoy a yoga class.
Since you're visiting Big Sur, chances are your primary goal is to do some sightseeing, and this hotel has a prime location for that - places like Andrew Molera State Park and countless hiking trails are all within walking distance of the property.
The resort is a bit more expensive than most in the Big Sur area, but if there's any place that can justify its price tag with genuine quality, it's this one.
Things to see on a road trip from Los Angeles to Big Sur
There are numerous attractions and points of interest on a road trip from Los Angeles to Big Sur. So much so, you could quite easily spend a month trying to visit them all.
If you can only spend a couple of days on your trip, however, there's still plenty to see. These are some of the main highlights to take in along the way:
Santa Monica – Wonderful coastal city known for its famous pier, which also has a historic amusement park, the iconic Muscle Beach, and an aquarium.
Getty Villa – Outstanding museum and cultural center that displays 4,000 years of ancient culture through works that include Greek and Roman art. It also showcases spectacular gardens and an impressive outdoor amphitheater.
Tuna Canyon Park –Situated in the western Santa Monica Mountains, this beautiful 1,255-acre state park boasts excellent hiking trails that offer sensational views of the Pacific Ocean.
Santa Monica Mountains National Recreation Area – Known for its imperious 3000 feet high Sandstone Peak and the spectacular Escondido Falls, this fabulous mountainous terrain is a lovely region to go hiking in.
Malibu – World-famous coastal city featuring stunning beaches, stunning hiking spots, and a number of A-List celebrity homes.
Point Dume – Located on the coast of Malibu, this rugged elevation above the Pacific Ocean provides magnificent views of both the Palos Verdes Peninsula and Santa Catalina Island.
Point Mugu State Park - Nestled in the spectacular Santa Monica Mountains, this park showcases five miles of stunning ocean shoreline that features rocky bluffs, rugged hills, sandy beaches, and sand dunes.
Ventura – Lively coastal city with a lively cultural scene. Best known for its attractive pier and charming harbor. Other points of interest include a stunning botanical garden and the historically significant Mission San Buenaventura.
Carpinteria – Home to the 'World's Safest Beach,' this quaint coastal community also boasts outstanding mountain views.
Pismo Beach – City situated on California's Central Coast. It is best known for its fabulous beaches and excellent wineries. In the cooler months, the Monarch Butterfly Grove shelters this particular species of butterflies that migrate to Pismo State Beach.
Avila Beach – Small, modern town that is home to numerous beaches and piers and the Avila Hot Springs & Geysers. A lovely spot for whale watching; this area also features the Point San Luis Lighthouse.
Morro Bay – Laid back coastal city whose main claim to fame is Morro Rock. A 575-foot tall volcanic mound at the end of Morro Rock Beach. Close by, the fantastic Morro Bay State Park is home to a number of lagoons, trails, and saltwater marshes that house plenty of birdlife.
Cambria – Wonderful artistic hamlet which boasts an awe-inspiring coastal landscape. Located where ocean meets pine forests, this area features historic architecture, excellent art galleries, boutique shops, and a delicious local gourmet food scene.
Hearst Castle – The estate of the newspaper magnate William Randolph Hearst sits on a hill overlooking San Simeon. Features over 100 rooms, as well as an incredible outdoor swimming pool, a movie theater, and a wonderful collection of antiques, artworks, and sculptures.
Ragged Point – The gateway to Big Sur, affectionately called the 'Million Dollar View.' This lookout area showcases arguably the most amazing scenic view on the entire drive.
Pfeiffer Big Sur State Park – A state park in Monterey County nicknamed a 'mini Yosemite.' Redwood trees are known to have lived in the area for some 2,200 years. Centered on the Big Sur River, the park covers approximately 1,006 acres on the western slope of the Santa Lucia Mountains.
Best time to go on a road trip from Los Angeles to Big Sur
As the region receives more than 300 days of sunshine a year, a road trip from Los Angeles to Big Sur can be done at any time, although certain seasons come with unique benefits.
For the best views of the Pacific coastline, August to October is an excellent time to visit. These are generally the warmest months, and the skies tend to be clearer too.
The weather should be at its hottest in July and August, but as this is the height of the summer, you are more likely to experience heavy traffic and the most expensive hotel prices too.
December through March are the rainiest months around Big Sur, and during the winter, some sections of the California State Route-1 can become dangerous as a result of fog, so you might want to avoid traveling at these times.
In general, traffic congestion is more likely to occur at weekends and during the holidays, so allow more time for the drive if leaving then. Be sure to make plenty of stops if you anticipate heavy traffic up ahead, especially near the cities.