Road Trip from Los Angeles to Santa Catalina Island
If you want to escape the hustle and bustle of big city life, then the incredibly scenic road trip from Los Angeles to Santa Catalina Island, taking you along the Pacific Coast Highway and stunning parks and beaches along the way, is the perfect opportunity to get away from it all.
The 60-mile road trip from Los Angeles to Santa Catalina Island takes just over 1 hour to drive. Key stops along the way include Redondo Beach, Huntington Beach and Limestone Canyon Regional Park, as well as Crystal Cove State Park and Santa Monica.
To help you make the most of this journey, we've set out the best route, the places to stop overnight, our favorite things to do and the best time of year to make the trip from Los Angeles to Santa Catalina Island.
How far is Santa Catalina Island from Los Angeles and how long will the road trip take?
The trip from Los Angeles to Santa Catalina Island can take as little as 60 miles to the nearest port, from which you will then take the ferry to your destination. You could complete this trip in as little as 1 hour and 20 minutes, plus an extra hour on the ferry to the island.
However, a better route which takes you along the Pacific Coast Highway alongside California's stunning beaches to its furthest port, Dana Point, will stretch your drive to 80 miles and will take closer to 2 hours and 15 minutes of driving time.
As Santa Catalina Island isn't a place you can drive directly to, this trip will involve catching a passenger ferry from any of the four mainland ports of Southern California - namely San Pedro, Long Beach, Newport Beach or Dana Point. The boat journey typically takes an hour.
You could easily complete this road trip in a day. However, with so many stunning attractions and incredible landscapes and parks to see along the way, our recommendation would be to spread it out over two to three days to ensure you have time to see them all.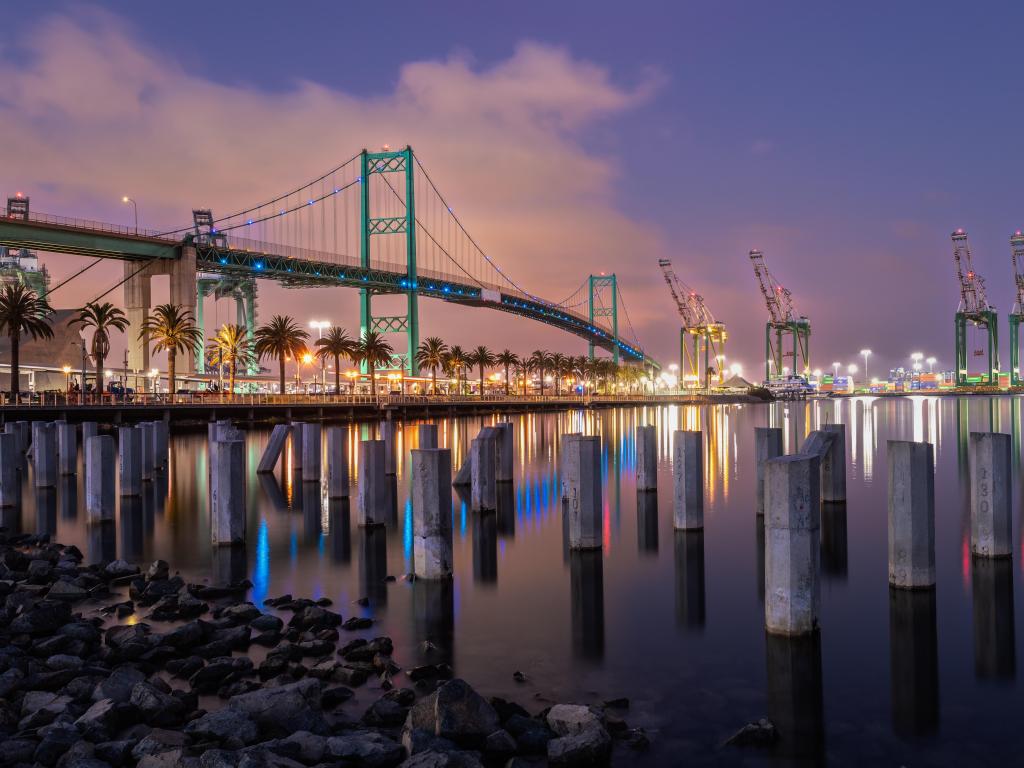 Best road trip route from Los Angeles to Santa Catalina Island
While there is a more direct route you can follow, given the short distance from Los Angeles to Santa Catalina Island, our recommended route adds a few additional miles to your journey.
There are four different ports you can travel to from Los Angeles to get to Santa Catalina Island, but the best one is Dana Point as this will provide you with plenty of options to detour to the wonderful sights and attractions Southern California has to offer.
Road trip route from Los Angeles to Santa Catalina Island
From Los Angeles, take Interstate 110 south before merging onto Interstate 105 through Hawthorne. Take Exit 42B and head to Redondo Beach, the first of many Californian beaches this trip passes.
Next take Interstate 405 in Torrance before merging with Interstate 710 south to Long Beach. From here you will follow the coast, enjoying stunning views until you reach Huntingdon Beach.
This next stretch follows the scenic Pacific Coast Highway, allowing you to stop anywhere en route to enjoy the beach or stunning parks, including Crystal Cove State Park.
Just past this stunning parkland is Laguna Beach, a great base for exploring Badlands Park or Niguel Botanical Preserve. Continue on the highway until you reach Dana Point, where you can catch the Catalina Express ferry ride to Santa Catalina Island.
The ferry from this port typically takes one hour and 30 minutes. It's worth noting that sailing durations and frequency will vary from season to season, so it's best to check availability ahead of travelling.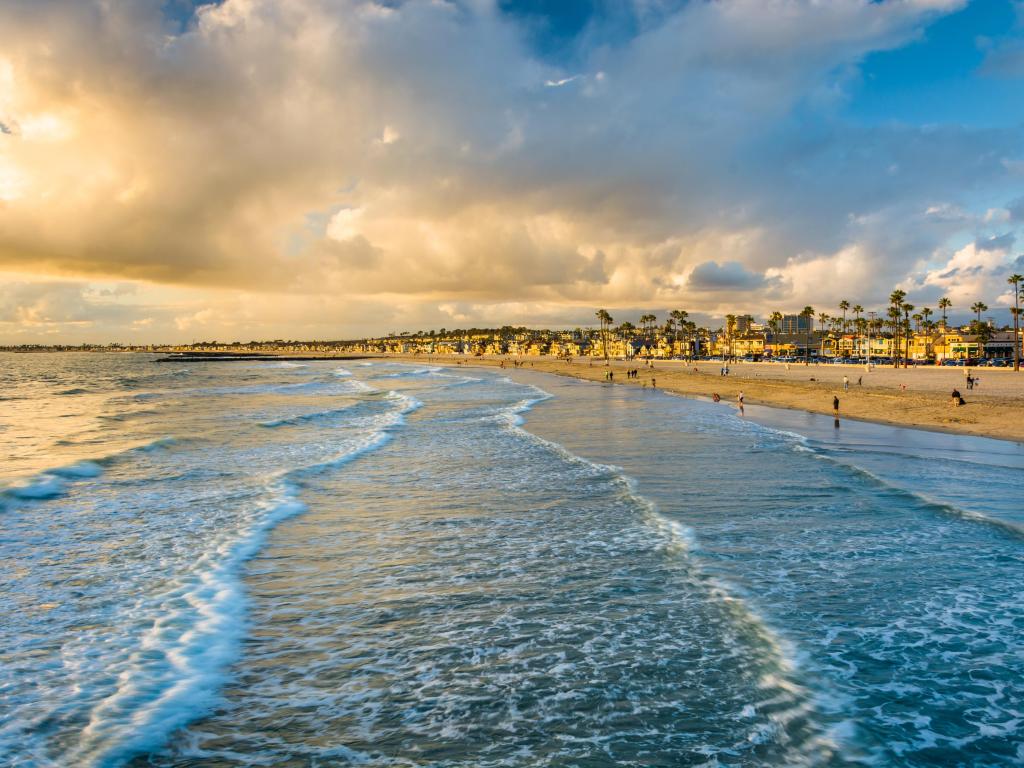 Best places to stop between Los Angeles and Santa Catalina Island
There are a host of wonderful places to stop on your road trip to Santa Catalina Island. Especially if you are in mind to do a couple of detours along the way.
Here's a few of our favorite places that you might want to consider stopping on the way: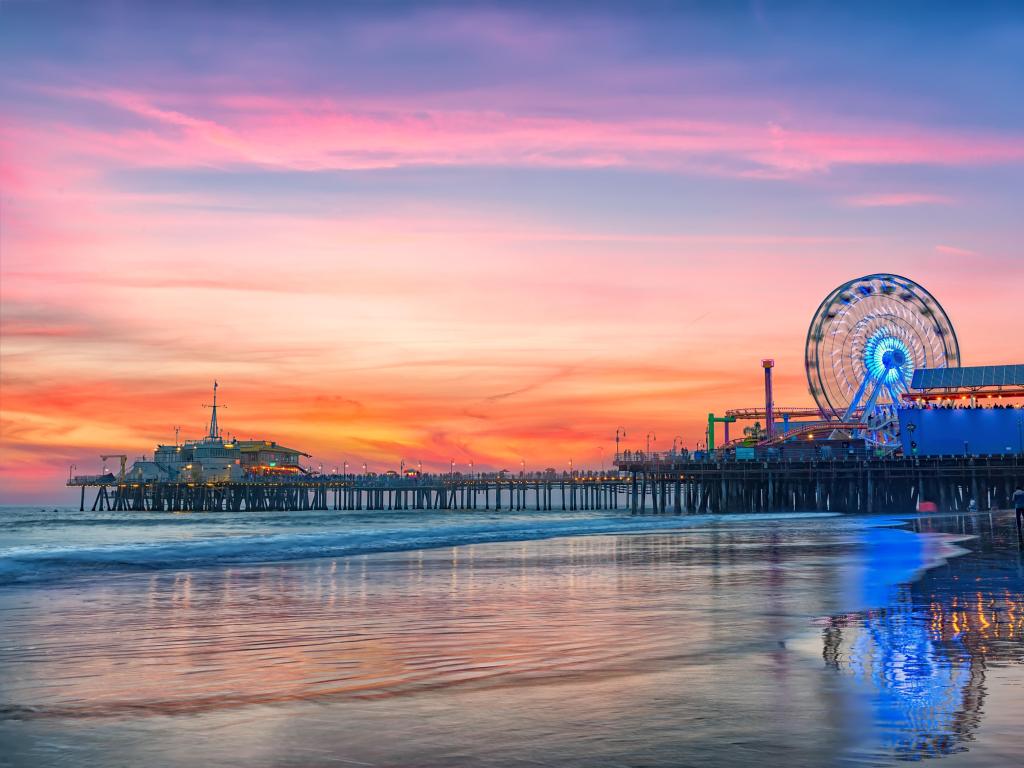 A surfer's paradise at Huntington Beach
Just under a couple of hours' drive from Los Angeles, a stay at Huntingdon Beach is a great place to unwind and explore the stunning Californian coast.
Known for its surf-friendly beaches, and its long Huntington Beach Pier, this city is also home to the International Surfing Museum which displays longboards and other memorabilia as well as the sprawling Huntington Central Park featuring fields, gardens and lakes.
For nature fans, the nearby Bolsa Chica Ecological Reserve's wetlands and dunes offer shelter to hundreds of bird species and make a great spot for wildlife watching.
For a truly luxurious stay, Hyatt Regency Huntington Beach Resort and Spa is the perfect hotel. Situated right next to the beach, this accommodation provides comfortable and elegant rooms with patios or balconies that look out to the ocean, as well as two outdoor pools.
Onsite there are several restaurants, including a bar which offers a great range of beers, wines and cocktails. If that's not enough, the hotel is well placed to visit Meadowlark Golf Course and Disneyland, which is just 21.7 miles away.
Ocean views at Laguna Beach
Just a 15-minute drive to Dana Point, Laguna Beach is a small coastal city which packs a punch. Popular for its many art galleries, coves and beaches, the Main Beach features tide pools and a boardwalk leading to the paths and gardens of nearby Heisler Park.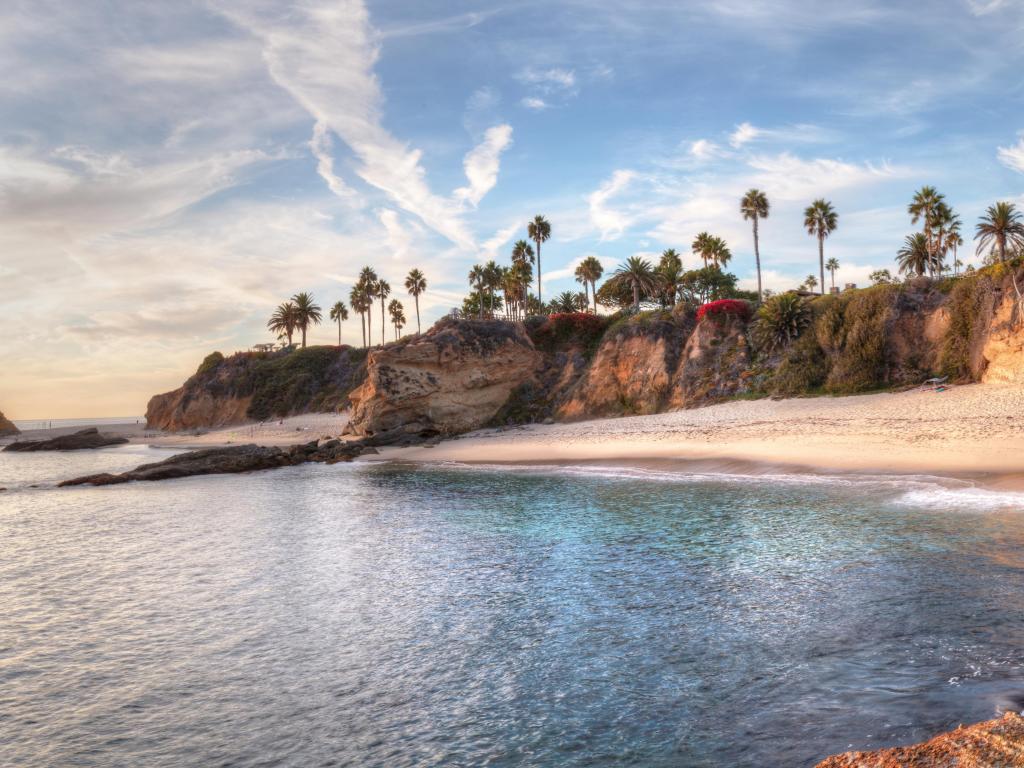 You can also explore Aliso Beach Park, which is a popular surf spot, or marvel at the waters off Crystal Cove State Park which is designated as an underwater park. There are also great trails taking you through coastal canyons in Laguna Coast Wilderness Park.
Located right on top of the beach, Montage Laguna Beach is a fantastic choice of accommodation to stay in overnight. This 5-star hotel has an ocean-facing swimming pool, a sun terrace and poolside cabanas. In addition, its luxurious rooms feature a deep marble soaking tub.
Three fabulous onsite restaurants provide plenty of dining choices, while the hotel also offers a great range of fantastic spa services and parking on site. With ocean views and being just 5 miles away from Dana Point, this location really is an ideal rest before island hopping.
Where to stay when you visit Santa Catalina Island
For the perfect way to explore Santa Catalina Island, why not stay on it? One of California's Channel Islands, Santa Catalina is known for its wildlife, dive sites and Mt. Orizaba, its highest peak.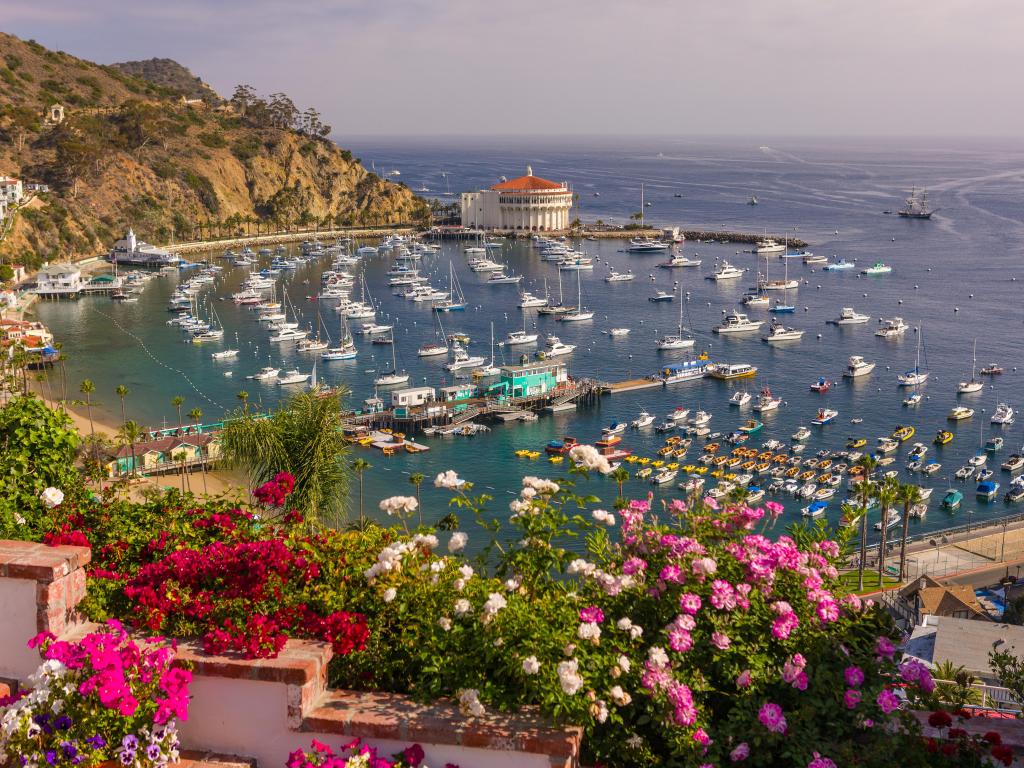 The 74-square-mile island houses the resort town of Two Harbors to the north and to the south lies the city of Avalon, where palm trees and cabanas line Descanso Beach.
One of California's best-unkept secrets, Santa Catalina is a gem of an island that sees celebrities flock to it for a taste of its small-town island paradise.
For great views overlooking the ocean, Pavilion Hotel in the city of Avalon is a great option. This 4-star beachside hotel offers great views and features landscaped tropical gardens, plus a lounge with cabana seats and fire pits.
Explore the Catalina Grand Casino, which is just a 5-minute walk away or Pointe Catalina Island Golf Club which is just a 5 minutes' drive away. You won't have to worry about carrying your luggage around as you explore, as the hotel provides free service from the Avalon boat dock.
Things to see on a road trip from Los Angeles to Santa Catalina Island
They might not be all that far apart in terms of distance but given the sheer number of iconic sights and attractions on a road trip from Los Angeles to Santa Catalina Island, you could easily take a week to visit them all out.
If you don't have that length of time available to you, then here are some of the best bits you won't want to miss along the way:
Santa Monica – This uber cool and trendy coastal city is known for its boulevard, famous pier with an iconic amusement park, Muscle Beach and an aquarium.
Venice Beach – A hallowed oceanside playground for locals, Venice Beach is known for its fascinating boardwalk. It also houses some eclectic shops and restaurants in the area too.
Marina Del Ray – The largest man-made harbor for small crafts, housing approximately 5000 boats, it's also a great place to go on a dinner cruise or yacht charter, as well as paddleboarding and kayaking.
Redondo Beach – A relaxed beach town which is home to a quaint pier and some of the country's best surfing. Great spot for cycling, fishing, snorkeling and other water-based activities.
Rancho Palos Verdes – Affluent area that showcases splendid views of the Pacific Ocean, as well as Santa Catalina Island and Los Angeles. Contains lots of trails for horses and hiking.
Long Beach – The city is famous for its stunning waterfront, which features the Aquarium of the Pacific and the permanently docked RMS Queen Mary ship – which is also a hotel.
Huntington Beach – Generally recognised as the birthplace of surfing in mainland America, this 121-acre state beach is an excellent destination for fishing, swimming and sunbathing too.
Newport Beach – Renowned for its fine dining, luxury boutique shops and natural harbour. It also boasts two piers at Balboa point, one of which features a fabulous amusement park complete with Ferris Wheel.
Crystal Cove State Park – Showcasing over 3 miles of jaw-dropping Pacific coastline, this wonderful state park features a number of notable and historic beach houses. An excellent spot for hiking amongst its inland chaparral canyons and exploring its many tidepools.
Laguna Beach – A lively city known for having an excellent restaurant and nightlife scene, some terrific art galleries and museums and an iconic boardwalk that conveys sweeping views of the Pacific Ocean.
Limestone Canyon Regional Park – Lush canyons, bosky oak forests, hot springs and miles of walking trails in a fabulous 4,000-acre park. Also houses a geological formation called 'the sinks' which many people say resembles a mini–Grand Canyon.
Lake Mission Viejo – Explore this large recreational reservoir that is excellent for fishing and water sports. It also features two lovely beaches and several picnic areas.
Mission San Juan Capistrano – Known as the 'Jewel of the California Missions', this historic old Spanish mission in Orange County dates back to 1775.
Ronald W. Caspers Wilderness Park – Protected wilderness preserve of rugged terrain that spans 8000 acres. Set within the sandstone canyons and raging rivers of the western coastal Santa Ana mountains it is a great place for camping, hiking and also to spot wildlife.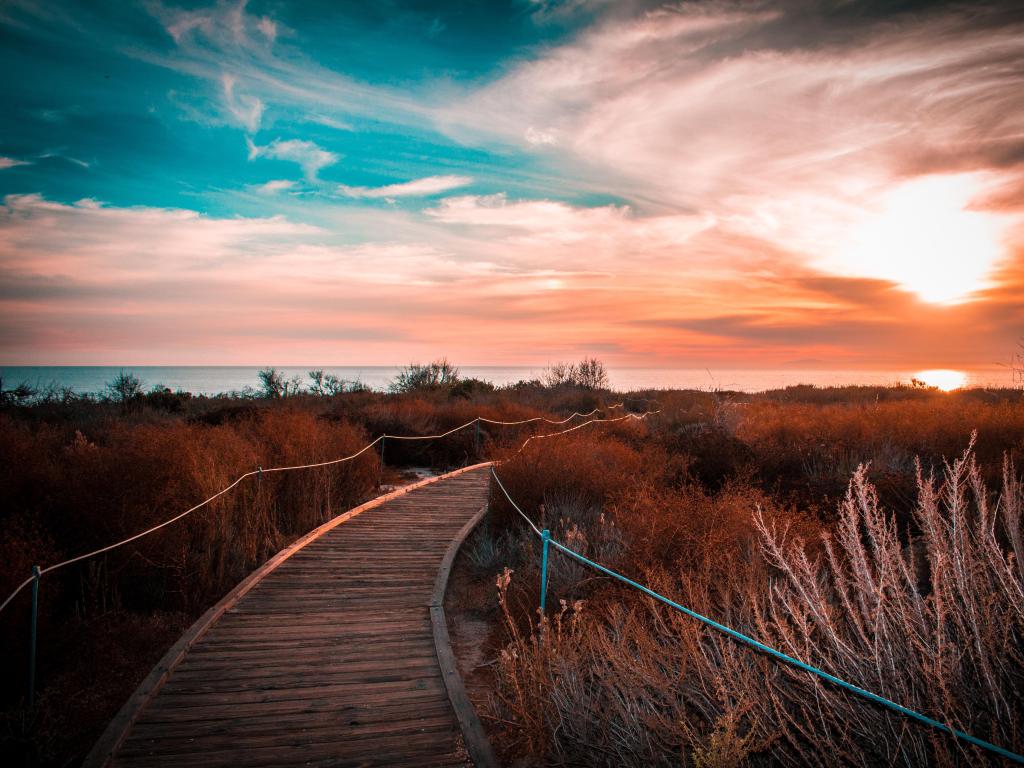 Best time to go on a road trip from Los Angeles to Santa Catalina Island
A road trip from Los Angeles to Santa Catalina Island can be done all year round. Though the weather conditions on the island will probably be an important factor in determining when you will want to go.
The weather in Catalina is generally best around spring and fall. During summer it can remain overcast until well past midday, coupled with temperatures as high as 84 degrees Fahrenheit and larger crowds along the beaches, making this time of year challenging.
Given the number of beaches on this trip, winter might not offer the best opportunity to make the most of the beautiful scenery. That said, Catalina Island rarely drops below 60 degrees Fahrenheit, making this a popular vacation destination even in the coldest months.
Spring and fall make great seasons to explore the outdoor attractions along the way, as well as the beaches and islands themselves. Catalina in particular is beautiful during the spring, where its rolling hills and wildflowers create a beautiful backdrop to its picturesque beaches.
If you aren't fussed about large crowds, you may want to time your trip with a summer event, such as the annual marathon and Catalina Island JazzTrax Festival. Both events are likely to mean hotels are more crowded, so you'll just need to book ahead.